First published April 2020 | Words, photos and film by Vietnam Coracle
To provide an opportunity for vicarious travel during this period of self-isolation, physical distancing and travel bans, I've repackaged and republished my short film, route map, and illustrated diary from a two-month motorbike road trip across Vietnam. I hope the images, words, and footage from this road trip will allow you brief respite from your self-isolation and, perhaps, inspire a future trip to Vietnam, if and when this strange and unnerving time comes to an end. Although, over the years, I've been lucky enough to have made several two-month road trips covering the length and breadth of Vietnam, this particular trip, in September and October, 2014, was unique in that I recorded it day-by-day with a written and illustrated diary, a detailed route map, and a 6-minute film composed of hundreds of clips from my journey.
[Back Top]
---
CHRONICLES:

FILM

,

MAP

&

DIARY
---
In September and October, 2014, I travelled over 9,000km in 60 days by motorbike through Vietnam, covering much of the nation and documenting my journey in words, photos and film as I went along. Starting from Saigon, I rode up and down the country on my trusty motorbike, Stavros, intending to experience as much as I could during my time on the road, while also gathering material for future posts. On this page, I've pulled together my short film, route map, and illustrated diary from my two-month road trip, in the hope they may provide brief relief from self-isolation, wherever you may be:
[Back Top]
---
FILM: Two Months on a Motorbike [6:07]
Over the course of my 60-day, 9,000-kilometre road trip in 2014, I captured much of what I saw on film. When I returned home to Saigon, I edited the footage from my trip and put it together into a short video. The clips are arranged in the chronological and geographical order in which I travelled during my two months on the road. The soundtrack, 'The Song Remains the Same' by Led Zeppelin, has been a source of motivation to me when travelling alone throughout the world ever since I started listening to it on my first solo trip abroad in my teens.
Selected Resources
What's this?
This film was shot on a simple, hand-held, digital camera: it doesn't feature any GoPro or drone footage, and I haven't used any app to automatically edit clips together or lay a soundtrack on for me. I'm not a professional video editor, but I hope my amateur film-making lends a simple, honest, handmade freshness to the film. Or, failing that, at the very least the beauty of Vietnam in these clips should hold your gaze for the full 6-minute duration of the video.
*For best viewing watch in HD quality
TWO MONTHS ON A MOTORBIKE [6:07]

Watch on YouTube
---
ROUTE MAP: Two Month Road Trip [9,000km]
During the course of my two-month road trip in 2014, I plotted my exact route (including all my overnight stops) on the map below. This annotated map is designed so that other riders may use it as a reference, if they wish. My route is represented by the blue line (over 9,000km of mostly paved roads from Saigon to Hanoi and the northern mountains and back again); the orange beds show all of the places where I stayed for a night or more; and each of the red 'i' pins contains a direct link to the Vietnam Coracle guide for that specific region. In addition, every marker on the map is illustrated with an image.
Please note: the route outlined on the map below is but one of myriad potential routes for riding the length and breadth of Vietnam. The route I rode in 2014 doesn't necessarily represent the route I would choose to take today. For dozens of guides to great motorbike routes throughout Vietnam, check out my Motorbike Guides Archive and the Vietnam Coracle Map.
MAP | TWO MONTH ROAD TRIP [9,000km]
Blue line

:

my 9,000km route

Orange beds

:

my overnight stops

Red 'i' pins

:

links to Vietnam Coracle guides

View in a LARGER MAP
---
DIARY: Daily Entries from 60 days on the Road
At the end of each day on the road during my two-month ride through Vietnam in 2014, I wrote a diary and illustrated it with photographs I had taken on that day. Below I've organized the complete diaries from my 60-day road trip into 7 sections, each one corresponding to a geographical region, so that readers can easily navigate to the part they're interested in. Simply choose a region from the contents below, then click the image to go straight to that section of the diary.
Please note: these diary entries are from 2014 and remain largely unedited: the opinions and attitudes expressed in them do not necessarily reflect my views and sentiments today.
DIARIES | 60 DAYS ON THE ROAD
Click below to go straight to the diary entries for that region:
---
[Click image to read]
---
DIARIES | INLAND CENTRAL
[Click image to read]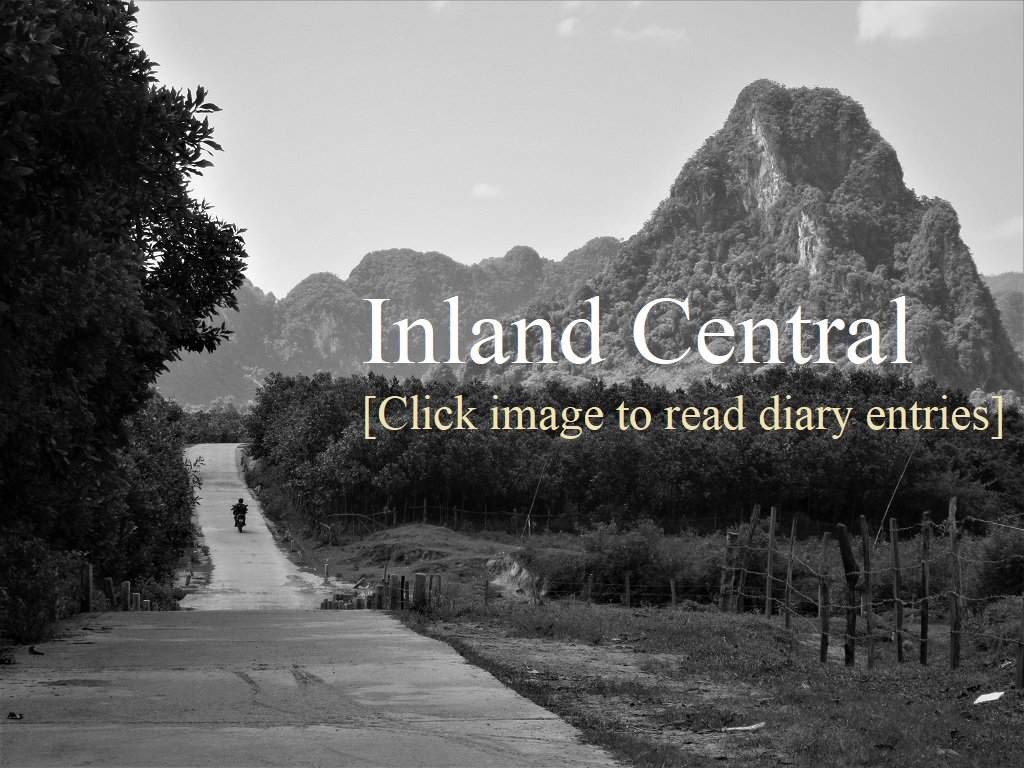 ---
DIARIES | THE NORTHWEST
[Click image to read]
---
DIARIES | THE EXTREME NORTH
[Click image to read]
---
DIARIES | THE NORTHEAST
[Click image to read]
---
DIARIES | HANOI & THE CENTRAL COAST
[Click image to read]
---
DIARIES | THE SOUTH COAST
[Click image to read]
[Back Top]
RELATED POSTS

:
---