Last updated August 2018 | Words and photos by Vietnam Coracle
This motorbike loop, spreading southwest of Hanoi, is only a few hours' ride from the capital, and yet it takes in some of the most picturesque scenery in the country, and covers some very remote corners along the border with Laos. Much of the Limestone Loop travels through Thanh Hóa, a province of limestone pinnacles, rivers and rice paddies. Quiet roads meander along steep valleys cloaked in bamboo forests, and mountain passes twist skyward towards isolated Lao border crossings. Thanh Hóa is overlooked by most travellers in favour of neighbouring Ninh Bình, which is now extremely touristy. Thanh Hóa, on the other hand, is only recently starting to attract attention, in particular the stunning setting of Pu Luong Nature Reserve. All of this excellent scenery is more accessible than ever, thanks to upgraded roads, which make it possible to get from the urban chaos of Hanoi to the pastoral tranquility of Thanh Hoa Province within a few hours.
[Back Top]
---
GUIDE:

THE LIMESTONE LOOP
---
ROAD TRIP DETAILS:
Total Distance

: 700-800km

Duration

: 3-6 days

Route

: southwest of Hanoi via Mai Chau, Pu Luong & the Lao border [MAP]

Road Conditions

: good back-roads & highways, some rough sections, light traffic

Scenery

: limestone peaks, lush valleys, terraced rice fields, minority villages


---
ROAD TRIP CONTENTS:
ABOUT THIS ROUTE:
I've written this guide in 5 sections going anticlockwise on the loop (although you can ride it in ether direction). The Limestone Loop is actually a figure of '8', starting and ending in Hanoi, going via Mai Chau, Pu Luong, the 'Lao Loop', and the Ho Chi Minh Road. As a complete loop it's a very rewarding ride, but you can also choose to ride just a couple of sections of it. The total distance is 700-800km, including a few optional side routes that I've marked in red. Each section of the guide below contains a description of the ride plus my recommendations for food, drink and accommodation along the way, all of which are marked on my annotated route map. To really make the most of the Limestone Loop, spend 5-7 days riding it, but for those with less time, 3 days is adequate. In general, there are gas stations at fairly regular intervals, apart from the Lao Loop (Section 3). There are some rough road conditions on the main route and on the side routes, but I have marked them as best I can on my map. The best weather conditions are usually spring (April, May) and early autumn (September, October). Bear in mind that the winter months (December-February) can be surprisingly cold and grey.
---
ROUTE MAP

:
The Limestone Loop: Mai Chau-Pu Luong-the Lao Border | 700km

View in a LARGER MAP
[Back Top]
---
SECTION 1
Route: Hanoi→Mai Chau (via highways & back-roads) | Distance: 150km [MAP]
I like to think of Vietnam as a long dragon: its head is the northern bulge around the Red River, its body the long, narrow central stretch, and its tail is the Mekong Delta in the south. Thanh Hóa is located in the 'throat' of the dragon. It's a transitional province between northern and central Vietnam. To the north is the heavily farmed and populated Red River Delta, to the east is the sea, to the south is the poor, rural province of Nghe An, and to the west is the mountainous border with Laos. However, in order to get to Thanh Hóa Province from Hanoi, it's first necessary to face the long, soot-blackened crawl out of the capital and through the grim industrial suburbs. This is not a pleasant ride, but by combining the modern Thang Long Highway, heading west of Hanoi, with a couple of back-roads, it only takes an hour or so before the trucks, dust, and factories fade away. At Xuan Mai, turn west on Highway QL6 (also marked AH13).
Trucks still litter the road, but a few kilometres west of the Xuan Mai crossroads, a good back-road cuts a corner off Highway QL6, thus avoiding the city of Hoa Binh. By combining roads ATK and DT12B – via some lovely rural scenery, including clear rivers and limestone pinnacles – you can rejoin Highway QL6 south of Hoa Binh. Immediately after turning down Road ATK, fields, greenery and mountains begin to take the place of concrete and dust. The limestone scenery in this pretty valley is a taste of what lies ahead on this loop. There's an inviting-looking, homestay-style guest house on Road ATK, called Nha Nghi Hoa Hong. It's housed in a wood-and-thatch structure with access to a stream behind it for bathing. Hoa Hong makes a pleasant night stop if you left Hanoi late in the day and are running out of daylight. On the second back-road (DT12B) there's a nearby hot springs (Kim Boi) and a waterfall (Tu Son), both of which can be visited as a quick stop or overnight.
After rejoining Highway QL6 south of Hoa Binh, limestone crags start to grow up around the rice paddies, looming over the villages. An Lac Hotel, near the junction of QL6 and QL12B, is a classic, old, northern-style accommodation that's practically jammed beneath a limestone karst. It's a big, echoey place – there's almost something haunting about it – and, although the quarters are pretty basic, it's an atmospheric place for a night if you don't have time to get to Mai Chau before sundown. Things start to get really scenic when Highway QL6 (in excellent condition) veers west and ascends the wide, steep Thung Khe Pass. A couple of sweeping switchbacks wind their way up the foothills of what the French colonials used to call the Tonkinese Alps. As the road soars, the air gets cooler (or freezing cold if you're travelling in the winter months). Dozens of freight trucks, bound for the remote northwest of the country, crawl painfully up the mountainside, but because the pass is so wide and well-maintained, traffic isn't usually a problem. From the roadside viewing shacks, there are incredible vistas over range after range of pointed limestone peaks that appear to be growing up around the Đà River (Black River). The top of the pass is often shrouded in a thin mist, which allows sunlight to seep through, creating an ethereal atmosphere. As you roll down the other side, there are famous views over Mai Chau Valley, with its carpet of green rice paddy growing within the tight confines of towering shards of limestone. It's a fitting introduction to Thanh Hóa Province, which lies just south of Mai Chau.
Turning sharply at the bottom of the pass onto Road QL15, you enter the green embrace of Mai Chau Valley. Suddenly, the might and grandeur of the mountain pass is replaced by what feels like a bucolic and benevolent landscape (at least, in good weather). The road follows the course of a small, clear river as it runs through a disproportionately wide valley. The width means that either side of the river is flat, arable land, covered in a blanket of rice. Small, wooden settlements cluster on raised ground near the river at regular intervals. The town of Mai Chau, however, is all concrete. It's a sprawling, rather ugly place, but has a lively village atmosphere in the mornings and early evenings, when good, cheap food is available from streetside vendors. In particular, Bún Chả Mai Châu serves up a good version of the classic Hanoi-style pork noodles in a sweet and sour broth. And the market always has some local delicacies to choose from. There are a handful of good mini-hotels in Mai Chau village, although most travellers choose to stay in the homestays a bit further along. However, Thai Binh and Viet Hung guest houses, on the main street, both have good, cheap, clean rooms for budget travellers (around 200,000vnd). Or for smarter lodgings try the Mai Chau Valley View, Mai Chau Lodge and Khoa Thanh Hotel, all which are cosy, mid-range accommodations with views of the rice fields.
But what the vast majority of visitors to Mai Chau come here for is a night in one of the dozens of homestays in wood-and-thatch stilt huts above the rice paddy. These houses offer simple but comfortable accommodation (usually a mattress on the floor under a mosquito net), and good, home-cooked food. Bathrooms are clean with hot water showers. Many of the houses are owned by several of Vietnam's 54 ethnic minority groups (in Mai Chau they are mostly White Thai). Mai Chau was one of the first places in Vietnam to introduce homestays with ethnic minorities. It's been a huge success. There are two main clusters of homestays, both of which are reached via pretty little lanes through the countryside just west of Mai Chau village. Poom Coong is the first of the homestay hamlets and is less touristy than the second hamlet, called Ban Lac (Lac Village). Indeed, Ban Lac has become a bit of a tourist trap of late, with trinkets and souvenirs for sale, signs in English for cold beer and Western food, and the scourge of saccharine pop and pounding techno music played during the day and night. Not that it isn't still a worthwhile place to stay a night or two (especially Poom Coong). There are lots of excellent walks to be had in the surrounding countryside, the homestay hosts are very friendly and hospitable, their home-cooked food is extraordinary, and the price for room and board is very reasonable.
Rates vary a bit and it's always worth bargaining politely for a better price. A night without any food is very cheap: from 60,000-80,000vnd ($3-$4). But you'd be mad to miss out on the food here, especially dinner, which can be anything between 100,000-200,000vnd ($5-$10) per person. The food is fresh, delicious and cooked over a wood fire. My last meal here was beef rolled in aromatic betel leaves, rice paddy crab spring rolls, green beans in garlic, silken tofu in tomato sauce, and fragrant steamed rice.
Personally, I recommend staying in Poom Coong hamlet. My long-time favourite is No.8 Homestay, but Mai Chau Countryside Homestay and Mai Chau Sunset Boutique Hotel are also very nearby and very good. In Ban Lac hamlet, I would skip the main homestay drag and head a bit further along the lane. After crossing Lac Bridge, there are several quiet homestays on your left. As the homestay scene in this area has become more popular and more crowded, several higher-end, boutique and resort-style homestays have opened up in the surrounding countryside. These are much pricier, but they are very beautiful and romantic places to stay. Mai Chau Ecolodge and Sol Bungalows, for example, are little oases of greenery, and they appear to be relatively low-impact. You'll be well-fed at your homestays, but for a 'night out', try the cocktails at the Mai Chau Sunset Bar.
At night in your homestay, leave the wooden windows open to catch the cool breeze off the rice paddies and lovely views at dawn. I'm always surprised at how noisy it is at night in the stilt houses: the humming of cicadas, the heavy rains hitting the rooftops, the throbbing chorus of frogs in the fields, the morning cockerel calls, dogs barking and babies crying, all before 5am – Saigon is quiet by comparison.
---
SECTION 2
Route: Mai Chau→Pu Luong→Canh Nang (plus side routes) | Distance: 60-100km [MAP]
From Mai Chau, head south on road QL15. Much of this road is either in the process of being widened and upgraded or is newly resurfaced, so expect some changeable road conditions. When I last rode it (2018), the section of QL15 between Mai Chau and the Co Luong intersection was desperately narrow and inadequate for the increasing volume of traffic and trucks loaded with bamboo that regularly ply it. I would imagine this will be widened soon, which will mean some disruption before things get better. The landscape, however, is lovely: passing along a pretty, rice-growing valley, hemmed in by limestone pillars.
Just south of Mai Chau, there are a couple of good, short and enticing little side roads leading west off QL15. In particular, the route to Cun Pheo, where there are some homestays, is worthwhile if you have time. There are also a couple of good places to stay near road QL15: Mai Chau Villas is a mid-range resort with thatched bungalows, and Mai Chau Family Homestay is a wooden house on stilts run by a nice family. As you approach the Co Luong junction, road conditions deteriorate into dust, mud, and potholes. This is largely due to the trucks that ply this route, transporting bamboo to and from the bamboo factories on the banks of the Ma River. This might sound romantic, by the reality is just like another other big, industrial-scale business: dirty, polluted, appalling conditions, and ruinous to the local environment. The bamboo even smells revolting. Co Luong is a depressing little place, but the bad road doesn't last for long and the crossroads here are the beginning of several excellent routes on this loop. For this section, we're turning left (due southeast) just after the village, onto road QL15C which leads into a wonderland.
Road QL15C is a relatively new route that zig-zags its way up into the beautiful surrounds of Pu Luong Nature Reserve, an area that's been rapidly gaining in popularity over the last few years, all the way to the other side at Canh Nang town. The nature reserve is located directly south and east of Mai Chau, situated around a tributary of the Mã River. It's breathtaking scenery: the river is clear and rice fields continue right to the water's edge; bamboo bridges cross streams and bamboo water wheels dip into the river, sending water down irrigation channels to the rice; small hamlets of wooden stilt houses cluster together on raised islands of earth in the middle of crop fields; when the land gets steeper the rice paddies are terraced and the houses become more dispersed, clinging to the hillsides; all around the valley, in a circle like a gigantic Stonehenge, are forested limestone pinnacles. The nature reserve is now easily accessible by motorbike thanks to paved and dirt lanes, and the area is dotted with homestay options in superbly-located stilt villages. It's far less touristy than Mai Chau, and this is the kind of landscape and living – where nature appears to be entirely benevolent, crops plentiful, concrete a rare sight, and people happy and hospitable – that most foreign travellers to rural Vietnam dream about but never find. Yet, here it is, only 150km or so from Hanoi.
From the Co Luong turn off, road QL15C immediately climbs and then descends into a verdant valley, the hills covered in bamboo forests. By the roadside, you'll see billboards with annotated maps of the nature reserve. This map is essential for getting to know your way around the reserve. It shows all the homestay areas, roads, pathways, rivers, wildlife spots, waterfalls and other places of interest. I've always found it very difficult to get my hands on a physical copy of the map, so instead I take a photo of the billboard and save the map to my phone so I'll always have it as a reference and resource while in the reserve. If you have time, you could spend many days 'homestay hopping' in Pu Luong Nature Reserve.
Meandering uphill, the first cluster of homestays is at Ban Hang, a hamlet of wooden houses by the riverbank, which is accessed via a very steep side-road. There's at least half a dozen homestays to choose from here, all of which are very cheap. There's also a good hike to a nearby cave. Continuing on road QL15C, the forest cover increases as you push deeper and higher into the nature reserve: the views are sublime. At the top on the climb, the road plateaus, passing through a remote hamlet, before a narrow paved lane leads down to Kho Muong homestay area. However, the first accommodation is the boutique-style, very classy Puluong Retreat, which is one of several higher-end places in Vietnam that's firmly the Instagram-Look-At-Me trail. It's an absurdly scenic and tasteful place to stay, including the signature infinity pool overlooking the rice terraces (this is the Instagram bait that lures everyone in). But continue down the lane into the valley and, as road conditions deteriorate, you'll reach the homestays in Kho Muong village, in particular Pu Luong Treehouse and Rice Road Homestay. These two inexpensive wood-and-thatch stilt-house homestays are simply gorgeous. Make sure you stay here: you won't regret it. The food is fabulous, the views are incredibly scenic, and the romance of the location and the accommodation is quite something.
From Kho Muong, you can either continue on the lower, valley road to the Lang Tom intersection, or go back up to rejoin QL15C, which is the more scenic option. Either way, at the Lang Tom intersection you have a choice: continue straight ahead (due south) on QL15C to the forgettable town of Canh Nang at the edge of Pu Luong Nature Reserve, or turn left (due north) on several incredibly scenic (although of varying condition) back-roads to more homestays. If you choose the latter (and, time permitting, you should), continue north then bear right (due east) along increasingly muddy and treacherous roads to the remote homestays at Ban Hieu. A cluster of wooden homes perched on a steep hillside overlooking a jade-coloured waterfall that cascades down the mountain in terraces, collecting in deep, bathe-able pools, Ban Hieu is spectacularly located. It feels very off the beaten path, but, in fact, the homestays here are quite popular (especially with French travellers), and one of two are fairly high-end. Of the latter, Les Baines de Hieu Ecolodge and Ban Hieu Garden Lodge are really beautiful, boutiquey, atmospheric places to stay, but you'll need to book ahead, and this is usually done through travel agents. However, there are several other, cheaper, simpler homestays in the area, too, like Mr Ba's Homestay among others. The road (well, it's a path, really) to Ban Hieu is due to be upgraded soon, which will cause a lot of disruption at first, but will then make access (and development) much easier.
Back on the 'main' road heading due north there are a couple more one-way side-route options. Continue due north along a pretty valley to Lung Cao and the handful of basic homestays at Ban Nua, after which the road has long been blocked due to severe landslides. Or veer east onto an extraordinarily steep and fabulously scenic road that switchbacks up the mountains at an insane angle. It was misty when I rode it so my photos don't do it justice, but trust me it's amazing. When this road finally levels out it soars across an exposed plateau dotted with limestone outcrops and wooden hamlets. It's a very surreal landscape and there's a campsite (Pu Luong Camping), including hammocks, somewhere before hitting the intersection with road DT432A at Lung Van (unfortunately I don't have the exact location on my map).
At the Lung Van intersection you have some options: turn back the way you came or turn this side-route into a loop back to Mai Chau. For the latter there are two options, but only one is really viable. By heading due north at the Lung Van intersection you eventually hit Highway QL6 (AH13), which you can take back to Mai Chau. The other option is to turn left (due northwest) at the Lung Van intersection and follow the back-road DT432A until it too hits Highway QL6 back to Mai Chau. This is a very attractive option on the map, and indeed it's also a very scenic ride, and a great little loop linking Pu Luong Nature Reserve with Mai Chau. But there's one big problem: a very short section of this road (probably less that 1km) is in atrocious condition. In fact, for that 1km, it's not really a road, it's a bare section of sheer rock at a steep angle. It is ride-able if you have an appropriate bike – even I managed it on my automatic Nouvo, but it was extremely difficult and unless you have a lightweight off-road bike I can't recommend it.
Finally, at the southern entrance to Pu Luong Nature Reserve, road QL15C crosses a bridge over the Ma River, joining road QL217 and entering the town of Canh Nang. It's not a very nice place and you'd be a million times better off staying the night in one of the excellent homestays inside the reserve, however, if for some reason you need a bed, Canh Nang has a couple of guest houses. Pu Luong Hostel is the best option, if not try Ngoc Thuy or Son Thuy guest houses, neither of which are much to shout about. There are plenty of rice eateries (quán cơm) and gas stations on the town's main drag.
---
SECTION 3
Route: Canh Nang→Quan Son→Muong Lat (the 'Lao Loop') | Distance: 160km [MAP]
This section of the Limestone Loop in the most scenic and remote. Combining several good, mountainous roads spreading west of Pu Luong Nature Reserve towards the Lao border, I like to call this section the 'Lao Loop'. It's a long but gorgeous one- or two-day ride out to the Lao border on twisting mountain passes to Muong Lat, and then back again along the Ma River valley, before rejoining road QL15 near Mai Chau. It's a long and sparsely populated ride, so leave early, bring some snacks and, if you want to spend two days riding it, bear in mind that there's only really viable accommodation options at Quan Son and Muong Lat. You can also opt to ride a shorter 'Laos Loop' by taking road DT520 (marked in red on my map) back to join QL15, thus essentially cutting the distance of the loop by half. Most of the roads on the 'Lao Loop' are now in pretty good condition, but there are still some bad patches, and heavy rainfall can cause landslides which damage the roads.
Exit Pu Luong Nature Reserve at Canh Nang town and head southwest on road QL217 as it briefly skirts the muddy banks of the Ma River before turning westward for Quan Son. Road QL217 meanders along river valleys and over forested mountains all the way to Quan Son town (where there are a couple of O.K nhà nghỉ guest houses) and on to the Lao border gate of Na Meo. As such, you may encounter some heavy goods vehicles plying between the two communist countries (including articulated trucks carrying gigantic pillars of hardwood from the Lao jungles), but in general the traffic is very light. The views are terrific and the riding is good.
A ways after passing through the town of Quan Son, when things get more and more remote, a small road turns right (due north) along a picturesque valley. After passing isolated hamlets of wood-and-thatch homes, the road climbs a spectacular pass with an access road to Bo Cung Cave, which is definitely worth a visit. Rolling down the other side of the pass – the views are superb – you hit road DT520. Here you can turn right (due east) back to QL15 if you want to take the shorter route (marked in red on my map), but the most scenic option is to turn left (due west) onto DT520 towards Muong Lat. Recently upgraded, this is one of the best riding roads in Vietnam: there's no traffic but the road is wide and in decent shape as it soars over jungle-clad mountains towards the landlocked nation of Laos.
Muong Lat is a remote outpost that feels sleepy and attractive in good weather, but bleak and isolated in bad weather. There's food, drink and a couple of guest houses here, including the adequate Song Ma Hotel. Something that I notice whenever I visit northern Vietnam is the presence of trà lá tươi and thuốc Lào (fresh leaf green tea and Lao tobacco). No cafe, eatery or restaurant is complete without a tea and tobacco station in the corner, which consists of a large, metallic teapot stuffed with local, fresh (not dried) tea leaves, a thermos of hot water, a dozen tiny teacups, a long bamboo pipe resting in a plastic bucket, a wooden box of Lao tobacco and a box of matches. Customers partake of tea and tobacco before and after a meal. All this is free; a part of the dining experience as essential as chopsticks and a bowl. People come and go freely (some not ordering any food) to share some tea and have a smoke and a chat before going about the rest of their day. I don't smoke, so I can't vouch for the special qualities of Lao tobacco, but it does smell good. The tea, however, is exceptional. I love all kinds of tea, but I've never had such a fragrant, citrusy, flowery tea as trà lá tươi. Once you get a taste for it you can smell the tea leaves all over the northern provinces. The distinctive aroma has come to define the north for me.
All along the road to Muong Lat, there are waterfalls and rivers to cool off in, there are sublime views around every bend, there's not a tourist in sight, and there are hardly any concrete buildings. After a long day riding the 'Lao Loop' it becomes quite dream-like. Lying in my bed in Muong Lat, I'm left with a kaleidoscope of colours, landscapes and rural life after spending the day wallowing in this fantastic corner of the country.
---
SECTION 4
Route: Muong Lat→Mai Chau→Quan Hoa→Lang Chanh | Distance: 140km [MAP]
In the early morning light, the valleys around Moung Lat look like a scene from a Chinese ink and water painting: full of crisp green rice paddies, bamboo growing along the river bank – their thin branches brushing the sparkling water – and limestone crags rising into the mist. Heading out of Muong Lat, a new bridge leads across the tea-coloured Ma River onto a small, paved road along its north bank. Small boats still navigate the sluggish waters: barges shift building materials upstream, and long bamboo rafts float silently along the current, heading downstream, where the rafts will be disassembled and the bamboo loaded onto trucks, bound for furniture factories in the Hanoi suburbs.
I've always loved the Mã River. Its slow progress through the ancient limestone valley makes me think of the vastness of geological time. Research suggests that Mã means 'Mother', which seems fitting as the river has provided for some of the first known human beings in Vietnam, and later helped sustain the revered Bronze Age Dồng Sơn civilization. The Mã River was the ancient southern boundary of Vietnam, until the Vietnamese conquered the Kingdom of Champa and pushed further south. The maze of limestone pinnacles, which the river cuts through, has afforded shelter to many a guerrilla army, not only in the 20th century. The French, who called these mountains simply Calcaire (Limestone), had a hard time pacifying Vietnamese resistance here in the late 19th century. Even centuries before the French arrived in Vietnam, armies and emperors had been using the limestone peaks as a natural defence. One of Thanh Hóa's most celebrated sons is Lê Lợi. Born in the late 14th century, Lê Lợi led a revolt against the Ming Chinese occupation of Vietnam from 1418-28. Lê Lợi was vastly outnumbered by Chinese forces, so he and his army practiced guerrilla tactics; ambushing Chinese troops and then retreating to the safety and cover of the Calcaire and the Mã River. In 1428, Lê Lợi defeated the Chinese and became emperor of Vietnam. Today, every town and city in the country has a road named after him.
From Muong Lat, the bank-side road (of varying condition, but passable in dry weather) runs for over 70km, echoing the river's course all the way back to the Co Luong junction on QL15. Here, the sluggish Mã River cuts its way through limestone pinnacles, its flow increasing in volume as clear-water tributaries run off forested mountains to meet it. There are a few small villages around the Mã Valley and many picturesque wooden hamlets belonging to ethnic minorities. This river is still at the centre of life, but these days it takes the form of giant hydroelectric dams, a couple of which are already in operation along the Ma River; a couple of others are currently under construction. Because of this, much of the river has been flooded, and the water level has risen by as much as 100ft. One result of this is that the original course of the riverside road has been elevated: the old one is now submerged. Google Maps hasn't caught up with this change yet, but it still shouldn't be difficult to follow the new road that winds along the Ma River back to QL15. Some of the villages that were originally settled in the Ma Valley have had to be relocated up the hillsides to avoid the flooding. These new settlements are dusty and feel like fairly unpleasant places. This is a landscape (and people) that is in a state of flux.
At the Co Luong junction turn right (due south) onto QL15 towards Quan Hoa (also known and Hoi Xuan). Only 25km away, Quan Hóa has a few nhà nghỉ guest houses, including the Song Ma Hotel, located on QL15 as it passes through town. It's fine for a night if you need to stop, and there's a good local rice eatery directly opposite, called Sinh Hanh. They do a good beef noodle soup (phở) for breakfast and, for dinner, dân tộc (ethnic minority) dishes, such as curried mountain goat meat (thịt dê núi) rolled in sesame seeds.
Continue south on QL15, following the Ma River until it veers off into the forest, leaving the river behind. Some patches of this road can suffer from flooding after heaving rains, but, all being well, the town of Lang Chanh is only a half hour ride from Quan Hoa. I've always had a soft spot for this little town, although I can't say why exactly. Set in a valley surrounded by bamboo forests, Lang Chanh is busy with rural commerce and there's a spattering of O.K food and accommodation available, including the Chau Luong Guest House. On the main street there are a handful of local rice and noodle eateries that serve good, hearty dishes in an honest, rustic, no-frills environment. I tend to like this kind of thing and, years ago, I wandered into one of them on the 57th anniversary of the Vietnamese victory over the French at Dien Bien Phu, in 1954. The owners of the eatery were both octogenarians. Inside their beautiful house there was a whole dissertation's worth of 'Vietnamesia': two wooden altars (one for ancestor worship, the other for a flat-screen TV), framed photographs of the couple alongside framed certificates from the Party congratulating them on their old age and various achievements in service of their country, and gaudy paintings of rural scenes from Chinese epic poems. But the star of the show was on the tea table where I sat down with the husband, whose name was Bình. As I leaned on the table to pour his artichoke tea, two plastic budgerigars started to tweet and peck from their position at the end of the table. Bình said it was a present from China. He tapped the table and they stopped chirping. I put the tea pot down on the table and they started up again. Bình had spent his life in the army. He'd fought the French, South Vietnamese, Americans, Cambodians and Chinese. He had 8 children, five of whom he said were 'born at the wrong time' and died in the war with South Vietnam and the U.S. When he fought at Dien Bien Phu, he was just 20 years old. Last time I was in Lang Chanh, I couldn't find the couple, their home or their eatery.
The countryside around Lang Chanh is very pretty and dramatic. Nearby, there are a couple of waterfalls located deep in the mountains and forests. It makes sense to base yourself in Lang Chanh for a night or two while making trips out to the waterfalls and getting lost on some of the back roads through the dense bamboo forests. The main waterfall is called Ma Hao. Try to avoid visiting on weekends when it can get rather crowded. Small dirt and paved roads lead deep into the bamboo forests, which cover most of the mountainsides in this area. These tracks are used for collecting wood and other forest resources, which are then either used locally or packed onto old Dodge-style trucks bound for factories and workshops. It's well worth exploring some of these tracks, especially in the late afternoon when it can be magical. The first time I came to this area I took one of these paths just south of town. It was like entering Narnia: I could have been in any century since rice cultivation began here back in around 3000BCE. The only signs of the 21st century were a few motorbikes. The track took me right into the bamboo forests which stretched as far as I could see, along thick brown rivers, and through minority hamlets of stilt houses. There was absolute silence, yet whenever I stopped to take it all in, after a few seconds there was always some sign of human activity nearby – the echo of an axe chopping bamboo, a furl of smoke from within the forest, cow bells tolling as cattle were herded along a path, the splash of a fishing net. I found a spot to watch the sunset and brewed a coffee on my camp stove. The sun opened its eye and lit the underside of the clouds a mango-skin yellow. The light seeped through the diaphanous, delicate and endless bamboo forests, climbing over the mountains to Lao, ridge after ridge disappearing into the distance. Thunder rumbled from a storm that had skirted the town.
---
SECTION 5
Route: Lang Chanh→Hanoi (via Mu & May waterfalls) | Distance: 190km [MAP]
From Lang Chanh, it's only another 20km on road QL15 south to Ngoc Lac, where you hit the Ho Chi Minh Road heading north. From here it's pretty much a straight shot all the way back to the Xuan Mai junction and then east into Hanoi, thus completing the Limestone Loop. However, there's still some lovely countryside on QL15 to Ngoc Lac and more on the Ho Chi Minh Road, plus some bonus side routes to a couple of gorgeous waterfalls.
After half an hour of pretty rural scenery on QL15, the Ho Chi Minh Road from Ngoc Lac is wide, fairly well maintained, and fast. The Ho Chi Minh Road has become famous among motorcyclists. It's one of Vietnam's most ambitious engineering projects: the road runs nearly 2,000km north to south along the Trường Sơn mountain range, which is the 'spine' of Vietnam. Many sections of the road still see little traffic and much of it passes through some fantastic scenery. The first 50km north of Ngoc Lac is among the most scenic: it goes straight through Cuc Phuong National Park, threading through a jungle-clad limestone karst valley.
There's food and accommodation in Cam Thuy, including the Thanh Nhan Hotel, but I prefer to stay a bit further up the road, where the Ho Chi Minh Road cuts through a hill and enters Cuc Phuong National Park. Here the road follows the Bưởi River as it ploughs its way through limestone crags. It's gorgeous scenery and the river looks very inviting, with a distinctive turquoise colour, which, as far as I know, is how the river got its name: bưởi means 'pomelo', a fruit with greenish-blue skin and flesh. Come between March and June for the best turquoise waters; after that the heavy rains start to turn the river a mud-brown.
Quang Duc Homestay is a wooden guesthouse, located by the side of the Ho Chi Minh Road, with cheap rooms sleeping on mattresses on the floor. The food and drink is also very good. It's located close to good swimming spots on the river. Take the narrow lane from the homestay along the small river heading west and you'll reach May Waterfall, an impressive cascade down several levels of limestone, collecting is beautiful pools. Another great side route to an equally impressive waterfall is to head a bit further north of Quang Duc Homestay and turn west on QL12B, then join a back-road leading to Mu Waterfall, which is extremely photogenic. Quang Duc Homestay is a good place to base yourself while exploring the rivers and nearby waterfalls, but there are also some simple accommodation options at the falls themselves.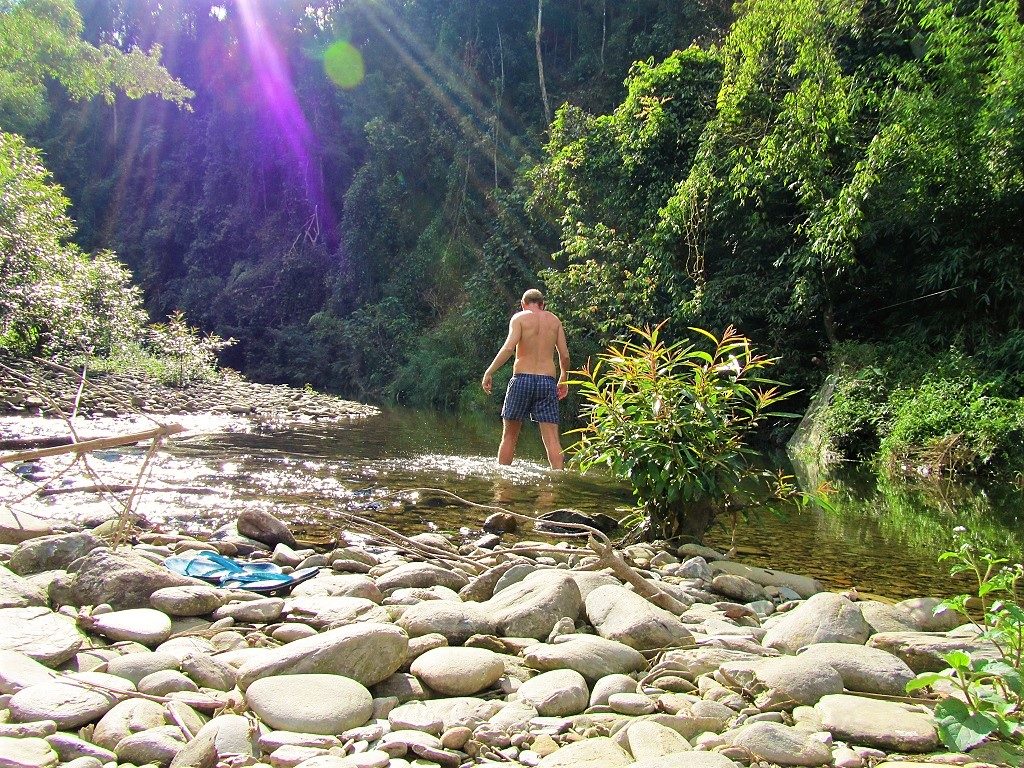 On the Ho Chi Minh Road between Ngoc Lac and Cuc Phuong National Park, look out from signs by the roadside from nem chua Thanh Hóa. Thanh Hoa Province is one of a handful of places in Vietnam that's famous for this delicacy. I had a hard time translating this for a friend who wanted to know what it was before eating it. I settled on 'pork sashimi'. It may not sound appetizing, but this little snack is full of subtle flavours and very delicate. Nem chua is a kind of raw, cured pork patty, but that doesn't do it justice. They come in small, bite-sized portions wrapped in banana leaves. The pink patty has a fragrant aroma of garlic and chilli. The flavours – sweet, sour, salty and spicy – combine with the smooth texture of the meat to make it very moreish.
After you've had your fill of the waterfalls, rivers, and scenery around the national park, you could head east to Ninh Binh Province, which is a very popular travel destination. Personally, I find it too crowded, too kitsch, and too developed for my taste, and that's why I prefer exploring Thanh Hoa Province over Ninh Binh. So I usually choose to take the Ho Chi Minh Road due north all the way to the Xuan Mai junction and Hoa Lac, and then turning east onto the Thang Long Expressway back into the capital. Sadly, at least an hour or two outside of Hanoi, the trucks, dust, and industrial estates start to reappear, making the ride fairly unpleasant, but there's not much you can do about that. It seems incredible that small, peaceful hamlets of wood-and-tile homes on stilts, like the one pictured below, are so close to the urban sprawl of the capital: it's just a couple of hours' ride away.
[Back Top]
RELATED POSTS

:
---