First published October 2023 | Words and photos by Vietnam Coracle
---
Traversing the breadth of Vietnam from east to west at its widest and most mountainous point, QL279 is an historic route and the third longest road in the nation, measuring 937km. Sometimes referred to as Đường Vành Đai Phía Bắc (Trans-Northern Belt Road), QL279 passes through 10 northern provinces and some of the most spectacular landscapes and complex terrain in the country. The road forms an arc across the northern crest of Vietnam, echoing the national border with China. QL279 is named after the short but bloody Sino-Vietnamese border war in February, 1979. Hence, 2=February, 79=1979, QL=quốc lộ (national route). China simultaneously attacked 6 northern border provinces and cut the roads, preventing the Vietnamese from supplying troops or aid to the region. A new road – effectively a new border – was constructed in order to defend the densely populated Red River valley and delta regions and the capital city, Hanoi. This road became QL279.
[Back Top]
---
TRANS-NORTHERN BELT ROAD

:

QL279
---
One Road Across the Northern Crest of Vietnam from East to West
This is a guide to riding the entire length of Road QL279 from east to west across the breadth of the nation. Beginning near the coastal city of Hạ Long in Quảng Ninh Province on the Gulf of Tonkin, not far from the northeastern-most border crossing with China, QL279 travels west through the provinces of Bắc Giang, Lạng Son, Bắc Kạn, Tuyên Quang, Hà Giang, Lào Cai, Lai Châu, Sơn La and Điện Biên all the way to the Tây Trang border gate with Laos, deep in the northwestern mountains: a total distance of 937km. Originally constructed between 1979-1987, although the conflict for which the road was built is now decades past, this route is still considered a valuable military and strategic infrastructure, just as the Trường Sơn Đông Road and Hồ Chí Minh Road are.
CONTENTS:
---
Support My Website
Please donate or become a patron if you enjoy my work. Vietnam Coracle is totally free & independent. I do not receive payment for anything I write.
Thank you, Tom
---
---
ROUTE MAP

:
Trans-Northern Belt Road: QL279
Hạ Long to Điện Biên Phủ: 937km
---
*Road Safety & Disclaimer: Riding a motorbike in Vietnam – or anywhere in the world – has its dangers. I would hope & expect anyone who chooses to pursue a self-drive road trip based on the information on this website does so with care, respect & due diligence. I encourage careful riding & adherence to road rules, but I am not responsible for the legality or manner in which you ride, nor any negative consequences which may result from your decision to ride a motorbike in Vietnam: you do so at your own risk. Read more >
---
Overview & Details:
Below is a brief overview of the QL279 route, followed by more specific details about important considerations, such as weather, accommodation, duration, food and drink, and connecting routes:
QUICK DETAILS:
Route: east to west across the northern crest of Vietnam on one road from Hạ Long to Điện Biên Phủ
Distance: 937km
Duration: 3-6 days (one-way)
Scenery: mountains, limestone karsts, jungle, rivers, valleys, villages, rice terraces, lakes, waterfalls
Attractions: dramatic landscapes, mountain passes, good riding, war sites, homestays, waterfalls, caves
Road Conditions: good, paved surface, some narrow sections, some roadworks, light traffic
Best Time: March-October
---
---
ABOUT THE ROUTE:
Distance: The full distance of road QL279 from start to end is 937km. However, you can join QL279 at multiple points along its length.
Duration: Assuming you want to ride the entire length of QL279, most riders will need a minimum of 3 days: that would mean riding at least 300km each day, which is a lot on this mountainous road. It's a much better idea to spend 4-6 days riding QL279, which gives you time to enjoy the ride and the scenery, make some stops at waterfalls and lakes, take some short detours, and stay at some of the lovely homestays along the way.
Start & End: The official start of QL279 is at an intersection near Cẩm Phả in Quảng Ninh Province, not far from Hạ Long City, reached via a fantastic coast road. Alternatively, you can connect to QL279 directly from Hạ Long City. The latter is just 2-3 hours by road from Hanoi, and nearby Hải Phòng and Vân Đồn both have airports. The official end of QL279 is at the Tây Trang border gate to Laos, which is 30km south of Điện Biên Phủ City. However, you can join QL279 at many different points along its course. Indeed, many of my other northern route guides incorporate sections of QL279.
Weather & Time of Year: Road QL279 can be ridden year-round, but the best period for weather is March-October. Temperatures can get very cold in the mountains between November-February, and regular rains fall between June-August.
Accommodation: Although much of this route is relatively remote, there are a handful of towns with guesthouses and mini-hotels, and villages offering homestays. In particular, several homestay clusters, such as Bắc Sơn, Ba Bể and Lâm Bình make for very nice and atmospheric places to overnight. In addition, there are a couple of outstanding accommodations on the route, such as Cinnamon Eco Lodge. Alternatively, there are opportunities to make small detours to larger towns for a wider range of accommodation, such as Lạng Sơn. I have marked a dozen or so places to stay on my map as examples of what's available.
Food & Drink: All towns and villages along the route have plenty of quán cơm-phở (rice and noodle eateries). However, it's worth noting that food is often only available at mealtimes: don't expect to find breakfast after 9am or dinner after 8pm in the smaller settlements. Coffee is nowhere near as ubiquitous (or as good) in the northern highlands as it is in the Vietnamese lowlands, but rice and corn liquor (rượu gạo/ngô) are readily available.
Connecting Routes: QL279 connects to many other great routes in the northern mountains. The Hà Giang Loop, Cao Bằng Routes, Tuyên Quang Magic 8, Mù Cang Chải Harvest Route, Extreme Northwest Loop and many more all link up easily with QL279. (See Related Routes)
---
---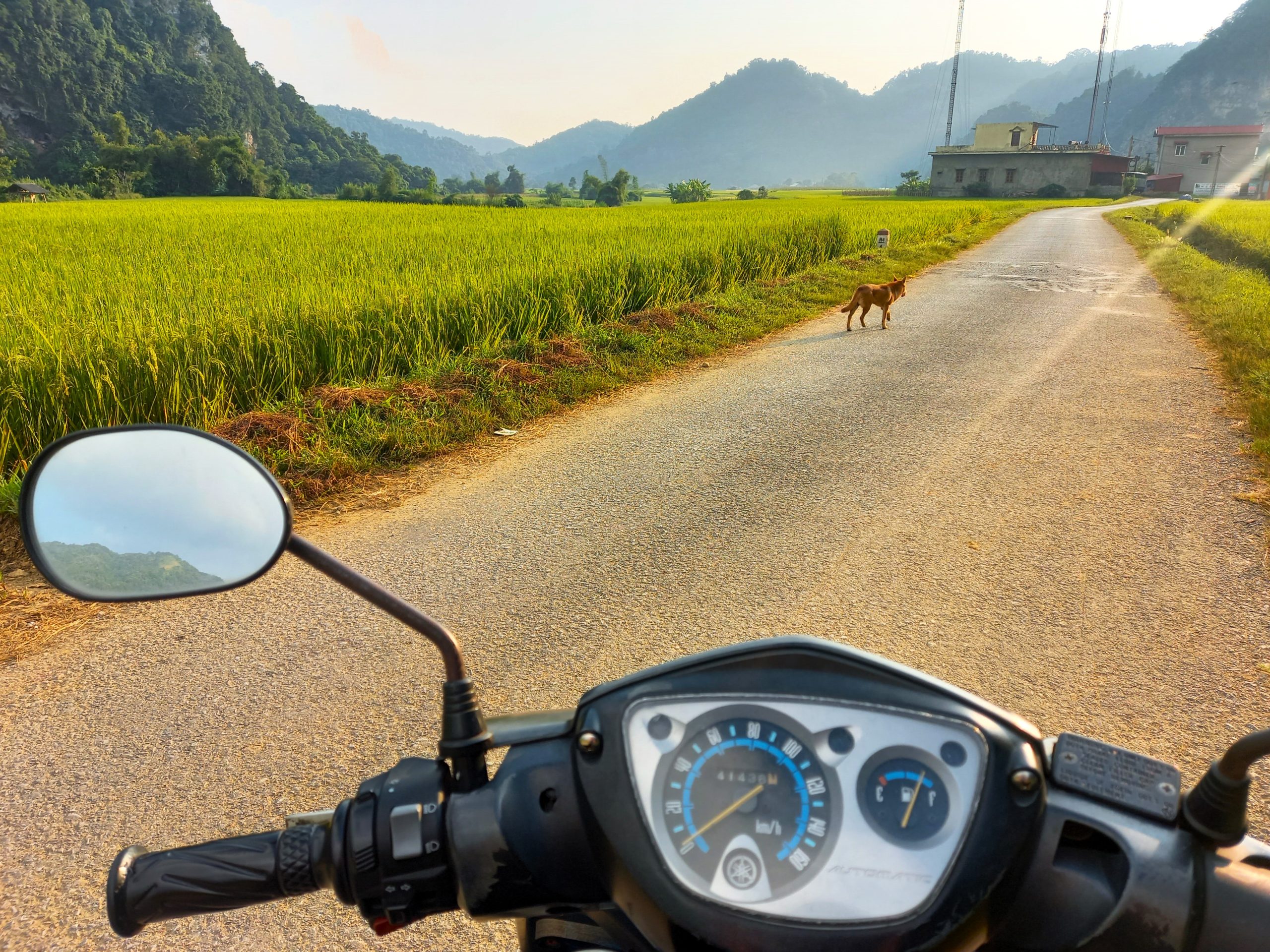 ---
---
Section 1:
Hạ Long→Cẩm Phả→Chi Lăng→Bắc Sơn | 250km
[View Map]
To begin Road QL279 at its most eastly point, start in Hạ Long City and take the fantastic coast road along a karst-studded shoreline towards the coal-mining town of Cẩm Phả. A few kilometres before reaching the latter, turn due north for km01 of the trans-northern belt road: QL279. Although the road immediately climbs into the hills, in truth it is not a glamourous beginning to the journey: passing through grim cement plants and industrial zones, the air filled with a fine dust and trucks littering the road as it leads back behind Hạ Long City Port. (You can easily avoid this by taking a more direct route from Hạ Long to join QL279 north of the city: see the red line on my map. But if you do, you will miss the coast road to Cẩm Phả.)
Once the road starts heading north into the mountains, the trucks dissipate and the landscape becomes greener and the air fresher. Several mountain passes meander deeper into the forested highlands of the northeast. At Chi Lăng, a town in a valley circled by limestone pillars, there's a hotel if you need it, or you could branch east on Highway QL1A to Lạng Sơn for a greater variety of accommodation options. If not, head straight over the railway tracks and continue north up the extremely steep Bén Pass. The landscape opens up and the scenery gets better and better. Bình Gia is a crossroads where you can branch south to the incredibly pretty Bắc Sơn valley, where there are many homestays to stay the night.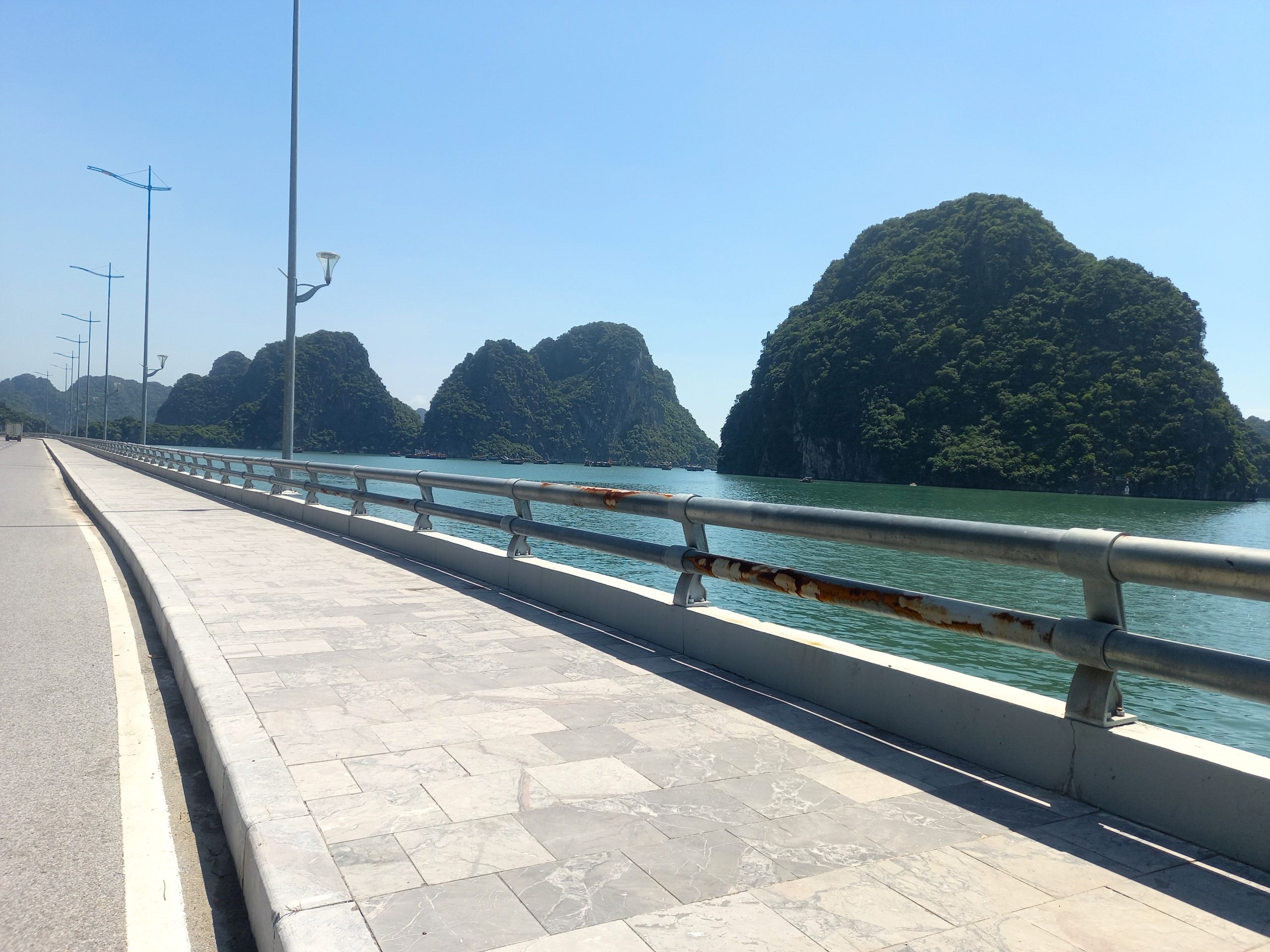 ---
---
---
---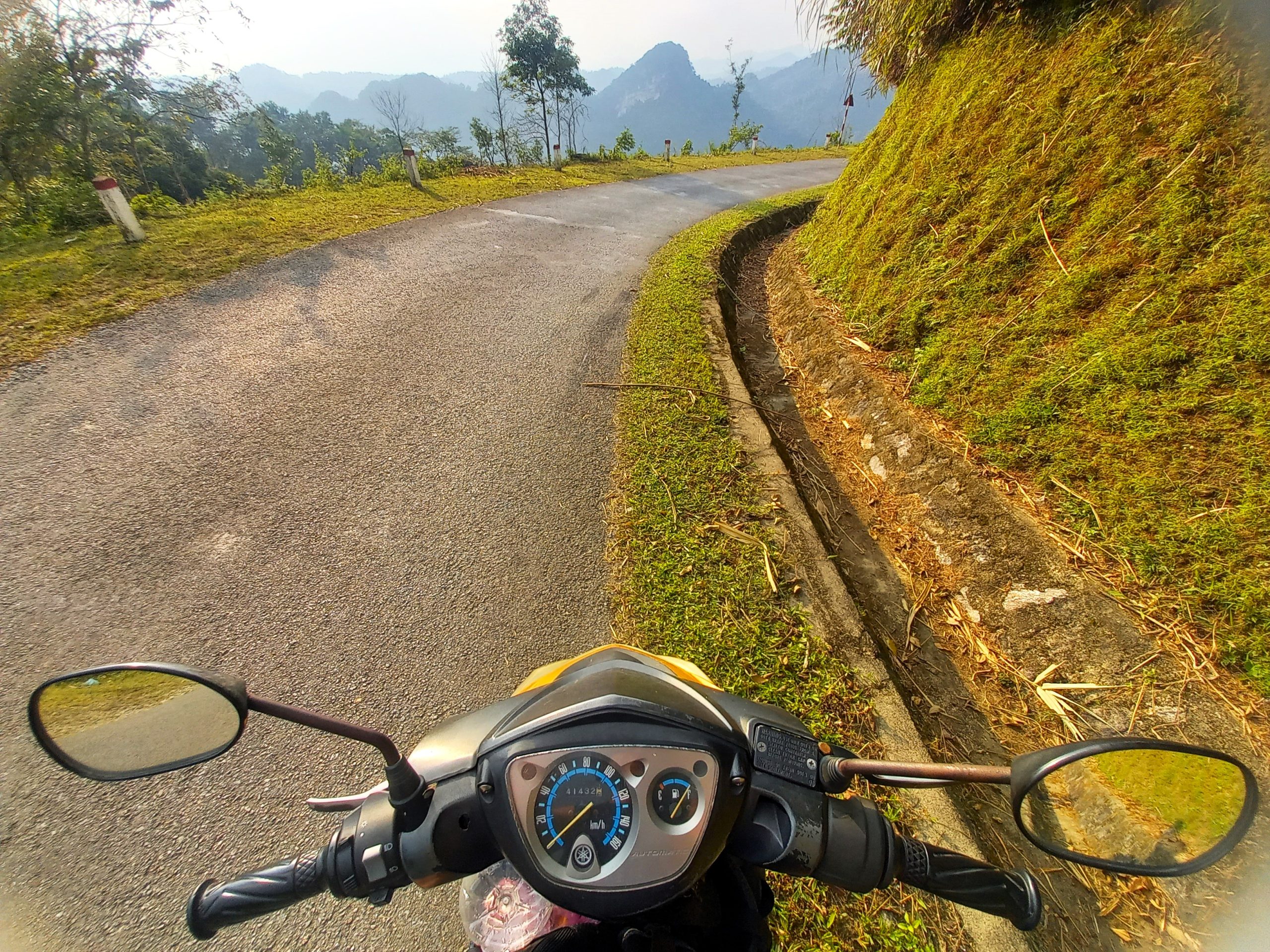 ---
Section 2:
Bắc Sơn→Ba Bể Lake→Na Hang Lake→Lâm Bình | 270km
[View Map]
From Bình Gia, QL279 branches northwest into the sparsely populated, densely forested and rarely explored highlands of Bắc Kạn Province. This section of road stretches for over 250km across the crest of the trans-northern belt road. Passing rivers and waterfalls, through jungles and ethnic minority hamlets, the road weaves deeper and deeper into the empty mountains of a region known simply as the Việt Bắc: 'North Vietnam'. There's practically no traffic at all. And, with a couple of short exceptions, the road is in good condition, making riding a joy.
At the intersection with QL3, you can join the highway south to Bắc Kạn City where there are lots of accommodation options. Alternatively, continue north on QL279 towards Chợ Rã where there are guesthouses and a short detour to Ba Bể Lake, a beautiful body of serene water encircled by limestone mountains and dotted with excellent lakeside homestays.
The ride from Chợ Rã west all the way to Na Hang and Lâm Bình is sublime. North of Ba Bể, the jungle appears to melt over the conical limestone peaks like wax down the side of a candle. The road, in excellent condition and totally empty, soars and swirls from peak to peak, valley to valley, lake to lake. It's an immersive ride. Add a couple of waterfall stops and boat explorations of Na Hang Lake and a night in one of the many atmospheric homestays around Lâm Bình and you have a memorable day on the road. There are good mini-hotels in Na Hang town or take the scenic detour north on DT190/DT188 to Lâm Bình where many good homestays scattered around the pretty countryside.
---
---
---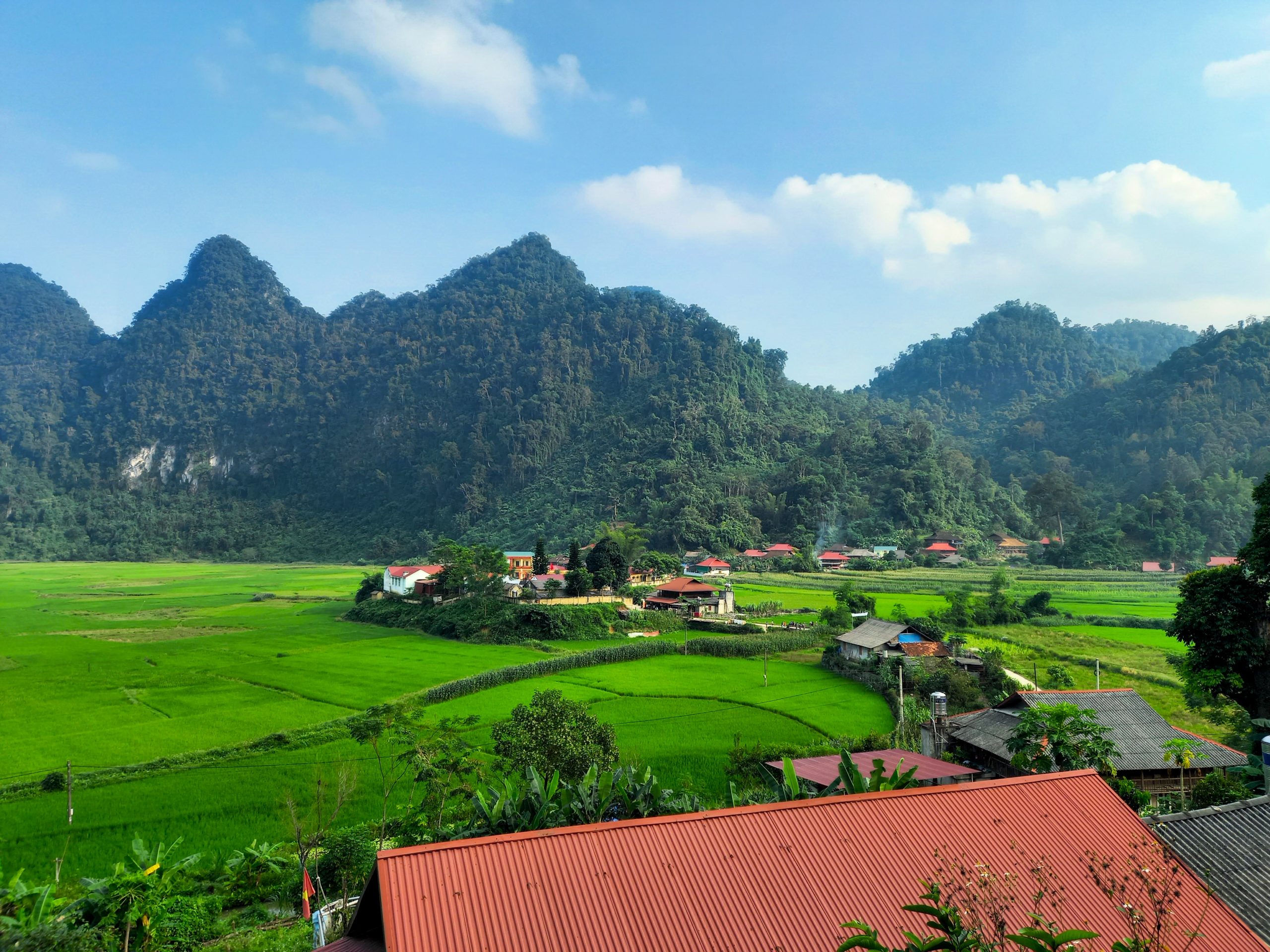 ---
---
Section 3:
Lâm Bình→Việt Quang→Phố Ràng→Than Uyên | 255km
[View Map]
Continuing west from Na Hang, a section of lowland scenery along a river plain leads to the bustling little town of Việt Quang, which is the gateway to the famous landscapes of Hà Giang to the north. Việt Quang has a few decent mini-hotels if you need them and also an unexpected little bar serving excellent-value margaritas, made by a young local. Moving westward from Việt Quang, QL279 is now in perfect condition after many years of slow repairs. The hillsides are planted with cinnamon trees whose bark is laid on the roadside to dry, scenting the air and you ride past. There's an excellent place to stay here: Cinnamon Eco Lodge.
At Phố Ràng the road heads south across the wide waters of the Red River. Unfortunately, the next 70km from Bảo Hà to the Khau Cọ Pass is under repairs. Some sections are OK, but others are quite horrible with all the dust and trucks. In dry weather, it's still fine to ride, just a bit unpleasant. This is a shame because the Khau Cọ Pass is spectacular: the gateway to the really high mountains of the Tây Bắc (northwest) and the Hoàng Liên Sơn Range. After the junction with QL32 ride a bit further south to the pleasant little town of Than Uyên. This is a good night stop with a couple of fine guesthouses, decent food – including fresh salmon (cá hồi) from local farms – cool mountain air and a little lake.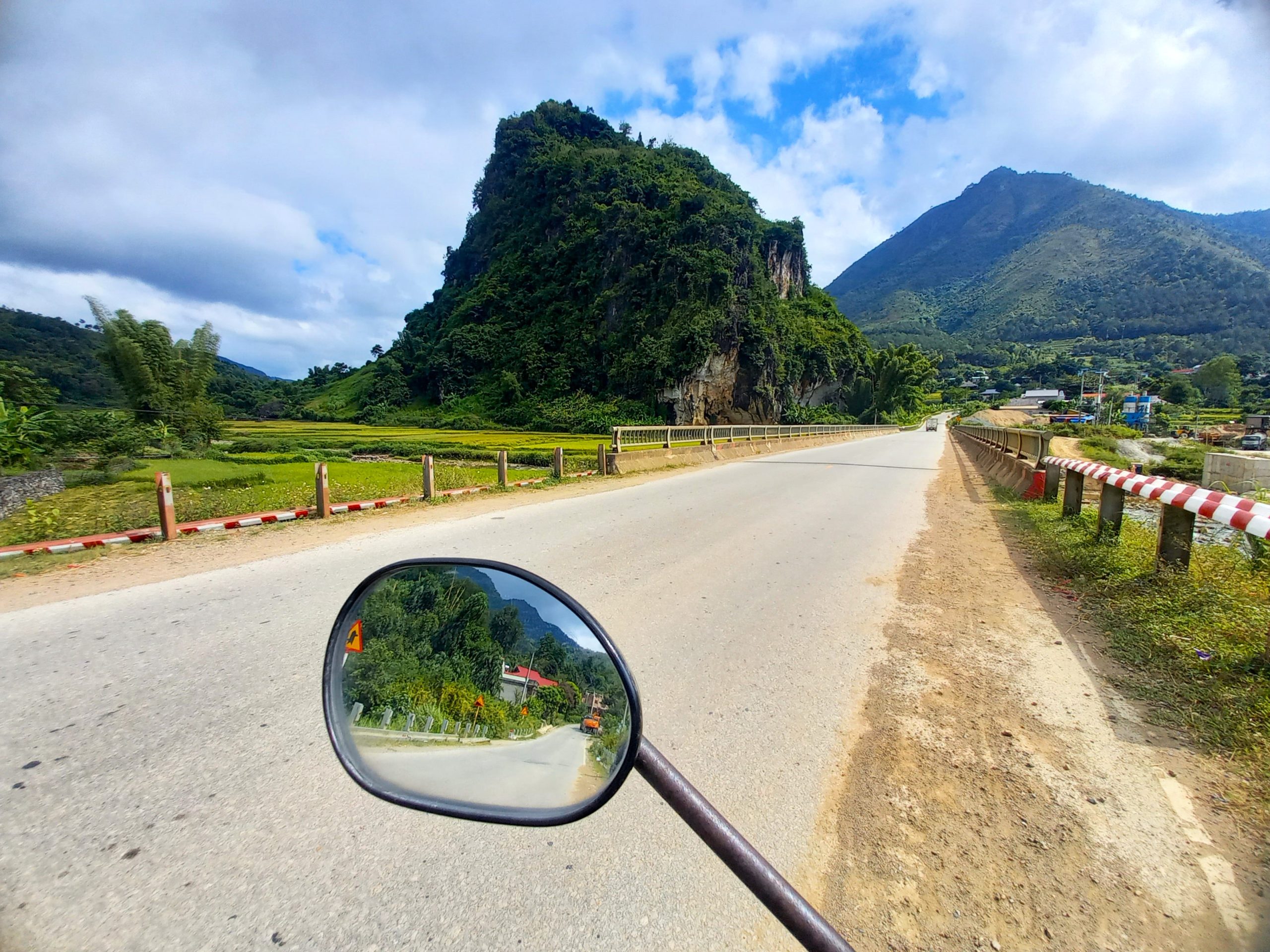 ---
---
---
---
---
Section 4:
Than Uyên→Quỳnh Nhai→Tuần Gíao→Điện Biên Phủ | 235km
[View Map]
Heading south of Than Uyên, QL279 bears west at Mường Kim beginning a long, snaking path around the perimeter of Hồ Bản Chắt, an enormous reservoir filled with blue water and surrounded by green mountains and limestone overhangs. The road is in excellent condition and there's no traffic at all. After the lake, a series of passes meander down to the Sông Đà (Black River) which, contrary to its name, is a delightful blue backed by limestone pinnacles forming a jagged crest. A long bridge crosses the broad waterway to Quỳnh Nhai where there are guesthouses. Then a fabulous pass leads up from Hủa Tát with stupendous views back over the Black River Valley and continuing through more limestone magic and jungles to Tuần Giáo.
Tuần Giáo, where there are some guesthouses, is the point at which QL279 joins the main artery to the remote outpost city of Điện Biên Phủ, site of the famous Vietnamese victory over the colonial French in 1954. The road is wide and winding, curling through valleys, over the Tằng Quái Pass and across rivers to the town itself, which lies in a clearing in the mountains. Dusty but pleasant, there are lots of hotels, food and drink options in Điện Biên Phủ, as well as war-related sites, such as A1 Hill and the museum.
The final leg of QL279 to the Tây Trang border with Laos crosses a wide open plain before spiraling up the mountains to the border gate, a scenic ride somewhat spoiled by a large cement plant. The border is remote with signs for freight carriage to Laos, Thailand, China and Myanmar written in all four languages. This is the end point of the trans-northern belt road: km937 of Vietnam's third longest artery stretching across the breadth of the the nation at its widest and most mountainous point.
---
---
---
---
---
*Disclosure: I never receive payment for anything I write: my content is always free and independent. I've written this guide because I want to: I like this route and I want my readers to know about it. For more details, see my Disclosure & Disclaimer statements and my About Page
RELATED ROUTES

:
---