Last updated August 2019 | Words and photos by Vietnam Coracle
The extreme northwest of Vietnam – the big mountainous bulge west of Highway QL12, around the Black River basin – is probably the most remote region of the entire country. Straddling the border of Dien Bien and Lai Chau provinces, it's certainly one of the least-travelled areas in Vietnam. The extreme northwest abuts both China and Laos, thus this route travels through extensive borderlands, which are often very sensitive. Indeed, this region is perilously close to the infamous Golden Triangle. As such, local police and government officials may hinder your progress. However, old roads have recently been upgraded, and new ones have been blown through the mountains, creating an extremely mountains, off-the-beaten-track, and circuitous route between Lao Cai and Dien Bien Phu. The roads lead further, higher, and deeper into the northwest mountains than ever before, threading between peaks pushing 10,000ft, which are the southeastern-most extent of the same geological collision that formed the Himalayas. It's also possible to turn this route into a loop.
[Back Top]
---
GUIDE:

THE EXTREME NORTHWEST
---
ROAD TRIP DETAILS:
Total Distance

: 800km/400km/310km (one-way)

Duration

: 2-7 days

Route

: three remote & mountainous routes between Lao Cai & Dien Bien Phu [MAP]

Road Conditions

: paved back-roads, new highways, light traffic, regular landslides

Scenery

: mountains, rivers, rice terraces, minority villages, remote borderlands


---
CONTENTS:
---
*IMPORTANT: Parts of this route travel through sensitive areas: please read the following paragraphs carefully before setting out on this road trip.
The main route in this guide is all about exploring remote roads and regions: it's by no means the most direct route between Lao Cai and Dien Bien Phu, and sometimes it requires back-tracking. But the rewards are big scenery and virtually no other travellers. The total distance between Lao Cai and Dien Bien Phu via the main route (the blue line on my map) is 800-900km. However, you can also turn this into a loop by returning via road QL6 and Sin Ho (the green line on my map: 400km), or the most direct route via QL12 and QL4D (the red line on my map: 310km). Using any of these routes, the one-way or return journey between Lao Cai and Dien Bien Phu can take anything between 2-7 days, depending on road conditions and weather. Despite its remoteness, the roads are generally in reasonable condition and there's accommodation (usually in the form of local guest houses, called nhà nghỉ) at all of the towns and villages marked with a red pin on my map. However, as the roads are so mountainous, they are highly susceptible to landslides, especially after heavy rains, which can render them impassable for hours or sometimes days. In my experience, weather is best from March-May and September-October.
You need a lot of time, patience and flexibility for this route, because if the landslides don't stop you at some point, the local authorities will. The border regions are very sensitive to the Vietnamese government and army. In particular, if you ride the roads between Muong Te, Muong Nhe and A Pa Chai (marked with a black line on my map), you should ask permission at the local government/police offices first; or head out and hope for the best, but you do so at your own risk. If stopped you will most likely not suffer anything worse than a fine, but there's always the possibility of something more serious, such as your bike being impounded or even visa issues. In general, I found the authorities on this route to be polite and accommodating. But remember, you are a guest in another country.
---
About this Map & Guide:
Below is a detailed, annotated route map followed by a short image gallery illustrating the kind of landscape and scenes you can expect to find on this road trip. On the map, I've outlined 3 main routes between Lao Cai and Dien Bien Phu. The blue route is the real Extreme Northwest: this is the longest, most remote, least travelled, and highest of all the routes. The green route is slightly shorter, with equally spectacular landscape and unpredictable road conditions. The red route is the easiest, most direct, and most travelled (but still highly scenic and remote). In general, the idea is to take one route out and another route back, thus creating a full Extreme Northwest Loop. On my map, I've started the route at the train station in Lao Cai, because this is where many travellers begin their road trips in northern Vietnam, having shipped their bikes as freight on the overnight train from Hanoi. However, another convenient starting point is Sapa, since it's such a popular destination and there are many places to rent motorbikes. (Note that the route from Lao Cai to Sapa is covered in my Y Ty Loop Guide and the route from Sapa to Sin Ho is covered in my Sin Ho Loop Guide.)
As mentioned before, bear in mind that this is an extremely rugged, remote, sparsely populated, and politically sensitive part of the country, so take your time and take it easy. Roads can be dangerous, not because of traffic, but because of landslides, potholes, and inclement weather. Much of the Black River valley has been flooded for hydroelectricity projects, and this has shifted road routes away from their original course along the river banks: in some cases, Google has yet to update its maps, so there are some discrepancies between the roads as they appear on the map and their actual route. However, the general route is still the same, just several kilometres further away from the river banks, and it shouldn't be too difficult to navigate. There's at least one local guest house (nhà nghỉ in Vietnamese) or hotel in each of the places marked with a red pin on my map. Gas stations aren't frequent, but can been found in most of the villages and towns on this route.
*WARNING: Police and army personnel patrol much of the border territory on this route. When it comes to the authorities, the biggest challenge is the road near the Chinese border, which links Muong Te with Muong Nhe, with a side route to A Pa Chai, the point where Vietnam, Laos, and China meet. In fact, parts of this road are so sensitive that it doesn't appear on most maps (I've tried my best to draw it on my map in black). If you choose to take this road, it's highly advisable to seek permission in Muong Te or Muong Nhe before attempting to do so.
---
ROUTE MAP

:
The Extreme Northwest: Lai Cao→Sapa→Dien Bien Phu | 3 Routes
Blue line: 800-900km | Green line: 400km | Red line: 310km
View in a LARGER MAP
---
IMAGE GALLERY

:
The following images are all taken along the Extreme Northwest Loop between Lao Cai and Dien Bien Phu, via the three routes outlined on my map. Read the captions below each image to find out exactly where they were taken.
---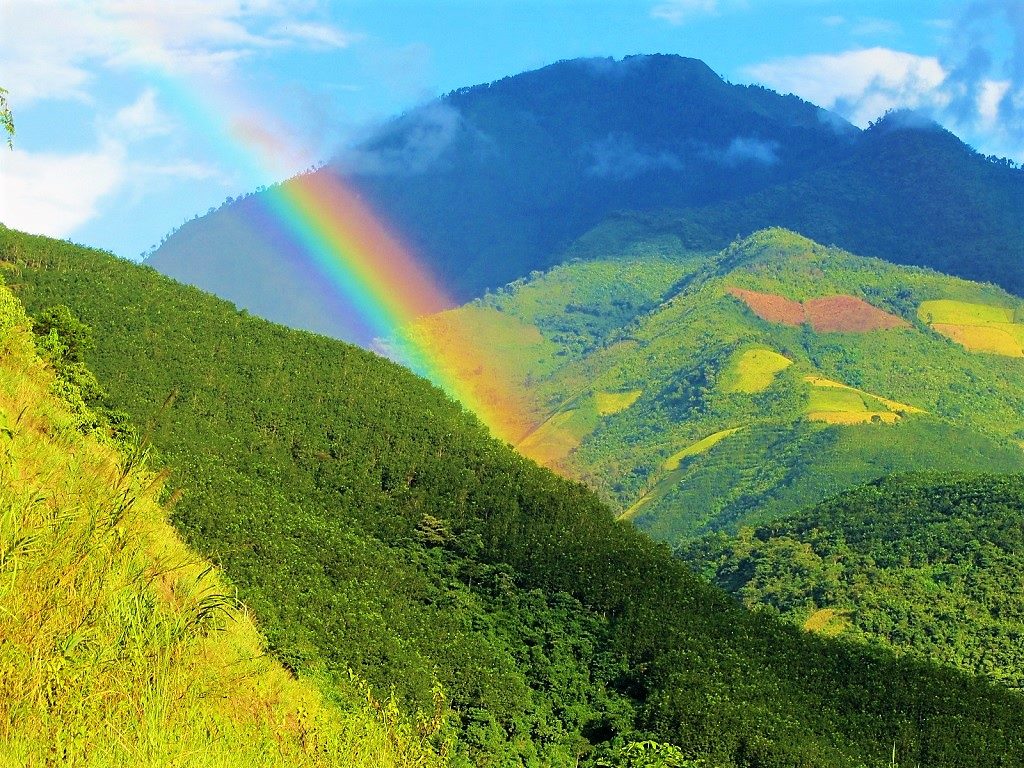 ---
---
---
---
---
---
---
---
---
---
---
---
---
---
---
---
[Back Top]
RELATED POSTS

:
---