First published May 2018 | Words and photos by Vietnam Coracle
Rattling through the night from the capital city, along the Red River Valley, and into the northwest mountains looming large over Lao Cai on the Chinese border, the Fanxipan Express is a romantic rail journey that's relatively cheap, comfortable, and easy to organize. Conveniently linking the urban rush and humid haze of Hanoi with the lofty landscapes and fresh air of Vietnam's highest mountain range, the sleeper train to the Chinese border is the gateway to Sapa, the hugely popular mountain retreat in the Tonkinese Alps. For motorbikers, too, the Fanxipan Express is a direct line to the fabled riding routes of the north, thanks to an easy freight system for two-wheeled vehicles. Below is my full guide to taking the night train, for passengers and motorbikes, between Hanoi and Lao Cai.
[Back Top]
---
GUIDE:

THE FANXIPAN EXPRESS
---
Below I've written a full guide to taking the train between Hanoi and Lao Cai, including information about sending your motorbike on the train with you. I've written all the information in separate sections, and plotted the rail route and relevant places on my map. *Please note: you can support this website by booking train tickets directly from this page: see below.
Click an item to read more about it:
---
ROUTE MAP

:
The Fanxipan Express: Hanoi to Lao Cai (for Sapa)
View in a LARGER MAP
---
SEARCH

&

BOOK TICKETS

:
*Please support Vietnam Coracle: you can search train times, prices, and make bookings directly from this page by using the Baolau.com search boxes & links throughout this guide. If you make a booking, I receive a small commission. All my earnings go straight back into this website. Thank you.
---
Train Operators & Contacts:
The Hanoi-Lao Cai route is part of the state-run Vietnam Railways (VNR) network. However, there are several luxury carriages attached to this train, run by private travel companies, such as Livitrans and Oriental Express, among others. Contact any of these three operators through the above links to their respective websites, where you'll find schedules, prices, and photos. Alternatively, compare prices across all train operators and book directly through Baolau.com.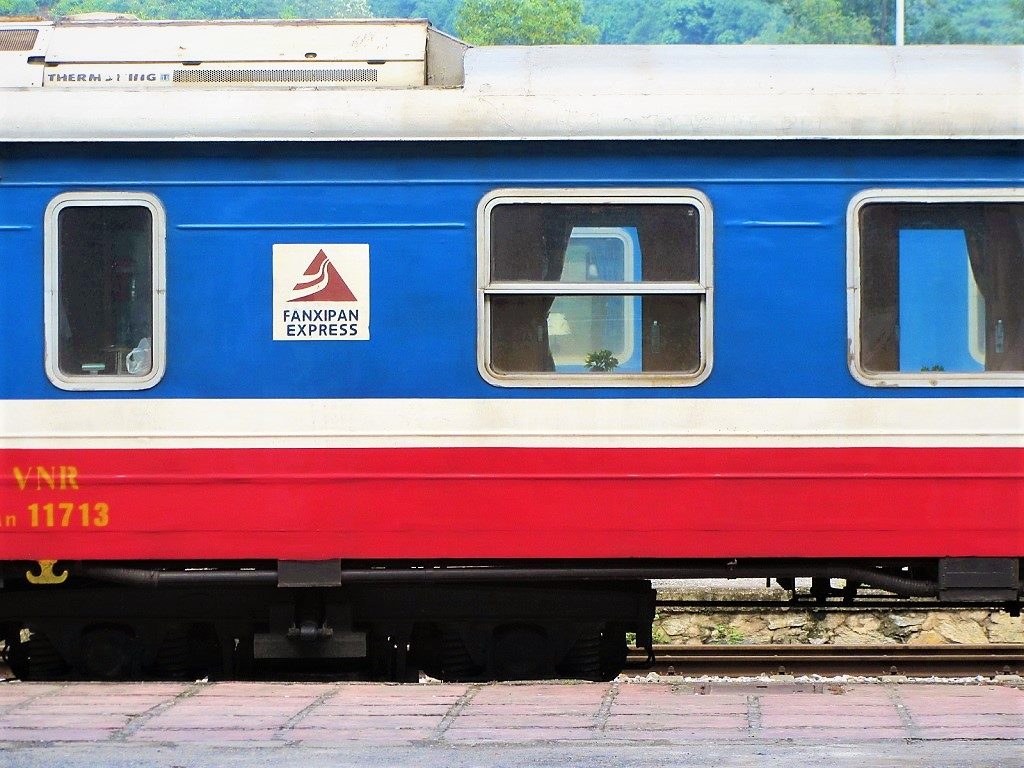 ---
Train Times & Schedules:
For most of the year, there are two sleeper trains in each direction every day. Journey time is between 7-8 hours. Note that only the earlier train in both directions (SP1 & SP2) allows motorbike carriage. All train times are subject to change, but in general the following times are fixed. During peak times of year, such as public holidays, extra services may be laid on. For up-to-date schedules, prices, and bookings check Baolau.com:
HANOI→LAO CAI:
Train SP1: Depart: 9.35pm→Arrive: 5.30am (daily)
Train SP3: Depart: 10.00pm→Arrive: 6.05am (daily)
LAO CAI→HANOI:
Train SP2: Depart: 8.55pm→Arrive: 4.32am (daily)
Train SP4: Depart: 9.40pm→Arrive: 5.30am (daily)


---
---
Ticket Prices & Booking:
Although ticket prices are subject to change, the prices listed below rarely fluctuate by any significant amount. (Tickets for the privately-run luxury carriages, such as Livitrans and Oriental Express, are at least twice the price of those listed below and can be purchased via their websites or Baolau.com). Bookings can be made in person at Hanoi or Lao Cai stations, or online at Viet Nam Railways and Baolau.com, or through many hotels and travel agents across Vietnam. However, tickets for motorbikes must be purchased in person at the station. If travelling on a weekend or public holiday, it's advisable to book tickets at least a day in advance, as trains can be full at these times. During the week, you should be able to get a ticket on the day of departure, although it's still best to book in advance to avoid disappointment. All the following prices are one-way:
Bunk in 6-berth compartment (hard sleeper): 200,000-300,000vnd (bottom, middle, top bunk)
Bunk in 4-berth compartment (soft sleeper): 400,000vnd (top or bottom bunk)
Motorbike: 240,000vnd (110cc) | 324,000vnd (125cc)


---
---
Sending your Motorbike:
Sending your motorbike on the train between Hanoi and Lao Cai is very convenient, because it cuts out the long ride up into the mountains from the Red River Delta. If you want to explore Sapa and the northwest mountains by motorbike but don't have time for the ride there, sending your motorbike on the train is the perfect solution. Another boon for motorbikers is that the Hanoi-Lao Cai rail link is one of only a handful of routes that allow you and your motorbike to travel on the same train (the other significant route to allow this is the Saigon-Phan Thiet Express). Normally, on the vast majority of routes on the north-south mainline, your motorbike travels on a separate train to you, and usually takes at least a couple of days to arrive at its destination (for full details see this in-depth guide to sending your motorbike on the train). But on the Fanxipan Express, both you and your bike depart and arrive on the same train, at the same time. This allows you to rent or buy your motorbike in Hanoi and go straight into the mountains, where you can get started on several fantastically scenic rides in the area, including the Sapa-Sin Ho Loop, the Y Ty Loop, and the Borders & Back-Roads Loop.
If travelling on a weekend or public holiday, it's advisable to book your motorbike ticket at least a day in advance, because this is a popular route and there's limited space available for freight. However, during the week, it should be fine to buy your motorbike ticket on the day of departure, although it's still a good idea to buy it at least a few hours in advance. Unlike passenger tickets, motorbike tickets are usually only available to purchase in person at the station; not online or through hotels and travel agencies (although it's still worth asking the latter if they can do it). At Hanoi (Station B; Tran Quy Cap Street) and Lao Cai stations go to the main ticket office and explain that you want to send your motorbike between the two stations. In most cases, staff will direct you to another counter that deals with freight. You'll need to show your blue/green ownership card for the motorbike, and the staff will drain your bike of gas. You will be given a receipt: don't lose it, otherwise you will have problems reclaiming your motorbike at the destination station. As all departures are in the evening, it's best to take your bike to the station around mid-afternoon (I'm told that motorbikes must be at the station no later than 4pm on the day of travel). Station staff should be able to take it from you and wheel in onto the train later, before departure (this is certainly possible at Lao Cai station, but at Hanoi it may not be).
When arriving at your destination station, walk to the end of the train (the freight car is either at the front or back of the train) and show your receipt to the staff. They'll wheel your motorbike off the carriage and onto the platform, from where you'll need to wheel it down the platform and out of the station. (Note that, at Hanoi, motorbikes usually exit at the back entrance, on Tran Quy Cap Street, also known as Station B.) Remember that your bike will be empty of gas. There's usually someone selling bottles of gas just outside the station. However, this is low-grade petrol at inflated prices, so it's best to buy only a litre, which will be more than enough to get you to the nearest gas station to fill up. Bear in mind that all trains arrive early in the morning, so you may have to wait a while at the station before anything opens.
---
Departure & Arrival Stations:
At either station, it's always a good idea to arrive at least half an hour before departure. Both stations are relatively easy to navigate, and staff are generally helpful and used to dealing with foreign passengers. However, while Lao Cai station is small, quiet and fairly modern, Hanoi station (Station B on Tran Quy Cap Street) is quite busy, sprawling and hard to find. Of the two, Lao Cai is much easier to manage as a foreign traveller. There are ATMs at both stations.
---
HANOI STATION B [Tran Quy Cap Station]: (Ga Trần Qúy Cáp); Address: 1 Trần Qúy Cáp Street [MAP]: An odd complex of handsome French colonial buildings and rundown warehouses, Hanoi Station B is right in the heart of the capital but hidden down a small street behind the city's main station (Station A on Le Duan Street). It can be hot and busy, but perfectly manageable with patience and time. The ticket office is inside the station compound, just off Trần Qúy Cáp Street. There are usually taxis available outside the station entrance. There are coffee shops and some noodle houses across Tran Quy Cap Street, opposite the station. Bear in mind that it will be early morning when you arrive at Hanoi Station B, so most places will be closed.
---
LAO CAI STATION: (Ga Lào Cai); Address: Khánh Yên Street [MAP]: A modern facade and tidy interior make Lao Cai station much easier for travellers to negotiate than Hanoi station. For most of the day, Lao Cai station is calm and quiet. The ticket office and waiting area are at the centre of the station building. Off to the right of this, at the entrance to Gate 2, is where you take your motorbikes to be loaded, if you're sending it with you to Hanoi. There's a snack bar on the second floor of the station, and several other informal rice eateries opposite (the Terminus Restaurant & Bar serves cocktails and smoothies). All station signage is in English and Vietnamese so it's easy to find your way around (not that you'll get lost as it's just a small station). If, for some reason, you need to stay the night, Kim Cuong is a good mini-hotel just a minute walk from the station. Mini-buses and taxis meet the trains to take passengers on to Sapa (45 minutes).
---
The Trains:
The general level of comfort and cleanliness on the Fanxipan Express is pretty good. For the majority of travellers, there's no need to book onto one of the private luxury coaches attached to the end of the regular trains. It's only an 8-hour journey, and the price you pay for the added luxury of the private coaches isn't necessary. However, if you're travelling as a family, or if you just really like the idea of a luxury train journey, it can be a lot of fun to book onto one of the luxury coaches. (You can compare prices for regular vs luxury coaches here.)
For budget travellers, the soft-seats (155,000vnd) are cheap and reasonably comfortable. Seats are reclinable and there's enough space to lie back and get some sleep. The carriages are severely air-conditioned, so remember to bring a sweater or blanket to keep warm during the night. If you're unlucky, your sleep might be disturbed by other passengers eating, drinking, talking (and even singing karaoke) through the night. But, I suppose, that's all part of the fun (if you're in the mood). Beds in the 6-berth sleeping compartments are fine, but a bit cramped if you're tall. Try to avoid the top bunk in you're a remotely claustrophobic, because the distance between your face and the ceiling is only a few inches: it can feel like being trapped in a coffin. Again, sleep is subject to who you're sharing your compartment with: if you're with a family of screaming babies, you may struggle to get any shut-eye. The most comfortable option (apart from the luxury carriages) is a bed in the 4-berth soft-sleeper compartments. These are usually clean and comfortable with plenty of space to put your luggage and to lie down. A nice touch from Vietnam Railways is a desk lamp in each compartment, filling the space with soft, ambient light. My advice is to try to book the top bunk, because the lower bunk gets all the noise from the track. The click-ity-clap of the rails is part of the romance of any train journey, but on the lower bunk it can become an annoyance. Toilets are located at both ends of every carriage and are kept reasonably clean throughout the journey. Trolleys come through a couple of times, selling snacks and drinks, but it's a good idea to bring your own supplies too.
---
The Journey:
No matter which train you take, the journey will be through the dead of night, so there's very little to see. The exception to this is departing from Hanoi in the evening, when the train snakes through the city's cluttered suburbs, passing within feet of peoples' homes and businesses, offering a fascinating cross-section of the capital. But the rest of the journey is darkness; punctuated occasionally by the sodium lights of towns, the odd silhouette of a tree against the moonlit sky (if there is a moon), and brief glimpses of reflections on the broad and viscous surface of the Red River, whose path the train echoes for much of the journey. Something to bear in mind is that this is a surprisingly bumpy ride. Although the train rarely reaches a speed above 60 kilometres per hour, there are times when passengers are thrown about in their bunks and seats as the train flies over humps in the tracks. This can be a hindrance to sleep.
*Please support Vietnam Coracle: you can search train times, prices, and make bookings directly from this page by using the Baolau.com search boxes & links throughout this guide. If you make a booking, I receive a small commission. All my earnings go straight back into this website. Thank you.
---
Disclosure: I never receive payment for anything I write: my content is always free and independent. I've written this guide because I want to: I like this train route and I want my readers to know about it. For more details, see my Disclosure & Disclaimer statements here
[Back Top]
RELATED POSTS

:
---