Last updated December 2017 | Words and photos by Vietnam Coracle
Sapa and Sin Ho are two towns high up on the slopes of the Hoàng Liên Sơn Mountain Range, known in French colonial times as the Tonkinese Alps. Sapa is a famous mountain retreat, enormously popular with Vietnamese and foreign tourists. Sin Ho, on the other hand, is hardly ever visited by travellers. These two highland towns are connected by lofty mountain passes, affording spectacular views over a landscape on a scale not found anywhere else in Vietnam. Rent a motorbike from Sapa and spend a couple of days on the Sapa-Sin Ho Scenic Loop; you'll be rewarded with some of the grandest alpine scenery in Southeast Asia.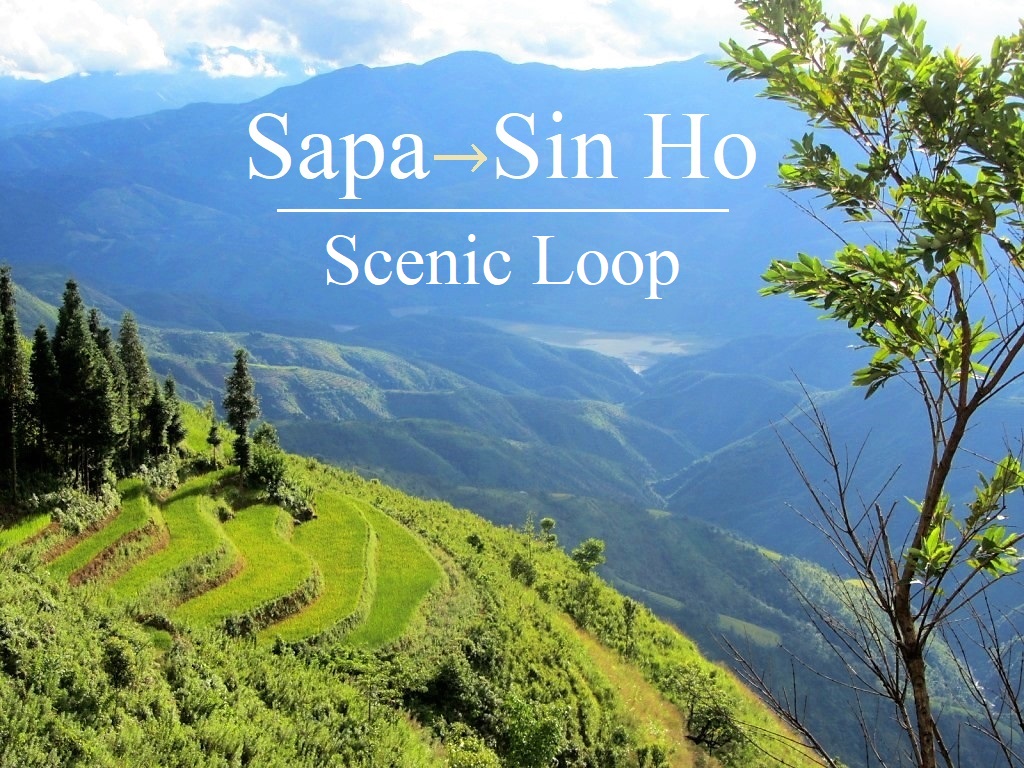 [Back Top]
---
GUIDE:

SAPA-SIN HO SCENIC LOOP
---
ROAD TRIP DETAILS:
Total Distance: 320km
Duration: 2-4 days
Route: a round-trip between Sapa & Sin Ho on mountain passes [MAP]
Road Conditions: good mountain highways & back-roads, some rough patches
Scenery: the Tonkinese Alps: valleys, mountains & rivers on the roof of Indochina


---
ROAD TRIP CONTENTS:
SECTION 1: Sapa to Lai Chau (via road QL4D): 70km
SECTION 2: Lai Chau to Sin Ho (via Phong Tho): 115km
SECTION 3: Sin Ho to Sapa (via road 4D cũ): 135km


---
ABOUT THIS ROUTE:
I've written this guide in 3 sections, going anti-clockwise on the loop, but you can drive it in either direction. The total distance is 320km, but I've also included an optional side loop which would add another 80km to the total distance. Note that each section doesn't necessarily correspond to one day on the road. You could ride the entire loop in 2 days. However, the roads are steep and windy so progress is slower than in the lowlands, and the scenery is superb so you'll want to stop regularly to admire the views. 3-4 days is perfect. Weather and time of year are important considerations on this loop. Landslides are a common occurrence after wet weather and can block roads for hours or even days. Unfortunately, weather is very hard to predict in this area and conditions can change very suddenly all year round. The good news is that most of the roads on this loop are now either in excellent condition or in the process of being upgraded. April-May and September-October are the best months to go: the weather is warm(-er) and the terraced rice fields are a good colour. Below is my full guide to the Sapa-Sin Ho Loop, including a description of the route, suggestions of places to stay, eat and see, and my annotated map.
---
ROUTE MAP:
Sapa-Sin Ho Scenic Loop | 320km

View in a LARGER MAP
[Back Top]
---
SECTION 1:
Route: Sapa to Lai Chau (via road QL4D) | Distance: 70km [MAP]
Head west on Road QL4D from the mist-shrouded town of Sapa. The first few kilometres getting out of Sapa can be pretty grim these days, because of potholed, mud-streaked, traffic-clogged, and construction-choked roads. Eventually, however, the road clears and passes a couple of pretty waterfalls (Silver Falls [Thác Bạc] & Love Falls [Thác Tình Yêu]) before reaching the top of the Tram Ton Pass (also known as O Quy Ho or Heaven's Gate), Vietnam's highest mountain road at 1,900m (6,230ft). You'll know when you get here because, if the weather is clear, you'll see the pass snaking around the mountains below you. Even in misty conditions you'll know you've arrived because it's significantly warmer on the pass than in Sapa: the pass is both a climatic divide and a provincial one, marking the border of Lao Cai and Lai Chau provinces. There are a few makeshift, rickety-looking viewing platforms by the roadside offering stupendous vistas.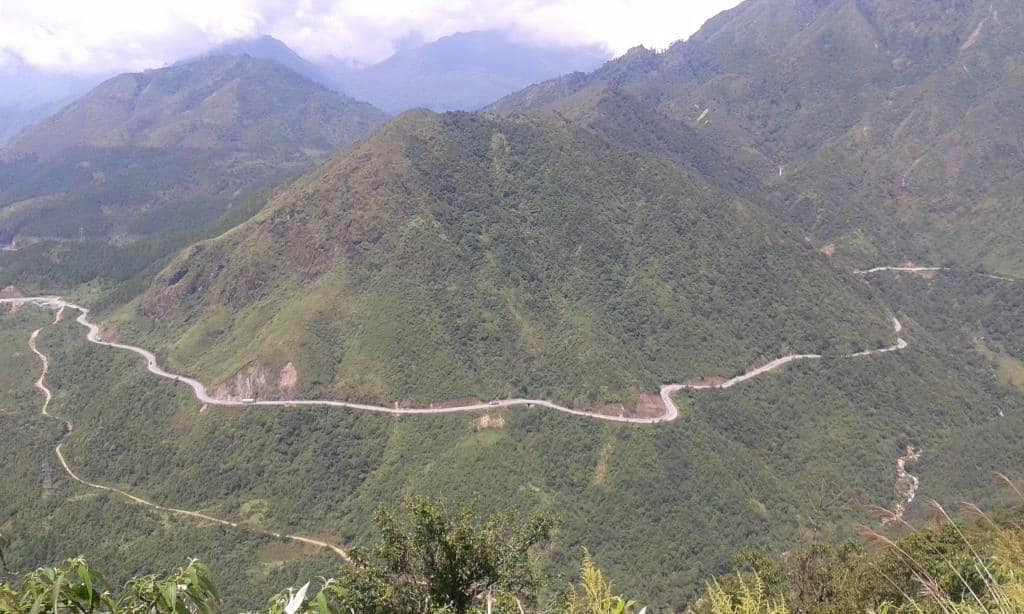 The impressive, crenelated ridge to the south is Mount Fansipan, Indochina's highest peak at 3,143m (10,312ft). Its looming presence bears down on the pass, casting a cold shadow over the road. Deep down in the valley indigo rivers forge paths over large boulders. Fansipan is so big that it dominates the scenery all the way to Lai Chau.
The Tram Ton Pass winds down through more pristine alpine scenery and past the Dong Tien Son caves to Tam Duong town. It's not much of a town – although its new multi-lane high-street would suggest otherwise – but if you need a rest there are a couple of good accommodation options and food stalls along the main road. Putaleng Hotel has excellent rooms for about $20, or cheaper digs can be found at Tan Sinh Guest House. Continue northwest on Road QL4D for 40km to Lai Chau (perhaps detouring to take a quick look at the impressive Tac Tinh Falls, just behind Tam Duong town). If you're visiting during September or October look out for some absurdly pretty valleys of terraced rice fields about 10km before descending into Lai Chau. This is the kind of scenery that brochures promise Sapa will offer, but in reality you have to travel a little further afield to find sights like this….
Lai Chau city is a brand new concrete creation in a remote valley surrounded by pyramidal peaks. It consists largely of grandiose government buildings, wide empty boulevards and depressingly vacant public spaces. On a wet, cold day Lai Chau is a painfully soulless place to be, but on a bright day it can be quite appealing. The scale of infrastructure and architecture are not in proportion to the population or significance of the city, but over the last couple of years local life has started to inject some character to this somber provincial capital. Thus, Lai Chau makes a convenient overnight stop. There are decent-value guest houses ('nhà nghỉ' in Vietnamese) and hotels on the main road (30 Tháng 4 Street). Try Binh Long Hotel (2 Tháng 8 Street | tel: 0213 2488 488) or Hà Nhi Hotel (30 Tháng 4 Street | tel: 0213 6250 999) for cheap, clean rooms. Or you could 'splash out' ($30) on the Muong Thanh Lai Chau Hotel, which has balconies with views over the town and tea plantations as well as a (often dirty) pool. The area around the lake has some good bánh xèo (Vietnamese savoury pancakes) and ốc (snails and shells) joints in the late afternoon/evening. Or meat lovers should try the roast suckling pig (lợn quay) at Quán 25 (62, 30 Tháng 4 Street). For good coffee head to Gateway Cafe (305 Tran Hung Dao Street).
---
SECTION 2:
Route: Lai Chau to Sin Ho (via Phong Tho) | Distance: 115km [MAP]
From Lai Chau continue northwest on Road QL4D toward the town of Phong Tho. This section of road is in very good condition and passes over high mountains before dropping down into a valley. Eight kilometres before reaching Phong Tho, there's a turning due north for Muong So. This is the beginning of an optional and scenic side loop. The total distance of this detour is around 70-80km. The scenery is very mountainous, heavily farmed with terraces of rice and corn, and dotted with minority hamlets. There are a couple of local guest houses in Muong So, including the clean, simple and friendly Gia Bao (0976 677 999). Alternatively, continue on QL4D to Phong Tho, where there are more hotels and plenty of local rice eateries. By far the most atmospheric of the places to stay in Phong Tho is the Lan Anh Hotel (0989 673 888), a timber, tile and concrete structure built around a verdant courtyard. After Phong Tho the road turns back on itself, becoming QL12 and heading southwest along the Nam Na River valley. The road is in good condition, and it's a quiet, easy stretch of riding through a pleasant valley all the way to the Nam Cay/Chan Nua junction.
Nam Cay/Chan Nua is less of a town and more of a country junction. There's a guest house (nhà nghỉ) here called Hưng Tâm (Tel: 0948 943 643) if you feel like staying the night, and some local food is also available. At the junction turn left (due east) on Road TL128 for the impossibly scenic and steep ride to Sin Ho. In good weather this route is exceptional. Cutting a path in the mountainside, the single-lane road zig-zags up for 40km to the isolated mountaintop town of Sin Ho. The views over ridges, farmland, ethnic minority villages and clear rivers are superb. Every time I ride up here I have a grin on my face the whole way, constantly stopping and gazing in disbelief at the landscape. The road conditions are pretty good for most of the climb, but landslides are a regular occurrence, so expect some extended patches of earth, mud and potholes. If it's been raining a lot, it may become quite slippery.
Just when you think it can't possibly get any better, the road snakes through a series of switchbacks until it bears northwards, thus opening up astonishing views down to the Nam Na river valley and far beyond to the distant mountain ranges straddling the border with China. It's a breathtaking ride.
Like Sapa, Sin Ho is often engulfed in mist and drizzling rain. The town is a bit scruffy and feels very remote. But, as with every town and city in Vietnam, upgrades to public spaces are beginning to make Sin Ho feel more welcoming with each year. Built on a small plateau, at an altitude of over 1,000m (3,300ft), Sin Ho is very cool, especially in the evenings. Ringed by limestone pinnacles and surrounded by minority villages scattered over the mountainside, this town has huge tourist potential, but as yet very few travellers make the trip.
Try to time your visit to catch the Sunday market. Busiest between 8am-11am, Sin Ho market receives hundreds of minority women dressed in their various colourful clothing. They make the journey by foot (sometimes starting before dawn) in order to buy (not sell) supplies for the week ahead. Unlike Sapa market and the horrendously touristy Bac Ha Market, where minority people are more likely to be seen selling to foreign and Vietnamese tourists, Sin Ho market is the real deal. This means there's no hassling to buy trinkets and garments: most of what's for sale is fresh meat, vegetables, fruit and practical equipment for use in the villages. Sin Ho market is noticeably calm and unhurried compared to other, more famous, minority markets in the region.
Sin Ho has a smattering of local cơm phở (rice and noodles) joints, particularly around the main square, and there's a new bakery opened, called Thanh Nam. The town has an increasing number of budget places to stay, mostly in the form of nhà nghỉ (guest houses). However, by far my favourite place to stay is the Phuc Tho Hotel (0213 3870 186). Just a 30 second walk from the market, this is a relatively large hotel run by a sweet older couple. Rooms have balconies looking over town and the main square. Rooms are basic but clean, including hot water showers: 200,000-600,000vnđ for 2-6 people sharing. If, for some reason, you don't like the Phuc Tho Hotel, there are several other decent accommodation options, including the Hong Hoa Guest House (o1687 271 123) and the Thai Binh Hotel (02313 870 366). But perhaps the most interesting (and certainly the cheapest) option is Ba Sanh Homestay (01649 434 628). On the southern edge of town, Ba Sanh offers dirt-cheap digs (a couple of dollars) sleeping in a communal room, but the real attraction is the Dao minority-style hot herbal baths. Costing just a few dollars (for staying or outside guests) these medicinal baths might be just what you need after a long, wet, cold day riding the mountain passes.
---
SECTION 3:
Route: Sin Ho to Sapa (via road 4D cũ) | Distance: 135km [MAP]
The 60km descent on Road TL128 from Sin Ho back down to Lai Chau is just as beautiful as the ride up. As the road emerges from the mist, which on most days engulfs the town of Sin Ho, a vast landscape opens up beneath you: endless mountains stretching into the distance and craterous valleys dotted with stilt-home villages clustered around clear streams. However, there are some short but treacherous sections for the first 10km out of Sin Ho, where maintenance work is ongoing and landslides cause the surface to be muddy and slick. Take your time and take care on this section, especially in wet or damp conditions.
About a third of the way down to Lai Chau, there's a junction with a turn off to the right (due south) to Nam Tam. Although this looks like an appealing road to take, I was told that road conditions were bad. (If you want to go to Nam Tam, approach from the north via Lai Chau instead, as this road is good and scenic.). As road DT128 drops further, through very dense jungle, with the city of Lai Chau visible in the valley, take a short break from riding in order to visit the caves of Pu Sam Cap.
Back in Lai Chau take the alternative route (road 4D cũ) to Tam Duong. To get there turn right (due southeast) at the Ha Nhi Hotel on Dang Van Ngu Street. This is a pretty, quiet route through limestone karsts and extensive tea plantations. It's almost exactly the same length as taking the main road (QL4D). From Tam Duong, rejoin QL4D and retrace your route back to Sapa via the Tram Ton Pass.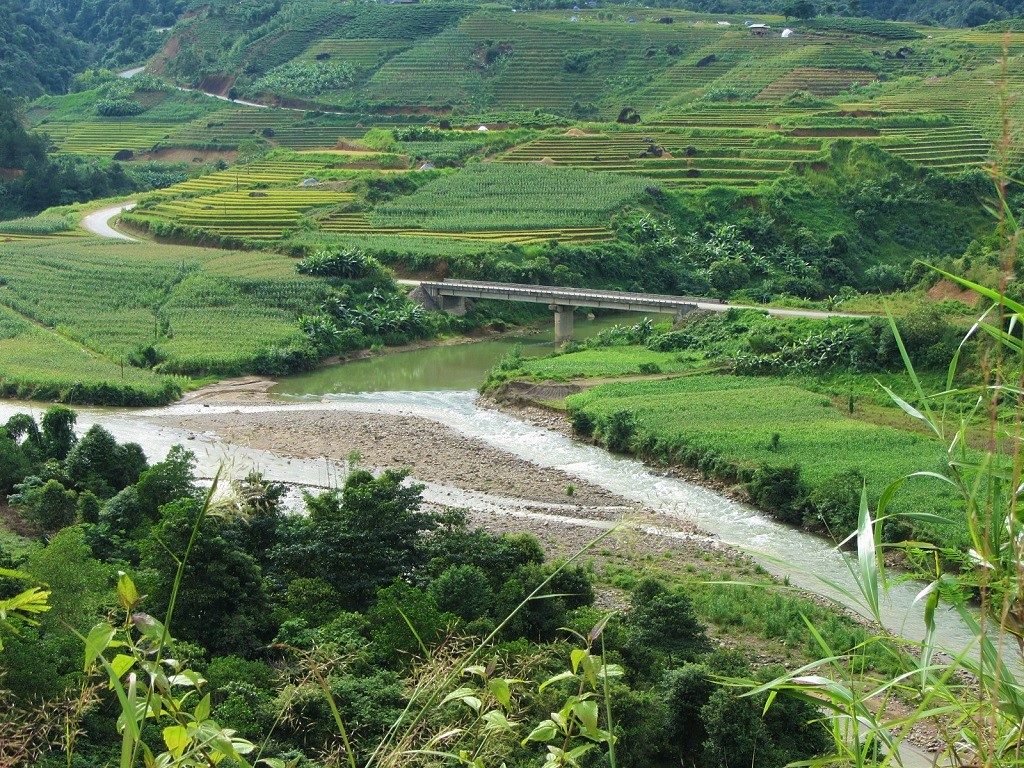 ---
RELATED POSTS:
[Back Top]