First published March 2023 | Words by Josh Zukas; photos by Biên Nguyên
---
Under 100km from Hanoi, the terrestrially craggy and ethnically diverse province of Tuyên Quang lays hidden in plain sight. Like most areas of northern Vietnam that few can pinpoint on a map, the roads, which hug rivers, circle limestone karsts, bisect pomelo farms and vault mountain passes, make for an intrepid, rewarding and yet peaceful motorbiking experience. Encircled by more familiar northern destinations, the Tuyên Quang Magic '8' Loop can be enjoyed as a stand-alone road trip from Hanoi or as part of a longer 'Great North' motorbike adventure, linking with the Ha Giang Loop, the Northeast Loops or Sapa routes.
---
Support Vietnam Coracle
Please make a donation or become a patron if you enjoy this website. Vietnam Coracle is totally free & independent. I never receive payment for anything I write.
Thank you, Tom
[Back Top]
---
TUYEN QUANG MAGIC

8

LOOP
---
Back-Roads in a Less-Traveled Northern Province
This figure-of-eight, two-day loop begins and ends in Tuyên Quang City. The 260km roundtrip ride includes dazzling viewpoints from mountain passes, heritage sights, the karst-studded Na Hang lake, and an overnight stop in Lâm Bình, the province's flagship but largely unknown tourist district. Tuyên Quang City is a mere three hours from Hanoi, making the loop feasible in a weekend. If undertaking a more ambitious two-wheeled journey through northern Vietnam that includes Hà Giang, Yên Bái, Sapa, Ba Bể Lake and the Northeast, you might incorporate sections of the Tuyên Quang Magic '8' into your itinerary. Click items from the contents below for full details:
CONTENTS:
---
*Road Safety & Disclaimer: Riding a motorbike in Vietnam – or anywhere in the world – has its dangers. I would hope & expect anyone who chooses to pursue a self-drive road trip based on the information on this website does so with care, respect & due diligence. I encourage careful riding & adherence to road rules, but I am not responsible for the legality or manner in which you ride, nor any negative consequences which may result from your decision to ride a motorbike in Vietnam: you do so at your own risk. Read more >
---
---
ROUTE MAP

:
Tuyên Quang Magic '8' Loop
---
Overview & Details:
QUICK DETAILS:
Route: a figure-of-eight loop exploring large swathes of Tuyên Quang Province
Distance: 260km (basic route)
Duration: 2 days (with potential to extend)
Scenery: limestone karst mountains, rivers, lakes, rice fields, palm forests, fruit & vegetable farms
Attractions: rural landscapes & pretty scenery, Na Hang Lake, homestays, off-the-beaten track villages, war monuments & historic sites
Road Conditions: decent paved provincial roads, few rough patches, opportunities for off-road detours
Best Time: April-October
---
SECTIONS:
Section 1: Tuyên Quang→Vĩnh Lộc→Na Hang→Lâm Bình (via roads DT185, DT176 & DT190) | 140km
Section 2: Lâm Bình→Vĩnh Lộc→Tuyên Quang (via roads DT188, DT176, DT189 & QL2) | 120km
About: This route is divided in two: Section 1 and Section 2. It's in the shape of an 8, which means you pass the small town of Vĩnh Lộc, a relaxed place with decent restaurants and cafes, on both days. The loop is 260km, a comfortable distance for two days, but you can extend the trip by adding days in the popular homestay areas of Ba Bể Lake or Vũ Linh village, pushing north to Hà Giang or extending your stay at Na Hang Lake or Lâm Bình, where there's a handful of things to do.
Landscape: The scale and drama of the landscape in Tuyên Quang is gentler than provinces further north: expect lush agricultural areas, forested hills, limestone karsts and the little jewels of Na Hang and Lâm Bình, which (thankfully) remain rough around the edges and far from the touristy centres that Sapa and Hà Giang have become. In all likelihood, you will not run into any other travellers, foreign or otherwise, on the Magic '8' Loop.
Weather: There isn't really a 'bad' time of year to make the journey. In spring and summer (April-August) you can expect bright skies, bulging rice fields and fleeting rain storms. Like other northern provinces, autumn (September-November), with her dry days and cool evenings, is probably the best time to visit. The winter (December-March) is misty and eerily beautiful, but also very chilly. Never underestimate how cold it can get in the northern mountains on a motorbike: pack thermals, gloves, thick socks, a jumper and a warm windbreaker (I wore all of the above but was still a little cold). Landslides are a rarer occurrence here than in other parts of the northern mountains, making it a good province to explore even if storms are brewing.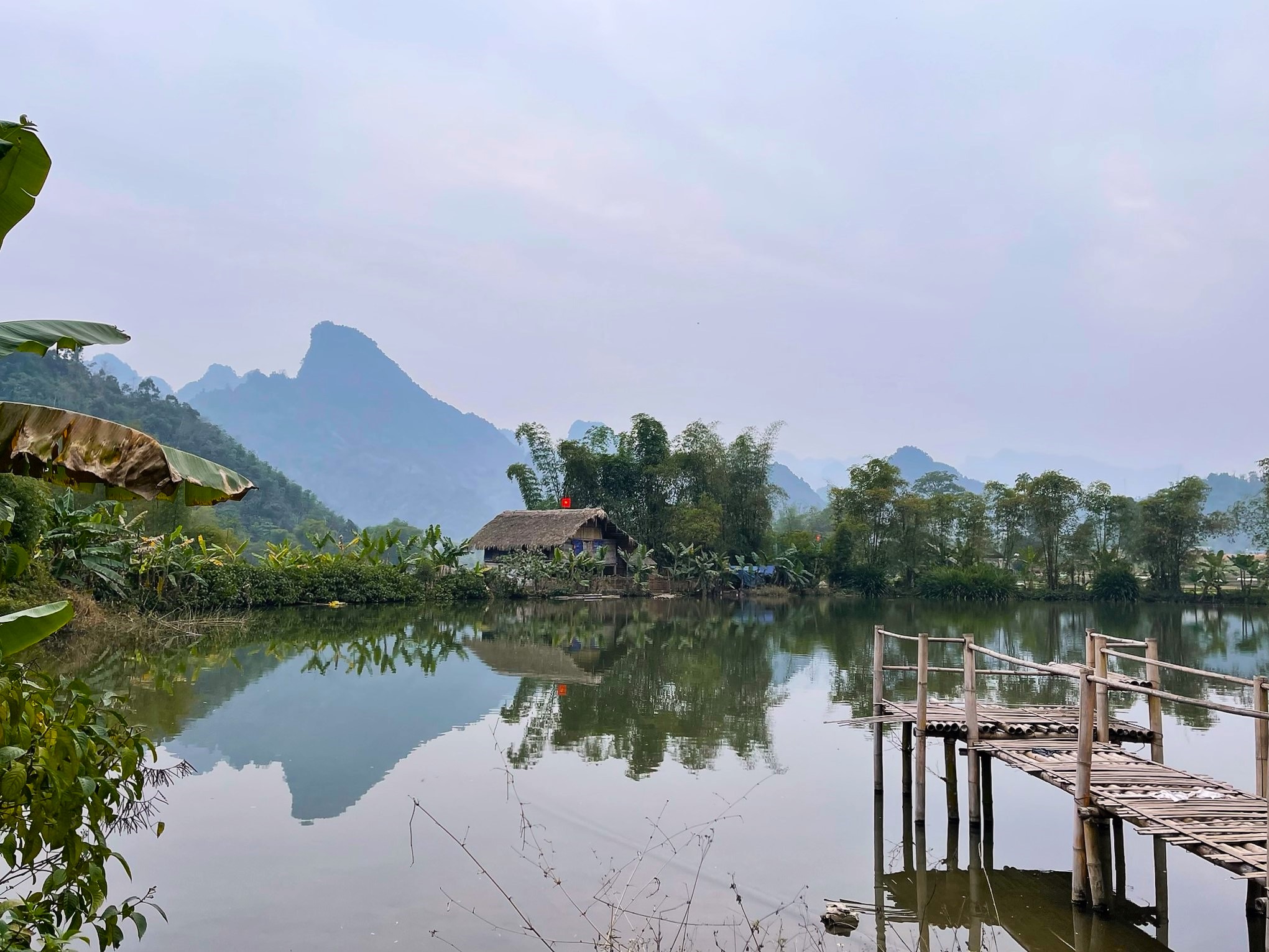 ---
---
Tuyen Quang City:
It may be tempting to get out of Tuyên Quang City as soon as possible, but if you linger, either by choice or necessity, you'll find a friendly, walkable and unhurried place with a decent spread of local restaurants and cafes. There are also some compelling examples of built heritage.
See & Do: At the roundabout intersection of Bình Thuận and Tân Trào streets are the restored remains of a Mạc Dynasty gate. The Mạc ruled large chunks of Vietnam in the 16th century, evidenced by the remains of walled cities across the northern provinces. The most well-known of these is probably the citadel in Lạng Sơn City. The gate in Tuyên Quang is comparatively less impressive, but the moss-covered red brick structure, along with a restored citadel wall to the south, is a worthy example of how local officials have tried to incorporate the area's heritage into the fabric of a modern city.
Just northeast of the Mạc gate is Nguyễn Tất Thành Square (which won an Asian Townscape Award – whatever that is – in 2022) and a poignant display of communist opulence in the form of a set of colossal sculptures. Ho Chi Minh, who stands tall in the centre, is flanked by proud soldiers (all male), a zealous student (male), a grinning child and, occupying a lower platform, two ethnic minority women. Needless to say, the scene is rich in symbols of government-sanctioned social structure and hierarchy. Equally as striking is the backdrop: an apparent reinterpretation of the Buddhist tree that echoes Soviet modernism. The whole spectacle sonorously harks back to the pre-Đổi Mới period (economic reform, instituted in the mid-1980s), and yet it was built in 2015, reflecting the weight that communist imagery still carries in modern Vietnam. For more Soviet-inspired sculpture, make a loop to the Tân Quang Lake and visit the war memorial (Đài tưởng niệm) on one of the two islands.
Sleeping: There's no shortage of places to stay in Tuyên Quang City. The more high-end options include Mường Thanh Grand and Royal Palace Hotel, which seem quiet and comfortable but, unsurprisingly, devoid of any character. We opted for the Anh Luxury Hotel, which is luxury in name but certainly not in essence or price. It sits in a pleasant, tree-lined residential grid system east of Tân Quang Lake. The owner, Mr. Quy, speaks reasonable English and can help with motorbike rental. There are several more family-owned guesthouses in the neighbourhood, which you can find on Google Maps.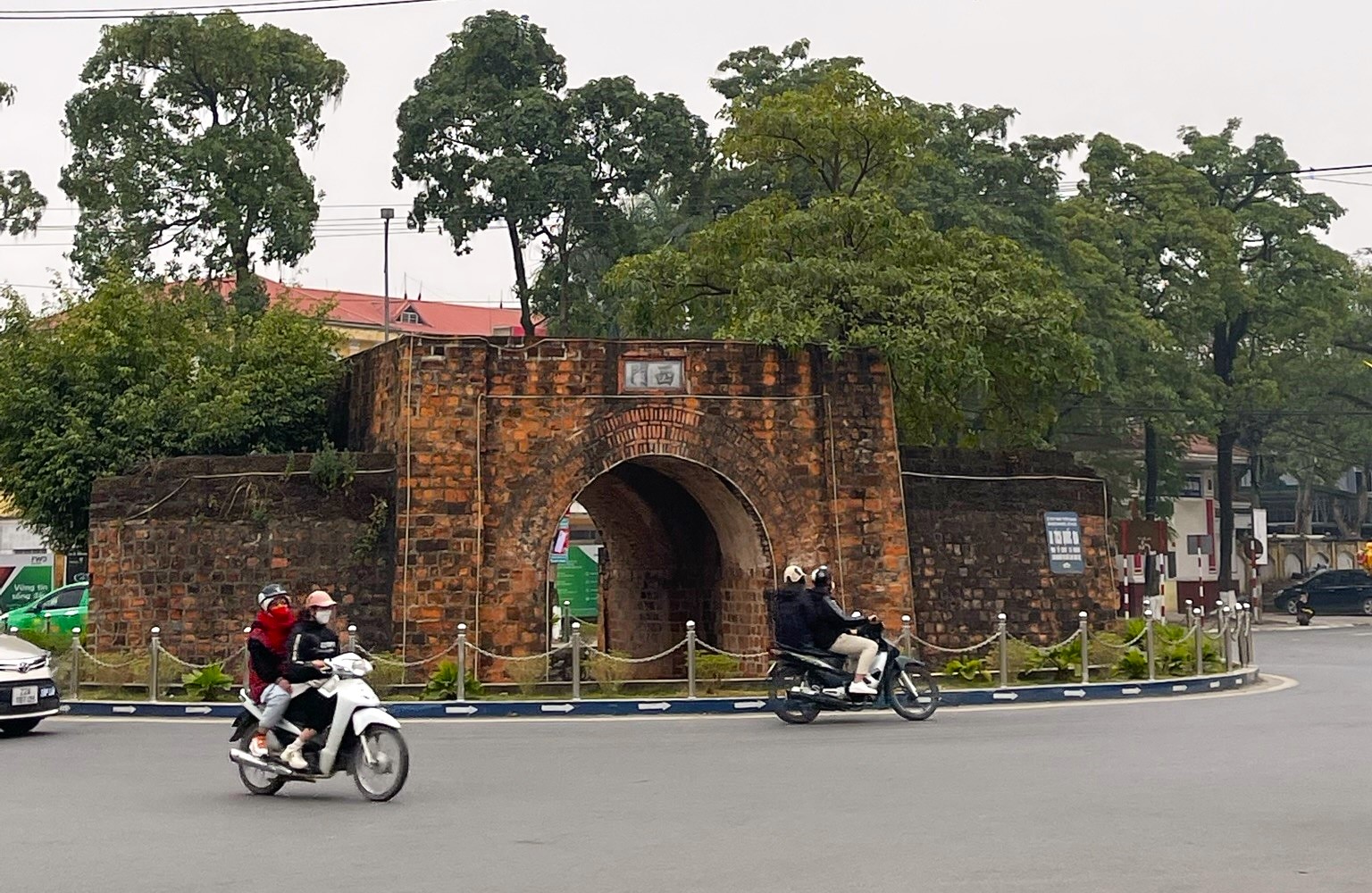 ---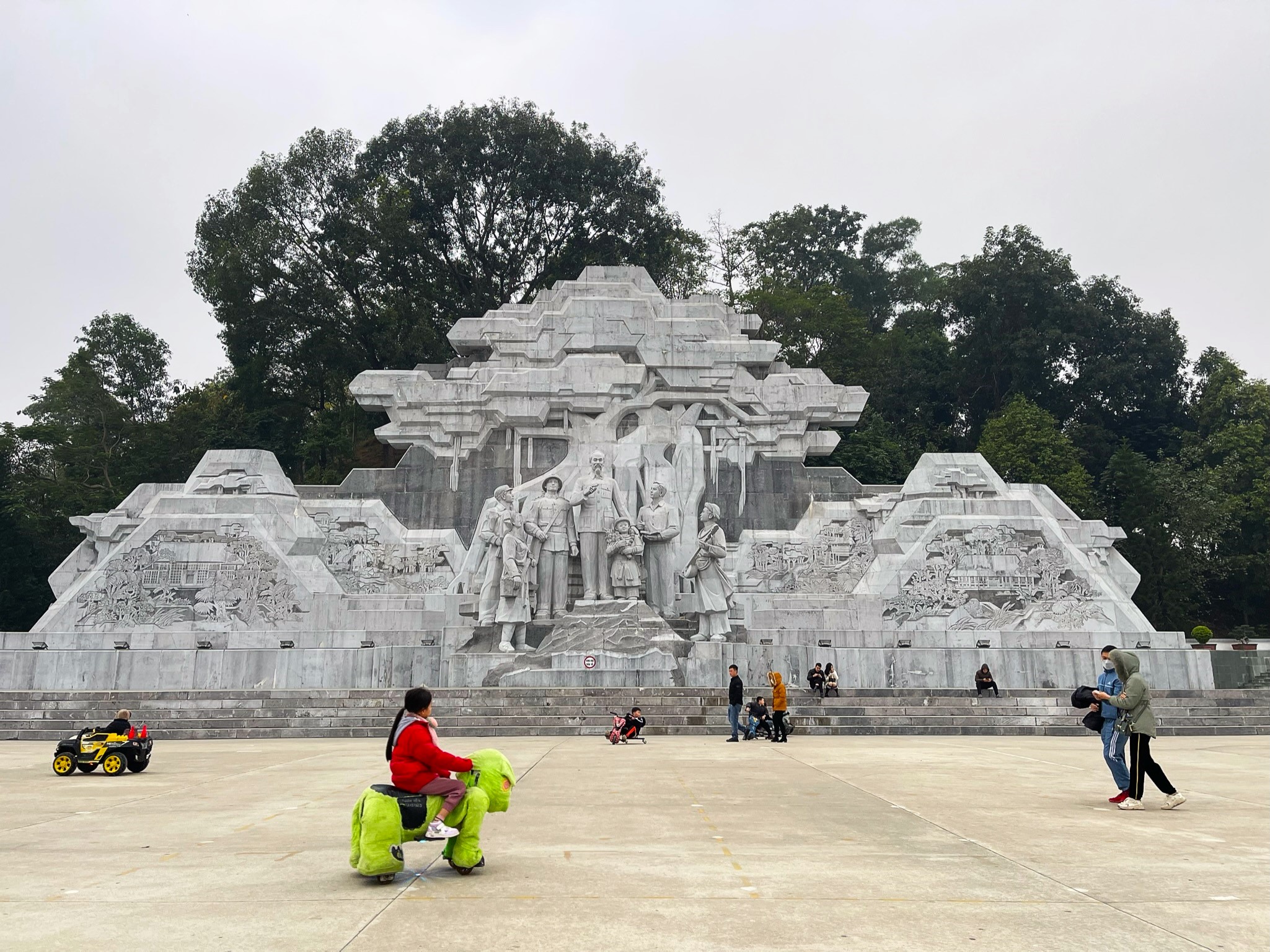 ---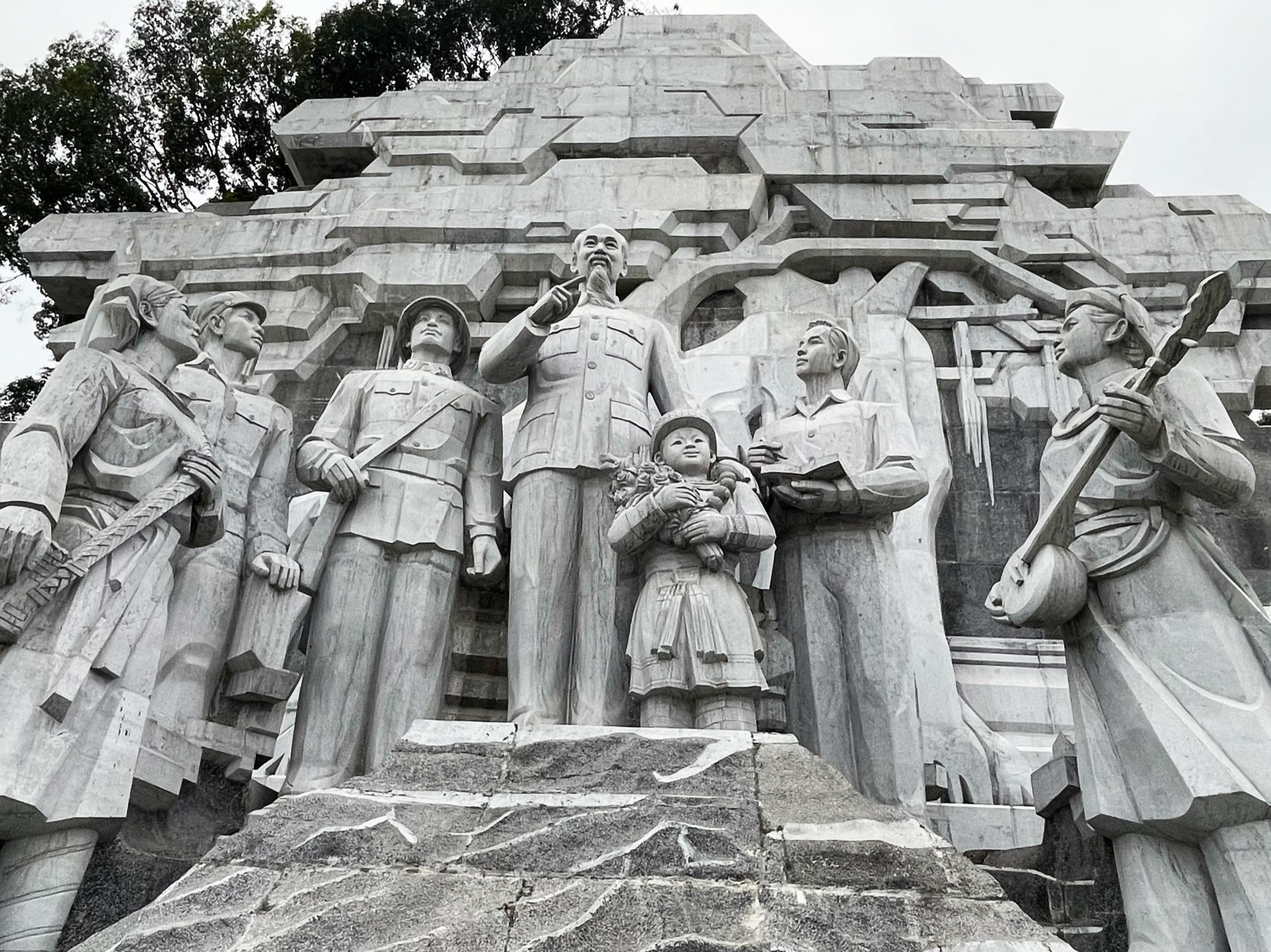 ---
Section 1:
Tuyên Quang→Vĩnh Lộc→Na Hang→Lâm Bình (via roads DT185, DT176 & DT190) | 140km
[Blue line on Route Map]
Traversing the eastern side of the figure-of-eight created by the loop, Section 1 (the blue line on my map) begins with road DT185 heading north of Tuyên Quang City before veering off due west to the banks of the Lô River and eventually rejoining DT185 just south of the Nang Pass (Đèo Nàng). Skirting fruit and vegetable farms that encroach on rolling, juniper-coloured hills, the riding is pleasant and scenic. Đèo Nàng is an enjoyable mountain pass, offering fine views over the jungled peaks of Tuyên Quang Province, before descending to Kim Bình, a curious heritage site. Kim Bình is a link in the chain of villages from which Ho Chi Minh rallied the northern forces to challenge French occupation. Today, these historic meetings are glorified with several Tày-inspired structures set within an esoteric palm tree jungle. The pathways that wind through the foliage are a good opportunity to stretch your legs after an hour or so of riding.
---
---
Only another 20 minutes' ride along DT185, Vĩnh Lộc is an ideal pitstop for lunch or coffee. We ate at Mộc Lâm Quán, a charming garden restaurant with raised wooden dining rooms and an excellent menu. Decent coffee and fruit juice can be found at Vu Hip. The friendly owner (his name is Vũ) speaks good English and will happily offer tips for customers.
You probably already noticed the monstrous Chiêm Hóa Hydroelectric Plant looming on the horizon on your way into Vĩnh Lộc. After leaving town, you'll have the chance to see it up close. Continue north, this time on DT176, and the plant will appear on your left. The road offers fine views of this gigantic structure, which was completed in 2013, and you'll probably see local teenagers perching on parked motorbikes gazing at the plant, offering a somewhat uneasy scene reminiscent of a 1950s dystopian novel. Keep heading north, passing the dramatically positioned Đôi Cô Temple, and enjoy the serpentine DT176 as it tracks the Lô River all the way to the intersection with QL279 at Na Hang town. The town lies of the edge of Na Hang Lake, a large, flooded valley created by a dam on the river. The lake is very scenic, with limestone pinnacles protruding above its placid surface. Several sights on the lake can be reached by boat, including Pác Tạ Temple and Khuổi Nhi Waterfall, from the small port (Thuyền Du Lịch Duy Thái) near Na Hang town.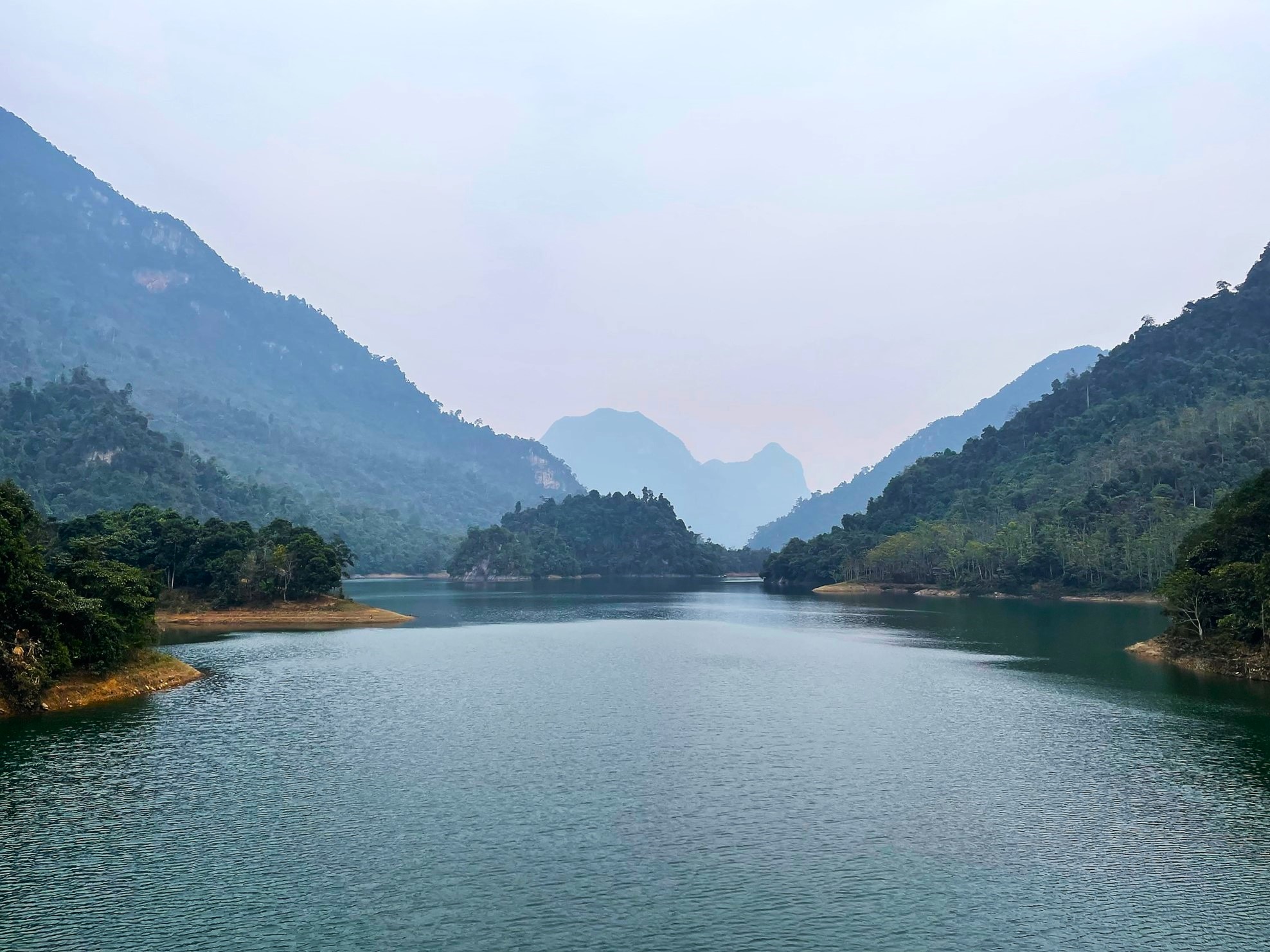 ---
---
From Na Hang, take QL279 for a while before turning due north on DT190 toward the 'top' of the figure-of-eight. Follow the signs to Lâm Bình, which takes you through iconic karst mountains, rice paddies and ethnic minority villages – quintessential scenes from any trip through northern Vietnam. Lâm Bình is a place to relax, park your bike, go on aimless wanders and chat to giggling farmers, who see very few international visitors. We had dinner at An's Homestay, which was excellent (always call in advance to book your meal), but we stayed at Homestay Fivestar Nam Dip. There are plenty more options, which you'll find on Google Maps.
---
---
Section 2:
Lâm Bình→Vĩnh Lộc→Tuyên Quang (via roads DT188, DT176, DT189 & QL2) | 120km
[Red line on Route Map]
The area around Lâm Bình is the northernmost extent of the Magic '8' Loop. From here, the journey back to Tuyên Quang, along the western side of the figure-of-eight (the red line on my map), is shorter with fewer reasons to stop. This gives you time in the morning to get pleasantly lost in the agrarian landscape of Lâm Bình, which gets more peaceful and scenic the further you get from the 'main' roads (DT190/DT188). Once you've had your fill, head west from Lâm Bình along DT188, which then turns south, crosses QL279 and scythes through a quiet pastoral landscape all the way back to Vĩnh Lộc, at the 'centre' of the figure-of-eight. Here you can stop for lunch or coffee before heading southwest on DT176, which eventually becomes DT189 before hitting QL2, the fast road back to Tuyên Quang City. If you're looking for somewhere to stop between Vĩnh Lộc and Tuyên Quang City, Bảo Ninh Sùng Phúc Pagoda is a serene place and far enough from the main road that traffic noise doesn't encroach on its tranquility. Big trucks kicking up dust make QL2 the most unpleasant part of the journey, but it's a fast and smooth road, and you should be back in Tuyên Quang City in no time at all.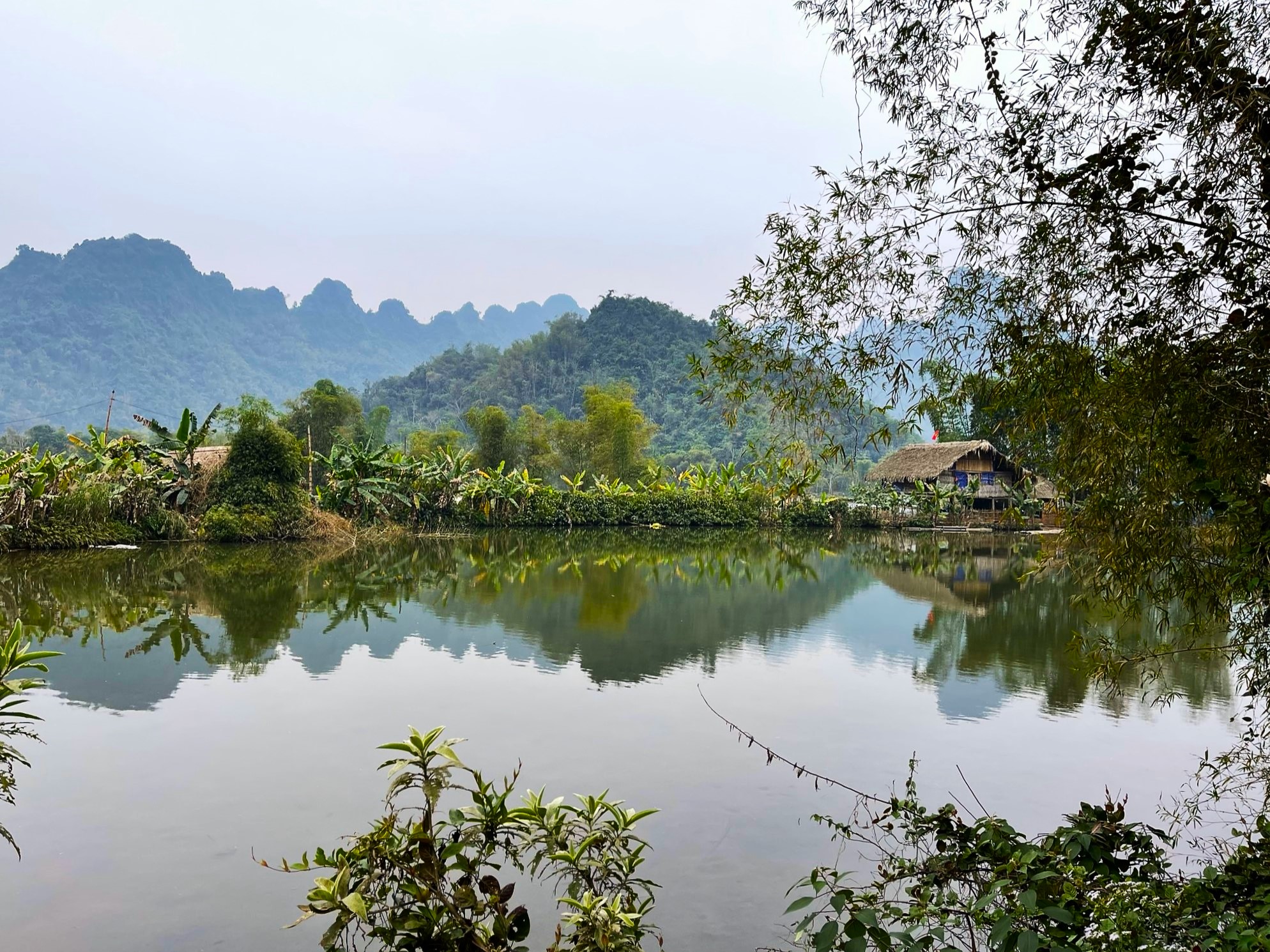 ---
---
---
*Disclosure: All content on Vietnam Coracle is free to read and independently produced. Josh has written this article because he wants to: he enjoys riding in Tuyen Quang and wants readers to know about it. For more details, see the Disclosure & Disclaimer statements and About Page
RELATED POSTS
---