First published May 2020 | Words and photos by Vietnam Coracle
For many riders, northern Vietnam represents some of the best motorbiking opportunities anywhere in the world. The north offers the most majestic scenery on the grandest scale in Vietnam: the mountains are higher and the passes are loftier than anywhere else in the country. Riding can be slow (and sometimes treacherous due to landslides, floods, mud, and rough road conditions), but the scenery is sublime, the roads are extraordinarily ambitious, and the history and culture is fascinating. I receive emails from seasoned motorbikers, who've spent decades riding around the world, informing me that, with the possible exception of northern India, the north of Vietnam is the best riding they've ever experienced. On this page, I've pulled together all of my northern motorbike guides to create a collection of 9 Great Northern Routes. By linking these nine guides together and following them from either east to west or west to east across the north of the country, you should be able to create your own 'Great North Route'.
[Back Top]
---
GUIDE:

9

GREAT NORTHERN

MOTORBIKE

ROUTES
---
Below is a list and a colour-coded map of 9 northern motorbike routes. For each route, I've written bullet-points for quick-information and a brief description, including a direct link to the full guide, a title image, and an embedded interactive map of the route. For the purposes on this page, I've listed the 9 northern routes geographically from west to east, but you can choose to ride them in any order and in any direction you like. My colour-coded map features shaded areas indicating the regions covered by each of the 9 northern routes and direct links to each guide. Although these 9 northern routes cover thousands of kilometres, they represent just a fraction of the many great roads, tracks, routes, and regions that northern Vietnam has to offer the motorbike rider. The best time of year to ride the north is March-May and September-October. Remember you can send your bike on the train to/from several convenient start/end points around the north: Hanoi↔Lao Cai (for Sapa), Hanoi↔Lang Son (for the northeast), and Hanoi↔Hai Phong (for Cat Ba Island).
*Please note: All my routes stick to paved roads as much as possible & I make an effort to mark any rough, muddy, off-road, or difficult sections on my maps. However, Vietnam's roads are in a constant state of flux: I can't guarantee the condition of any given road. I encourage riders to write me with any road updates (vietnamcoracle@gmail.com) or leave a comment at the bottom of the relevant guide. Ride safely, ride responsibly & enjoy Vietnam's Great North.
MAP

:
9 Great Northern Motorbike Routes
Limestone Loop | Harvest Route | Extreme Northwest Loop | Sin Ho Loop | Y Ty Loop | Borders & Back-Roads Loop | Extreme North Loop | High Roads Routes | Northeast Loops
View in a LARGER MAP
---
1. LIMESTONE LOOP:
• Route, Region & Province: Hanoi→Mai Chau→Pu Luong→Lao border | Thanh Hoa Province [MAP]
• Distance & Duration: 700-800km | 3-6 days
• Road Conditions & Traffic: mostly good, paved roads & lanes, some rough sections, fairly light traffic
• Scenery & Landscape: limestone karsts, bamboo forests, minority villages, rice fields
• Full Guide: The Limestone Loop: Motorbike Guide
• Description: Spreading southwest of Hanoi, the Limestone Loop is just a few hours' ride from the capital, and yet it takes in some of the most picturesque scenery in the country. Much of this motorbike route travels through Thanh Hoa, a province punctuated by limestone pinnacles, rivers, and rice paddies. Quiet roads meander along steep valleys cloaked in bamboo forests, and mountain passes twist skyward towards isolated Lao border crossings. Thanh Hoa is overlooked by most travellers in favour of neighbouring Ninh Bình, which is now extremely touristy. Thanh Hoa, on the other hand, is only recently starting to attract attention, in particular the stunning setting of Pu Luong Nature Reserve. All of this excellent scenery is accessible thanks to upgraded roads, which make it possible to get from the urban chaos of Hanoi to the pastoral tranquility of Thanh Hoa Province within a few hours……continue reading
---
[Click image for full guide]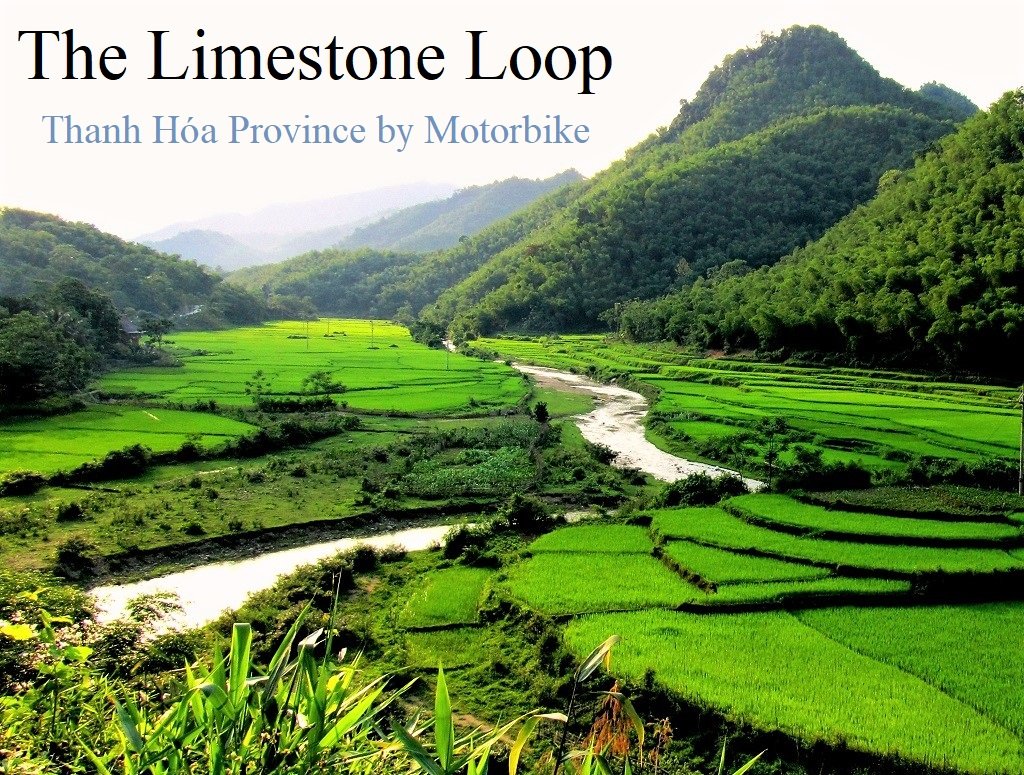 ---
ROUTE MAP: The Limestone Loop

View in a LARGER MAP
---
2. HARVEST ROUTE:
• Route, Region & Province: Mu Cang Chai→Tu Le | Yen Bai Province [MAP]
• Distance & Duration: 50km | 1 day
• Road Conditions & Traffic: good, paved main roads & paved back-roads, usually light traffic
• Scenery & Landscape: rice terraces, lush valleys, rivers, mountains, minority villages
• Full Guide: The Harvest Route: Mù Cang Chải
• Description: Every year, between September and October, the terraced rice fields of Mù Cang Chải, a rural district in Yên Bái Province, put on a show of picturesque harvest colours. In the crisp dawn light, hundreds of stepped rice paddies, carved into the contours of steep valleys, are illuminated by the autumn sun. The colours of the ripe rice are luminous. The curving terraces, although man-made, appear to be in complete harmony with the landscape, creating a hypnotic patterning across the hills and valleys. I call this spectacle the 'Theatre of Rice' and the best way to see the 'show' is to ride the 'Harvest Route': a scenic section of Highway QL32 between the small towns of Tú Lệ to Mù Cang Chải, via the lofty Khau Pha Pass. The Harvest Route is 50km of picture-book scenery, which, in the right weather conditions, will fill your camera's memory card within minutes……continue reading
---
[Click image for full guide]
---
ROUTE MAP: Harvest Route: The Theatre of Rice
View in a LARGER MAP
---
3. EXTREME NORTHWEST LOOP:
• Route, Region & Province: Lao Cai→Lai Chau→Muong Lay→Muong Te→Muong Nhe→Dien Bien Phu| Lao Cai, Lai Chau & Dien Bien provinces [MAP]
• Distance & Duration: 300-800km | 2-7 days
• Road Conditions & Traffic: mostly paved, remote roads, risk of landslides, very light traffic
• Scenery & Landscape: remote borderlands, mountains, rivers, rice terraces, minority villages
• Full Guide: The Extreme Northwest Loop: Motorbike Guide
• Description: A sprawling, mountainous bulge around the Black River basin, the extreme northwest of Vietnam is probably the most remote region of the entire country, and certainly one of the least-travelled. The extreme northwest abuts both China and Laos, thus this route travels through extensive borderlands, which are often very sensitive. Indeed, this region is perilously close to the infamous Golden Triangle. As such, local police, government officials, and travel restrictions will almost certainly hinder your progress (read this guide before attempting the route). Old roads have recently been upgraded and new ones have been blown through the mountains, creating an extremely mountains, off-the-beaten-track, and circuitous route between Lao Cai and Dien Bien Phu. The roads lead further, higher, and deeper into the northwest mountains than ever before, threading between peaks pushing 10,000ft, which are the southeastern-most extent of the same geological collision that formed the Himalayas……continue reading
---
[Click image for full guide]
---
ROUTE MAP: The Extreme Northwest Loop
View in a LARGER MAP
---
4. SIN HO LOOP:
• Route, Region & Province: Sapa→Lai Chau→Sin Ho→Phong Tho | Lai Chau Province [MAP]
• Distance & Duration: 320km | 2-4 days
• Road Conditions & Traffic: good mountain highways, paved back-roads, some rough patches
• Scenery & Landscape: big mountains, plunging valleys, rivers, rice terraces, light traffic
• Full Guide: Sapa→Sin Ho Scenic Motorbike Loop
• Description: High up on the slopes of the Hoàng Liên Sơn Mountain Range (known in French colonial times as the Tonkinese Alps), Sin Ho is a small market town reached via spectacular mountain roads. While Sapa, the famous mountain retreat, is now enormously popular with Vietnamese and foreign tourists, Sin Ho, on the other hand, is rarely visited by travellers. These two highland towns are connected by lofty mountain passes, affording jaw-dropping views over a landscape on a scale not found anywhere else in Vietnam. Ride the Sin Ho Loop and you'll be rewarded with some of the grandest alpine scenery in Southeast Asia……continue reading
---
[Click image for full guide]
---
ROUTE MAP: The Sin Ho Loop

View in a LARGER MAP
---
5. Y TY LOOP:
• Route, Region & Province: Sapa→Y Ty→Chinese border→Lao Cai | Lao Cai Province [MAP]
• Distance & Duration: 195km | 1-2 days
• Road Conditions & Traffic: mostly paved back-roads, some bad sections, generally very light traffic
• Scenery & Landscape: rice terraces, remote borderlands, mountains, rivers, minority villages
• Full Guide: Sapa→Y Ty Scenic Motorbike Loop
• Description: North of Sapa, dramatic mountains continue all the way to the Chinese border. Several small roads penetrate deep into steep, terraced valleys and climb high above ferocious rivers, swollen with cold mountain water, to remote minority villages. Creating a scenic loop, starting and ending in Sapa via the hilltop hamlet of Y Ty, this relatively short but dramatic road trip is a great escape from the increasingly touristy mountain town of Sapa. Either bathed in a warm, sharp highland light shimmering over the ripe rice terraces like a halo, or covered in a cold, haunting, Dickensian fog so thick it induces feelings of claustrophobia, the Y Ty Loop is a rewarding (and occasionally challenging) way to spend a day or two in the saddle……continue reading
---
[Click image for full guide]
---
ROUTE MAP: The Y Ty Loop
View in a LARGER MAP
---
6. BORDERS & BACK-ROADS LOOP:
• Route, Region & Province: Sapa→Lao Cai→Muong Khuong→Si Ma Cai→Bac Ha→Xin Man→Hoang Su Phi→ Ha Giang | Lao Cai & Ha Giang provinces [MAP]
• Distance & Duration: 235-480km | 2-5 days
• Road Conditions & Traffic: mostly decent paved back-roads, some rough sections, risk of landslides, light traffic
• Scenery & Landscape: mountains, gorges, borderlands, terraced rice fields, minority villages
• Full Guide: Borders & Back-Roads: Sapa to Ha Giang by Motorbike
• Description: Connecting two of the most mountainous provinces in the country (Lao Cai and Ha Giang), this motorbike route straddles the Chinese border, carving a meandering course over mountain ranges and along river valleys. Linking the towns of Sapa and Ha Giang, this road trip is a slow crawl through some of the remotest parts of Vietnam, mostly on small roads that have only recently been blasted out of the mountainsides. Dramatic scenery, fascinating border towns, ethnic minority markets, and lush farmland abound. This is a route to be taken slowly – there's hardly a kilometre without a hairpin bend – and with plenty of time to allow for unforeseen circumstances, such as bad weather and landslides, which regularly block the way……continue reading
---
[Click image for full guide]
---
ROUTE MAP: The Borders & Back-Roads Loop

View in a LARGER MAP
---
7. EXTREME NORTH LOOP:
• Route Region & Province: Ha Giang→Tam Son→Yen Minh→Du Gia→Dong Van→Meo Vac→Bao Lac | Ha Giang Province [MAP]
• Distance & Duration: 350km | 2-5 days
• Road Conditions & Traffic: very mountainous paved roads, some rough sections, fairly light traffic
• Scenery & Landscape: limestone karsts, deep gorges, remote borderlands, minority villages, rivers
• Full Guide: Ha Giang Extreme North Motorbike Loop
• Description: Ha Giang is Vietnam's northern-most province. The mysterious landscape along the Chinese border – a mythical combination of conical limestone peaks and deep, craterous valleys – is probably the most striking in the country. Once considered the last frontier for adventurous travel in Vietnam, Ha Giang gained an almost legendary status among independent travellers. In recent years, however, visitor numbers have surged and road conditions have improved, making access to this remote part of the country relatively easy. With mountain passes hanging onto cliff-faces high above roaring rivers, and back-roads threading through forests of limestone pinnacles, it's ideal territory for a motorbike road trip……continue reading
---
[Click image for full guide]
---
ROUTE MAP: Ha Giang: The Extreme North Loop

View in a LARGER MAP

---
8. HIGH ROADS ROUTES:
• Route, Region & Province: Ha Giang→Ba Be Lake→Cao Bang | Ha Giang, Bac Kan & Cao Bang provinces [MAP]
• Distance & Duration: 310-370km | 1-3 days
• Road Conditions & Traffic: paved back-roads & mountain highways, optional off-road sections, risk of landslides, light traffic
• Scenery & Landscape: limestone karsts, mountains, deep valleys, jungle, terraced rice fields, remote borderlands, minority villages
• Full Guide: The High Roads: Ha Giang→Ba Be Lake→Cao Bang
• Description: The roads linking the three northern provinces of Ha Giang, Cao Bang and Bac Kan travel through some of the most spectacular and remote regions of Vietnam. The landscape around here is extraordinary: many travellers consider this their favourite corner of Southeast Asia. Connecting these three provinces, a handful of incredible mountain roads corkscrew their way through a complex terrain of steep valleys, limestone karsts, and raging rivers. There are several different route options for riding between Ha Giang, Ba Be Lake (in Bac Kan Province), and Cao Bang, all of which are stunning, but none of which are particularly straightforward, due to road conditions, mountainous topography, and the likelihood of landslides……continue reading
---
[Click image for full guide]
---
ROUTE MAP: The 3 High Roads Routes

View in a LARGER MAP
---
9. NORTHEAST LOOPS:
• Route, Region & Province: Cao Bang→Pac Bo Cave→Ban Gioc Falls→Lang Son→Mau Son Mountain→Bac Son→Bac Kan→Ba Be Lake | Cao Bang, Lang Son & Bac Kan provinces [MAP]
• Distance & Duration: 165-455km | 1-6 days
• Road Conditions & Traffic: good, paved back-roads & highways, some rough sections, off-road options, generally light traffic
• Scenery & Landscape: limestone karsts, minority villages, majestic waterfalls, caves, remote borders, mountains, lakes, rivers
• Full Guide: The Northeast by Motorbike: 5 Routes & Loops
• Description: In my opinion, the three northeastern provinces of Cao Bang, Lang Son and Bac Kan currently offer the best on-road motorbiking opportunities anywhere in Vietnam. Why? Because all three northeastern provinces are utterly beautiful – characterized by limestone karsts, unbroken forests, misty mountains, blue rivers, farms, and craft villages – and are crisscrossed by a growing network of increasingly good-quality paved back-roads and national highways; tourists are few, traffic is generally very light, people are friendly, food is rustic and hearty, opportunities for getting off the beaten path are many, and there's a real sense of adventure. I've written and mapped 5 loops in the northeastern region. Each loop can be ridden separately or stitched together to form one large northeastern loop……continue reading
---
[Click image for full guide]
---
ROUTE MAP: The 5 Northeast Loops

View in a LARGER MAP

---
Disclosure: I never receive payment for anything I write: my content is always free & independent. I've written this guide because I want to: I like these northern routes & I want my readers to know about them. For more details, see my Disclosure & Disclaimer statements here
[Back Top]
RELATED POSTS

:
---