First published November 2023 | Words and photos by Vietnam Coracle
---
A small, mountainous district in the far northeast of Vietnam, Bình Liêu is home to some extraordinary roads, highland scenery, waterfalls, hiking and homestays. Hemmed in to the north, east and west by the Chinese border, Bình Liêu is part of Quảng Ninh, a province best-known to travellers as the jumping off point for boat trips on Hạ Long Bay. But, inland, the province offers an altogether different landscape: barren mountains rising above lush valleys, ambitious roads leading up steep slopes and along precipitous ridges, frontier border towns and hamlets inhabited by several ethnic minority groups, who make up 96% of the district's population. The Bình Liêu Loop, and the district more broadly, has the potential to be a mini Hà Giang for motorbike road-trippers. However, just like Hà Giang a decade ago, foreigners currently aren't allowed to overnight in Bình Liêu without first obtaining a permit, and some areas of the district are off-limits to foreign travellers altogether.
[Back Top]
---
BINH LIEU

BORDER LOOP
---
Extraordinary Roads & Mountain Scenery Bordering China
*IMPORTANT: If you're not Vietnamese, you must read the Foreign Travellers & Permits section before you ride the Bình Liêu Border Loop. In addition, if you plan to stay overnight on the loop, foreign travellers need to read the Accommodation section.
The Bình Liêu route is a figure-of-eight comprised of two connected loops: a north loop and a south loop (see the blue lines on my map). Of the two, the north loop is the most spectacular but is closer to the Chinese border, which means there's more chance of being stopped by police if you're a foreign rider; the south loop is less-trodden and still extremely pretty, and foreign riders are allowed to explore most of it. In addition to the north and south loops, there are excellent side routes (see the red lines on my map) and many more small roads that you can explore if you have time. In this guide, I've included a complete route map, an overview of useful details, such as distances, duration, weather etc., and a description of the north and south loops. (For more routes in the region, see Related Posts):
CONTENTS:
---
Support My Website
Please donate or become a patron if you enjoy my work. Vietnam Coracle is totally free & independent. I do not receive payment for anything I write.
Thank you, Tom
---
---
ROUTE MAP

:
Bình Liêu Border Loop: Quảng Ninh Province
Blue Lines: north loop & south loop | Red Lines: side routes
---
*Road Safety & Disclaimer: Riding a motorbike in Vietnam – or anywhere in the world – has its dangers. I would hope & expect anyone who chooses to pursue a self-drive road trip based on the information on this website does so with care, respect & due diligence. I encourage careful riding & adherence to road rules, but I am not responsible for the legality or manner in which you ride, nor any negative consequences which may result from your decision to ride a motorbike in Vietnam: you do so at your own risk. Read more >
---
Overview & Details:
Below is a brief overview of the Bình Liêu Loop, followed by more specific details about important considerations, such as permits for foreign visitors, weather conditions, duration, accommodation and more:
QUICK DETAILS:
Route: two short, incredibly scenic, mountainous loops in Bình Liêu District on the Chinese border
Distance: 115km (North Loop=65km, South Loop=50km)
Duration: 1-2 days
Scenery: extraordinary mountain views, deep valleys, forests, jungles, waterfalls, borderlands
Attractions: sublime landscapes, incredible roads & riding, ethnic minority villages, hiking, waterfalls
Road Conditions: good paved roads & narrow back-roads, very light traffic
Best Time: March-October
---
---
ABOUT THE ROUTE:
Foreign Travellers & Permits: Starting early in 2023, foreign travellers are no longer allowed to stay overnight in Bình Liêu District, nor are they allowed in certain areas near the border with China, unless they obtain a permit from the provincial police office (Công An Tỉnh Quảng Ninh) near Hạ Long City, which takes 3 days if approved. However, it is possible for foreigners to overnight in nearby Tiên Yên (see Accommodation below) and it is possible for foreigners to ride much of the loop outlined in this guide. But, there is still the possibility of being stopped by police. If this happens, the worse case scenario (assuming you're not doing anything stupid, like speeding, drunk driving, or climbing the border fence) is that you will be stopped and politely asked to turn back. If this happens, be patient, polite and understanding, and do as the police say. Personally, I was not stopped at any point on the loop. I spoke with border police and the local tourist authority: If you want to be entirely 'safe', stick to the south loop, which is further from the border, and avoid all the border roads (which is a shame, because they are the most spectacular). It seems likely that, as with other border destinations, such as Hà Giang and Nam Du, to name just two examples, Bình Liêu will eventually open to foreign travellers, perhaps in a couple of years, without the need for a permit. Of course, this is frustrating, but border regions in most countries are 'sensitive' and tightly controlled.
Start & End: I've chosen the tourist information office in the centre of Bình Liêu town as start and end point of both the north and south loops. But, in reality, you can start/end the loops at any point on the route.
Distance: The distances are very short: the entire route (north and south loop combined) is only 115km. However, the roads are extremely steep and the landscape is incredible, so riding time will be longer than you might expect.
Duration: You could easily ride the complete route (north and south loops) in one, full, satisfying day. Alternatively, take it a bit slower and spend one day riding the north loop and the next day riding the south loop, which would also give you time to explore some of the side routes and other enticing roads in this area.
Weather & Time of Year: You can explore the Bình Liêu Loop at any time of year. However, March to October gives you the best chance of sunshine, warm temperatures, and colour in the landscape. The winter months (November-February) can be dry but bitterly cold (even frost and snow!). Given the choice, I would visit Bình Liêu in April, June or October.
Accommodation: Since, at the time of research (October 2023), foreign travellers are not allowed to stay at any of the many accommodation options in Bình Liêu town or Hoành Mô border gate or the homestays throughout the district, there is no alternative but to overnight at Tiên Yên town, which is an easy 25km ride south of Bình Liêu on road QL18C. Tiên Yên has half a dozen decent mini-hotels and guesthouses, such as Thanh Tâm Hotel. The town has its charms, particularly near the riverfront, and this is a good place to base yourself for a night or two while spending the days riding the Bình Liêu Loop. (Some homestays in Bình Liêu District will accept foreign guests, but it's a gamble to show up and expect to be allowed to stay.)
Food & Drink: Bình Liêu town has plenty of local eateries for rice and noodle soup meals: look for signs saying cơm-phở. There are also places to eat at Hoành Mô border gate, but apart from that there's not much food available on the loop. If you're lucky enough to be able to stay in one of the homestays, then of course you will be treated to a delicious local, family-style meal.
---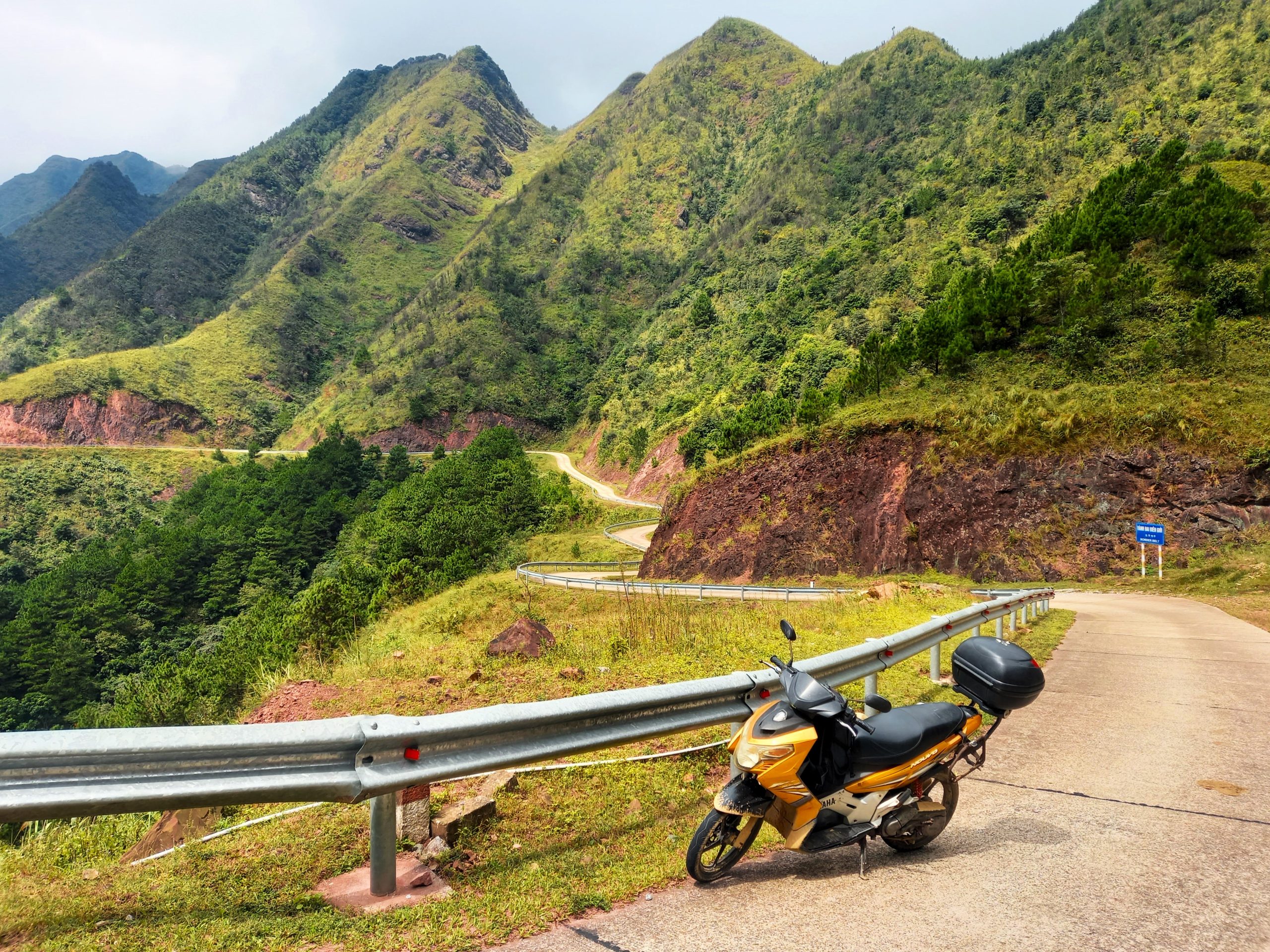 ---
---
Bình Liêu North Loop:
Bình Liêu→China Border Road→Dinosaur Spine→Hoành Mô Border Gate | 65km
[View Map]
Head north across a suspension bridge over the Tiên Yên River and onto a back-road through farmland along the north bank. Turn due northwest onto a small but well-made concrete lane that immediately winds deep into the countryside, passing rice paddies, forests and valleys with gushing streams. This is just one of several extremely steep lanes linking the valley to the mountainous border road along the boundary with China. The lane becomes increasingly steep as you ride up into the mountains and get closer to the border. The inclines are significant and the views quickly become immense.
After just 15km the road meets a junction: this is the border road. Although it's possible to turn left (northwest) and follow the border road all the way to Lạng Sơn Province, in reality if you are a foreign rider, you will likely be stopped by border police and turned back. This is still a possibility if you turn right (due northeast) on the border road (assuming you don't have a permit), but as this section is popular with Vietnamese backpackers, there's more chance of foreign riders being allowed through. The road is utterly spectacular: carved into the mountainsides at impossible angels; above precipices, cutting along steep, sloping valleys, through sheer rocky peaks, and sometimes along the crest of mountaintops. The road is echoed by a high barbed wire fence with security cameras: this is the actual border separating Vietnam and China. On the other side of the fence you can see a mirror image of the road you're on, only in China, not Vietnam. Depending on the time of year, the landscape can be strikingly bare, barren and stark, covered in a beige grass, but still very beautiful, especially when the light picks out the ravines and contours of the mountains.
After several mesmerizing kilometres, a structure appears on the roadside with a parking lot. This is the trailhead for an hour-long hike on a concrete pathway up into the mountains, known as 'Dinosaur Spine'. The hike gets its name from the appearance of the stepped pathway which follows the crest of the mountains, creating the impression of a 'spine'. The hike has excellent views and is a famous spot for selfies. However, as a foreigner, you may have trouble being allowed to hike here. If possible, try to ask at the parking lot before you begin the bike.
Continue on the border road all the way to the northern tip of the loop before descending to Hoành Mô border gate. A small trading post, Hoành Mô has an interesting 'border vibe' but there's not much to see, apart from peering across into China at the enormous infrastructure projects that are being built there, including an elevated expressway through the mountains. Once again, although the incredible border road continues east from Hoành Mô all the way to Móng Cái, it's not really viable to ride further as the chances of being turned back by border police are high. Instead, take the back-road south (or the main road QL18C) and return to Bình Liêu to complete the North Loop.
---
---
---
---
---
Bình Liêu South Loop:
Bình Liêu→Thác Khe Vằn Waterfall→Cao Sơn→Hoành Mô | 50km
[View Map]
Head due southeast of Bình Liêu town centre on a brand new, wide road leading into the valley. Lush agricultural landscape encloses the road all the way to Húc Động hamlet. From here, take a small concrete lane, which ends at the entrance to Thác Khe Vằn waterfall. The picturesque falls cascade over boulders, forming several pools that are good for a refreshing swim. (Another small lane leads to another waterfall, Thác Khe Vằn Chảy).
Backtrack a bit from the waterfall and take a weir bridge across the river to rejoin the main road. Only recently opened, this route cuts along the mountainside, winding higher and higher into the clouds with spectacular views back down over the valley and waterfall. The road climbs so high that the temperature can get quite chilly near the top, where there is a junction. Take a side route (the red line on my map) due east to the trailhead for Cao Ly Mountain or continue due north on the loop to the tiny hamlet of Cao Sơn. From here, the road is extremely steep (you'll need good brakes) and the condition deteriorates slightly for several kilometres down to another small junction. Turn left (due west) for a side route through rice terraces back to Bình Liêu or continue straight due north on the loop.
As the road climbs and then descends to the Hoành Mô border gate, you'll see and smell star anise drying on the roadside. And, if you're lucky, you may also catch a glimpse Dao Thanh Phán women tending to the rice paddies wearing their distinctive, tall, colourful headdresses: a striking and vivid sight. The decent to Hoành Mô is a steep one, affording fascinating views into China on the other side of the border. Back in Hoành Mô, take the easy, fast route to return to Bình Liêu town on road QL18C to complete the South Loop.
---
---
---
---
---
*Disclosure: I never receive payment for anything I write: my content is always free and independent. I've written this guide because I want to: I like this route and I want my readers to know about it. For more details, see my Disclosure & Disclaimer statements and my About Page
RELATED ROUTES

:
---