Last updated August 2022 | Words and photos by Vietnam Coracle
---
A meandering ocean road skirting the edges of a rugged and green peninsula jutting into the sea between Phan Rang and Cam Ranh on the south-central coast, the Núi Chúa Coast Road is undoubtedly one of the most scenic coastal routes in Vietnam. The entire promontory is part of Núi Chúa National Park, which protects the flora and fauna in the region, including the Black Asian Bear and large swathes of jungle. Because the terrain is so mountainous, Núi Chúa promontory remained relatively undisturbed and unexplored by travellers until the coast road was completed several years ago. Since then, the peninsula has revealed its considerable natural beauty, including many secluded beaches, mountain springs, forests, and picturesque fishing harbours. The Núi Chúa Coast Road is a short, highly scenic and rewarding motorbike road trip that can be easily ridden in one day or as part of a longer coastal ride.
[Back Top]
---
GUIDE:

NUI CHUA COAST ROAD
---
The Scenic Coastal Route between Phan Rang & Cam Ranh
In this guide, I've written a description of the route including an annotated map and separate sections for accommodation and food and drink. Stretching from Ninh Chữ Bay in Phan Rang all the way to the junction with Highway QL1A just south of Cam Ranh, the Núi Chúa Coast Road is only 60km in length. The route can be easily ridden in one day, or over several days by staying overnight along the way. In general, traffic is light and road conditions are excellent, but visitor numbers rise dramatically on weekends and especially on public holidays. Although located in Vietnam's hottest and driest province (Ninh Thuận), the peninsula is lush and green. Weather conditions are pretty good year-round: there isn't really a 'bad' month to visit. The Núi Chúa Coast Road is best experienced as part of a longer coastal road trip by combining the Dragons' Graveyard and Sand Dune Highway (see Related Routes).
CONTENTS:
---
Please Support My Site
Vietnam Coracle is free to read & 100% independent. I never receive payment for anything I write & there's no sponsored content. If you like this guide, please consider making a donation or becoming a patron.
Thank you, Tom
---
---
MAP

:
Núi Chúa Coast Road | Phan Rang to Cam Ranh
View LARGER MAP
---
*Road Safety & Disclaimer: Riding a motorbike in Vietnam – or anywhere in the world – has its dangers. I would hope & expect anyone who chooses to pursue a self-drive road trip based on the information on this website does so with care, respect & due diligence. I encourage careful riding & adherence to road rules, but I am not responsible for the legality or manner in which you ride, nor any negative consequences which may result from your decision to ride a motorbike in Vietnam: you do so at your own risk. Read more >
---
---
The Route:
DETAILS:
Route: Phan Rang to Cam Ranh via the scenic coastal route
Distance: 60km
Duration: 2 hours-1 day
Scenery: beaches, salt fields, streams, forests, mountains, fishing villages, islands
Attractions: coral, seafood, swimming, spectacular views, empty beaches, great riding
Road Conditions: good, smooth, paved roads, light traffic
Best Time: year-round
---
Ride north out of Phan Rang city, skirting the wide sands of Ninh Chữ Bay to the east, and beneath the benevolent presence of Trùng Sơn Cổ Tự Buddhist temple complex rising on a rocky outcrop to the west. Bear right, going due east across the Ninh Chữ Bridge, around which a fleet of blue-painted fishing vessels cluster in the calm inlet. Riding along the embankment road, there are good views back south across Phan Rang city and beach with the sea sparkling under the sun. Wind turbines grace the arid plains in the distance and salt fields create a blindingly white collage of geometric shapes just north of the road under the looming, dry mountains. Not 15 minutes out of the city, already the Núi Chúa Coast Road is showing glimpses of the wonderful land- and sea-scapes that lie ahead. The dusty fishing village of Mỹ Tân is the point at which the route veers north, the landscapes become more sparsely populated, and the road hugs the coast.
---
---
The sea is shallow and very tidal. Crop fields grow right to the waters' edge, like riverside gardens. Near the hamlet of Mỹ Hòa, a fledgling kitesurfing community has grown in recent years. Consisting of several surf schools and accommodations, this is fast becoming a popular alternative to the well-trodden surf grounds of Mũi Né. Stop for a drink, food and a swim, or stay the night and try some kitesurfing lessons. Some travellers like it so much, they stay for weeks. North of Mỹ Hòa, the road heads inland via a steep slope. The jungled ridges of Núi Chúa National Park rise to the west, their peaks often obscured by wispy clouds as if they've been topped with whipped cream. To the east, a couple of pathways lead down to a rustic and protected coastline where sea turtles lay their eggs and boulders have been sculpted by the waves into strange shapes.
---
---
Descending into Thái An hamlet, a valley opens up between the mountains and the coast where grapes grow in acres of vineyards. Dozens of these small vineyards are open to the public to wander around in the shade of the vines, then buy fresh grapes, grape jam, grape liquor (rượu nho – with a sweet and/or vinegary taste) among other grape-based products. Just north of the village, the road passes a pretty beach with coral-white sand and then a slip road leads to Hang Rái, a rocky outcrop where the rise and fall of the sea causes a photogenic cascade over boulders.
---
---
The road climbs again, heading deep into tropical trees where several minority peoples live in wood-and-thatch homes by the roadside. A paved lane heads west to Hồ Đá Hàng Lake, which is quite pretty and also the trailhead for treks into the national park. Jungle begins to surround the road, covering hillsides which descend all the way to the vivid blue ocean below. A couple of pathways stretch east through the trees to deserted beaches, such as Bãi Hỏm. After passing the discreet entrance to Amanoi, one of the most luxurious (and expensive) resorts in Vietnam, the road slaloms down into the perfect, crescent-shaped bay of Vĩnh Hy.
---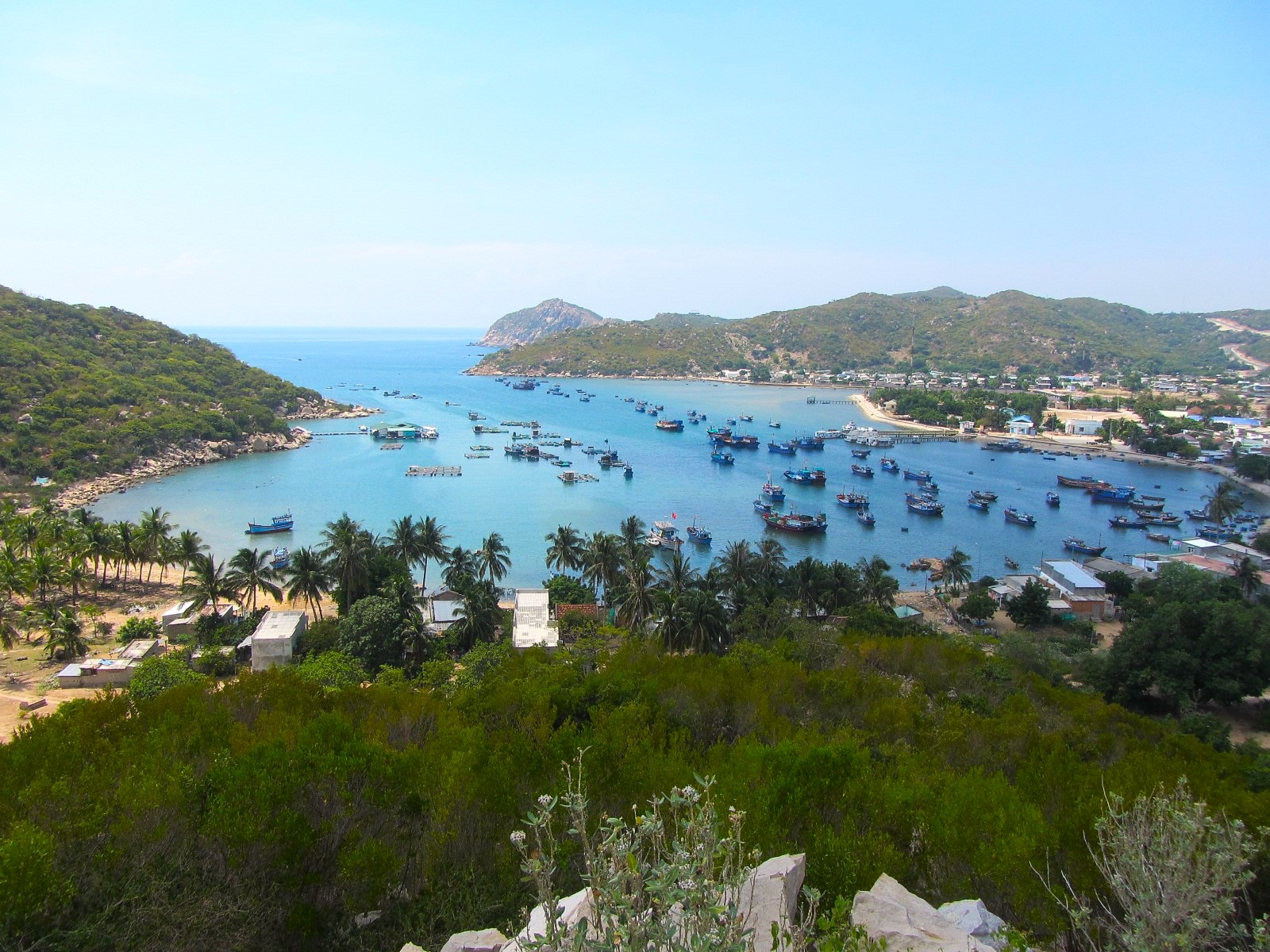 ---
Nestled in a sheltered bay enclosed by steep hills and jungle, Vĩnh Hy is an idyllic natural harbour and home to a previously remote and sleepy fishing community. Things have changed in recent years since the coast road has made access much easier, and very quickly word got around about how pretty this village is. Guesthouses now dot the village and cafes are sprinkled along the harbourfront promenade; out in the bay, floating seafood restaurants can be reached by boat and glass-bottomed vessels offer coral-seeing trips beneath the jagged cliffs that enclose the bay. Vĩnh Hy is the natural place to overnight on the Núi Chúa Coast Road. As well as seafood and snorkeling trips, there are short treks to nearby springs and waterfalls. If you have time, don't just pass through: stay for at least a night.
---
---
From the fishing village, the road crawls around a mountainside, climbing above Vĩnh Hy affording spectacular views back down over the bay. After the steep ascent, the road glides across a windswept ridge to the north side of the promontory. At the top of the pass, there are sweeping views over the ocean and Cam Ranh Bay. As the road curls down through hairpin bends – each one opening a new perspective of the bay – several laybys offer the chance to stop and take it all in. This is probably the most visually arresting stretch of coast road in Vietnam. Take your time and enjoy it.
---
---
---
When the road meets to ocean, there are a few enticing dirt lanes leading to excellent beaches. However, each time I return to this area, more and more of the beachfront has been cleared for resort development. Lying just offshore, Bình Hưng is a small, rocky island surrounded by floating seafood restaurants. Little boats ferry diners from a port by the roadside to the restaurants. This is a popular lunch spot, but sometimes foreign travellers are refused due to the area being considered militarily 'sensitive'. Continuing due north along the coast road, the jungles of the national park are thick and green as they roll down the mountainsides almost right to the ocean. A couple of streams cascade off the slopes, good for bathing.
---
---
Bình Tiên is the last beach before the road heads inland. A long, sandy, casuarina-lined beach, Bình Tiên is very pretty. But rumours of massive development have finally proven correct: the last time I visited, much of the land leading to the beach had been cleared for a golf course. It's a pity, but inevitable. North of Bình Tiên, the road goes up a very steep slope and immediately down the other side, crossing a small bridge over a river, which is good for bathing, although there's an increasing amount of trash.
---
---
Just after crossing the river, there's a small junction. Turn due north here for a delightful detour to Cam Lập Promontory, one of the loveliest corners of coastal Vietnam. A rugged, boulder-strewn finger of land jutting into the calm waters of Cam Ranh Bay, Cam Lập has empty, white-sand beaches, turquoise seas surrounded by fruit plantations, concrete lanes leading to isolated fishing hamlets where wooden boats bob in sheltered coves, great seafood right on the beach, and sunsets over one of the world's biggest natural harbours with mountains looming up behind it. There's a handful of atmospheric accommodation options on the promontory: you should definitely consider a night or more here.
---
---
Although Cam Lập is still an extremely pretty place to visit, like so many regions of coastal Vietnam, its environment is under threat and changing rapidly. Much of the eastside of the promontory is used for lobster farming, which might sound rather romantic, but in reality is a fairly dirty (and smelly) business and causes quite a lot of waste to accumulate on the beaches and in the ocean. In recent years, this and the build-up of domestic and fishing trash in the bays is threatening to spoil the natural environment on the promontory.
---
---
Back on the main coast road, head due west along the southern shore of Cam Ranh Bay and beneath the high slopes of Núi Chúa National Park, passing picturesque rice fields before the coast road ends as it meets Highway QL1A. From here, there are several options: Turn due north on the highway toward Cam Ranh City, after which you can cross the bay on the Cầu Long Hồ Bridge and join the airport coast road all the way into Nha Trang (65km); or turn left (due south) to take the highway back to Phan Rang city (35km). Alternatively, two nice inland extensions to the Núi Chúa Coast Road are the Cai River Road or the Burnt Road, both of which will take you back (on a very circuitous but scenic route) to Phan Rang or up into the highlands to Dalat. (Take a look at the Related Posts below.)
---
---
Places to Stay:
The Núi Chúa Coast Road is bookended by Phan Rang (where there's a decent range of accommodation options) and Cam Lập Promontory (where there's just a handful of atmospheric places to stay). In addition, there are several other options peppering the route, particularly around Vĩnh Hy village, which is roughly halfway. However, another option is to continue north to Nha Trang, which has one of the densest concentrations of hotels, resorts and guest houses anywhere in Vietnam. You could easily ride the coast road without needing to spend a night anywhere. But, to really soak up the views and the vibes, I'd highly recommend spending at least one night somewhere along the route. See below for details and specific recommendations. (All accommodation options are also marked on my map):
---
---
Phan Rang: With decent accommodation near the beach and in town, Phan Rang is the obvious place to overnight or base yourself when riding the Núi Chúa Coast Road. Along the seafront, Yên Ninh street has lots of mid-range resorts and budget mini-hotels to choose from. TTC Resort, Long Thuan Hotel and SaiGon-Ninh Chu Resort are all big properties right on the beach with full facilities for $40 upwards per night. Cheaper hotels are on the non-beach side of the road: a good value option is Ninh Chu Hotel; or very cheap, minimal but thoughtful backpacker-style digs can be found at Cube Homestay. Towards town, Minh Quang is one of a string of mini-hotels, and I like Nu Hoang for cheap, clean accommodation in the centre of town.
Cam Lâp: Protruding into Cam Ranh Bay at the northern end of the coast road, Cam Lập is a quiet, beautiful finger of rugged land with sheltered bays and white sand beaches. There are a few places to stay here, including Escalade and Sao Bien, both of which are superbly situated mid-range resorts. In the budget price bracket, Dao Hoa Vang and Binh Chau are both hostel and campgrounds that offer good value near the beach. Recently, several other camping and glamping spots have opened around the promontory. The spectacularly located Exotel Yen Bay (formerly Ngoc Suong Yen Bay) is a high-end resort that has been closed for maintenance the last couple of times I've visited. But it's worth checking out in case it's reopened.
---
Vĩnh Hy: In a picture-perfect crescent bay surrounded by steep, forested mountains, Vinh Hy is a small fishing village that has recently experienced a tourism boom thanks to the Nui Chua Coast Road. Located almost exactly halfway along the road, it's a logical place to overnight. In the last few years, accommodation options have exploded. There are dozens of local guest houses and homestays. Check out Chanh Ranh and LAMER homestays, both on the harbourfront, or sleep under canvas at Dong Cuu Camping. Mid-range lodgings can be found at Vinh Hy Resort, a big property with clean rooms around a central swimming pool. Or break the bank with a night at the astonishingly located and luxurious Amanoi, on the cliffs above the village.
Mỹ Hoa: A fledgling kitesurfing enclave, My Hoa is located on the coast about halfway between Phan Rang and Vinh Hy. The wind and waves here are ideal for kitesurfing and over the last few years a small collection of inexpensive accommodations and surf schools have opened along the beachfront. Of the handful of places to stay, Sorrento Beach Club is the biggest and most developed, but Phi Kite School and Vietnam Surf Camping are also good options. Many travellers end up staying here for days because they like it so much.
---
Cam Ranh: Just north of the Núi Chúa Coast Road, Cam Ranh is a sizeable port town. There's little reason to overnight here, but if you need them there are local guest houses (nhà nghỉ) and mini-hotels, many of which line the main road as it goes through town.
Nha Trang: One Vietnam's most popular beach towns, accommodation in Nha Trang is limitless – in all price categories. Nha Trang is only an hour or so from the Núi Chúa Coast Road, so many riders like to base themselves here. You can browse and book hundreds of hotels in Nha Trang on this page.
---
Food & Drink:
There's food available throughout the route. Seafood is particularly good and popular along the Nui Chua Coast Road. Inexpensive street food can be found in the towns and villages. This is the heart of Vietnam's grape-growing region: there are lots of fresh grapes and Vietnamese-style grape wine available. See below for specific recommendations:
---
Seafood: With its long beachfront, seafood is well-represented in Phan Rang. Look for signs saying quán hải sản (seafood restaurant), especially along Yên Ninh, the seafront road near Ninh Chữ beach. In particular, two clusters of informal local seafood restaurants right by the beach can be found here and here. In Vinh Hy, seafood restaurants are scattered along the harbourfront and, out in the bay, there are floating restaurants beneath which the fish are farmed. More floating seafood restaurants can be found off the coast between the road and Binh Hung Island. Boats ferry diners to/from the restaurants. However, foreign visitors are sometimes refused entry, as this is near a Vietnamese naval base and therefore considered 'sensitive'.
Street Food: For street food, this region is famous for several dishes: bánh xèo, bánh căn and chả cuốn can be found on almost every street in and around Phan Rang city and at streetside stalls in villages, such as Vinh Hy and Cam Lap. Bánh xèo are the famous savoury Vietnamese 'crepes' filled with shrimp and pork, but the Phan Rang variety is much smaller than the Saigon and Mekong Delta versions. In this province, the tiny bánh xèo are submerged in a sweet nước mắm (fish sauce) with the addition of several varieties of torn up herbs, such as mint, mustard leaf and sweet basil. Bánh căn are served and eaten in a similar fashion, although these are even smaller but thicker and spongier rice flour-based 'cakes'. Look for signs all along this route or try the cluster of competing stalls either side of Trần Anh Tông street in Phan Rang. Chả cuốn is a local version of the classic fresh spring roll: rice paper is wrapped around fresh herbs, cold cuts, duck egg and sliced fishcake to create a satisfying and textual snack. The chả cuốn at Bánh Canh Nhường is locally famous, but you can also find chả cuốn all over the city and province.
Drinking & Western Food: Soft drinks, water and local coffee are sold at stores at fairly regular intervals throughout the route. Phan Rang has a decent cafe scene. Try exploring the streets and blocks north and west of 16/4 Park in the city centre. Phan Rang also has a nascent bar scene, thanks to a small expat community, growing numbers (at least before the pandemic) of Russian tourists and the kitesurfing schools to the northeast of the city. However, I'd be lying if I said I knew much about it. Ask around and try searching along the northern stretch of Yên Ninh street near Ninh Chữ beach. Sorrento Beach Club has a good bar and also serves some Western dishes. In Vinh Hy, there's a good bar at LAMER for a drink overlooking the harbour and bay. There are lots of vineyards selling Vietnamese-style grape liquor along this stretch of the coast road.
---
---
*Disclosure: I never receive payment for anything I write: my content is always free and independent. I've written this guide because I want to: I like this route and I want my readers to know about them. For more details, see my Disclosure & Disclaimer statements and my About Page
RELATED POSTS
---