Last updated July 2017 | Words, photos and film by Vietnam Coracle
A broad sweep of sand between two dramatic headlands, Dai Lanh Beach is a strikingly beautiful spot. Ninety kilometres north of Nha Trang, this wide bay is framed by lush mountains, with the chalky sand beach between them washed by the pale blue waters of the East Sea. A fishing village nestles at one end of the bay, giving way to a casuarina-lined bathing beach at the other. Yet Dai Lanh has never developed into a popular attraction. Many travellers see it – from the window of their bus or train – but few travellers stop here. This is because Highway 1, Vietnam's main artery, and the Reunification Railway, both pass directly behind Dai Lanh, subjecting it to much noise and air pollution. However, this is about to change, because, in September 2017, two new tunnels are due to open, which will take the bulk of heavy traffic away from the coast, leaving Dai Lanh Beach relatively tranquil. This could change Dai Lanh's fortunes dramatically, and be the making of a new beach destination on the south-central coast.
[Back Top]
---
GUIDE:

DAI LANH BEACH
---
Dai Lanh Beach makes an excellent overnight stop between Nha Trang and Quy Nhon, especially for anyone following one of my Saigon-to-Hanoi routes. The swimming is good, the fishing village is interesting, there are several good budget guest houses, regular transport connections, some decent food stalls, and the bay is very scenic indeed. Dai Lanh also makes a good base from which to explore other fantastic beaches and sights in the surrounding area (see Related Posts). Weather in Dai Lanh is fairly unpredictable, because of its location on a mountainous stretch of coast. But the summer months, between April and August, are usually ideal. In the following guide, I've provided details about the location, places to stay and eat, transport information, a map of the area, and a short video.
Click an item below to read more about it:
MAP

:
Dai Lanh Beach, Khanh Hoa Province

View in a LARGER MAP
[Back Top]
---
VIDEO

:
A short film of Dai Lanh Beach

View on YouTube
[Back Top]
---
The Location:
Every time I visit Dai Lanh Beach, I'm surprised at how dazzling a sight it is, and how it has managed to hide in plain sight for so long. Everybody who passes Dai Lanh, whether by rail or by road, is rewarded with great vistas of the bay from either the Co Ma Pass, to the south, or the Ca Pass, to the north. From either of these vantage points, the beach looks stunning. But, most people simply glimpse the beach from their transportation and then continue on through, or make a quick pit-stop for lunch and a swim in the ocean before hitting the road again. However, a day and a night in Dai Lanh is much more rewarding, and now is a better time to visit than any for at least the last 10 years.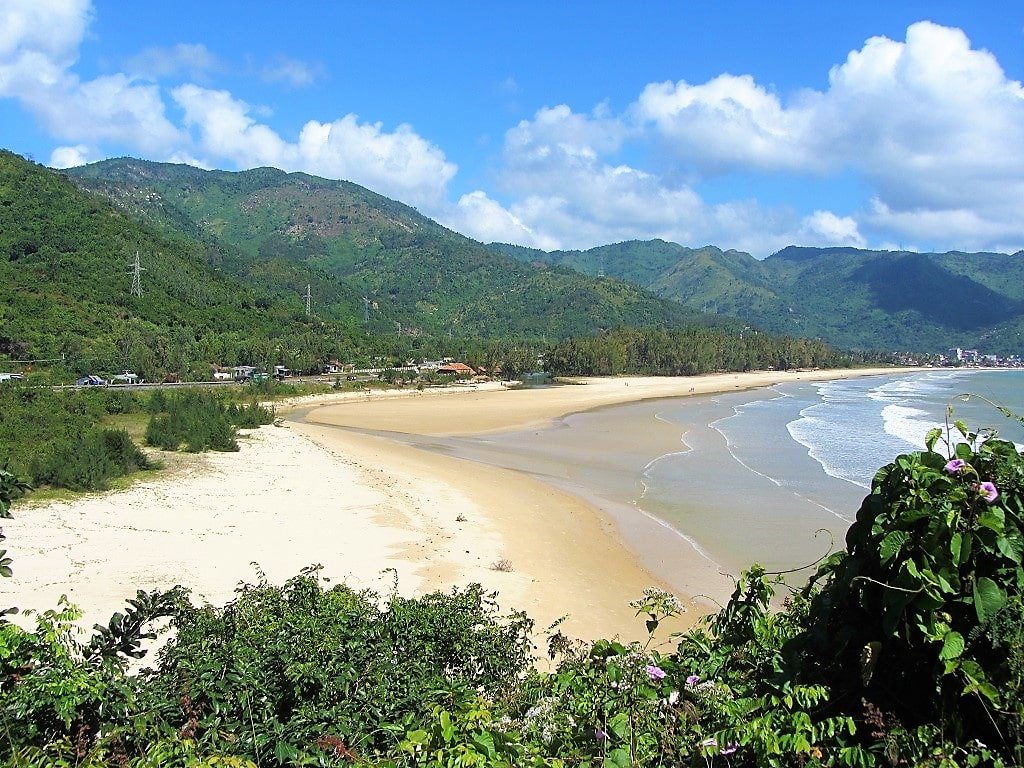 In the blue shadow of looming mountains, two kilometres of inviting sandy beach stretches between two spectacular passes on Highway 1. Sheltering tightly at the northern end of the bay is Dai Lanh fishing village; whose fleet of wooden boats cluster in the calm waters, nodding in the surf. At the southern end, the village peters out as it reaches a shady stand of casuarina trees, which tower over a wide and beautiful lagoon, perfect for swimming. It sounds idyllic, and, from a distance, it is. But, development has never taken off on Dai Lanh Beach, because both the highway and the railway run parallel to each other just metres from the seafront. Between the two of them, there's quite a lot of noise.
In the past, Dai Lanh was a popular beach destination for Vietnamese tourists and French colonials, who called the area Cap Varella. However, the advent of motorbikes, cars, coaches and freight trucks plying up and down the highway, klaxons blaring, has seen its reputation diminish. (The giant concrete shell of an abandoned 'ghost' resort in the middle of the beach is testament to failed ambitions for the development of this area.) Even so, it might not be so bad if it wasn't for the manic driving of some of the buses and trucks, who rip through town with an astonishing disregard for pedestrians and other motorists. As for the railway, I personally find the rattling carriages of the former Trans-Indochinois a romantic accompaniment to this tropical beach; but others find the howling of the horn during the night a major disturbance. However, things are just about to change for the better….
In September 2017, two new tunnels (whose construction began in 2012), with a combined length of thirteen kilometres, are due to open. Burrowing under the mountains, these tunnels will make both the Co Ma and Ca passes, on either side of Dai Lanh Beach, obsolete. And, although the new tunnels and connecting highway will still pass behind the town, the vast majority of heavy traffic will no longer go directly through Dai Lanh. The completion of this massive engineering project is certain to reduce noise pollution in Dai Lanh (not to mention making it a much safer place to cross the road), allowing this excellent beach to flourish as a travel destination in its own right. Similar construction projects in Vietnam have already transformed areas that were previously blighted by heavy traffic into virtually vehicle-free, scenic attractions: the Hai Van Pass between Danang and Hue is a good example of this. I predict big things for Dai Lanh in the near future, and the first few months after the opening of the tunnels will be a great time to visit.
Dai Lanh fishing village, at the north end of the beach, is a collection of red-brick-and-tile, single-storey houses. Seen from a high floor at one of the mini-hotels, it's a picturesque scene. But the reality, at closer quarters, is rather more fishy, dirty, dusty, and quite poor. However, many of the local fishermen and their families are warm and friendly, and keen to engage a người nước ngoại (a foreigner) in conversation. At the time of research, a new harbourfront was under construction, making a mess of the current one. However, on completion, this will be a good place to wander during the mornings and evenings, watching the boats come and go. On the opposite side of the highway, across the railway line, Dai Lanh market is very lively in the mornings; full of tropical fruits and fish, and conical-hatted buyers and sellers.
At the southern end of the bay, the long sandy beach can be accessed at either Dai Lanh Rest Stop & Restaurant (Trạm Dừng Chân Nhà Hàng Đại Lãnh) or Dai Lanh Beach Tourist Zone (Khu Du Lịch Biển Đại Lãnh). Of the two, the latter occupies the prettiest section of beach. Enter via a concrete bridge over a creek and into a forest of whispering casuarina trees (entrance fee: 10,000vnd; public holidays: 20,000vnd). The complex covers a lot of beachfront, but does so quite discreetly and sensitively. There are showers, deck chairs, loungers, wooden benches, swings, and palm-thatched parasols on the sand, under the shade of the trees. Visitors must pay to use any of these facilities (50,000-200,000vnd). The sea can be perfectly calm in the mornings, but occasionally gets very rough later in the day. The water is refreshing, the swimming is good, and watching the white and blue surf as the waves break in a long line across the two-kilometre beach is mesmerizing. Food, drink, and accommodation is also available here (see below for details). (Note: be careful of fishing debris that might be lurking in the surf or under the sand, discarded from the many boats that shelter in this bay.)
---
Accommodation:
Travellers can either choose to stay in one of the mini-hotels along the road with good views of the bay, or right on the beach at the Dai Lanh Beach Tourist Zone:
Mini-hotels: There are a handful of standard Vietnamese mini-hotels and nhà nghỉ (guest houses) on both sides of Highway 1 as it passes through Dai Lanh, especially towards the middle and northern end of the bay. Although they are all pretty good value, particularly for budget travellers, by far the best is Hotel Binh Lieu (058 3949 138; 200,000-300,000vnd per night). This four-storey grey townhouse is one of the tallest buildings in Dai Lanh. All rooms are clean and quite spacious, with windows (some with small balconies), WiFi, TV, hot water showers, and decent-sized beds. Try to get a room at the back of the hotel on a high floor: some of these have excellent ocean views. Other guest houses along the road include: Hotel Phu Ngoan (058 3842 108), and Nha Nghi Thuy Ngan (058 3842 789), both of which have rooms from 150,000-300,000vnd.
---
Dai Lanh Beach Tourist Zone: [BOOK HERE] Located near the centre of the bay, walk across a little concrete bridge (entrance 10,000vnd) leading off the main road and into the trees along the beach. Dai Lanh Beach Tourist Zone is a sprawling, nicely landscaped complex of varying budget accommodation options. Choose from sleeping in clean but stark red brick bungalows (400,000-800,000vnd), colourful and cute beach huts (400,000vnd), or camping on the beach (rent a 5-person tent for 400,000vnd or pitch your own tent for 50,000vnd). Considering the beautiful location – right on the beach in the shade of tall casuarina trees – prices are very reasonable. (Note: all prices, including the entrance fee, are likely to rise on public holidays.)
---
Food & Drink:
Generally, my dining experiences in Dai Lanh have not been memorable. Quality is mediocre, service gruff, and overcharging common. However, this is because most of the restaurants (quán cơm or nhà hàng in Vietnamese) that line the highway are aimed at feeding dozens of customers en masse at mealtimes, as they disgorge from long distance-buses. For these restaurants, it's not really worth their while to feed a couple of random budget travellers. But, if you have a little extra to spend, I've been told that the seafood here, especially the squid hotpot (lẩu mực), is excellent. If that's not your thing, there are still several good places along the roadside selling classic street food dishes, such as bánh xèo (crispy, savoury pancakes), bánh mì (filled baguettes), and phở (beef noodle soup). In the morning, it's a good idea to search for a breakfast food stall in the bustling market area. The cafe at the Dai Lanh Beach Tourist Zone, right on the beach in the shade of tall trees, is a nice place for a morning coffee and swim.
---
Transportation:
Bus: Dai Lanh is 85km north of Nha Trang, and 40km south of Tuy Hoa. The two kilometre beach is squeezed between two mountain passes on Highway 1: the Co Ma Pass to the south, and the Ca Pass to the north (the latter is one of the most scenic sections of Highway 1). Both of these will eventually be bypassed by two new tunnels, which are due to open in September 2017. But, for now, all buses travelling Highway 1 must pass directly through Dai Lanh village, so just ask the driver to stop and let you off. When the tunnels open, most buses will bypass Dai Lanh. However, the newly-built highway connecting the two new tunnels (one goes under the Co Ma Pass, the other under the Ca Pass) will still pass just behind Dai Lanh village, so passengers will still be able to request the driver to spot and let them off. Hundreds of buses pass through Dai Lanh throughout the day and night: any of the north-south bus companies can drop-off or pick-up passengers here. Dai Lanh is a convenient night-stop for anyone travelling between Nha Trang and Quy Nhon.
Train: Although Dai Lanh is on the main Reunification line and has its very own (very small) station, the majority of trains travelling from Hanoi to Saigon do not stop here. Only small, slow, regional trains stop-in at Dai Lanh. This means that, for most travellers, getting to and from Dai Lanh by train isn't really a viable option. But this could change in the future because, once the new tunnels open, I expect Dai Lanh's star will rise, and with it perhaps a new 'beach train' linking Nha Trang with Quy Nhon, via Van Gia and Dai Lanh, will be inaugurated. It's an interesting idea, at least.
Motorbike: Dai Lanh Beach makes an excellent stopover if you're on a motorbike road trip, particularly if you're following one of my Saigon-to-Hanoi routes. The scenic passes that bookend Dai Lanh bay will soon be empty of heavy traffic, once the new tunnels open in September 2017, and there are lots of other excellent beaches to be explored on two-wheels in the surrounding area, such as Hon Gom Sandbar, Vung Ro Bay and Diep Son Island.
---
RELATED POSTS:
[Back Top]