First published April 2020 | Words, photos and film by Vietnam Coracle
To provide an opportunity for vicarious travel during this period of self-isolation, physical distancing and travel bans, I've repackaged and republished my short film, route map, and illustrated diary from a two-month motorbike road trip across Vietnam. I hope the images, words, and footage from this road trip will allow you brief respite from your self-isolation and, perhaps, inspire a future trip to Vietnam, if and when this strange and unnerving time comes to an end. Although, over the years, I've been lucky enough to have made several two-month road trips covering the length and breadth of Vietnam, this particular trip, in September and October, 2014, was unique in that I recorded it day-by-day with a written and illustrated diary, a detailed route map, and a 6-minute film composed of hundreds of clips from my journey.
[Back Top]
---
CHRONICLES:

FILM

,

MAP

&

DIARY
---
In September and October, 2014, I travelled over 9,000km in 60 days by motorbike through Vietnam, covering much of the nation and documenting my journey in words, photos and film as I went along. Starting from Saigon, I rode up and down the country on my trusty motorbike, Stavros, intending to experience as much as I could during my time on the road, while also gathering material for future posts. On this page, I've pulled together my short film, route map, and illustrated diary from my two-month road trip, in the hope they may provide brief relief from self-isolation, wherever you may be:
[Back Top]
---
FILM: Two Months on a Motorbike [6:07]
Over the course of my 60-day, 9,000-kilometre road trip in 2014, I captured much of what I saw on film. When I returned home to Saigon, I edited the footage from my trip and put it together into a short video. The clips are arranged in the chronological and geographical order in which I travelled during my two months on the road. The soundtrack, 'The Song Remains the Same' by Led Zeppelin, has been a source of motivation to me when travelling alone throughout the world ever since I started listening to it on my first solo trip abroad in my teens.
This film was shot on a simple, hand-held, digital camera: it doesn't feature any GoPro or drone footage, and I haven't used any app to automatically edit clips together or lay a soundtrack on for me. I'm not a professional video editor, but I hope my amateur film-making lends a simple, honest, handmade freshness to the film. Or, failing that, at the very least the beauty of Vietnam in these clips should hold your gaze for the full 6-minute duration of the video.
*For best viewing watch in HD quality
TWO MONTHS ON A MOTORBIKE [6:07]

Watch on YouTube
---
ROUTE MAP: Two Month Road Trip [9,000km]
During the course of my two-month road trip in 2014, I plotted my exact route (including all my overnight stops) on the map below. This annotated map is designed so that other riders may use it as a reference, if they wish. My route is represented by the blue line (over 9,000km of mostly paved roads from Saigon to Hanoi and the northern mountains and back again); the orange beds show all of the places where I stayed for a night or more; and each of the red 'i' pins contains a direct link to the Vietnam Coracle guide for that specific region. In addition, every marker on the map is illustrated with an image.
Please note: the route outlined on the map below is but one of myriad potential routes for riding the length and breadth of Vietnam. The route I rode in 2014 doesn't necessarily represent the route I would choose to take today. For dozens of guides to great motorbike routes throughout Vietnam, check out my Motorbike Guides Archive and the Vietnam Coracle Map.
MAP | TWO MONTH ROAD TRIP [9,000km]
Blue line

:

my 9,000km route

Orange beds

:

my overnight stops

Red 'i' pins

:

links to Vietnam Coracle guides

View in a LARGER MAP
---
DIARY: Daily Entries from 60 days on the Road
At the end of each day on the road during my two-month ride through Vietnam in 2014, I wrote a diary and illustrated it with photographs I had taken on that day. Below I've organized the complete diaries from my 60-day road trip into 7 sections, each one corresponding to a geographical region, so that readers can easily navigate to the part they're interested in. Simply choose a region from the contents below, then click the image to go straight to that section of the diary.
Please note: these diary entries are from 2014 and remain largely unedited: the opinions and attitudes expressed in them do not necessarily reflect my views and sentiments today.
DIARIES | 60 DAYS ON THE ROAD
Click below to go straight to the diary entries for that region:
---
[Click image to read]
---
DIARIES | INLAND CENTRAL
[Click image to read]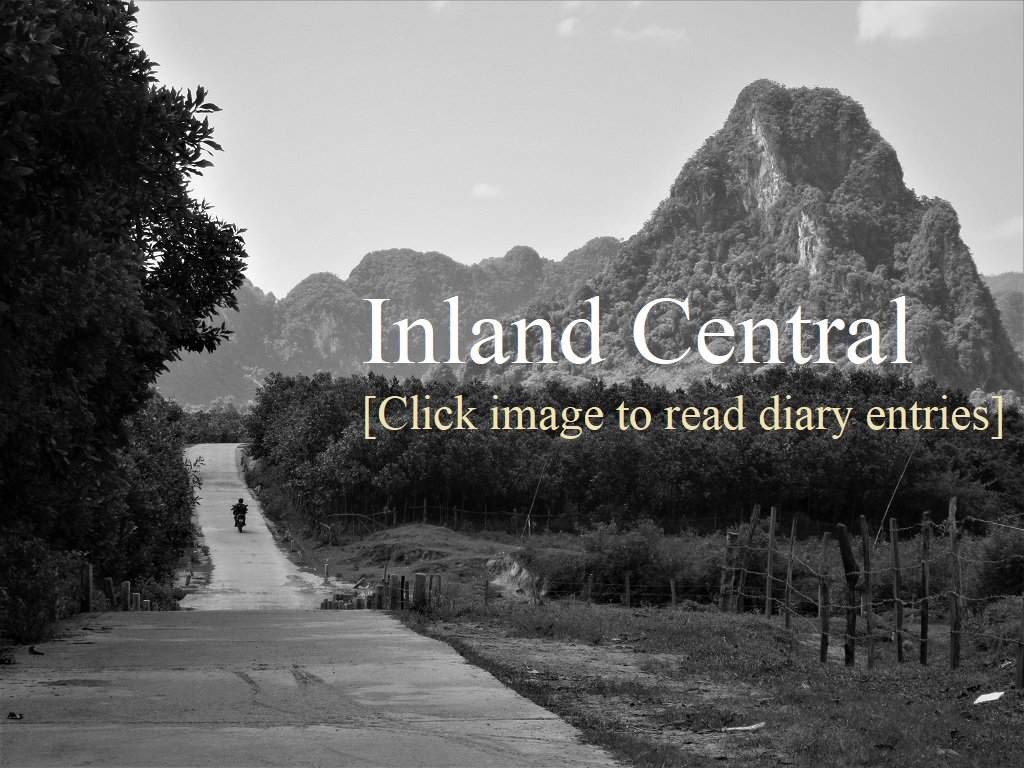 ---
DIARIES | THE NORTHWEST
[Click image to read]
---
DIARIES | THE EXTREME NORTH
[Click image to read]
---
DIARIES | THE NORTHEAST
[Click image to read]
---
DIARIES | HANOI & THE CENTRAL COAST
[Click image to read]
---
DIARIES | THE SOUTH COAST
[Click image to read]
---
WEEK 1:

THE SOUTH
---
DAY 1: September 2, 2014 [MAP]
It's Independence Day and Vietnamese flags are draped from the balconies of all the houses on my alley as I wheel Stavros out of my house and into the bright light of dawn. Saigon looks glittering and clean from the Thủ Thiêm Bridge in the first fresh light of the day, as if all the high-rises, houses, streets, and even the Saigon River had been washed during the night, cleansed and ready to greet Independence Day.
The wide new highway to Bà Rịa is busier than usual as hundreds of young Vietnamese make their way by motorbike to the coast at Vũng Tàu for a festive day-off by the beach. When I meet the Ocean Road everything is shimmering, bright and clear: it's a perfectly sunny day and the sea is blue and clear and the rice fields thick with gold-green rice, almost ready for harvesting.
I meet some of my good friends from Saigon for brunch at Vên Vên Hotel, a tasteful, shady place opposite Hồ Cốc Beach. After an hour under the shade of the big trees I head off alone along the coast, past Bình Châu and Lagi – where I bump into another good friend from Saigon on the road – and on past the French colonial-era lighthouse at Kê Gà and the white sand beaches in the hot sun south of Cambodia Slope. The colours are explosive on such a fine day and the heat is intense. Large groups of Vietnamese picnickers line the beaches, sitting on tarpaulins, grilling over small barbecues and drinking beer in the shade of big casuarina trees. The Vietnamese really know how to enjoy the beach, although, sadly, some people leave a trail of trash behind them.
Dropping down into Phan Thiết City I see the foothills of the Trường Sơn Mountains rising to the west, veiled in a heat haze. These days of clear blue skies, sun and dry heat make everything appear permanent: as if the landscape, picnickers, fruit orchards and fields will always be there, immortal, in the relentless heat of the day. Phan Thiết sprawls out over the plain, around the Cà Ty River and along the seafront. I like this town a lot. I head straight to my favourite coffee and seafood corner in the centre of town, which is where I find myself now, sitting at a plastic table with my laptop balanced on my lap as I skewer grilled octopus with a toothpick in one hand and sip Vietnamese espresso with the other.
Today was 230km of easy, scenic driving on good roads in good weather, and Stavros performed better than ever: 180km to a tank (4 litres). I think I'll treat him to a sunset cocktail at the Ocean Dunes Hotel beach bar for that. And later, maybe, I'll head to 104 Võ Thị Sáu Street for a Phan Thiết speciality, chả cuốn: a large rice paper roll with all sorts of 'goodies' inside. The lady there has been serving chả cuốn for 40 years.
DAY 2: September 3, 2014 [MAP]
Another brilliantly clear, sunny day: it seems the dry season has returned to southern Vietnam three months early this year. Mũi Né bay is blue, calm and lovely as I drive swiftly along the deserted ocean road, passing kilometres of empty white sand beach.
As I head due north, away from the ocean, the aridity of the coastal landscape changes to lush green valleys, forests, and plantations of fruit and crops: mango, cashew, cassava, sweetcorn, banana, rice, durian, eucalyptus and teak, to name just a few.
I meet the first mountain pass of this trip at Đại Ninh Reservoir. It's a steep, potholed, meandering climb of 10 kilometres. Fantastic views back down over the coastal plain open up at each turn. Once at the top I've arrived in the Central Highlands. The air is noticeably thinner, drier, clearer and cooler, and there's the distinctive smell of woodsmoke and damp leaves. I stop for a while to contemplate the endless canopy of trees stretching before me, enjoying to the silence and animal noises from the trees.
Coffee and annatto trees line the road as I get closer to a junction with the dreaded Highway 20, the main road to Dalat. Especially after riding such scenic, quiet back-roads up to this point, the highway is ugly, dusty, busy, dangerous and, more than anything, boring. However, Stavros eats it up in under an hour and now I find myself drinking a local cup of highlands coffee in the former French hill station of Dalat, still basking in late sunshine.
DAY 3: September 4, 2014 [MAP]
After meeting a friend for an early breakfast in Dalat I head out of town, past the century-old French villas on Trần Hưng Đạo Street and into the pine forests beneath Lang Biang Mountain, the area's highest peak at over 2,100 metres. The weather is dull and grey, the light flat, so I breeze through this wooded plateau quickly.
Pine forests give way to dense jungle as I approach the mountain pass leading all the way back down to the ocean. With the change in foliage comes a change in temperature: heat and humidity return to the air which, even after just a day in the cool mountain air, is a relief to me. This is a relatively new mountain pass and one of the most spectacular in southern Vietnam. Construction of the 33km pass finished in 2007.
The road twists and curves through thick forest as towering waterfalls drop hundreds of feet from the mountainside and channel under the asphalt. The views down a narrow valley with a blue river cutting through it are superb. The pass takes me from 1,500 metres almost back down to sea level.
As on all mountain passes in Vietnam there are small shrines by the roadside, especially on dangerous hairpin bends. These usually mark the site of fatal road accidents, but I notice that on this pass many of the shrines have the names of dozens of deceased construction workers, killed while blasting the road through the mountain. Most are from the northern provinces around the Red River Delta, poor rural areas, and the majority were in their early twenties when they died.
It's fearsomely hot when I reach the plains. The colours of fruit trees and forests are luminous against the blue sky, and the rice fields are toast-brown, ready to be harvested. A dip in the river is appealing but the water has turned muddy from all the rain during the past month, so I drive on towards Nha Trang.
I stop for a coffee to wait out a shower that sweeps across the flat farmland like a broom dusting the floor. Nha Trang is busy, affluent and clean when I arrive in the early afternoon. These days the beachfront is lined with expensive international hotels: it's Vietnam's Miami. The bay looks beautiful so I take a coffee on the deck at the Sailing Club. A storm comes in from the north – creating wonderful cloudscapes over the East Sea – so I settle into my chair, order a jar of sangria and watch the rain pass over the bay, forked lightning striking the horizon, and write up my road trip diary.
DAY 4: September 5, 2014 [MAP]
A swim in the calm waters of Nha Trang bay followed by coffee and breakfast at the Sailing Club is how I'd start every day given the choice.
After that I drive along Highway 1 towards Đại Lãnh Beach for a lunchtime swim, but my favourite swimming spot is currently the site of temporary residences for the construction force employed to build a tunnel leading through the mountains behind the beach.
The Cả Pass (which the tunnel will eventually relieve of its current congestion) is as impressive as ever, winding around the mountainside with the ocean hundreds of feet below. I turn off at the highest point of the pass and roll down into gorgeous Vũng Rô Bay. I take my time to enjoy the empty beaches and coast roads here because massive luxury development may soon transform the area.
The coast road now leads all the way to Tuy Hòa where there's tens of kilometres of deserted fine sand beach. I pick a spot for a swim, the water is flat as a tabletop.
Continuing on back-roads I pass rural villages abuzz with preparations for the rice harvest. Everyone seems to be doing something rice related: threshing, winnowing, picking, packing, transporting – the fields and roads are full of activity.
I rejoin Highway 1 for the fantastic stretch of coast road south of Quy Nhơn. Dozens of pretty beaches are hidden in rocky coves along this ribbon of tarmac. Beach hopping here is one of my favourite things to do and it's home to some of the best beaches in Vietnam. I swim and write until the sun sets, throwing up a pink-purple afterglow behind Quy Nhơn city in the distance. The latter is where I'm sitting now, with a gin and tonic on a rooftop overlooking the city and the sea.
DAY 5: September 6, 2014 [MAP]
I wake up to another glorious dawn swim in wide and empty Quy Nhon Bay. I find breakfast down a narrow alley jammed with small food outlets selling all sorts of Central Vietnamese classics. I choose an old lady who's been serving up her various forms of sticky rice cakes here for 30 years. It's delicious, cheap and the lady and her customers are good company. I love this city, even the first time I visited – cycling through in 2005 – I knew there was something about it.
The back-roads north of Quy Nhon pass some tantalizing beaches and bays squeezed between granite boulders and rocky headlands. It's empty now but the Ritz-Carlton, among others, has plans for this area in the future.
Unfortunately I can't avoid Highway 1 for the last 70km to Quang Ngai, but luckily I hit it in the early afternoon when the traffic is mercifully light. I pay a brief visit to My Khe Beach, passing the site of the My Lai massacre en route: the former is what most Vietnamese people (the majority of whom are under the age of 35) know the area for; the latter is, of course, what most westerners know it for.
Back in Quang Ngai the city is bathed in late sunshine and echoes to the sound of beating drums and clashing cymbals as dragon dancers (celebrating Mid Autumn Festival) roam the streets, going from one shop to another, bringing prosperity to each.
I have coffee and a snack on the banks of the gaping Trà Khúc River and watch a wonderful sunset melting behind Ngoc Linh Mountain, the highest in Central Vietnam. When the colours have all burned away I head to Quang Ngai's main street for a night of delicious street food.
DAY 6: September 7, 2014 [MAP]
Another early start today for a good street-side breakfast and strong coffee in the shady, pleasantly busy back-streets of Quảng Ngãi.
I attempt to stay off the horrible section of Highway 1 up to Hoi An by weaving along back-roads close to the ocean. These turn out to be lush and beautiful (with the exception of Dung Quat oil refinery which, although not scenic, is still a sight to behold). Just north of the refinery I find some sandy coves and stumble upon the remains of what look like a Cham ruin, but after further analysis I think more likely to be a kind of mud brick quarry; there is also what appears to be a bombed-out machine gun bunker.
Frustratingly I eventually have to join Highway 1 for a brief way up to Tam Ky, from where I turn off toward the ocean once more and join yet another empty, rural back-road. This road is a gem. Stretching over 30km along a completely deserted sandy beach, all the way to the mouth of the Cửa Đại River. From here I pop Stavros on a wooden boat for the 10 minute hop over the river to Hoi An.
I hadn't planned to visit Hoi An but I'm here tonight because it's the Lantern Festival (or Mid Autumn Festival) which promises to be very pretty indeed in the town's old quarter. Like most people who live in or travel to Vietnam I've spent my fair share of time in Hoi An, admiring the old buildings and absorbing the real charm that this place exudes. However, after a few days spent on back-roads and in not-so-touristy places I can't help but feel a bit shell-shocked by the crowds of foreign and Vietnamese tourists thronging the streets here. I take a coffee under a banyan tree with lanterns dangling from its branches in order to collect myself before heading out to walk the old town for the festival, the results of which I will publish in a separate post tomorrow.
DAY 7: September 8, 2014 [MAP]
Without the option of swimming in the sea this morning I decide to go for a dawn run in Hoi An's ancient town instead. If anything Hoi An's old streets and shop-houses look even better at this time of day than they did last night during the Lantern Festival. Whereas last night was impressive because of the crowds of people and artificial light from all the hanging lanterns, this morning it is the absence of people and the sharp, clear light of the dawn sunshine that is striking. This is without doubt the only time of day when you can have Hoi An all to yourself. By Vietnamese standards Hoi An opens late: not until 8am do the cafes, restaurants and trinket shops open their doors and the tourists file in. Go for a walk or run between 6.00-7.30am and you'll beat the crowds.
I spend the morning eating multiple breakfasts (there are many famous breakfast dishes in this region – including bánh bèo, mì quảng and cao lầu – and I want to try them all while I'm here) and cafe-hopping while putting together my post on Hoi An's Mid-Autumn Lantern Festival, which you can now read here. Most local eateries are only serving vegetarian dishes today because of the full moon. I can't help but notice that everything in Hoi An, from bottles of water to street food dishes, is about 30% more expensive than elsewhere in Vietnam. I don't think I'm being overcharged, these are just 'Hoi An prices'.
After a productive morning eating, drinking and writing I set off for the mountains once more. I drive back on myself for several kilometres on Highway 1 (which is in a dreadful state of disrepair, as usual) to a turn-off leading west towards the Trường Sơn Mountains, which used to be known as the Annamite Range. The traffic fades away and pretty soon I'm surrounded by green rice fields and forests with mountains closing in around me and rivers cutting valleys in the landscape. The river banks are lined with cinnamon trees and their scented bark infuses the late afternoon air to such an extent that it becomes drinkable and tastes like a cup of Indian masala chai tea.
I'm very happy on this sunny road. As the scenery grows bigger – taller trees, wider rivers, higher mountains – I grow more excited about the next stage of my road trip, which will be the Ho Chi Minh Road. Inevitably however, storm clouds gather over the peaks as the road climbs higher. The last two hours of daylight are sucked away into a big storm that breaks over me just 20km from my destination and lingers right into the night. It's still raining now on the corrugated iron roof of my hotel in Kham Duc.
---
WEEK 2:

INLAND CENTRAL
---
DAY 1: September 9, 2014 [MAP]
After a week on the road I decide to stay in Khâm Đức and have a rest day. Khâm Đức is a small town in the shadow of a big mountain. Grim and grey in the rain of yesterday afternoon it's a much more appealing place in the bright sunshine and mountain light of today. Although there's not much of interest in the town itself the surrounding countryside is lovely. Forested mountains rise in humps and pyramids, their peaks piercing the bulbous clouds that always threaten rain even though the town is bathed in sunlight. The air is clear and the light is very sharp. One of the 'luxuries' of Khâm Đức is the quiet: as much as I love Vietnam's coastline, it's heavily populated and suffers from sound pollution, even in the smallest seaside hamlets. Sitting in a cafe in Khâm Đức looking out over mountains all I can hear are cattle lowing, chickens clucking, birds singing and dogs barking.
The Bé Châu Giang Hotel is an alpine-like lodging with large rooms (some with balconies) for $7-12 a night. I've stayed here in the past and have often met foreigners and Vietnamese employed in the gold mine nearby. Today the hotel seems a little empty and I wonder if this has something to do with the (possibly temporary) closure of the mine due to a tax dispute between the Canadian company running it and the Vietnamese government.
I spend the day reading and writing. In the late afternoon I find a street-side barbecue and beer stall run by a young woman in her early twenties. I order grilled pork belly and a pork sausage. Both are extremely good. Perhaps this is because of yesterday's vegetarian 'fast' for the full moon or perhaps it's because meat in the countryside is much fresher than in the cities. I often find that food is better in small, remote, rural areas than in big cities: there's not as much choice, of course, but the quality and freshness of ingredients is usually superior. Thunder is rumbling around the mountains now; maybe they'll be a repeat of yesterday evening's storm. Tomorrow I head north on a fantastic stretch of the Ho Chi Minh Highway.
WEEK 2, DAY 2: September 10, 2014 [MAP]
Today's ride I already knew to be one of the best in Vietnam. 200km of empty, well-made roads along valleys and over jungled mountains. For sheer riding pleasure I think it's better than any other stretch of road in the country. The road is wide and sealed with dozens of climbs and descents, but without any traffic at all: today I could count the number of four-wheeled vehicles I saw on one hand.
The scenery is fabulous too. Some of the thickest, most pristine forest in Vietnam lies along its border with Laos. At times this section of the Ho Chi Minh Road is literally a stone's throw from the border. The forests are protected and home to the 'Asian Unicorn' or Sao La, a graceful deer-like animal and one of the rarest in the world.
I was incredibly lucky to have good weather until 4pm when the storm that had threatened all day finally broke over me. But by that time I was near my destination, A Lưới, and past the best scenery of the journey. The central section from Prao until 30km short of A Lưới is lofty and majestic, making for slow progress as I had to keep stopping to take photographs and drink in the views. Find out more about this ride HERE.
WEEK 2, DAY 3: September 11, 2014 [MAP]
I leave A Lưới in the early morning with a feeling of nostalgia after having eaten breakfast at the same place I ate a year ago on a road trip with a best friend from the U.K (click HERE for more). A Lưới is a small town with not much to recommend it, but the surrounding countryside is bucolic: fruit trees line the Ho Chi Minh Road, waterfalls gush off the forested mountainside and run into streams which in turn flow into a large river running near the border with Laos. Hamburger Hill, site of a heavy battle during the American War, is in the middle of this lovely scenery. I try to feel something, anything, about the bloody recent history of this area, but I can't. It's near impossible to imagine this lush landscape with shells exploding, guns firing and napalm lighting up the foliage, and I'm not sure if I want to imagine it either.
Another excellent section of the Ho Chi Minh Road stretches before me, weaving through a wooded valley that the Da Krong River has carved out of the rock. Unfortunately, the early morning greyness doesn't lift and there's a chill in the air that lingers way past 9am, by which time in Vietnam one would expect it to be hot. So I glide along the river valley, waving at countless children by the roadside, all with perfect grinning smiles of white teeth, until I reach Khe Sanh.
Khe Sanh is best known as the location of an American base during the war that was besieged in the early months of 1968 by North Vietnamese troops. Now, however, it's best known, to me at least, as the southern starting point of one of the most scenic and isolated stretches of road in Vietnam, the Western Ho Chi Minh Road (click HERE for more). I fill Stavros with gas and take an additional 3 litres of petrol with me in plastic water bottles as there are practically no gas stations for 240km on this section of road.
There's hardly any traffic on this route and the only settlements are wood and thatch homes perched by clear mountain streams. The winding, rolling road loses some of its majesty because the light is still grey and dull. I meet a small group of Vietnamese and Malaysians on a Vespa road trip. They offer to brew up a cup of coffee by the road while we chat and take a rest from riding.
Although the sun does eventually burn through the clouds in the late afternoon, I choose to head east to the seaside town of Dong Hoi for the night rather than camp in the mountains (there's only one accommodation on this route). Dong Hoi is a mini Danang: a city with a perfect location on a river, by the sea and near the mountains. I like this town a lot, but I arrive too late for a swim or to watch the sunset at one of the riverside cafes. I eat, find a hotel, have a gin and tonic by the sea, and watch the moon rise over the ocean and the lights of the tankers out at sea.
WEEK 2, DAY 4: September 12, 2014 [MAP]

Today's ride demonstrates just how fabulous Dong Hoi's location is. At 6am I head to Dong Hoi's municipal beach. There's not a soul on the sands and the sea is serene in the pale colours of dawn. Surely this will be a city beach to rival that of Nha Trang or Danang some day.
Still in my swim-wear I take breakfast on Dong Hoi's shady back-streets. It's the first bowl of real northern phở I've had on this trip. Served by a sincere, polite woman with a kind smile, the noodle soup has a rich aroma of star anise, cloves and cinnamon – the same smells that scent the forests in the mountains to the west of Dong Hoi.
It's to these mountains that I head next – after a cup of coffee and a some writing on the beach. Back-roads link Dong Hoi to the stunning landscape of Phong Nha-Ke Bang National Park. In less than an hour I go from shimmering sands on Dong Hoi's beach to surging rivers and soaring limestone mountains on the Western Ho Chi Minh Road.
The latter is sublime on a hot, clear day like today. Monsoon clouds billow and build during the afternoon, echoing the dramatic shapes of the limestone karst scenery. It's glorious. There are rivers to bathe in, waterfalls to shower under, sweeping views to gaze at; to the east one looks back over forests to the ocean, to the west the mountains get higher and the jungle wilder towards the Lao border. The road hugs the mountainside, sometimes hundreds of feet above river valleys, and there's simply no traffic at all.
Towards mid afternoon the looming clouds gather to form a tropical storm. Still in hot sunshine I can hear the rain pounding the leaves in the jungle ahead of me before, a minute later, the deluge hits Stavros and I.
For a while I don't move; I just sit on my motorbike in my rain gear looking over the thick canopy of trees spreading over mountains into the distance, thunder rumbling near and far, shafts of light breaking through now and then, illuminating pockets of the landscape and sections of the road far below me, winding deeper into the forests.
I enter Son Trach town in late afternoon. Due to its proximity to the Phong Nha cave system, recently found to be the largest in the world, this little town has seen a tourism boom as Vietnamese and foreign visitors flock to see the caves. However, infrastructure is still limited and the town has become a rather bleak, dusty, half-built, backpacker-oriented, concrete hole in the midst of a beautiful river valley. There's no doubt that one day this area (including Dong Hoi) will be a mecca for travellers from around the world. Money will pour in, swish resorts will spring up and traffic on the beautiful Western Ho Chi Minh Road will rise. Given the choice between the two, I'm not sure which I'd prefer.
WEEK 2, DAY 5: September 13, 2014 [MAP]
I get up and get out of my damp and dull hotel as early as I can. I don't much warm to Son Trach and, after two mediocre breakfasts at two backpacker-aimed cafes, I get away from this town-in-transition, and back into the marvellous countryside around it.
Back on the Ho Chi Minh Road there's a hundred kilometres more of haunting karst scenery. This section is quiet, wide and well-made so I just sit back, drive slowly and watch the landscape slide past me.
I make a detour down a back-road to a remote Lao border crossing. There's a frail, spotty teenager in uniform with a rifle slung over his shoulder at the border. The crossing is defined by a change in road surface: concrete slabs on the Vietnamese side, dirt and sand on the Lao side. The teenage guard tells me to head back. I obey. But this is a worthwhile dead-end: deep in the jungle-covered limestone mountains, sounds of animal life everywhere, and dark-skinned children waving and shouting 'hello' as they bathe in streams.
After that it's a straight and, relatively, undramatic ride over flat farmland to Pho Chau. A dusty, dirty, concrete town on the road to a remote Lao border, Pho Chau is only good for a night of rest before leaving as early as possible the next morning. Under a dramatic dusk sky a string of gigantic trucks roar through town, their loads covered by tarpaulins. However, it's a pretty good guess that many of them are hauling hard wood from the primary forests of Laos, and live dogs bound for restaurants all over Vietnam: neither are strictly legal. Pho Chau has dozens of dog meat restaurants. I have eaten dog meat on several occasions and, although I recognize that it's an extremely sensitive subject, I think very few international commentators have ever given it the objective treatment it deserves. However, if and when I consume dog meat, I want it to come from a farm, not stolen from other Southeast Asian nations and smuggled across the border. This is what the illegal dog trade is, and, such is the appetite for dog meat, it's a very profitable business to be in. There's a brilliant article from the Guardian newspaper all about it here.
WEEK 2, DAY 6: September 14, 2014 [MAP]
I'm happy to leave the dusty, potholed streets of Pho Chau early in the morning. It's a long, long ride north on the Ho Chi Minh Road towards the real north: the 'Dragon's Head' of Vietnam, which I have been aiming for, and where I will spend the next few weeks exploring. Fortunately, the road is in great shape and traffic is light. The bulk of this ride is through the province of Nghe An, the largest in Vietnam, and birthplace of the road's namesake, Uncle Ho. Nghe An is dominated by large-scale agriculture. It's one of the poorest provinces in the country but the people are known for their resilience and strength, so much so that they are often called 'Buffaloes'. The landscape is mostly flat or gently undulating, with the mountains to the west marking the border with Laos. I pass large tracts of land growing all sorts of crops: cinnamon, eucalyptus, corn, rice, cassava, tea, bananas, oranges, spring onions. Nghe An is also where many of Vietnam's massive dairy companies have their factories. Vietnamese can't get enough milk and yogurt at the moment and these gigantic 'cow factories' are where it's produced.
After many hours of easy riding in hot sunshine I arrive at a good hotel in the riverside town of Cam Thuy. I know this town as being the gateway to one of my favourite areas in Vietnam, Pu Luong Nature Reserve and the surrounding countryside (read more HERE). Although Cam Thuy isn't particularly attractive, it's situated on the languid Mã River with limestone mountains rising up from its muddy waters. This river once marked the southern border of Vietnam, beyond which was the Hindu Kingdom of Champa. Today, for me at least, the Mã River marks my entry into northern Vietnam, after almost two weeks driving up from Saigon.
WEEK 2, DAY 7: September 15, 2014 [MAP]
Having handed all my clothes to the hotel to wash, I decide to stay in Cam Thuy another day while they dry in the humid air. In bleak, grey weather I ride southwest along a dyke, running by the Mã River, to the 15th century capital of Vietnam, Ho Citadel.
I visited this large imperial enclosure several years ago, just after it had been recognized by UNESCO as a world heritage site. Foreign tourists are yet to arrive in numbers so I have the grounds all to myself. The sky brightens a bit and I really enjoy walking along the old fortifications, reading about their history and watching the harvest taking place in the fields inside the citadel walls.
This area is heavily farmed, criss-crossed by rivers and full of history. The farmers in the area are exceptionally friendly, most of whom are accompanied by a buffalo or an ox. The site was chosen for Ho Citadel because of its positive feng shui and perhaps this explains the strange pull that the area has for me: I feel comfortable here. I spend the afternoon writing a guide to this citadel back in Cam Thuy.
---
WEEK 3:

THE NORTH-WEST
---
DAY 1: September 16, 2014 [MAP]
I wake up to the news that typhoon Kalmaegi is due to make landfall in northern Vietnam this morning. It will bring heavy rain and strong winds for the next couple days. True to the forecast it begins to rain steadily and heavily the moment I mount my bike to leave Cam Thuy after breakfast. But I'm fully prepared for this: after years of testing different áo mưa (rain coats) and trying all sorts of combinations to cover myself and my luggage, I've finally found the optimum protection. As 'selfies' are difficult to take when one is wearing rain gear, here's a photo of my friend Sam in full protective clothing, during our Saigon to Hanoi ride in 2013 (read more HERE).
It's a shame about the weather because I'm headed for Pù Luông Nature Reserve today, which is one of the prettiest regions in Vietnam (read more HERE). The scenery looks brooding and mysterious in the dark light and vapourous mist that ghosts between limestone hills. By the time I arrive in Cành Nàng town the weather is clearing up and the high-schools are going home for lunch. The students, travelling home by bicycle, swarm into the road, riding three abreast, steering with one hand while holding an umbrella in the other and chatting to their friends riding beside them. It's a graceful sight and one that occurs all over Vietnam at school opening and closing times everyday.
After a good lunch I leave in bright sunshine along a recently completed scenic road that runs straight through the nature reserve (read more HERE). Terraced rice paddies climb up the contours of limestone pinnacles, wood and thatch houses on stilts clinging to the mountainsides. I've always noticed how local people have very handsome faces and sturdy physiques in this area. People are also very friendly: children seem to have a 'foreign traveller radar' as each and every one of them runs into the street to wave and shout 'Hello!'. The morning rain is still draining off the mountains in raging torrents; it's as if the mountains themselves are full of water and, reaching their capacity, now threatening to burst at the seams.
Unlike further south where the harvest was in full progress, the rice here is high and green but not quite ripe for picking. The twists and turns of the road offer plenty of opportunities for the classic 'Vietnam landscape photography' shot: an aerial view of layers of terraced rice fields high above a river valley.
I reach the popular home stay destination of Mai Chau (read more HERE) just as the storm makes its second appearance. However, even the dark and rain can't diminish the charm of this lush valley. As it's late I forgo a night on the floor of a stilt house and opt for a room at a guest house instead. The rain falls hard and steady all night.
WEEK 3, DAY 2: September 17, 2014 [MAP]
I wait out the last few hours of typhoon Kalmaegi with coffee, tea and breakfast in Mai Chau. This is my first bún chả – a famous dish in the north, especially Hanoi – of my trip.
The rains stop and the humidity rises as I make my way out of the lush embrace of Mai Chau valley to the badder, harsher, colder Moc Chau Plateau. In low cloud, dark skies and dense fog – sometimes visibility is no more than 10 metres – this landscape of limestone pinnacles and grim-looking minority villages seems very threatening. I take it slowly as do, to my surprise, most of the trucks and buses on this road. I stop outside Moc Chau town to sample some of the region's specialities. This is a famous tea growing area and one of the first places in Vietnam to start dairy production on a large scale back in the 1980s. Since then others have followed suit. Nowadays, Vietnam's dairy companies are some of the largest businesses in the country and the Vietnamese appetite for milk and yogurt is insatiable. The yogurt I try is very good but the best product is bánh sữa, a soft milk toffee which is dangerously moreish.
I turn off Highway 6 to go deep into the tea plantations in order to find a new homestay area I'd heard about. The further away from the main road I go the more elegant, polite, well-spoken and strikingly beautiful the local people become. Some are from Vietnam's ethnic minorities and some are kinh (Vietnamese). Sadly, the homestays are in their early stages and not yet willing to accommodate foreigners. So I head back to Moc Chau town for the night.
WEEK 3, DAY 3: September 18, 2014 [MAP]
The edges of typhoon Kalmaegi must still be lingering over the northwest mountains, because it's a day of grey skies and drizzle again. Today I make my way to Sơn La town via a few local sights that various people have told me about on the way up here. My main source is a middle-aged man from Hanoi who runs the soup house where I have breakfast in Moc Chau this morning. He and I scribble down the names of places and vague directions before I leave.
Just a few kilometres from Moc Chau there's another new homestay initiative based around a pine forest surrounding an artificial lake. Like yesterday's homestays the area is still very new to tourism. However, unlike yesterday this one is unlikely to take off with foreign visitors as it's all a bit kitsch; swan shaped pedaloes, sculptures of forest animals and karaoke. I start to think that my breakfast companion may have very different ideas about worthy sights to me. However, his next recommendation, a waterfall on the way to the Lao border, is lovely. Dai Yem falls are wide and high, falling in several long columns and then descending over terraced cascades.
I drive over an hour on Highway 6 towards Yen Chau. This section of road is in great condition and hugs the walls of a wide valley with minority villages, crop fields and a muddy river down below. North of Yen Chau I turn due west down back-roads to find a limestone cave. The rolling, lumpy hills are covered in sugarcane and sweet corn fields. All of them have been recently harvested leaving the fields brown and dry. In the grey weather the landscape reminds me of Wales, where I spend a lot of time while back in the U.K.
I locate the cave down a muddy track and up hundreds of steps hewn from the rock. It feels very remote and humid in the mid afternoon, but when I enter the mouth of the cave it's immediately cool. Inside it's eerily quiet; the only sounds are bats squeaking and water dripping from stalactites. The cave is used to worship some of Vietnam's most famous and successful royal dynasties. Figures and statues adorn subterranean altars. The smell of old-burned incense fills the dark, damp corners of the grotto. It's a strangely compelling place to be but I don't want to linger because I can hear thunder outside, and I know Stavros will struggle in the wet mud if it rains.
I rejoin Highway 6 all the way to Sơn La, arriving after dusk just as flashes of lightning signal the beginning of another prolonged downpour. A good, big dinner in a large rice house keeps the damp weather from interfering with my mood.
WEEK 3, DAY 4: September 19, 2014 [MAP]
Sơn La is a lot more attractive in the muted morning light than it was last night in the pouring rain. I have a northern speciality for breakfast: bún thịt chó (noodles with dog meat). It's rich in flavour, very tender, and the broth is full and thick like gravy. Dog meat has been consumed by humans for thousands of years, and, as long as the dogs come from a farm – not 'dognapped' from their owners (see this for more info) – then, in general, I see no reason for their consumption to be banned (which is what many animal rights groups around the world are pushing for, and seems highly likely to happen within a decade in Vietnam). Either way, the 'dog meat debate' is far more complex than most commentators are ever willing to recognize, and, because it's such an emotional issue, it's very rarely discussed with any clarity or objectivity. The proprietor is a kind-faced woman with an interest in world affairs. She emphasizes to me that, whatever may be happening in the world, one's first concern should always be one's family. After spending much of my breakfast nodding vigorously to every word she says I hit the road again, with a new Vietnamese expression for 'bon voyage' ringing in my ears: chân cứng, đá mềm. Literally, 'hard feet, soft ground' – you should get the idea from that.
The road from Sơn La to Dien Bien Phu is in excellent condition and takes you into real mountains. The passes are epic but effortless because the road is so good. There's not much traffic in this remote part of Vietnam, save for a few trucks coming over from Laos. The landscape is on a very grand scale yet it's fairly heavily populated and cultivated by the dozens of different ethnic minorities living in the region. Even the highest mountains have crops growing to their peaks. I'm fairly ignorant when it comes to minority groups in Vietnam, but whichever ethnic group is dominant in this area wins the prize for most beautiful faces in Vietnam. The women wear their hair up in buns: when they drive motorbikes their helmets sit atop the bun of hair so that the rim of the helmet is a good 6 inches above their forehead, making for a comical sight.
I stop for lunch in Tuan Giao, a small market town in a gorgeous sun-filled valley, which I immediately feel attached to. The lunch is superb and the family in charge are warm and polite people, as I've come to expect in northwest Vietnam so far. This delicious meal is under $2.
If anything it gets even better on the last leg to Dien Bien Phu. Following a clear silver-white river the road leads through villages of wooden stilt houses and over mountains, all the time in the half light of an approaching thunder storm. Just when you begin to think you must be reaching the furthest edges of Vietnam, the city of Dien Bien Phu comes into view, and then you remember that one of the defining battles of the 20th century took place in this valley. Dien Bien Phu is so isolated even today, it seems absurd that, 60 years ago, the fate of French colonial rule in Indochina should have been decided here, far removed from the administrative and commercial centres of Hanoi and Saigon. Today, the city has all the bustle and edge that you'd expect from a thriving border town. I arrive, as has become customary these last few days, just after the skies have opened. But I love it here. There are tons of good cheap guest houses, excellent street food, lots of cafes and, as in every Vietnamese city, youth. I have a beef barbecue on the street followed by weasel-ingested coffee (apparently the 'purest' coffee on the planet) before heading back for an early night.
WEEK 3, DAY 5: September 20, 2014 [MAP]
The weather in Dien Bien Phu is as grey and immovable as concrete this morning. In a fine drizzling rain I have breakfast and coffee before deciding to check out. Everyone has been welcoming and warm in this town, but I want to drive on in search of some sun that might breathe colour back into this vast landscape. Having visited the Franco-Viet Minh War sites when I came here a few years ago, I pass them by slowly on my bike this time, not stopping but feeling, as I did before, a heaviness in my stomach. For no particular reason that I can think of, Dien Bien Phu is the only wartime site in Vietnam that affects me this way. Perhaps it's because, on A1 Hill at least, there's no grand monument to victory, nothing to ram the significance of the site or the battle down your throat, only a tidily kept, lush – pretty even – hillock in the town centre.
In bleak conditions I drive a hundred kilometres north to Muong Lay. Although some of the valleys would look great in sunlight there's little to attract my attention in the charcoal-light of today. Muong Lay was a different place last time I saw it in 2009. Since then the town and the valley it sat in has been flooded for a hydroelectric dam. Not that this is any great loss as it was an ugly, dusty place. The new town, sitting on the lake shore, comprises of stark government buildings and rows of rigidly aligned wooden stilt homes. There are dozens of cement trucks plying the main road, going to and from the dam construction site. I'm hungry but it's past lunch time and the shops are not serving, in any case this is not a place to linger. On the plus side the sun has come out and the heat is rising. I find a cafe still open by the side of the road and fill up with hard boiled duck eggs dipped in salt. The valleys open up, swallowing the large swell of the Da River between towering limestone mountains. It's glorious to feel the heat and see colour in the landscape once again.
I have about two and a half hours of daylight left. I need to make a decision between two roads, both of which I'm told are 'đang làm' – under construction. This is never something you want to hear in Vietnam as sometimes it can be painfully slow and dangerous when driving on these kinds of roads. After asking a dozen people their opinion on the matter I choose to take the much longer but quieter route up to a small mountaintop settlement called Sin Ho. I've driven this small road once before and it was spectacular. A few hundred metres after turning on to it I'm reminded of just how amazing the views are from this road. After stopping to drink in the view pictured below, I would stop again and again all the way up to the summit town of Sin Ho, desperately trying to capture it: staggering views over a big, benevolent landscape.
Despite being so vast and remote, almost every inch of this landscape is cultivated: there's very little wilderness. Even the steepest slopes are terraced for rice.
The road to Sin Ho snakes around mountainsides, more and more peaks becoming visible in the distance as the road climbs higher.
Mist and showers pass over the valley below, just before the road climbs into the clouds.
The town of Sin Ho is a scruffy but likable place with an unusually large population of dogs roaming the streets. I find a cheap room with a view over the main square and go for a big dinner. The temperature is cool up here and the evening light is sharp. (Read my guide to this spectacular route HERE).
WEEK 3, DAY 6: September 21, 2014 [MAP]
It's a miserable morning in Sin Ho. Grim, cold and grey this hilltop town feels very isolated. Groups of ethnic minorities begin to march into town on the flooded unpaved road beneath my balcony. In some cases their trek to the Sunday market in Sin Ho started before dawn; travelling on foot this is the only way to reach market by 9am from their homes on the mountainsides. I pay a visit to the damp, leaking market. Under tarpaulins there's a gentle hum of buying and selling; the pleasant commotion you find in all good markets in Vietnam. Fruit, vegetables and meat are very fresh. Minorities buy (only the Kinh Vietnamese are selling) the supplies that they must now haul back over the mountains to their homes. It's a pleasing atmosphere, even in the rain, and there are no trinkets and garments for sale like you get in the tourist market in Sapa. The colourful dress of the minority women – impossibly clean and un-muddied – brings colour into this lightless morning.
As promised the mountain road down to Lai Chau valley is in awful and treacherous condition, especially in the rain and mist. Landslides – caused by the continuing reconstruction of the road – scar the mountainside, covering the road in slippery mud and boulders. Fortunately, the sweet couple at my hotel in Sin Ho have drawn me a map of an alternative route – not marked on any of my three maps, or Google Maps – that cuts the time spent of this terrible road in half. Their directions are accurate (to the metre!) and I am able to turn off on to a back-road, where I take a shower under a waterfall to wash all the red mud off my body and clothes, Stavros however will have to wait for his much-needed bath.
In this grey weather there's not much for me to look at on the back-road or when I rejoin the main road to Lai Chau. The latter, which I visited in 2009 when it was one giant construction site, is supremely grim when I arrive in the drizzle and cold. The city has been stamped on the landscape in concrete and asphalt. Its empty 8-lane highways and dozens of utterly soulless government buildings are laughably grandiose. I hate it so much that I call it a day, find a room and stay the night. I figure this is a good opportunity for me to lock myself in my room and get some sleep, of which I haven't had much recently. But I must first find an early dinner. Vietnamese street-life has a way of softening and civilizing even the ugliest, emptiest of places. The outer districts of Saigon, for example, would be unbearably ugly if its streets were not full of outside cafes and eateries. So too, at 4pm when the plastic tables and chairs are set up by the lake and restaurants serve food on the sidewalks, Lai Chau begins to soften. The absurd government buildings seem even more ridiculous when compared with the richness of human minutiae going on around them.
WEEK 3, DAY 7: September 22, 2014 [MAP]
The sun is shining at 6am this morning: the first time this has happened in over a week. Even Lai Chau looks OK, with wispy clouds threading in and out of the pyramidal peaks surrounding the city. Breakfast is similarly OK, in a large soup house full of government officials – there must be lots of them in Lai Chau to fill all the state buildings – getting drunk on rice wine at 7am on Monday morning.
The road to Sapa is in amazing condition considering how mountainous it is and how much bad weather it must receive. Just a few kilometres out of Lai Chau, with its concrete stamp still visible in the valley below, the landscape gets really big. Fansipan, Vietnam's highest peak at 3,143m (10,312ft) looms in the distance out of a morning haze, making the giant west face appear translucent. Far, far below in the deep valleys, terraced rice fields are being harvested by conical-hatted farmers, and below them amethyst-blue rivers rip over boulders in their path, fed by colossal waterfalls dropping hundreds of feet off the mountains. This landscape is on a scale not seen anywhere else in Vietnam. It's only 60km (just over an hour) to Sapa, but there's so much to stop and look at that I find myself hoping it won't last because otherwise I'll never reach my destination.
However, other circumstances intervene to slow things down even further: a landslide. At a junction, 30km south of Sapa, a sign in the middle of the road reads "Warning: this road is cut off by a landslide. All Hanoi-bound traffic diverted." My heart sinks. I've booked myself into an expensive hotel in Sapa and was hoping to get there early to make the most of it. Now I may not be able to get there until tonight. Still, there are worse places to be stuck than in the shadow of Indochina's highest peak.
I ask around. The general consensus is that motorbikes can get through. I drive on up the meandering pass. Above me I see dozens of trucks stationary on the steep sloping road. The line of vehicles is 3 kilometres long on either side of the landslide, which itself only covers about 10 metres of road. Earth movers and Caterpillars are busy clearing the mud and rubble, but there's no room for anything to pass. Hundreds of people are stranded. There's no other route to Sapa and even if there was the trucks can't reverse back up or down the mountain, nor is there room enough to turn around. The atmosphere is calm and stoic. Many people stand on the fallen earth, watching as the machinery clears the dirt and dumps it just a couple of feet from the bystanders.
After a little over an hour a narrow path is cleared for motorbikes to pass, but it's still treacherously muddy. On the other side trucks are parked two abreast causing gridlock. Truck drivers have made temporary homes beneath their vehicles. Women have arrived from villages to set up makeshift stalls selling cooked eggs and drinks. There's trash strewn all over the road and down the mountainside. Between the trucks the smell of urine is unbearable. Feeling rather appalled by this and imagining the chaos that will ensue once large vehicles are allowed through, I drive on and concentrate on the majestic mountains growing all around me. The positive outcome of the landslide is that I now have the entire Tram Ton Pass, Vietnam's highest, all to myself. It's still bright, sunny and warm, although the light isn't as good now that the sun is higher. It's majestic stuff so I take my time on the pass, before rolling into Sapa around noon.
Sapa is one of the most popular tourist destinations in the country. I've been here a couple times before. I've seen it in the rain, mist and sun, but I don't really warm to it. The landscape it looks over is the reason for coming here (the views from almost every hotel are fantastic), not the town itself. There's no local life whatsoever: the market and the streets belong to tourism. The problem is that Sapa is too small to swallow all the tourists while keeping an identity and life of its own. Dalat, Nha Trang, Hanoi are all much larger, so if you don't want to eat steak and chips or pay for overpriced, average-quality Vietnamese food, you can always venture out beyond the tourist quarter. Not so in Sapa. What's more, the constant hassle from Vietnamese and minority people to buy things, take tours, look at a room, get a massage is instantly grating. The tourism and building boom mean that minibuses and cement trucks ply the narrow, steep streets, honking and spurting black exhaust as they crawl up the gradient. Come to Sapa for the views from your hotel room and excursions to the beautiful countryside further afield; don't expect to fall in love with the town. But, what do I care? I'm staying at the plush and cosy Victoria Spa Resort drinking cocktails at Happy Hour.
---
WEEK 4
DAY 1: September 23, 2014 [MAP]
Classic Sapa weather today: mist, damp and drizzle. This suits me well as my plan for the day is to write up my guide to the scenic motorbike loop from Sapa to Sin Ho and back, which you can read HERE. As much as I enjoy the comforts of the Victoria Sapa Spa Resort I can't say it compares favourably to other high-end resorts in the same price category in Vietnam. Ana Mandara Villas Resort in Dalat, which has a similar aesthetic in a similar setting, is far superior (read my review of Ana Mandara HERE). The latter has character and colonial ambience, whereas Victoria Sapa is too impersonal and business-like to feel like anything more than a standard international hotel. However, it's a cosy, warm and comfortable place for a couple nights, even if the famous Sapa mountain views are hidden behind mist all day. My brief excursions into Sapa town for some food do nothing to improve my opinion of the place. Food is average to poor and overcharging is rampant. Especially in this grey weather, Sapa (the town) is not a place I wish to spend much time.
WEEK 4, DAY 2: September 24, 2014 [MAP]
The weather in Sapa is noticeably better this morning – by which I mean that I can just about make out the outline of the mountain across the valley. I have an enormous breakfast at the Victoria Sapa buffet: I'm bored of Sapa's climate and I don't intend to stop for food until I've driven down to a lower altitude with more warmth and maybe even some sunshine.
I expect the temperature to rise once I start descending the Tram Ton Pass, about 20 minutes out of Sapa. It does, but the sky and light are still grey and dull. Even the majestic slopes of Fansipan don't make much of an impact in this concrete light. Traffic, at least, is very light. I pass the site of the landslide I was stuck at a couple days ago. There's a big gash in the mountainside where the earth fell away. The road is still only cleared enough for one vehicle to pass at a time.
When I turn due south at Binh Lu the road passes around Fansipan's west face. Water gushes down the mountain's flutes and folds, and into rivers that irrigate rice fields and flow through fairly large concrete towns. I'm heading for Yen Bai Province and the famous terraced rice fields of Mu Cang Chai District. I've been before but the weather was atrocious so I'm looking forward to a different experience this time. September and October are supposed to be the best months to see the fields: the rice is ripe, golden-brown and ready to harvest. When I reach one of the iconic valleys – stepped rice fields cut into the steep slope – it's still grim, grey and lightless. Rice terraces, I now know, demand sunlight in order to impress. What's more, sections of the road are undergoing major works. Entire mountains are being moved and rivers redirected. The dust and mud make progress very slow and uncomfortable.
I reach Mu Cang Chai town with about an hour of light left. It strikes me as a bustling little place with some good-looking street food in the market. There are plenty of guest houses so I pick one and ask for a room. However, I wasn't aware that Mu Cang Chai – despite not appearing in any English-language guide that I know of – has apparently left the likes of Hoi An and Nha Trang far behind and become Vietnam's number one tourist hot-spot: There are no rooms available in the whole town. Despite all of them looking suspiciously vacant I'm repeatedly told 'hết phòng' ('no rooms'). It becomes clear that the hotel owners are just waiting for more lucrative customers (i.e a group) to arrive. Before 'hết phòng' I'm asked 'mấy người?' ('how many people?'). When they discover I'm on my own: 'hết phòng'. I've experienced this before in Vietnam. It's getting dark and I'm beginning to get pissed off. Luckily a woman offers me a room in her house. As I'm unpacking my bike – quite a task with all my bags – she changes her mind. Fortunately, another kind local shows me to a room in his daughter's house. Fully aware that I won't find another room tonight he overcharges me and doesn't budge. Unwilling to swallow my pride or to give him my money and set a precedent for this kind of tactic, I decide to leave town and try to find a camp site in the mountains. By now the tourists are arriving. Small groups of mostly Vietnamese with big SLR cameras round their necks and tripods sticking out of their trunks. It's a Wednesday night and there's no Vietnamese holiday at this time of year; photographing the rice fields has clearly become very popular. A group of foreigners on noisy dirt bikes roar through town. When they dismount one of them has obviously had a bad accident and can barely walk, but they speed off out of town nonetheless. As I ride away to find a camping spot I see a sign in Vietnamese for a 'communal house'. This means sleeping on the floor 'homestay-style'. I ask for a place to sleep. Instead of hearing 'hết phòng' or being overcharged I'm offered a nice clean space on a wooden floor for $5. I take it. The family are lovely, relaxed people with a 3 year old daughter, a cat and a puppy.
WEEK 4, DAY 3: September 25, 2014 [MAP]
I slept very well in my corner on the wooden floor of Mr Long's family home. It got cold at night so I'm happy to learn that the shower (with no door) has hot water. I leave just after 6am for breakfast and coffee in Mu Cang Chai town. There's not a lot of activity at this hour – surprising for a Vietnamese town – and only a couple of places are open. I have a pretty bad bowl of phở and get two cups of coffee to go. I'm eager to get ahead of the other happy-snappers on the road this morning. It's a perfect, dewy dawn and I'm guessing the rice terraces are going to be fabulous in this light. They are….
A beautiful bumpy road follows numerous steep valleys with cold gurgling streams at the bottom. Into the valley walls are cut hundreds of terraced rice fields. It really is a marvellous sight. You can read more about it and see more photos in my guide to Mu Cang Chai HERE.
It's a wonderful crisp morning for photography and when I descend the last mountain pass at 10am the warmth finally comes back into the air. For the first time in four days I take my jacket off. The mountains and fertile valleys continue all the way down to the provincial capital, Yen Bai. I've never been to this city before. It doesn't feature on the domestic or international tourist circuit, and it's not a transport hub so there's little reason for anyone to pay a visit. Yen Bai is one of northern Vietnam's many Red River settlements. The Red River is really the heart of Vietnam. Mythologically and historically this is where everything began. Some of the earliest human settlements were in the hills near the lava-like flow of the Red River. Yen Bai sits in the embrace of a 180 degree meander of the river. It has a train station that's on the Hanoi-Lai Cao line. This line also follows the course of the Red River, all the way to the Chinese border. China is where the river starts, in Yunnan Province, on the Tibetan Plateau. The Red River was once the direct course of the mighty Yangtze, until the latter joined up with another river, flowing east to Shanghai. It still feels like a big river: an unusually heavy flow, thick blood-red water with the viscosity of melted chocolate, and an eerie silence which belies its deadly force, manifesting every year in extensive flooding. My hotel in Yen Bai is fantastic. Spacious and echoey it's in a perfect triangle; river to the south, train station to the north, market to the east. It's a beautiful sunny day. It feels like summer in northern Europe; warm but not hot, and very low humidity. I like Yen Bai's understated, tree-lined streets and friendly people. At night it feels like a city that 21st century Vietnam forgot. There's very little activity, and a noticeable absence of youth – both very unusual for a Vietnamese city. I first travelled to Vietnam in 1999, and Yen Bai feels like it's stayed in the 1990s. I like it a lot, but the town and its people feel like they are waiting for something.
WEEK 4, DAY 4: September 26, 2014 [MAP]
I have a short but deep sleep in the Huu Nghi Hotel in Yen Bai. The hotel is large but vacant; I have the whole of the 5th floor to myself. In the night I hear the horns of the trains on their way to the Chinese border. In the morning I open my balcony to see the Red River sliding silently by. What a wonderful big, empty but somehow warm hotel this is. Breakfast is good and filling – the first time I've been able to say this of any meal in the last couple days. I have two fetal duck eggs with ginger, salt and lime, and a bowl of pork patty soup with mint and perilla leaves. On my way out of Yen Bai I stop to try a táo mèo (literally 'cat apple'). These small green apples are a speciality of the region. I've seen them harvested and packed onto trucks ever since leaving Sapa two days ago. They are very hard and dry but have a beautifully light and flowery flavour. Leaving Yen Bai I realize that it's not such a quiet and forgotten city after all. The roads become larger, busier and more affluent as I drive from my hotel towards the main highway. Clearly I was staying in an area of Yen Bai that is, literally, on the wrong side of the tracks. Nevertheless, I'm glad I did, and it is this Yen Bai that I shall remember.
I'm bound for the Chinese border today. To get there it's a long drive on the main – but totally inadequate – Hanoi to Lao Cai highway. However, I read on the front page of the newspaper two days ago that the newest, longest expressway in Vietnam has just been opened by none other than the Prime Minister himself. The route? Hanoi to Lao Cai. Hence, there is very little traffic indeed on the old highway as I drive the 200km toward China. The landscape is incredibly fertile and lush. But, as always when in the sphere of the Red River valley, a dusty haze holds all day, keeping the sun at bay and preventing the colours from coming alive. The few trucks that I do meet on this road are a terrifying reminder of just how dangerously narrow and congested the route was until just a couple of days ago. I make fast progress, stopping once for lunch in Pho Rang, where jars of local pickles, jams and honey adorn most shop fronts.
I want to do a loop around a mountainous section of the Vietnam-China border, northeast of Lao Cai. The problem is that neither the maps nor the people I ask can agree whether the roads are good enough to make the loop possible. After much deliberation I decide to try it anyway. When I start the ascent I immediately regret my decision. The road surface is potholed and dozens of trucks are grinding up the steep incline, kicking up clouds of dust. I'm assuming this has something to do with the illegal – yet happening in broad daylight – Chinese border trade. Before I've gone too far to turn back around again, I stop to ask some friendly women their opinion of the road to Muong Khuong: "10km more of bad road, then beautiful road all the way, and Muong Khuong is nice and cool!". I take their advice.
I'm glad I did, because they were right about the road (and the temperature), and Muong Khuong turns out to be a really strange and intriguing place (as most border towns are). At the top of a very high pass – one that would afford great views if not for the Red River mist still following me – I find out where all the trucks are headed. There's a death-defying pass being blown out of the mountainside, heading right for China. To be completed by September 2015 this promises to be a spectacular road. I stop to wash all the dust off my skin at a roadside waterfall before entering Muong Khuong. It's a scruffy town set in a cradle, 1000m high, created by spooky limestone pyramids poking up all around. The town is in a state of both dilapidation and construction. It's only a couple of kilometres from the Chinese border so there are countless government and army buildings bearing down on this remote town.
As I drive around I notice a few old buildings still standing between concrete town-houses. There's a market and a couple of guest houses. I check in to one of them and, before it gets dark, I head back down to the old buildings. One of them has a plaque above the door with the date of construction: 1942.
The house next door, with its arches and stone steps, is really striking. I put my head inside the open door. Lãng, the owner, invites me in to drink tea. He is 68 and has been living in the house all his life. He doesn't know how old the house is but says it was in his family at least 20 years before he was born. The French built it, he says. I ask if there were many old buildings here. Lãng says most of the high-street were French buildings until 1979 when the Chinese, in a brief but bloody border war with Vietnam, came across and destroyed the town. Only a few were left standing after that. Over the last 20 years those houses and, Lãng says, a French cemetery, were knocked down to create the new town.
Lãng's home is dark and damp. A solitary naked light bulb hangs from the original wooden boards of the floor above. They are rotten. Lãng says the house floods in the winter rains, when temperatures get close to freezing and sometimes it even snows. The plaster on the walls is peeling off, the floor is bear concrete, electrical cables criss-cross the ceiling, and cobwebs fill the corners of the room. Lãng's 33 year old son lies under blankets on a wooden bed by the wall. He was born with severe physical defects. He can't move or speak, but he can hear. The government gives Lãng 360,000vnđ ($17) a month to look after his son. Lãng is very polite and speaks clearly so I can understand. The tea is weak. Lãng supplements it with regular tokes on his bamboo pipe of Lao tobacco. The smoke fills the high-ceilinged room, but I can still see Lãng smiling behind the cloud. His house will be knocked down next year. The road will be widened. Lãng will be moved to another home. Lãng has a robust, stocky build, but when I shake his hand to say goodbye I hear the bones in his fingers crack. He is reluctant for me to take a picture because his clothes are too casual. He agrees to a portrait instead.
It's difficult to find much food in town tonight. I make do with some grilled sausages and a cake. There's a big market here tomorrow morning, and people are saying that the road I want to take is passable. Muong Khuong is cool at night. The haunting silhouettes of mountains loom over the town. I can't decide if they're watching over or bearing down on us. Some residents try to break the silence of the night with karaoke. Even that doesn't drown out the hum of cicadas from the surrounding forest. How remote this town must have felt when it was an outpost of French Indochina.
WEEK 4, DAY 5: September 27, 2014 [MAP]
My room is very large. There are two beds and a floor-to-ceiling window, but no bathroom. This, I realize, is the first accommodation with shared bathroom I've stayed in since I was in the Ethiopian highlands a few years ago. It makes no difference anyway, as there are no other guests in the hotel besides me. I venture out to Muong Khuong's Saturday market. It's a grey and lifeless morning. There's a very good-natured buzz (much more so than in any 'normal' market in Vietnamese cities) as minority people huddle under the dilapidated wood and concrete structure. Fruit, vegetables, meat and fish are well-represented. The bulk of produce is the bright garments and jewelry worn by the different minority groups. There's also a lot of practical farm equipment on display. The best section is a wonderful, steam-filled food and drink area. Excellent soups are served from dozens of wooden counters to diners sitting on wooden benches. The food is meaty and hearty. People are very friendly and polite, especially the couple in charge of my breakfast counter. They're keen to talk about China and the recent disputes in the East Sea. I'm told half the people at the market are Chinese speakers, and many of the products come from there too. I ask if they're concerned being so close to the border here. The husband says no one likes war, but if war comes, we have to fight. In this market, at least, people of Chinese descent and Chinese speakers get on well with Vietnamese. I drink tea and rice wine with my breakfast while we're talking. The wine is a local brew and the strongest I've ever tasted. Strangely it has no affect, other than lighting one's insides on fire.
I leave mid morning for the mountainous loop following the Chinese border. As promised by the people in Muong Khuong the road is passable. Bits are still a little bumpy and the finishing touches are still being laid. This route is so mountainous that already parts of it have been wiped out by landslides.
The Vietnamese must be some of the most ambitious road builders in the world. It seems no mountain is too high or slope too steep. It's astonishing. Yet these routes have existed in one form or another for years. Ho Chi Minh, especially during the Franco-Viet Minh war, would move almost daily – on foot at a fragile 60-something – on pathways like these in order to avoid detection by the French. It always comes as a surprise that these remote and, one would assume, fairly inhospitable areas are pretty heavily populated. There are small villages and towns every 10km and signs of heavy agriculture are everywhere you look. Even the highest peaks have crops.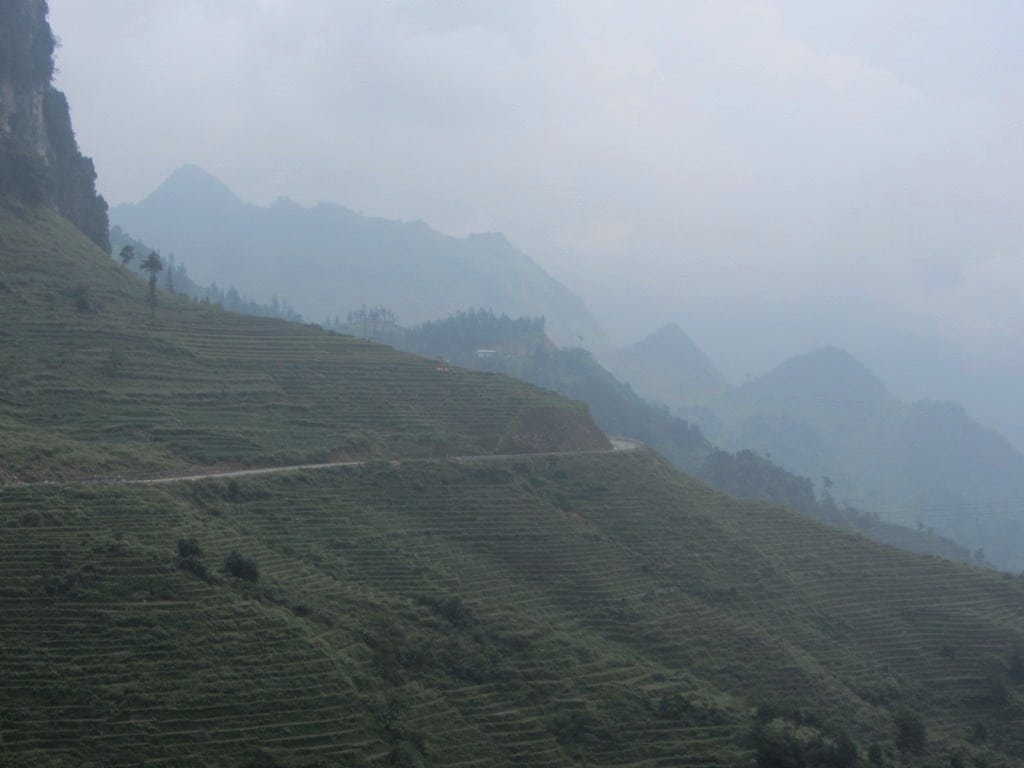 The weather is dry but its another day without sunshine. I'm certain this 100km route would look incredible in good light. It's still enjoyable, if a little cold, on a day like today. I find the border area fascinating. A river, deep down in the valley, marks the border between Vietnam and China. On the Vietnamese side there are roads and paths all across the steep slopes. Agriculture continues right down to the river banks. There are imposing government and army buildings on the high ground. On the Chinese side there are no roads, no farming, no buildings. I suppose, even with a population close to 1.5 billion, in a country the size of China there's plenty of room. Vietnam, on the other hand, is a relatively small country with a population of almost 100 million, so it must make the most of all its land. However, it could be a case of the insecurity of a smaller country next to a big neighbour. I've seen this before at other borders. Notably, crossing between Oman and the U.A.E. On the Omani side was a giant palatial border gate; on the U.A.E side – one of the wealthiest nations on the planet – there was a little ticket office.
It gets really cold at the weird mountain town of Si Ma Cai. The name is almost mythical to lowland Vietnamese, especially in the south where it seems impossibly far away. In pretty alpine landscape, the town is no more than a line of concrete homes and shops. But there's been a massive government building boom here. Wide, empty streets lined with ostentatious monolithic structures and tall trees have more than tripled the size of the town.
More extraordinary mountain roads take me down a little in altitude to Bac Ha, a town famous for its Sunday market. As the weather remains grim, it's not the landscape but the smiles of minority women I pass on the road that steals my breath away. Their broad glowing smiles, thick rich lips, and wide sets of white teeth, have a way of shooting an aching joy right into my abdomen. I'm reluctant to put my camera in people's faces, so this photo of four polite, raggedly-looking boys I met in the grey mist will have to do: they're not smiling in the picture but they were after I gave them a Choco Pie each.
So famous is Bac Ha's Sunday market that there's a hotel named after it. My room at the Sunday Market Hotel is very comfortable and cool. I will go to the market tomorrow morning, but I've heard it's a bit of a circus now that hundreds of photographers flock here each weekend.
WEEK 4, DAY 6: September 28, 2014 [MAP]
Bac Ha is a mountain town. It's cool here, especially at night. But I wake up in a sticky sweat. It's still and quiet: nights in rural Vietnam are usually alive with the noises of insects outside. At 1am there's a bang. It echoes around the mountains. Everyone in the town is woken by it. But they, like me, take a few seconds to respond because we are all in a state of shock. Woken suddenly and not sure by what, I'm genuinely scared. There's no rain. No flashes of lightning. It sounded like a shell. The town is collectively stunned in their beds. For that brief moment before we all hear the rain on the rooftops, we are all too scared to move.
By morning it's dry, but still cloudy and sticky. I walk to the famous Bac Ha market. It's big beyond anything I expected. Thousands of people; hundreds of stalls. It's a spectacle. The produce is varied, fresh and colourful. The minority women and girls look fantastic in their traditional clothing. The men are just as intriguing: drinking various local liquors, smoking local tobaccos, slurping local noodles and gossiping. It's impossible not to be drawn into the vortex of this Sunday market.
But it's not just a local market; it's a tourist market. 'Authentic' trinket and garment stalls surround the 'genuine' market stalls. These products – including crockery, scarves and shawls – are very attractive and beautifully made, but it's immediately apparent that their customers are tourists, not locals; and they're managed by Vietnamese not minority people. Calls of 'You buy something!' follow me around the market. I overhear brief bargaining taking place between foreign tourists and Vietnamese stall owners. After the sale is made the Vietnamese stall owners shout to each other boasting how much money they fleeced the foreigners for. Meanwhile, the minority people buy and sell the less lucrative produce – meat, fish, vegetables, appliances. Most of the tourists don't find these products as intriguing – and certainly not as attractive – as the 'authentic' garment section. Thus, I wonder how much the minorities gain from the massive attention that Bac Ha market now receives.
One minority lady got angry at me when I stepped too near her red chillies. It seemed a disproportionate reaction to me so I made my feelings known to her. As I moved away a Korean man came up and shoved a 10-inch camera lens into her face while she made a sale to another colourfully dressed minority woman. He took his pictures and left, not buying anything – what tourist is going to buy red chillies at Bac Ha market? Then I see the big camera lenses all over the market, right up in peoples faces. There's not much interaction between the photographers and their subjects. Perhaps, I think to myself, there's a lot to be angry about if you're a minority woman selling red chillies at Bac Ha market.
The hot food section is wonderful, just as it was at Muong Khuong yesterday. But I don't feel comfortable here. I like it and loath it. After all, today I am one of the hundreds of lenses at this market and I didn't buy any red chillies, and – although in the end I didn't – I wanted to buy one of those 'authentic' minority scarves for a friend in Saigon. Instead, I buy a bottle of local rice wine (for which I am charged double) and drive off back down the mountain. The road is teeming with SUVs and coaches crammed with tourists (and their lenses) coming in the opposite direction, to see the market. One can't help feeling it's a bit of a zoo; and it's a bit too much. As an ex-pat living in Vietnam I get stared at daily, even in Saigon. On a bad day it can irritate me. If the starers proceeded to stick their camera lenses in my face I think I'd lash out; I think anyone would.
It's not long before I'm out of the clouds and back in warm, sunny weather again. What a relief. I have another average bowl of phở at Pho Rang town before heading to Xin Man, on the Chinese border. This is another mythical, isolated town in the mountains. I've been before. The drive there goes along a picture-book valley, straight up a mountain and down the other side. It's a marvellous, verdant, benevolent landscape. There are cold, clear rivers to bathe in and wonderful views around every corner. I take a long time, slowly driving this road, lapping it all up.
I drop down to Xin Man at dusk, find a room and have a good meal of pig heart and vegetable soup.
WEEK 4, DAY 7: September 29, 2014 [MAP]
Thunder and humidity again last night. Xin Man has electricity for a total of 4 hours during my overnight stay. It's a very isolated place. Three roads connect it to the rest of Vietnam. Each one is mountainous and suffers from regular landslides, cutting the town off completely. On any of the three roads it's a 3-4 hour drive to the nearest main road, let alone big city. In some ways Xin Man is much closer to China than the rest of Vietnam. I have breakfast in the rough and dusty end-of-the-line looking market. This being a Monday, the market is empty, but the hot food section is full of steam and the smells of cooking. A large space under a pitched roof, it feels like one of the great European train stations in the age of steam travel. All street food is cooked over wood fires in these parts. This makes the smells more intense, but I've been disappointed by the watery broths here. This morning is no different.
By 7.30am I'm drunk. The three local men eating next to me insist I drink off a cup of wine each time they ask me a question and I give an answer. Fortunately, the wine must slow their brains a little, because they can only muster five or six queries in the 15 minutes it takes me to wolf down my bowl of noodles. They are very nice men and I don't mind being forced to drink 48% proof rice wine early on Monday morning with them at all.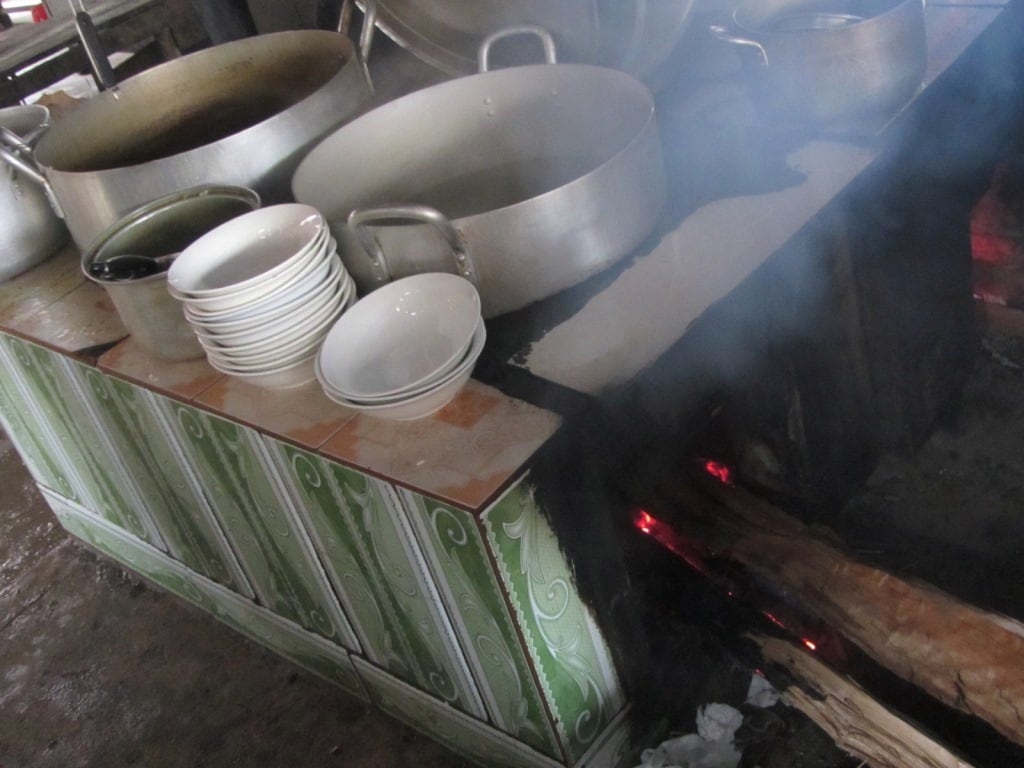 Thunder and dark skies are all around as I pack my bike for what I know to be a long road to Ha Giang city. It rains steadily. This road follows the Chay River valley. China is just over the mountains to the north. The river is running furiously. Galloping over large boulders, draining the mountains of all the rain water. Low cloud hangs over the terraced rice fields on the opposite side of the river. The road is in a bad state. Stavros takes it slowly, avoiding potholes, rocks, and driving through waterfalls cascading over the road. It's 100km to the main road. I can only (safely) manage 20km an hour on this road surface and in this weather. I take it 10km at a time, rewarding Stavros and myself with a biscuit at the end of each section.
The weather doesn't clear but it stops raining when I reach the top of a mountain pass. This is another area famous for it's rice terraces that slink down the mountainsides like a glacier.
The last hour to Ha Giang is on a good national highway. The Blue River, which flows through town, is brown. I find a good room with a balcony over the river. It has flooded recently. I can see the waterline 2-3 metres above the banks. Children play in the mud and silt that the river left on the sidewalks once it receded. In this watery environment I take the opportunity to do some laundry.
I like Ha Giang and always have, since I first came 5 years ago. It's fairly busy and there's lots of cheap food and accommodation. I realize I've left my USB camera adapter in Xin Man. The receptionist takes me to the huge Ha Giang central market to find a new one. Just 20km from a Chinese border gate, Ha Giang is a frontier town. But it's better known for its other frontier: the absolute north of Vietnam. The landscape just beyond this city is other-worldly. Fast becoming famous in Vietnam and abroad, visitors still need a permit to go there. I've been a couple times before. This time I'm told I don't need a permit, but I think I'll stay an extra night in Ha Giang to make sure.
---
WEEK 5:

THE EXTREME NORTH
---
DAY 1: September 30, 2014 [MAP]
Annoyingly, it's a bright sunny day today. This is frustrating because I'm on the edge of one of the most dramatic rides in Vietnam, but I've committed to staying an extra night in Ha Giang in order to catch up with some work on my blog. It's still very pleasant spending the day writing on my balcony in the sunshine – warm but not humid sunshine, not like in the lowlands. I've been travelling 'ahead of myself' this last week, so I spend the day writing up a this motorbike guide along the Chinese border and this piece about the rice terraces of Mù Cang Chải District in Yên Bái Province.
Breakfast next to my hotel is a treat. A woman serves bánh cuốn (steamed rice flour rolls) in a dilapidated, smoke-stained old shop front. Three generations of her family help out and, it seems, a good portion of the local population take their breakfast here. They're friendly people and the food is fine, but it's the general scene that I'm most attracted to. This kind of place is slowly disappearing in big cities like Saigon. Read more about breakfast in Ha Giang HERE.
With plenty of coffee and local tea in my hotel room I have a productive day. The sun passes over the concrete blocks and limestone hills beyond my balcony, throwing up a brief afterglow before night falls. One of the joys of being in Ha Giang is the availability and variety of good food. I've been starved of choice and quality (by Vietnamese standards) this last week in the mountains. Tomorrow I set off for Vietnam's fabled extreme north.
WEEK 5, DAY 2: October 1, 2014 [MAP]
I'm relieved to wake up to another clear, sunny day. I have another good breakfast in Ha Giang before setting off to Vietnam's northern extreme. This loop, from Ha Giang to Dong Van and Meo Vac, has been gaining a reputation over the last 5-10 years as the last frontier for adventurous travel in Vietnam. Access is pretty easy and straightforward nowadays, but it wasn't that long ago since the area was practically cut off from the rest of Vietnam. I'm only 10 minutes out of Ha Giang when the limestone mountains begin to grow all around me, turquoise rivers running between them, and forests growing to their peaks. I realize that a defining feature of the mountains in the northwest is that they are all cultivated – there's hardly any forest cover of any significance. Now, in the north-north the forest has returned for the first time since I left Phong Nha-Ke Bang National Park in north-central Vietnam.
I desperately want to swim in the blue rivers but I also want to make the most of this good weather. I decide that, as long as the weather holds, I will try to drive the whole loop today, in order to get all the photos I want in good light. Then I can deal with the 'details' the next couple days.
The scenery is marvellous. As I reach the borders of the Dong Van Geo-Park Limestone Plateau, I can see the wall of limestone mountains ahead of me. It looks like a crenelated fortification, built by giants to keep other Tolkienian beasts out of their territory. I stop at the top of Heaven's Gate Pass and run up 127 steps to the look out. A man takes my photo for me. Then he proceeds to throw his rubbish down the mountainside, with a flourish, as if he's enjoying it. I collect the trash, give it back to him and ask him to put it in the bins provided. When I reach the bottom of the stairs again, another man throws his trash all over the parking lot. I go through the same process. There are dozens of bins around and signs everywhere asking you to 'keep Vietnam tidy'. The argument for this behaviour used to be chưa có ý thức, which means 'no awareness yet', but that time has passed, this is just stupidity and laziness. Read more about the problem of trash in Vietnam HERE.
As the day progresses the light gets better. I hit the best section of the loop during the best hours for light – between 3-6pm. Taking hundreds of photos – for who knows if I'll see it in the sunlight again – I roll into Meo Vac just after dark. My hotel is immaculately clean and very spacious. I feel very fortunate and satisfied having seen the whole loop in excellent weather. Read my full guide to this loop HERE.
WEEK 5, DAY 3: October 2, 2014 [MAP]
It's a grey, cold start to the day in Meo Vac. There's not much activity around the central market this morning. Very quiet. I find a place that sells good fried egg baguettes. I leave my bags at the guest house in Meo Vac for the day while I go out exploring some of the back-roads between here and Dong Van. I take a different route back up to Dong Van. There are so many small, cement roads plying between the limestone pinnacles, you could spend weeks exploring them. The road I take cuts through a very rocky landscape, dominated, as ever, by the conical peaks. Although I noted yesterday that trees had made an appearance again after the northwest, they have quickly disappeared again. Nothing seems to grow on the steep slopes of these strange limestone cones. Houses are made of grey blocks cut from the limestone, walls are made of stone, and hamlets cluster together in deep valleys because that's the only place that receives any shade – the limestone cones cast big shadows over the valleys. Nothing grows up. Apart from some sweet corn plants and small clumps of bamboo, all crops grow on or in the ground: pumpkins and soy beans mostly. It's a harsh landscape and a harsh life for those who live in it. It's striking and extraordinary to look at, but not pretty or plentiful like the lush valleys and hills of the Red River region or the Central Highlands. There's a noticeable absence of water too, especially for a mountainous area. Most of Vietnam is full of waterways, lakes, or by the sea. Here I rarely see any naturally running water. It's dry, rocky and bare.
I ride north of Dong Van to Lũng Cú, Vietnam's 'north pole'. This is where Vietnam's border points up into China, echoing the shapes of the limestone pinnacles that characterize this part of the country. A large tower marks the northern-most point of Vietnam. An impressive Vietnamese flag stands atop the tower, fluttering in the wind. Only built a few years ago, it's already quite a popular pilgrimage site for many Vietnamese, especially groups of young people, all wearing T-shirts with the national flag with 'I love Vietnam' printed on them. The nationalist spirit is alive and well in Vietnam, especially since the flaring up of the East Sea dispute with China a few months ago. I climb the stairs, counting over 700 of them. Just as I reach the top of the spiral staircase inside the tower, I smack my head on a low beam. But the views from the top are good and, because it's lunchtime, I have Vietnam's north pole all to myself.
On the way back I notice a part of the road that goes so close to the border it's practically in China. There's a clearing by the roadside and a dirt path through the bushes, where there's a sign. Amazingly, this is the Vietnam-China border. There's a sign in the two languages making 'visitors' aware of the immigration rules, but absolutely no one there to man it. As a friendly gesture from the Chinese, they've erected three stone tablets with a skull and crossbones on. A man drives from Vietnam to China on his motorbike. Just to make sure I ask, "Is this China?" "Yes", he says, and drives off into the People's Republic without visa, passport or any other documents being checked. I pay a brief visit to China but decide I don't like it very much, so I get back on my bike to Vietnam instead.
The Hmong ethnic minority are the 'majority minority' in this area. They used to do pretty well for themselves growing and selling opium, until the Vietnamese government made it illegal (although last time I was here in 2011 I saw a big field of the poppies near a remote Chinese border crossing). During the 19th and 20th centuries they gained a fearsome reputation for fighting; holding off the Chinese Qing Dynasty, the French, the Japanese and then the Kuomintang Chinese nationalists. The French thought it better to leave them alone, offering to build the Hmong king a nice palace (no doubt in return for some of the poppies in the area). This was completed in the early 20th century and still stands today on a mound of raised ground, circled by pine trees in a valley hemmed in by limestone pinnacles. It's a dramatic setting for an elegant, understated palace. As I enter the wooden doors of the circular, brick-walled compound (the only visitor here once again) I hear thunder, and a fine rain starts to fall. The palace is a combination of stone and timber. A line of central doors opens onto three separate stone courtyards, each one fronted by two-storey wooden buildings. The rooms have cool stone and dirt floors, wooden walls and furniture, and fireplaces. The slanting tiled rooftops in the rain look like something out of Crouching Tiger Hidden Dragon. The tombs of Hmong kings and family members are scattered around the outside of the palace.
I head back over the incredible Ma Pi Leng Pass from Dong Van back to Meo Vac where, once again, good food alludes me.
WEEK 5, DAY 4: October 3, 2014 [MAP]
I spend the morning in Meo Vac doing some writing and trying to make the most of the meagre food available for breakfast and lunch. I admit to getting rather bored of average-quality phở or bánh cuốn every morning for three weeks. I leave around 11am in bright warm sunshine, heading south, down a long mountain pass to the Gam River valley. As I descend the humidity rises, greenery comes back into the mountains and there's water! It's a relief to find refreshing little streams to bathe in and rivers winding through the landscape again. As I cool off in a stream I notice a familiar smell: damp hay and animal hair – the aroma of a barn. It puts me off the water a bit until I turn around to see four buffalo submerged up to their eyes in the stream, just a couple feet from me. They're such big beasts but I didn't notice them hidden under the water; their grey complexion blends in with the stones in the stream.
I think my heart is really in the mid-lands of Vietnam. The plains and deltas are too hot, sticky and dusty; the highlands too cool, big and bare. But the mid-lands are warm, bright, lush and plentiful. I love the winding blue rivers, the farming, the forests, the warmth, the abundance of nature. This is exactly what the Gam River valley is. I remember feeling the same way when I first visited five years ago, in 2009. It's the same way I feel about other mid-land areas in Vietnam: Thanh Hoa Province around the Lao border and Pu Luong Nature Reserve, for example. A very close second is south-central coastal Vietnam, including the islands.
In soft, orange light I reach Bao Lac a 3pm, a small town at the crossroads of two attractive rivers. There are good guest houses here – although I've no idea why as there's no tourism in the area – with views over the river valley. I find a room with a long shady balcony and settle in for some more writing. Dinner in town at a local rice eatery is large and pretty good. A lesson in how to cook cabbage, this meal has cabbage three ways.
WEEK 5, DAY 5: October 4, 2014 [MAP]
The morning is grey, humid and rainy. I have breakfast (bánh cuốn once again) and back to my balcony – sheltered from the rain – for some writing. The sky clears mid-morning just before I set off. I haven't driven along the Neo River valley for five years, but I haven't forgotten how gorgeous it is. It's like chocolate cake: rich, sugary and so satisfying you suspect that too much of it isn't good for you. By now it's a warm, sunny day.
The road goes past Tinh Tuc mining town. The valley has been carved up for almost 60 years; since the Soviet Union lent a hand in starting it in 1956. In the grim stone-built town there are rows of dormitories, presumably for the workers and their families, each one with the date of construction over its entrance; 1976, 1986. The buildings look so worn and old that the dates might as well be 1876, 1886
I turn south on a beautiful back-road towards Ba Be Lake. Again this is a road I haven't taken for five years. Ba Be is a national park that has gained in popularity since I visited in 2009 and again in 2011. Entering the park – or even just the vicinity of the park – it's as if someone has cranked up the 'nature-ometer'. I feel like I could spend a long time here, maybe camping by the rivers, in the bamboo forests. But it's getting late and I have a Skype date to keep at 7pm. I find a tea plantation with a guest house attached. The room is more than I want to pay but I'm invited to try their special variety of tea. Called hồng trà in Vietnamese – literally 'pink tea' – this is a flowery, citrusy, aromatic tea which, I realize, is the same flavour as Earl Grey, a favourite of mine. My hosts are impressed with my 'tea nose' and proceed to offer me a cup of Oriental Lady Tea, which I'm told is only grown on their plantation and fetches up to $200 a kilo. It's another Earl Grey-type variety and very nice indeed. But I really must go if I'm to get to a town and find accommodation before nightfall.
I enjoy the drive down to Cho Ra – gateway to Ba Be Lake – watching the sun set behind the mountains. I cease to enjoy it once the road turns to rocks and the 'hour of the flies' arrives after dusk. I'm not far from my destination but it's infuriatingly slow going on this rocky road, and the swarms of flies keep coming at me, attracted to my headlight – the only light in this dark valley. I make it into Cho Ra, find a hotel – after much bargaining – and discover I've left my passport 160km (a 6 hour ride) behind me at the hotel in Bao Lac. The proprietors are sympathetic and accept a photocopy of my documents for the night. Tomorrow I'll have to drive back along the rocky road – there's no alternative route – to retrieve my passport. However, I did just about make my 7pm Skype date.
WEEK 5, DAY 6: October 5, 2014 [MAP]
It rained a lot during the night and I'm worried that the road back to Bao Lac (where I left my passport) will be in an even worse state than yesterday. I have the usual OK bowl of phở for breakfast in the cold, grey, grim, drizzling morning in Cho Ra town. I have a long, pointless journey ahead of me: retracing my route from yesterday and then coming back once again on the same road, making it three times in 24 hours. The first section is the worst: an unmade, rocky 10km stretch that takes an hour to get through.
The road surface is better after that, but the landscape is completely different to the one I saw the sun set over yesterday evening. All the rain has turned the tranquil turquoise rivers and streams into muddy cascades, threatening to burst their banks and flood the villages. It's lightless and there's no sign that the rain will stop. I probably prefer it this way; it'd be annoying to spend a day of good weather driving back on myself. At the top of the pass it's freezing cold. With the rain and wind chill factor it must be close to single digits. I can feel the cold wind slicing my face, and my hands and feet go slightly numb. There's an abandoned French colonial hotel in the valley. It looks bleak and forgotten, all alone in the fold of the mountains in the cold weather.
And so it continues for the rest of the day: all the scenes that looked so gentle, benevolent, bucolic in yesterday's sunshine, now look dead and wilted on this dull day. I pick up my passport in Bao Lac, having driven 5 hours since breakfast. There's no food available so I buy a couple of sweet breads – a staple of these last two weeks in the mountains – and set off back in the direction I've just come from. Stavros is feeling a little under the weather. All the bumpy roads have buckled his front wheel slightly. Now the wheel is scraping the brakes on each rotation. It's not so bad that I have to stop, so I decide to head for Cao Bang, the provincial capital, where I know there'll be a Yamaha garage to fix him up. The last of the 9 hours I spend on the road today is on a newly paved road into Cao Bang City. Stavros is very pleased with this and he purrs along for the last 40km. I find a room near the Yamaha garage – too late to get him fixed tonight – and have an excellent dinner for a fraction of the price I've been spending recently. Cao Bang has transformed since the first time I visited 5 years, and even in the 3 years since I last came here. Once a quiet, ugly but likable town, it's now a bustling place full of traffic and young people dining out on street food. I'm taken aback by the urbanity of Cao Bang after being in the mountains so long. The dusty, polluted air reminds me of just how bad Vietnamese cities must be for my lungs. But, as always, the life and buzz of the city wins me over, and I quickly rediscover my positive feelings for Cao Bang.
WEEK 5, DAY 7: October 6, 2014 [MAP]
My room in Cao Bang is comfortable and clean but there are no windows. As it happens this suits me fine as I want to spend the day writing my guide to the Extreme North Motorbike Loop, which I've been holding in my mind for the last couple days while dealing with my 'passport problems'. I lace the day with writing and exercise, stopping at mealtimes to wander Cao Bang's streets for food. It's a pleasantly warm day. While Cao Bang is busy in the morning and evening it's a ghost town in the middle of the day. For breakfast I have the usual bánh cuốn, the quality of which is much better than on previous days. At lunch I struggle to find anything to eat. However, I make up for this disappointment with a giant feast at the kind of unassuming, simple local place I love and have missed these last two weeks. I took a picture but it doesn't do it justice. Instead I'll list the dishes: pumpkin stew with coriander, grilled aubergine with garlic, pork belly stewed with large 'Javan olives', tofu in tomato sauce, sautéed mustard leaf with ginger, sour bamboo soup with dill and coriander, and heaps of steamed rice with soy sauce and salty fish sauce. I eat early and I'm the only customer. The food is served by two lovely young women who, I like to think, can tell how much I enjoy this feast. In fact, I know they can tell I'm enjoying it because I'm panting and nodding my head with each mouthful. A deeply satisfying way to end the day. My writing finished, I'm getting an early night. Find out more about the kind of typical rice eateries I love in this article.
---
WEEK 6:

THE NORTH-EAST
---
DAY 1: October 7, 2014 [MAP]
It's another bright sunny day in Cao Bang Province. I have a good bowl of phở behind the central market. The small stone-built house – more of a doorway than a house – is packed with locals in uniform: school and university students, local government officials and civil servants. The service staff – all women – can't keep up with the pace of orders. Customers are groaning to each other, "I've been waiting ages", "Why don't we go somewhere else?" "Because the phở is good; I've eaten here many times before." I notice that many of the customers have a dessert after their soup. It looks interesting and I've never had it before. I find out that it's rượu nếp trứng hấp, which is a kind of alcoholic pudding made with fermented rice and steamed eggs. It's smooth and slightly acidic. Locals say it warms the belly on cold mornings. I like it fine but it won't become a staple of mine. Read more about it HERE.
I leave Cao Bang City late morning after some more writing in my room. I can't help but warm to this city, sitting on a spur at the convergence of two rivers, especially in this late summer weather. I drive north towards the Chinese border again. The road is in excellent condition, passing old-looking stone farm houses in oceans of rice fields, with the ever-present limestone pinnacles standing up around the valley. Not until I reach the Chinese border at Pac Bo do I realize that I've been driving on the northern-most section of the Ho Chi Minh Highway. Not to be confused with the Ho Chi Minh Trail (the wartime supply line between the north and south of the country), this highway is an ambitious project – still not entirely finished – to link the northern border of Vietnam near China to the southern limit of the country in the Gulf of Thailand, via a paved highway along the mountainous 'spine' of the country. (Read my motorbike guide to this route HERE). It's fitting that the Ho Chi Minh Highway should begin here at Pac Bo, where Bắc Hồ (Uncle Ho) re-entered his homeland after 30 years of absence. During that time Ho had travelled the world, making many powerful friends (and enemies) in the countries he visited and worked in. In the winter of 1941, at the age of 51, Bắc Hồ walked across the border from China to Pac Bo. Here, he spent several weeks living and working in a small cave buried under foliage at the bottom of a limestone mountain, next to a clear blue stream. Four years later Vietnam celebrated its independence from Japanese occupation and French rule. Ho read the Declaration of Independence in Hanoi on September 2, 1945. Today Pac Bo, a remote and beautiful area, is considered a sacred place by most Vietnamese, many of whom make the pilgrimage here. Read my full guide to Pac Bo Cave HERE.
This is my first visit to Pac Bo. From the enormous, empty car park and brand new grandiose monuments, I'm guessing this is going to be like most other revolutionary sites in Vietnam. But, after waking up the young boy in the ticket office, I leave the grand monuments behind, entering an idyllic little valley. A stone path follows a loop around the Pac Bo area. The stream, which Ho named 'Lenin Creek', is bright blue and full of sparkling fish. The forested peaks rising up from the stream – one of which Ho named 'Karl Marx Hill' – are alive with birdsong and give off a flowery perfume. There are discreet signs (all in Vietnamese) pointing out where Bắc Hồ used to sit and fish after working, or where he sat to write poetry and translate Socialist texts. It's tasteful, understated, and modest. All qualities which seem much more in keeping with the man himself – at least from the books I've read about Ho – than the self-important, loud, and congratulatory edifices near the entrance to this site. Even if Ho's story or Vietnamese history were of no interest to me, this is still a beautiful and peaceful place to be. If I were Ho, I think I'd find it very difficult to leave. Of course, Ho didn't have a choice. Once the French found out where he was Ho had to move on to another 'safe house' in the mountains, which he continued to do for much of the next decade, until the final defeat of the French at Dien Bien Phu in the spring of 1954. I light 9 incense sticks at an altar (one for each of my years in Vietnam) before walking back around the complete the loop.
I leave Pac Bo on a back-road, following the Chinese border through more limestone corridors split by blue rivers, to a dusty border town, called Tra Linh. Just a few kilometres from China, Tra Linh has Chinese beer and candy in its shops, and large trucks, loaded with a hidden cargo, await the cover of darkness to head over to China. There's only one guest house and it's in a bad state. Cobwebs, creepy-crawlies, and damp decorate the walls, while plumbing consists of no more than a hole in the sink and one in the floor. The polite young man who runs it obviously tries very hard; running up and down the stairs, hanging up laundry, and sweeping the floors. But it's a losing battle. Age has taken over this guest house and, despite a young man's efforts, the marks left by the years are there to stay. There's plenty of food near the market, including several local specialities, including a menthol flavoured green leaf, and roast pork.
WEEK 6, DAY 2: October 8, 2014 [MAP]
I didn't sleep much in the aging guest house. It was cold during the night and sometime before midnight a large group of Vietnamese travelers came in and seemed to delight in slamming doors and shouting to each other down the corridors. The morning is cold and misty but the sun burns through by 8am and fills the valley with light. I have a good bowl of pork noodles in the market. The produce looks fresh and colourful. Pulses and root vegetables are particularly well represented. After breakfast I make a quick call at the Chinese border, which is only 5km away. There's lots of trade traffic and a new road is under construction to this border gate.
The rest of the day I spend driving at a very leisurely pace in a scenic loop on roads I'm familiar with from past trips. This little corner of northeastern Vietnam is fabulous. The roads are in pretty good condition now; when I first visited they were small paved lanes, on my next trip they were potholed dust pits. The only thing that spoils it are the articulated trucks that ply these country lanes to and from remote Chinese border crossings.
I find a spot by a stream in the shade of a stand of bamboo. I spend the afternoon sitting on a limestone island in the stream with my legs in the water, writing about yesterday's visit to Pac Bo Cave.
I intend to stay the night at Trung Khanh, but the light is so good I decide to continue to Ban Gioc Falls on the Chinese border. This road, along the Quay Son River, has long been a favourite of mine. The jade-coloured water flows through a cultivated limestone valley. Fringed by bamboo trees the river goes over a series of cascades before dropping 30 metres at Ban Gioc Falls. In the late light the scene is irresistible; I want to eat it up.
A few kilometres before Ban Gioc Falls I cross a weir to the opposite bank and find a camping spot on an unused piece of terraced land, above the cascades. I set up camp on a perfect flat grassy mound, make a coffee and watch the sun set. For dinner I cook instant noodles, adding a couple of eggs and some Vietnamese Spam to make it go a little further. The full moon rises over the Quay Son River in stages; going from a new moon, to half, to full as it gets higher – I've never seen this before. It's so bright I don't need my torch.
WEEK 6, DAY 3: October 9, 2014 [MAP]
It was cold during the night, but with my sleeping bag tucked over my head I was just about warm enough to sleep. I have breakfast – peanuts and hot coffee on my stove – while packing up my tent and watching the mist lift from the Quay Son River. The days in Cao Bang Province have been sunny and cloudless, but the light and heat at this time of year take time to break through the morning mist. At 9am the sun comes out. I drive back along a dirt path to rejoin the road to Ban Gioc Waterfall. The scenery is pastoral and peaceful here. I feel this landscape, in the same way you feel a good poem or piece of music the first time you hear it.
But this is the third time I've been to this area so I know there's drama just ahead. Ban Gioc Waterfall, Vietnam's largest, sits right on the Chinese border, half in Vietnam, half in China.
There are still very few visitors on the Vietnamese side. I find a steep path leading up through jungle to the top of the falls. Little streams wash through limestone channels before falling hundreds of feet into a giant bowl of blue water below.
I spend a long time walking from one pool to the next, climbing trees and rocks for bigger views of the waterfall. I also find the proximity to China compelling. Chinese tourists are punted on bamboo rafts to within feet of Vietnamese land.
A back road follows the border along the Quay Son River. I pick up a stone and throw it the short distance to China. Heading away from the border a series of narrow roads weave through dusty, isolated villages, all in the shadow of towering limestone mountains. There are small shrines to Vietnamese who died in the wars of the 20th century, including the 1979 border war with China. Road conditions deteriorate until I'm driving on a dirt road. It seems unlikely, but trade with China along these small roads is roaring. Articulated trucks carrying containers trundle over potholes and through mud on these roads, dozens at a time, in convoys. It's a bizarre sight. They leave a cloud of dust behind them, coating the hamlets and foliage (and me) in a layer of fine red dirt. After a wash in a river, I make it to Quang Uyen before dusk.
WEEK 6, DAY 4: October 10, 2014 [MAP]
I sleep well on the hard beds in my hotel in Quang Uyen. In the morning I find a woman selling hot egg baguettes and coffee, which I take back to my room and eat while doing some writing.
It's a warm day but there's a grey haze hanging over the province. I leave my hotel at noon heading for Lang Son, the provincial capital of the next province south of Cao Bang. Stavros is very happy that the first 25km is on a smooth, new road, winding effortlessly through a maze of limestone outcrops. But the joy is short-lived. After turning west for what should be a short spurt between two main roads, the surface turns to little stones and big potholes. Road conditions are a problem in Cao Bang, and they are not helped by the juggernauts ferrying massive loads to and from China. I don't understand why these vehicles aren't using the border gate at Dong Dang, just to the south, which is connected to Highway 1. I can only assume there's something not entirely legal about this trade, that's why they're using these small country roads.
After an hour I reach the highway to Lang Son. I've driven this meandering valley road before so I know how beaten up it gets – partly due to the terrain and partly due to the China traffic, bound for Dong Dang border gate, which is the busiest in Vietnam. However, the nightmare section of road that I drove three years ago has been completed, leaving a shining new blade of asphalt chiseled into the cliff-face. The sun peaks through, but the light is muted. I don't mind this because it means I'm not stopping every 5 minutes to admire the views.
Lang Son is a busy little city near the Chinese border. There's a pleasant buzz and it's good to see so much food and activity on the streets again. I find a good, clean and friendly hotel. Dinner is good but it's ruined by a racist, fascist, paranoid, old ex-pat. He's lived and taught English all over the world; the kind of thing I might have thought led to an interesting person some years ago. But now I know how, for some people, all this exotic experience can add up to a negative world view, cultural prejudices and general pessimism. According to this guy there's a conspiracy, led by American Jews, to devalue the dollar and crash the world economy. Also, Vietnamese people have the easiest, care-free life in the world, and teaching English is a craft you learn best by 'not trying'. He sat there talking while I ate; said he wasn't hungry for food, just hungry for 'conversation'. A warning to me and to ex-pats everywhere.
WEEK 6, DAY 5: October 11, 2014 [MAP]
I like my room at the top of the hotel in Lang Son. I have a good bowl of phở and spend the morning sorting some things out. I leave at midday on a back-road along a river, which eventually joins a minor highway running through rural Lang Son Province. It's a verdant, cultivated area full of perfumes from the fields. The most distinctive fragrance is a liquorice smell. This, I realize, is coming from the star anise drying on the roadside. As the name suggests this is a pretty star-shaped spice, used in many Vietnamese dishes, notably phở.
Unfortunately, all the verdancy and work in the fields sets my mysterious hay fever off as never before. My eyes are streaming and I can't stop sneezing. Having never experienced hay fever until last year, I can't work out exactly what it is that's causing it. Rice fields and trees are always present when the bouts occur, but that doesn't really narrow it down.
The scenery is lovely; green, and fresh like a salad. I reach Bac Son District, which has been a goal of mine since a couple of months before I started my trip. This area has a growing reputation as yet another area in the north where limestone outcrops rise out of a carpet of rice fields. The road is in great condition, it's a bright sunny day, and traffic is light. This is easy and joyful riding; like sitting back and watching the scenery on TV. Bac Son is very pretty, but not as it would have been just a month ago: by now the rice has been 80% harvested, leaving the fields 'naked' and brown, with smoky fires streaking the landscape from burning the excess hay.
I stop by the road because I can't resist the roast pork on display. This is the real deal: golden-red crispy skin and meltingly soft meat. The women serving are very friendly and proud of their product. They chop the meat, mix in a dried leaf, and I take it away to eat while riding through the valley.
One lane is lined with brick ovens for baking the tiles that serve as roofs for most of the houses in this area. The men working the ovens come to talk with me. This rural scene was used in a commercial in Saigon cinemas to demonstrate how one should behave in an urban movie theatre: the rural folk from the brick ovens ate popcorn with mouths wide open, shouting during the movie, with legs crossed on their seats. The urban movie-goers watched in polite silence, with smiles on their faces and feet on the floor. Personally, I find the men who come to talk with me here at Bac Son brick ovens to be more polite and well-mannered than the average Saigon movie-goer. I drive the loop I've been planning for months then find a hotel in a small town, called Binh Gia. There's pretty good food at a large restaurant with very friendly service staff.
WEEK 6, DAY 6: October 12, 2014 [MAP]
It's a bright, clear morning. I have two decent breakfasts in town. Binh Gia is a strange place full of large, aging town houses built on a steep slope. I buy a terrific harvest bar made of compacted nuts and seeds, all held together with solidified condensed milk. It's great food for driving, and this one bar keeps me going all day. I'm headed cross country, west back to Cho Ra and Ba Be Lakes again, where I arrived a week ago, only to find I'd left my passport 140km away. It's a superb ride through warm, forested valleys, on a well-made, quiet back-road. The driving is easy and relaxing. This is Bac Kan, Vietnam's most sparsely populated province. The rivers are blue and clean, and settlements are mostly small hamlets of wooden houses.
I make my way slowly over to Highway 3 and turn off for Ba Be. I reach Cho Ra mid-afternoon, checking into the same guest house as before. The proprietors are warm and friendly. I have an OK, overpriced dinner, after struggling once again to find anything at all to eat.
WEEK 6, DAY 7: October 13, 2014 [MAP]
I have my daily bánh cuốn for breakfast in Cho Ra town. Driving to Ba Be Lakes on brand new roads the foliage noticeably changes: getting bigger, denser and lusher the closer I get to the national park. The lake is beautiful; a placid body of water enclosed by jungled limestone mountains. The water and silence are occasionally broken by narrow wooden motorboats ferrying locals and tourists across the lake.
They are lots of home stay options in the villages on the fringe of the lake, but tourist development is still in the early stages. The water is clear, cool and good for swimming. Perhaps one day this will be a Southeast Asian Lake Como; celebrities and aristocrats will have their villas perched on the forested slopes above the calm waters.
Local people, who I've read are predominantly from the Tay ethnic minority, are mostly friendly, polite and – to my ears – very well spoken. I'm told of a new, scenic back-road to complete a loop to the provincial capital, Bac Kan. The first section of the road is still under construction. After some shots of rice wine with the itinerant road builders – also very polite and well-spoken – I set off on the newly laid surface to Bac Kan. After a bright, clear morning the weather has turned grey. This is a pity because the new road rides straight over a mini mountain range and down a fertile valley that's so lush I want to hug it like a furry animal.
In Bac Kan there are dozens of good-value hotels. I check into one with a bike wash next door. Stavros has his first bath of the trip while I take mine in my room. At dinner I strike gold with a local rice eatery run by an elderly man and two nice women. A week since my last excellent 'slap-up' $2 meal in Cao Bang, this is in the same category for value, quality and size.
---
WEEK 7:

HANOI & CENTRAL COAST
---
DAY 1: October 14, 2014 [MAP]
Breakfast in Bac Kan, on yet another bright morning – I haven't experienced rain in over 10 days – is a decent bowl of phở and an iced black coffee. As a morning activity I try to recall all the provinces of Vietnam, in geographical order from south to north. I keep losing count around 60 and then getting confused as to how many there are. I think it's 63 (including the five city municipalities), but I've been told 64 and 60 on this trip by Vietnamese travellers. I give up and pay the bill. I ask the people serving how many provinces there are. They defer to a male customer who says, with certainty, "61". But I'm still sure I count more than that.
I'm pondering this because I plan on making a slight detour on my way to Hanoi today. In order to cover two more provinces – thus completing all the northern and central provinces – I'm cutting east on my approach to Hanoi. This will not only take me through the 'new' provinces of Bac Giang and Bac Ninh, but also – I hope – cut out the horrific approach to the capital from the god-awful, busy and polluted city of Thai Nguyen. The first leg of the journey – from Bac Kan to Thai Nguyen – is glorious driving through a lovely valley on Highway 3. After an hour people, traffic and pollution inevitably start to build up. It's just about to get unbearable when I sneakily cut east on a 'back-highway' towards Bac Giang. This works perfectly, and I glide into and through both previously unvisited provinces in relative peace and quiet. I strategically hit the dreaded Highway 1 at lunchtime, thinking that all the truck drivers and coaches will be on their lunch-breaks. Again, the plan works brilliantly. I can't help feeling a little pleased with myself as I ride serenely over the Red River and into central Hanoi, unscathed by the horrors than usually come with entering both of Vietnam's mega-cities, Hanoi and Saigon. I love Hanoi, but there's no denying that Hanoians overcharge foreigners way more than their southern counterparts in Saigon. In true Hanoi fashion, my first interaction with a Hanoian is an outrageous rip-off, when I stop for a sidewalk haircut outside the history museum. Fortunately, I ask the price before the haircut, so I move on to the next barber who is friendly and offers a fair price. My room at the aptly name Impressive Hotel is a penthouse on the eighth floor with a balcony looking over the Neo-Gothic rear-end of St Joseph's Cathedral.
WEEK 7, DAY 2: October 15, 2014 [MAP]
I get up early and watch the sun rise behind St Joseph's. I spend the day finishing my guide to the Extreme North Loop in Ha Giang and doing exercise. I like Hanoi, but this time I'm not going to explore – that, along with the Red River Delta provinces and Ha Long Bay, will be for next time. I stick to the area I know, which are the leafy streets around the cathedral and Hoan Kiem Lake. I have a number of classic Hanoi dishes throughout the day, including bún chả, bún riêu, and a rice lunch with a nice Vietnamese student who's just returned from doing his master's at Oxford. Most of the time, however, I spend on my balcony in the sun.
I stroll around Hoan Kiem Lake at sunset. I'm surprised to find that traffic and the general level of noise is nothing compared to Saigon – I haven't noticed this on previous trips to the capital. The lake is as captivating as ever and I top it off with a cocktail at the Coffee Club Bar overlooking the city.
WEEK 7, DAY 3: October 16, 2014 [MAP]
I have a good bowl of pho for breakfast on a Hanoi backstreet. The soup house is a run-down little establishment, packed with older men chatting amongst themselves while slurping noodles, leaning their heads down to their bowls; the kind of place that I love. I leave bright and sunny Hanoi around 10am. I head west out of the city and connect with the Ho Chi Minh Highway, going south. Again it's a painless exit from the capital: could it be that now new infrastructure has been completed, entering and exiting Hanoi and Saigon in clouds of exhaust and endless traffic is a thing of the past?
I know this bit of road well. The scenic section leading through Cuc Phuong National Park is a favourite stretch of road. But the weather has turned grey and dark so it doesn't look its best. I'm exiting the 'Dragon's Head' – the real north of Vietnam – for the first time in over a month. When I reach Cam Thuy – my point of entry to the Dragon's Head last month – it begins to rain and gets rather cold. I'm thankful for the bad weather because it means I don't feel any sadness about leaving the north. I've thoroughly enjoyed my time in the mountains and valleys, but now I want to head back to the beaches, open spaces and heat of central and southern Vietnam.
Because there's little to see in the long 'neck' of Vietnam – especially in this weather – I decide to drive and drive until it gets dark. This brings me to a friendly little guest house, all alone on the Ho Chi Minh Highway, in the drizzling rain.
WEEK 7, DAY 4: October 17, 2014 [MAP]
I leave my guest house early in the morning. I find breakfast just up the road in the town of Tan Ky. I have two freshly baked baguettes from a wood-fired oven. The owners are welcoming and give me a free large baguette, warm out of the oven, for the road.
It's grey and cold; a miserable start to the day. I can't imagine how grim it must get in these north-central provinces during the winter months – I doubt if I'll ever find out as I don't intend paying a visit to Nghe An Province during that time of year. Nghe An is where Ho Chi Minh was born. I vaguely plan to stop by his childhood home, but the weather is cold and the driving is good and easy, so I continue on along his namesake's highway. I want to cover a lot of ground again today, ending up somewhere in central Vietnam. But there are a couple of detours I want to make along the way. I cut cross country, heading east, to Highway 1. It rains heavily. The highway is in an awful state and, although I had wanted to find my way to a new ocean road, all I can think about is getting through this depressing mess of a road. At this moment almost the entire length of Highway 1, Vietnam's busiest artery by far, is undergoing maintenance; being resurfaced and widened. The dust, potholes and trucks are relentless. I'm heading for the Ngang Pass, one of four passes that historically divided what is now Vietnam into separate kingdoms. The other three passes I know well, the most famous of which is the Hai Van Pass between Hue and Danang. I've only driven the Ngang Pass once and that was 6 years ago. Since then a tunnel has been built under the mountain, leaving the pass totally empty. Before I reach Ngang Pass, Highway 1 goes by a gigantic new project which, I learn, is a Taiwanese steel company. It's an unbearable dust bowl and I can't wait to leave all this behind at the Ngang Pass.
The road starts to climb through eucalyptus trees, offering a brief glimpse of the ocean – my first view of the sea since I left Hoi An at the end of Week 1. The traffic disappears. I stop by a stream and wash all the soot off my skin. But it's all over in 5 minutes when I rejoin the highway on the other side on the bluff. Ngang Pass, despite being a feature in Vietnamese folktales and mythology, is the least impressive of the four old passes.
Not yet ready for another lungful of dust, I turn off to visit the tomb of the late Vietnamese General, Vo Nguyen Giap. Giap died one year and 13 days ago, and already his tomb is one of the most-visited sites in Vietnam (among domestic tourists). Down a brand new road lined with shacks selling incense, flowers, wreaths and Giap memorabilia, the tomb is in a beautiful site; on a forested hillock, under the Ngang Pass, looking out to sea. The last 2,000 years of Vietnamese history has seen at least a dozen great military generals: Le Loi in the 15th century defeated the Ming Dynasty Chinese, Tran Hung Dao in the 13th century defeated Kublai Khan and the Mongol Empire, Ngo Quyen defeated the Tang Dynasty Chinese in the 10th century. Giap had a hand in defeating the Japanese, French, Americans, Khmer Rouge and Chinese. He was born in 1911 and lived to 102 years old. He may well go down as the greatest Vietnamese military tactician. His tomb will probably be visited by Vietnamese people – just as the tombs and temples of the other Vietnamese Generals have been – for hundreds, even thousands of years to come. At the moment – because Giap's death was so recent – the site is discreet and serene, movingly so. There's a gravel car park where a few exceedingly polite uniformed officials put my bags in a locker and check my passport. A gravel path – stairs haven't even been built yet – lead up the hill to a wooden walkway. On the right, looking out over the East Sea, is a pavilion with a traditional bell in it. This is the only structure on the site so far. Another polite official hands me 3 incense sticks, already lit. I walk along the wooden platform and place them in front of Giap's sarcophagus, which is surrounded by wreaths and flowers. Thinking there must be more, I ask the official where I should go now. Learning that, for now, this is the extent of the mausoleum, I stand there for some time, thinking about Giap and how much Vietnam went through during his lifetime. I'm all alone in front of his sarcophagus. The smell of incense from the altar, and pine and eucalyptus from the hills fills the air. I can hear the rollers crashing on the sand beach below the tomb. There's a small island just offshore, and a coracle is moving towards it. A group of young Vietnamese women come up the hill. They shout 'hello' to me in English. I turn to leave but decide to stay on the platform to see how the women will act in front of the tomb. They casually take the incense sticks handed them by the official, plant them in the altar and walk on past the tomb toward me. There's no formality, no praying, sadness, deference – not like you find at Ho's glum mausoleum in Hanoi. The women are more interested in having their photo taken with me than anything else. Each one of the group takes turns standing next to me, their cameras pointing away from Giap's tomb. I feel uncomfortable and wonder what the guards – or Giap – might think about this.
Not 5 minutes from Giap's mausoleum, Highway 1 continues its blighted path toward Central Vietnam. I turn off at Dong Hoi to join the Ho Chi Minh Road again. Entering Quang Tri Province after dark, I find a roadside hotel for the night.
WEEK 7, DAY 5: October 18, 2014 [MAP]
It's another bleak morning. I was hoping that, as I moved further south towards the beaches of Central Vietnam, the weather would improve, or at least the temperature would rise. But today is a shocker. I plan on a back-road bonanza: I'll link up several long country lanes, passing along the ocean, through three provinces. The idea is, of course, to stay off Highway 1 at all costs. It works perfectly. The back-roads are mostly paved dyke walls that form the barrier of flooded rice fields. The ocean is in a furious mood; rollers breaking on the sand and spraying the road surface. It's windy and chilly. The rain comes and goes in heavy showers that ghost across the flooded fields.
There's no one on these roads, but they're in great condition and, in good weather, I'd be stopping to swim at all the empty beaches. The entire length of this coastline, stretching from Quang Tri to Hue, is dotted with ostentatious tombs. There are thousands of them, most of which have been erected in the last 20-30 years, but such is their condition, they could be mistaken for Nguyen Dynasty tombs from the 19th century. Scattered graves in sandy coastal areas are a common sight in Vietnam. I'm guessing this has something to do with the principles of feng shui (phong thủy in Vietnamese), which literary means 'wind and water'. There's a lot of both these elements in this area, especially today. Around noon it gets so bad that the land, the sky and the water morph to form one grey mass.
Stavros ploughs on along hundreds of kilometres of quiet back-roads. I finally rejoin Highway 1, not far for the Hai Van Pass which, thanks to a tunnel under the mountains, is now free of traffic. However, before I get there I have half an hour in the rain fighting the monstrous trucks on this miserable stretch of Highway 1. Reaching the pass I stop at the spot where the Top Gear presenters (Jeremy Clarkson, Richard Hammond and James May) gazed out over Lang Co Bay at sunset and agreed that Vietnam is a 'fabulous country'. Regardless of whether you like the show, the Vietnam episode of Top Gear has done so much for tourism in Vietnam that I think a plaque should be erected at this view point. It'd be fun and a good photo opportunity for the thousands of foreign motorbikers who come to Vietnam each year, having been inspired to do so by the show. However, I think if Top Gear had visited on a day like today they might not have come to the same conclusion about Vietnam:
I wrote in my guide to the Hai Van Pass about how it's a climatic barrier: the weather often very different on one side of the pass to the other. I had hoped this would prove to be the case today, as I'm tired of being wet and cold. But the famous views from the pass are as good as invisible and there is no change once I reach the top and roll down towards Danang. Hai Van means 'Ocean Mist' which, I realize today, is just a poetic way of saying 'rain'.
After 7 hours driving in the rain and cold I find a good room in Danang, a favourite city of mine. When the manager changes his mind about the room – after I've unpacked all my wet bags – I feel like, well I won't say what I feel like doing to him, only that I refrain from doing it. Fortunately, I find another good room nearby. It's a 'love hotel' but an exceptionally well-run one. Young couples in Vietnam get very little privacy and these 'love hotels' are the only chance they get to be intimate away from the watchful eyes of their parents. This is a family-run 'love hotel'. It's immaculately clean, not at all seedy, and more importantly it's responsible: when you check into the room you receive a package with remote controls for TV and air-con, toiletries and condoms. This is a good sign in a country where HIV/AIDS is on the rise and there's very little sex education taught in schools or by parents.
I'm happy to be in Danang and back in the south of the country – which I consider my home – but I'm tired. I aim for a simple meal and bed. But Danang is too good to miss. I find an excellent place for cơm gà, a local speciality, where the proprietor has a lazy eye and is very warm and good company while I eat. Then I promenade along the Han River, stopping in at one of the cafes lining the banks, watching the city's youth roll out on fixed-gear bikes for Saturday night. This is a great city.
WEEK 7, DAY 6: October 19, 2014 [MAP]
I meet my friend for breakfast in Danang. We have mì quảng, a noodle dish that Danang is known for. He decides to stay on in Danang while I head on south along the coast. I'd like to spend a lot more time in this city which, I think it's safe to say, is the place to be in Vietnam at this moment. I drive along 'China Beach' where 'Danangers' are playing volleyball on the sand, with the rolling waves – that the city is famous for – breaking behind them. Then past the ever-increasing string of 5 star mega resorts and golf courses, until I reach the little harbour at the mouth of Cua Dai River, near Hoi An. Stavros hops on the wooden barge for the 10 minute crossing in the weak morning light. There are dusty clouds over Hoi An's old town and out to sea over Cham Island, but the sun is still finding a way through.
I continue on yet more beach-side back-roads from Hoi An all the way down to Quy Nhon. Apart from a necessary – and unpleasant – hour on Highway 1, the whole ride is scenic, quiet and relaxing. I drove many of these roads last month. At that time the rice was being harvested. Now, however, the paddy fields are under 3 feet of water. There's obviously been a lot of rain since I've been away in the north. Rivers run wide and brown, and muddy puddles fringe the roads. An hour out of Quy Nhon a downpour hits the coast. The torrent lasts for half an hour, then passes, as southern rains tend to do. After 10 hours driving, the last moments of sunlight and heat along a long stretch of sandy beach have a revitalizing effect on me. I've always liked this area, and it was here that I made my first solo road trip in Vietnam, back in 2005; but that was on a bicycle. My room on the beach in Quy Nhon is fantastic value for $7 a night. The city is abuzz on this cool evening, with student couples driving up and down the seafront promenade, carrying roses for Women's Day.
WEEK 7, DAY 7: October 20, 2014 [MAP]
I watch the dawn over Quy Nhon Bay from my hotel balcony. After breakfast I take the coastal branch of Highway 1. This is one of the better parts of the highway. It winds around the bays and coves of a fantastic stretch of coastline.
Eventually, dust and trucks take over, so I turn off for a back-road coastal route, which I've been driving for a few years. It goes along 100km of undeveloped beach, including Vung Ro Bay, before rejoining Highway 1 at the Cả Pass. The rice fields here had just been harvested when I passed by a month ago. Now the next crop has already grown up to around 2 feet. The Cả Pass – which is one of the four passes that used to divide Vietnam – is a good but dangerous drive, with great ocean views. At the bottom, I stop for a snack at Dai Lanh Beach. Someone stops me by the side of the road. It's a friend of mine who I used to live with in Saigon. I haven't seen him for a couple of years. We sit down for a coffee before I set off again.
After one more hour on Highway 1, I reach the turn off for Doc Let Beach. Famous as a day trip from Nha Trang to less trodden sands, I visited Doc Let a few years ago, but haven't been back since. Now the road has been extended to the tip of this forested peninsular. The late light melts over the ocean, picking out the islands in the bay. The salt-sand breeze is scented with eucalyptus from the hills. At the end of the road the peninsular fans out, with the small fishing hamlet of Ninh Van filling the bay, between two rocky headlands. I have a glorious swim in the harbour between wooden fishing boats. At dusk the local kids join me in the wash.
I love the mountains and the north of Vietnam, especially Cao Bang and Thanh Hoa provinces, but these southern coastal scenes might just steal the show for me.
---
WEEK 8:

THE SOUTH COAST
---
DAY 1: October 21, 2014 [MAP]
I get my breakfast baguettes and coffee to go from Doc Let Beach. It's a grey start to the day and I want to drive the 40km to Nha Trang before the rain starts. I have to join Highway 1 for less than an hour before turning onto a new coastal approach to Nha Trang. The rain skirts the city and I arrive to streets glistening in the sun after a brief shower. I spend the morning and afternoon by the beach at the Sailing Club, working on a piece about Pac Bo Cave, where Ho Chi Minh stayed in 1941. My house-mate from Saigon arrives in Nha Trang mid-afternoon. We head south out of town along the coast for a camping spot. But the military stop us entering the area and it's too late to find another place. We head to the nearest guest house, not far from Cam Ranh Bay. Dinner is a feast by the highway; a good example of how you can always find great food in the unlikeliest of places in Vietnam. Jon and I catch up over dinner, helped by some potent rice wine.
WEEK 8, DAY 2: October 22, 2014 [MAP]
After spending the night in a hotel by the highway, Jon and I have an OK highway breakfast, before heading half an hour down the road to meet another friend from Saigon, Carl. The three of us leave Highway 1 behind and turn off to the beaches fringing Cam Ranh Bay. The beaches in this area are chalk-white and the water is clear and blue. An excellent new road leads around the bay, but as yet – except on weekends – hardly anyone visits.
A small finger of land juts out into the bay. On one side there are picturesque fishing villages; on the other there's a string of empty beaches, backed by fruit plantations. After searching the area we find a suitable camping spot on the grounds of an abandoned resort. The sea is clear and there's even coral and fish to look at while swimming. We pitch our tents between cashew, mango and star fruit trees. Carl lights a small fire to cook some Japanese ramen noodles. I light my camp stove and make instant noodles, to which I add a couple of eggs and Vietnamese Spam. Washed down with some rice wine, this is a satisfying meal in the open. When the fire goes out we have some candles for light. There's a fresh breeze off the bay and the lights of fishing boats prick the darkness. It's a cool, clear, starry night.
WEEK 8, DAY 3: October 23, 2014 [MAP]
The night is cool enough for it to be comfortable in our tents. However, something from our evening meal disagrees with me. I'm sick throughout the night, which is never nice when you're travelling, but when you're camping it's even worse. We wake up with the sunrise, just before 6am. After packing our tents we have one more swim in the gentle morning sea. Just after leaving the campsite, Carl notices his bike is out of oil, thanks to a botched job by a mechanic days before. The nearest garage is north, which is where Jon is heading, so Carl joins him, while I continue south along the Núi Chúa Coastal Road. Even with a bad stomach this is a beautiful road.
Sadly, it becomes a hellish journey from Pham Rang. I have to join Highway 1 for an hour, which is in atrocious condition. Then, what was once a nice back road to Mui Ne, turns out to be full of sand and trucks thanks to the road being upgraded (more about this HERE). I make it to Phan Thiet by mid-afternoon. My guest house is run by a family that seem to have given up on the business. I don't really mind as I intend to spend the last few days of my trip in more luxurious beach-front accommodation.
WEEK 8, DAY 4: October 24, 2014 [MAP]
I'm happy to leave this sad Phan Thiet guest house early in the morning. I still feel pretty weak from the previous day's tummy trouble. But it's a fresh, bright morning and Phan Thiet looks lovely: the blue fishing boats clustered in the river mouth, the breakfasts being sold on the streets, the smell of fish in the air. I have a bowl of mì quảng – a south coast version of a central Vietnamese classic – followed by coffee at my favourite café in town.
I wallow in the short drive through town and along the coast to my accommodation for the next few nights; Victoria Resort and Spa. I've not stayed in one place for more than 36 hours in the last 50 days, so I'm treating myself to four nights of luxury on the beach. I stayed at Victoria Resort in the mountains of Sapa a month ago. I wasn't that impressed by the dull uniformity of the rooms and resort as a whole. Victoria Resorts try to blend French colonial ambience and Southeast Asian décor; a style that really appeals to me. To my delight, Victoria Phan Thiet is a glorious example of this. Tiled floors, wooden furnishings, outside showers, large patios onto the beach, open-plan rooms, tropical gardens and attention to details, such as candles around the bathtub and hibiscus flowers on the bed, make this resort wonderful and just what I was hoping for. Read my full review HERE.
I spend the afternoon swimming in the sea – where I'm stung by a jelly fish on my left eye – and catching up on some writing. As I'm drinking a Gin Fizz on the balcony of the Ocean Bar, I discover that Vietnam Coracle is the number-one-listed online resource in the new edition of Lonely Planet Vietnam (read it here). I've had the guide on my Kindle for two months but hadn't thought to check the recommended websites. I order two gin and tonics to my room, where I draw a bath and drink them while playing my new ukulele (which I bought in Hanoi, having lost my previous one somewhere on the road in the mountains). After my celebratory bath and drinks, I become contemplative. I think of my time in Vietnam, my enthusiasm and affection for the country, the circumstances that brought me here, the people I've met – some no longer in the country – and experiences I've had here. I wouldn't want to be anywhere else: Tôi yêu Việt Nam!
WEEK 8, DAY 5: October 25, 2014 [MAP]
I spend the day at Victoria Resort swimming and writing. The buffet breakfast overlooking the ocean is great. I'd like to spend more time swimming in the sea rather than the pool, but each time I try I'm stung by jellyfish. It may be something to do with the time of year; I've often found that jellyfish are a nuisance in Mui Ne. I've read that they are attracted to dirty water, so I hope that's not the case here.
WEEK 8, DAY 6: October 26, 2014 [MAP]
Today follows the same pattern as yesterday; swimming and writing at the Victoria Resort.
I break the 'monotony' with a noon trip to the Cham towers, sitting atop a hill at the western approach to Mui Ne beach. Apart from a couple of young lovers nestling in the ancient doorways and crumbling crevices of the ruins, there's no one at the site. It's a lovely spot with views west over Phan Thiet fishing town, and east over the fringes of Mui Ne beach. The three squat Cham towers were originally constructed in the 8th century, but have been re-built, using the original bricks, in more recent times. The towers were – and occasionally still are – used to worship Hindu deities by the Cham people, who are now mostly Muslim and form one of Vietnam's many ethnic minorities.
There's lots of other history on this pretty hillside. At the very top is a ruined castle from the 19th century which the colonial French used as a fort. It was taken and destroyed by the Vietnamese during the Franco-Vietnam War in the 1940s. The hilltop remained a strategic military position for the proceeding 25 years of war in Vietnam; concrete machine gun bunkers from this period are still visible, obscured by foliage. Beyond the Cham towers, a new Buddhist pagoda protrudes above treetops; the sound of the ceremonial gong ripples out of the shrine, muffled by the rustling leaves of eucalyptus trees.
I confess that, after 9 years of regular visits to Mui Ne and Phan Thiet, this is the first time I've been up this hill. It's a marvelous, clear, blue, sunny day, without the humidity that blights the summer months in southern Vietnam. The sea is irresistibly blue. Boats sail into Phan Thiet harbour. Storm clouds fan out on the horizon, signaling a downpour in the Annamite Mountains. It's not as spectacular or grand as much of what I've seen over the last 2 months, but I have a personal attachment to this corner of the country. Some of my first trips in Vietnam were along this strip of coastline and I think, no matter how much of this country I see, the southeastern coast will always be special for me.
WEEK 8, DAY 7 & FINAL DAYS: October 27-30, 2014 [MAP]
After a few nights in the peaceful embrace of Victoria Phan Thiet Resort, I head southwest along the Ocean Road to Ho Tram beach. Of all the routes I've driven in Vietnam, I know this one better than any other. It's a hot, dry and sunny day; the kind of weather that makes everything seem immortal. I ride along the quiet coast road; past the French colonial-era lighthouse at Ke Ga, the busy, salty little fishing town of Lagi, the cashew plantations around Binh Chau hot springs, and on to the final stretch along an exposed bit of coast backed by sand dunes, around Ho Co beach.
For my last two nights I'm staying at Ho Tram Resort, the first high-end accommodation in an area that's now slated for huge luxury development. Entering this resort after such a good stay at Victoria, I realize just how superb Ho Tram Resort is. Even after the comfortable surrounds of Victoria, Ho Tram's class and attention to detail shines through. If I were to find a plot of land in Vietnam to build my own home, I'd pay a visit to this resort first and take notes on the design, style and decoration.
Sunset on my last night of the trip is a study in pinks a purples; like a tropical version of Monet's Water Lilies.
I have a nervous knot in my stomach as I leave Ho Tram for the final ride back to Saigon. I'm dreading the inevitable increase in traffic, pollution, population density and humidity as I get closer to the city. Having plenty of experience on this route, I time my ride to avoid the worst of it. A brief rain shower coincides with a horrid procession of trucks near a grey industrial zone. But it's over in 15 minutes, and I make it to the Cat Lai ferry relatively unscathed by traffic and dust. Stavros and I float over the large swell of the Dong Nai River to arrive in the municipality of Ho Chi Minh City again, after 59 days on the road. I take a slightly longer route to my house in order to cross the Thu Thiem Bridge which affords one of the best views of Saigon. As ever, there are a few new marks on the skyline since I left two months ago and, in my neighbourhood, old shops have closed to be replaced by new ones.
Of all the things I thought I'd miss about Saigon, or of all the things I'd thought I'd dislike on returning to the city, what strikes me most is something I hadn't considered at all. Walking the back-streets near my house in the first hour of coolness after dusk, it's the warm rumble of life that fills every square metre of this city that, I now realize, I've missed without even knowing it. From the open doors and windows of homes and shop-fronts, to the sidewalk activity and rumbling streets, I find great comfort in this ambient evening, full of people and human interaction. (Eventually, I made a short film to try and capture the mood of my local neighbourhood and why I love it.)
[Back Top]
RELATED POSTS

:
---