Last updated July 2022 | Words and photos by Vietnam Coracle
Tom Divers is the founder and creator of Vietnam Coracle. He's lived, travelled and worked in Vietnam since 2005. Born in London, he travelled from an early age, visiting over 40 countries (he first visited Vietnam in 1999). Now, whenever he has the opportunity to make a trip, he rarely looks beyond Vietnam's borders and his trusty motorbike, Stavros. Read more about Tom on the About Page, Vietnam Times and ASE Podcast.
---
Nowhere in Vietnam is there such variety of landscape and richness of culture in such a compact area as in the central provinces of Quảng Nam, Đà Nẵng and Thừa Thiên Huế. Geographically, climatically and historically, this is the region of Vietnam where north and south clash. As a result, Central Vietnam has got it all: from long, sandy beaches to dramatic, forest-cloaked mountains; from low-rise, centuries-old boulevards to high-rise, modern metropolises; from the sounds of the jungle to the sounds of the sea; from chic rooftop bars to some of the most complex regional street food in Asia; from some of Vietnam's most famous roads and sites to some of its most remote and untrodden back-roads. Riding the Golden Loop by motorbike packs everything that's great about Vietnam into one, memorable, easily digestible road trip that can be ridden in as little as 3 days or as long as one week.
[Back Top]
---
GUIDE:

THE GOLDEN LOOP
---
Hoi An→Da Nang→Hue via the Ho Chi Minh Road & Hai Van Pass
On this page, I've written a guide to the Golden Loop, including a route map and separate sections for accommodation and food and drink. This route can be ridden in either direction, starting and ending from any of the three central cities: Hội An, Đà Nẵng and Huế (all of which have motorbike rental). However, I've written this guide in three sections going clockwise on the loop, starting from Hội An. On my map, I've marked the main Golden Loop in blue, which avoids Highway QL1A almost entirely. But there are dozens of optional detours, alternative routes, attractions, and opportunities for further exploration, some of which I've marked on my map in red. If you wanted to, you could complete the Golden Loop in two (long) days, but it's much more enjoyable to spend at least three days on this route:
CONTENTS:
---
---
*Road Safety & Disclaimer: Riding a motorbike in Vietnam – or anywhere in the world – has its dangers. I would hope & expect anyone who chooses to pursue a self-drive road trip based on the information on this website does so with care, respect & due diligence. I encourage careful riding & adherence to road rules, but I am not responsible for the legality or manner in which you ride, nor any negative consequences which may result from your decision to ride a motorbike in Vietnam: you do so at your own risk. Read more >
---
---
MAP

:
The Golden Loop | Central Vietnam by Motorbike
View LARGER MAP
---
Please Support my Site
Vietnam Coracle is free to read & 100% independent. I never receive payment for anything I write & there's no sponsored content whatsoever. If you like this guide, please consider making a donation or becoming a patron.
Thank you, Tom
---
The Route:
QUICK DETAILS:
---
SECTIONS:
---
Section 1:
Hoi An→Thanh My→Prao | 125km [MAP]
Get an early start and weave your way out of the echoey, ancient streets of Hội An at dawn. With its enormous popularity among domestic and international tourists, dawn is now the only time of day when Hội An is quiet. It's very beautiful, indeed, and well-worth the effort of getting up early for. There are many options for leaving Hội An, heading west through pretty countryside towards the mountains. For this route, I've chosen a more southerly way, crossing bridges over the Thu Bồn River and on back-roads riding atop flood dykes through glittering rice paddies, before briefly hitting Highway QL1A and then turning off again almost immediately. Travelling west along the southern banks of the Thu Bồn River, a pretty road leads through the village of Trà Kiệu. There's a sense of timelessness to this landscape, underlined by the presence of the ancient Cham ruins of Mỹ Sơn, just a few kilometres south of here, in the shadow of the unmistakable Cat's Tooth Mountain. If you have time, make a detour to the temples: early morning is the best time to visit – before the coachloads of tourists arrive.
---
---
The route crosses the Thu Bồn River north of Mỹ Sơn and begins to follow the south bank of the Vu Gia River all the way west until it meets QL14B, the main road to Thạnh Mỹ. The further west you ride, the more the road becomes folded into the green valleys of Central Vietnam. The farmland here is crisp and shimmering, as if a light spring shower had recently passed over it. These valleys are constantly fed by fresh water running off the Trường Sơn Mountains to the west. Buffalo work and wade in the wet fields. Before joining QL14B, a road leads up to Khe Lim ecotourism site, a lovely place to visit if you have time for a detour (the road was still under construction at the time of research, but should be finished by the time you read this). Also at the intersection with QL14B, there's the option to take a new back-roads route over the mountains to Prao. Otherwise, continue on the main route by heading west on QL14B for a pleasant ride (although somewhat spoiled by the increasing number of trucks and buses on this road) climbing into the mountains and up to the town of Thạnh Mỹ.
---
---
There are several rice eateries, snack shops and a couple of local guesthouses at Thạnh Mỹ should you need them. This is also the start of an optional one-way detour towards the Lao border on QL14D – a fascinating ride if you have the time. Thạnh Mỹ is the point at which the Golden Loop hits the Ho Chi Minh Road. (Incidentally, Thạnh Mỹ is also the most northerly point of the Trường Sơn Đông Road.) Head due northwest at the main junction across a high and impressive bridge. Almost immediately, the Ho Chi Minh Road starts to climb steeply into the mountains. Within minutes, the town of Thạnh Mỹ is no more than a speck in the valley. Forested limestone ridges rear up, towering over deep crevices with sky-blue torrents at the bottom. There are very few buildings, people or vehicles. It's difficult to believe that Đà Nẵng, Vietnam's fifth most populous city, is only 60km away. But this is by no means a 'pristine' landscape. Huge swathes of forest have been chopped and burned, and giant hydroelectric dams have been constructed on the mountain rivers. It's very sobering to see the 'development' or 'deterioration' (depending on your view) of this area. Deforestation and illegal logging are huge problems here, and the dams are attempting to keep up with the demand for power from Vietnam's burgeoning population.
---
---
The second half of the 60km stretch between Thạnh Mỹ and Prao is a helter-skelter of hairpin bends, curling up and down mountains that are so lush they appear to spray foliage over the road. This is an excellent riding road and the scenery is wonderful, including a large blue lake formed by a hydro dam. After a dizzying descent, the small town of Prao appears in the middle of a tight valley. Tiny and remote, Prao is ideal for a night's rest. There are several local guesthouses (nhà nghỉ) lining the main street as it passes through town. I've settled on Dũng Thùy (from 250,000vnd/night) as my regular place to stay. It's also within walking distance of lots of local rice and soup eateries (quán cơm phở) for dinner and breakfast, coffee shops and the town's gas station. (Prao is also the end point of the alternative route from Đà Nẵng on road QL14G.)
---
---
Section 2:
Prao→A Luoi→Hue | 165km [MAP]
Remember to fill up at the gas station in Prao, because the next 100km due north along the Ho Chi Minh Road is very sparsely populated, as well as very scenic. The ride from Prao to A Lưới, echoing the Lao border, is one of the best stretches of road in Vietnam. The Ho Chi Minh Road follows a series of rivers along steep valleys until, eventually, the tarmac leaves the valleys and heads up and up, in a series of looping switchbacks curving around the contours of the mountains. It's an extraordinary ride and the views over the unbroken jungle canopy are sensational. Even the road itself – when you look back at its twisting and turning course across the landscape – is a majestic sight: a Jackson Pollock in asphalt. What's more, you're likely to have the road and the landscape all to yourself: throughout the 100km ride, you'll probably only see a handful of other vehicles and people.
---
---
This is a remote and relatively pristine corner of Vietnam. Farming and agriculture haven't yet torn down the forests, meaning the ridges are blanketed in jungle and the rivers run clean and clear. One gets the feeling when looking out over the misty mountains cloaked in damp tropical foliage, that this is a special, somehow magical place. Indeed, it is home to a semi-mythical creature: the sao la, or as it's also known, Asian Unicorn. Only known to science since the 1990s, this elegant, deer-like animal has yet to be seen in the wild by any Westerner (locals and trip cameras in the forest prove its existence). There are forestry cabins along this stretch of the Ho Chi Minh Road for the conservation of the sao la, reminding you that, somewhere out there in those jungles, the Asian Unicorn still roams.
---
---
An optional detour due west goes ever deeper into the mountains towards an excellent viewing platform called Đỉnh Quế. In fact, there are several small paved roads around here that beg exploration. However, as a foreign rider you are highly likely to be turned back at some point by officials, because this is a border region, and therefore considered militarily 'sensitive'. But no matter, because the Ho Chi Minh Road is more than enough to keep you stimulated, engaged and awed by the majesty of the scenery. Before starting its long decent to A Lưới, the road goes to within a stone's throw of the Lao border, carving two short, eerie tunnels under the mountainside, where waterfalls stream off the slopes, down through the giant tropical trees into the valley below. It's hard to believe that this beautiful, serene, fertile and empty valley was once the scene of fierce military conflict. This is the A Shau (A Sầu) Valley, where a battle was fought in 1966 between the U.S and South Vietnamese troops against the People's Army of Vietnam (North Vietnam). You can still see the bomb craters in the rice fields and remnants of the U.S forces' base. Today, thank goodness, the valley is in peace.
---
---
Down in the valley, the land is flat and farmed. The Ho Chi Minh Road runs straight and true, with the mountains of Laos rising to the west. It's a smooth ride to the junction with QL49. However, if the hour is late, continue north for a few kilometres to the small town of A Lưới where several local guesthouses line the broad main street. Đô Thành Hotel is OK for a night; Paco Tua Homestay is nicer, but too expensive for the quality. There are plenty of local rice and noodle eateries in A Lưới, too, and even a couple of pretty waterfalls just north of town.
---
---
Take QL49 due east in the direction of Huế. This pleasant 60km stretch of road meanders down a series of mountain passes through a pretty landscape of fruit and spice trees – cinnamon, lemongrass, pineapple, mango, cashew, jackfruit – and into the Perfume River Valley. After a day or two in the empty and peaceful mountains, it can be quite a shock to return to the densely populated (and polluted) coastal plains. Nonetheless, the Perfume River carves a lush, peaceful valley through undulating hills, where the emperors of the Imperial Nguyễn Dynasty were laid to rest in elaborate tombs along the banks. One of the most impressive is Emperor Minh Mạng's tomb. If you have time, the Golden Loop passes several royal mausoleums and historic sites on the way into Huế, not to mention the imperial palace itself. Alternatively, check into the Pilgrimage Village for a night of comfort after 'roughing it' in the mountains – it's ideally located for some 'tomb-hopping' the next morning.
If tombs aren't your thing, weave your way into the bustling streets of Huế, which is easily one of the most likable cities in Vietnam. There are loads of good accommodation options in all price ranges and the food is famously fantastic. (Check out this Hue Food Guide and this guide to Drinking in Hue.)
---
---
---
Section 3:
Hue→Hai Van Pass→Da Nang→Hoi An | 165km [MAP]
There are two options to get from Huế to the Hải Vân Pass: the direct route on Highway QL1A (the red line on my map), or the scenic route on QL49B (the blue line on my map). The former is fast but full of trucks and cars; the latter is longer but quieter and more interesting. Therefore, unless I'm in a rush, I usually choose to go via QL49B. Head north out of Huế until you hit the Thuận An Peninsula. This long finger of land is essentially Huế's beach. There are long stretches of empty sand and some good cafes, bars and places to stay at the northern end. However, the 40km promontory is not all sand and sea: it's also a huge cemetery. While riding along you can't fail to notice the astonishing amount (and variety) of tombs by the roadside. Vietnamese burial grounds are traditionally determined by the principles of phong thủy or feng shui: the two words literally mean 'wind and water', of which there's plenty on the Thuận An Peninsula! The road has been upgraded, but traffic has increased in recent years. It's an intriguing ride all the way down the promontory until a wide bridge crosses the mouth of the Tam Giang-Cầu Hải Lagoon, the largest in Southeast Asia. On a clear day, this serene, almost ghostly, body of water is a wonderful sight.
---
---
From the bridge, QL49B veers south, skirting the eastern edge of the lagoon, before hitting Highway QL1A at Phú Lộc. If the weather is good and the beauty of the lagoon has cast its spell on you, consider a night at Verdana Lagoon Resort, an isolated property with cabins jutting out into the lagoon: very romantic. Turn off Highway QL1A almost immediately to take a quiet back-roads route via Cảnh Dương Beach and Chân Mây Bay to Lăng Cô. This is much longer than taking the highway, but in my opinion it's always worth avoiding QL1A if you can. However, if you choose to stay on the highway, there are several worthwhile detours due south to waterfalls, springs and, best of all, Bạch Mã National Park.
---
---
Lăng Cô is a spit of land with the sea to the east and Lập An Lagoon to the west. With a good, long beach, a handful of resorts and mini-hotels, and lots of decent seafood restaurants, Lăng Cô is fine for a night's rest if you need it. Highway QL1A roars through town, but I prefer to take Trịnh Tố Tâm street, a scenic road leading around the western shores of Lập An Lagoon all the way to the start of the Hải Vân Pass. Dwarfed to the south and east by green mountains, the road clings to a narrow ribbon of flat land next to the lagoon where oyster farms float on the water. It's a beautiful little road and there's no other traffic.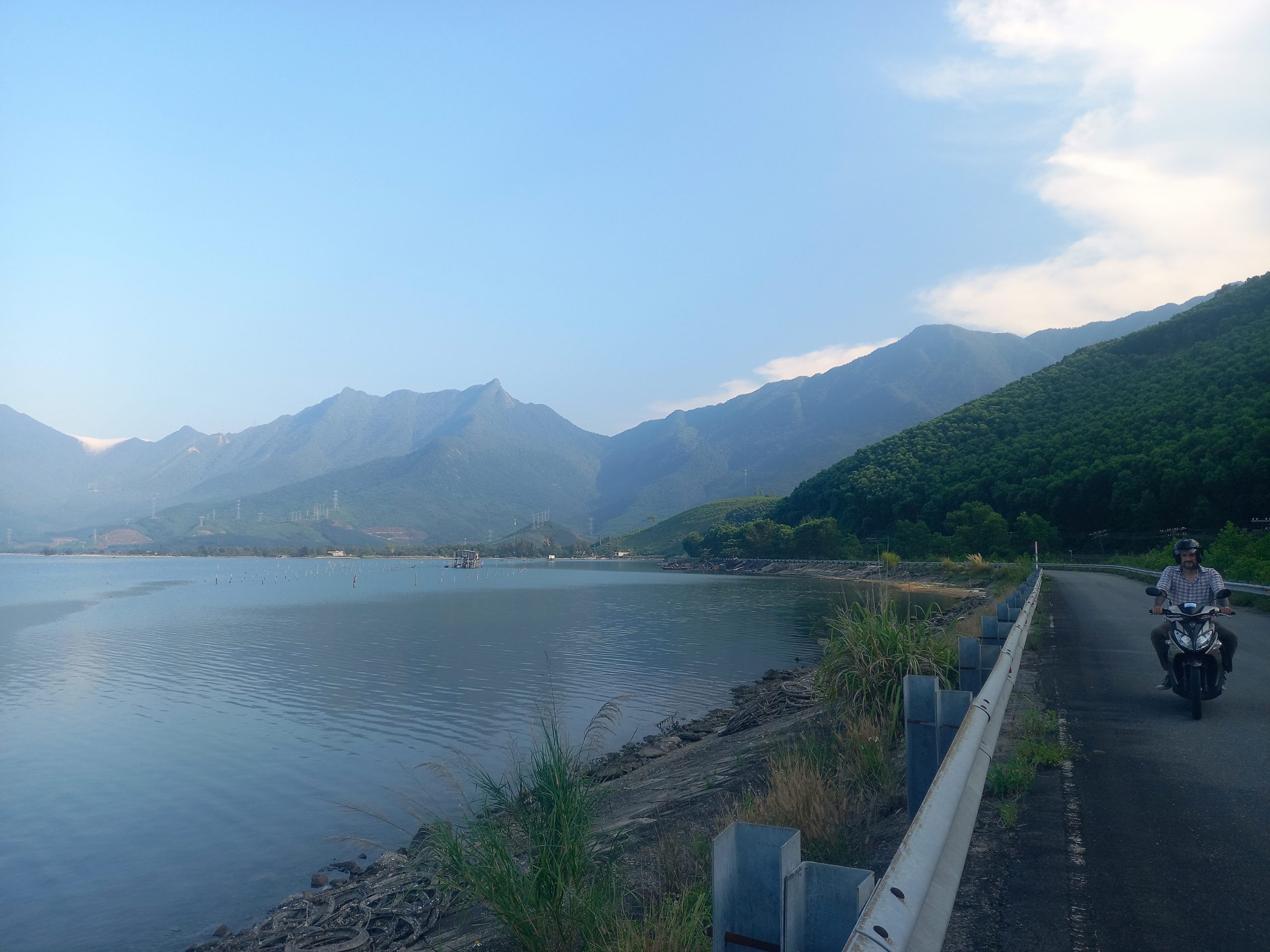 ---
---
When the mountains meet the ocean, Highway QL1A goes under them, creating Southeast Asia's longest tunnel, accessed via a long bridge above the mouth of Lập An Lagoon. However, motorbikes aren't allowed through the tunnel. But that's a good thing because, instead, they must take the original route: the twisting Hải Vân Pass. Famous through the centuries as a difficult and dangerous passage that once divided kingdoms, today, the Hải Vân Pass is one of Vietnam's best-known scenic roads. Jeremy Clarkson and the Top Gear team did wonders for motorcycle tourism in Vietnam when, in 2008, he declared the pass 'one of the best coast roads in the world.' On a clear day, it's hard to argue with him. However, as the name suggests (Hải Vân means 'ocean mist'), you may well find that the incredible ocean views are obscured by cloud. Either way, it's a superb ride, including optional detours down to some beaches. (See my guide to the Hải Vân Pass.)
---
---
---
Dropping down from the Hải Vân Pass, Đà Nẵng sprawls along the coast in the distance. Not long ago, Đà Nẵng was considered a grim city, best avoided. But today, it's one of the most exciting, up-and-coming, modern and desirable cities in Vietnam. Đà Nẵng occupies a fabulous natural position, with the curving Bay of Danang to the north and Municipal Beach to the east; the Hàn River cutting a north-south line through the city and the rugged Sơn Trà Peninsula at its northern tip. (A spectacular optional detour circumnavigates the entire Sơn Trà Promontory). Đà Nẵng has lots of sleeping, dining and drinking options. Alternatively, complete the Golden Loop by continuing due south along the coast road, passed the rows of gigantic international resort complexes, the Marble Mountains, and An Bang Beach back into Hội An's old town.
---
---
---
Accommodation:
The three main cities on this route – Đà Nẵng, Hội An and Huế – have some of the best standards and variety of accommodation anywhere in Vietnam. However, outside of these cities – especially in the mountains – places to stay are infrequent: mostly local guesthouses or homestays. Most people will start and end the Golden Loop in one of the three main cities, but it will be necessary to spend at least one night in the mountains. See below for some specific recommendations (I've also marked accommodation options on my route map):
Da Nang, Hoi An & Hue: As these three cities are among the most popular destinations in Vietnam, the range of accommodation from budget to luxury is excellent and so too is value for money. Hội An has the best choice, and competition keeps quality high and prices low. I particularly like Lasenta Boutique, but there are hundreds to choose from: you can use this Agoda link to browse them all. In Đà Nẵng, accommodation is more high-rise than the boutique style of Hội An. Dozens of big hotels line the beachfront and riverfront: you can search them all on this page. Huế has some great accommodation in the city but also among the surrounding countryside and beaches. In the city, I love Villa Hue, a mid-range hotel run by a hospitality school. On the edges of the city, near the royal tombs, Pilgrimage Village is a beautiful, tasteful boutique resort. On the beach at nearby Thuận An, Villa Louise is a cool beach boutique. And Vedana Lagoon Resort has a fabulous position on the shores of Đầm Cầu Hải Lagoon. But there are loads more good options in all price ranges that you can browse on this Agoda page.
Prao, A Luoi, Lang Co: Beyond the main cities, there are local guesthouses (nhà nghỉ in Vietnamese), mini-hotels and occasional homestays. In the mountains on the Ho Chi Minh Road there are very few places to stay. The small villages of Prao and A Lưới represent the best options to overnight, both with a handful of guesthouses offering simple but comfortable and clean lodgings. Most travellers will have to spend at least one night at either Prao or A Lưới because the distances are too far to ride in one day. In Prao, several guesthouses line the main street. Dũng Thùy is a good option for a night (around 250,000vnd), but others are a similar standard and price. A Lưới also has guesthouses on the main street, including Đô Thành Hotel with sparse but clean rooms (around 250,000vnd). Paco Tua Homestay has recently opened, offering decent rooms, but it's overpriced. Along the coast, Lăng Cô has lots of cheap mini-hotels along the highway – I like Ngọc Hằng for clean rooms. Or you can trying camping on Cảnh Dương beach.
---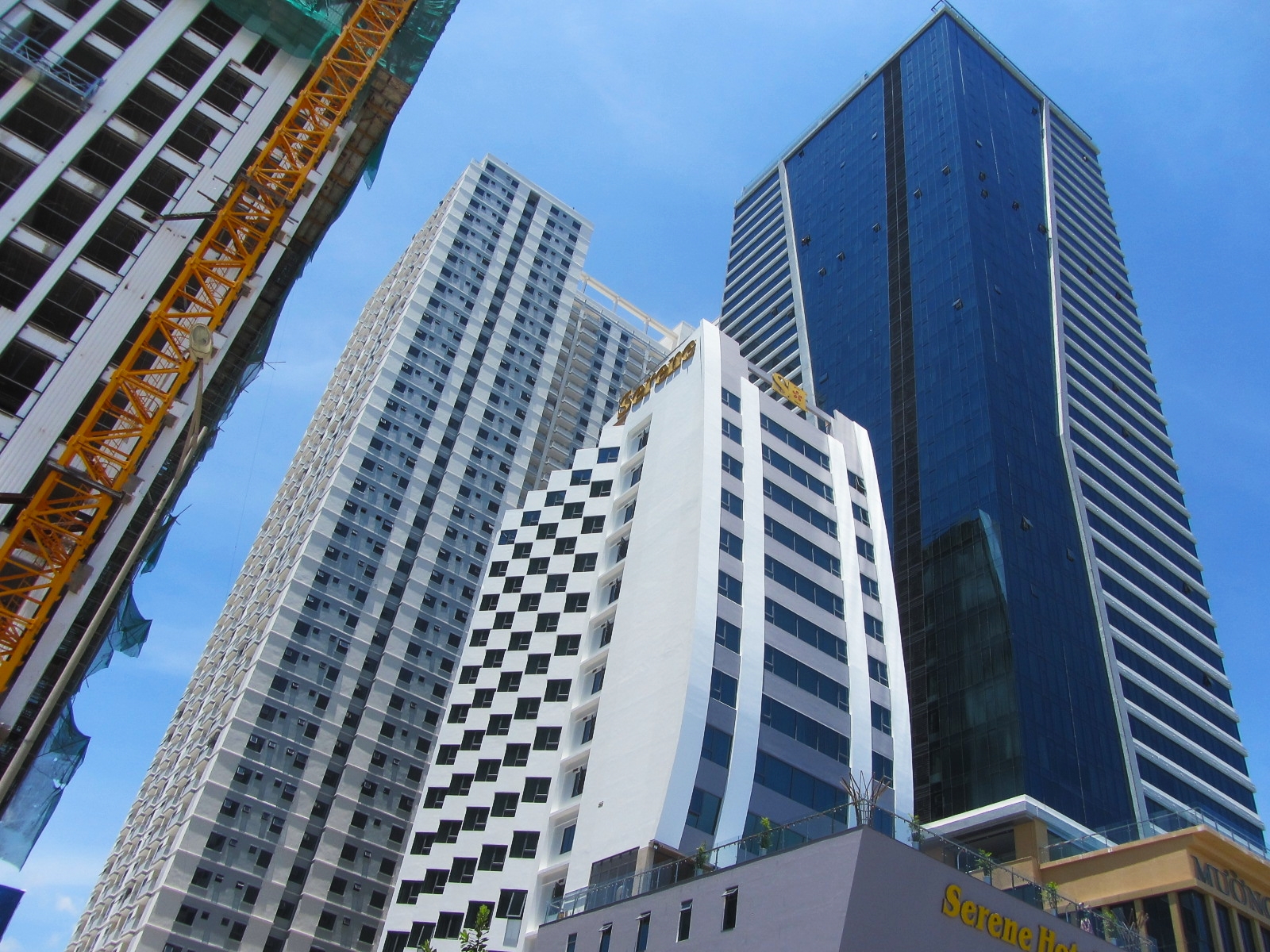 ---
---
Food & Drink:
Along the coast and in the major cities on the Golden Loop, the seafood is excellent and the street food scene is lively. But, in the mountains, dining options are more limited. However, this being Vietnam, you're never far from a great meal. Cafes can be found throughout this route, so too can local beer. In the cities, there are sophisticated bars and hip coffee shops; in the country there are rice wine watering holes and local cafes:
Seafood: Look for signs saying 'quán hải sản' (seafood restaurant) whenever you're on the coast and feeling hungry. Vietnam's seafood dining culture is informal, fresh and delicious. On the Golden Loop, try stopping at Lăng Cô for a seafood lunch or dinner. There are good local seafood shacks along the beach on the east side of the highway: try Biển Ngọc. And, on the west side of the highway, fronting the enormous lagoon where they farm oysters, try the floating seafood restaurants that jut out over the serene water. For something even more local, head to the seafood shacks along Cảnh Dương beach.
Street Food: Hội An and Huế have some of the best street-side cuisine in Vietnam. The former is famous for mì quảng and cao lầu noodles, both of which you'll find at street food vendors throughout Hội An. Huế's cuisine is famous for its variety and flavours. Eating in Huế should be a highlight of any visit. Get to know the best dishes and where to eat them with this Hue Food Guide. Even in the small villages on the Ho Chi Minh Road, such as Prao and A Lưới, there are street-side eateries serving rice and noodles (cơm phở) at mealtimes. When on the road, look out for signs saying 'quán cơm phở' (rice and noodle eatery).
Drinking & Cafes: Vietnam has a rich cafe culture. No matter where you are in the nation, there will be coffee shops. Obviously, the main cities on the Golden Loop have a huge range of cafes – from hip roasteries to local hole-in-the-walls. Even the small villages on the Ho Chi Minh Road have a selection of coffee shops serving both Vietnamese-style and Italian-style coffee. When it comes to alcohol, the big cities have bars, cocktail lounges, pubs, craft beer breweries et al. But, in the countryside, the drink of choice is rượu (rice liquor), often served with meals. And, of course, cheap local lager is available everywhere. For a treat, head to the rooftop Horizon Bar in Đà Nẵng. In Huế, get to know the drinking culture with this guide to Nightlife in Huế.
---
---
---
*Disclosure: I never receive payment for anything I write: my content is always free and independent. I've written this guide because I want to: I like this route and I want my readers to know about them. For more details, see my Disclosure & Disclaimer statements and my About Page
RELATED POSTS
---