First published June 2019 | Words and photos by Vietnam Coracle
Thanks to several big engineering projects over the years, and the economic and tourism boom of Hoi An, Danang and Hue, there are now four different, highly scenic routes to take between these three great cities in Central Vietnam. Because it's nearly impossible to choose between each route, I'd recommend taking at least two of them, thus creating a loop (or, even better, take all four of them and turn it into a figure of '8'). Whether it's a one-day, one-way road trip, or a week-long, full-on exploration of all the routes in this guide, riding between Hoi An, Danang and Hue is hugely rewarding, relatively easy to navigate, and a joy to ride. The topography between Danang and Hue is characterized by an east-west spur of the Truong Son Mountain Range. Branching off from its north-south course along almost the entire length of the country, this mountainous spur drives a wedge between Danang and Hue, creating a dramatic barrier, both physical and climatic. As the spur ploughs eastward, it looms over the gentle farmland and river valleys of the coastal plains, before plunging to the sea. Within a relatively small area, the landscapes are incredibly diverse and very beautiful: from towering, mist-shrouded peaks cloaked in thick jungle, to serene, pretty fishing villages sprawled along sandbars spreading into the East Sea.
[Back Top]
---
GUIDE:

HOI AN

→

DANANG

→

HUE

BY

MOTORBIKE
---
This guide is a short introduction to four different routes between Hoi An, Danang and Hue. All four routes can be ridden in either direction, and any of them can easily be stitched together to form a loop or a figure of '8'. Thus, you can create a round-trip between Hoi An, Danang and Hue without having to backtrack on the same roads. I've named each of the four routes, written a brief description of each one, and plotted them all on my colour-coded map. Weather conditions during the months November through February can be quite bleak. Therefore, try to ride these routes between March and October. As mentioned, you could spend as little as one day or as long as one week riding these routes. On my map, I've marked some places of interest along the way, and all of the places marked with a red pin have at least some form of accommodation. (For more ideas about how to extend any of these four routes, take a look at the Related Posts.)
Click an item below for more details:
CONTENTS:
MAP

:
Hoi An→Danang→Hue:
Coast 135km | River 125km | Mountains 270km | Tunnel 95km

View in a LARGER MAP

---
ROUTE 1: The Coast
• Blue line [MAP]:
Route: the classic Hai Van Pass 'Top Gear' route

Distance:

135km (Danang→Hue)

Time:

3-5 hours

Scenery: ocean vistas, the Hai Van Pass, forests, lakes, fishing scenes
Road Conditions: good surface, few rough patches, light traffic


---
Description: This route uses the Hai Van Pass (known to many as "one of the best coast roads in the world", thanks to Jeremy Clarkson's words in the 2008 BBC Top Gear Vietnam episode) to bridge the mountainous spur separating Danang and Hue. The pass is spectacular and the views are excellent. But this is only part of a much longer, scenic, coastal route, which continues after the pass on several quiet, paved, pretty back-roads through farmland and fishing villages, along coastlines, lake shores and lagoons. After the multiple twists and turns of the lofty Hai Van Pass, the route descends to Lang Co Beach and immediately turns off onto a back-road skirting Lap An Lagoon, then crossing the highway out to Chan May bay, before briefly joining Highway QL1A and quickly turning off onto yet more back-roads, this time leading around Cau Hai Lagoon. From here, the route cuts through agricultural landscapes dotted with wading buffalo and conical-hatted farmers, and mile upon mile of traditional cemeteries in the Hue imperial style. Finally, at Thuan An beach, the route heads south to the centre of Hue. (For full details on this route see my Hai Van Pass Guide.) [MAP]
Images of the Coast Route:
---
---
---
---
---
---
ROUTE 2: The River
• Orange line [MAP]:
Route: the new, 'middle' route, leading behind Bach Ma National Park

Distance:

125km (Danang→Hue)

Time:

2-3 hours

Scenery: green valleys, clear rivers, jungle, mountains, crop fields
Road Conditions: brand new surface, smooth, light traffic*


---
*IMPORTANT NOTE: There's speculation that this brand new road may ban two-wheel traffic in the future. As of June 2019, motorbikes & bicycles are allowed, but check before you go.
Description: Recently completed, this new route is both scenic and fast. By taking a westerly course, going inland behind Bach Ma National Park, the new road bypasses both the Hai Van Pass and the Hai Van Tunnel. Smooth, wide, and newly surfaced, this route follows the Cu De River valley, before going under the mountains of Bach Ma National Park (by way of the Mui Trau Tunnel), and out the other side through crops and tree plantations, then dropping down to the coastal plains and joining Highway 1 for a brief stint into Hue. This route is so new that, at the time of writing (June 2019), much of the central section wasn't yet shown on Google Maps (I've drawn it on my map as best I can). This brand new 'middle way' – between the mountains of the Ho Chi Minh Road to the west and the coastline of the Hai Van Pass to the east – has opened up a whole new swathe of countryside. At the time of writing, the entry ramp for the new road (at this junction with Highway QL1A) was unfinished, but motorbikes could easily skirt up the short dirt ramp instead. [MAP]
Images of the River Route:
---
---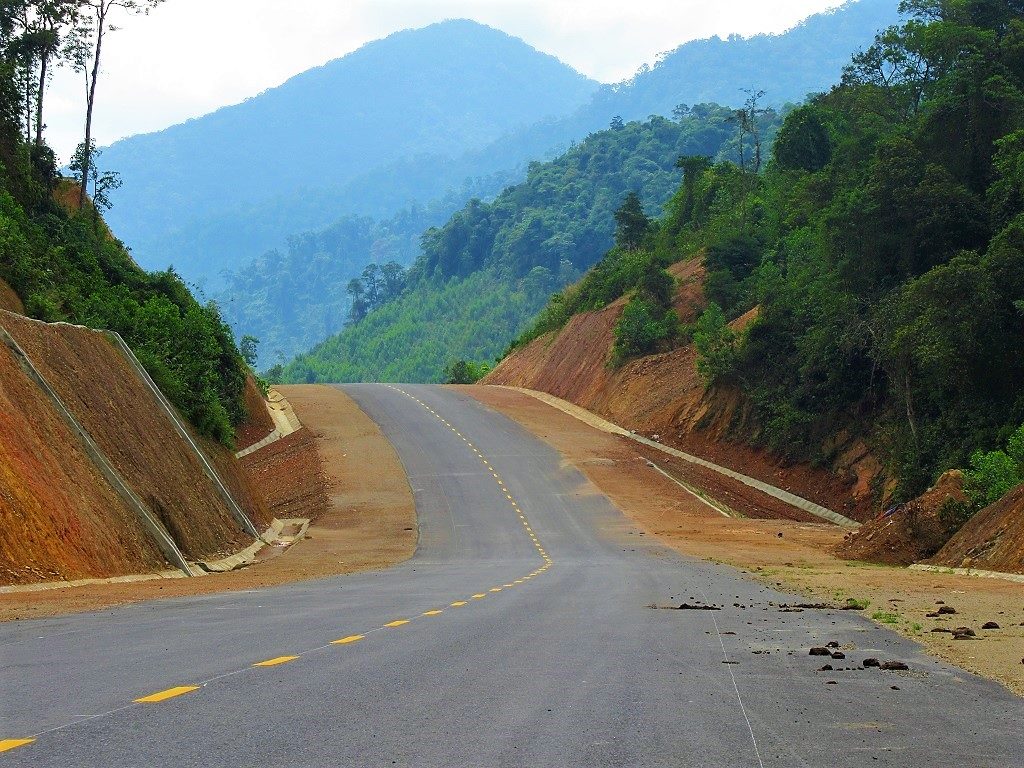 ---
---
---
ROUTE 3: The Mountains
• Red line [MAP]:
Route: the spectacular, off-the-beaten-path route via the Ho Chi Minh Road

Distance:

270km (Danang→Hue)

Time:

1-2 days

Scenery: big mountains, rainforest, valleys, minority villages
Road Conditions: good, paved surface, some concrete slab sections, light traffic


---
Description: The longest, most scenic, and most deserted of all the routes between Hoi An, Danang and Hue, the Ho Chi Minh Road is a spectacular, mountainous ride through some of the best scenery, and on some of the best roads, Vietnam has to offer. From the pretty, coastal plains and the agricultural valleys at the foothills of the Truong Son Mountain Range, to the thick, steamy jungles and soaring peaks along the Lao border, this route is bound to leave you gawping by the roadside, staring in disbelief at what you're seeing. What's more, for some unfathomable reason, hardly anyone else is there to see it. It's best to ride this route over two days (or even three), breaking the journey in Prao for a night. You could potentially ride it all in one day, but you'd have to start very early, ride many hours, and have plenty of riding stamina to do so. Road conditions are generally good, even though the terrain is exceptionally mountainous. Heading west of Hoi An or Danang, there are a couple of different route options: The southerly route skirts a picturesque river valley along road QL14B before joining the Ho Chi Minh Road (QL14) at Thanh My; the northerly route follows road QL14G around the back of Ba Na Hills all the way up to the Ho Chi Minh Road at Prao, thus cutting out the section of the Ho Chi Minh Road between Thanh My and Prao. Both are excellent routes, so which you decide to take will be based on how much time you have. Either way, as you head west of Hoi An and Danang the gentle valleys quickly morph into wild nature and lofty heights as you approach the Ho Chi Minh Road. The section between Thanh My, Prao, and A Luoi offers superb riding and scenery, and you're likely to have the road practically all to yourself. In short, this is the rider's route, the nature lover's route, the epic route: this is the route you shouldn't miss. (For more details about this route, see section 4 of my Ho Chi Minh Road Guide.) [MAP]
Images of the Mountains Route:
---
---
---
---
---
---
ROUTE 4: The Tunnel
• Brown line [MAP]:
Route: the direct route on Highway QL1A via the Hai Van Tunnel

Distance:

95km (Danang→Hue)

Time:

2-3 hours

Scenery: mountains, coastal plains, highways
Road Conditions: good surface, fairly heavy traffic


---
Description: By far the shortest but least interesting and most traffic-filled of all the possible routes between Danang and Hue, riding Highway QL1A is easy, straightforward and quick. The main feature on this route is the 6.3km-long Hai Van Tunnel, the longest in Southeast Asia. Completed in 2005, the tunnel was an essential engineering project to reduce travel time and traffic between Danang and Hue, all of which previously had to crawl over the Hai Van Pass. At only 95km, Highway QL1A is the fastest link between the two major cities on the central coast. With a journey time of just a couple of hours, this direct route is convenient but not especially scenic. There's still a bit of eye candy (especially between Lang Co Beach and Cau Hai Lagoon), but compared with the other route options in this guide, it's nothing remarkable. Highway QL1A is the route that most trucks, buses, private cars, and business vehicles take: anyone whose main purpose is simply getting from A to B as quick as possible, and for whom the journey isn't the goal. For motorbikers this route does have a major inconvenience: two-wheeled vehicles (as well as petrol tankers) aren't allowed through the Hai Van Tunnel. However, there is a regular shuttle truck which takes motorbikes and bicycles through the tunnel for a fee of around 30,000vnd (just over $1). The shuttle operates throughout the day (and, on a reduced schedule, at night) and is apparently very efficient, but I've never taken it myself, so I can't vouch for it. One more thing to note is that the tunnel closes daily for 30 minutes between 1.15-1.45pm for maintenance. [MAP]
Images of the Tunnel Route:
---
---
---
---
---
Disclosure: I never receive payment for anything I write: my content is always free and independent. I've written this guide because I want to: I like these routes and I want my readers to know about them. For more details, see my Disclosure & Disclaimer statements here
[Back Top]
RELATED POSTS

:
---