First published September 2023 | Words and photos by Vietnam Coracle
---
An annual spectacle of colour and beauty, the rice terraces of northern Vietnam shimmer and shine during the ripening and harvest months from July-October. An agricultural practice dating back two thousand years and possibly originating along the Vietnam-China border, rice terraces are one of most iconic and memorable sights in the country. Although rice is grown throughout Vietnam, when it comes to the practice of terracing – carving multiple tiers of cascading steps into the sides of deep valleys or following the contours of steep mountainsides – nowhere compares with the northern regions. Several areas boast particularly dense concentrations of rice terraces, all of which can be visited independently. The scenery is mesmerizing and the photo opportunities are limitless.
---
Please Support Vietnam Coracle
Make a donation or become a patron if you enjoy this website. Vietnam Coracle is totally free & independent. I never receive payment for anything I write.
Thank you, Tom
[Back Top]
---
RICE TERRACES

OF

NORTHERN VIETNAM
---
6 Regions to View the Rice Terraces
I've highlighted six regions of northern Vietnam which offer good rice terrace viewing. The boundaries of the six regions marked on my map are only loosely defined, but go to any of these areas and travel around and you're guaranteed to see some sublime rice terraces. Some areas are well-known and can be crowded during the 'luminous window' from September-October; but other areas are more remote and far less-visited. Time of year is important if you want to see the rice terraces at their most colourful: green during ripening (July-August); yellow during harvest (September-October). However, even in the fallow months the terraces are an arresting sight. A motorbike is the best way to travel in the rice terrace regions, but cycling and hiking are also great. I've marked villages and towns on my map where travellers can find good accommodation, ranging from homestays to luxury retreats. (See Related Guides for more content covering these areas.)
CONTENTS:
1. Xín Mần-Hoàng Su Phi-Tả Phìn Hồ
---
---
MAP

:
6 Rice Terrace Regions in Northern Vietnam
---
Xín Mần–Hoàng Su Phi–Tả Phìn Hồ:
[View Map]
Spreading along the northern border with China, this region is remote and rugged, featuring steep valleys, high peaks and isolated villages. Rice terraces adorn many of the mountainsides and valleys, particularly south of Xín Mần and southeast of Hoàng Su Phi. Whether shrouded in mist or basking in sunshine, the scenery is draw-dropping. Travelling in this region is slow: partly because of negotiating the twisting, narrow mountain passes, and partly because of stopping multiple times to stand and admire the views. There are mini-hotels and guest houses in the towns, but much more atmospheric accommodation lies scattered across the landscape in the form of homestays and eco-retreats, such as Pan Hou. The best way to experience the rice terraces is by staying in one of these rural accommodations and taking walks around the countryside, or by riding a motorbike through the region on the Borders & Back-Roads route.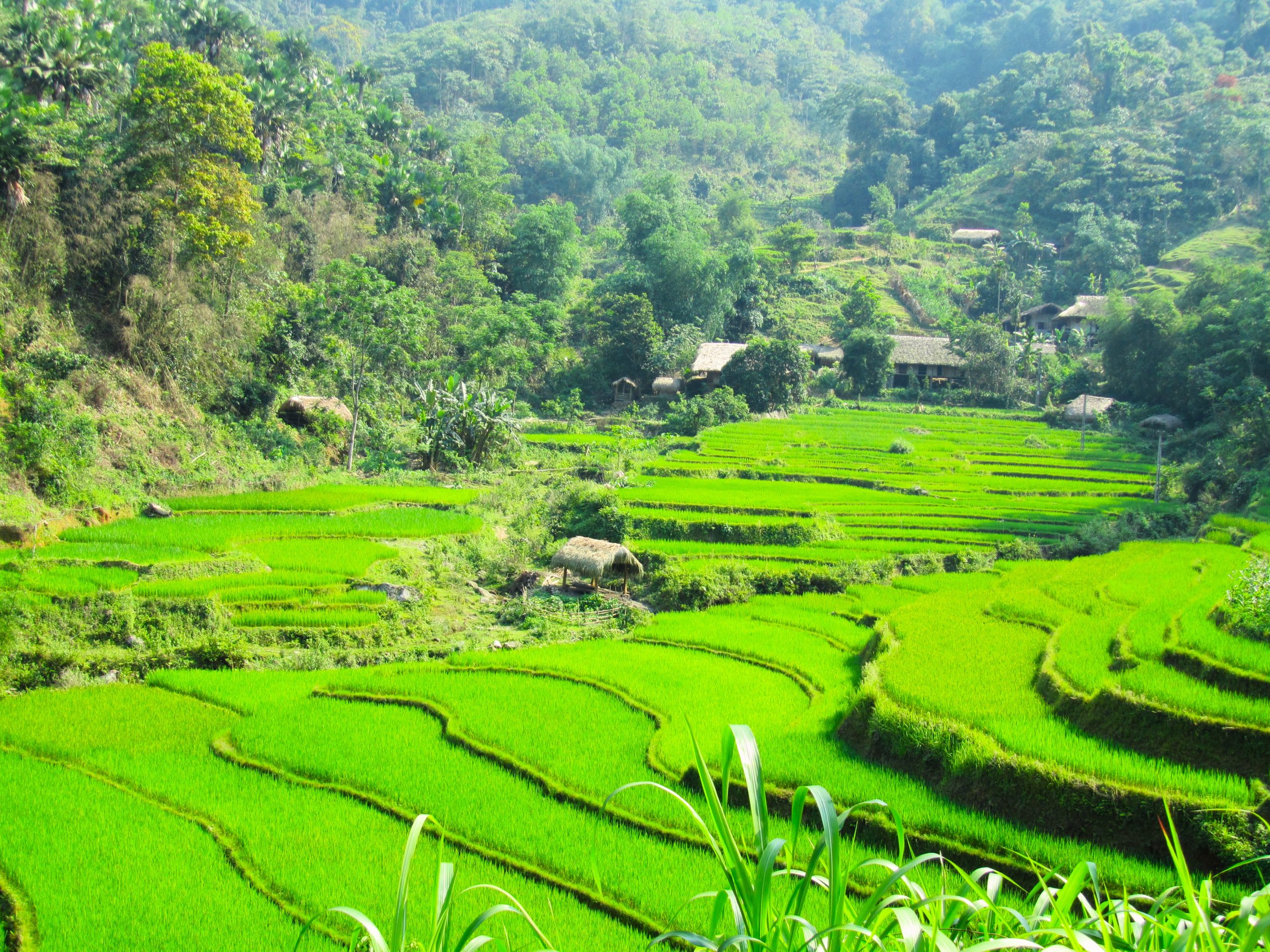 ---
---
---
---
Mù Cang Chải–Tú Lệ–Yên Bái:
[View Map]
By far the most famous of Vietnam's rice terrace regions, Mù Cang Chải is a photographer's paradise. The deep, narrow valley between the villages of Mù Cang Chải and Tú Lệ are carved with thousands of terraces gracefully following the contours of the landscape. This spectacular scene is at its best on chilly early mornings when the light is low and crisp, illuminating every blade of rice, and the dew sparkles in the fields as a mist lingers above the fast-flowing river. Ride, drive, walk or cycle between the two villages and you'll find new photo opportunities with each bend in the road. At times, the terraces form little step-pyramids, and other times they swirl and flow with calligraphic grace around the hillsides. There are lots of wonderfully atmospheric homestays and eco-lodges between Mù Cang Chải and Tú Lệ. The only drawback is that during harvest time (September-October) crowds of photographers descend on Mù Cang Chải. If you have your own wheels, it's easy to escape the crowds by taking any of the small backroads heading deeper into the landscape.
---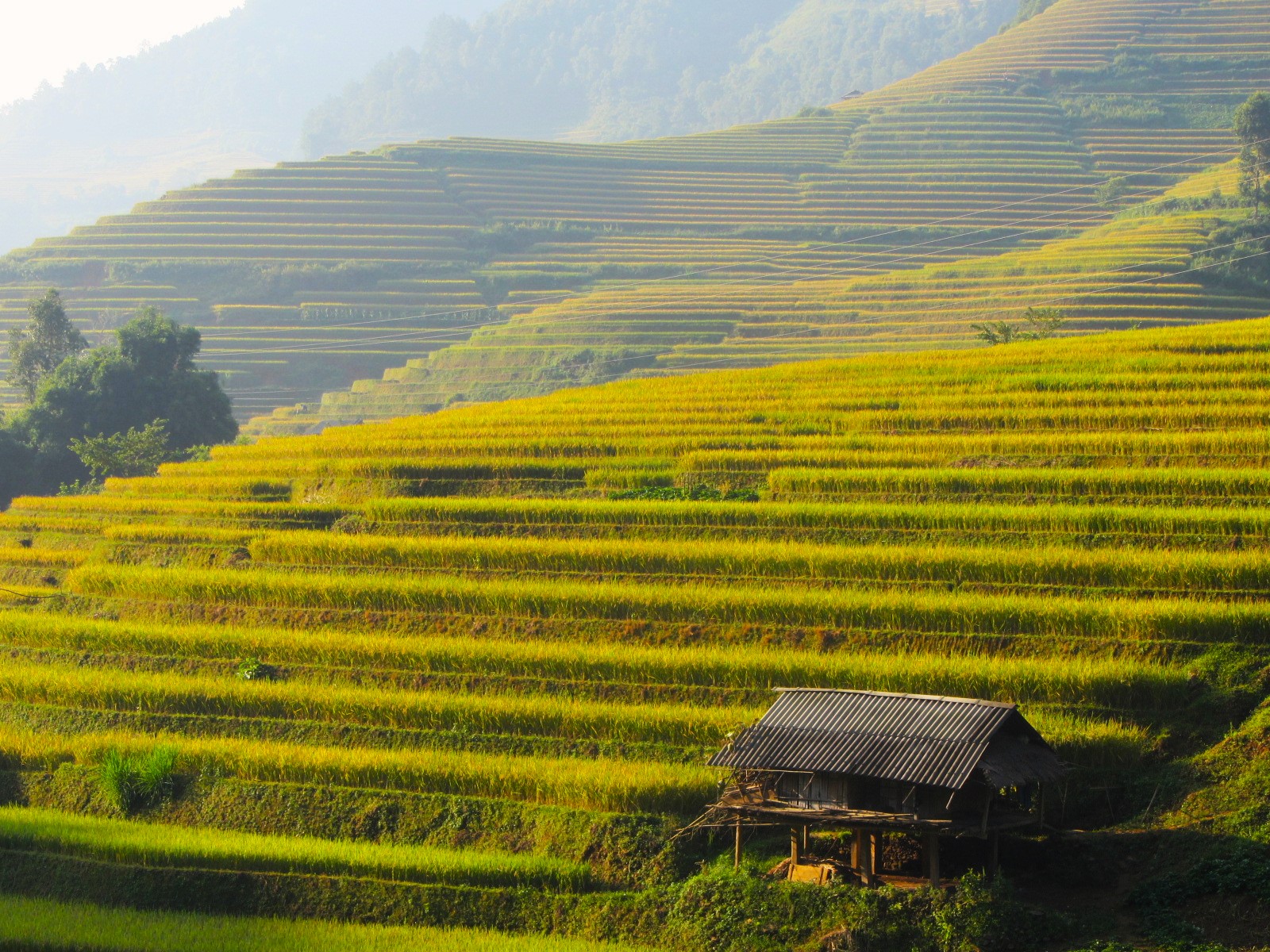 ---
---
---
Sìn Hồ–Lai Châu–Sapa–Y Tý:
[View Map]
In the northwestern highlands, where Vietnam's tallest peaks breach the clouds, the landscape between the towns of Sìn Hồ, Lai Châu, Sapa and Y Tý is monumental. Rice doesn't grow on the barren, rocky high slopes, but at mid-level, between the towering mountains and plunging valleys, pockets of rice terraces cascade over undulating terrain. When shafts of light catch these fields nestled beneath 10,000ft peaks, it produces a scene of Tolkienian grandeur. Various hikes can be undertaken from Sapa or explore the region's incredible mountain roads by motorbike on the Sin Ho Loop or Y Ty Loop. Homestays and local guesthouses can be found in all the towns and villages, but Sapa and its environs boast the greatest range and quality of accommodation.
---
---
---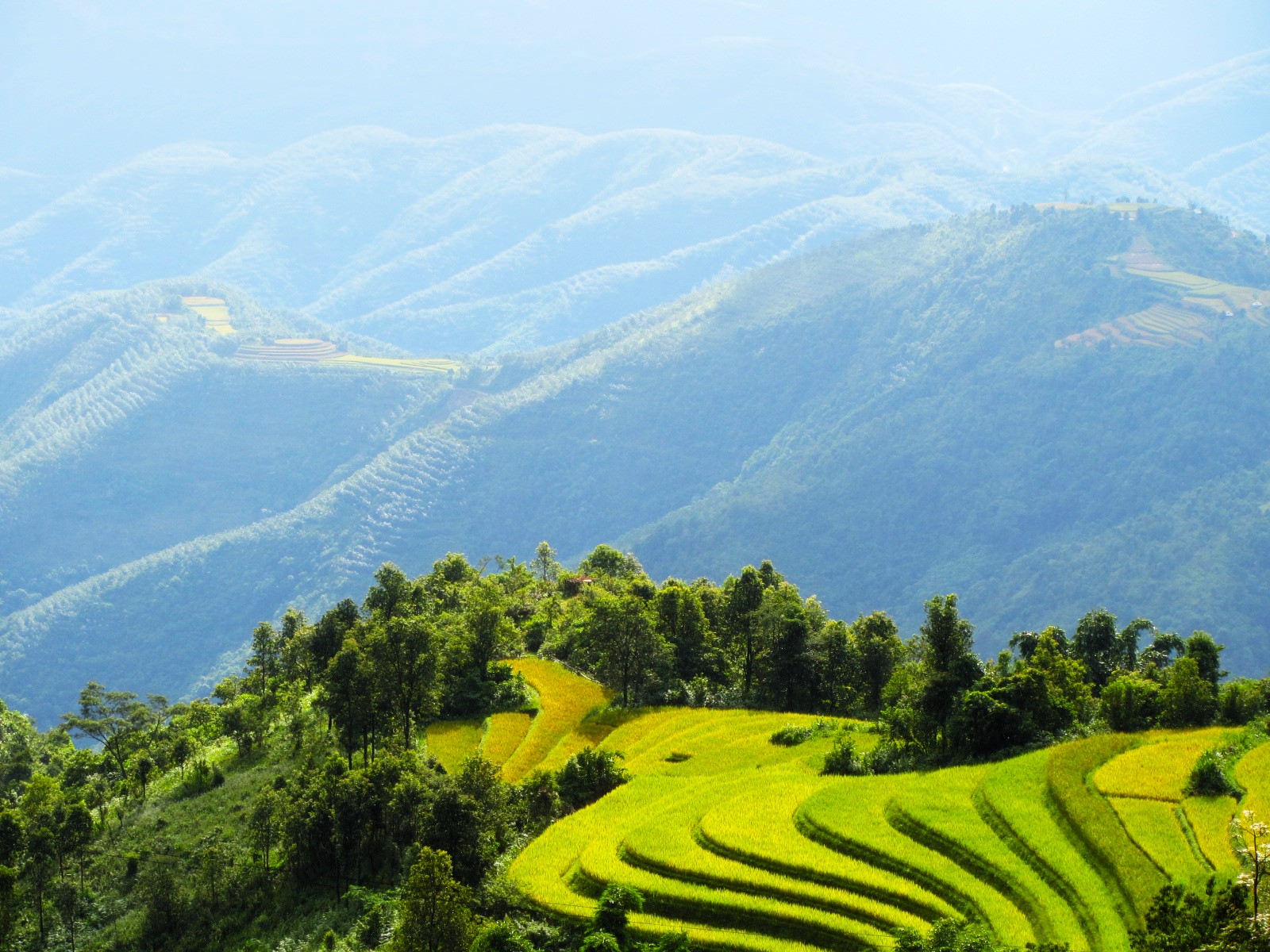 ---
Mai Châu–Pù Luông–Hòa Bình:
[View Map]
Just southwest of Hanoi, this region is relatively easy to reach from the capital and packs a lot of natural beauty into a small area. Mai Châu consists of several minority hamlets set among a luminous agricultural plain of rice paddies beneath large limestone pinnacles. However, it is the nearby nature reserve of Pù Luông that steals the show with its dramatic valleys of terraced rice fields cascading down the high slopes creating a patterned landscape that, on sunny days, is so mesmerizing it's difficult to draw your gaze from it. What's more, both Mai Châu and Pù Luông boast some of the most atmospheric homestays in Vietnam. From luxury boutique to dirt-cheap, the hillsides are dotted with great accommodation from which to admire the views. Hiking from your homestay is a good way to experience the landscape, but so too is a motorbike ride around the region, following the Limestone Loop.
---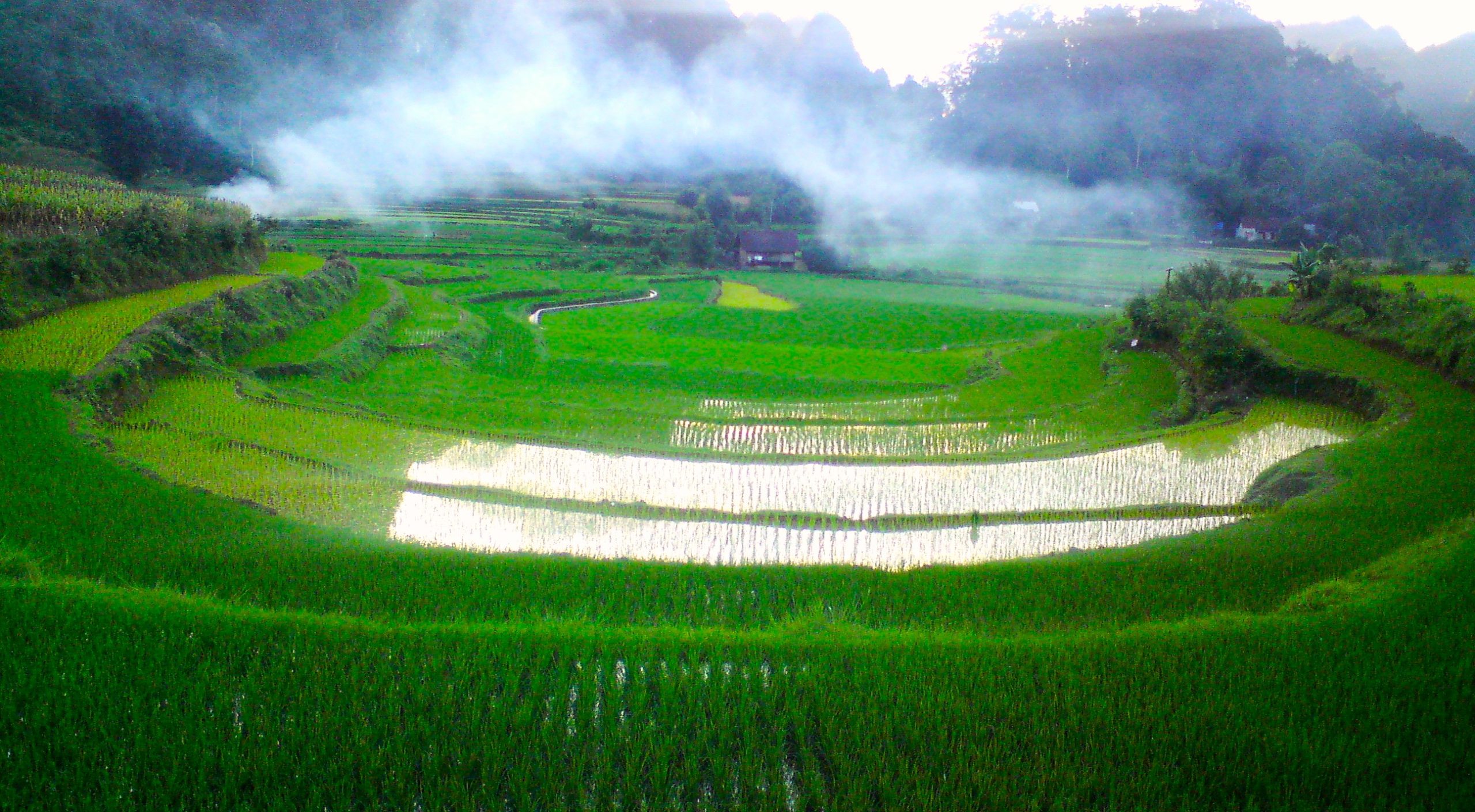 ---
---
---
Bắc Kạn–Cao Bằng–Ba Bể:
[View Map]
Vietnam's northeastern mountains offer some of the most sparsely populated, densely jungled and spine-tinglingly beautiful landscape in the nation. The triangle between Bắc Kạn, Ba Bể and Cao Bằng is a wonderful region to explore for nature lovers. Although the rice terraces are not as numerous as in other famous regions, such as Mù Cang Chải, the little pockets of paddies folded in the big, wooded landscape are highly scenic. Although there's good accommodation at each corner of the triangle, by far the best way to see and photograph the rice terraces in the northeast is by motorbike on any of the Northeast Routes & Loops.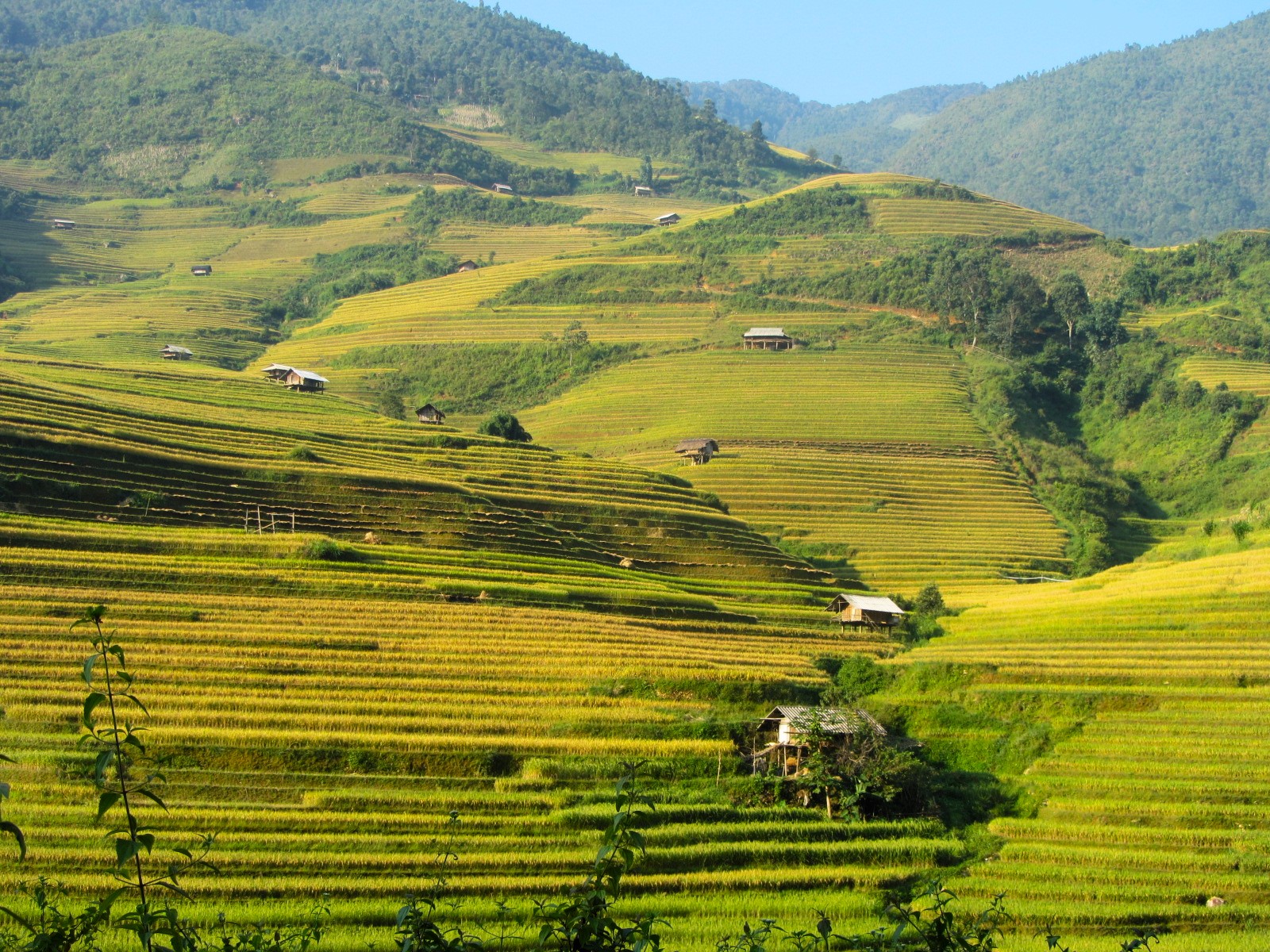 ---
---
---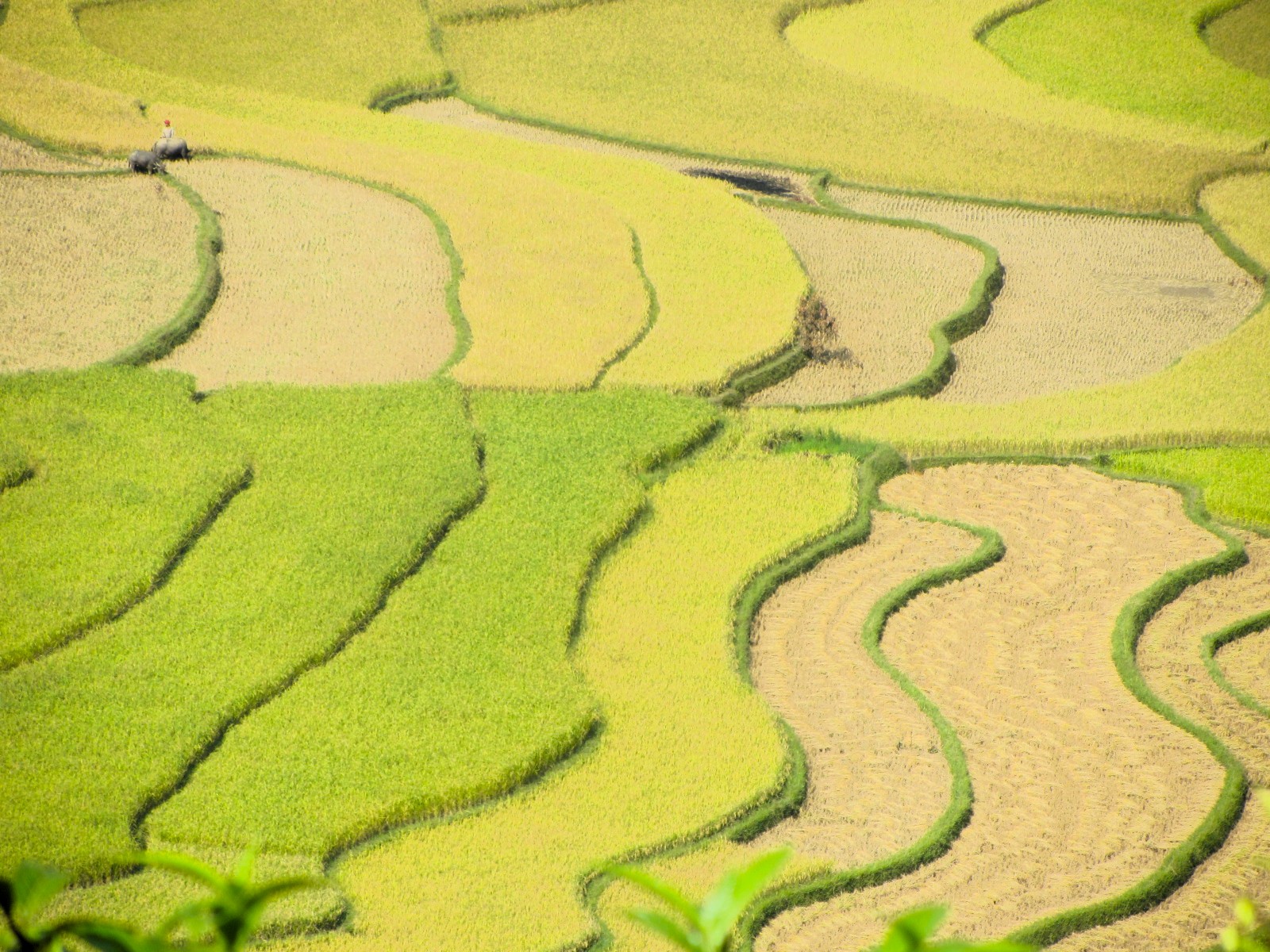 ---
Du Gìa–Mèo Vạc–Bảo Lạc:
[View Map]
The far north of Vietnam is dominated by Hà Giang Province, already legendary among travellers. However, the landscape in the very far north is too rocky and barren to be suitable for rice cultivation. But in the southern reaches of Hà Giang, especially along the Gâm River valley between Du Gìa, Mèo Vạc and Bảo Lạc, the slopes are gentler and the soil is rich and good for rice. Some rice terraces cling to the mountainsides on sharp slopes, others spread over mini-plateaus above the river. There's good homestay accommodation at Du Gìa, Mèo Vạc and Bảo Lạc, which all make for convenient overnight stops as you explore the region on the unmissable Hà Giang Extreme North Loop.
---
---
---
---
*Disclosure: My content is always free and independent. I've written this guide because I want to: I like the northern rice terraces and I want my readers to know about them. For more details, see the Disclosure & Disclaimer statements and my About Page
RELATED POSTS
---