Last updated November 2023 | Words and photos by Vietnam Coracle
---
Vietnam's largest island and one of the country's most popular coastal destinations, Phú Quốc has dozens of excellent beaches. This guide covers all 21 beaches on Phú Quốc Island, including tips for accommodation, food and drink, and things to see and do on each one of them. Phú Quốc has all kinds of beaches: from rustic, empty and undeveloped to sophisticated, modern and resort-studded; from budget backpacker enclaves to secluded, luxurious private bays. Don't listen to the naysayers: Phú Quốc is not ruined. There is something for everyone on this island. It's all about managing your expectations and finding the right beach and the right accommodation to suit your particular needs: that's what this guide is for. I've spent many, many months exploring Phú Quốc Island and I love it. Yes, trash can sometimes be a problem, but this is a much more nuanced and complex issue than most foreign visitors have time to appreciate.
---
Support My Website
Please donate or become a patron if you enjoy my work. Vietnam Coracle is totally free & independent. I do not receive payment for anything I write.
Thank you, Tom
[Back Top]
---
21

BEACHES

ON

PHU QUOC

ISLAND
---
Finding Your Perfect Beach on Vietnam's Largest Island
The following beaches are listed in order of my own personal preference. (Note that this guide does not include the small islands off the southern tip of Phú Quốc.) I've written a description of each beach, plotted them on my map, illustrated them with photos, and included my tips for places to stay with links to check rates and make bookings. I've listed accommodation in three price categories: ($)=budget, ($$)=mid-range, ($$$)=high-end. The best time to visit is from November to April or during the shoulder months (October and May) when prices are lower, availability is higher and tourist numbers are fewer. As well as my map, try to get a copy of the annually updated free tourist map of the island, available at most hotels, cafes, bars and restaurants. (Remember there's much more to Phú Quốc than beaches: check out my other Phú Quốc Island guides in Related Posts.) Click a beach below for details and photos:
CONTENTS:
[View Map]
---
---
MAP

:
Phú Quốc Island Beach Map
---
1. Ông Lang Beach:
[View Map]
Location: central north-west coast
See & Do: sandy & rocky beaches, low-key vibe, lots of good accommodation, drinking & dining, temples & plantations
Description: Peaceful, calm, low-key and low-rise, Ông Lang is a series of connected mini-bays, coves and beaches just 15 minutes north of Dương Đông, the island's main town. Taking everything into consideration – natural beauty, range and quality of accommodation, drinking and dining options, proximity to conveniences and transportation, the balance of development and the natural environment – Ông Lang is the best overall beach for travellers on Phú Quốc Island. Rather than a long, unbroken beach, Ông Lang is a mixture of soft sand punctuated by slabs of black rock and small jungle-clad bluffs that meet the clear, calm, vivid-blue sea. Being on the west coast, Ông Lang boasts some of the best sunset views on the island. The beach is backed by coconut palms, casuarina trees and tropical fruit orchards along most of its length. Inland, between the beach and the main road, a leafy network of paved lanes and dirt alleyways was, before the pandemic, a thriving tourist enclave of boutique stores, organic-produce shops, hipster cafes, smooth bars and Western restaurants. Today, many of the businesses have closed, but there are signs of a return to the vibrancy of the pre-pandemic period.
Unlike other popular beaches on the island, most of the development on Ông Lang has been low-rise and relatively low-impact. Despite being one of the best-known and popular beaches on Phú Quốc, Ông Lang has somehow managed to retain a low-key atmosphere and it remains an extremely attractive place to stay for a few days on the island. Whether you're a family, a couple, or a group of backpackers, Ông Lang Beach has got you covered. The general level of accommodation across all budgets is excellent. Luxury and mid-range resorts are along the beachfront, while most of the cheaper options are inland, just a few minutes' walk from the sea. Mango Bay is quite simply one of the most atmospheric resorts in Vietnam, but Camia, Ancarine, Coco Palm, Ocean Bay, Chen Sea and The Shells are also very nice indeed. Excellent budget options include Island Lodge, Ninila Fruit Farm, and Coco Garden.
Photos of Ông Lang Beach:
---
---
---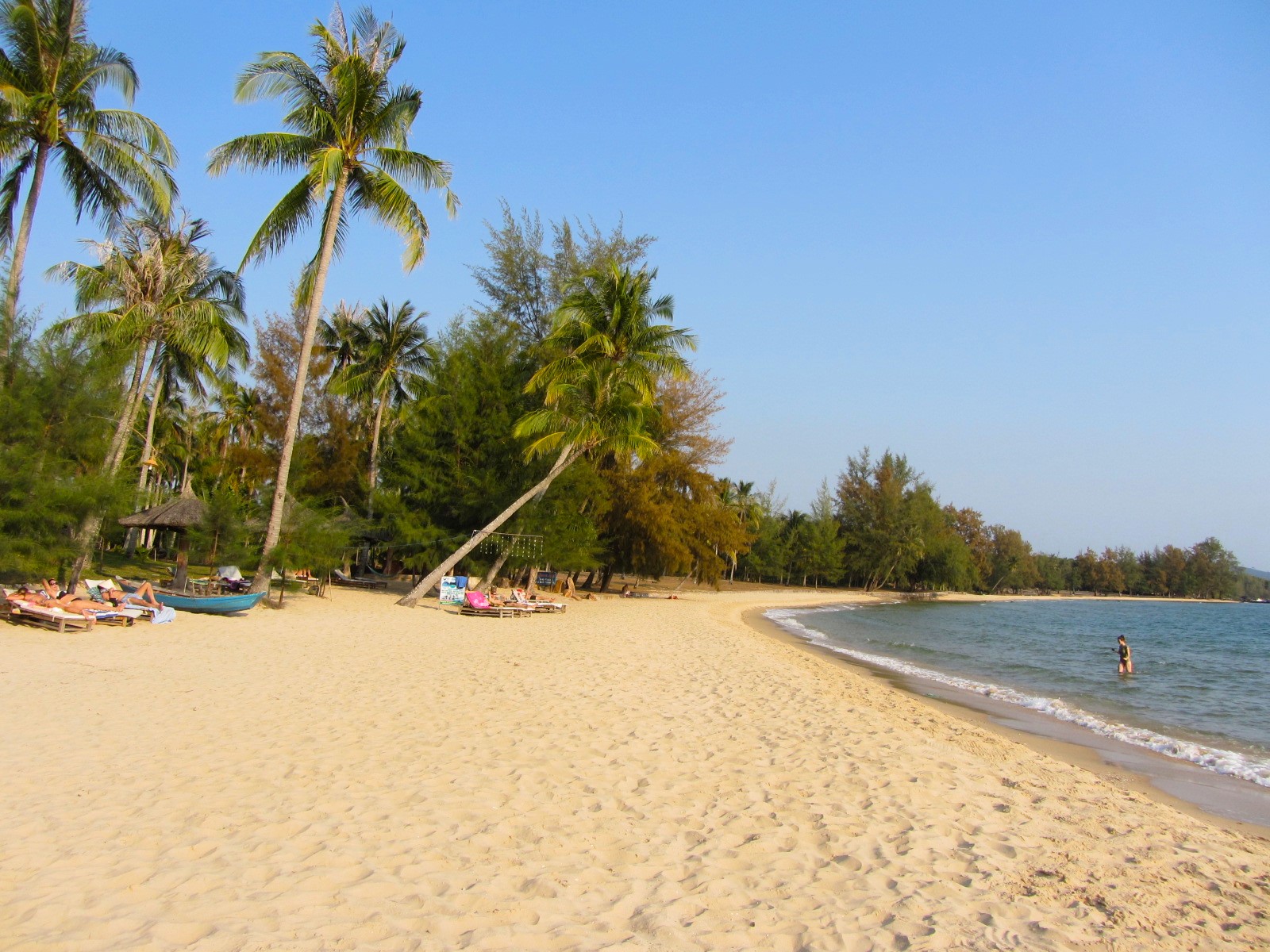 ---
2. Rạch Tràm Beach:
[View Map]
See & Do: long, empty, beautiful beach, swimming, camping, remote fishing community
Description: Right at the northern tip of the island, Rạch Tràm is by far the most remote and least-visited of all the beaches and bays on Phú Quốc Island, and yet it is also one of the most beautiful. Completely undeveloped, Rạch Tràm features kilometres of fine white sand beneath arcing coconut palms lining a calm, clear, turquoise sea. Rạch Tràm fishing hamlet, at the southern end, is a scruffy-looking collection of corrugated-iron dwellings and wooden fishing boats. While there's some trash from the village in the sea and on the sand, the further north you go along Rạch Tràm, the cleaner it gets. The 10km branch road to the beach is now wide and paved, making access easier than ever before. At the end of the road, bear right along a hundred meters of dirt track, then left down a sandy path until you reach the sea. From here, head north along the sands and enjoy the completely empty beach and wonderful sea swimming. There are plans to make the area into an 'eco-tourism' site, but for now there's no accommodation whatsoever. If you have a tent, camp out on the sands for a memorable night. Behind the beach, densely jungled hills rise into the sky where birds of prey circle; and in the distance, the silhouettes of the Cambodian mainland and islands are clearly visible.
Photos of Rạch Tràm Beach:
---
---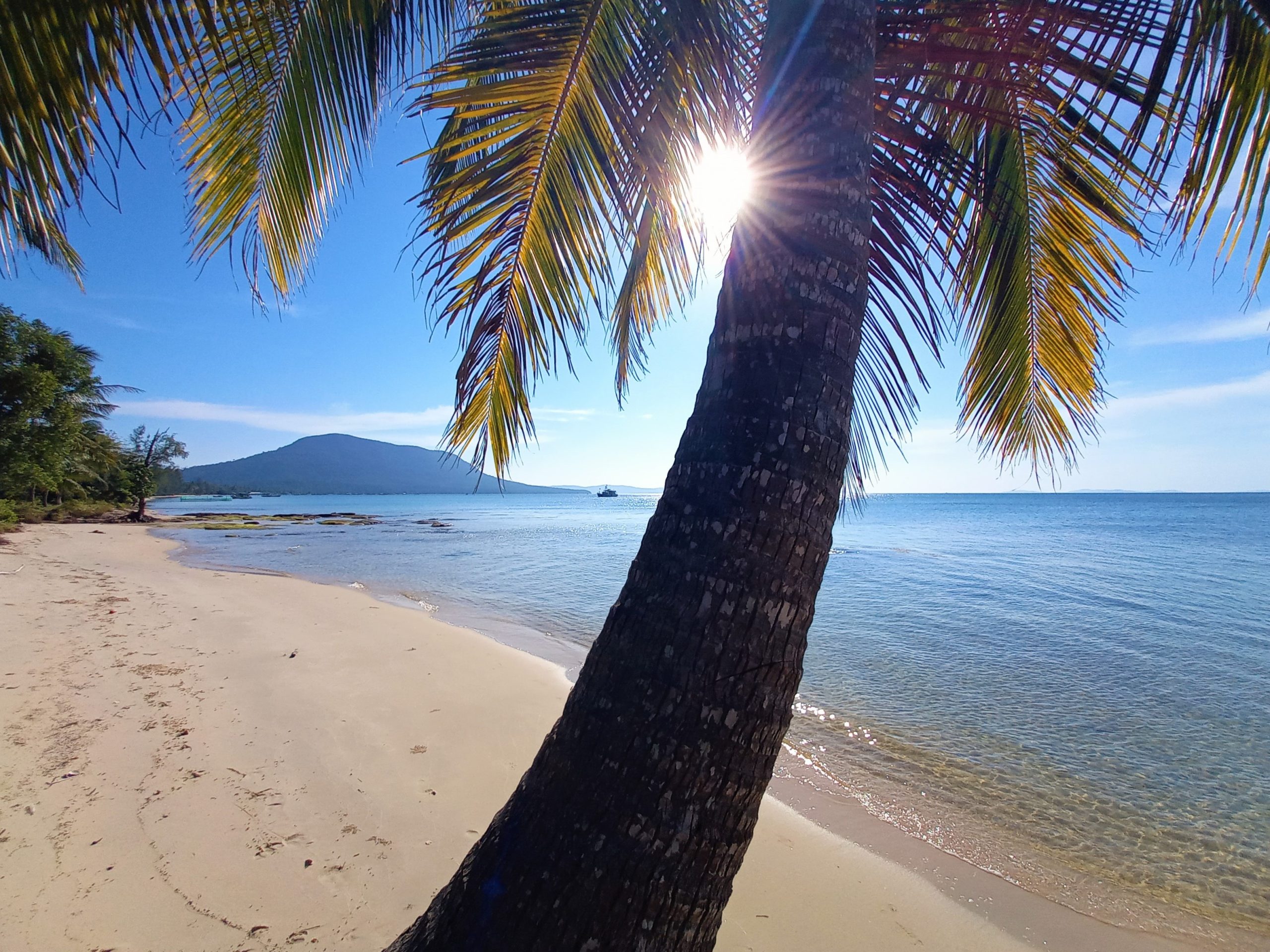 ---
---
3. Gành Dầu Beach:
[View Map]
Location: north-west coast
See & Do: wonderful coastal vistas, watersports, good accommodation, fishing village, street food, seafood restaurants, local life
Description: On the remote northwestern tip of the island, Gành Dầu is a fascinating little corner of Phú Quốc. Gành Dầu is a rocky, jungle-clad cape within just a few of kilometres of Cambodia, whose forested islands and rugged mainland can be seen across the glistening sea. Gành Dầu is a bustling fishing village with an active and interesting market, a harbour full of wooden boats, an ornate temple, and lots of street food and local life. Either side of the village there are short, sandy beaches and coves which are very pretty and good for swimming. The western beach is close to the village and lined with some good seafood restaurants, such as Biên Hải Quán, a couple of great beachside bars with sea views (check out Chill Bistro and 40six Beach Haus, which are perfect for cocktails and a swim as the sun sets behind the Cambodian islands), and a waterfront raised wooden walkway leading along the rocks to the south.
But, the best way to experience Gành Dầu is to take the paved lane east of the village, through the market and out to a collection of good, small, beach resorts. Here, coconut palms grow tall over spits of white sand, and the sea is calm and blue. By far the best place to stay (and eat and drink and swim) is Gold Coast with it's lovely little beach, wooden house restaurant by the sea, and great cocktails served on a pier with sunset views. If you're looking for something cheaper, Kim 2 is a good option. There's also a range of watersports available at Gió Biển.
Photos of Gành Dầu Beach:
---
---
---
---
4. Hàm Rồng (Dragon) Beach:
[View Map]
See & Do: beautiful beach only accessible by boat, excellent swimming, beach camping, watersports
Description: Only accessible by boat, Hàm Rồng (Dragon) Beach is a long, narrow lip of white sand sliding into shallow, turquoise water backed by dense jungle with dramatic hills rising behind. The location is beautiful. There's no development here apart from some wooden platforms for daytrip picnics and group camping, and a boat house for watersports equipment and a small homestay hut. The stunning 10-minute boat ride can be arranged from any of the seafood restaurants on neighbouring Rạch Vẹm (Starfish) Beach, just to the south. With some negotiating, you should be able to get the price down to a reasonable 100,000vnd per person for a group of at least four people. Dragon Beach has two rickety wooden piers at either end, but the boat can drop you anywhere you like along the sand. The northern end is popular with day-trippers and it looks like there's going to be some small development here, so if you want a peaceful, quiet and isolated patch of sand, stick to the southern end. Out in the distance, you can see the jungle-covered hills of Gành Dầu, the northwestern-most point of Phú Quốc, beyond which the Cambodian islands and mainland are clearly visible. There's currently no accommodation on Dragon Beach, but this may change soon. However, wild camping on the beach is a magical experience if you have your own equipment.
Photos of Hàm Rồng (Dragon) Beach: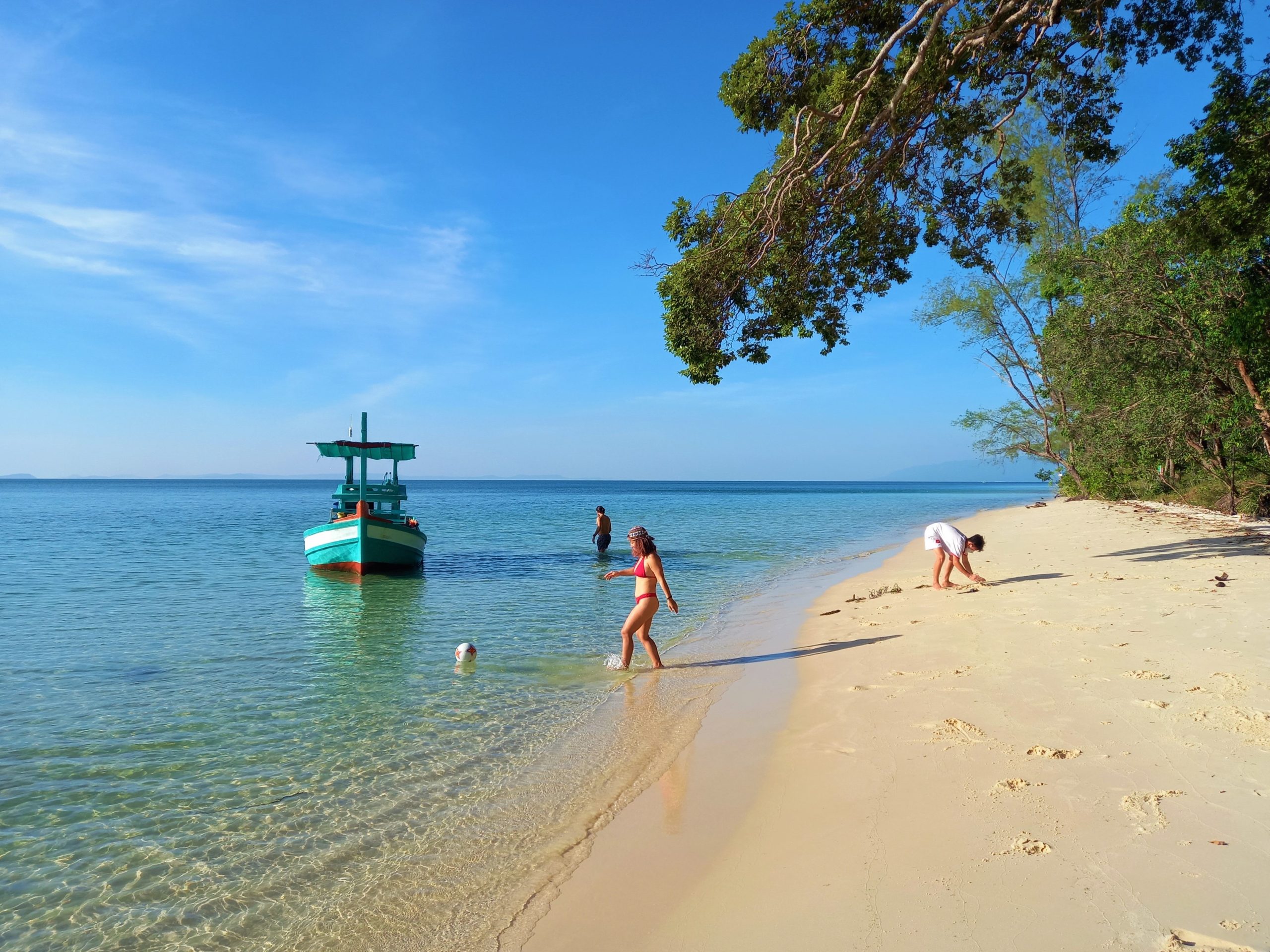 ---
---
---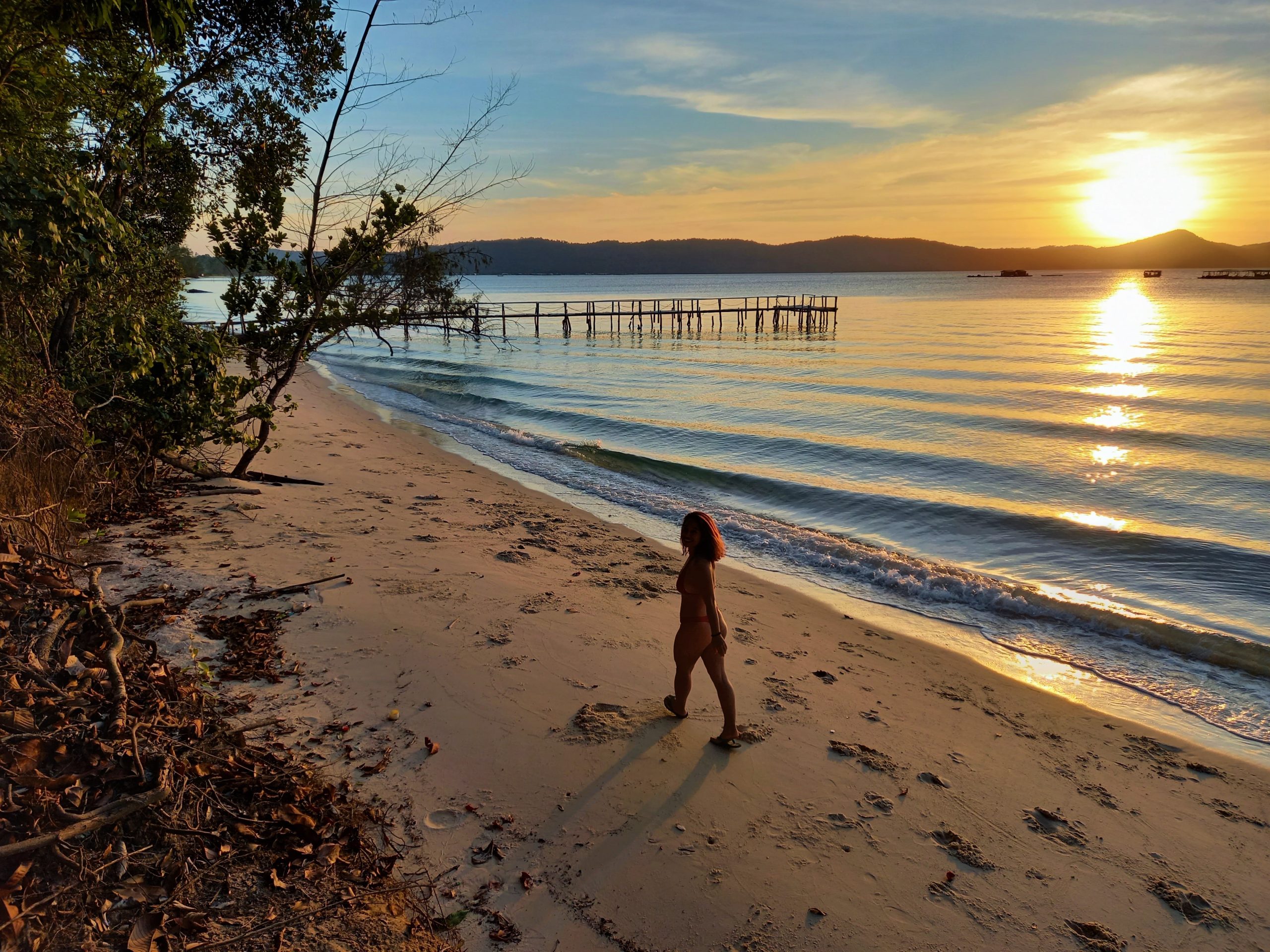 ---
5. Vũng Bầu Beach:
[View Map]
Location: north-west coast
See & Do: long, beautiful beach, quiet, green, modest development, great swimming
Description: One of the most attractive bays on the island, Vũng Bầu is a long, arcing stretch of sand on the north-west coast. Development has been very slow and most of the beach is still empty. There are a handful of mostly low-key resorts at the northern end, but the south remains untouched. However, much of the central and southern section are roped off to visitors and there are rumors that Vingroup has acquired the land, which usually heralds the beginning of gigantic resort construction and the destruction of all trees. But, for now, travellers can enjoy the lovely sands and sea of the northern bay, particularly at Bamboo Cottages, Gold Sand, and Wild Beach, which are all quiet, small, low-rise mid-range properties. The classy Nam Nghi Resort, which occupies the beautiful northern cape, was under renovation at the time of research, but promises to reopen with a new 'island bar' on the little islet just offshore. Access to Vũng Bầu is easiest from the north via the paved road to Nam Nghi and then the dirt road to the small resorts. It's also possible to take the dirt road from the south, past Green Bay Resort, and through the jungle to a small section of beach right at the southern end. The centre of the bay is off limits.
Photos of Vũng Bầu Beach:
---
---
---
---
6. Cửa Cạn Beach:
[View Map]
Location: north-west coast
See & Do: long, local beach, fishing village, temples, riverside restaurants, good accommodation, watersports, low-key vibe
Description: Mellow, slow-paced and yet to be developed, Cửa Cạn is a small settlement in the north-west of the island, situated at the point where a clear-flowing river empties into the sea. As it drains into the Gulf of Thailand, the river creates a long sandbar lined with casuarina trees, with the sea on one side and the river on the other. The village is a bit run-down, but it's a friendly place with some street food and several tiny alleyways leading onto the beach. It's a lovely spot under the casuarina trees with Dinh Bà Thủy Long temple facing the ocean. The sea is good for swimming, but the beach suffers from trash: it functions as an informal dump for the village. There are two excellent resorts at the northern end of Cửa Cạn Beach: Green Bay and Chez Carole. Much cheaper but still very atmospheric accommodation can be found just back from the beach, overlooking a lagoon formed by the river: Eco Lodge and Eco Lagoon. There's also a good local seafood restaurant here, called Huỳnh Bình. To the south of the river mouth, although not technically Cửa Cạn Beach, the Mộ Bà Lê Kim Định shrine is an OK place to swim and the enormous, very well-equipped and well-run (if a bit characterless) Movenpick Waverly Resort has a great stretch of beach too.
Photos of Cửa Cạn Beach:
---
---
---
---
7. Rạch Vẹm (Starfish) Beach:
[View Map]
See & Do: good beach & bathing, snorkeling with starfish, excellent floating seafood restaurants
Description: Reached via a sandy lane, which itself is off a long red-dirt road traversing the densely forested northern coast, Rạch Vẹm (better known as 'Starfish Beach') is remote, and this has so far kept development away. Over the last few years, Rạch Vẹm has become a popular day/lunch trip (especially for domestic tourists) due to its abundance of floating fish farms (which double as excellent seafood restaurants) and the hundreds of red starfish that live in the shallow water here. It's a very beautiful location: the sand is backed by coconut palms and the water is blue and clear. The southern section is scruffy and suffers from litter, but the further north you go, the cleaner and more beautiful it gets. As everywhere else on the island, resort development is on its way, but as yet there's no large-scale tourist development at all. At present, there's nowhere to stay on Starfish Beach, although camping is possible if you have your own equipment or you can ask to rent one of the many hammocks on the sand for a night. Don't miss a seafood lunch or dinner at one of the many waterside restaurants, particularly Nguồn Sống and Ngàn Sao Biển. In the high-season months, inflatable slides float offshore for children (and adults) to enjoy.
Photos of Rạch Vẹm (Starfish) Beach:
---
---
---
---
8. Cây Sao Beach:
[View Map]
See & Do: serene coastline, very green & dramatic scenery, up-and-coming beach area, good accommodation, beach bars, seafood restaurants
Description: Only in the last few years, since the east coast road was paved, have visitors started to flock to the alluring coastline of Cây Sao. This long, enchanting section of the east coast is one of the most up-and-coming beaches on the island right now. In large part this is due to the laid-back vibe, quiet setting and beautiful natural surrounds of Cây Sao. But it's also because Rory's Beach Bar relocated here from the west coast several years ago, suddenly shining a light of this part of Phú Quốc and giving travellers a reason to visit. Rory's is a popular long-running island establishment and the new location is an oasis of trees, pools, rocky coves, wooden decks, treehouses, bungalows and, of course, the bar and restaurant itself. To the north and south of Rory's several very good small resorts dot the rocky coastline, including The Pier, Kiki Coconut, and Cây Sao Beach Resort, among others. These are all great places to soak up the tranquil atmosphere and paddle in the shallow waters of the east coast. Though it may lack the long sandy beaches of other parts of the island, Cây Sao has a charm and isolation that's more and more appealing to me with each passing year, especially as construction, crowds, and the general paraphernalia of mass tourism continue to take over much of the rest of the island.
Photos of Cây Sao Beach:
---
---
---
---
9. Trường (Long) Beach:
[View Map]
Location: central & south-west coast
See & Do: long stretch of sand, good swimming, loads of accommodation, bars, restaurants, partying, shopping, watersports, selfie-parks
Where to Stay: Thanh Kiều ($$), Lahana ($$), Cassia Cottage ($$), 9Station Hostel ($), Freebeach ($), Salinda ($$$), Dusit Princess ($$$), SOL ($$$), InterContinental ($$$), Sailing Club ($$$), Regent ($$$)
Description: Aptly named, Long Beach (Bãi Trường) stretches for almost 20km along the southwestern coast of Phú Quốc. Beginning just south of Dương Đông town and stretching almost as far as An Thới on the southern-most tip of the island, the beach's yellow sand is backed by rows of coconut palms, and the sea is placid and clean for much of the year (November-May). Long Beach is by far the most developed on the island, boasting hundreds of places to stay, drink, dine and shop for all budgets. However, this also means that it is the most densely populated beach on the island, and the central and southern sections are the scene of some of the most intense and large-scale development on Phú Quốc. Long Beach can be roughly divided into three sections: the north (from Dương Đông down to the airport), the centre (from the airport to the Intercontinental), and the south (down to the cape near Đất Đỏ Beach):
The northern section of Long Beach is the original Phú Quốc tourist strip. This is where the majority of visitors to the island stay, in one of the many good budget, mid-range, and high-end accommodations available. In general, the mid- and high-end resorts are on the beach side of the road, while the budget guest houses, hostels, restaurants and bars are on the other side. These days, the road is pretty busy and unpleasant. But, head down any of the smaller lanes to the seaside resorts, and the beautiful, palm-studded beach reminds you why all this development is here in the first place. However, it's getting pretty cluttered along the beach, and noise pollution can be an issue at night. But, providing you're staying in good, beachside accommodation, the northern section of Long Beach is still a very satisfying place to spend a few days on the sand. I love the lush, calm oasis of Thanh Kiều right on the beach or the beautifully judged Lahana Resort which is on a hillside away from the beach and is also home to one of the best backpacker digs, 9Sation Hostel. Salinda is a solid luxury option. The northern section is also the drinking and partying capital of the island: check out Bittersweet, OCSEN and Chuồn Chuồn for a start.
The central section of Long Beach begins south of the International Airport, where huge chunks of beachfront are portioned off to different international resort developers: Pullman, Novotel, Hyatt, Intercontinental etc., each have giant slabs of land featuring huge resorts, many of which are still under construction. This area is generally referred to as Dương Tơ. If you're not staying at one of the large resorts, you can still enjoy the beach here by visiting places like Sunset Sanato Beach Club where there are creative sculptures by the sea designed for selfies, or the Sailing Club for good food and drink, or INK 360 rooftop bar at the InterContinental for extraordinary views.
The southern section of Long Beach stretches beyond the Intercontinental, where yet more enormous resort developments are underway. But, even further south, construction dissipates a bit, leaving the old red dirt road to plough its course along the serene coast all the way to Mũi Xếp Cape. Here, there are still a couple of deserted stretches of beach to bathe in the calm, clear sea. Unfortunately, trash and construction debris are a problem.
Photos of Trường (Long) Beach:
---
---
---
---
10. Thơm Beach:
[View Map]
Location: north-east coast
See & Do: exploring a large, empty coastline, beach-hunting, seafood restaurants, camping opportunities, small islet, local hamlets
Description: Thơm Beach has a stark beauty. Silent, still, hot, sparsely populated and filled with the scent of cashew fruit and the sound of midday cicadas, there's something beguiling about this remote northeastern coast of Phú Quốc Island. The sandy, pebbly, rocky beaches are mostly hidden from view – reached via dirt tracks off the main road – and the water is very shallow and tidal. At the northern section of Thơm Beach is a fishing hamlet consisting of just a few local shops, a couple of seafood restaurants, fishermen's houses and a school. Local Beach is a good place for a drink or a quiet night by the sea. South of the village is the central section of Thơm Beach, characterized by charming, tranquil stretches of sand beneath tall tropical trees, many of them with informal local seafood restaurants, such as Hương Biển Quán. The southern section of Thơm Beach stretches from the tiny green islet of Hòn Một all the way down to Đá Chồng port. Hòn Một islet is worth visiting by crossing the rickety wooden bridge, and there are good beachside restaurants near here too. Phu Quoc Camping and Bãi Thơm Retreat is a lovely location for a meal and a swim or a night under the stars. Overall, Thơm Beach is a quiet, undeveloped coast perfect to exploration, but sometimes litter can be an issue.
Photos of Thơm Beach:
---
---
---
---
11. Sao (Star) Beach:
[View Map]
Location: south-east coast
See & Do: good white-sand beach, seafood restaurants, watersports, cafes, beach bars
Description: Sao Beach, with its leaning coconut palms, snow-white sand and distinctive butane-blue water, is one of the most popular and striking beaches on the island. Once touted (optimistically) as the 'Best Beach in Vietnam', Sao is still a very attractive stretch of sand to walk along and swim. By far the most beautiful part of the beach is at the northern end, where the excellent Paradiso Restaurant & Bar has a wonderful breezy terrace beneath tall palms and loungers on the sand. But, sadly, for the rest of the beach, the writing has been on the wall for several years, and there are many reasons for this. Its increasing popularity has led to haphazard, temporary construction of small resorts, bars, cafés and restaurants; trash has built up – squeezed into the narrow freshwater creeks that feed onto the beach and into the sea; and jet skis fill the water with gasoline, break the silence and pollute the air. Today, I personally find Sao Beach quite a sad place and a sad sight. Even though the dirt road to the beach has finally been paved and people still flock to Sao by the thousands each day, it's a shadow of its former self. And it's no surprise that massive resort development – which was always inevitable and surely part of the reason why the temporary structures were of such low quality – is now on the way. It's going to take a lot of work to reinvigorate Sao Beach for the future. (There's another beach just to the south of Sao, called Bãi Giữa, hidden down a paved lane, which is worth a visit, although trash is a problem.)
There are a couple of places to stay right on Sao Beach, including My Lan which offers simple, clean but soulless rooms. Better accommodation is found inland on the road leading to the beach, such as DAD Resort and Xuân Hiền, which are both good, small, modern resorts with swimming pools.
Photos of Sao Beach:
---
---
---
---
12. Bãi Bổn Beach:
[View Map]
Location: north-east coast
See & Do: quiet, serene, green area, scenic drive, local hamlet, remote port, beach-hunting opportunities
Description: Bãi Bổn is the name of a small, sleepy hamlet on the lovely East Coast Road. North of the hamlet all the way to Đá Chồng port is a long stretch of coast with hardly any development on it whatsoever. The sea can be reached via narrow sandy lanes leading through tropical foliage to the beach. The water is very shallow and, although there are some sections of sand, much of the coastline is pebbly. Take your time and explore until you find a good spot. There's something calm, serene and charming about the coast here, especially with the sea breeze rustling the palms, eucalyptus and mango trees, the silhouettes of the Cambodian mainland on the horizon, and the thick jungles of Phú Quốc National Park in the background. So far, there are only a couple of places to stay, the best of which is Hideaway Beach Glamping, with safari-style tents on a shady beach. A short detour to Đá Chồng port is worthwhile to see the eerie passenger terminal for the ferry to Cambodia, which has long since ceased to operate, and the small fishing fleet. In Bãi Bổn hamlet you'll find a couple of stores and street food vendors, but there's nothing much else around: this is one of the most tranquil parts of the entire island.
Photos of Bãi Bổn Beach:
---
---
---
---
13. Khem & Ông Đội Beach:
[View Map]
Location: south-east coast
See & Do: scenic drive, massive luxury resort complexes, seafood restaurants, good beach
Description: At some time, in between restricted access due to military control and the development of the absurd luxury resort JW Marriott Emerald Bay, there was a brief period – probably less than a year – when the snow-white sands of Khem Beach were accessible to the public. But that time has pretty much gone now. The central and southern portions of the bay are taken up entirely by luxury resorts and residences, although it is still possible for non-guests to drink and dine at some of the beachfront restaurants and bars. All this leaves only a tiny slither of beach at the northern end for public access, where there's a decent local seafood restaurant on the sand. Otherwise, there's very little reason to visit Khem Beach. However, branching south of the beach, a paved lane leads along a steep and jungled hillside by the sea, all the way to Ông Đội Cape. It's a beautiful little ride but dead-ends at the entrance to the upscale property Premier Village. This luxurious resort consists of white villas built on stilts over the rocky bay and sandy coves of the entire cape. It's a luxurious and secluded place to stay, especially with a group, if you can afford it. Just west of Ông Đội Cape is Cây Dừa Beach, which looks enticing but is off limits due to a naval base.
Photos of Khem & Ông Đội Beach:
---
---
---
---
14. Đất Đỏ Beach:
[View Map]
Location: south-west coast
See & Do: excellent beachside local seafood restaurants, fish sauce factory, fishing scenes, decent beach
Description: Accessed via a bumpy dirt road from the south or the north, Đất Đỏ Beach is a pretty bay bookended by two small headlands that frame an attractive stretch of sand and calm waters in the south-west of the island. The bay is nice enough (although the surroundings are quite scruffy) and there are a handful of very good local seafood restaurants (try Quán Ngọc Đông) right on the sand at the northern end of the beach. The swimming is pretty good if you want to work up an appetite before a seafood feast. But the beach's primary focus is the production of cá cơm khô – dried anchovies – which are laid out to dry in their hundreds of thousands on wooden trestles on the sloping beach to be used in the production of the island's famous fish sauce. It's quite a sight. There's no development on Đất Đỏ Beach yet: it is still a working beach, rather than a leisure beach. At the moment, there's no accommodation here, but there's lots of rooms to the south at the gigantic, hideous Sun Group resort-theme park-cable car monstrosity.
Photos of Đất Đỏ Beach:
---
---
---
---
15. Dài Beach:
[View Map]
Location: north-west coast
See & Do: good beach, waterpark, safari, aquarium, golf, casino, shopping malls, big resorts
Description: This long stretch of fine sand beach with turquoise water used to be one of my favourite beaches in Vietnam. Just a few of years ago, Dài Beach was completely undeveloped, save for a handful of seafood shacks dotted on the grass beneath the shade of large tropical trees. However, that changed dramatically when Vingroup moved in (as they always do) to build a mega-resort complex, including theme parks, aquariums, safaris, waterparks, casinos, golf courses, enormous hotels, and rows upon rows of luxurious faux-Roman villas. Collectively known as Vinpearl, this development now sprawls along the entirety of Dài Beach. To make way for this, thousands of old-growth tropical trees were cut down. Today, Dài Beach is a entertainment complex which many visitors enjoy, but it's not my thing. If you're staying at one of the many big hotels here, the swimming is still fine and the bay is still quite beautiful.
Photos of Dài Beach:
---
---
---
16. Dăm (Pagoda) Beach:
[View Map]
Location: south-east coast
See & Do: large & ornate pagoda complex, scenic drive, decent beach, wild honey farm, vegetarian restaurant
Where to Stay: small resorts
Description: Accessed via a scenic, concrete road curling along the south-east coast, Bãi Dăm is a wide, mostly rocky bay, where dense jungle meets the sea from the hills behind. I've given it the name 'Pagoda Bay' because of its most famous attraction, the recently completed Hộ Quốc Temple, with its colossal sculpture of Quan Âm (the Goddess of Mercy) presiding over the pagoda complex and looking out to sea. The pagoda itself is impressive, serene, and very attractive, with lots of shrines, long staircases and sculptures of deities from the Buddhist pantheon. Its position looks out over the bay, across the dark blue sea and down to Vịnh Đầm port, just to the south. Visit in the afternoon (about 4pm-5pm) for the low light and a beautiful cool, scented breeze off the forested hills. The Trúc Lâm vegetarian restaurant is fine for lunch. Beyond the pagoda, where the road ends, it's possible to find a couple of quiet, secluded spots for a waterside chill and a swim, although trash is a problem. At the southern end of the bay, near the main road, there's another little shrine called Miếu Hoàng Tử and a wild honey farm and shop. There's no accommodation on the bay itself, but there are a few decent small resorts at the beginning of the entrance road.
Photos of Dăm (Pagoda) Beach:
---
---
---
17. Dương Đông Beach:
[View Map]
See & Do: local market, night market, small beach, fishing fleet, seafood restaurants, street food, local life, temples
Description: Right in the middle of the west coast, Dương Đông is a sprawling, bustling town of the sort you'd expect to find on the mainland. A massive increase in population, fueled partly by the tourism boom and partly by domestic migrants arriving from other provinces as far afield as the north, Dương Đông is a busy, frenetic place, filled with street food (don't miss bún kèn and bún quậy, both are island specialities), beeping traffic and busy people. The main market is fascinating, as is the river which winds through town, its black waters clogged with fishing vessels and cargo barges. At its mouth is Dương Đông harbour, where a fleet of wooden tour boats lie at anchor and a slender new pier for cruise ships reaches out to sea. Riding a motorbike along the old airport runway is a lot of fun. There's a small beach to the south of Dinh Cậu temple, a shrine to the sea goddess atop a rocky outcrop at the harbour's entrance. Bathing here is quite nice but trash from the fishing fleet can be a problem. A sleek new hotel, Seashells, occupies a prime position overlooking the harbour and ocean. For much cheaper accommodation, there are dozens of local guest houses and mini-hotels in town, such as Nipola. Just north of the harbour are several small budget accommodations on the seafront, such as Chill House. The popular night market (chợ đêm) is a bit too touristy for my tastes, but it's a good place to sample some seafood. Also near the night market, is Phú Quốc's ornate Cao Đài temple.
Photos of Dương Đông Harbour:
---
---
---
---
18. An Thới & Xếp Beach:
[View Map]
Location: south-west coast
See & Do: local market, street food, bustling port, fishing village, lighthouse, cable car & gigantic Sungroup beach development
Description: A lively, busy little town at the southern tip of the island, An Thới is Phú Quốc's main fishing port. Away from its bustling main street lined with shops, markets and street food stalls, the harbour is an interesting place to explore. There's an entrance fee (10,000vnd) for the main terminal and pier, but you can get to the habourfront just next to it, where the smaller fishing boats are moored, for free. The fishing-related activity is interesting but the water is filthy. Boat tours to the An Thới Islands (just off Phú Quốc's southern tip) also depart from An Thới's main terminal. There are some good, cheap hotels in town, including Phung Hung Boutique which has a rooftop bar, and Hotel D'Anna.
Around the back of town (due west), Bãi Xếp is a sheltered bay reached by a series of narrow alleyways. It's home to a massive fleet of wooden fishing boats and quite a rough-looking fishing community, whose crumbling homes lie under the path of the Hòn Thơm cable car, the concrete pylons soaring into the sky and stretching into the distance out to sea. There's a sandy beach here which is good to look at, but it's a working beach and the water isn't particularly clean. Around the back of Bãi Xếp (due south) a lighthouse stands on a rocky rise with good views over town and towards the An Thới Islands. It can be accessed via a steep and narrow concrete path.
In fact, the best view of Bãi Xếp and An Thới is from above: seen through the windows of the cabins of the Hòn Thơm cable car. The cable car station is on a bluff just north of Bãi Xếp, accessed via a separate road. The scale of the project is astonishing – it's one of the longest oversea cable cars in the world. The concrete pylons are colossal columns that look like the legs of a Wellsian alien from 'War of the Worlds', traipsing across the sea from island to island. It's impressive, but also rather hideous, as is the entire Sungroup megadevelopment attached to the cable car. It's not my kind of thing, but it's fascinating for its sheer scale, if nothing else.
Photos of An Thới & Xếp Beach:
---
---
---
---
19. Hàm Ninh Beach:
[View Map]
Location: central east coast
See & Do: excellent local seafood restaurants, street food, markets, local life
Description: Once a thriving port, Hàm Ninh village is now best-known for its fresh seafood restaurants, which used to be clustered along a pier, until it collapsed into the sea. Now, the restaurants line the coast road due north of the village. Some of them are excellent, including Tình Biển which offers a range of fish, shellfish and crustaceans served on a wooden platform extending out over the ocean. The village itself is a small but lively fishing community on the central east coast. Hàm Ninh doesn't really have a beach. Rather, it's a cluster of concrete and corrugated-iron dwellings crowded around a small river mouth as it empties into the sea, where a collection of wooden fishing vessels lie at anchor in the murky waters. So, leave your swimwear at home and come with a good appetite for a seafood feast. Hàm Ninh also has a good local market with lots of street food stalls out front. It's busiest during the mornings and late afternoons.
Photos of Hàm Ninh Beach:
---
---
---
20. Bãi Vòng Beach:
[View Map]
Location: central south-east coast
See & Do: take/watch the ferries come & go from the mainland
Where to Stay: a couple of budget accommodation options
Description: Bãi Vòng is a broad bay on the south-east coast. For some visitors, Bãi Vòng is their first impression of the island, because this is where all the fast boats and car ferries from the mainland arrive and depart. The wide, long bay is impressive enough when seen from the boats as they approach the island, especially with the forested hills of Phú Quốc National Park rising behind. But, in reality, Bãi Vòng is more of a port than a beach: a transportation hub rather than a place to relax on the sand. There are a few shops and snack outlets around the fast boat pier at the northern end of the bay, but very little else of interest, except to watch the boats as they come and go. The northern portion of the bay is sandy and lined with casuarina trees, but the water here is often thick with jellyfish and not very clean. The southern section of the bay is mostly rocky and given over to industry. There are a couple of decent, cheap places to stay near Bãi Vòng which might be useful if you have to take a boat early the next morning.
Photos of Bãi Vòng Beach:
---
---
---
---
21. Vịnh Đầm Beach:
[View Map]
Location: south-east coast
See & Do: under construction
Where to Stay: under construction
Description: A sheltered bay on the south-east coast, Vịnh Đầm is in the process of becoming a major port and naval base. The southern half of the bay is undergoing large construction for port and naval facilities, while the northern part of the bay has been partitioned off for large resort development. With access to the southern half controlled by the navy, and most of the northern half roped off for construction, it's very difficult to actually get onto the bay at all. In short: there's nothing much to see or do here at the moment, but it's likely that Vịnh Đầm resort and entertainment complexes may open within the next couple of years.
Photos of Vịnh Đầm Beach:
---
*Disclosure: My content is always free and independent. I've written this guide because I want to: I like Phú Quốc's beaches and I want my readers to know about them. For more details, see the Disclosure & Disclaimer statements and my About Page
RELATED POSTS
---