Last updated March 2020 | Words and photos by Vietnam Coracle
Phu Quoc is Vietnam's largest island, and fast becoming the country's premier beach destination. There are dozens of excellent beaches on Phu Quoc Island, and this guide covers them all, including my tips for accommodation on each one. In recent years, upgraded infrastructure – including a road network across the entire island – has opened access to more and more of Phu Quoc's beaches. But Phu Quoc is currently in a state of transformation: there are only a handful of beaches left on the island where there isn't large-scale resort construction, environmental destruction, or the presence of litter. This doesn't mean the island and its beaches are ruined, but it is the reality of Phu Quoc today. And this is something that all travellers should be aware of before they visit. As a general rule, the south and west coasts are increasingly developed and in the midst of major construction; whereas the north and east coasts are still quiet and relatively untouched. Use this maxim as a guide to which part of the island may suit you best. [For more details, see my guide Phu Quoc: North & East Coasts]
[Back Top]
---
GUIDE:

PHU QUOC'S BEACHES
---
A Guide to 19 Beaches on Phu Quoc Island
The 19 beaches below are listed in order of my own personal preference. I've written a detailed description of each beach, plotted them all on my map, illustrated them with my own photos, and included my tips for places to stay, with links to check current rates, availability, and make bookings directly. I've listed accommodation in three price categories: ($)=budget, ($$)=mid-range, ($$$)=high-end. The best time to visit is from November to April. Better still, visit during the shoulder months (October and May) when prices are lower, availability is higher, tourist numbers are fewer, the weather is good, the sea as calm as an infinity pool, and the island is beautiful and lush. All the beaches are now easily accessible via paved roads or lanes, with the exception of Starfish Beach, which is reached via a dirt road. If you're not staying on one of the beaches, you can hire a taxi, rent a motorbike, or get on the excellent Hop-on Hop-off Bus. [For more of my guides to Phu Quoc Island see Related Posts]
Click a beach below to read more about it:
---
MAP

:
19 Beaches on Phu Quoc Island:

View in a LARGER MAP

[Back Top]
---
1. Ganh Dau Beach:
• Location: north-western tip [MAP]
• Vietnamese name: Bãi Gành Dầu
• Things to See & Do: good beach, local village, seafront walkway, street food, local life
• Places to Stay: Gold Coast ($$), Kim 2 Resort ($$), Hula Hula Resort ($$), Dumbo Bungalows ($$), Nam Phuong Resort ($), Peppercorn Beach ($$$)
• Description: On the remote northwestern tip of the island, Ganh Dau Beach is a wonderful little corner of flour-white sand fringed by palm trees, and bounded to the east by high, densely jungled ridges. Reached via a paved lane leading east from the lively fishing village of the same name, Ganh Dau Beach is sheltered and shaded, the water calm and shallow with a cluster of wooden fishing boats moored offshore, and the Cambodian islands lying only a few kilometres in the distance, their blue silhouettes sitting on the horizon like humpback whales. Ganh Dau is the name given to the entire northwestern cape, including a picturesque bay sheltering the local fishing fleet, a surprisingly bustling little fishing town with an active and interesting market, a filthy fishing harbour, and lots of street food and local life. But down by the beach, it's very quiet, and there's none of the mega resort construction here that plagues so much of the rest of the west coast of Phu Quoc. The resorts that have been built are, so far, small and beautifully positioned. (However, the sea is encroaching on the beach at high tide and threatening to flood some of the resorts, which were probably constructed too close to the surf.) Of the handful of accommodation options lining the beach road east of town, my favourite is Gold Coast ($$), where the red brick bungalows are positioned on a beautiful stretch of white sand beach. Other options, which are all good, include Kim 2 Resort ($$), Dumbo Bungalows ($$), Hula Hula ($$), and Peppercorn ($$$) (although the latter has lost its beach and inflated prices so much that it's hard to justify the expense when you could stay at Gold Coast for half the price). Even if you're not staying on Ganh Dau Beach, visit one of these resorts for a good lunch, a cocktail, and a swim.
The presence of Ganh Dau town adds another dimension to staying here, because it means you can easily access local life (and food). The town is walking (or cycling) distance from the resorts, and it's great to be able to interact with island life and island people – something that's hard to do if you're staying on some of the other popular beaches on Phu Quoc. There's also a remote edge to this part of the island: it feels isolated and cut off; as if it were its own little municipality. The seafood restaurants on the western side of Ganh Dau Cape are quite good and have lovely views of the glistening bay. But the best is Nam Phuong, whose seafront restaurant also provides access to a wooden-plank waterfront walkway and a hidden, sandy cove for bathing. All in all, Gang Dau is currently my favourite place to be and stay on Phu Quoc Island. I could (and have) spent days on end at Ganh Dau Beach.
Ganh Dau Beach, at the northwestern tip of Phu Quoc Island, is a gorgeous palm-fringed bay
---
---
---
---
2. Ong Lang Beach:
• Location: central north-west coast [MAP]
• Vietnamese name: Bãi Ông Lang
• Things to See & Do: good beach & swimming, drinking & dining, fruit farms, good accommodation, temples
• Places to Stay: Mango Bay ($$$), Camia ($$$), The Shells ($$$), Chen Sea ($$$), Coco Palm Beach Resort, ($$), Sea Sense ($$), La Casa ($), Island Lodge ($) Ninila Fruitfarm ($), Green Land ($), Gecko Guest House ($)
• Description: Only 10 minutes or so north of the clogged streets of Duong Dong town, Ong Lang Beach is a long stretch of lovely, sandy bays punctuated by slabs of black, volcanic rock, on the central north-west coast. More of a chain of connected mini-bays than a long, unbroken beach, Ong Lang is peaceful, calm, green, and serene – everything you want your tropical beach to be. The beach, which is backed by coconut palms and casuarina trees for most of its length, turns to fertile red earth just a few metres inland from the sea, where tropical gardens, fruits orchards, and exotic flowers grow in abundance. In the shade of all this foliage, a network of narrow paved lanes and dirt alleyways is now a thriving tourist enclave, featuring boutique resorts in all price-brackets, organic-produce shops, hipster cafes, smooth bars, and Western restaurants. But, unlike other popular beaches on the island, most of the development here has been low-rise and, occasionally, low-impact. Just as everywhere else on Phu Quoc, Ong Lang has grown enormously in popularity over the last few years: the wedge of land between the beach and the main road has developed steadily, and now feels a bit like Thao Dien (an affluent suburb of Saigon) by the sea. But, somehow, it retains a low-key atmosphere, and remains an extremely attractive place to stay for a few days. Whether you're a family, a couple, or a group of backpackers, Ong Lang Beach has got you covered. The general level of accommodation across all budgets is excellent. Most of the cheaper options are inland, just a few minutes' walk from the beach, whereas the mid- and high-end resorts are right on the sand. Mango Bay ($$$) remains the standout resort here, but Camia ($$), The Shells ($$$) and Chen Sea ($$$) are also very smart indeed. Good mid-range options are Coco Palm Beach ($$) and Sea Sense ($$). And excellent budget options include Island Lodge ($) La Casa ($), Ninila Fruitfarm ($), Gecko Guest House ($) and Green Land ($).
If you're not staying on Ong Lang Beach, you can stop by at one of the resorts for a drink and a swim in the sea, or there are a few public access points that can be reached via small lanes, such as either side of Coco Palm Resort, and next to Dinh Ba Temple, where Ha Phu Restaurant has a big slice of beach.
At the northern end of Ong Lang Beach there's massive construction going on at the new Movenpick Resort, which itself is just passed the huge, disturbing Phu Quoc landfill, overflowing with foul-smelling waste, smouldering in the sun – a reminder of where the majority of our trash ends up. (The landfill is less visible now, since a corrugated iron fence has been erected around it). However, next to the Movenpick site, a gravel path leads to Mộ Bà Ông Lang (signposted to 'Beach Picnic'). The path ends at a seaside shrine to Nguyen Trung Truc (a Vietnamese hero who fought the French colonialists in the mid-19th century) right on a gorgeous slice of Ong Lang beach. This is actually one of the most peaceful spots on the west coast: the swimming is good, there's a cool breeze, and incense wafts over from the shrine. However, it's difficult to ignore the construction nearby, and litter is, predictably, piling up.
---
---
---
3. East Coast Road: Bai Thom to Ham Ninh
• Location: north-east coast [MAP]
• Vietnamese name: Đường TL48: Bãi Thơm→Hàm Ninh
• Things to See & Do: explore undeveloped coast, Rory's Beach Bar, fishing villages, local seafood
• Places to Stay: Kiki Coconut Beach ($), Banana Homestay ($), Cay Sao Beach Resort ($$), The Pier ($$), Lotus Home Chalets ($$)
• Description: Only now that the road (TL48) has been sealed between Bai Thom and Ham Ninh, has this long, enchanting section of the east coast begun to attract visitors. Though it may lack the long sandy beaches of other parts of the island, the east coast has a charm and isolation that's more and more appealing to me with each passing year, as the construction, crowds, and general paraphernalia of mass tourism take over the rest of the island. Starting just south of Bai Thom, the East Coast Road runs for 30km to Ham Ninh. Consisting of empty, rocky, sand and silt beaches fringed with coconut palms and tropical almond trees, and dotted with volcanic rock, the east coast is sparsely populated, quiet, and undeveloped. An onshore breeze blows from Cambodia – whose high ridges grow in a purple haze on the horizon – throughout the day, cooling the entire coastline. Just inland, the jungles of the interior grow up the steep slopes within the restricted confines of Phu Quoc National Park. The bays lie slow, lazy, and undisturbed in the sun. The water is shallow and full of fish, and even some coral close to shore. Trash is washed up on the beach, but nothing like the rest of the island. Little hamlets nestle in the shade of tropical trees, some of them with local seafood restaurants. Near the beginning of the northern section, Hon Mot is a small, green islet that can be reached via a wooden plank causeway over the sea from the pretty beach at Quán Hòn Một. A sign on the island warns of landmines, but locals say if you stick to the stone pathways, you're safe.
A little further south, Da Chong Port, which used to have daily ferries to the mainland, is now rarely used, but surely it will be resurrected soon to serve the new resorts that will be opening along this remote stretch of coast. The current resorts are almost all clustered toward the southern section of the East Coast Road. And very nice they are, too. Kiki Coconut Beach ($) is simply wonderful: stop in for a coconut on the beach or stay in one of their simple, breezy bungalows on the white sand under swaying palms. The Pier ($$) is an attractive, smart and modern mid-range resort with a good bar and pool, that's starting to put this area on the map. And there are several others, including the small but charming Banana Homestay ($), the excellent and eco-conscious Cay Sao Beach Resort ($$), and Lotus Home Chalets ($$). And the big news is that Rory's Beach Bar, the long-time favourite night spot on Phu Quoc Island, has relocated from the west coast to the Each Coast Road: a sign of the east's growing popularity. If you want to know what Phu Quoc was like 10-15 years ago, take a ride down the deserted, beguiling East Coast Road. Construction will come soon, so explore this area now.
---
---
---
---
4. Rach Tram Beach:
• Location: north coast [MAP]
• Vietnamese name: Bãi Rạch Tràm
• Things to See & Do: bathe is clear, empty sea, stroll for miles on deserted beach
• Places to Stay: none (potential camping)
• Description: By far the most remote and least visited of all the beaches and bays on Phu Quoc Island, Rach Tram is nonetheless one of the most serene, scenically located, and untouched beaches of them all. That's likely to change very soon, because the previously rough, red-dirt lane from the main road to the beach has now been widened and almost completely paved, mainly – surprise surprise – to facilitate the construction of a tourism project. However, it does mean that, for the time being, access to Rach Tram is easier than ever (even though the last couple of kilometres were still pretty rough and muddy in places at the time of writing, in November 2019). Once on the bay, the beach is long and lovely, the sea beautiful and calm, with densely forested hills rising all around. But it's important to remember that this is a 'working beach'. Along the shimmering, tree-backed sand, there are a couple of rustic fishing villages, almost completely undisturbed by tourism, which appear to be very poor indeed. Their trash is strewn around the bay, which is not uncommon in Vietnamese fishing communities. Fishing-related debris – some of which is 'picturesque', such as the rotting hulls of abandoned wooden boats, and some of which is unsightly, such as polystyrene boxes and discarded fishing nets – clutters much of the sand. But it's on a much smaller scale than elsewhere on the island. I wonder where these fishing communities will go once the resorts arrive. It's well worth visiting Rach Tram, because if you do you can walk for miles along sublime empty beach – it's a wonderful feeling. There's no accommodation here at the moment, but there are plans afoot. For now, you can camp if you have your own equipment. Part of the fun of visiting Rach Tram is the journey there through jungle and cajeput forests, with birds of prey circling in the sky. There are plans to turn this area into an 'eco-tourism zone', but that doesn't necessarily mean what you think it means.
---
---
5. Thom Beach:
• Location: north-east coast [MAP]
• Vietnamese name: Bãi Thơm
• Things to See & Do: exploring empty coasts, relaxing in hammocks, local seafood
• Places to Stay: Luna Beach ($), Local Beach Homestay ($), Capella Resort ($)
• Description: Thom Beach has a stark beauty. Silent, still, hot, sparsely populated, and filled with the scent of cashew fruit and the sound of midday cicadas, there's something beguiling about this remote northeastern tip of Phu Quoc Island. Most of the beaches are pebbly, rocky, and hidden from view – reached via dirt tracks – and the water's very shallow and tidal here. Thom hamlet consists of just a few local shops, a couple of seafood restaurants, fishermen's houses, and a school. And yet, tranquil, sleepy Thom Beach is charming and characterful. It may not have the long, stretching sands of other beaches, but it has calm shallow waters, hiding some coral and plenty of fish, wonderful views over to the Cambodian coast and highlands, friendly locals, lush tropical foliage, a couple of informal places to sit and to stay, and most importantly, hardly any large-scale construction or noise pollution. Places like Local Beach Bar, Friendly Beach, and Luna Beach ($), where you can camp by the sea under huge palms while dogs play in the surf and you order a fresh coconut and a glass of local beer before settling down to a seafood dinner in the cool evening sea breeze, remind you that Phu Quoc still has real island life (even though many of those I spoke to at Thom seemed to hail from suburbs of Hanoi). Thom Beach and the surrounding area is ripe for exploration, and it's a place to sit back, relax, and let time stand still for a bit. For me, now that so much of the southern, central, and northwest coast is either built-up or in the process of transforming, I find myself more and more attracted to places like Thom Beach and the rest of the east and north coasts of Phu Quoc. This is the travellers' side of the island; not the tourist side. But, now that the East Coast Road (TL48) between Thom and Ham Ninh has been paved, perhaps it won't be long before slumbering Thom Beach is awoken.
---
---
---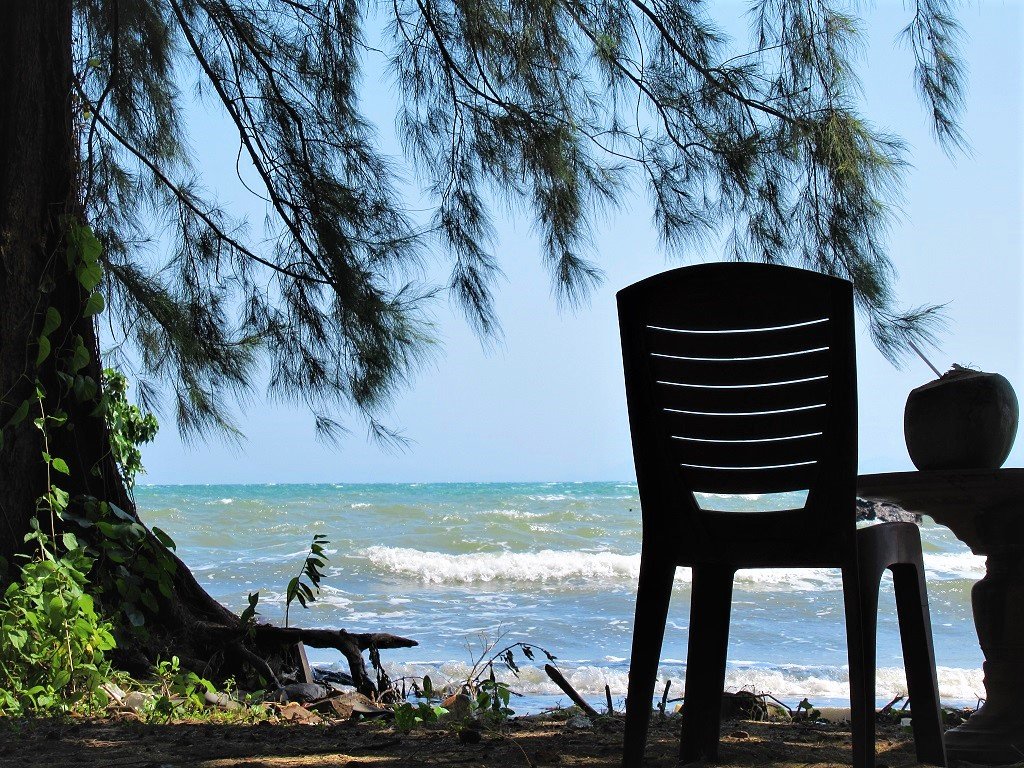 ---
6. Vung Bau Beach:
• Location: north-west coast [MAP]
• Vietnamese name: Bãi Vũng Bầu
• Things to See & Do: long, beautiful beach, swimming, walking, island bar
• Places to Stay: Bamboo Cottages ($$), Wild Beach ($$), Gold Sand Bungalow ($$), Nam Nghi Resort ($$$), Fusion Resort ($$$)
• Description: One of the most attractive beaches on the island, Vung Bau, on the north-west coast, is now seeing major resort development, particularly at the centre of the bay, where the luxurious, all-inclusive Fusion Resort has recently opened, and at the north, where the classy Nam Nghi Resort is now operating. The latter is built around a lush, rocky headland at the northern tip of the bay. There's a lovely pool, a Tree House restaurant, and a tiny private island that serves as the resort's bar, open to non-guests via a short boat trip. It's a fun, if expensive, excursion for a smart cocktail at sunset. But there are still a couple of gorgeous, undeveloped stretches of sand, where the placid blue water meets the tree-lined beach. However, the dirt road along the length of the bay is no longer accessible by motorbike from the south (although walking or cycling is still allowed and worthwhile), because a check-point is now in place and, no doubt, major construction will start soon. Access from the north on the dirt road is still allowed by any vehicle, but only as far as Fusion Resort, where the road ends. The easiest access to Vung Bau Beach is to take the paved road directly to Nam Nghi Resort, from where you can head south on a bumpy road to several excellent mid-range resorts on a glorious stretch of beach. Bamboo Cottages ($$) is the best of the bunch, not least because it relies on solar power and is focused on protecting the environment (something which the larger resorts appear to have no interest in whatsoever). Wild Beach ($$), Gold Sand Bungalow ($$), and Vung Bau Resort ($$) all share the same marvellous location as Bamboo Cottages, and are all great for a quiet, relaxing, reasonably-priced island escape.
But, it's unlikely that these small-scale, mid-range places to stay will last much longer. There are rumours of large developers acquiring the land and, more than likely, building a hideous, huge-scale integrated resort complex, and cutting down the forest in the process, just as happened on Dai Beach before. So, enjoy it now, while you still can. For more information, see my Vung Bau Beach Guide.
---
---
---
7. Starfish Beach (Rach Vem):
• Location: north coast [MAP]
• Vietnamese name: Bãi Rạch Vẹm
• Things to See & Do: good beach & bathing, snorkeling with starfish, seafood restaurants
• Places to Stay: none (potential camping or hammocks)
• Description: Reached via a sandy lane, which itself is off a red dirt road traversing the forested northern coast, Rach Vem (better known as Starfish Beach) is remote, and this has so far kept development away. But, in the last couple of years, Rach Vem has become a popular day/lunch trip (especially for domestic tourists) due to its abundance of floating fish farms (which double as seafood restaurants) and the hundreds of starfish that live in the shallow water here. As everywhere else on the island, resort development is on its way, but has yet to start in earnest. At present, there's nowhere to stay on Starfish Beach, although it's worth asking if you can camp or rent one of the many hammocks on the sand for a night. Each day, hundreds of day-trippers arrive for a seafood lunch and to laze of the attractive beach at the northern end of the bay (loungers can be rented for a few dollars). In the south of the bay, conditions in Rach Vem fishing hamlet look very rough indeed, and the water and beach immediately surrounding it is thick with trash and sewage. But this is not unusual for a remote fishing community in Vietnam, and don't let it put you off, because the larger bay area is quite clean and very picturesque. In particular, the white sandy section just beyond the main cluster of fish farms, to the north, is lovely for a swim. In high season, it's especially popular with Vietnamese groups, who, being a nation of discerning foodies, come for the fresh seafood. During these times, inflatable slides are often floating in the calm bay for the kids to enjoy (and the occasional adult, too).
---
---
---
8. Cua Can Beach:
• Location: north-west coast [MAP]
• Vietnamese name: Bãi Cửa Cạn
• Things to See & Do: local fishing village, river, kayaking, sailing
• Places to Stay: Dormstay Riverside ($), Phu Quoc Ecolodge ($), Chez Carole ($$), Green Bay Resort ($$$)
• Description: Cua Can is a little settlement, in the north-west of the island, at the point where a clear-flowing river meets the sea. As it drains into the Gulf of Thailand, the river creates a long, arcing sandbar lined with casuarina trees, with the choppy sea on one side and the placid river on the other. The village used to be a scruffy, dilapidated assembly of wood, brick, and corrugated iron homes. But now, since the road through town has been paved, it's a much more well-organized scruffy village, with some good street food outlets at lunchtime, and a couple of excellent budget places to stay: Dormstay Riverside ($) and Phu Quoc Ecolodge ($). It's possible to weave your way through the small fishing village and onto the sands of Cua Can Beach for a swim, but the sand is covered in trash: it's essentially an informal dump for the village. Alternatively, there are a couple very good mid- and high-end resorts – Chez Carole ($$) and Green Bay ($$$) respectively – at the northern end of the beach, set on an attractive hillside overlooking the river mouth and bay. Chez Carole has an excellent slice of beach that's open to non-guests if you buy something to eat or drink. There's also a sailing school here – Phu Quoc's first. Overall, Cua Can village and beach is a mellow, pretty, and slow-paced part of the island to spend a couple of days, and tourist development here is mercifully light.
---
---
---
9. Long Beach:
• Location: central south-west coast [MAP]
• Vietnamese name: Bãi Trường (Dương Đông, Của Lấp, Dương Tơ)
• Things to See & Do: swimming, partying, cocktails, resorts, restaurants, bars, shopping
• Places to Stay: Thanh Kieu ($$), Mai House ($$), Mai Spa ($$), Lahana ($$), Phu Quoc Backpacker ($), 9 Station Hostel ($), Kim Bungalow ($), Lana Land ($), Mango Resort ($), Hoi An Phu Quoc ($), Intercontinental ($$$)
• Description: Aptly named, Long Beach stretches for almost 20km along the southwestern coast of Phu Quoc. Beginning just south of Duong Dong town and stretching almost as far as An Thoi on the southern-most tip of the island, the beach's yellow sand is backed rows of coconut palms along its entire length. During the dry season months (November to April) the water is almost completely motionless: a liquid mirror to the sky. However, Long Beach is now the scene of some of the most intense and large-scale development on the island, especially its central and southern sections. Long Beach can be divided very roughly into three sections: the north (from Duong Dong down to the international airport), the centre (from the airport to the Intercontinental), and the south (down to the cape near Dat Do Beach). Click below to read more about each section:
---
LONG BEACH (NORTH): The northern section of Long Beach is the original Phu Quoc tourist strip. This is where the majority of visitors to the island stay, in one of the many good budget, mid-range, and high-end accommodations available. In general, the mid- and high-end resorts are on the beach side of the road, while the budget guest houses, hostels, restaurants and bars are on the other side. These days, the road is pretty busy, dusty, and unpleasant. But, head down any of the smaller lanes to the seaside resorts, and the beautiful, palm-studded beach reminds you why all this development is here in the first place. However, it's getting pretty cluttered along the beach, and noise pollution can be an issue at night. But, providing you're staying in good, beachside accommodation, the northern section of Long Beach is still a very satisfying place to spend a few days on the sand. I love the lush, calm oases of Thanh Kieu ($$), Mai House ($$) and Mai Spa ($$). Lahana Resort is on the wrong side of the street for the beach, but is excellent value, and has a superb infinity pool. For cheaper digs, check out Phu Quoc Backpacker ($), 9 Station Hostel ($) Kim Bungalow ($), Lana Land ($), Hoi An Phu Quoc ($), and Mango Resort ($).
---
[Back]
---
LONG BEACH (CENTRAL): South of the international airport, Long Beach is portioned off – each giant slab of land to a different developer – for the construction of super resorts. Think Intercontinental, Novotel, Hyatt etc. – huge edifices that look like the Starship Enterprise. A handful are already complete, but most are in the construction phrase, which means the land (and most of the long, lovely beach) is cordoned off with corrugated iron fences, and trucks ply the main road, throwing up dust and exhaust into the salty sea air. This area is generally referred to as Duong To, and it's still possible (just about) to take a couple of small lanes off the main road down to the beach and access a couple of good swimming spots. Golden Sand Bar, for example, is a great little place to chill for a day, with cocktails, loungers, and an excellent beach. The same can be said of Shri Bar and Ola Beach Club. Also, Sunset Sanato Beach Club is a popular place to swim, drink and snap selfies among the various purpose-made adornments on the beach. Another good bit of cared-for public beach is in front of the Sailing Club, which is itself worth stopping in for a drink and a dip in their infinity pool. Of the resorts already open, the Intercontinental ($$$) is one of the snazziest and classiest on the island, while the Novotel ($$$) and Sol Beach ($$$) are large, luxurious monoliths.
An interesting side-product of all the massive development-in-progress are the makeshift, temporary villages – mostly scrap metal and wooden shacks – that line the main road by the construction sites, housing and catering to the enormous companies of domestic migrant workers, contracted by the resort developers. They hail from all corners of Vietnam, but mostly, it seems, from north-central provinces, which are some of the poorest regions of the country. The temporary 'shack-towns' double as cheap, local markets full of good street food – lots of it northern-style – beer, rice wine, and, erm, 'entertainment' for the male workers. It's lively, fascinating, confusing, and disturbing. All around are the luxury villas, resorts, and high-end shopping malls that the workers are building, which are ultimately for the enjoyment of wealthier people of a different social status, while they themselves are living in fairly grim conditions. You can't argue with the job creation, I suppose. I don't claim to have any deep understanding of this situation, but, at the very least, being confronted with this obvious division of wealth and labour, forces contemplation.
---
[Back]
---
LONG BEACH (SOUTH): South of the Intercontinental, yet more huge chunks of land have been portioned off for giant resorts. But further south still, construction begins to dissipate, leaving the red dirt road of old to plough its course along the serene coast all the way to Mui Dat Do Cape. Here, there are still plenty of deserted stretches to bathe in the calm, clear sea. However, the land is due to become the construction site of the Hyatt, among other large projects. Unfortunately, trash on the beach is off-putting, and the remains of fishermen's homes – now just piles of bricks and woven palm-leaf roofs bulldozed to make way for luxury resorts – are reminders of what the future holds. If riding here by motorbike, take care on the dirt road: some of it is very sandy and it's easy to lose control. Also, after heavy rain, the sand becomes mud, which is very treacherous on a motorbike.
The southern section of Long Beach still has some deserted patches, but it's blighted by trash
---
10. Sao Beach:
• Location: south-east coast [MAP]
• Vietnamese name: Bãi Sao
• Thing to See & Do: white sand beach, watersports, food, drink, selfie-spots
• Places to Stay: Green Garden Bungalow ($$), Xuan Hien Resort ($$) Phu Nam House ($), Wanderlust Bungalows ($), The Beach House ($$), My Lan ($$)
• Description: Sao Beach, with its arcing palm trees, snow-white sand, and distinctive butane-blue water, is one of the most popular beaches on the island. Once touted (but incorrectly, even back then) as the 'Best Beach in Vietnam', Sao is still a very attractive stretch of sand to walk along and swim. But, sadly, the writing has been on the wall for Sao Beach for at least a few years, and there are many reasons for this. Its increasing popularity led to haphazard, temporary construction of small resorts, bars, cafés, and restaurants; trash quickly built up – squeezed into the narrow freshwater creeks that feed onto the beach and into the sea; jet skis filled the waters with gasoline and broke the silence; even the husks of fresh coconuts – consumed in the hundreds by day-trippers each day – built up to clog the sand and the surf. For at least 3 or 4 years now, Sao's best days have been behind it. But, today, I personally find it quite a sad place and a sad sight. There's not much effort to keep up appearances anymore: things look forlorn and uncared for. Even though the dirt road to the beach has finally been paved and people still flock to Sao by the thousands each day, it's a shadow of its former self. And it's no surprise that massive resort development – which was always inevitable, and surely part of the reason why the temporary structures were of such low quality – is now on the way. The northern end of the beach – the nicest part of the entire bay, where spindly coconut palms form the perfect paradise-beach backdrop – has been cleared for construction of a large resort. I doubt it will be long before the rest of the bay follows suit. It's still worth coming to Sao for a swim, a stroll along the attractive sandy bay, a gin and tonic, and a grilled fish lunch at Paradiso Beach Club – which is by far the best place to be on Sao Beach. And don't get me wrong: I hope that the forlorn state I see Sao in today is just a phase, or perhaps it's going to be ingeniously reinvented, reinvigorated. But if you saw Sao 10 years ago (yawn, I know), it's hard to come to terms with what it is today.
There are a couple of places to stay right on the beach, the most popular of which is My Lan ($$), offering simple, clean but soulless rooms with easy access to the beach. It's usually better (and cheaper) to stay in the leafy back-streets behind Sao Beach, where you'll find friendly budget guest houses, such as Phu Nam House ($), Green Garden Bungalow ($$), or the smarter Xuan Hien Resort ($$). Or even Wanderlust Bungalows ($), located on the main road near the entrance to the Sao Beach road, which has clean, crisp, good-value rooms.
There's another beach just to the south of Sao, called Bai Giua. Hidden down a paved lane leading from Green Garden Bungalow, Bai Giua beach looks nice from afar, but when you get up close the bay is full of trash and completely unswimmable. Oh well, another one bites the dust.
Sao Beach is beautiful, but the scene in this photograph is now a rare sight, due to trash & development
---
---
---
---
---
11. Dai Beach:
• Location: north-west coast [MAP]
• Vietnamese name: Bãi Dài
• Things to See & Do: waterpark, safari, shopping malls, big resorts
• Places to Stay: Radisson Blu ($$$), Vinpearl ($$$)
• Description: This long, long stretch of fine sand beach with turquoise water lapping at the exposed roots of casuarina trees, was for many years one of my favourite beaches in Vietnam. In the northwest of Phu Quoc Island, Dai Beach was, until quite recently (only a few years ago, in fact) completely undeveloped, save for a handful of seafood shacks dotted on the grass under the shade of large tropical trees. However, that changed dramatically when Vingroup moved in (as they always do) to build a mega-resort complex, including theme parks, waterparks, casinos, golf courses, safaris, enormous hotels, and rows upon rows of luxurious faux-Roman villas. Collectively known as Vinpearl, this development now sprawls along the entire northern and central sections of Dai Beach, while other developers have moved in on the southern section. Hundreds, probably thousands, of old-growth tropical trees were felled to make way for Vinpearl. The destruction was in full view of the road, and an extremely disturbing sight to behold. The southern section of the beach is going the same way: cordoned off for more resort construction, and closed to public access. But, it is still possible (just about) to access the southern part of Dai Beach, via a dirt path leading north from Nam Nghi Resort to Sang Giau beach shack. But it's a sorry sight, with picnic trash, fishing debris and construction material strewn all over the place. The swimming is still fine and the bay is still quite beautiful. But, in general, it's pretty depressing and not worth the trip. These days, if you want to experience Dai Beach, your only real choice is to stay at one of the gigantic resorts: Radisson Blu ($$$) or Vinpearl ($$$).
---
---
---
12. Dat Do Beach:
• Location: south-west coast [MAP]
• Vietnamese name: Bãi Đất Đỏ
• Things to See & Do: local seafood restaurants, fishing scenes
• Places to Stay: none
• Description: Accessed via a dirt road just north of the cable car station, Dat Do Beach is a pretty bay bookended by two small headlands that frame an attractive stretch of sand and calm waters. The bay is nice enough (although the surroundings are quite scruffy) and there are a handful of local seafood restaurants (quán hải sản) right on the sand at the northern end of the beach. But the beach's primary focus is the production of cá cơm khô – dried anchovies – which are laid out to dry in their hundreds of thousands on wooden trestles on the sloping beach. It's quite a sight. Swimming here is fine, and there's no development yet, although I'm sure it will come soon. At the moment, there's no accommodation on Dat Do Beach, but at the time of my most recent update (November 2019), there was land clearance and the beginnings of construction just behind the beach.
---
13. Pagoda Bay:
• Location: south-east coast [MAP]
• Vietnamese name: Bãi Đăm
• Things to See & Do: Ho Quoc Pagoda & statue, wild honey farm, scenic drive
• Places to Stay: Montana Resort ($$)
• Description: Accessed via a scenic, concrete road curling along the south coast, Bai Dam is a wide, mostly rocky bay, where dense jungle meets the sea from the hills behind. I've given it the name 'Pagoda Bay' because of its most famous attraction, the recently completed Hộ Quốc Temple, with its colossal sculpture of Quan Âm (the Goddess of Mercy) presiding over the pagoda complex and looking out to sea. The pagoda itself is impressive, serene, and very attractive, with lots of shrines, long staircases, and sculptures of deities from the Buddhist pantheon. Its position looks out over the bay, across the dark blue sea, and down to Vinh Dam port, just to the south. Visit in the afternoons (about 4pm-5pm) for the low light and a beautiful cool, scented breeze off the forested hills. The Truc Lam vegetarian restaurant is fine for lunch. Beyond the pagoda, where the road ends, it's possible to find a couple of quiet, secluded, rocky spots for a waterside chill and a swim. The rest of the bay is (surprise, surprise) blighted by trash: picnic trash, fishermen's trash, flotsam washed up for the mainland, and household and construction trash dumped here on purpose. Tragic. But the temple complex, the views from the top, the sculptures, and the presence of the lapping sea, all make 'Pagoda Bay' a worthwhile excursion and a contemplative little place, away from the usual beach paraphernalia. There's another little temple (Mieu Hoang Tu) near the start of the road, and also a wild honey farm and shop. There's no accommodation on the bay itself, but there are a couple of OK resorts at the beginning of the entrance road. Neither are great, but Montana Resort is fine for a night, if you want to get to the temple for sunrise, for example.
---
---
---
14. Duong Dong Town & Harbour:
• Location: central-west coast [MAP]
• Vietnamese name: Cảng Dương Đông
• Things to See & Do: local market, night market, street food, seafood, fishing fleet, temples
• Places to Stay: Seashells Hotel ($$$), local guest houses ($)
• Description: Right in the middle of the west coast, Duong Dong is a sprawling, bustling town of the sort you'd expect to find on the mainland. A massive increase in population, fuelled partly by the tourism boom and partly by domestic migrants arriving from other provinces as far afield as the north, Duong Dong is a busy, noisy, frenetic place, filled with street food (try bún kèn here, an island speciality), beeping traffic, and busy people: in short, everything that a Vietnamese town in the Mekong Delta should be. The main market is fantastic and fascinating, as is the river, which winds through town, its black waters clogged with fishing vessels, cargo barges, and waste. At its mouth is Duong Dong harbour, where a fleet of wooden tour boats lie at anchor and a slender new pier reaches out to sea for about a kilometre, to deeper waters where giant cruise ships dock. Riding a motorbike along the old airport runway (now Vo Van Kiet Street) is a lot of fun. The only beach in Duong Dong town is a spit of sand immediately south of Dinh Cau Temple, a small shrine to the sea goddess atop a rocky outcrop at the harbour's entrance. Bathing here is quite nice but gets crowded at sunset, when dozens of street food vendors set up under the temple. Trash is a problem because many people discard their empty plastic food containers in the sea or leave them on the sand. But promenading along the harbour walls and new harbour park, watching the boats come and go, especially at sunset, is wonderful. (Note: there's currently construction along the harbourfront). A sleek new hotel, Seashells ($$$), occupies a prime position overlooking the harbour and ocean. For much cheaper accommodation, there are dozens of local guest houses (nhà nghỉ in Vietnamese) and mini-hotels clustered in the streets around the night market (chợ đêm). The latter is a bit too touristy for my tastes, but is an ever popular place to sample some seafood. Also near the night market, is Phu Quoc's ornate Cao Dai temple.
---
---
---
15. Khem Beach, Ong Doi Cape, Cay Dua Beach:
• Location: southern tip (east) [MAP]
• Vietnamese name: Bãi Khem, Bãi Cay Dua, Mũi Ông Đội
• Things to See & Do: a slither of public beach, shiny new resorts & malls, a scenic drive
• Places to Stay: JW Marriott Emerald Bay ($$$), Premier Village ($$$), Premier Residences ($$$)
• Description: At some time, in between restricted access due to military control and the development of the absurdly 'fairy-tale' luxury resort of JW Marriot Emerald Bay, there was a brief period – probably less then a year – when the snow-white sands of Khem Beach were accessible to the public. But that time has pretty much gone now. The central and southern portions of the bay are taken up entirely by the Premier Residences and the Marriott Emerald Bay – a really strange luxury concept resort based around the idea of a fictional university; and the rest of the beach is an enormous construction site for yet more high-end resorts. All this leaves only a tiny slither of beach with a couple of food shacks, at the northern end, for public access. But it's a bit shabby and hardly worth the trip. If you can afford the Marriott (upwards of $300 a night) it's a wacky and luxurious way to spend a night. Otherwise, there's very little reason to visit Khem Beach anymore, except to gawp at other people's luxury.
However, branching south of Khem Beach, a lovely paved lane leads along a steep and jungled hillside by the sea, all the way to Ong Doi Cape. It's a beautiful little ride but dead-ends at the entrance to the upscale property of Premier Village. Managed by AccorHotels, this luxurious resort consists of white villas built on stilts over the rocky bay and sandy coves of the entire Ong Doi Cape. It's a beautiful and secluded place to stay, if you can afford it: rates are between $250-$700 a night. Even so, it's well worth the excursion (if you're on a motorbike) down the scenic lane. Just west of Ong Doi Cape is Cay Dua Beach, which looks enticing but is off limits due to a naval base.
---
---
16. An Thoi Port, Xep Beach, Hon Thom Cable Car:
• Location: southern tip (west) [MAP]
• Vietnamese name: Cảng An Thới, Bãi Xếp, Cáp Treo Hòn Thơm
• Things to See & Do: local market, street food, bustling port, lighthouse, cable car
• Places to Stay: Lien Thong Hotel ($), Phung Hung Boutique ($)
• Description: A dusty, busy little town at the southern tip of the island, An Thoi is Phu Quoc's main fishing port. Away from its bustling main street lined with shops, markets and food stalls, the harbour is an interesting place to explore. There's an entrance fee (10,000vnd) for the main terminal and pier, but you can get to the habourfront just next to it, where the smaller fishing boats are moored, for free. The fishing-related activity is interesting but the water is filthy. Boat tours to the An Thoi Islands (just off Phu Quoc's southern tip) also depart from An Thoi's main terminal.
Around the back of town (due west), Bai Xep is a sheltered bay reached by a series of narrow alleyways. It's home to a fleet of wooden fishing boats and a rough-looking fishing community, whose crumbling homes lie under the path of the Hon Thom cable car; the concrete pylons soaring into the sky and stretching into the distance out to sea. There's a sandy beach here, but it's more of a working beach than a leisure one. And, although the setting is scenic, the litter is a bit distracting. Around the back of Bai Xep (due south) a lighthouse stands on a rocky rise with good views over town and towards the An Thoi Islands. It's accessed via a steep and narrow concrete path.
In fact, the best view of Bai Xep and An Thoi is from above: from the cabins of the Hon Thom cable car. The cable car station is on a bluff just north of Bai Xep, accessed via a separate road. The scale of the project is astonishing – apparently one of the longest oversea cable cars in the world. The concrete pylons are colossal columns that look like the legs of a Wellsian alien from War of the Worlds, traipsing across the sea from island to island. It's impressive, but also rather hideous. Ticket prices are 300,000/500,000vnd (low/high season). There's also massive ongoing development around the cable car station. However, one gets the feeling that the residents of An Thoi haven't benefitted much from the explosion of tourism around their homes: the locals I met weren't a particularly happy bunch, and I'd imagine it's not going to get better for them, as development continues to swallow up the land and sea upon which, and from which, they make their living. Staying the night in An Thoi is quite fun and a good way to soak up the local atmosphere of the town if you have the time. Lien Thong Hotel ($) and Phung Hung Boutique ($) are both reasonably priced, clean, comfortable places to sleep.
---
---
---
17. Bai Vong Bay:
• Location: central south-east coast [MAP]
• Vietnamese name: Bãi Vòng
• Things to See & Do: take/watch the boats come & go to/from the mainland
• Places to Stay: Serene Resort ($)
• Description: Bai Vong is a gaping bay on the central southeast coast. For some visitors, Bai Vong will be their first impression of the island, because this is where all the fast boats and car ferries from the mainland dock. The large, long bay is impressive enough when seen from the boats as they approach the island, especially with the forested hills of Phu Quoc National Park rising behind. But, in reality, Bai Vong is more of a port than a beach: it's a point of arrival and departure, rather than a place to relax on the sand. There are a few shops and snack outlets around the fast boat pier at the north of the bay, but very little else of interest, except to watch the boats as they come and go. (For boat schedules and ticket prices see this guide.) The northern portion of the bay is sandy and lined with casuarina trees, but the water here is often thick with jellyfish and not very clean. The southern section of the bay is mostly rocky and given over to industry. However, there are a couple of decent, cheap places to stay here, including Serene Resort, which might be good if you have to take a boat early the next morning.
---
18. Ham Ninh Village & Pier:
• Location: central-east coast [MAP]
• Vietnamese name: Làng Chài Hàm Ninh
• Things to See & Do: street food, seafood, markets, local life
• Places to Stay: local guest houses (nhà nghỉ)
• Description: Once a thriving port, Ham Ninh is now best known for its fresh seafood restaurants. A small but lively fishing village on the central-east coast, Ham Ninh doesn't really have a beach: rather, it's a cluster of concrete and corrugated-iron dwellings crowded around a small river mouth as it empties into the sea, at which point a long pier reaches out into the surf. Now that the boats no longer dock here, the pier has become a seafood market/restaurant zone, with about half a dozen informal eateries jostling for space along the narrow causeway. It's particularly popular with Vietnamese tourists – who always know where to find the best, freshest seafood. The pier can get very busy during lunchtimes, and the water around Ham Ninh is filthy from the refuse of the village and the restaurants. So leave your swimwear at home but come with a good appetite. Ham Ninh has a good local market with lots of street food stalls out front. It's busiest during the mornings and late afternoons.
---
19. Vinh Dam Bay:
• Location: south-east coast [MAP]
• Vietnamese name: Vịnh Đầm
• Things to See & Do: none
• Places to Stay: none
• Description: On the south-east coast, Vinh Dam is in the process of becoming the island's major port and naval base. The southern half of the bay is undergoing large construction for port and naval facilities, while the northern part of the bay has been partitioned off for resort development. With access to the southern half controlled by the navy, and most of the northern half roped off for construction, it's very difficult to actually get onto the bay at all. And there's no real reason to either, because it's not a great beach. In short: there's nothing much to see or do here at the moment.
Disclosure: I never receive payment for anything I write: my content is always free and independent. I've written this guide because I want to: I like this Phu Quoc's beaches and I want my readers to know about them. For more details, see my Disclosure & Disclaimer statements here
[Back Top]
RELATED POSTS

:
---