First published April 2022 | Words and photos by Vietnam Coracle
Look out to sea at night from Phú Quốc Island and you'll see constellations of lights from hundreds of fishing boats offshore. But, in more than a decade of visiting Phú Quốc, I was consistently disappointed with the quality, variety, price and availability of fresh local seafood. People said the bulk of the island's catch was shipped to Saigon for the big appetites in the big city and its big restaurants. On other islands and in other beach destinations in Vietnam it's not difficult to find excellent, fresh, inexpensive, locally caught seafood. On Phu Quoc, however, I was always directed to the extremely touristy and crowded night market (chợ đêm) or to overpriced resort restaurants or to the large nhà hàng hải sản on the main street (Đường 30 Tháng 4) in Dương Đông town. Having lived on the island for nine months during Vietnam's pandemic fourth wave, I finally hit upon a few clusters of great seafood restaurants away from the tourists and the towns. Local, informal, atmospheric, reasonably priced, fresh, fun, friendly and scenically located, these seafood restaurants represent everything that great dining in Vietnam is all about.
[Back Top]
---
SEAFOOD

ON

PHU QUOC ISLAND
---
Where to Eat Fresh Local Seafood on the Island
I've focused on four specific areas for seafood on Phú Quốc Island: north of Hàm Ninh village, south of Bãi Thơm village, Đất Đỏ beach and Rạch Vẹm beach. Each of these four areas feature clusters of fantastic seafood restaurants. I've shaded all four areas on my map and marked several specific restaurants. I've written a brief description of each area plus some photos. In most cases the menu (if, indeed, there is one) will be in Vietnamese, but this doesn't matter because the catch is usually on display: live fish, crustaceans and shellfish in tanks and buckets for you to point at and order by the kilo or plate. It might be a bit difficult if you don't speak any Vietnamese, but that is part of the fun: point, gesture, communicate somehow and there's a great meal waiting for you. In my opinion, all of these seafood restaurants offer a better, richer, more memorable dining experience than the night market (chợ đêm) in Dương Đông town or the resort restaurants. Just go for it: be brave, throw yourself into it, enjoy it. Vietnamese people – especially island Vietnamese – really know how to cook, eat and enjoy seafood (and beer). Dining is best between 5-7pm, because you'll catch the sunset, get the freshest seafood and beat the karaoke, which usually starts around 8pm. For more of my Phú Quốc guides see Related Posts.
Selected Resources
What's this?
CONTENTS:
---
---
MAP

:
Local Seafood on Phu Quoc Island
View LARGER MAP
---
Please Support My Site
I never receive payment for anything I write: all my content is free to read & independently financed. There's no sponsored content whatsoever. If you like this guide, please consider making a donation or becoming a patron.
Thank you, Tom
---
North of Hàm Ninh
[View Map]
The east coast of Phú Quốc is the side of the island that is least touristy and least developed, so it should come as no surprise that this area has some of the best informal, local seafront restaurants. In particular, the first few kilometres north of the fishing village of Hàm Ninh are peppered with great places to dine. Before it collapsed a few years ago, the pier at Hàm Ninh village was lined with popular seafood restaurants, but it was crowded, busy, cramped and unpleasant. Since the pier fell into the sea, however, some of the establishments have moved a little due north up the coast, now occupying their own stretch of beachfront under tropical trees. My favourite of these is Nhà Bè Tình Biển, where fresh seafood is laid out in tanks and buckets – still alive – for you to pick out and order by weight or plate. Dining is out on an open-air patio in the sea breeze or in little gazebos off a long wooden pier jutting into the sea. It's very atmospheric. Tình Biển is family-run, frequented by locals and domestic travellers; the food is good and prices are reasonable. You'll sea many other quán hải sản or nhà bè hải sản along this coastline, including the scenically located Nhà Bè Đá Bạc and the locally famous Cobia. I'd highly recommend getting here around 5-5:30pm which will give you 30 minutes-1 hour before dusk falls, so you can enjoy the glowing light on the ocean and trees as your seafood feast arrives on your table.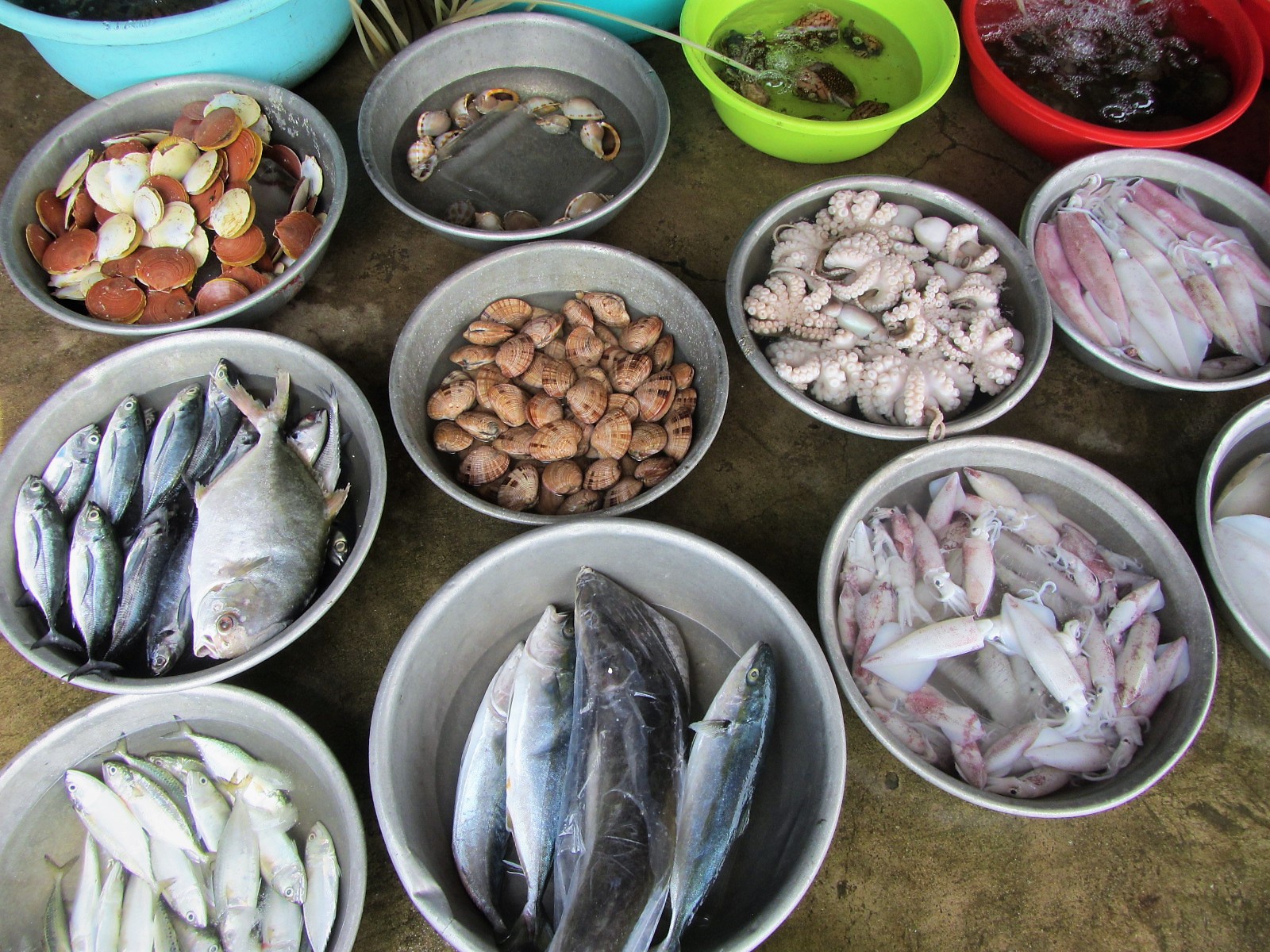 ---
---
---
---
South of Bãi Thơm
[View Map]
About 20km further up the east coast from Hàm Ninh is the sleepy fishing village of Bãi Thơm. For several kilometres south of Bãi Thơm the road runs close to an undeveloped coastline. The water is shallow and tidal, the beaches lined with palms and casuarinas, Cambodia looms on the horizon, and a few excellent, remote, local seafood restaurants dot the shore. The most atmospheric of these is Bãi Thơm Retreat, located on a pretty little beach with a wooden pier stretching out to sea and tables and chairs above the water. The menu is limited to, well, whatever they happen to have that day, but you could also place your order in advance is you want a specific dish. The setting is magical and the seafood is good: try the soft-shell crab – cua lột or cua sữa – if available. We once dined here on a full moon, with the light reflecting on the calm sea. Just north of Bãi Thơm Retreat there are several good quán hải sản near the tiny islet of Hòn Một: Hương Biển Quán and Nhà Hàng Biển Thương are both excellent little places on the seafront.
---
---
---
---
Đất Đỏ Beach
[View Map]
Down near the southwestern-most corner of the island, Đất Đỏ beach is an attractive arc of sand occupied by a few beach shacks, fishermen's dwelling, fish sauce factories and a cluster of rough-and-ready local seafood restaurants. While the sands of Đất Đỏ beach remain undeveloped, it's overlooked to the south by a gigantic resort-theme park-cable car-residential project by Sun Group. It's a bizarre sight to have such a local beach in the shadow of such a touristy one. But that's part of the fun. The seafood restaurants on Đất Đỏ are clustered at the northern end of the beach. Accessed via a dirt road from the south, the restaurants cater to locals and labourers working on the nearby projects. You can swim in the sea here and, because the beach faces west, the sunsets are fabulous. Try Quán Ngọc Đông or any of the other half dozen seafood shacks surrounding it. Prices are inexpensive and food is good, rustic and local.
---
---
---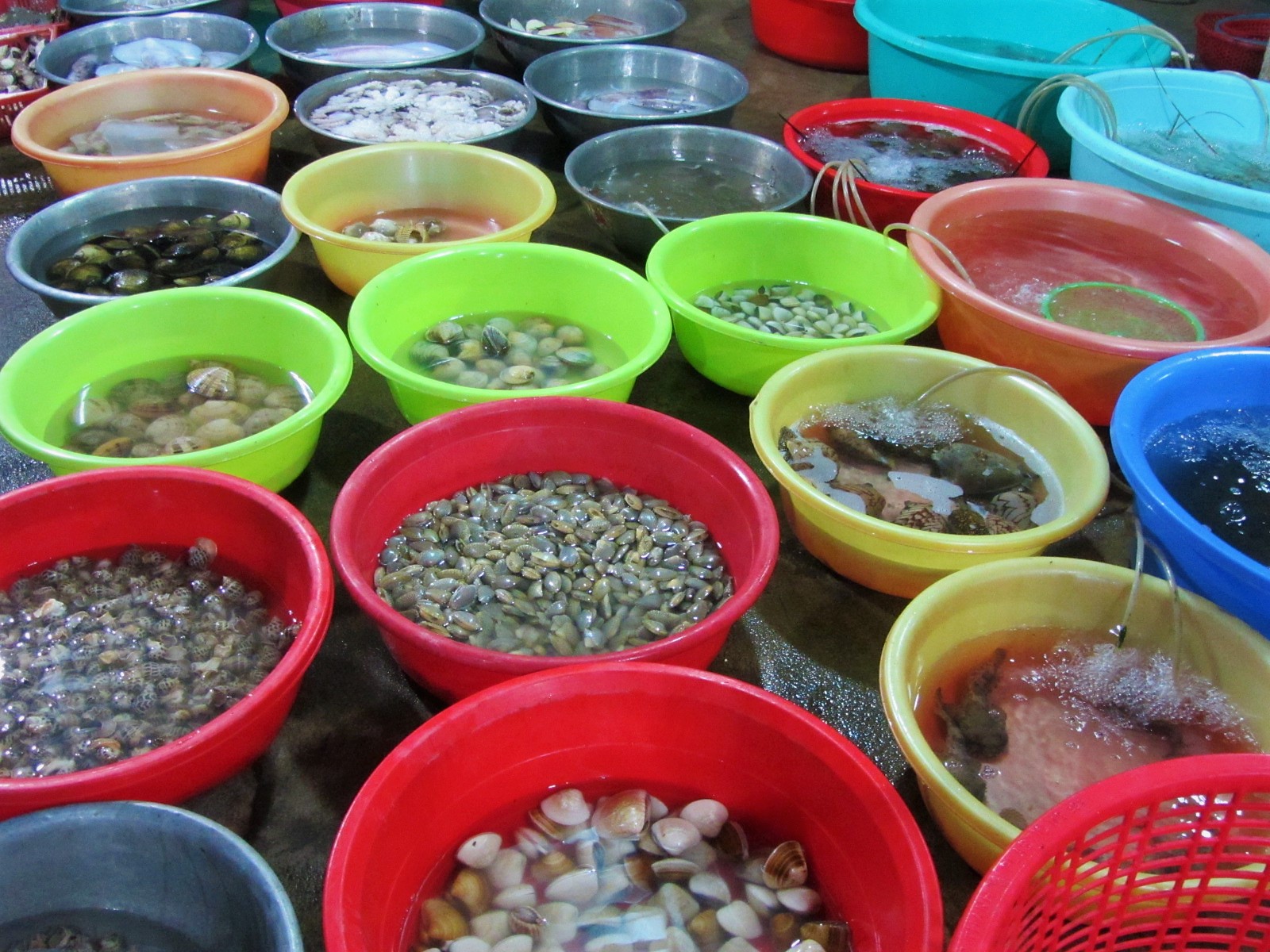 ---
Rạch Vẹm Beach
[View Map]
In the remote north of the island, Rạch Vẹm is a rustic fishing hamlet on a striking sweep of white sand backed by palms and jungle-covered hills. Accessed via a bumpy dirt road, Rạch Vẹm (also popularly know as 'Starfish Beach') has gained a reputation in recent years for its floating seafood restaurants. At the southern end of the bay, many piers, floating platforms and offshore shacks host seafood outlets and fish farms which can be reached by boat from the beach. However, these can get crowded (especially during lunch time) and the coastline is quite trashy and unattractive. But, take a sandy road to the northern end of the bay and over a rickety wooden bridge, and you'll find white sand, green foliage, turquoise sea and several lovely seafood restaurants on piers. My favourites are Ngàn Sao and Nguồn Sống, but there are others to choose from too. The food is fresh, delicious and reasonably-priced; the setting is informal but utterly beautiful; the menus are limited by the day's catch. Come at 5pm for a pre-dinner swim and watch the sun setting between the Cambodian islands as your food arrives. Wonderful.
---
---
---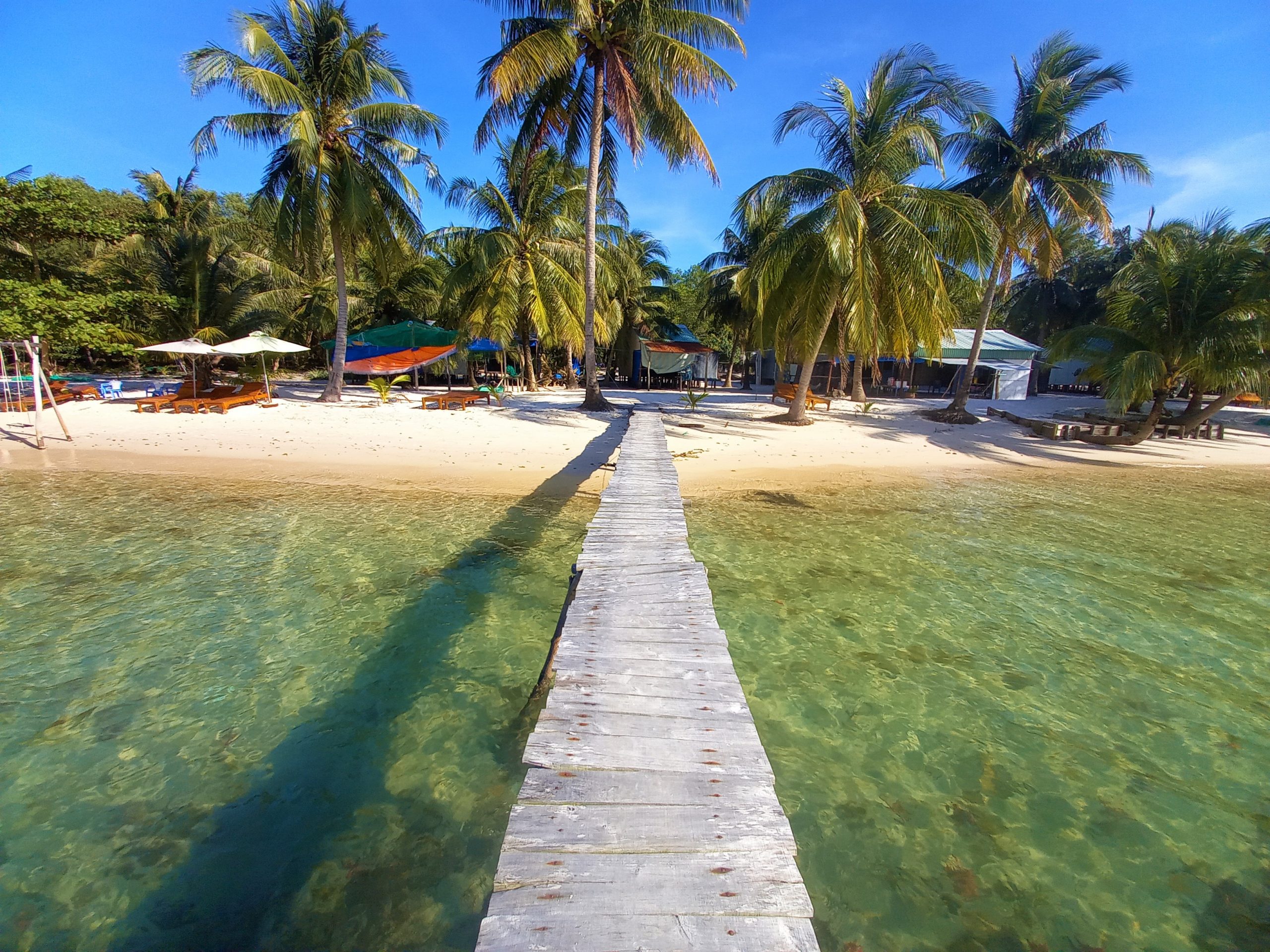 ---
*Disclosure: I never receive payment for anything I write: my content is always free and independent. I've written this guide because I want to: I like these restaurants and I want my readers to know about them. For more details, see my Disclosure & Disclaimer statements and my About Page
RELATED POSTS
---