Last updated August 2018 | Words, photos and film by Vietnam Coracle
The Con Dao Islands is a remarkable place. You're likely to experience two sides to the islands when you visit: one day spent swimming in the clear sea, walking upon white sand beaches, hiking in the jungle, riding a scooter along deserted coast roads, and drinking cocktails on the seafront promenade; another spent visiting the colonial-era prisons, learning about former inmates (many of whom are celebrated national heroes) and witnessing remnants of their forced labour, which caused thousands of prisoners to die. The former is the future of the Con Dao Islands as a tropical paradise; the latter is its past as a brutal penal colony. Personally, I have always felt deeply attached to the Con Dao Islands: a feeling which gets stronger each time I visit. But, the Con Dao isn't for everyone. Some people lament to the lack of nightlife and complain about the relatively high costs, for example. However, if you're a regular reader of this website, the chances are you share my general feeling for travel destinations, and you too will fall for these islands. On this page is my full guide, annotated map, and short film of this dazzling archipelago.
[Back Top]
---
GUIDE:

THE CON DAO ISLANDS
---
This is an extensive (i.e. long) guide to the Con Dao Islands: I love this place and I want everyone who reads this guide to love it too. I've included all the information I can, and categorized it in a way that makes it easy for readers to find what they're looking for. Click an item from the contents below and use the navigation buttons within each category to find your way around this guide.
*Please support this website by using the relevant links in the following guide to book your accommodation & transportation on the Con Dao Islands. Thank you.
CONTENTS:
MAP

:
The Con Dao Islands:

View in a LARGER MAP

---
VIDEO

:
A short film exploring the Con Dao Islands:

Watch this video on YouTube
---
LOCATION & HISTORY:
The Con Dao Islands are fascinating, both for their geographical location and the history and legend that surround this archipelago in the East Sea. Click an item below to read more about it:
---
Con Son is the largest of 15 islands that make up the Con Dao Archipelago, 80km from the mainland Mekong Delta region and 230km from Saigon (Ho Chi Minh City). The island's remoteness and former use as a penal colony have kept it in relatively pristine condition: even today, 80% of Con Son is still forested. The thick canopy provides a habitat for all sorts of exotic-sounding animals endemic to the archipelago: the Con Dao bow-fingered gecko and Con Dao black giant squirrel are just two examples. The islands are rugged and mountainous, with the highest peak reaching 557m. The ocean is home to dugongs (sea cows) and sea turtles that lay their eggs on the beaches from March to August. The winter months on Con Son Island are generally dry, but rough seas and strong winds from the northeast make the island feel fantastically remote at this time of year. The summer months bring occasional monsoon rains, but the seas remain calm and clear, the bays beautiful and tranquil. (For more details about weather and when to go click here.)
The Con Dao Islands are only a short flight from Saigon. Just forty-five minutes after taking off from the dust and bustle of the city, the propeller aircraft glides between a few tiny green dots in the East Sea, heading towards the short runway squeezed in at the eastern point of Con Son Island. To the right, the island's jagged, sea-beaten north shore stretches to its western tip. The glowing dawn light haloes around the edges of the forested mountains, and crashing rollers break near the end of the runway. Saigon is already a distant memory. (For more details about transportation to the Con Dao Islands click here.)
From the airport, a road winds its way around a high, blustery cape. During the winter months, the East Sea slams against the face of the rocky cliffs. There is only really one road on the island. It follows the coastline from the small airport in the north to the small fishing port in the south, passing through the small town of Con Son, clustered around a bay, in the middle. In the summer months, the sea is often perfectly calm, the translucent water so motionless it looks as though you could walk across it to the little islands that pop up around the bay, like giant whales coming up for air. Everything is still and quiet. (For more details about transportation on Con Son Island click here.)
The Con Dao Islands has a population of about 7,000, most of whom are fishermen or part of the Peoples' Army of Vietnam. According to some locals, men outnumber women 7 to 1 on the island. However, you're unlikely to encounter anyone, male or female, as you walk along the seafront promenade. On one side, the glass-like ocean stretches to the horizon, on the other, French colonial villas crumble on street corners beneath the shadows of tropical trees, their roots twisted around the brickwork. It feels like an abandoned outpost of French Indochina. I've travelled all over Vietnam, but the first time I arrived in Con Son town I felt I'd really made it to the ends of the nation. As late as 2002, the only link to the mainland was a helicopter, which ran three times a week, carrying 24 passengers, most of whom were army personnel.
At the centre of the seafront promenade is the old French customs house. The small, perfectly proportioned building is flanked by two, century-old tropical almond trees. The building opens onto a jetty, where supply ships used to dock and unload provisions and prisoners from the mainland. This pier is known as Wharf 914, after the number of prisoners who died constructing it. The customs house is sometimes open as a cafe, which is a great place for a coffee in the mornings or a cocktail in the evenings. It's also where French composer, Camille Saint-Saens, lived in 1895, while completing his opera, Brunhilda. (For more details about cafes and bars on the island click here.)
Chợ Côn Đảo (Con Dao Market) is located away from the seafront, in amongst the small, sleepy streets of Con Son town. Inside, dozens of food vendors pack themselves into the shade of the market. In the mornings, locals sit at wooden benches, slurping all kinds of breakfast foods and beverages: noodle soups, rice pancakes, rice porridge, iced coffees, fruit juices, sticky desserts. There's a constant hum of voices as customers share stories with food vendors. Outside, fish, fruit and vegetables are hacked and packed. Perhaps all the men are in their barracks or out at sea, because the market belongs to the women at this hour: here, the gender ratios are reversed. (For more details about Con Dao Market click here.)
In 2011, Brad Pitt and Angelina Jolie took a family holiday at the luxurious Con Dao Six Senses Resort. Their visit marked the massive shift in Con Son's image from prison island to glamorous getaway. But, as long as the prisons are preserved as a memorial to those who suffered, the dark past of the Con Dao Islands will always live side-by-side with the beaches, palms trees and, no doubt, dozens of luxury resorts and residences that are bound to be built in the coming years. Once a place of malnourishment and disease, it seems inevitable that soon it will become a place for fat cats and superstars. But, for now at least, the Con Dao Islands are quiet and gorgeous. All travellers can enjoy the islands, from budget to mid-range to luxury. Come now, before trucks clutter the small island roads and construction shatters the silence and serenity of peaceful Con Son. (For more details about accommodation on Con Son Island click here.)
---
Prisons & Early History:
Between 1862 and 1975, tens of thousands of political prisoners were held on Con Son Island. The prisons, set up by the colonial French and later run by the South Vietnamese and Americans, became known as 'university' for a generation of independence activists from all over Vietnam. Many, who were unaffiliated to political groups when detained, were hardened by the treatment they received in the prisons, and left as members of one party or another, particularly the Indochinese Communist Party, predecessor of the ruling Communist Party of Vietnam. Some prisoners were famous independence advocates before entering the prisons, others grew to fame after being released from Con Son, having learnt much in the 'Schools of Bolshevism' on the island. Many, however, never left the island: they died from malnourishment, mistreatment, hard labour, or were executed. They became martyrs for their cause, commemorated on the island and throughout Vietnam today. An estimated 22,000 prisoners lost their lives on Con Son Island. Most of the dead were dumped in the shadow of a mountain behind Con Son town. In 1975 their remains were collected and buried in Hang Duong Cemetery, which occupies the site today. (For more details about the prisons and cemetery click here.)
The prisons closed in 1975. Since then, Vietnamese come on sombre pilgrimages to remember national heroes or relatives who were imprisoned or died on the island. Perhaps the most famous of all the victims of the Con Son prisons is Vo Thi Sau. Involved in anti-colonial activities from the age of 14, she was eventually captured by the French and imprisoned on Con Son. In 1952, at the age of 19, she became the first woman to be executed on the island. Today her grave is the sight of a nightly vigil where Vietnamese come to pay their respects with offerings, including combs and mirrors which symbolize her youth. But, as Vietnam becomes more popular with foreign tourists and flights to Con Son more regular, it is the natural beauty of the island that most visitors come to see. For tourists, it's impossible to ignore the island's grim past, but for pilgrims too, it's equally impossible to ignore the scenic surrounds of the former prison island. Vietnam today is a youthful country – over 50% of the population is under the age of 25 – and most of them are increasingly likely to think of Con Son Island as a place of relaxation and recreation, rather than one of sober reflection. (For more details about visiting Vo Thi Sau's grave click here.)
The prisons belong to the relatively recent past, but history and myth on the Con Dao Islands goes back centuries, and is often just as harrowing and macabre. Both the Malays and the Khmers held the islands for a time. Contact with the West started with Arab traders in the 9th century. After that, came the familiar succession of European colonial powers: Spanish and Portuguese mariners in the 16th century, the British East India Company in the 18th century (who set up a fort in 1702, but abandoned it a few years later, when they were massacred by their own mercenary workforce), and the French from the 19th century onwards. It is even said that Marco Polo, on his way back from China, took refuge on the islands during a storm in 1294. A visit to the new Con Dao Museum is a good way to get an overview of the history of the islands.
---
The Legend of Phi Yen:
One story, part history, part legend, took place on the islands in the late 18th century and marks the advent of French colonial ambitions in Vietnam. The heroine is Phi Yen, or 'Flying Swallow'. Phi Yen was one of the wives of Nguyen Anh, the last remaining prince of the Nguyen Lords, who ruled southern Vietnam from the 17th century. In 1783 Prince Nguyen Anh escaped capture from his military and political rivals, the Tay Son brothers, by retreating to the Con Dao Islands. He and Phi Yen took refuge in a grotto on the island of Hon Ba. Nguyen Anh sought the help of Pigneau de Behaine, an influential French missionary in the Mekong region. The Prince agreed to cede the Con Dao Islands and the port of Danang to the French, in exchange for their military support in defeating the Tay Son brothers and returning him to power.
Phi Yen's son, Prince Cai, was to be sent with Behaine to the court of Louis XVI in France, as insurance for the deal. But Phi Yen refused to let her young son undertake such a dangerous and uncertain journey. Nguyen Anh was furious. He ordered Cai be thrown into the sea and drowned. In Cai's place the son of one of Nguyen Anh's other wives was sent to France instead. Phi Yen was left on the islands to die. (Today, there's a small tomb and shrine to Prince Cai on the road to Dam Trau beach, on Con Son Island.)
In 1787, Louis XVI agreed to the treaty with Nguyen Anh, but was overthrown in the French Revolution of 1789 before the treaty could be realized. However, some military support and supplies still got through to Vietnam, allowing Prince Nguyen Anh to wage war on the Tay Son brothers. In 1802 he was victorious and declared himself ruler of all Vietnam. He took the royal title, Emperor Gia Long, and moved the imperial capital to Hue, beginning what would be Vietnam's last imperial dynasty. But the stain of French assistance would haunt Gia Long and his successors, until the dynasty became nothing more than an impotent arm of French Indochina. Today, Nguyen Anh is a much-maligned figure in Vietnamese history, a fact attested to by his lonely, seldom-visited tomb on the banks of the Perfume River, outside Hue.
Phi Yen remained on the Con Dao Islands, until one day she was courted by another man. Traditionally, a good wife never betrays her husband, no matter what he's done. Not wishing to be disloyal to Nguyen Anh, Phi Yen refused the approaches of her suitor and threw herself into the sea. Today, unlike her husband, Phi Yen is revered as a faithful, loyal wife and a loving mother: her two greatest attributes tragically coming into conflict with each other. She is worshiped on Con Son Island at Miếu Bà Phi Yến (Phi Yen's Shrine, also known as An Son temple). The small, squat temple is set under a flame tree at the foot of a mountain by a lotus lake. History and legend intertwine on the Con Dao Islands: no one knows for sure what happened to Phi Yen or if Prince Nguyen Anh ever stayed on Hon Ba Island. The Vietnamese have an expression for such stories: người ta nói ('people say'). Today, people say the ghosts of Phi Yen and her son still haunt the Con Dao Archipelago. (For more details about temples and shrines on Con Son Island click here.)
---
BEACHES & BAYS:
Con Son is a wild and rugged island: mountains and rocky headlands plunge straight into the sea. There aren't that many long, sandy beaches, like the ones you find on Phu Quoc Island. However, there are several bays where the mountains give way to some stunning strips of sand and turquoise water, which are, for my money, more spectacular than Phu Quoc. The following list of beaches and bays are scattered around the main island of Con Son, and are listed in order of my own personal preference. All these beaches can be visited by motorbike or taxi or, in some cases, only on foot. There are other beaches on the outlying islands, but you'll need to charter a boat to get to those (see Things to See & Do for more information). Click a beach below to read more about it:
---
At the tip of the headland that juts out south of Con Son town is Mũi Cá Mập (Shark Cape). A fierce wind smacks the side of your scooter as the road twists around the cape to reveal the best view on the island. Looking down, you can see the road cutting along the coastline below the windswept southern slopes of Núi Thánh Giá, the highest mountain on Con Son Island. Big boulders that were dynamited during the construction of the road, (also paid for with prisoners' lives), lie strewn on the sea side of the tarmac, decreasing in size as they roll down to meet the rice-white sand and gin-clear water of Nhat Beach, behind which the Jurassic Park-like island of Hon Ba looms (where Prince Nguyen Anh and Phi Yen are said to have stayed). This is my favourite beach on Con Son Island. In fact, it's one of my favourite beaches in all Vietnam. The swimming is excellent, especially before noon, when the water is often calmest, and when the tide is usually out so that more beach is exposed. However, there is very little shade on Nhat Beach, and it is increasingly difficult to ignore the landfill on the opposite side of the road, which is yet another reminder about how fragile this island is.
---
Dam Trau Beach:
In the northwest of the island, Dam Trau Beach is a sandy cove shaded by casuarina trees and flanked by rocky headlands covered in tropical foliage. Just a couple of years ago, the beach was only accessible via a sandy dirt lane through the foliage. Now, however, a wide new paved road has been constructed, ultimately to facilitate development of the beach. For now, Dam Trau is still very quiet and peaceful for most of the day. But, in the late afternoons, tour buses often arrive (they can do so now because of the new road) and disgorge dozens of visitors. However, there's lots of space so the beach is never crowded. Dam Trau is right next to the airport (the runway ends just as the tarmac meets the sand), so when the flights come in to land, everyone on the beach stops to gaze as the small propeller aircraft drift down over the sea. During the last couple years a few makeshift cafes have opened on the sand. They're shabby and temporary-looking, and trash is piling up behind them, stewing in the sun. However, it's nice to have some food and drink available on this side of the island, because previously the only place for refreshments was the airport cafe. A hundred metres before you reach the beach there's a small shrine to Prince Cai, Phi Yen's son.
---
Lo Voi Beach:
At the northeastern end of Con Son town's fabulous seafront promenade, Loi Voi Beach is a ribbon of white sand spreading out under a line of casuarina trees. It's a gorgeous spot: the water is shallow and blue, there's a constant sea breeze drifting through the trees, the wooden skeletons of wrecked fishing vessels lie entombed in the sand, and the rugged hills of Shark Cape lead out into the ocean to south. The beach is protected and calm, sheltered by a hilly headland. At low-tide, usually early in the morning, the sand is exposed for over a hundred metres, during which time I'm told it's possible to walk around the headland to a secret sandy cove at its tip. As always on Con Son Island, just as you're wallowing in tranquility of Lo Voi Beach, you're reminded that the past stalks every corner of this island. During the century that Con Son served as a prison island, many of the remains of the thousands of prisoners who died in captivity were discarded under the casuarina trees between the road and the beach. A memorial plaque by the roadside, covered in fresh flowers and burning incense, serves as a reminder.
---
Con Son (An Hai) Beach:
An Hai Beach is a sandy continuation of the harbourfront that stretches southwest of Con Son town. Fringed by palm trees and overlooked by green mountains, this beach is dotted with the only beachfront accommodation within walking distance of the town. However, even if you're not staying at one of the beachfront resorts, you can still access this beach by walking or driving to the southernmost section of sand, where the road nearly meets the sea. The water here is clear and cool, and great for swimming. But sandflies have always been a problem and, now that the new boat pier has been constructed at its northern end, there's a lot more trash in the water and washed up on the sand (much of it, sadly, comes from the fishing boats moored along the pier, whose crews tend to throw their beer cans and polystyrene boxes of food straight into the sea). However, the broad stretch of sand is such a beautiful sight that you soon forget about the flies and the litter…..well, almost. Another popular place to access what is, I suppose, technically Con Son Beach is either side of the smaller, old boat pier, directly opposite the old French customs house, in the centre of Con Son town's seafront promenade. An hour or so before sunset, dozens of Vietnamese tourists and locals come out to play in the surf. It's a great time to be here: watching the sun set behind Shark Cape, having a drink and snack from one of the street vendors, before walking back along the silent coast road, looking out at the anthracite ocean pricked with the glow of fishing boat lights.
---
Dat Doc Beach:
Although the vast majority of the sand at the western end of Dat Doc Beach is now owned (and conspicuously guarded) by the ultra-luxurious Six Senses Resort, the wider bay is just as appealing to swim, snorkel, wander, and find a large shady tree under which to camp for a few hours. The road runs very close to the coast, allowing you to park your motorbike on the verge and scramble down to a nice, isolated spot. At low-tide there are some sandy patches, but most of Dat Doc Bay is rocky. However, I find this is actually more convenient than sand: wet trunks out to dry in the sun on one boulder, picnic table on another, seats on others. I really enjoyed hopping from rock to rock along this bay in the late afternoon, when the sun sets over Con Son town. The views are dramatic and there's no one around at all. The bay itself is protected from the winds and usually quite good for swimming. But if you swim be very careful not to go out too far, where the sea is exposed to the prevailing winds and the current can take you away.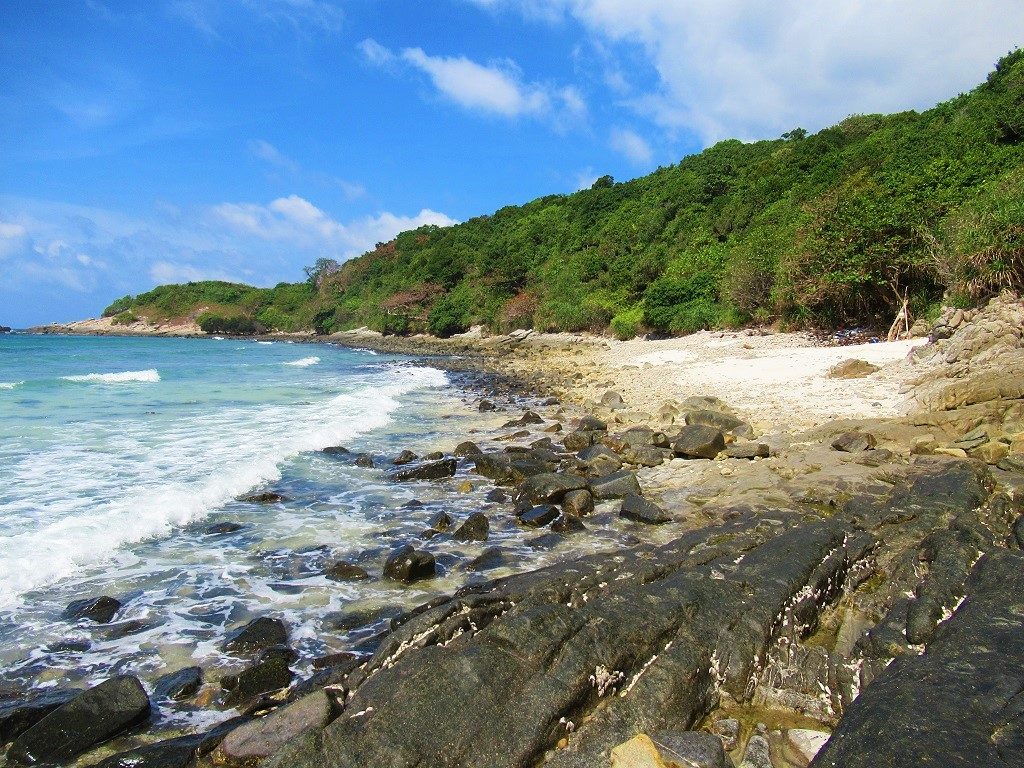 ---
Dam Tre Bay:
Only accessible via a beautiful hiking trail through thick jungle, Dam Tre is a lagoon right at the northern tip of Con Son Island. The trek takes a couple of hours and should be made in the mornings, when the tide is out, so that when you arrive at Dam Tre the water level will be low enough to get down to the lagoon and bathe. Swimming here is a real treat, especially after the hot and sweaty walk. The water is beautiful and there's good snorkeling too. (Remember to bring drinking water.) It's a gorgeous spot, and it's easier than ever to get here, since the pathway has recently been cleared and widened (see Hiking for more details).
---
Vong Beach:
In the northeast of the island, Vong Beach is a wide arc of sand backed by dense jungle. Vong Beach is on the opposite side of the airport runway from Dam Trau. But, while Dam Trau is sheltered from the northeast winds, Vong Beach is quite exposed and can become rough during the northeast monsoon months (October to March). The seascape is very dramatic as the beach is bookended by steep, rocky cliffs. Vong Beach can be accessed via dirt paths that lead down from the coast road, but it's easiest at the southern end where the road runs closest to the sea.
---
Ong Dung, Bang & Dat Tham Beaches:
On the remote and undeveloped western coast, these three beaches (Ong Dung, Bang, and Dat Tham) can only be reached on foot. At the new National Park headquarters, in the hills just behind Con Son town, well-marked trails lead through the jungle to the other side of the island, where they descend to the waters' edge. Although none of these beaches are particularly sandy, or even that good for swimming, they are peaceful, isolated and without any significant human interference. Of the three, my favourite is Bang Beach, where there's a narrow strip of sand and, in the rainy season, a small waterfall running off the mountains into the open sea. (See Hiking for more details.)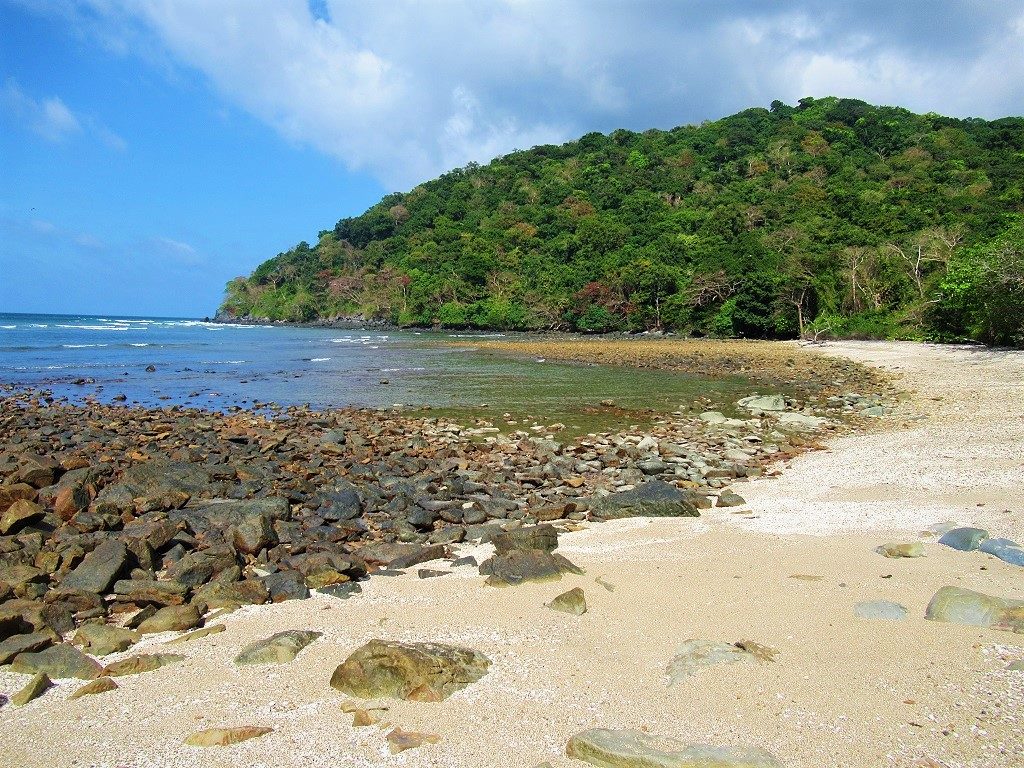 ---
Ben Dam Bay & Port:
At the southern tip, the coast road ends at the island's main fishing port of Ben Dam. Situated in a beautiful lagoon sheltered by Hon Ba Island, Ben Dam is as scenic a harbour as you could hope to find. The port itself is rather more prosaic: there's a rough edge to Ben Dam despite its lovely setting, with red-faced drunken fishermen staggering up and down the pier. You wouldn't really want to swim in the harbour, but the market by the pier has some fresh fruit and snacks, and you can watch the blue wooden fishing boats unload their silver fish into wicker baskets full of ice. From the pier it's possible to hire a small boat for the short trip over to Hon Ba Island, where there's a decent beach. (Ben Dam is where the passenger ferries arrive from the mainland: see Transportation for details.)
---
THINGS TO SEE & DO:
There's plenty to see and do on the Con Dao Islands. Personally, I can happily spend a week here, but 3-4 full days should be enough for most travellers. You'll get the most out of the main island of Con Son by wandering and exploring independently: either on foot or on two wheels. The town of Con Son and the island's rural roads and hiking trails will reveal enough of their charm and beauty to keep you going for a several days: beaches, colonial architecture, history, forests, markets, and mountains. For the outlying islands, you'll need to hire a boat or go on a diving trip. Click an item below to read more about it:
---
Walking, Hiking & Motorbiking:
Renting a motorbike or scooter (available from most accommodations for 100,000vnd a day) gives you the freedom to really explore Con Son Island: choose your spot on any of the deserted beaches, go down sandy tracks leading into the jungle, and admire the spectacular views from the coast road that rings half of the island. In general, Vietnam is best seen on a motorbike, and Con Son Island is the perfect place to learn to ride if you don't already know how. The well-maintained but empty roads give you all the space and time you need to get familiar with riding. You can easily ride all the island's roads in one day, but take your time because riding here is such a pleasure. The total distance from Ben Dam Port (at the southern end) to Co Ong Airport (at the northern end) is just 25km. A new road on the island's western coast is currently under construction and is scheduled to finish around 2020. However, be careful of strong winds as you round the two main capes on the island, and bear in mind that there are only a handful of gas stations on Con Son, all of which are marked on my map.
Aside from walking up and down the seafront promenade in the mornings and late afternoons (undoubtedly one of the highlights of visiting Con Son Island) and strolling along Con Son's charming, languid back-streets, there are an increasing number of hikes around the island. In the last couple of years, at least half a dozen hiking trails have been cleared through the forests and in the hills of Con Dao National Park, which covers most of the island of Con Son. The trails are easy-to-follow dirt paths or, in most cases, paved stone lanes. This is great news for walkers and there are many more trails being made. The scenery is excellent, there's a high chance of seeing wildlife (such as macaques and black squirrels), and by walking it's possible to reach parts of the island that are even more remote and that can't be accessed by any other means. However, in the process of building these tracks, especially the paved ones, there has clearly been some damage to the natural setting through which they pass. On the other hand, there are trash cans at fairly regular intervals and notice boards about how to protect the environment and trek responsibly.
Go the the new National Park headquarters, in the hills behind Con Son town, to pick up a map (not a particularly good one) with all the trails marked on it and to pay the park admission fee (60,000vnd). These days, all the hiking trails can be done independently: there's no need for a guide and there are signposts along the way. To get to the trailheads you can walk or ride a motorbike or take a taxi. Remember to take plenty of water and a snack with you, because there's little if anything on the trails themselves (and don't forget your swimming things). The main cluster of trails is around the National Park HQ. One leads steeply down, via stone steps, to Ong Dung Beach (it's really a rocky bay), another heads through the jungle to a grotto with a shrine to the Virgin Mary and then continues to Bang Beach, Hoai Duong Waterfall (only during the rainy season), and Dat Tham Beach. These are all very pretty, peaceful and worthwhile treks of medium strenuousness. Another trail is a loop from Ma Thien Lanh Bridge (near the park HQ) to So Ray fruit plantation and back down to the road. But the most scenic trek is from Vong Beach to Dam Tre Lagoon in the north of the island. The trailhead is at the southern end of Vong Beach. It's best to begin this walk in the morning when the tide is usually out so that you will arrive at the gorgeous lagoon before the water fills it up completely. This is a longer trek and will take at least a few hours for the round trip. (On all of the trails, be careful in damp conditions, because the paths can become very slick).
---
Prisons, Museums & Historical Sites:
For the majority of Vietnamese visitors, it is Con Son's history that brings them here. Every year, tens of thousands of Vietnamese of all ages and backgrounds come on a pilgrimage of sorts, to pay their respects to the former inmates of the prisons, many of whom are considered great national heroes. Over 20,000 prisoners died on the island, either through malnutrition, disease, mistreatment or execution. Of course, this makes the prisons and associated sites a very sombre experience. But, for a foreign visitor, it also gives you some historical perspective, and makes you appreciate how this island, which today appears to be the epitome of a tropical paradise, was a dark and hellish place for thousands of prisoners for over a century. There are several prisons on the island, all within walking distance of Con Son town. It makes sense to visit Phu Hai and Phu Son prisons first, where you can buy a ticket (60,000vnd) which covers entrance to all the other prisons and sites, including the museum.
Strangely, the prison names in Vietnamese all translate rather romantically: Phu Hai (Rich Ocean) and Phu Son (Rich Mountain), for example. Some of the prisons are grey concrete blocks; others look less threatening: parts of Phu Hai and Phu Son resemble a French colonial seminary rather than a penitentiary. But, one look inside the cells – at the horrific, green, corpse-like mannequins – brings home the reality of conditions here. The most visited prison sites are Phu Hai, Phu Son and Phu Tuong. The latter is where the infamous 'tiger cages' are: small cells with grilles in the ceilings where guards poked prisoners with sticks and threw lime down on them, which burned their skin. Apart from the prisons, stone plaques around the town and across the island commemorate other horrific events in Con Son's past, all related to the prisoners. The cowshed, for example, marks the mass grave where prisoners were massacred after a failed rebellion.
The equally disturbing Con Dao Museum used to be held in the old Governor's House on the seafront promenade, but relocated a few years ago to a sprawling new building on Nguyen Hue Street. They've fleshed-out the exhibits to fill the enormous new space, and information is now in English and Vietnamese (open: 7.30-11.00am and 1.30-5pm daily). There are photographs of some of the more famous of Con Son's former inmates, including the likes of Pham Van Dong and Ton Duc Thang, who became long-serving prime minister and president of Vietnam respectively. There are also portraits of those who lost their lives on the islands, the most famous of whom was the 19 year-old, Vo Thi Sau. An independence activist from an early age, Vo Thi Sau was the first woman to be executed on the island. Her grave, and hundreds of others, can be visited at the sobering Hang Duong Cemetery, behind Con Son town on Nguyen An Ninh Street. Every night around midnight, a moving vigil is held at Vo Thi Sau's tomb. Candles and incense are lit on her grave, and offerings of flowers, fruits, combs and mirrors (symbolizing her youth) are laid on her tomb. Foreign visitors are welcome, but make sure you dress (and act) respectfully (no shorts or bare arms). It's a good idea to purchase some incense, flowers or fruit at the cemetery entrance (or in town) to lay at the grave.
---
Temples & Pagodas:
As with all regions of Vietnam, there are folktales and myths surrounding the Con Dao Islands, some of which are intertwined with historical events. The story of Phi Yen is the tale that dominates Con Dao mythology, and there are several shrines and temples commemorating it. There seem to be a few different versions of the story, but essentially it involves the emperor Nguyen Anh's concubine, Phi Yen, being abandoned on the island to die as a result of her counseling the emperor not to seek French help in order to regain his power over the Vietnamese mainland. Phi Yen's son, Prince Cai, was thrown into the sea and drowned. His body recovered and given burial on Con Son Island, Phi Yen spent her days grieving her son, eventually ending her own life by hanging. The historical events in this folktale happened in the late 18th century, when a successful rebellion swept through Vietnam, but was ultimately quashed by emperor Nguyen Anh with French aid, thus ushering in the beginnings of French involvement in Vietnamese affairs, culminating in the French colonization of Vietnam, which began in 1858 and lasted until 1954. Phi Yen's temple (also known as An Son shrine) is a pretty and peaceful place on the edge of Con Son town, by a large lake of waterlilies. In the shade of a giant flame tree, the temple is short and stocky with a cool and breezy courtyard. Buy some incense and take a few moments to contemplate Phi Yen's sad tale. On the other side of the island, there's a shrine to Prince Cai on the road to Dam Trau Beach. Guarded by two sculpted horses, this is also the tomb of the prince, whose grave is behind the shrine.
The newly refurbished pagoda complex of Van Son (Cloud Mountain) sits in a commanding position on the hillside above An Hai Lake. It's a steep (and hot) climb up the stairs to the prayer rooms. There are good views from the top out to sea and across the town. An impressive new temple dedicated to the men and women who were imprisoned and lost their lives on Con Son Island sits at the entrance to Hang Duong Cemetery. And, at the northern end of the seafront promenade, a small, attractive temple to Vo Thi Sau stands in a tidy park, but was empty at my last visit.
---
Diving & Boat Trips:
Con Dao offers by far the best diving in Vietnam. Other popular Vietnamese dive destinations, such as Nha Trang, pale in comparison. Although diving is possible year round, the best season is from March to June, when the water is clear and calm; November to January can get pretty choppy, and diving trips are always subject to conditions. Sadly, Larry and his team from Dive, Dive, Dive! have now left the island, and probably won't return. Apart from offering excellent diving trips, Larry was also very concerned (and vocal) about the marine and land environment of the Con Dao Archipelago. Ultimately, the lack of environmental protection and insight, and inefficient management of those charged with protecting Con Dao's environment, was a major contributing factor in his decision to leave the islands. Obviously, this is very worrying, and something that all visitors to Con Dao should bear in mind. Diving trips are still available and the coral and marine life is still impressive enough to make it worthwhile, but overfishing, pollution, and general bad management are steadily taking their toll. Con Dao Dive Center is now the go-to place for arranging a diving trip. They are located at Bar 200 on Nguyen Van Linh street, at the edge of Con Son town. For more information see their website and send them an email: www.divecondao.com
Boat trips to the outlying islands can be arranged through some of the hotels, the National Park headquarters, and (if there's anyone there) the tourist office at the new boat pier. A boat ride to Bay Canh Island (the second largest in the archipelago) is the most popular trip. Prices are fairly high so you'll want to go as a group in order to share the costs (usually around 1,500,000vnd). Con Dao is well-known for its sea turtle nesting grounds. It's possible to book a tour through the National Park HQ to witness the laying of the eggs on the beaches at night (packages start from around 1,00,000vnd per person). The season lasts from June to September, but there are serious concerns over the National Park's management of the sea turtles and their eggs, including accusations of making personal profit from selling the turtles' eggs and shells. This has led to calls for visitors to boycott these trips as a demonstration against these practices.
---
Markets & Shopping:
Con Dao Market is a bustling little place that's great fun to explore, particularly in the early mornings and late afternoons, when it's at its busiest. The market is currently being expanded and will soon occupy a large new building, as well as its present, Soviet-looking one. For the time being, the main market is under a temporary roof (called cho tam) opposite the original market. There's plenty of local fruit, vegetables and fish for sale, as well as some cooked food (such as noodle soups) in the mornings. The fish section is surprisingly underwhelming, probably because a lot of Con Dao's catch gets exported to restaurants on the mainland. However, you can still see fresh lobster and even the occasional shark. An interesting Con Dao gift shop opened a couple of years ago on Nguyen An Ninh Street. This smart and clean souvenir store includes island specialities, such as bags of tropical almonds (hat bang) that area grown on the enormous old trees lining the town's streets, local liquor made from ginseng (ruou sam), and fresh honey (mat ong) among other treats. It's definitely worth a look.
---
ACCOMMODATION:
The number of places to stay on the Con Dao Islands has grown significantly over the last couple of years. There are now dozens of mini-hotels in Con Son town, all offering good budget-standard rooms, albeit at mid-range prices. There's a clutch of mid-range hotels along the town's seafront, and two very high standard luxury resorts. However, as with all expenses on the Con Dao, room prices are relatively high, and value for money isn't great. In general, expect to pay at least 30% more than you would on the mainland. But, I think 3-4 days on the islands is well worth the extra cash you'll spend. All accommodation is on the main island of Con Son. The following hotels in each category are listed in order of my own personal preference.
*Please support this website by using the BOOK HERE links in the hotel listings to reserve your accommodation on the island or by using the search box below. All my reviews are independent and I never receive money in return for writing about a hotel. Thank you.
---
There are now two very luxurious resorts on Con Son Island: Poulo Condor Boutique and Six Senses:
• Poulo Condor Boutique Resort & Spa [MAP]; $200-$500; [BOOK HERE] Owned by the same people behind Ho Tram Boutique (one of my favourite resorts in Vietnam), Poulo Condor Boutique is the newest of Con Dao's luxury accommodations. Located at the southern end of the long arcing sands of Vong Beach, Poulo Condor is just a couple of minutes drive from the airport, and the only accommodation on this side of the island. For the time being, the resort has the entire beach to itself. The styling and decor are superb. The theme is French colonial: you'll recognize the porch arches of the resort's bungalows from the colonial-era shophouses in the back-streets of Con Son town. Inside, the rooms are very spacious and beautifully appointed, with wooden wardrobes and chests, rattan furniture and painted vases, tiled floors and stone verandas, rugs and lamps, shutters and blinds, expansive outside bathrooms and some rooms have private plunge pools. Other facilities include an attractive infinity pool, spa, large gardens, restaurant and bar. The resort was carefully designed to have minimal impact on the natural surroundings on which it was constructed, which belongs to the national park. This means that the large trees and thick foliage on the beachfront have not been cut down to create sea views. While this might be a disappointment to some guests, it's worth bearing in mind that many other high-end resorts are not so scrupulous when it comes to the preservation of nature, and Con Dao is a fragile place which needs to be developed sensitively. The downside of this is that the resort doesn't really have a focus area: the swimming pool is the default gathering point for guests, but the rest of the resort can sometimes feel quite bare, especially if they are only a few guest staying. [CHECK RATES]
• Six Senses Con Dao [MAP]; $400-$2,000; [BOOK HERE] The Six Senses brand has a reputation for atmospheric resorts in superb natural surroundings throughout Southeast Asia, and this one received a lot of media attention in 2011, when 'Brangelina' stayed here. The resort consists of contemporary-looking private villas made entirely of wood, built along a lovely, long stretch of sand on Dat Doc Beach. The villas are pretty low-impact (you can hardly see them from the road), very well-made, and all of them have ocean views and private plunge pools, as well as other smart little touches, such as in-room espresso machines. Service is exceptional: staff are incredibly well-trained and very friendly.
Of course, all this luxury comes at a price: the cheapest villas start at around $400 a night, and continue to over $2,000 for large family villas. When you're paying this amount it's difficult to determine value for money. When I can afford it, I love staying in luxury resorts, and I have no qualms about paying hundreds of dollars for outstanding accommodation and service in amazing locations. However, as nice as the Six Senses is, its secluded location – over a headland and out of Con Son town – seems, to me at least, to be a disadvantage: there's no opportunity for evening strolls along the seafront promenade, no spontaneous walks around the lovely old town, and the beach is very exposed. The charms of Con Son town and the bay it fronts are a highlight of staying on the Con Dao Islands, and I think it'd be a shame to miss out on that by staying out of town. However, the whole point of Six Senses resorts is that they are 'hideaways', and if you stay here you definitely get a sense of isolation; of being on a remote island in the middle of the ocean. But is it really worth the money, especially now that Poulo Condor offers tasteful luxury for a fraction of the price? [CHECK RATES]
---
MID-RANGE:
Mid-range hotels and resorts on Con Son Island are around $20-$30 above their 'real' value: i.e. what you'd expect to pay if they were on the mainland. But it's worth it for the location: all of the following mid-range accommodations are either on the beach, on the seafront promenade, or on the shady backstreets of Con Son town.
• Con Dao Resort [MAP]; $70-$100; [BOOK HERE] Right on An Hai Beach with clean, comfortable, but sparse rooms, Con Dao Resort is all about the location and sea views. Pay a little extra for one of the sea view rooms, which have easily the best vistas over the bay of any accommodation on the island (including the luxury options). There's a pool, tennis court, seafront gardens, and palm-fringed beach. The buffet breakfast is plentiful but a bit on the 'school dinners' side. For a few years this resort got negative reports for being 'run-down'. It has addressed this by building a new wing, in which the rooms are clean, crisp and comfortable, although a bit more expensive than the old wing. The resort is definitely aimed at domestic tour groups rather than foreign visitors, but it's still bright, airy, and good, solid mid-range accommodation. [CHECK RATES]
• Villa Maison Con Dao Boutique Hotel [MAP]; $70-$80; [BOOK HERE] A fabulous new boutique hotel housed in a French colonial villa in Con Son town, Villa Maison is cosy, stylish, atmospheric, and chic. The reception, lobby, restaurant and bar occupy a beautifully restored one-storey colonial villa leading onto a large courtyard with big tropical trees. It's a handsome sight. Rooms (of which there are only a few, so book in advance to avoid disappointment) are set off to the left of the main villa. Petite but thoughtfully and tastefully furnished, the decor is bright and fresh: tiled floors and bathrooms, lamps and cushions, floral motifs and plenty of natural light. The only thing Villa Maison lacks is a pool – how nice it would be to have a pretty infinity pool under those large trees in the courtyard. On the other hand, Con Son seafront (which is great for swimming) is just a couple minutes walk away. This is a brilliant addition to the mid-range accommodation on the island. [CHECK RATES]
• Tan Son Nhat Con Dao Resort [MAP]; $60-$80; [BOOK HERE] Formerly the Seatravel Resort, this place is right next to Con Dao Resort, and shares the same great beach location. Large and nicely-made wooden bungalows are set under big trees right on the beach. The resort has recently expanded, adding slightly cheaper bungalows around a pretty vegetable garden. Inside, rooms are spacious if a little empty. There's an indoor-outdoor restaurant and a good beach bar. Service is O.K but loud music is occasionally played in the dining area. However, once you're on the patio of your bungalow you forget about the resort's shortcomings. Although I've had mostly positive experiences at Tan Son Nhat Resort, it tends to get lukewarm reviews from other travellers. But, in my opinion, it has gotten a lot better in the last couple of years. [CHECK RATES]
• Saigon Con Dao Resort [MAP]; $60-$80; [BOOK HERE] There are two wings to this resort, located at the centre of the seafront promenade in Con Son town. The old wing is made up of single storey, restored French colonial bungalows; the new wing is a large four-storey building, which seems rather insensitive considering its low-rise neighbours. The rooms in either wing are good but quite plain, as is the resort as a whole. The pool, however, is lovely. Get a sea/pool view room and enjoy the wonderful vistas. The resort was built practically on top of Phu Hai Prison, a rather strange and uncomfortable location: do they advertise 'prison view' rooms? Saigon Con Dao is very popular with Vietnamese tour groups and can sometimes be fully booked for weeks. The resort's main strength is its location on the charming, utterly beautiful seafront promenade. [CHECK RATES]
• Thien Tan Star Hotel [MAP]; $40-$70; [BOOK HERE] This is a fairly new beachfront option. Thien Tan Star is between Con Dao Camping and Tan Son Nhat Resort. Rooms and prices vary but in general rooms are clean (if a little soulless and without any frills) and good value considering the oceanfront location. Next door, the almost identically named Thien Tan Hotel offers cheaper, mustier rooms for $15-$30 – very good value if sharing a room between 2 people and trying to stay on a budget. [CHECK RATES]
• Former ATC Resort [MAP]; With a string of converted 1930s French villas along the seafront promenade, the former ATC Resort is currently under renovation. One hopes that its future incarnation will preserve the colonial-era buildings on its land, and resist the temptation to build a multi-storey monstrosity. It's a large and beautiful piece of land, at the northern end of the seafront road, with marvellous vistas across Con Son Bay. At the time of writing (April 2018) they were a long way from reopening.
---
BUDGET:
As with the mid-range places, expect to pay around $10 dollars a night more than you're used to for budget accommodation on Con Son Island. In fact, the budget price bracket here is between $20-$40. However, when you're sharing the cost with at least one other person, value for money is pretty decent, especially considering that the standard of all the new mini-hotels in Con Son town is quite high.
• Lighthouse Boutique Hotel [MAP]; $25-$35; [BOOK HERE] Newly refurbished, this neat little hotel is on another of Con Son's quiet backstreets. Bright, clean, friendly and fresh, Lighthouse Boutique is good value, especially for couples. Rooms are smartly (if sparsely) decorated, including colourful tiled bathrooms and wooden touches here and there. This is good, solid flashpacker accommodation. [CHECK RATES]
• Uyen's House Homestay [MAP]; $10 (dorm) $35 (private room); [BOOK HERE] With its cool, pastel tones, antique-chic decor, and pleasantly young and trendy vide, Uyen's House has become a favourite selfie location for Vietnamese twenty-somethings. Although relatively small (there are less than a dozen dorm beds and only a few private rooms), Uyen's House is tastefully and thoughtfully decorated in Instagramable purple tones, with wooden shuttered doors and windows, floral tiles, lamps, and potted plants. The dorm (200,000vnd per person) is very attractive, but often fully booked by young Vietnamese groups; private rooms (700-800,000vnd) are upstairs and nicely appointed, although some don't have windows. Uyen's House, like Lighthouse Boutique, is part of the new wave of bouitiquey-yet-affordable mini-hotels on Con Son Island, aimed at young middle-class Vietnamese from the urban centres on the mainland. [CHECK RATES]
• Q Songchi Hotel [MAP]; $30; [BOOK HERE] This new mini-hotel is at the back of Con Son town, on the pleasant, quiet and shady Nguyen Van Linh Street. It's a colourful place painted purple and white. Rooms are a bit small but continue the purple theme with stripes on the wall. For their price and size, rooms are cozy, well-equipped and thoughtfully appointed. Of the mini-hotels that are popping up all over town, this is one of better ones. It's good budget value if you're sharing two to a room. [CHECK RATES]
• Con Dao Camping Hotel [MAP]; $35-$45; [BOOK HERE] The name for this place refers to the style of the rooms here – pyramidal, A-frame bungalows – rather than canvas tents. Apart from Thien Tan Hotel, this is the only relatively cheap accommodation right on the beach. It represents decent value for double occupancy, but if you're a solo traveller on a budget it's hard to justify the expense. Rooms are cosy enough if a bit cramped, but you can't beat the location. There's a little beach bar, a shady beach garden, and access to the entire sweep of An Hai Beach. However, the bungalows are showing their age (or rather their cheap building materials) and the place feels just a little bit run down these days. [CHECK RATES]
• Red Hotel [MAP]; $30; [BOOK HERE] Clean, simple, and friendly, Red Hotel is many travellers' go-to mini-hotel on Con Son Island. It doesn't offer much in style, but it has everything you need from a reasonably priced small hotel: comfortable beds, decent bathrooms, plenty of space, TV, refrigerator, WiFi etc. There are many mini-hotels in the same style as Red these days, including Hoang Ngoc which is next door to Red and an equally solid option. [CHECK RATES]
• Trung Hau Hotel [MAP]; $25-$35; [BOOK HERE] This large hotel at the back of Con Son town is nicely located with good rooms (some with little balconies). It's walking distance from all the sights in town, including the National Park Headquarters. Tea out front under the shade of trees is lovely. It's popular with young couples travelling together on a budget. [CHECK RATES]
• Phi Yen Hotel [MAP]; $25-$35; [BOOK HERE] This used to be my go-to place for a cheap trip to the island. However, Phi Yen Hotel has since come under new management and the prices have gone up, but, thankfully, so has the quality. Previously a run-down guest house, Phi Yen has smartened itself up into a decent but plain budget mini-hotel. Rooms and fairly bright and clean, although the renovations of a few years ago are already showing signs of age. But, for the price, its location is fantastic: right on the seafront promenade with easy access to the sea and Con Son's backstreets. If you're sharing a room, Phi Yen Hotel is good value for money. [CHECK RATES]
• Sai Gon 68 Hotel [MAP]; $30-$40; [BOOK HERE] A new mini-hotel on the back-streets of Con Son town, Sai Gon 68 is a fairly smart looking place in a cluster of other decent mini-hotels, including Quynh Anh Hotel opposite. These accommodations are all decent places to stay and popular with Vietnamese tour groups. Sai Gon 68 is particularly clean and comfortable. [CHECK RATES]
Other Guest Houses & Mini-Hotels: Dozens of accommodations in the budget price bracket are dotted all over Con Son town and new ones are opening all the time. Apart from the ones listed above, there are several clusters of guest houses and mini-hotels that are worth checking out: either side of Con Dao Market, and another near the seafront at the intersection of Nguyen Hue and Ton Duc Thang streets. The general standard of all these places is pretty good: clean rooms, hot water, friendly owners. They are all a bit overpriced but that's just how it is on Con Son Island:
Hai Nga Mini Hotel [MAP]; $15-$25 | Tel: 064 363 0308: Basic but clean, the larger rooms sleep up to 7 people, so they are good value for a group of budget travellers.
Anh Dao Hotel [MAP]; $20-$30; [BOOK HERE] A well-run guesthouse with spotless rooms on a quiet street.
Thuy Thanh Hotel [MAP]; $25-$35; [BOOK HERE] Spacious, clean and comfortable rooms in a bustling (for Con Son) area near the market.
Con Dao Guest House [MAP]; $25-$35; [BOOK HERE] Government-run guest house (nhà khách) with plain but clean rooms in a quiet location. Caters mainly to Vietnamese officials and tour groups, but foreign guests are welcome.
Duc Thanh Motel [MAP]; $20-$30; 0919 250 931: Good, new mini-hotel right by the market. Only a few rooms.
Sala Motel [MAP]; $25-$35; [BOOK HERE] A good budget option with plain but clean rooms. The seafront promenade is right in front of it.
Con Son Island Hotel [MAP]; $20-$30; [BOOK HERE] A great location at the beginning of the seafront promenade, rooms are comfortable and clean without many frills.
Thanh Xuan & Thanh Ngoc hotels [MAP]; $20-$30; 0169 246 2751/0918 429 258: Decent budget options on the seafront promenade, although some rooms are dark and a bit run-down.
CAMPING: Camping is possible on Dam Trau Beach in the north of the island, although it's not really an official setup. If you ask at Làng Đầm Trầu on the beach, they will let you pitch your tent (if you have one) on the sand and use their bathroom facilities. However, they don't have the authority to let foreign guests stay here, so there's a slim chance you'll get moved on if an official comes to inspect. This is the case for 'wild camping' everywhere on the island. Most of Con Son Island is part of the national park, so it's a protected area. Whether camping inland or on a beach there's always the possibility that, if someone sees you, you'll be asked to leave. This has happened to me on a couple of occasions, although I've been able to camp undisturbed several times too.

---
FOOD & DRINK:
The food scene on Con Son Island has really improved over the last two years, although it's still nowhere near as rich and diverse as mainland Vietnam. As the population of Con Son town has grown (thanks to settlers moving here from the mainland), street food vendors have started to pop up, catering to the different palates of a population that now hails from all over Vietnam. There's also a handful of good seafood restaurants, which cater largely to Vietnamese visitors from big urban centres, eager for some fresh food from the ocean. And, as foreign travellers continue to trickle in, a few places now serve good Western food, not to mention the restaurants attached to the mid and high-end resorts. What's more, Con Son now has a growing cafe culture and even a few bars.
---
Con Dao Market Food Vendors [MAP]; 10,000-30,000vnd ($1-$2): Hiding all sorts of delicious breakfast dishes, the food court inside Con Dao Market is a hive of food and activity from around 6.30-9am each morning. It's a great place to fill up in the mornings, especially if you're staying at one of the cheaper accommodations that don't include breakfast. About a dozens vendors dish out classic Vietnamese noodle soups and drinks. Try the bún thịt nướng (a cold noodle salad with grilled lemongrass-scented meat). It's dirt cheap, very local, and delicious. The earlier you get here the better. The market is also a good place to buy ingredients for a picnic to keep you going during the day while you're exploring the island. There's a decent bánh mì (baguette) stall just as you enter the market food court, where you can buy filled baguettes to take with you as picnic food.
Nhat Kieu Hu Tieu Noodles [MAP]; 30,000vnd ($1): Not far from the market, Nhat Kieu is a noodle joint that could be straight from the mainland. Specializing in hủ tiếu nam vang (Cambodia-style rice vermicelli noodle soup), Nhat Kieu is an open-side noodle house on a street corner with low tables and chairs. It's informal and cheap, and a classic southern Vietnamese breakfast.
Pham Van Dong Park Street Food [MAP]; 10,000-30,000vnd ($1-$2) In the late afternoon, several good places set up stalls on the eastern edge of Pham Van Dong Park (which, incidentally, used to be the French colonial cemetery until just a few years ago). At around 5pm, when the light is low and the temperature cool, the street food vendors begin to serve up bánh xèo (fried savoury pancakes) and gỏi cuốn (fresh spring rolls) among other dishes. It's very cheap, light, fresh, and crisp food: perfect for a snack to tide you over until dinner.
Bun Cha & Pho Noodles [MAP]; 30,000vnd ($1-$2) Right next to the Q Songchi mini-hotel, this is a classic streetside place serving up the Hanoi speciality bún chả (rice noodles and grilled marinated pork patties with a sweet and sour dipping sauce). It's run by northerners, so this is about as close as you can get to the real thing considering Con Dao is almost as far away from Hanoi as you can get in Vietnam. Come here for breakfast.
Binh Nguyen Shellfish Eatery [MAP]; 30,000-80,000vnd ($1-$4) per dish Offering up all sorts of shells – snails, clams, oysters, scallops, cockles – Binh Nguyen is a streetside quán ốc (shellfish and beer eatery). Attracting a youngish crowd of domestic travellers, Nguyen Binh serves fresh and reasonably priced shells. There are dozens of them to choose from, all cooked in different ways with different sauces (for more about how to order and what to eat at a shellfish eatery like this, take a look at my Shells Guide). This is a good substitute for the higher-priced seafood restaurants.
Nhỏ Ơi Rice Eatery [MAP]; 20,000-60,000vnd ($1-$3) An informal rice eatery of the type you find all over Vietnam, Nhỏ Ơi is a little place where you point at what you want over your rice. There's a wide selection of dishes, from sauteed vegetables to fish stew, grilled pork cutlets to sweet and sour soup. It's pleasant, cheap, friendly, and very local. There's also a string of similar local rice eateries along the slip road on the north side of Nguyen Hue boulevard, which are good for cheap lunches.
Nem Chạo Giò Heo Rút Xương & Grilled Chicken [MAP]; 30,000vnd ($1) Opposite the temporary market (Chợ Tạm) on Pham Van Dong Street, are a couple of places selling nem chạo giò heo rút xương (a delicious arrangement of pork, herbs, and peanuts wrapped in rice paper). Also in this area, a couple of streetside barbecues tempt passersby with grilled meats (chicken, pork, duck, quail) rotating over coals.
Streetfood on Nguyen An Ninh Street [MAP]; 25,000vnd ($1) Opposite the park, several small streetfood eateries line Nguyen An Ninh Street. Ranging from bánh bèo (mini rice flour savoury cakes) to bánh tráng (crispy little grilled 'pizzas'), these cater to Con Dao locals in need of a snack in the late afternoon. It's worth dropping by to have a bite.
Thu Tam Mini-Mart [MAP]; The go-to shop on Con Son Island for snacks, such as yogurt, biscuits, soda etc, Thu Tam is as close as you get to a mini-mart. It's pretty good for stocking up on supplies for a hike. There are one or two other mini-marts around town now, too.
[Back to Food & Drink Contents]
---
RESTAURANTS:
Thanh Huyen Restaurant [MAP]; 100,000-200,000vnd ($4-$9) per meal My favourite restaurant for food and atmosphere, Thanh Huyen is 5 minutes out of town by motorbike, on the left after crossing the lake. A big 'Bia Saigon' sign marks the entrance: drive down the dirt track and over a rickety wooden bridge until you see a few shacks over a pond. It might not promise much from its ramshackle entrance, but once you settle down in one of the makeshift 'gazebos' clustered around ponds, paddies and herb gardens, you'll start to appreciate the ambience here. The menu is short and exotic, and the food is fresh and delicious. Try chicken with kaffir lime leaf (gà luộc lá chanh), or buffalo hotpot (lẩu trâu), or grilled snakehead fish (cá lóc nướng), surrounded by the restaurant's herb garden, the placid lotus lake, and the proprietor's children competing with the cicadas and frogs for audio supremacy. There's now an English menu, but some of the translations can be hard to understand. It's especially nice to arrive just before dusk while there's still some light left to enjoy the surroundings. Bring bug spray so as not to let the mosquitoes ruin a great meal.
Seafood Restaurants: Ớt, Tri Kỷ, Cánh Buồn, & Thu Tâm [MAP]; 100,000-500,000vnd ($4-$22) per kilo This string of seafood restaurants lines the inland side of Nguyen Duc Thuan Street. Specializing in all things from the sea – from crustaceans to mollusks to giant fish – each of these restaurants has long menus and tanks of live seafood. This is the place to come for a seafood banquet. The food is good and fresh (although not quite as good as I'd expect considering their proximity to the ocean, and prices are much higher than on the mainland.) However, portions are large and, on my last visit, there were signs that quality is catching up to mainland standards. What's more, most of the restaurants have undergone major renovations recently: they're now nice places to sit, eat, and talk for a long evening. Be prepared to open your wallet if you really want to dine on the biggest, freshest fish here. Ớt is marginally my favourite of the four.
Thu Ba Seafood Restaurant [MAP]; 60,000-500,000vnd ($3-$22) Away from the other seafood restaurants mentioned above, Thu Ba is in Con Son town, not far from the market. A popular place for international travellers to feast on seafood, Thu Ba is a foreigner-friendly restaurant with an English-language menu listing its extensive range of fish, shellfish, and classic Vietnamese dishes. This is good place to start your Con Dao dining exploration, especially if you're not ready to try more local establishments.
Bar 200 [MAP]; 100,000-200,000vnd ($4-$9) Relocated from near the market to the corner of a quiet back-street, Bar 200 is a very strong contender for best Western food on the island. Pizza, pasta, salads, full cooked breakfasts, cocktails, wine, coffee – it's all here and it's all good. Prices aren't bad at all, and they'll surely be other travellers and/or expats dining here too. (Note that, although the cooked breakfasts are great, there's no guarantee Bar 200 will be open in the morning, and even when they are, it's rarely before 10am.)
Infiniti Cafe [MAP]; 50,000-150,000vnd ($2-$6) Not only is this one of the most popular cafes on the island (see below), it also serves very good Western-style dishes, like homemade pizzas, pasta, steak, set breakfasts, and comfort foods such as cheesy fries. Undoubtedly one of the 'trendiest' places on the island and a good place to meet other travellers and Con Dao expats. As a rule, everyone likes Infiniti Cafe.
Dê Lang Thang & Tre Con Son [MAP]; 100,000-200,000vnd ($4-$9) Two new restaurants right next to each other on Vo Thi Sau Street, both these places are hoping to succeed where others have failed on exactly the same plot of land over the years. Dê Lang Thang specializes in local goat meat dishes (thịt dê). In general, Vietnam does goat extremely well, so it's definitely worth popping in here one night and ordering a few dishes: try the cà ri dê (goat coconut curry) and the dê hấp tía tô (steamed goat with lemongrass and perilla leaf, if they have it). Next door, Tre Con Son focuses on another Con Dao speciality, chicken. This particularly variety of chicken (gà tre) is quite small, lean, and a bit chewy. It comes grilled or steamed or boiled with many marinades to choose from.
Villa Maison [MAP]; 100,000-200,000vnd ($4-$9) In a marvellous, open-sided French-colonial villa, the restaurant at Villa Maison is very atmospheric. The owners try to source as much as possible from the local area and focus of regional dishes, but there are also some European treats, such as cheeses and cold cuts. Food (and wine) is good, but it's the dining ambience that makes the meal memorable. It's also a good place for a drink (see below).
Tan Son Nhat Restaurant [MAP]; 80,000-150,000vnd ($3-$7) For a while, this resort's restaurant was quite popular. Now, however, it's usually pretty quiet. This is a shame, because the location is fantastic: tables laid out on a wooden deck under big trees near the beach. Live seafood is displayed in an elaborate arrangement of water tanks: shrimp, lobster, fish, and shellfish are all available. The restaurant even grows some of its own produce in the resort's vegetable and herb garden. The food I've had here has never been outstanding, but it's definitely worth giving it a go. (The beach bar is also nice for a cocktail.)
Six Senses [MAP] & Poulo Condor [MAP]; 200,000-1,000,000vnd ($10-$50) The restaurants at the two most luxurious resorts on the island are both good if you feel the need for a slap-up meal. Six Senses is the better of the two, but Poulo Condor is more affordable. However, you can't really just drop by for lunch or dinner at either of them: you'll need to call ahead for a reservation or ask at reception before entering. There are various reasons for this, but I feel it makes the process a bit of a hassle, and in my experience it's not really worth the effort, especially now that the food scene in Con Son town is growing. A good variety of Vietnamese, Asian and European dishes are served at both.
Coco Restaurant (Con Dao Resort) [MAP] & Poulo Condore Restaurant (Saigon Con Dao Resort) [MAP]; 80,000-200,000vnd ($3-$10) These two restaurants at two of the best mid-range resorts on the island both serve good Vietnamese fare. This is because both these accommodations tend to attract a mainly Vietnamese crowd, and Vietnamese travelling groups are usually quite discerning about the quality of the food they eat. All the classic southern dishes are on the menu, like canh chua cá (sweet and sour fish soup) and rau muống xào tỏi (stir-fried morning glory with garlic) and much more. Although the quality is fine, it's not great.
Lang Dam Trau [MAP]; 50,000-150,000vnd ($2-$7) Among a cluster of beachside eateries, Lang Dam Trau is a shack-style restaurant on the sands of the beautiful curving Dam Trau Bay. There's lots of seafood on the menu and prices are pretty decent. This is the perfect place for lunch after a swim.
[Back to Food & Drink Contents]
---
CAFES & BARS:
There's a growing cafe culture on Con Son Island, some of which also serve cocktails and beer. For more information about many of the places listed below see my dedicated guide to Cafe & Bar Culture on Con Son Island.
Cafe Infiniti/The Nest [MAP] Firmly established as the go-to cafe on the island, Infiniti is a trendy and likable space with good coffee (Vietnamese and Italian style), cocktails, juices, and a pool table. It's a great hangout (the new upstairs 'Nest' catches the evening breeze) and a good place to meet other travellers and island expats. (Read more about Cafe Infiniti here.)
Bar 200 [MAP] An excellent selection of coffees, wines, cocktails and beers makes Bar 200 a popular haunt for Western travellers and expats. It's located on the back-streets of Con Son town. (Read more about Bar 200 here.)
Phien Khuc Cafe [MAP] A beautiful little cafe tucked away on the back-streets, Phien Khuc is a classic 'vestige cafe' of the kind that's trendy in cities on mainland Vietnam. Old bric-a-brac, pastel tones, tiled floors, wooden shutters – it's a cosy place. Interesting teas, juices and smoothies are available. (Read more about Phien Khuc Cafe here.)
Lacasa/Villa Maison [MAP] Both under the same management, Lacasa is a chic, modern cocktail bar near the market, and the bar at Villa Maison is housed in a marvellous converted French colonial villa. However, you may as well disregard Lacasa, because the owners are getting ready to close it and focus on expanding Villa Maison instead. Therefore, in the near future at Villa Maison, you can look forward to loungers in the old stone courtyard under the branches of giant tropical trees, sipping signature cocktails made from island ingredients. (Read more about Lacasa/Villa Maison here.)
Cafe Con Son [MAP] An open-sided cafe in the quiet back-streets, Cafe Con Son serves good coffee and a handful of cocktails. It attracts a local crowd, rather than tourists. (Read more about Cafe Con Son here.)
Nice Cafe [MAP] A pleasant, homey cafe on two levels, with a breezy balcony upstairs looking over the street, Nice Cafe draws a young crowd of Vietnamese tourists and locals. The menu includes popular and refreshing Vietnamese drinks, such as chanh sả (lime and lemongrass), tắc xí muội (kumquat and salted plum), as well as Vietnamese-style iced coffee. (Read more about Nice Cafe here.)
Ba Le Cafe [MAP] A small, unassuming place, Ba Le Cafe has a gentle revolutionary, nationalistic spirit running through it. The walls are decorated with murals of the distinctive-looking Con Dao Market and propaganda posters, and the surfaces are embellished with old sewing machines, carved figurines and enamel cups. Vietnamese-style coffee is very good here, and it attracts a friendly Vietnamese crowd (Read more about Ba Le Cafe here.)
Con Son Cafe [MAP] Not to be confused with Cafe Con Son (see above), Con Son Cafe has the potential to be one of the best cafes in Vietnam. The location alone – on the wonderful seafront promenade in Con Son town – is enough to set it apart from others, but add to that the building – the perfectly proportioned old French customs house – and you have the makings of a fabulous cafe. However, at the time of my last visit (April 2018), the cafe had closed but was due to reopen soon. Let's hope its new incarnation will do justice to the site. (Read more about Con Son Cafe here.)
Poulo Condor Resort [MAP] & Six Senses [MAP] Both of the two luxury resorts on Con Son Island have bars. The Six Senses bar used to have a great Happy Hour from 4-6pm. Sadly, the management has brought this to an end, and, with cocktails at $15 a glass, it's difficult to find a reason to visit this exclusive resort if you're not a guest. (In fact, last I heard, non-guests weren't even allowed in the bar anymore.) Poulo Condor Resort has a bar by its attractive infinity pool, which is surrounded by lush mountains, but doesn't have a sea view. Drinks are good (and fairly pricey), making this a decent option for a late afternoon gin and tonic on the way back from Dam Trau Beach. However, non-guests need to inquire at reception before going to the bar: if the resort is particularly busy, you may not be allowed to enter.
Tan Son Nhat Resort & Con Dao Resort [MAP] These two mid-range resorts on An Hai Beach both have oceanfront bars that are open to non-guests. Tan Son Nhat has swings and chairs dotted on a patio under giant tropical almond trees with a selection of cocktails. Con Dao Resort sports a gazebo by the sand in the shade of coconut palms with a short cocktail list.
Uyen's House [MAP] Popular with young, selfie-taking Vietnamese travellers, Uyen's House is an attractive, pastel-toned abode opposite the park. Take a seat on the wooden, metal, and plastic furniture under the branch of a frangipani or papaya tree and sip a strong Vietnamese coffee or refreshing juice. (Read more about Uyen's House here.)
---
GETTING THERE & AROUND:
Not long ago, the Con Dao Islands could only be reached by military helicopter. These days, there are multiple daily flights from Saigon (Ho Chi Minh City), and weekly flights from Can Tho in the Mekong Delta. There's also a new, fast, daily ferry connection from Soc Trang in the Mekong Delta, and a slow ferry service from Vung Tau. Cruise ships even make stops at Con Son occasionally. On Con Son Island itself, getting around couldn't be easier, thanks to good roads, short distances, light traffic, taxis, and scooter rental.
SEARCH

&

BOOK TICKETS

:
*Please support Vietnam Coracle: you can search all transportation options to Con Dao and make bookings directly from this page by using the Baolau.com search boxes & links throughout this guide. If you make a booking, I receive a small commission. All my earnings go straight back into this website. Thank you.
---
Incredibly, there now up to 10 flights a day in each direction between the domestic terminal of Saigon's Tan Son Nhat airport and Con Son Island's Co Ong airport. The operator is VASCO, a branch of Vietnam Airlines, which uses propeller ATR 72 aircraft. Flights leave throughout the day. For those with limited time, the early morning departures from Saigon and the evening departures from Con Son are particularly good, because they allow you to have a full day on the island on both days of travel. However, flights to Con Dao are notoriously expensive and, in some cases, difficult to purchase. The latter is true mostly on weekends and during public holidays, when flights are often completely sold out. Return fares are between $100-$150, which, considering it's only a 45-minute flight, is a bit steep. Book early to avoid disappointment. Another option, which is convenient if you're travelling in the Mekong Delta, is the twice daily connection between Can Tho and Con Dao ($120 return). Alternatively, you could buy two one-way tickets: Can Tho to Con Dao and Con Dao to Saigon, for example, thus creating a kind of Mekong Delta-Con Dao-Saigon loop. All flights (and flight combinations) can be easily searched and booked on the Vietnam Airlines website : www.vietnamairlines.com.
---
BY SEA:
There are now two ferry connections between the mainland and Con Son Island: one from Vung Tau, the other from Soc Trang, in the Mekong Delta. The former is long and fairly arduous, the latter is short and fairly easy:
Soc Trang→Con Dao ferry: A new ferry runs between Tran De port, in Soc Trang Province in the Mekong Delta, to Ben Dam port on Con Son Island. The ferry sails at least once daily in both directions (an additional sailing is added on weekends and public holidays). The voyage only takes 2-3 hours depending on sea conditions, and the vessels are modern, fast, and comfortable. Ticket prices are around $15 per person. You can also take your motorbike or bicycle on board. For full details, including ticket prices and schedule, please see my Guide to the Con Dao→Soc Trang Ferry.
Vung Tau→Con Dao ferry: A boat leaves several times a week (one sailing every other day in each direction) from Cat Lo port in the seaside town of Vung Tau, which itself can be easily reached by ferry from Saigon. Departure time (the same in both directions) is 5pm and the voyage takes roughly 12 hours, arriving at dawn. There are some sleeping berths on board and even the coach-style seating cabins are air-conditioned. However, conditions are rather cramped and there's the distinct odour of previous passengers whose stomachs didn't take too kindly to the rough seas. There's only a small selection of drinks and snacks available on board, so it's a good idea to bring your own. It's certainly an 'experience' if you have the time, but most travellers would be better off flying or taking the Soc Trang ferry (see below) instead. However, by far the most romantic introduction possible to the Con Dao Islands is arriving by boat at dawn in the beautiful surrounds of Ben Dam harbour. Ticket prices are around $10-$15 (one-way) and it's also possible to take your motorbike or bicycle on board (for an extra fee). Note that boat times and sailings are subject to change or cancellation according to weather conditions. Tickets can be purchased at the either of the ports. Some additional information and contacts for booking tickets can be found here: www.OSCVietnamTravel.com.
---
ON THE ISLAND:
Walking: Con Son town and seafront promenade are wonderful for strolling around. Everywhere in town can be reached on foot. The town's beach (An Hai beach) is also within walking distance. There are a number of treks on Con Son Island, some of which can be started from Con Son town, but others you'll need transport to get to the trailheads: click here for more details about treks.
Bicycle & Motorbike: Cycling is nice as the roads are all but empty and the scenery gorgeous. Bicycles can be hired from some accommodations on the island. However, in my opinion, there's no point in coming to Con Son Island unless you hire a motorbike (well, a scooter, really). This gives you the freedom to really explore the island: find deserted beaches, go down dirt tracks, and admire the views from the coast roads. Vietnam in general is best seen on a motorbike, and Con Son Island is the perfect place to learn to drive if you don't already know how. The well-maintained but empty roads give you all the space and time you need to get familiar with driving, although you must still be extremely cautious.
Note that there are only three gas stations on the island: two in Con Son town, the other near Ben Dam port (which is rarely open). These gas stations often close for lunch, so remember to fill up as soon as you get your scooter, and keep an eye on the fuel gauge so as not to run dry on the other side of the island. All three gas stations are marked on my map. Scooters can be hired from most resorts and guesthouses. Prices are around 100,000-150,000vnd ($5-$7) manual/automatic per day. For more about riding a motorbike on Con Son Island click here.
Taxi: There are at least a couple of taxi companies on the island now. Con Son Taxi (02543 908 908) has a modest fleet of cars that are always available to take you into town, or to the beaches around the island, or to/from the airport and ferry port, or to drop off and collect you at the beginning and end of trailheads. Interestingly, there's a new kind of taxi service in Con Son town that uses electric cars (you can't miss them: they're designed to look like classic cars from the turn of the last century) to ferry passengers on short hops from A to B. Call their hotline: 097 422 7085.
Boats: Exploring the outlying islands by boat can be organized through the National Park Headquarters or Con Dao Dive Center. Try to get a group together as this will spread the cost, which is usually between $50-$100 depending on where you're going. Note that during rough seas boat trips can be cancelled. This is most likely from November to February. For more about boat trips in the Con Dao Islands click here.
---
WEATHER & WHEN TO GO:
My favourite time to be on the islands is from March to June: the weather is hot and generally dry, and the sea is blue and smooth as glass. Either side of New Year (November to February) is the driest time, but it can be pretty windy: the sea is choppy, lying on the beach is difficult to enjoy with the sand blowing in your face, diving conditions aren't great, and, if you're planning to arrive by sea, boats are often forced to cancel. Summer months are hot with calm, clear waters, but there's always the chance of some heavy monsoon rain. October tends to be the worst month, because the islands are subject to the typhoon winds which blow in from the northeast.
Disclosure: I never receive payment for anything I write: my content is always free and independent. I've written this guide because I want to: I love the Con Dao Islands and I want my readers to know about it. For more details, see my Disclosure & Disclaimer statements here
RELATED POSTS

:
---