First published July 2022 | Words and photos by Vietnam Coracle
---
A fast ferry route linking the mainland seaside city of Vũng Tàu with the remote island of Côn Sơn, in the magical Côn Đảo Archipelago, this sea crossing is a great alternative to flying for travellers who prefer a voyage to a flight, or who value an experience over convenience. I love boat journeys and, in the case of the Côn Đảo Islands, I can't think of a more spectacular introduction to this archipelago than arriving by ship. The Côn Đảo Islands have grown in popularity over the last few years and more fast boat connections to the mainland have opened to meet demand. But another reason is that Côn Sơn Island's airport will close for several months in 2023 for an upgrade, meaning that the only way to reach the Côn Đảo will be by sea. The current boat holds 500-600 passengers, but a new vessel is about to operate on the route with capacity for over 1,000 passengers.
[Back Top]
---
VUNG TAU

→

CON DAO

EXPRESS

FERRY
---
On this page, I've written a complete guide to taking the express ferry between Vũng Tàu and Côn Sơn Island, in the Côn Đảo Archipelago. I've included a map and all relevant information for travellers on this ferry route. To book tickets, you can help support my website by using the Baolau.com links and search boxes on this page. Alternatively, go to the Côn Đảo Express website or Facebook page. Note that the sailing schedule changes regularly and a new, much bigger and faster ship is just about to start operating on this route, later in 2022. Click from the contents below:
---
Please Support my Site
I never receive payment for anything I write: all my content is free to read & independently financed. There's no sponsored content whatsoever. If you like this guide, please consider making a donation or becoming a patron.
Thank you, Tom
---
ROUTE MAP

:
Vung Tau→Con Dao Express Ferry
View LARGER MAP
---
About this Ferry:
Operated by Côn Đảo Express (the same company that run Phú Quốc Express), the fast boat between Vũng Tàu and Côn Sơn Island has been operating for at least a couple of years now, replacing the old slow ferry. However, the ferry route has been disrupted by the pandemic for the last two years and frequent bad weather has caused long periods without operation. But now, the route is fully operational, with a fairly regular schedule, a surge in passenger numbers and on the cusp of introducing a brand new vessel, which will increase passenger capacity and cut journey time dramatically, as well as being able to sail during stormy conditions.
What makes this ferry route appealing to me (apart from the fact that I love taking boats), is that it's the closest sea connection to the Côn Đảo Islands from Saigon (Ho Chi Minh City), where I live. In the relatively near future, there will be a direct ferry service between Saigon and Côn Đảo, but until then the Vũng Tàu boat is the best option. This will be particularly important for travellers in 2023, because the airport on Côn Sơn Island is due to close for several months for an upgrade, meaning the only way to get to the islands will be by sea. Hence the recent increase in ferry routes to Côn Đảo from the mainland: it's now possible to sail directly from Vũng Tàu, Cần Thơ, and Trần Đề (in Sóc Trăng Province).
Unfortunately, because of the current sailing schedule, it's not quite possible to link the Vũng Tàu→Côn Đảo ferry directly with the Saigon→Vũng Tàu ferry, thus creating a complete ferry route Saigon→Vũng Tàu→Côn Đảo. The arrival and departure times don't quite synchronize. Nor do the sailing times for the Cần Giờ→Vũng Tàu ferry. This means that you essentially have to travel to Vũng Tàu the night before departure on the ferry to Côn Đảo. But this isn't a problem as Vũng Tàu is a very pleasant place to spend a day or two. The only way to get from Saigon to Côn Đảo in a single day via the ferry is to ride to Vũng Tàu very early in the morning, leaving Saigon at around 4.30am.
*Book ferry tickets directly from this page & help support my website. Use the Baolau.com search box below to book your ferry tickets on the Vung Tau→Con Dao route. If you make a booking, I receive a small commission. All earnings go straight back into this website. Thank you. Tom
---
---
---
Times & Prices:
Travellers should bear in mind that the sailing schedule on this route changes regularly and, during very rough seas, boats often don't sail at all – sometimes for days, even weeks, at a time. Below is the sailing schedule at the time of research (July, 2022). Frequency will likely increase very soon with the arrival of a second, much larger vessel on this route, sometime in 2022. The new ship should also significantly reduce journey time, which is currently between 4-5 hours (more if conditions are rough). The current ship has capacity for 500-600 passengers; the new one will be over 1,000 passengers. Cars, motorbikes and (as far as I know) bicycles are not permitted on the boats. Ticket prices are higher from Friday to Sunday and on public holidays:
Sailing Schedule:
---
Ticket Prices:
*There's also a VIP ticket option (1,200,000vnđ) for a larger seat in a private cabin with more leg room (not worth the extra cost, in my opinion). There are reduced rates for children and the elderly (630,000vnđ/760,000vnđ) and passengers with disabilities (550,000vnđ/665,000vnđ). To check the latest schedule and prices either use the search box below or go to the Con Dao Express website.
---
*Book ferry tickets directly from this page & help support my website. Use the Baolau.com search box below to book your ferry tickets on the Vung Tau→Con Dao route. If you make a booking, I receive a small commission. All earnings go straight back into this website. Thank you. Tom
---
---
---
Booking Tickets:
Booking tickets should be a fairly hassle-free process. Travellers can book online or in-person. Try to book at least a few days or a week in advance, especially during the peak summer months and public holidays, during which tickets can sell out fast.
Online: You can book through Baolau.com using the link or search box below. Alternatively, go to the Côn Đảo Express website and book there. Both platforms support most forms of online payment.
In Person: Côn Đảo Express has a ticket office at the port in Vũng Tàu (map) and in Côn Sơn town (map). Remember to bring your passport when making a booking.
*Book ferry tickets directly from this page & help support my website. Use the Baolau.com search box below to book your ferry tickets on the Vung Tau→Con Dao route. If you make a booking, I receive a small commission. All earnings go straight back into this website. Thank you. Tom
---
---
---
Departure & Arrival Ports:
In Vũng Tàu, the Cầu Đá ferry port is conveniently located and quite modern; on Côn Sơn Island, Bến Đầm port is rather inconveniently located, but utterly spectacular. However, the latter is due to change very soon, because the new Bến Tàu Khách ferry port is scheduled to open in August, 2022, right on the bay that fronts Con Son town: a much more convenient arrival and departure point and equally scenic to its predecessor. See below for more about all three ports:
---
Vũng Tàu: Cầu Đá Port [MAP]
Just north of pretty Bãi Trước beach, Cầu Đá port is about as central as you can be on the Vũng Tàu seafront. Easily accessible by motorbike taxi, ride hailing car, on even on foot along the attractive seafront road, Cầu Đá is a rather bizarre modern structure – presumably representing waves or ripples on the ocean – jutting over the sea. There's a gas station, fast food restaurants, cafes, long- and short-term motorbike and car parking, and ticket kiosks. It should be fairly easy to navigate for most travellers. The Côn Đảo Express ticket office is just inside the central front entrance; parking is on the right of the main port building as you enter from the road; the ferry pier is at the north end of the port complex. Metered taxis queue up to meet the boats or you can book a pick-up through a ride hailing app, such as Grab. If you have your own wheels, the long-term parking lot has its day/night rates clearly listed in English as you enter the lot. Overall, the experience of using this port should be easy and efficient.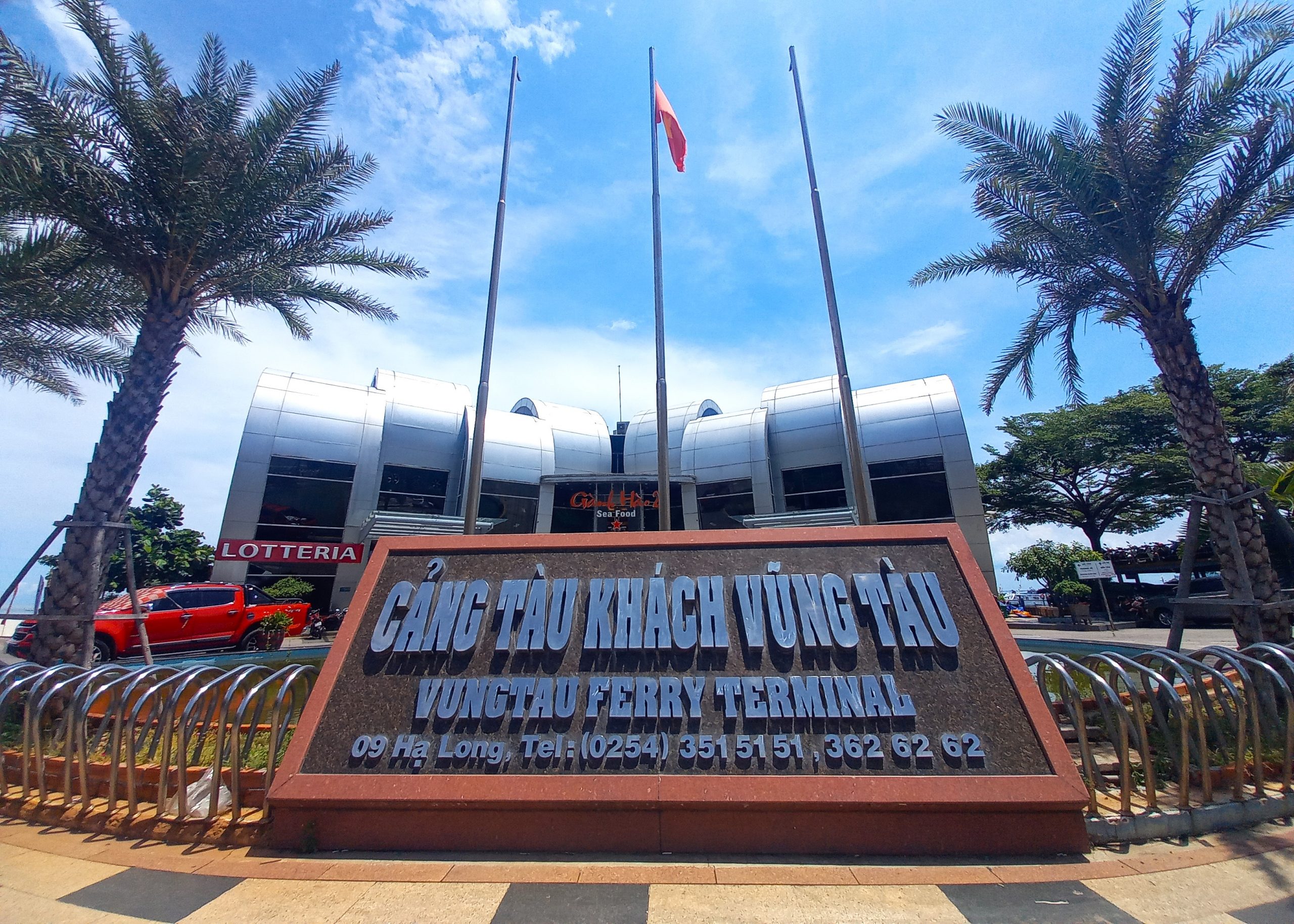 ---
Côn Sơn Island: Bến Đầm Port [MAP]
Way down in the southwestern corner of Côn Sơn Island, Bến Đầm port is spectacularly located in a lagoon of blue water enveloped by jungle-clad hills. It's a magical introduction to the Côn Đảo Islands. However, Bến Đầm is over 10km from Côn Sơn town, where most of the island's accommodation is. Arrival and departure from the port is pretty straightforward, although it's quite a long walk up/down the pier if you're carrying a lot of luggage in the heat or rain. Taxis, motorbike taxis and electric buggies meet the boats. Prices for the ride along the stunning coast road to Côn Sơn town should be between 100,000-300,000vnđ depending on the transportation method and number of people. But, if you've booked a hotel in advance, they might be able to arrange a pick up for you (for an added charge). There are snack shops clustered around the port entrance and an echoey ferry terminal with indoor seating and ticket counters. Overall, Bến Đầm port is functional but not really a place to linger. Just as well that the new ferry port will be opening soon (see below).
---
Côn Sơn Town: Bến Tàu Khách [MAP]
Scheduled to open in August, 2022, the new Bến Tàu Khách port is located right on the seafront of Côn Sơn town, at the centre of the east coast of the island. The port has been under construction for many, many years, so I wouldn't put money on it actually opening in August, but it seems highly likely it will open some time in 2022. Generally, this is good news for visitors, because the new port will be so much more conveniently located: walking distance from most of the accommodations on the island, which are clustered along Côn Sơn town's pretty seafront road or quiet backstreets. However, the new port is a bit of an eyesore compared to the low-key, low-rise, colonial-era structures that characterize much of the rest of the town. Another concern might be that with more and more, bigger and bigger express boats arriving on the island, there's a risk that relocating the port to the town might result in a rise in water pollution in this beautiful bay. Anyway, when it opens, ferries will dock at the end of a very long pier stretching into the sea with a stunning backdrop of mountains and jungle. The terminal building – another modern 'wavy' structure – will have seating, ticket kiosks and snack shops.
---
The Boats:
The only boat currently operating on the Vũng Tàu→Côn Đảo route is Trưng Nhị, a two-storey catamaran vessel painted red with white stripes, run by Côn Đảo Express. The boat has a capacity of 500-600 passengers in coach-style seating on reclining soft chairs over two decks. However, a new, much bigger vessel, also operated by Côn Đảo Express, is due to start sailing this route very soon. This ship, the Thăng Long, will have almost twice the capacity – over 1,000 passengers – across three deck levels, making it the largest fast ferry currently operating in Vietnam. Indeed, press photos of the Thăng Long vessel make it look more like a Russian oligarch's yacht than a fast ferry.
The seating is fine and reasonably comfortable, but a bit tight if, for example, you want to work on your laptop (lap room is dramatically decreased if/when the passenger in front reclines their seat back). There are four columns of seating, and although there's nothing glamourous about the cabins, they're spacious and not at all claustrophobic. The windows are large and the ceilings are high. However, upstairs seating is preferable to downstairs, partly because there are fewer seats, and partly because upstairs passengers have easier access to the outside deck.
The cabins are air-conditioned with a couple of widescreens TVs playing movies and pop videos, but the volume is kept at a mercifully reasonable level. Each row of seats has two electrical sockets to charge your phone or laptop. At the back of the cabins, the toilets are kept pretty clean, and the general level of cleanliness is fairly good. Also at the back, is a snack station selling iced coffee, sodas and pot noodles. But, I'd recommend bringing your own drinks and snacks for the 4-5 hour voyage.
The outside deck is accessed via the back door on the upper level. A large but bare space at the stern of the ship, the deck provides some bench seating, fresh air, photo opportunities and relief for smokers. The deck is closed for 15 minutes after departure and before arrival, and during rough seats it remains off limits. Passengers should be very careful while out on deck, because the wind, waves and water make it easy to lose your balance and slip over.
---
---
---
The Voyage:
Queuing in the bright morning sunshine on the pier at Vũng Tàu, it's a relatively calm, informal boarding process. On board, there's a measure of quiet chaos are hundreds of passengers are funneled through the narrow door, onto the boat, standing in the aisles, stowing their luggage and discussing who sits where. All seats are allocated on tickets, but in reality – as is quite often the case in Vietnam – seat numbers are often ignored. If this is the case, usually all it takes is a quick, polite exchange and a show of your ticket before sitting in your rightful spot. The engines rev and the boat pulls away from the pier at 8am sharp. Delicately maneuvering out of port, the ferry quickly gets to speed and cuts through the sea heading due south.
---
The atmosphere on board is calm and quiet, especially once mobile data is out of reach: with no phones to distract them, the majority of passengers recline their seats and close their eyes. Outside the cabin windows, the ocean is blue, big and ruffled. Tankers stand stationary on the sea, waiting for available births in the ports of Vũng Tàu and Sài Gòn. The twin hills of Vũng Tàu recede on the horizon. Soon the ferry is all alone in the East Sea, save for the population of wind turbines visible to the west in the Mekong Delta province of Trà Vinh.
The passengers come alive again once the doors to the back deck open, roughly 15 minutes into the voyage (sea conditions permitting). On the windy, sun-drenched deck, people mass for photos and snacks. Almost all passengers are Vietnamese – tourists, pilgrims, veterans, or islanders. Very few foreign travellers choose to take the boat to the Côn Đảo Islands, preferring to fly.
---
In good conditions, it's a smooth, enjoyable, easy ride. The four hours pass comfortably, without incident: a chance to rest, to chat to your fellow passengers, to work on your laptop or to reflect as you watch the waves go by. The only discomfort being the bare feet on your armrest from the passengers in the row behind (a common 'practice' in Vietnam, especially among the older generation). However, things are by no means always like this. The crossing is well-known for being rough. I was once 'stranded' on Côn Sơn Island for 7 days because the winds were whipping up the sea and no boats could run. On my return journey, the waves reached 2-3 metres and the boat's movement was alarming at times.
---
---
Seasickness is more common among Vietnamese travellers than any other country I've visited (I've no theory as to why). A tangible nervousness enters the cabin when conditions get rough. Vomiting is common. Obviously, if you also suffer from seasickness, the journey could be very uncomfortable. But, even if you don't, you might be unfortunate enough to be sat between two passengers who are relentlessly throwing up into paper bags. Needless to say, this would be very unpleasant. But, of course, it must be much worse for your neighbours. I have friends who take this ferry route regularly, and they assure me it can be a harrowing experience. What's more, Vietnam doesn't exactly have a shining maritime safety record. However, in my experience on this crossing, I've felt safe and in pretty good hands.
---
*Disclosure: I never receive payment for anything I write: my content is always free and independent. I've written this guide because I want to: I like this ferry and I want my readers to know about it. For more details, see my Disclosure & Disclaimer statements and my About Page
[Back Top]
RELATED POSTS

:
---