Last updated August 2023 | Words and photos by Vietnam Coracle
---
The Côn Đảo Islands is a remarkable place. On the one hand, it's a tropical paradise with swaying palms, breezy beaches and jungled-clad mountains descending to cyan seas. On the other hand, it's a monument to Vietnamese resistance and a memorial to the tens of thousands who were incarcerated and died in the prisons here during its century as a penal colony. For travellers, it's impossible to ignore the island's brutal past, but for pilgrims too, it's equally impossible to ignore the scenic surrounds of the former prison island. The prisons closed 50 years ago, and today the islands are increasingly marketed as a place of relaxation and recreation, rather than of sober reflection. However, as long as the prisons are preserved as a memorial to those who suffered, the dark past of the Côn Đảo Islands will continue to live side-by-side with the beaches, palm trees and mountains.
---
Please Support Vietnam Coracle
Make a donation or become a patron if you enjoy this website. Vietnam Coracle is totally free & independent. I never receive payment for anything I write.
Thank you, Tom
[Back Top]
---
GUIDE:

CON DAO ISLANDS
---
A Complete Guide to a Dazzling Archipelago
This travel guide to the Côn Đảo Islands is based on dozens of trips I've taken. All information is categorized to make it easy for readers to find what they're looking for. Click an item from the contents below and use the navigation buttons within each category to find your way around. Note that Côn Sơn is the name of the largest island in the archipelago and it's where all the infrastructure is based. In this guide, I refer to Côn Sơn and Côn Đảo interchangeably. (In addition, I've written several other detailed guides to specific aspects on the Côn Đảo Islands: see Related Guides.)
CONTENTS:
---
MAP

:
The Côn Đảo Islands
---
FILM

:
A Short Film of the Côn Đảo Islands [3:43]
---
WEATHER

:
Although the Côn Đảo Islands are technically part of Southern Vietnam (Nam Bộ), the weather patterns on this archipelago 100km offshore are quite different from the mainland. In my opinion, a trip to the islands at any time of year is worthwhile, but it pays to be aware of seasonal changes in order to manage your expectations. In general, Vietnam has a very complex climate that most travellers aren't aware of: read more in my Weather Guide.
The Best Time: My favourite time to be on the islands is from March to August when the weather is generally sunny and warm, and the sea is calm and clear. In these conditions, Côn Đảo really does feel like a paradise. The air is fresh, the colours are sharp, the foliage is thick, and the sea is wonderful to look at and to swim in. However, there's always the chance of some heavy rain in the high summer months of June-August, when the southwest monsoon sweeps over the islands.
The Worst Time: While the southern dry season (roughly November-April) is the ideal time to visit most of the beaches and islands in the south of Vietnam, this is probably the least favourable time to visit the Côn Đảo Islands. Although conditions are indeed dry during these months, the winds are high, the sea can be rough, and the colours are muted by the sea haar. In particular, either side of the solar and lunar new year (December to February) is considered the 'windy season'. The islands have a very different feel in these kind of weather conditions: Hebridean rather than tropical; wild and windy, rather that warm and vibrant. The sea is choppy so swimming isn't easy; lying on the beach isn't fun with the sand blowing in your face; diving conditions aren't great because of limited visibility, and, if you're planning to arrive by sea, boats are often forced to cancel. September and October are the shoulder months: I've had fabulous weather in September, but I've also had atrocious weather in October.
---
---
---
ENVIRONMNENT

:
The Côn Đảo Islands' unique location, environment and history are its biggest appeal. But the Côn Đảo is a delicate natural environment and its past is both highly political and emotional. The islands are caught between being a place of sombre reflection and memorial, and one of leisure and enjoyment. These factors combined are both a threat to the environment and a lifeline:
---
[Back]
---
Topography & People:
Côn Sơn is the largest of 16 islands that make up the Côn Đảo Archipelago, which lies 80km southeast of the mainland Mekong Delta region and 230km south of Saigon (Ho Chi Minh City). The island's remoteness and former use as a penal colony have kept it in relatively pristine condition: even today, around 80% of Côn Sơn is still forested and there's been almost no development on the other 15 islands. The thick jungle canopy provides a habitat for all sorts of exotic-sounding animals, some of which are endemic to the archipelago: the Con Dao bow-fingered gecko and Con Dao black giant squirrel are just two examples, both of which you have a decent chance of encountering. The islands are rugged and mountainous, with the highest peak (Núi Thánh Gía) reaching 557m (1,827ft). The ocean, which is cleaner and clearer than anywhere else I've visited in Vietnam, is home to dugongs (sea cows) and sea turtles who lay their eggs on the beaches from June to September. The winter months on Côn Sơn Island are generally dry, but rough seas and strong winds from the northeast can make the island feel fantastically remote; the summer months bring occasional monsoon rains, but the seas remain calm and clear, and the bays beautiful and tranquil.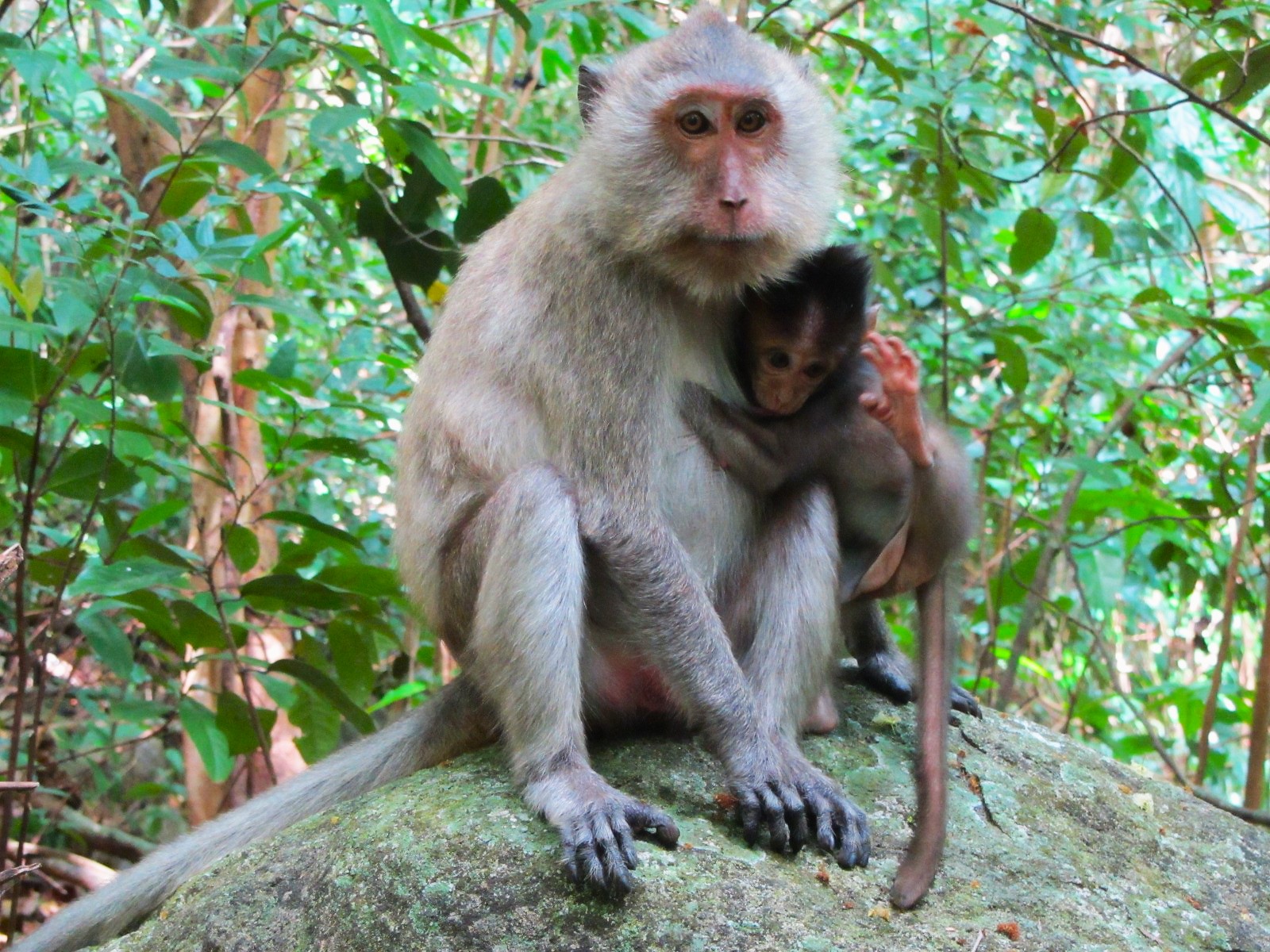 ---
There's a pleasing symmetry to the topography and infrastructure of Côn Sơn Island. The west coast is mountainous, lush and undeveloped, save for a new coastal road which runs along half its length down to the southern tip of the island, to the rough but beautifully situated Bến Đầm port, the entry point for most travellers arriving by boat from the mainland. At the north, the island's small airport is sandwiched between two long, sandy beaches on either side. Linking the airport in the north with the port in the south is the stunning east coast road, passing through the charming town of Côn Sơn clustered around a bay at the centre. It's easy to get your bearings on the island.
---
The Côn Đảo Archipelago has a population of about 10,000, many of whom are fishermen or part of the military. According to some locals, men outnumber women 6 to 1 on the island. However, demographics are changing quickly, as people migrate from the mainland – especially the neighbouring Mekong Delta provinces, but also further afield – to start life and business in this thriving little community that's expected to be destined for big things. Early mornings and evenings in Côn Sơn town can now be pretty lively. However, you're unlikely to encounter anyone between 10am and 4pm on the empty and heartbreakingly beautiful seafront promenade (Tôn Đức Thắng street). On one side, the glassy ocean stretches to the horizon, on the other, French colonial villas crumble on street corners beneath the shadows of tropical trees, their roots twisted around the brickwork. In the summer months, when the sea is often perfectly calm, the translucent water is so motionless it looks as though you could walk across it to the little islands that pop up around the bay, like giant whales coming up for air. Everything is still and quiet.
[Back]
---
Environmental Threats & Development:
Despite increased development and a huge rise in popularity over the last few years, particularly among domestic visitors, the Côn Đảo Islands remain the most pristine natural environment of any major tourist destination in Vietnam. This is one of the islands' major appeals, but it remains to be seen whether Côn Đảo can accommodate more infrastructure and people while maintaining its natural environment. Previous instances in Vietnam suggest there's reason to be pessimistic. However, things might be different on the Côn Đảo Islands, because of its unique and cruel history. The prisons that once dominated the main island of Côn Sơn were places of torture, incarceration and death for tens of thousands of political prisoners during the French colonial period and 'American War'. Many of those prisoners are today celebrated as national heroes. Indeed, the vast majority of visitors to Côn Sơn Island come as pilgrims to pay their respects to the people who played a role in creating the independent Vietnam they live in today. For this reason, visitors and developers alike treat the islands with a level of respect that you rarely find at other locations in the nation, with the possible exceptions of equally 'sacred' sites, such as Ho Chi Minh's mausoleum in Hanoi, Pác Bó Cave in Cao Bằng and General Giáp's tomb in Quảng Bình.
---
This respect – which is both implied and imposed – manifests itself in many positive ways, especially with regards to the natural environment: litter is generally disposed of in dustbins rather than discarded on streets, beaches and in the forests; building restrictions are in place around the prisons, historic sites and national park (although there's evidence to suggest this is not strictly adhered to); anti-social behaviour, such as loud beer and karaoke sessions on the beach, is actively discouraged. But, as a new generation of Vietnamese begin to see the islands as a place of leisure first and pilgrimage second, and the gulf in time between them and the revolutionary period gets ever wider, it's possible that the Côn Đảo may start to be treated more as a lucrative tourist destination than a sacred place of remembrance and memorial, which is, of course, how almost all foreign visitors already view the archipelago. I've been visiting since 2008 and, inevitably, there are some worrying signs: more trash in the ocean and on the beaches, more traffic and trucks on the roads, more destruction of the forests for resort and road construction, more litter in the landfill. Can the Côn Đảo become a successful example of sustainable development? Only time will tell.
---
HISTORY

:
Fascinating and tragic, the history of Côn Sơn Island is one of exploration, colonialism, oppression and liberation, as well as myth and legend. Although for the majority of foreign visitors today, the most striking aspect of this archipelago is its natural beauty, its macabre past is a constant presence, preserved as a memorial to those who suffered here. However much visitors enjoy the beaches, mountains and ocean vistas, they will not be able to forget that this island was once a place of malnourishment, punishment, disease and death:
---
*Please Note: Historical information in this article is based only on my limited reading & understanding of various sources & conversations with people: I am not an historian & I cannot vouch for the accuracy of historical details in this article.
---
---
Early History:
The infamous prisons belong to the relatively recent past, but history and myth on the Côn Đảo Islands go back centuries, and are often just as harrowing. It's likely that both the Malays and the Khmers held the islands for a time. Contact with the West started with Arab traders in the 9th century. After that, came the familiar succession of European colonial powers: Spanish and Portuguese mariners in the 16th century, the British East India Company in the 18th century (who set up a trading fort in 1702, but abandoned it a few years later when they were massacred by their own mercenary workforce), and the French from the 19th century onwards. It is even said that Marco Polo, on his way back from China, took refuge on the islands during a storm in 1294. A visit to the Côn Đảo Museum is a good way to get an overview of the history and timeline of the islands.
---
Prisons & French Colonialism:
Between 1862 and 1975, tens of thousands of political prisoners were held on Côn Sơn Island. The prisons, set up by the colonial French and later run by the South Vietnamese and Americans, became known as 'university' for a generation of independence activists from all over Vietnam. Many, who were unaffiliated to political groups when detained, were hardened by the treatment they received in the prisons, and left as members of one party or another, particularly the Indochinese Communist Party, predecessor of the ruling Communist Party of Vietnam. Some prisoners were famous independence advocates before entering the prisons, others grew to fame after being released from Côn Sơn, having learnt much in the 'Schools of Bolshevism' on the island, becoming key political figures and leaders of the nation. Many, however, never left the island: they died from malnourishment, mistreatment, disease, hard labour, or were executed. They became martyrs for their cause, commemorated on the island and throughout Vietnam today. An estimated 22,000 prisoners lost their lives on Côn Sơn Island. Most of the dead were dumped in the shadow of a mountain behind Côn Sơn town. In 1975, their remains were collected and buried in Hàng Dương Cemetery, which occupies the site today.
The prisons closed in 1975. Since then, Vietnamese come on sombre pilgrimages to remember national heroes or relatives who were imprisoned or died on the island. Previous inmates include the likes of Phạm Văn Đồng, who later became Prime Minister of Vietnam, and Lê Duẩn, who became General Secretary of the Communist Party of Vietnam. But, the most famous of all the victims of Côn Sơn's prisons is Võ Thị Sáu. Involved in anti-colonial activities from the age of 14, she was eventually captured by the French and imprisoned on Côn Sơn. In 1952, at the age of just 19, she became the first woman to be executed on the island. Today, her grave is the site of a moving nightly vigil when Vietnamese come to pay their respects with offerings, including combs and mirrors to symbolize her youth.
Even though most international travellers visit Côn Đảo for pleasure rather than pilgrimage, reminders of the island's grim past are woven into every pleasurable experience. Just one of many examples is the old French-era customs house at the centre of the seafront promenade. This small, handsome, perfectly proportioned building is flanked by two, century-old tropical almond trees. Beneath the canopy, people sit in the shade sipping coffees and cocktails gazing out on the blue ocean, while teenagers play football on the white sand beach and families enjoy splashing in the gentle surf. From the customs house, a stone jetty projects into the sea, a favourite spot for sunset selfies. This is where supply ships used to dock and unload provisions and prisoners from the mainland. Upon arrival, the prisoners were processed at the customs house. The pier is known as Wharf 914, named after the number of inmates who died constructing it. Côn Sơn Island is full of these jarring juxtapositions of past and present, pleasure and pain.
---
---
Myth & Legend:
The Côn Đảo is an archipelago haunted by ghosts. A commonly held belief in Vietnam, when someone dies far from home or without proper burial, their ghost is considered 'lost', forever trying to return home; they become wandering souls, often filled with bitterness and anger. These ghosts can be appeased by prayer and offerings at shrines on death anniversaries, festivals, and at the location of their passing. Considering its history, Côn Sơn is filled with the ghosts of former prisoners who died on the island. But some ghosts pre-date the prisons. One story – part history, part legend – describes the ordeal of Phi Yến in the late 18th century. (Note that there are many versions of this story, and I make no claims that the one below is 'correct'.)
Phi Yến was one of the wives of Nguyễn Ánh, the last remaining prince of the Nguyễn Lords, who ruled southern Vietnam from the 17th century. In 1783, Prince Nguyễn Ánh escaped capture from his military and political rivals, the Tây Sơn brothers, by retreating to the Côn Đảo Islands. He and Phi Yến took refuge in a grotto on the island of Hòn Bà. Nguyễn Ánh sought the help of Pigneau de Behaine, an influential French missionary in the Mekong Delta region. The Prince agreed to cede the Côn Đảo Islands and the port of Đà Nẵng to the French, in exchange for their military support in defeating the Tây Sơn brothers and returning him to power.
Phi Yến's son, Prince Cải, was to be sent with Behaine to the court of Louis XVI in France, as insurance for the deal. But Phi Yến refused to let her young son undertake such a dangerous and uncertain journey. Nguyễn Ánh was furious. He ordered Cải be thrown into the sea and drowned. In Cải's place the son of one of Nguyễn Ánh's other wives was sent to France instead. Phi Yến was left on the islands to die. (Today, there's a small shrine to Prince Cải on the road to Đầm Trầu beach on Côn Sơn Island.)
In 1787, Louis XVI agreed to the treaty with Nguyễn Ánh, but was overthrown in the French Revolution of 1789 before the treaty could be realized. However, some military support and supplies still got through to Vietnam, allowing Prince Nguyễn Ánh to wage war on the Tây Sơn brothers. In 1802, he was victorious and declared himself ruler of all Vietnam. He took the royal title, Emperor Gia Long, and moved the imperial capital to Huế, beginning what would be Vietnam's last imperial dynasty. But the stain of French assistance would haunt Gia Long and his successors, until the dynasty became nothing more than an impotent arm of French Indochina. Today, Nguyễn Ánh is a much-maligned figure in Vietnamese history, a fact attested to by his lonely, seldom-visited tomb on the banks of the Perfume River, outside Huế.
Phi Yến remained on the Côn Đảo Islands, until one day she was courted by another man. Traditionally, a good wife never betrays her husband, no matter what he's done. Not wishing to be disloyal to Nguyễn Ánh, Phi Yến refused the approaches of her suitor and threw herself into the sea. Today, unlike her husband, Phi Yến is revered as a faithful, loyal wife and a loving mother: her two greatest attributes tragically coming into conflict with each other. She is worshiped on Côn Sơn Island at Miếu Bà Phi Yến (also known as An Sơn temple). The small, squat temple is set under a flame tree at the foot of a mountain by a lotus lake.
---
---
---
BEACHES

:
Côn Sơn is a wild and rugged island: mountains and rocky headlands plunge straight into the sea creating a spectacular coastline. There aren't many long, sandy beaches, like the ones you find on Phú Quốc Island, but there are several bays where the mountains give way to some stunning strips of sand and turquoise water. The following beaches are scattered around the main island of Côn Sơn and are listed in order of my own personal preference. All these beaches can be visited by bicycle, motorbike or taxi or, in some cases, only on foot. There are other beaches on the outlying islands, but you'll need to charter a boat to get there (see this guide for details):
---
---
An Hải Beach [MAP]: Just south of Côn Sơn town, An Hải is a wide, sandy beach fringed by coconut palms and casuarina trees and overlooked by green mountains. An Hải is within 5-10 minutes' walk of most places in town and is dotted with beachfront accommodation. The water is clear and cool and great for swimming. However, sandflies have long been a problem here, so be careful. An Hải is a striking, long and beautiful beach, but it could be under threat: the new boat pier at its northern end might be the catalyst for pollution of the bay, and there are signs of large-scale resort construction which begin by clearing the beachfront of its trees.
---
Suối Nóng Beach [MAP]: Accessed via a pathway through the jungle, Suối Nóng beach is the next bay south of the more famous Đầm Trầu beach. A wedge of soft sand meets the blue sea with thick jungle growing up the steep mountainside behind. A pretty freshwater stream runs out of the forest and flows into the ocean here. It's a beautiful, quiet spot and good for sunsets, too.
---
Đầm Trầu Beach [MAP]: A wide arc of golden sand shaded by casuarina trees and flanked by rocky headlands, Đầm Trầu is probably the most famous and popular beach on the island. Now accessible via a wide new road, the beach was beginning to lose its appeal thanks to overcrowding and unsightly beachside shacks. However, these have now been cleared away and a new government-sponsored initiative is currently in the process of restoring Đầm Trầu to its former, natural glory. So far, the results look good, and I expect there will be some more changes in the near future. At the time of my last visit, a small entrance fee was being charged to all visitors and litter was under tight control. Đầm Trầu is right next to the airport (the runway ends just as the tarmac meets the sand), so when flights come in to land, everyone on the beach stops to gaze as the aircraft as it drifts down over the sea. Sunsets are great from here and there are some refreshments and watersports equipment available.
---
Nhát Beach [MAP]: Stretching for several kilometres along the southern coastline, Nhát Beach is one of the most dramatic and striking in Vietnam. The view of the bay from Mũi Cá Mập (Shark Cape) is like something out of Jurassic Park: the road cutting along the coast below the barren, windswept southern slopes of Núi Thánh Giá – the highest mountain on the Island – with big boulders strewn on the side of the asphalt, decreasing in size as they roll down to meet the rice-white sand and gin-clear water, and, in the distance, the rugged island of Hòn Bà looming like a perched bird of prey. The swimming is excellent, especially before noon, when the water is often calm and the tide is usually out, thus exposing more of the beach. However, there's hardly any shade on Nhát Beach, and it's increasingly difficult to ignore the ever-expanding landfill on the opposite side of the road: yet another reminder of how fragile this island is.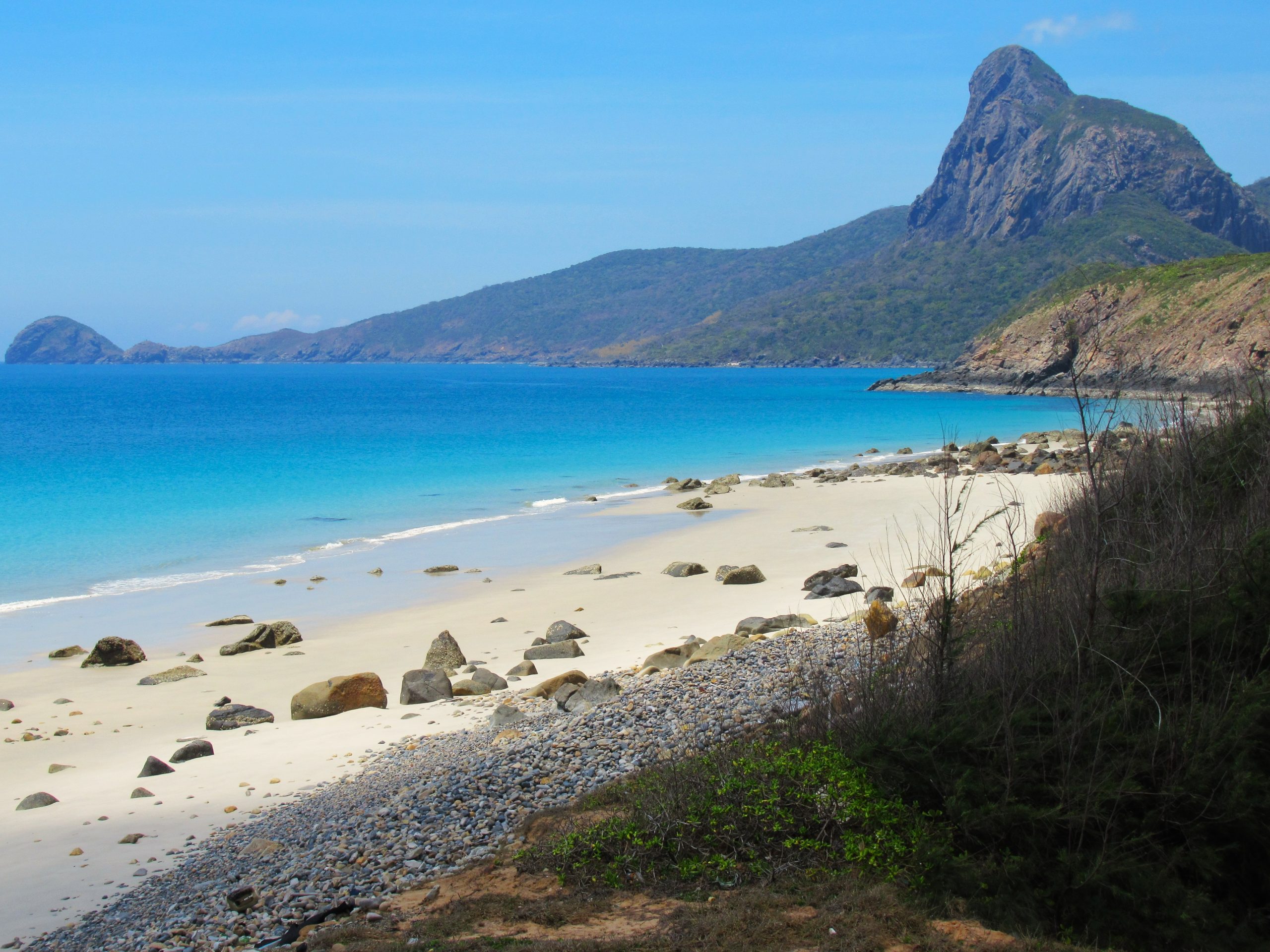 ---
Đầm Tre Lagoon & Secret Beach [MAP]: Only accessible via a beautiful hiking trail through thick jungle (or by speed boat), Đầm Tre is a lagoon right at the northern tip of Côn Sơn Island. The trek takes a couple of hours and is easy to follow: see my hiking guide for details. Swimming here is a real treat, especially after the hot and sweaty walk. The water is beautiful and there's great snorkeling above impressive coral, too. SUP boards are available for rent and boats can take you across the lagoon to Secret Beach, a crescent of sand backed by jungle with a photogenic swing in the shallows. Be very careful swimming here when the tide is going out: the pull is exceptionally strong.
---
Lò Vôi Beach [MAP]: At the northern end of Côn Sơn town's fabulous seafront promenade, Lò Vôi Beach is a ribbon of white sand spreading out under a line of casuarina trees. It's an attractive spot: the water is shallow and blue, there's a constant sea breeze drifting through the trees, and wooden skeletons of wrecked fishing vessels lie entombed in the sand. The beach is protected and calm, sheltered by a hilly headland to the north. At low-tide, the sand is exposed for over a hundred metres, during which time it's possible to walk around the headland to a 'secret' sandy cove. However, a dark history stalks this beach: during the prison-era, the bodies of perished inmates were dumped beneath the trees between the beach and the road. A memorial park now occupies the site.
---
Bãi Vông Beach [MAP]: Known by several names, Bãi Vông is a wide and very long sweep of sand backed by casuarina trees in the northeast of the island. During the northeast monsoon (October-March), Vông Beach is quite exposed and can become very rough with great rollers crashing on the sand. However, during the summer months (April to September), the water can be as calm as an infinity pool, shallow and very pleasant for swimming. At around 2.5km, Bãi Vông is probably the longest continuous beach on the island. At low tide, the water goes far out, making it look more like a river estuary than a beach. Bãi Vông can be accessed via several dirt paths leading east through the trees from the main road. But the easiest access point is at the southern end, before reaching Poulo Condor Resort. Get here around 4pm for a pleasant swim and wonderful views in the fading light.
---
Ông Cau Beach [MAP]: On the remote and undeveloped southwest coast, Ông Cau beach has only been accessible to travellers for a few years, since the opening on the new west coast road. A jungle path leads off the road beneath thick tropical foliage to a wedge of sand nestled in a tight bay. When the sea is calm, the water quality here is outstanding. The depth is shallow and there's some decent coral about 50m out. The beach is sandy and pretty, but blighted by some picnic trash. Ông Cau is a beautiful, tranquil and secluded spot. There is sometimes a national park ranger at the trailhead from whom visitors must buy an entrance ticket. (Keep a watch out for snakes on the path down to the beach.)
---
Côn Sơn Beach [MAP]: During low-tide, a sand beach emerges along the shore of Côn Sơn town's beautiful seafront road. In the early mornings and late afternoons, Vietnamese tourists, pilgrims and locals come here to paddle, swim and play in the shallow waters, particularly around Pier 914, directly opposite the elegant Côn Sơn Cafe. An hour or so before dusk is a great time to be here: watching the sun set behind the hills, having a drink at the cafe, a snack from one of the food vendors, and experiencing the effortless, informal street life that Vietnam does so well. Côn Sơn beach is less about the bathing; more about the social vibe
---
Đá Trắng Bays [MAP]: Just south of Côn Sơn town and An Hải beach, the coast road cuts along the rocky shoreline between the sea and the jungle-clad headland. In calm conditions and when the tide is in, there are a few lovely little inlets on which to find a boulder and jump into the ocean. These aren't sandy beaches, but they're attractive, rocky coves shaded by a canopy of tropical trees. The views back over Côn Sơn bay and town are very nice, too. Bring a snack and a drink and linger for an hour around dusk.
---
Bãi Bàng Beach [MAP]: On the remote and undeveloped western coast, Bãi Bàng is a pebble beach that can only be reached on foot via a hiking trail through the jungle. The well-marked trail ends at the beach after descending steeply down a stone stairway to the water's edge. Although not one of the best beaches on the island, Bãi Bàng is peaceful and isolated. In the rainy season, at the southern end of Bãi Bàng, a small waterfall runs off the mountains and straight down to the beach. See my hiking guide for details about how to get there.
---
Đất Thắm Beach [MAP]: Not far beyond Bãi Bàng beach, Đất Thắm is another remote, isolated and undeveloped bay on the west coast only accessible by foot. The crescent bay is pretty and snorkeling is good when the seas are calm. As with Bãi Bàng, the hike through the jungle to get here is half the fun.
---
SEE

&

DO

:
Apart from the beaches, there's plenty of other things to see and do on the Côn Đảo Islands. You'll get the most out of the main island of Côn Sơn by wandering and exploring independently: either on foot or on two wheels. The town of Côn Sơn and the island's coast roads and hiking trails will reveal enough of their charm and beauty to keep you going for several days: beaches, colonial architecture, historical sites, forests, markets and mountains. For the outlying islands, you'll need to hire a boat or go on a diving trip:
---
---
Walking, Hiking & Motorbiking:
Motorbiking: Two wheels is a fantastic way to see and explore Côn Sơn Island. Motorbikes and scooters can be rented anywhere in town for 150,000vnd per day (ask at your accommodation). Cycling is great too, but so far only a handful of bicycle rentals exist. Côn Sơn Island is the perfect place to learn to ride if you don't already know how. The well-maintained but empty roads give you all the space and time you need to get familiar with riding. You can easily ride all the island's roads in one day, but take your time because riding here is such a pleasure. The 'main' road, following the east coast from Cỏ Ông Airport in the north to Bến Đầm Port in the south, is a spectacular 25km ride. And the recently opened west coast road, linking Bến Đầm Port with the National Park HQ, is also fabulous, especially around dusk. Linking these two roads together means riders can now essentially complete a circuit of the entire island. Take note that there are only two gas stations on the island (both of which I've marked on my map), and be careful of strong winds as you round the island's blustery capes.
Walking & Hiking: Not only is Côn Sơn town one of the most pedestrian-friendly urban areas in Vietnam, the island is also a wonderful hiking destination. Strolling up and down the town's seafront road (Tôn Đức Thắng) in the early mornings or late afternoons is undoubtedly one of the highlights of visiting Côn Sơn Island: the seafront exudes charm, character and romance. Ambling along Côn Sơn town's languid, shady back-streets – lined with an increasing number of enticing cafes and eateries – is a rewarding way to spend a couples of hours during the day. For hikers, there are now at least half a dozen well-marked trails on the island leading through the National Park, all of which can be undertaken independently, without a guide. The scenery and views are excellent and there's a high chance of seeing wildlife, such as macaques and black squirrels. What's more, hiking allows visitors to reach parts of the island that can't be accessed by any other means. Jungles, beaches, waterfalls, cliffs and peaks can all be reached via hiking trails. For full details, see my guide to Hiking Côn Đảo Islands.
---
---
---
Prisons, Museums & Historical Sites:
For the majority of Vietnamese visitors, it's Côn Sơn's history that brings them here. Every year, tens of thousands of Vietnamese of all ages and backgrounds come on a pilgrimage of sorts, to pay their respects to the former inmates of the prisons, many of whom are considered great national heroes. Over 20,000 prisoners died on the island, either through malnutrition, disease, mistreatment or execution. Of course, this makes the prisons and associated sites a very sombre experience. But, for a foreign visitor, it also provides some historical perspective, and makes you appreciate how this island, which today appears to be the epitome of a tropical paradise, was once a dark and hellish place for thousands of prisoners for over a century. There are several prisons on the island, all within walking distance of Côn Sơn town. But it make sense to start at the Côn Đảo Museum, because this is where you can buy a ticket (50,000vnd) which covers entrance to all of the prisons and related sites, including the museum itself (note the ticket is only valid for one day).
The Côn Đảo Museum (7.30-11.00am & 1.30-5pm daily) was relocated several years ago to a sprawling new building with many more exhibits to fill the enormous new space. The exhibits are arranged chronologically, starting with Côn Đảo's early history, nature and geology, through to its acquisition by the French and use as a penal colony, to its liberation in 1975 and modern day developments for tourism and industry (including, bizarrely, a photograph of my parents and I arriving at the airport over a decade ago in the last room). Information is in English and Vietnamese. There are photographs of some of the more famous of Côn Sơn's former inmates, including the likes of Phạm Văn Đồng and Tôn Đức Thắng, who became long-serving prime minister and president of Vietnam respectively. There are also portraits of those who lost their lives on the islands, the most famous of whom was the 19 year-old, Võ Thị Sáu, executed here in 1952. Her grave, and hundreds of others, can be visited at the sobering Hàng Dương Cemetery, just a short walk due north of the museum (respectful dress is compulsory). It's a good idea to purchase some incense, flowers or fruit at the cemetery entrance (or in town) to lay at the graves.
The prisons have been preserved as memorial sites. There are several of them in Côn Sơn and just east of town. Some of the prisons are grey concrete blocks, but others look less threatening: parts of Phú Hải and Phú Sơn resemble a French colonial seminary rather than a penitentiary. But, one look inside the cells – at the horrific, green, corpse-like mannequins – brings home the reality of what conditions were like here. The most visited prison sites are Phú Hải, Phú Sơn, Phú Tường and Phú Bình. The latter two were the site of the infamous 'tiger cages': small cells with grilles in the ceilings where guards poked prisoners with sticks and threw lime on them, which burned their skin.
Apart from the prisons themselves, there a half a dozen other sites scattered around the town that are related to the island's history as a penal colony. These include the sturdy-looking Lò Vôi lime ovens used to make building materials, Hàng Keo cemetery park where the remains of prisoners were unearthed dumped by the beach under casuarina trees, Ma Thiên Lãnh bridge in the hills that was built by forced labour, the handsome French governor's house and customs house on the seafront, and Pier 914 also built by prisoners. Something that, understandably, isn't mentioned or commemorated is the site of the French colonial cemetery, which is located where Phạm Văn Đồng Park currently stands today.
---
---
---
Temples & Pagodas:
In recent years, 'spiritual tourism' has become extremely popular on Côn Sơn Island. Ever since the liberation of the prisons, in 1975, the island has attracted pilgrims to sites where famous national heroes were once incarcerated, but today it's more commercial and goes beyond the wartime prisoners to include other historic figures and even mythological characters and events. Indeed, the vast majority of Vietnamese visitors to the island come specifically to complete a sort of 'spiritual loop' of the island. This loop, of course, includes all the prisons and related cemeteries and sites, but also temples, shrines and pagodas, some of them linked to the part historical, part mythical folk story of Phi Yến (a version of which I have told here). Spiritual sites that were previously all but ignored by visitors, are now among the most popular sites on the island.
These include the small, but handsome and well-proportioned temple to Phi Yến (known as An Sơn temple), a pretty and peaceful place on the edge of Côn Sơn town. Buy some incense and take a few moments to contemplate Phi Yến's sad tale. On the other side of the island, there's a shrine to Prince Cải, Phi Yến's son, on the road to Đầm Trầu Beach. Guarded by two sculpted horses, this is also said to be the tomb of the prince, whose grave is behind the shrine. Other shrines that are commonly visited on the 'spiritual loop' are Miếu Năm Cô and Miếu Thổ Thần.
The newly refurbished pagoda complex of Vân Sơn (Cloud Mountain) sits in a commanding position on the hillside above An Hải Lake. It's a steep (and hot) climb up the stairs to the prayer rooms, from where there are good views out to sea and across the town. In addition, an impressive new temple dedicated to the men and women who were imprisoned and lost their lives on Côn Sơn Island sits at the entrance to Hàng Dương Cemetery.
---
---
Diving & Boat Trips:
Diving: Côn Đảo offers the best diving in Vietnam. Other popular Vietnamese dive destinations, such as Nha Trang, pale in comparison. The best season is from March to August, when the water is generally clear and calm; November to February can be very choppy, and diving trips are usually canceled. Con Dao Dive Center is the go-to place for arranging a diving trip. At the time of writing, they had relocated to Nguyễn An Ninh street, at the edge of Côn Sơn town. Drop into their shop or check out their website for more information: www.divecondao.com
Boat Trips: The outlying islands can be reached by speed boats on half- or full-day tours. These boat trips are great fun and can be arranged through the National Park office on the seafront road. Most boat trips last several hours and include exploration of two or more islands. The most popular are Bảy Cạnh (the second largest island in the archipelago) and Hòn Cau, which has a good beach. Prices are fairly high so you'll want to go as a group in order to share the costs. For more information see my guide to Boat Trips to Outlying Islands.
Sea Turtles: Côn Đảo is well-known for its sea turtle nesting grounds, particularly on Bảy Cạnh Island. It's possible to book a tour through the National Park office to witness the laying of the eggs on the beaches at night. The season lasts from June to September.
---
---
Markets & Shopping:
Located right at the centre of town, Côn Đảo Market has expanded in recent years and is now a bustling place full of fresh local produce as well as goods from the Mekong Delta. It's great fun to explore, particularly in the early mornings and late afternoons when it's at its busiest. There's plenty of fresh fruit, vegetables and fish for sale, as well as dry goods and textiles. The Côn Đảo Gift Shop is an interesting store featuring some island specialities, such as bags of tropical almonds (hạt bàng) that are grown on the enormous old trees lining the town's streets. They're delicious as snacks or finger food to accompany drinks – try the ginger-coated variety for added zing. Also available at the gift shop is local liquor made from ginseng (rượu sâm), and fresh wild honey from the jungles (mật ong rừng). It's definitely worth a look. Lastly, the incongruous Takai Mart is the island's first modern supermarket. It has everything you'd expect to find in a supermarket as well as some touristy souvenirs.
---
---
SLEEP

:
The number of places to stay on the Côn Đảo Islands has grown significantly over the last few years. There are now dozens of mini-hotels in Côn Sơn town, all offering decent rooms. There's a clutch of mid-range hotels along the town's seafront and beach, and three luxury resorts. However, rooms rates on the Côn Đảo Islands are slightly inflated: in general, expect to pay at least 20% more than you would on the mainland. The following hotels are a selection of what's available. You can use the search box below and the 'BOOK HERE' links to search and make reservations for hotels on the Côn Đảo Islands:
---
Find a Hotel:
---
---
Luxury Resorts:
Surprisingly, there are still only a few high-end resorts on Côn Sơn Island, although that number is bound to increase in the future. Of the three that currently exist, one is located on the seafront in Côn Sơn town and the other two are situated on secluded beaches. They are very different in style, standard and price tag:
Poulo Condor Boutique Resort & Spa [MAP] $150-$250 | BOOK HERE: Located at the southern end of the long arcing sands of Vông Beach, Poulo Condor is a short ride from the airport and is currently the only accommodation on this side of the island: for the time being, the resort has the entire beach to itself. The style and décor is French colonial, with architectural features echoing the colonial-era shophouses of Côn Sơn town. Inside, the rooms are very spacious and beautifully appointed, with wooden wardrobes and chests, rattan furniture and painted vases, tiled floors and stone verandas, rugs and lamps, shutters and blinds, expansive outside bathrooms and private plunge pools. Other facilities include an attractive infinity pool, spa, gym, restaurant, bar and large, lovely gardens. The resort was carefully designed to have minimal impact on the natural surroundings, which belong to the national park. The result is a very peaceful, verdant and immersive property which echoes to the sounds of frogs, cicadas and the wind through the trees.
The Secret Côn Đảo [MAP] $90-$130 | BOOK HERE: Located on the beautiful and elegant seafront road in Côn Sơn town, The Secret is the most recent high-end resort to open on the island. It's also the first luxury accommodation to be located in town rather than on a private, secluded beach. Décor and design is minimalist, sleek, clean and contemporary. Facilities include a large infinity pool, 24-hour gym and multiple dining and drinking options of high quality. Some French colonial-era structures are incorporated, but the general aesthetic is modern. Rooms aren't large, but they are crisp, clean and comfortable. The property can feel a bit sterile and impersonal at times and standard rates don't even include breakfast, which is very disappointing. However, The Secret is far more affordable than either of the other two high-end resorts on the island. See my Independent Review of The Secret for more details.
Six Senses Côn Đảo [MAP] $750-$1,250 | BOOK HERE: The Six Senses brand has a reputation for atmospheric resorts in superb natural settings throughout Southeast Asia; their Côn Đảo property is no exception. Six Senses Côn Đảo received a lot of media attention in 2011, when 'Brangelina' (Brad Pitt and Angelina Jolie) stayed here. Consisting of contemporary-looking private villas built using traditional materials – lots of bamboo – along a lovely, long stretch of sand, the resort is one of the most exclusive (and expensive) in the nation. The villas are spacious, low-impact and well-designed: all of them have ocean views and private plunge pools. Service is exceptional. This all comes at a price: average rates are between $750-$1,000 per night. When you're paying this kind of price, it's difficult to determine value for money. Standards are very high indeed at Six Senses Côn Đảo. But is it really worth paying $750+ to stay here when you could be paying $600 less to stay at another luxury resort, such as the Poulo Condor? My guess is that the Six Senses ultimately caters to guests for whom this kind of question isn't much of a concern.
---
---
---
Mid-Range Hotels:
It's important for travellers to bear in mind that mid-range hotels and resorts on Côn Sơn Island are usually $20-$30 above what you'd expect to pay for similar standards on the mainland. Adjust your expectations accordingly so as not to be disappointed by value for money. In some cases, the location alone is worth the extra expense:
Orson Hotel & Resort [MAP] $70-$100 | BOOK HERE: All alone at the south of the island, not far from Bến Đầm port, Orson Hotel is a large property with huge rooms, balconies, a stunning position and amazing views of the mountains and the ocean. Value for money can be very good considering the size of the rooms and the views. But pay the extra for a sea view, because the mountain-view rooms don't have balconies. The swimming pool and private beach are great. However, service and other amenities aren't particularly good. The hotel is convenient for the port but not for much else: you'll need to take taxis or rent a scooter to get around.
Côn Đảo Resort [MAP] $70-$110 | BOOK HERE: This three-storey hotel on a lovely stretch of An Hải beach just west of Côn Sơn town has an ideal location, but is sadly let down by ludicrously high prices and noisy groups of package tour guests. The views from the sea-view rooms are fabulous. Décor is minimal and bland but comfortable and unoffensive. There's a swimming pool and a tree-lined beach with wonderful vistas of the coast, islands, and mountains. Côn Sơn town is just a 5-minute stroll away. This would all be ideal, but prices hover around $100 per night and the standards just aren't good enough to justify the price anymore. The buffet breakfast is quite poor and the hotel regularly hosts big tour groups who are catered to with loud parties in the evening.
Tân Sơn Nhất Resort [MAP] $40-$65 | BOOK HERE: Right on An Hải beach with attractive but bare wooden bungalows beneath large tropical almond trees, Tân Sơn Nhất has long been a go-to resort for foreign mid-range travellers. Bungalows are just about value for money (considering this is Côn Đảo) and the resort's shortcomings – no pool, average service and breakfast – is forgotten due to its fantastic beach access and ease of walking into town. There's a new (and ugly) wing at the front which offers cheaper rooms.
The Mystery Côn Đảo [MAP] $50-$75 | BOOK HERE: On a quiet backstreet in Côn Sơn town, The mystery is a stylish, enigmatic boutique hotel with photogenic décor and a trendy vibe. Popular with young, well-dressed, phone-wielding Vietnamese youth, The Mystery features colourful tiles, rattan furniture, bare concrete and stone walls and exteriors, lots of potted plants and a rooftop bar. There's no direct beach access, but it's perfect for town strolls and visiting all the sites.
Nam Hải Hotel [MAP] $25-$50 | BOOK HERE: Near the centre of town, Nam Hải is a very clean and attractive little mid-range hotel. Rooms are simple but comfy with nice balconies looking over town. There are no facilities as such, but the town's seafront road and An Hải beach are just 5-10 minutes on foot from the hotel, and there are lots of cafes and restaurants within walking distance.
Marina Bay Hotel [MAP] $50-$100 | BOOK HERE: This rather incongruous (and unattractive) new multi-storey hotel near the edge of town is comfortable but bland and rather boring. Aimed at domestic tour groups, the rooms are neat and some have good town views. There's a small rooftop pool and a restaurant and bar on the ground floor. Rates are too high to justify choosing this over other hotels, but staff are young and friendly. Easy walking distance from the town's seafront and beach.
Con Son Blue Sea Hotel [MAP] $40-$60 | BOOK HERE: A rooftop swimming pool, a few sea-view rooms and just a block from the sands of An Hải beach all make Con Son Blue Sea a pretty solid mid-range option. Rooms are plain but fine – try to get one of the few with balconies. There are big seafood restaurants either side of the hotel.
---
---
---
---
---
Budget Hotels:
As with mid-range accommodation, expect to pay more than you would on the mainland for budget hotels on Côn Sơn Island. There's now a plethora of mini-hotels and guest houses in Côn Sơn town and this is starting to drive prices down a bit. If you're on a really tight budget, it's worth looking for multi-bed rooms as some mini-hotels have triples and quads:
Conson Hotel [MAP] $25-$35 | BOOK HERE: Although the décor is more like a business-hotel than a budget one, Conson Hotel has a good position and high standards considering its reasonable rates. What it lacks in charm and character it makes up for in cleanliness and location. Many rooms have balconies and the hotel is just a block from the sands of An Hải beach or a 5-minute stroll into town. Great value.
Thanh Xuân Motel (& others) [MAP] 250,000-500,000vnd: At the southern end of the wonderful seafront road, several budget mini-hotels and guest houses stand opposite the new ferry terminal. The simplest, smallest and cheapest of these is Thanh Xuân Motel. Rooms are small, clean, cosy and bright, but most of all they're cheap, especially considering the location right on the seafront. Try to get a room on the second floor which has a lovely little shared balcony. Other small hotels here include Ba Đòan 1 (great if you can get a balcony room), Golf Star and Thanh Ngọc.
Thiên Tân Hotel [MAP] $25-$35 | BOOK HERE: Plain rooms, but you can't beat the location: in a garden opening onto An Hải beach. At $25 per night this is excellent value for beachfront accommodation.
Trung Hậu [MAP] $25-$35 | BOOK HERE: An excellent mini-hotel on the corner of Côn Sơn town's quiet backstreets, Trung Hậu is several storeys of clean, bright, good value rooms, some with balconies. The location is walking distance from all the town's sites and the seafront road.
Hotel De Condor [MAP] $15-$30 | BOOK HERE: Lots of style and character in a quiet location out of town, Hotel De Condor attracts young budget travellers with good taste. Décor is fresh, light and colourful, and the overall vibe is summery and cool. The area is becoming a budget traveller enclave with several cafes and eateries. However, it's a good 10-15-minute walk to get to town.
Hoàng Ngọc Hotel (& others) [MAP] 250,000-500,000vnd: Near the centre of town, Hoàng Ngọc is one of several local guest houses and mini-hotels along the parallel streets of Nguyễn An Ninh and Trần Phú. Small, clean, simple, budget-friendly and with an informal, local vibe, Hoàng Ngọc has no-frills rooms. The area is very close to lots of restaurants and shops, and a short walk from the seafront. Noise can sometimes be a problem in the evenings.
Nicobar Hotel [MAP] $25-$35 | BOOK HERE: On a nice, quiet backstreet in Côn Sơn town, Nicobar is a pleasant budget mini-hotel with an airy, green ambience. Popular with young Vietnamese travellers.
Maya 2 Hotel [MAP] $30-$40 | BOOK HERE: A smart, new mini-chain, Maya has a couple of locations in town. The best value is usually Maya 2 near the park. Comfortable, clean but generic, Maya attracts domestic tour groups and international travellers. Rates often creep up to mid-range prices, even though standards don't. The location is good and central.
LoCo Lodge & Pub [MAP] $10-$25: Out of town at the end of a road, LoCo Lodge is one of a kind on the island, featuring hostel-style dorms and safari-style canvas tents in a lush garden by a freshwater stream at the foot of a mountain. Dorms are very cheap but quite cramped; tents are excellent but often fully booked. The atmosphere is very social. LoCo is a great idea, but the execution is imperfect. Perhaps, with a bit more time and investment it will be just right.
De La Rosa [MAP] $25-$40 | BOOK HERE: A-frame bungalows in a lush garden on a quiet road out of town, De La Rosa is an unexpected property. It's a nice surprise and makes a change from all the mini-hotels in town. The only issue is that you'll need your own wheels to be independent. Rent a scooter or bicycle.
Garden House [MAP] $30-$35 | BOOK HERE: Large rooms and a quiet location behind town, Garden House is good if you want space and light for relatively low prices.
Lighthouse Boutique [MAP] $25-$30 | BOOK HERE: A long-standing budget accommodation with friendly, knowledgeable staff, Lighthouse Boutique is good quality and value, but often fully booked. Located in town.
Uyen's House [MAP] $15-$30 | BOOK HERE: Trendy and popular with selfie-taking young Vietnamese travellers, Uyen's House is an attractively designed villa in the centre of town. There aren't many rooms and they're often full. There's also a lack of space and privacy here.
---
---
---
---
---
EAT

&

DRINK

:
Côn Đảo's food scene has greatly improved over the last few years. As the population has grown (thanks to settlers moving here from the mainland) so too has the variety of food available. Côn Sơn town now has a relatively buzzing dining scene, including street food vendors, seafood restaurants and rice eateries all catering to the different palates of tourists who visit from all over Vietnam. There's even a couple of places serving good Western food, not to mention the restaurants attached to the high-end resorts. What's more, Côn Sơn has a growing cafe culture and a few cocktail bars:
---
---
Street Food & Snacks:
Côn Đảo Cooked Food Market [MAP]: On the corner of Võ Thị Sáu and Phạm Văn Đồng streets a covered area houses the Côn Đảo cooked food market. Packed into the space are dozens of local stalls serving delicious and cheap classic Vietnamese dishes, such as noodle soups, rice meals, desserts and much more. It's ideal for breakfast, but also serves well for a late afternoon snack. Most dishes are between 20,000-50,000vnd. The atmosphere is delightfully local, informal and Vietnamese. This is where you come for a real street food experience on the island: it's as close as you can get to the street food hives and fresh markets on the mainland. Don't be scared, don't be picky: come here with an open mind and an open palate and dive in. As well as a plethora of Vietnamese dishes, there's also coffee, tea, juices and smoothies available.
Bánh Bèo Chén [MAP]: Just east of town, down a small back alley, this unassuming little place serves excellent bánh bèo – a Huế speciality of beautiful little rice and tapioca curds with pork and various accoutrements. They're gorgeous to look at and a textural feast. Excellent for a mid-afternoon snack and a nice stroll from town.
Quán Cơm Su Su [MAP]: This classic, informal, inexpensive quán cơm (rice eatery) is perfect for a filling lunch on the cheap. Choose from over a dozen dishes to have over a plate of rice. Good, home-cooked food at low prices. This is also a decent option for cheap take-out food for a picnic.
Bánh Xèo Kiều Tâm [MAP]: On the edge of Phạm Văn Đồng park, Kiều Tâm serves up tasty bánh xèo (crispy savoury crepes with pork and shrimp filling). The bánh xèo are Mekong-style which means they're huge. Tear off pieces and wrap it in aromatic fresh herbs then dip in sweet fish sauce. It's a wonderful, ever-popular dish that never fails. Kiều Tâm is informal with long wooden benches and a friendly, family atmosphere. They also serve hearty cháo vịt (duck rice porridge).
Minh Tâm Noodle House [MAP]: On a backstreet in Côn Sơn town, Minh Tâm is a typical noodle soup house that you find all over the nation. Selling decent phở bò (beef noodle soup) and bò kho (aromatic beef stew), Minh Tâm is good for an early breakfast before hitting some of the hiking trails on the island. There's a local atmosphere and it's popular with Vietnamese travellers staying in the nearby mini-hotels.
Bánh Mì Tuấn Mập [MAP]: Right in the centre of town, Tuấn Mập is a classic Vietnamese bánh mì (filled baguette) store. Get your fresh, crispy baguettes filled with pate, cold cuts, fried egg, salad and pickles. Great for breakfast or as a take out snack for lunch on the road while exploring the island.
Bánh Khọt Duyên Trang [MAP]: A little west of town, near the lily-filled lakes, Duyên Trang serves bánh khọt – delicious crispy little medallions of rice flour topped with shrimp and pork then wrapped in leaves and dipped in sauce. Bánh khọt is actually a regional speciality of the province that Côn Đảo is part of: Bà Rịa-Vũng Tàu. Locals love it. Try it as an early evening snack.
Kem Dừa (Coconut Ice Cream): Dừa Đất [MAP] | CocoDeli [MAP]: Along with several other coastal destinations in Vietnam, kem dừa (coconut ice cream) is a trend among domestic travellers. Real coconut ice cream is a time- and labour-intensive process resulting in fresh, silky, refreshing and delicious ice cream. The proliferation of kem dừa establishments on Côn Sơn Island in the last few years is incredible. Two of the most famous and popular are Dừa Đất (regarded by most people in the know as the best on the island) and CocoDeli (the ice cream might not be quite as good but the setting is nice). The coconut ice cream is presented in a coconut shell with toasted coconut on top and a glass of fresh coconut water on the side, as well as many, many other optional accoutrements. It's great fun and perfect for a mid-afternoon treat on a hot, sunny day.
Lan Anh Store [MAP]: Opposite Phạm Văn Đồng park, Lan Anh is a family store that sells all the normal produce – candy, chocolate, soda, etc. – as well as some tempting bottles of spirits, wine and mixers. This is a good place to come if you want to create your own portable bar while on the island: for me, that's a bottle of gin, a few cans of sodas and some fresh limes.
Côn Đảo Fresh Produce Market [MAP] | Takai Supermarket [MAP]: The island's main fresh produce market is at the centre of town. Along the edges you'll find fresh fish, meat, fruits, vegetables, spices, herbs and condiments. Inside, there are some textiles, clothing and a few useful things, such as beach balls. It's worth looking around if you want to buy food for a picnic and all the fresh produce looks great in the mornings. Takai is the island's first supermarket. It's air-conditioned, sterile, organized and packed with everything you'd expect. Another good place to look for picnic supplies.
---
---
---
---
---
Restaurants & Seafood:
Cơm Niêu [MAP]: On Tô Hiệu Street are a couple of very good cơm niêu (clay pot rice) restaurants. These are friendly, informal places that attract Vietnamese families looking for a good, hearty, home-cooked lunch or dinner. The menus are long and eclectic, but a standard combination would be fish (perhaps cá kho tộ – caramelized fish in a clay pot), stir-fried vegetables (perhaps bông bí xào tỏi – pumpkin blossom with garlic), soup (canh chua – sour soup – is a southern classic) and, of course, piping hot clay pots of rice (cơm niêu). There are several other cơm niêu restaurants scattered around town.
Beach House [MAP]: Hidden away down an alley behind town, Beach House is a very impressive little operation. Fantastically casual yet cosy, the restaurant is surrounded by potted plants and there are only a few tables. The owners, Dao and Lão, cook everything in the kitchen right next to the dining area. Somehow the two of them manage to maintain a menu of excellent quality Asian, Western and fusion dishes as well as very good cocktails and wine. Foreign travellers in particular will likely enjoy dining here.
Quán Hải Sản (Seafood Restaurants) [MAP]: Just south of the park in Côn Sơn town a dozen or so fresh seafood restaurants (quán hải sản) line both Phạm Văn Đồng and Trần Phú streets. Particularly popular during the evenings, these informal restaurants serve all number of shellfish (ốc) and fish (cá). Ordering can be tricky if you don't know any Vietnamese, but much of the 'menu' is on display in glass water tanks, so pointing will suffice. There's not much to choose between each restaurant, so just walk by a couple of times and decide which one looks best. Prices are very reasonable. These seafood restaurants are much more lively and affordable than the ones lining Nguyễn Đức Thuận Street behind An Hải beach.
Bar 200 [MAP]: In a sandy garden right on An Hải beach, Bar 200 serves the best value Western food on the island. The menu features burgers, pizzas, milkshakes and some Vietnamese dishes, too. Portions are large and the burgers are very good indeed. It's a small, open-air space popular with Western travellers and young Vietnamese.
Nhà Hàng Phố Biển [MAP]: Housed in a beautiful French-colonial villa on the seafront road, Phố Biển is a popular seafood restaurant. Although prices are higher than the local restaurants in town, part of what you're paying for is the location, which is very fine.
Infiniti Cafe & Resto [MAP]: In the town centre, Infiniti is a sort of Côn Đảo institution. For years it was the go-to place for expats, foreign travellers and young Vietnamese backpackers. Back then Infiniti had a sort of ruin bar vibe. That has disappeared completely with its new location and incarnation as a sort of minimalist restaurant/co-working space. The décor is urban, formal and totally incongruous on Côn Sơn Island. It's hot, stuffy and there's no natural light. However, the food and drink is still quite good and it attracts young travellers. At the very least, Infiniti is bold and new – it wouldn't look out of place on the trendiest of streets in Saigon.
Local Shellfish & Seafood Eateries [MAP]: Near the junction of Trần Phú and Phạm Hùng streets are several local quán ốc (snail and shellfish restaurant). These aren't touristy places; they're local. Shellfish and beer is a national pastime in Vietnam and it's great fun to join in if you're an adventurous traveller. Check out my Shellfish Guide and dive in.
The Secret Restaurant [MAP]: Housed in a handsomely restored French-colonial villa on the seafront road, The Secret Restaurant is very classy and a fantastic location for dining. Unfortunately, it's only open about three days a week. Check with reception and book a table for an evening when it's open and enjoy a fine dining experience on the seafront. Alternatively, have a coffee, juice or smoothie on the terrace during the day.
Tân Sơn Nhất Restaurant [MAP]: The resort's restaurant is atmospherically situated beneath large tropical almond trees on An Hải beach. The Vietnamese dishes are very good. Although the fresh seafood can be quite expensive, there's plenty of other tasty dishes on the menu.
---
---
---
---
---
Cafes & Bars:
Cafe Côn Sơn [MAP]: Right at the centre of the beautiful seafront road, Cafe Côn Sơn is housed in the handsome French-era customs house looking out over the ocean. Seating is outside beneath the boughs of century-old tropical almond trees. Coffee and juices are good, but it would be great if they added a few cocktails to the menu. The atmosphere in the late afternoons and early mornings here is wonderful.
ULA Bar [MAP]: At the far western end of the seafront road, ULA is a new bar with an interesting cocktail list, including a whole set of drinks based on the zodiac. Drinks are good and the position is nice, but the music is far too loud.
Côn Đảo House [MAP]: A classy little bar on the backstreets of town, Côn Đảo House serves very good cocktails. It's a good place for a nightcap after dinner.
Sunset Lounge Rooftop Bar [MAP]: On the top floor of The Secret, the Sunset Lounge has excellent views and an extensive drinks list. Prices are fairly high, so make sure you get here for the sunset happy hour: 5-7pm. There are swing chairs, table football and often live music after dark.
Infiniti [MAP]: Modern and minimalist, drinks at Infiniti are good. The problem is that it's entirely indoors and feels like you're in a city centre rather than on a tropical island.
Bar 200 [MAP]: Right by the beach, Bar 200 serves very good cocktails and lots of beers, juices and milkshakes. Popular with foreign travellers.
Beach House [MAP]: Just like everything else at the Beach House, cocktails are handcrafted and good quality. There's also wine and coffee.
Ba Lê Cafe [MAP]: A classic 'nostalgia' cafe of the kind that's popular throughout Vietnam, Ba Lê features old furniture and objects harking back to 'revolutionary' times. A favourite spot for photos and a good place for some Vietnamese-style drip-filter iced coffee.
Sea Sense [MAP]: A pop-up bar on the beach, Sea Sense serves an incredible variety of cocktails and beer from its small, portable shack. Great for a sunset tipple.
The Drinks Bus [MAP]: On the deserted west coast road, the Drinks Bus is set up on a ledge overlooking the ocean with great sunset views. Serving fresh coconuts and juices, the Drinks Bus is popular at dusk for photos.
The Den [MAP]: On a quiet street in town, The Den serves good coffee and other drinks and snacks. It's worth dropping by and browsing their menu.
Tiệm Cafe Tháng Năm [MAP]: A small cafe with decent coffee, Tiệm Cafe Tháng Năm is good for a pick-me-up espresso in the middle of a hot day exploring the town on foot.
Sun Bay Cafe & Bar [MAP]: Connected to the Marina Bay Hotel, Sun Bay Cafe has tables and chairs set on the pavement outside. Coffee and cocktails are nice in the late afternoon.
Tiệm Nước Saigon [MAP]: Popular with locals, Tiệm Nước Saigon is an unassuming, casual, corner-side cafe serving good coffee. A social vibe on a quiet backstreet.
Kwai's Bistro [MAP]: An attractive corner bar with tiled floors and outside terrace, Kwai's looks great. Unfortunately, when I visited the mixologist was out so I couldn't sample the cocktails. But it looks like it's worth a try.
---
---
---
---
---
TRANSPORT

:
There are two ways to get to the Côn Đảo Islands: by plane or by boat. Not long ago, the islands could only be reached by military helicopter; these days, there are dozens of flights each day from multiple Vietnamese cities and an ever-increasing number of boat connections. On Côn Sơn Island itself, getting around is easy, thanks to good roads, short distances, light traffic, scooter rental, electric buggies and taxis. The outlying islands can be explored by hiring speedboats:
---
---
By Air:
Both Vietnam Airlines and Bamboo Airways fly daily to/from Côn Sơn Island. The busiest route is the 45-minute flight to/from Ho Chi Minh City: between the two airlines there are over a dozen flights in both directions every day. Bamboo Airways also fly daily to/from Hanoi (at least 4 flights each day) as well as irregular flights to/from the central cities of Đà Nẵng and Vinh. In addition, Vietnam Airlines fly to/from Cần Thơ in the Mekong Delta several times a week. With all these flight options, travellers can enter and exit the Côn Đảo Islands from different destinations on the mainland: for example, you could fly in from Cần Thơ and fly out to Hanoi. This makes it easier to include the Côn Đảo Islands as part of a wider Vietnam itinerary, without having to backtrack.
Vietnam Airlines flights are often operated by their subsidiary, VASCO, using small propeller aircraft; Bamboo Airways used small jet aircraft. Although there's no shortage of flights to the Côn Đảo Islands, ticket prices remain relatively high for a domestic flight: you'll be lucky to get a return ticket for less than $150. Flights sell out fast, especially on weekends and public holiday, so book early to avoid disappointment. Bookings can be made online via the Vietnam Airlines and Bamboo Airways websites or via the Baolau.com search box below, or in-person at the VASCO and Bamboo Airways offices in Côn Sơn town on the island. Côn Sơn airport is located in the north of the island. There are plans to expand the airport runway this year (2023), so it can accommodate larger aircraft and more passengers. If this happens, the airport will be closed for several months and no flights will operate during that period. However, things move slowly on the Côn Đảo Islands, and already this plan looks like it will be delayed.
---
*Book fights directly from this page & help support my website. Use the Baolau.com search box below to book your tickets to/from Côn Đảo. If you make a booking, I receive a small commission. All earnings go straight back into this website. Thank you. Tom
---
---
By Sea:
There are now regular fast ferry connections to the Côn Đảo Islands from three different ports on the mainland: Vũng Tàu, Cần Thơ and Trần Đề (in Sóc Trăng province in the Mekong Delta). There's also talk of a direct boat service to the islands from Saigon (Ho Chi Minh City), but so far nothing has materialized. Gone are the days when the only boat connection to Côn Đảo was an arduous 10-hour rough voyage in a slow, cramped, steel tub. These days, all ferry services are on modern, fast, comfortable ferries, taking between 2-4 hours depending on the route. However, getting to the Côn Đảo Islands by boat can be still be difficult if you're travelling during the windy season (roughly November-March). At this time of year, the seas can be very rough, and sailings are often cancelled. Therefore, if you're on a tight schedule and travelling during the windy season, it's best not to rely on the ferry; book a flight instead.
I've written detailed guides to each of the three ferry connections currently serving the Côn Đảo Islands. Please click the links below to go directly to the ferry guide:
Boats arrive and depart from either the beautifully situated Bến Đầm port or the new pier in Côn Sơn town. Tickets can be booked online via the ferry operators' websites (see the links to my ferry guides above), through Baolau.com, or in-person at the Superdong, Côn Đảo Express and Mai Linh Express offices in town and at the piers. In general, taking the boat to Côn Đảo is much cheaper and more of an experience than flying, but it's also more time-consuming and less reliable. If, like me, you enjoy a good journey and you're not pressed for time, taking the ferry is well-worth it.
---
*Book ferries directly from this page & help support my website. Use the Baolau.com search box below to book your ferry tickets to/from Côn Đảo. If you make a booking, I receive a small commission. All earnings go straight back into this website. Thank you. Tom
---
---
---
---
Getting Around the Island:
Côn Sơn Island is quite small and the road infrastructure is good, making cycling, motorbiking, walking and taxis (including electric buggies) all efficient means of getting around:
Walking: Côn Sơn town and the seafront road (Tôn Đức Thắng) are wonderful for strolling around, especially in the early mornings and late afternoons. Everywhere in town can be reached on foot, within 5-10 minutes of almost all accommodations on the island. Traffic is very light, sidewalks are wide and clear, and the town is easy to navigate. There are very few places that are as 'walkable' as this in Vietnam. The town's beach (An Hải) is also within walking distance. In addition to ambling around Côn Sơn town on foot, there are some excellent hiking trails on the island, some of which can be started from the town itself; others which require transport to the trailhead. For full details, see my guide to Hiking the Côn Đảo Islands.
---
Motorbike & Bicycle: Cycling on Côn Sơn island is very pleasant, because the roads are empty and the scenery is fantastic. However, bicycles are only available from a handful of accommodations (sometimes free for guests) and rental shops. I fully expect more options for bicycle rental to open over the coming months and years. For the time being, it's much easier to rent a motorbike or scooter, which are available from many places in Côn Sơn town, Bến Đầm port and hotels (usually 100,000-200,000vnd per day). A scooter gives you the freedom to really explore the island: find deserted beaches, go down dirt tracks, stop and admire the views from the coast roads. There aren't many roads on the island and you could easily ride every meter of asphalt in just one day on a motorbike. Côn Sơn is the perfect place to learn to drive, if you don't already know how. The well-maintained but empty roads give you all the space and time you need to get familiar with driving, although you must still be extremely careful. Note that there are only two gas stations on the island: both of which are in Côn Sơn town here and here. Remember to fill up as soon as you get your scooter, and keep an eye on the fuel gauge as you ride around the island.
---
Taxis & Electric Buggies: There are at least a couple of taxi companies on the island with modest fleets of cars that are always available to take you into town, or to the beaches around the island, or to/from the airport and ferry port, or drop off/collect you at the beginning/end of trailheads. Taxis are inexpensive and can be easily arranged through your hotel. However, over the last few years, in an effort to keep the roads quiet and the environment relatively clean, most taxis have been replaced by hybrid electric buggies. These open-sided vehicles have seating for up to 10 people. The cost is shared between passengers, so if you're in a group it's a fairly inexpensive way to get around, but if you're a solo traveller, it's not so cheap. Electric buggies and taxis meet all flights at the airport and ferries at Bến Đầm port. If you're staying at a mid-range or high-end accommodation, it's very likely that they'll arrange transport to/from the airport for you.
---
Getting to Other Islands:
Exploring the outlying islands by speedboat can be organized through the National Park office on the seafront road or the National Park HQ in the hills, or the Con Dao Dive Center and some accommodations, too. Try to get a group together as this will spread the cost, which is usually between $50-$100 depending on where you're going and for how long. The most common islands to visit are Bảy Cạnh and Hòn Cau. Note that during rough seas boat trips can be cancelled. This is most likely from November to February. In the high-season (March-September), dozens of speedboats leave every morning from the seafront road in Côn Sơn town. Even if you're a solo traveller, you should be able to join one of the groups during high-season. See my Boat Trips to Outlying Islands guide for details.
---
*Disclosure: I never receive payment for anything I write: my content is always free and independent. I've written this guide because I want to: I like the Con Dao Islands and I want my readers to know about them. For more details, see my Disclosure & Disclaimer statements and my About Page
RELATED POSTS
---