Last updated October 2018 | Words and photos by Vietnam Coracle
Sapa and Ha Giang are gateways to the outstanding mountain scenery of Vietnam's northwest and extreme north respectively. But the journey between these two mountain towns is just as thrilling as the landscape which lies beyond them. Connecting two of the most mountainous provinces in the country (Lào Cai and Hà Giang), this motorbike route straddles the Chinese border, carving a meandering course over mountain ranges and along river valleys. Largely on small roads that have only recently been blasted out of the mountainsides, this road trip is a slow crawl through some of the remotest parts of Vietnam. Dramatic scenery, fascinating border towns, ethnic minority markets, and lush farmland abound. This is a route to be taken slowly – there's hardly a kilometre without a hairpin bend – and with plenty of time to allow for unforeseen circumstances, such as bad weather and landslides, which regularly block the way. This road trip is the perfect link for riders wanting to connect the northwest with the extreme north, or as an alternative to, or extension of, the increasingly popular Ha Giang Loop.
[Back Top]
---
GUIDE:

SAPA

TO

HA GIANG BORDER ROUTE
---
ROAD TRIP DETAILS:
Total Distance

: 355km/480km/235km (one-way)

Duration

: 2-5 days

Route

: hugging the Chinese border on back-roads from Sapa to Ha Giang [MAP]

Road Conditions

: paved back-roads, some rough & gravel sections, light traffic

Scenery

: mountains, gorges, borderlands, terraced rice fields, minority villages


---
ROAD TRIP CONTENTS:
ABOUT THIS ROUTE:
On my map below, I've plotted three routes between Sapa and Ha Giang. The Border Route (the blue line: 355km) follows the remote Chinese border; the Alternative Route (the red line: 480km) offers a scenic detour before linking back up with the Border Route; and the Direct Route (the green line: 235km) stays mostly on main roads, missing out much of the remote and spectacular scenery on the other two routes. I've also included several side routes (the pinkish lines), but there are many other scenic back-roads to explore if you have the time, and preferably a good, off-road motorbike. I've written this guide in 4 sections, going from west to east from Sapa to Ha Giang following the Border Route (the blue line). Note that each section doesn't necessarily correspond to one day on the road. I'd recommend spending between 2-5 days on this route, depending on weather and road conditions. Any of the three routes marked on my map can be ridden in either direction, or can be turned into a loop by going out on one and returning on another. Note that all three routes suffer from landslides after heavy rains, and ongoing roadworks which can slow you down considerably. I've marked specific rough road sections on my map as best I can. If possible, try to time your trip to coincide with a weekend, as all the towns on this route have lively markets, which draw colourfully-dressed ethnic minorities from across the region. Weather is best in spring and autumn, the latter coinciding with the bright colours of the rice harvest. September is my favourite month.
---
ROUTE MAP

:
Sapa→Muong Khuong→Bac Ha→Xin Man→Hoang Su Phi→Ha Giang
Border Route: 355km | Alternative Route: 480km | Direct Route: 235km

View in a LARGER MAP
[Back Top]
---
SECTION 1
Route: Sapa→Muong Khuong (via Road QL4D) | Distance: 85km [MAP]
The first section of this road trip is all on Road QL4D, which winds northeast of Sapa, down into the Red River valley to Lao Cai, on the Chinese border, and then up a long mountain pass to the little visited outpost of Muong Khoung.
Leave the mountain resort town of Sapa by way of the steep and meandering Road QL4D. Sapa is currently a bit of a tourist trap and a building site, so it's a relief to leave the town and get onto the open road with some sensational views of the surrounding scenery. In less than an hour, the scenic, winding road takes you down to the Red River valley, which is noticeably warmer (and a lot less cloudy) than Sapa.
The dusty but busy town of Lao Cai sits right on the Chinese border. It's a major gateway for trade between the two countries, especially now that the new Expressway CT05 has opened, linking Lao Cai with Hanoi. If you have time, head along the river to the main border gate with China. There's a strangely compelling atmosphere here, as informal trade passes from country to country, oftentimes on the backs of bicycles pushed across the border by older women. Coc Leu Market is a fascinating place to browse some of the products – both Vietnamese and Chinese – that pass through this border region. And, as with all Vietnamese towns, exploring the backstreets of Lao Cai can lead to some rewarding street food experiences, and discoveries of leafy, local spots. Lao Cai is also home to the train station where you can send your motorbike to/from Hanoi. There are lots of mini-hotels around the station: Kim Cuong Hotel [BOOK HERE] is where I stayed and is good value for money.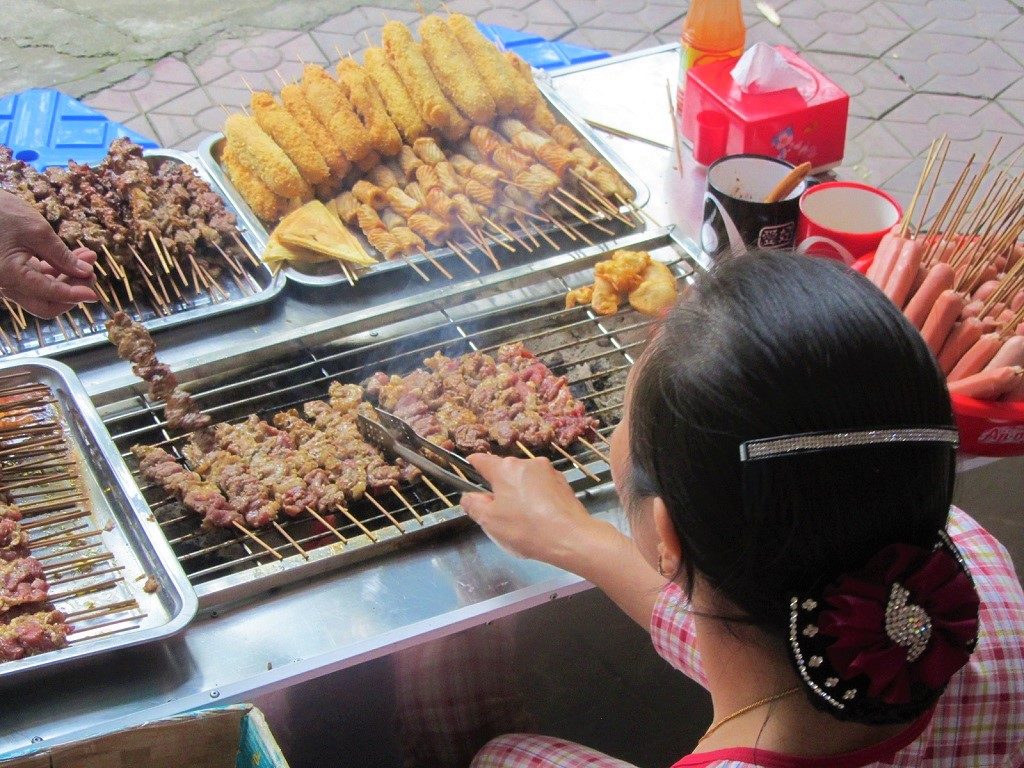 Shoot across the muddy waters of the Red River and head northeast out of Lao Cai. After around 10km, turn left (due north) and continue on Road QL4D towards Muong Khuong. The early stages of this road pass through acres of pineapple plantations, which, although they sound exotic, don't actually look that appealing when planted in hundreds or thousands of rows across the hillsides. The road surface has recently been upgraded on this route, but landslides can badly graze the tarmac in the rainy season, and trucks ply this route to and from plantations and remote border crossings. However, after 20km the road starts to climb steeply, and all the traffic (and pineapples) fade away. The scenery opens up to reveal the pleats and folds of lush valleys, their little rivers chiseling out a course between sloping mountains. Then Road QL4D aims skyward, not stopping until it's over 1,000m high. Waterfalls and streams gurgle by the roadside, inviting you to wash the dust from your face, before gliding along the last 10km – a spectacular ride next to a terrifying drop – to Muong Khuong town. Throughout the ride, China is visible just over the mountains to the west.
Note: If you want to take the Direct Route (the green line) to Ha Giang, stay on Road QL170 (also marked as AH14) out of Lao Cai, due southeast towards Pho Rang [View Map].
Just a few kilometres from the Chinese border, Muong Khuong is a strange and isolated place. Hemmed in on all sides by a ring of limestone pinnacles, it's a mythical setting for a rather ugly town. Ugly, but interesting. Muong Khuong was a remote outpost of French Indochina, and when I first visited there were still a few crumbling buildings left from that era. (However, on my most recent visit, in 2018, I couldn't find any trace of the old structures, which means they've been demolished.) Much of the town was destroyed during the 1979 border war between Vietnam and China. Muong Khuong has a good market on weekends that attracts many of the ethnic minority groups living in the vicinity. A couple of OK nhà nghỉ (local guest houses) can be found on the high street, but the newly opened Muong Khuong Hotel (Tel: 0 166 233 6999; 200,000-350,000vnđ) is a much better option. There's not much food available, but you can still find a few empty rice eateries (quán cơm) and cafes along the main drag. Although I wouldn't linger long in Muong Khuong, I do find it a fascinating place to be for a night.
---
SECTION 2
Route: Muong Khuong→Si Ma Cai→Bac Ha (Chinese border route) | Distance: 90km [MAP]
The journey between Muong Khuong and Bac Ha, echoing the Chinese border for much of the way, is only 90km, but it can take all day because the roads are extremely mountainous and the views are superb. Connecting dozens of small minority hamlets and remote army outposts, Road DT153 climbs up and down several mountains and above deep river gorges, before heading south through the strange settlement of Si Ma Cai and on to the famous market town of Bac Ha.
It's a good idea to start reasonably early in the morning from Muong Khuong. Take Road DT153 northeast out of town. Almost immediately the road carves a path along the edge of a high precipice; above waterfalls, terraced rice fields, and tiny hamlets far down in the valley below. Limestone peaks surround the scene, acting like the crenulated ramparts of a medieval castle, enclosing the valley and keeping it safe. Most of this section of road was only paved in the last few years, and already there are regular landslides that cover the road surface in boulders and earth. Expect some rough sections here and there, and perhaps landslides if there's been heavy rain recently. But, if you're lucky enough to have good weather, it's one of the most dramatic and remote rides in the country.
At Pha Long, the northern-most point of this route, there's a lively, rustic market on weekends, which benefits from a nearby Chinese border crossing that appears to be very fluid. You'll find Chinese toys, beer, and rice liquor (consumed in great quantities from the early morning onwards) on sale here. From Pha Long the road turns south, following the course of the My Phu River, along a spectacular valley dominated by limestone mountains. A deep gorge forms the Vietnam-China border, which the road navigates with perilous switchbacks above sheer drops of hundreds of feet. It's very apparent that, on the Vietnamese side, all land is cultivated – from the river banks to the mountaintops – whereas, on the Chinese side, there's hardly any sign of human activity: no roads, fields or buildings, just a bare mountain wall. Apart from the great views, I love the strange feeling that comes from being so close to the border of a country as big (and powerful) as China.
Leaving the Chinese border behind, Road DT153 corkscrews over several spectacular passes before crossing the Chay River (a great waterway that's a continual presence on this road trip) before climbing again to reach the alpine settlement of Si Ma Cai. Set on a lovely crest of land surrounded by steep peaks reaching over 2,000m, Si Ma Cai is a strange town in the middle of nowhere. The original village is no more than a crossroads, but there's now a vast new town to the south with wide boulevards, empty squares, and over-sized government buildings. Massive construction – to prevent landslides and flooding – is ongoing. If you feel like stopping for the night, there's a decent guest house right at the town's crossroads: Hong Nhung Hotel (tel: 0203 796 846; 200,000-400,000vnđ). Several good, local rice eateries offer hearty mountain dishes for lunch, and there's surprisingly good coffee and fast food snacks at Coffee Moc.
The ascent out of Si Ma Cai is so steep that some motorbikes may struggle if there's a passenger on the back. It can get very cold at the top (even in summer), but the views are outstanding once again as Road DT153 continues south towards Bac Ha. It's interesting to note that, although this is one of the more remote parts of Vietnam, the population density is surprisingly high. There's always some activity going on in this big landscape: people working in the fields, walking along paths to isolated homes on the mountainsides, herding cattle, chopping wood in the forests. Most of the population here are from Vietnam's ethnic minorities. With over 50 different ethnic groups, these minorities only make up about 15% of the country's population, but they are concentrated in highland areas, especially in the north. Most minority people make their living from agriculture. Such is the density in Lào Cai Province that there's hardly any 'unused' land: the entire landscape is cultivated. Minority children are always excited to see foreigners. It's a good idea to carry some snack food with you to offer these kids (as an alternative to money) and put wide smiles on their faces. Between Si Ma Cai and Bac Ha, the lively minority market of Can Cau is bursting at the seams on weekends.
Not far beyond Can Cau market, Road DT153 meets Lung Phin junction. This is the turning (due east) for the direct route to Xin Man, but it's worth continuing another 15 minutes or so further south on DT153 for a night in Bac Ha first, especially if you're in time for the weekend. Descending sharply through pine trees, the town of Bac Ha comes into view, nestled in a valley. Bac Ha's Sunday Market has become a favourite attraction for foreign and domestic tourists alike. Every weekend, thousands of minority people – the women all dressed in brightly coloured traditional clothing – make the long journey on foot from their homes in mountain villages to the market. The market really is quite a spectacle. There's a hot food section where men eat delicious bowls of noodles, smoke bamboo pipes, and consume large amounts of potent local grain liquor. Meanwhile, the women wander through the market's wide spread of stalls, buying clothes, food, and supplies for the week ahead. It's a lively, vibrant market with lots to see. However, try to get here as early as possible because, from about 9.30am, hundreds of tourists arrive on buses, armed with big SLR cameras with giant detachable zooms, that many proceed to stick in minority women's faces: suddenly it feels more like a zoo than a market. (For more about Bac Ha Sunday Market read my full guide HERE.)
There are plenty of places to stay in Bac Ha. I like the Nhat Quang Hotel (tel: 0214 3800 689; 200,000-500,000vnđ a night) on the main square, just a stroll away from the market, but there are many more to choose from, some of which you can browse here. The town has lots of local rice eateries.
---
SECTION 3
Route: Bac Ha→Xin Man (direct or via Pho Rang) | Distance: 40km or 165km [MAP]
There are two very different routes between Bac Ha and Xin Man (also known as Coc Pai). The direct route (the blue line) is only 40km, taking a scenic road due northeast of Bac Ha near the Chinese border, all of which has recently been repaved (after years of road works). The indirect route (the red line) is much longer (165km), but also very scenic. However, the indirect route suffers from rough road sections and landslides. In my opinion, if the weather is bad there's no reason to take the indirect route. But in dry conditions most bikes and riders should be able to make it, providing they take it slowly and carefully. I've tried to mark the rough road sections on my map as best I can. You'll have to make the decision yourself when you get there, but either way, it's another day of beautiful landscapes.
---
Direct Route: Bac Ha to Xin Man via Lung Phin & the Chinese border
Head north of Bac Ha on Road DT153, retracing the last 10km of the previous day's ride, until you meet the junction at Lung Phin. Turn right (due northeast) onto the direct route to Xin Man. The road is in excellent condition for most of its 30km length. The first half meanders around the mountainsides with lovely views down over terraced rice fields and the high peaks in China, just a few kilometres to the north.
The second half to Xin Man, after crossing the provincial border to Ha Giang, is even more spectacular, passing above a steep gorge on the Chinese border, before descending sharply via a series of severe switchbacks to Xin Man. For many years, this road was only accessible to experienced riders with suitable off-road bikes; now anyone can enjoy it.
The town of Xin Man sprawls around a steep outcrop, high above the valley. It's a dramatic setting, and the town's streets reflect the contours of the land it sits on: curving and swirling above the Chay River. Xin Man is very remote. Behind the town are large limestone cliffs and mountains, beyond which is China. There are only three access roads to Xin Man, all of which are subject to regular landslides: it's hours from any significant settlement. In nice weather, the scenery is sublime; in bad weather, it's a grim, end-of-the-world kind of place. There's a relative glut of accommodation, in the form of mini-hotels and local guest houses (nhà nghỉ), on Xin Man's main street. I like the large, clean rooms with balconies at Ngoc Son Motel (tel: 0219 3836 470; 200,000-400,000vnđ). There are some standard cơm phở (rice and noodle) eateries serving hearty meals just around the corner. On weekends there's a large market, and even on weekdays this is a good place for a local breakfast of noodle soup.
[Back]
---
Indirect Route: Bac Ha to Xin Man via Pho Ranh & Quang Binh
The indirect route between Bac Ha and Xin Man (the red line) is 165km, so start early if you want to complete it in one day. Leave Bac Ha on Road DT153 heading south. A long and scenic mountain pass leads all the way down to the Red River valley, where it joins Highway QL70 (also marked as AH14). Turn left (due southeast) onto the highway and continue along the lush valley for 40km to the crossroads town of Pho Rang. Now that the new Expressway CT05 (on the opposite side of the Red River) takes most of the heavy traffic, Highway QL70 is a fairly pleasant ride through fruit plantations and hamlets of stilt houses. Pho Rang's rice eateries make a convenient lunch, and there are also guest houses here if you need to stop for the night.
From Pho Rang, head north on Road QL279. After crossing a bridge over the Chay River, this excellent road leads through a peaceful, verdant landscape, characterized by rice fields, different varieties of palm tree, and attractive rural hamlets clustered around clear rivers. After 25km the road bends east, entering Vietnam's northern-most province, Ha Giang. Unfortunately, the border between provinces is made apparent by the immediate deterioration of the road surface. Smack on the provincial border asphalt turns to mud and rocks: welcome to Ha Giang. It only lasts for 10km until the next turn off at Quang Binh village (also known as Yen Binh), but in wet conditions this section of rough road can be quite challenging. At Quang Binh there are some places to eat, and even one or two local guest houses if you get stuck here.
From Quang Binh, turn due north on Road DT178. This is a long, meandering, and utterly beautiful road, leading over a large reservoir, through a gorgeous valley, up a mountain, and down the other side to Xin Man town, near the Chinese border. In good weather, this back-road is my favourite part of this road trip: rich and verdant, with cascades of terraced rice fields, surrounded by high, forested mountains, spouting waterfalls which run into streams leading through pretty villages of wood-and-thatch homes, However, road conditions have worsened in the last few years: several sections are under repairs, and others are prone to landslides. Expect some rough sections and delays, especially if there's been a lot of rain.
On Road DT178, there are several homestays near Na Tri village which are well worth stopping for a night. But, if the sun is shining, I'd continue on up the spectacular mountain pass leading straight over the Chay River Massif. At times this pass is so steep that all vehicles struggle against the gradient. Near the summit the road surface can be pretty bad, but the scenery makes up for it. The air is thin and cool at the top, and the views north and south are very grand indeed.
Descending the other side through thick forest there's a tree by the roadside with a small altar next to it. A plaque announces that this tree is over 500 years old. A few minutes further down is Tien Waterfall (thác Tiên). Reached via steep steps through a bamboo forest, this is a beautiful cascade of blue water fresh off the mountains. You can swim in the (cold) pool below the falls. There's a small cafe at the entrance where you can also stay the night, but rooms are a bit musty.
The long descent to Xin Man town offers terrific views of mountains receding into the distance (which is Chinese territory) in shades of purple and blue. The road echoes the course of mountain streams, each one becoming increasingly bloated on the way down as they're joined by other waterways. During harvest time (September-October) the hillsides are covered in bright yellow rice terraces. Children wave from the roadside, buffalo carry wooden carts full of hay, and men and women are busy working in the fields. It's a wonderful sight and one that you wouldn't see if you took the direct route between Bac Ha and Xin Man.
---
SECTION 4
Route: Xin Man→Hoang Su Phi→Ha Giang (plus side routes) | Distance: 140km [MAP]
The journey from Xin Man to Ha Giang is spectacular. It follows the course of two rivers: First, the rarely used Road DT178 clings to the valley of the Chay River, heading east then south to join Highway QL2, which leads north along the Lo River towards China, stopping 20km short of the border, at Ha Giang, the provincial capital. There are also several potential side routes.
Head east out of Xin Man on Road DT178 as it crosses an impressive bridge linking two high precipices. It's 100km from Xin Man to the junction with Highway QL2, with the town of Hoang Su Phi in the middle. The entire length is very mountainous, very scenic, and very prone to landslides after heavy rains. Bear this in mind, because, if the weather has been bad, you may be forced to wait while the road is cleared. Either way, progress is quite slow, partly because the road is very narrow, and partly because the scenery is so eye-catching that you'll want to stop frequently. From Xin Man to Hoang Su Phi (also known at Vinh Quang) Road DT178 glides high above the galloping cascades of the Chay River. However, since several dams have been constructed on the waterway, the river level fluctuates, so that sometimes the road rides high above the water, but at other times the road is flush with the water level. To the north is a wall of mountains, the other side of which is China. It's a really dramatic ride all the way to Hoang Su Phi, which appears out of the mist.
The isolated town of Hoang Su Phi sits in a steep valley. Like Xin Man, its streets are incredibly windy and steep. Despite its dramatic location, on a rainy, grey day it can feel very grim indeed. It's a convenient lunch or overnight stop between Xin Man and Ha Giang. A couple of nhà nghỉ (guest houses) and mini-hotels line the high-street, including Tay Con Linh Hotel (tel: 0219 6558 888) and Hoang An Hotel (tel: 0 219 3731 133), both of which are around 200,000vnd a night. Food is also available at the rice eateries and there's a lively market.
From Hoang Su Phi, it's possible to attempt a spectacular but challenging mini-loop (the pinkish line), which goes right to the summit of Kiou Leou Ti Mountain. This is a great ride, but it's a full day in the saddle, and road conditions can be pretty bad: don't attempt it unless you have plenty of experience, or at least a bike that's capable in muddy, off-road conditions.
From Hoang Su Phi, Road DT177 heads due southeast. If anything, the scenery on this section, all the way to the junction with Highway QL2, is even better than the rest of the road trip. After following a river valley, two high passes – called Heaven's Gate Pass 1 and 2 – zigzag up through terraced rice and tea plantations. The tea is a special variety with a white flower, called chè shan tuyết (snowy mountain tea). Look out for roadside shacks selling and serving it. The second Heaven's Gate Pass is the more thrilling of the two. Views over terraced crops, waterfalls, and rivers are majestic. Even in the ghostly mist that often hangs over the pass, it's a sublime ride. Several regions of Vietnam are famous for their terraced rice fields: this is one of them, and it's easy to see the attraction.
A worthwhile side route (the pinkish line), due west of Road DT177, makes a detour over yet more extraordinary mountain passes, to Thong Nguyen. Here, you can stay in the cosy, comfortable, and remote Panhou Village Resort [BOOK HERE]. Or, if your budget doesn't stretch that, try the Thong Nguyen Guest House instead (tel: 097 880 17 89; 200,000vnd). The roads here are paved but narrow and potholed. There are many other little lanes that are well worth exploring if you have time.
Back on Road DT177, after a long and winding descent through marvellous landscape, the road meets Highway QL2. From here it's a smooth and quick ride along a wide, flat road surface for 40km, due north along the Lo River to Ha Giang.
Built on the banks of the Lo River, Ha Giang has wide roads, lots of rice eateries, a large market, and lots of accommodation options. For example, River Queen Guest House has clean, new rooms, or try the familiar Western backpacker vibes of Ha Giang Backpacker Hostel, including dorms, or the Vietnamese backpacker vibes of Ong Vang Hostel, which has pod-like rooms by the river, or the fancier budget option of Tiamo Hotel. Other notable cheapies are Kiki's House Hostel, Bong Ha Giang Hostel, and QT Hostel (owned by the excellent QT Motorbikes). All of the above run from $5-$15 a night, representing very good value for money. Another good choice, especially at the end of this long road trip, is to 'treat yourself' to the relative luxury of Truong Xuan Resort, which has bungalows in lush surroundings on the edge of town ($30). Remember, Ha Giang is just the beginning of another great road trip: The Extreme North Loop.
[Back Top]
RELATED POSTS

:
---