Last updated March 2023 | Words and photos by Tom, Thảo & Luke
Saigon's fresh produce markets exist in another dimension to the rest of the city. In downtown District 1 or the ever-expanding new inner suburbs, you'd be forgiven for thinking that the traditional Vietnamese 'wet market' no longer exists; replaced by generic shopping malls and supermarkets. But, look closer, and you'll discover that local markets continue to thrive all across the city. Vibrant, bustling, highly organized and utterly fascinating, these markets still play a major role in most 'ordinary' people's daily lives. The produce is local and fresh, and the sheer volume and variety of items for sale is remarkable. Once you're in the embrace of one of Saigon's fresh markets, you're in a more colourful, exciting and intimate world. There's magic in these markets: it's a magic that's specific to Vietnam – perhaps specific to Saigon – and it's a magic that malls and supermarkets can never hope to achieve.
---
Support Us!
Please make a donation or become a patron if you enjoy this website. Vietnam Coracle is totally free & independent. I never receive payment for anything I write.
Thank you, Tom
[Back Top]
---
11

LOCAL MARKETS

IN

SAIGON
---
Vibrant, Bustling, Fresh & Friendly
This guide is a joint effort between myself, Luke and Thảo. Between us we shared the responsibility of visiting, photographing and reviewing 11 local markets in Saigon. To best appreciate these markets, visit during the morning. In general, 5am-10am is the sweet spot, when the produce is at its freshest and most colourful, and the markets are at their bustling best. Allow an hour to wander around each market – try to interact, bargain, buy some produce – then 30 minutes for a coffee and a bowl of noodles in the cooked food section. Including travel time, each market visit should take around 2 hours in total. Come with a sense of adventure, and expect products and aromas both wonderful and weird. It may help to know that in Vietnamese chợ means 'market'. (Note that I've deliberately not included Bến Thành market in this guide, because it's largely a tourist market, not a local one.) The following markets are not listed in any particular order: they're all worth visiting.
'Fresh Market' not 'Wet Market'
I've never liked the term 'wet market': it's always seemed inaccurate to me and, thanks to many ignorant comments at the beginning of the Covid-19 pandemic, the phrase is now loaded with negative connotations. 'Fresh market' is a much more accurate description and does justice to these incredible places and the people who work in them.
CONTENTS:
1. Trần Hữu Trang Market (Phú Nhuận District)
2. Bà Hoa Market (Tân Bình District)
3. Gò Vấp Market (Gò Vấp District)
4. Bàn Cờ Market (District 3)
5. Bình Tây Market (District 6)
6. Bình Điền Market (District 8)
7. Thị Nghè Market (Bình Thạnh District)
8. Xóm Chiếu Market (District 4)
9. Tân Định Market (District 1)
10. Bà Chiểu Market (Bình Thạnh District)
11. Hòa Hưng Market (District 10)
---
MAP

:
11 Local Markets in Saigon (Ho Chi Minh City)
---
1. Trần Hữu Trang Market
Words & photos by Tom Divers
Address: Trần Hữu Trang street, Ward 10, Phú Nhuận District
[View Map]
Due north of the city centre, in the effervescent district of Phú Nhuận, Trần Hữu Trang is a large local market tightly packed into a residential area of narrow lanes and tapering alleyways. Trần Hữu Trang has personal significance for me as I used to live – almost a decade ago – in a house close by and would walk to the market daily to buy papayas and bananas for my breakfast. Bounded to the east by the railway, Trần Hữu Trang is housed in a large, grey, hangar-like structure, but the market spills out onto the streets all around. Despite its uninviting façade, this is a friendly, fresh, clean, well-organized, calm and enchanting market.
Start outside, browsing the stalls and shops around the perimeter of the main market building, dodging the motorbikes as they weave through, sewing paths between stalls and customers in the narrow lanes, and listening to the recorded voices played on a loop from itinerant vendors, announcing their produce and prices to the market-goers. Then, enter the market from the back (the west entrance), where the fresh fruit and vegetable section is. From here, walk through to the main hall – a high-ceilinged, cathedral-like space with shafts of natural light beaming in through the rafters – where all sorts of produce stalls vie for your attention: roots and shoots, pickles and fermented sauces, meat and fish, herbs and spices, hardware and dry goods, noodles and flowers, baked goods, cooked food and clothing. As you wander around, aromas waft over from nearby stalls: lemongrass, chopped garlic, freshly baked bread, ground coffee, jasmine tea, salted fish, pickled bamboo shoots. Trần Hữu Trang has a lot of tofu (đậu hủ) stalls displaying dozens of varieties, all of which are made in plain sight. There's a cooked food section inside the market building and lots of good food in the streets around it, including excellent cơm chay (vegetarian rice) on the south side of the market structure. Trần Hữu Trang is a totally 'unselfconscious' market: it's an honest, local place to shop, full of fresh produce and friendly people.
---
---
---
---
---
2. Bà Hoa Market
Words & photos by Luke Digweed
Address: Quảng Hiền street, Ward 11, Bình Tân District
[View Map]
Inconspicuously nestled in the heart of Tân Bình District lies a market with some breadth of history. Bà Hoa is the result of mass relocation during the Vietnamese-American war. At that time, the economic wealth of Saigon and its relative safety from the war were two key factors that attracted central Vietnamese people to relocate to what was then the Southern Vietnamese capital. City authorities designated a large contingent of central Vietnamese migrants to inhabit this part of Saigon. After the war, the city expanded, developed and changed, but Bà Hoa market remained as an emblem of central Vietnam in the heart of the southern metropolis.
Although the distinctions may not be easy to identify for a foreign visitor to Bà Hoa market, those who have visited central Vietnam may spot a few familiar foods, such as bánh bèo and mì Quảng. If you're familiar with Vietnamese dialects, you may also catch some distinct central Vietnamese accents in this market, too.
The food is certainly what draws people from outside the area to the market. Aside from the aforementioned dishes, there's also bún xào nghệ (stir-fried rice noodles with turmeric) and chè Huế on offer. A personal favourite, bánh đập (a multi-layered rice paper cake from Hội An), is sold here, too. If you're feeling thirsty, I found a unique cafe decorated with old wall clocks at 120 Sơn Hưng street.
---
---
---
---
---
3. Gò Vấp Market
Words & photos by Thảo Phan
Address: Nguyễn Văn Nghi street, Ward 5, Gò Vấp District
[View Map]
This market was my regular shopping and dining haunt during my first four years living in Saigon as a university student, and surprisingly it hasn't changed much in over a decade. Nguyễn Thái Sơn street divides the market into two parts: the main market on the east side, selling almost anything you could need, from clothing to household items to fresh produce for both wholesale and retail; and the west side, dedicated to cooked food and drinks (khu ẩm thực), although you can also shop for fresh produce in this part of the market as it stretches along the backstreet of Lý Thường Kiệt.
With the exception of the food and drinks section, most of the items are displayed randomly: a clothing store can be next to a flower stall opposite a butcher shop, for example. Although there are designated sections for stalls inside the market, sellers often prefer to display their goods spread out on the alleyways under the shelter of an umbrella, in order to be more visible and accessible to potential customers, especially those who are driving through. Thus, the scene looks a bit chaotic at first, but it gives me the feeling of being in a countryside market, rather than an urban one. While in the food and drinks section, stop for a cà phê sữa đá (iced coffee with condensed milk) and try a bowl of bún riêu (crab noodle soup) or cơm chay (vegetarian rice). Some of the vendors have been serving here for over three decades.
Revisiting this market after 10 years, and seeing and talking to the sellers that served me in the past, made me realize why fresh produce markets still survive and thrive, despite the city's rapid development and increasing numbers of supermarkets and convenience stores. Apart from the fact that fruit, vegetables, meat and fish are always fresher and cheaper in these markets than in supermarkets, local markets are also a daily opportunity for socializing. Going to the market is about more than just shopping: for many people, particularly working-class and older generations, the market is a way of life, a chance to interact, catch-up, gather, chat, make connections and stay in touch.
Apart from shopping and dining, you can also visit two Chinese centres of worship near the market: Thất Phủ temple right in front of the façade, and Thiên Hậu pagoda on Lý Thường Kiệt backstreet. Another Chinese and Vietnamese place of worship worth visiting is Phù Châu floating temple, which is more than 300 years old and can only be accessed by boat.
---
---
---
---
---
4. Bàn Cờ Market
Words & photos by Tom Divers
Address: Nguyễn Đình Chiểu street, Ward 3, District 3
[View Map]
One of the most centrally located markets in this list, Bàn Cờ lies just west of the city centre. Although the main entrance is on Nguyễn Đình Chiểu street, in reality the market spreads over several city blocks bisected by little alleyways within a large area hemmed in by Bàn Cờ street to the north, Nguyễn Thiện Thuật street to the south and Điện Biên Phủ street to the west. Hundreds of stalls and shops line the compact grid of narrow lanes between these main streets. Indeed, it's said that the market's name, Bàn Cờ – 'chessboard' – comes from the shape and pattern of the regimented lanes, which resemble that of the boardgame. It's in the middle of this 'chessboard' of alleyways that Bàn Cờ market really comes to life. It doesn't really matter whether you enter from the north, south, east or west, eventually the market's flow, energy and force will lead you to its core. Like a storm, you'll just know when you're at the centre: it's as if all matter has been condensed into this one spot – all people, all produce, all activity. The central intersection of lanes is a throng of life and commerce. And yet, the market is not chaotic: it's calm, clean, organized, graceful even, especially when compared to the traffic on the streets surrounding it.
The canyon-like alleys are lined with typical Saigon townhouses bearing over the stalls and casting shadows across the market, keeping it cool during the daytime. Definitely wander off the main market lane – dive in, get lost, go deep, because the deeper you go, the better it gets. There's no point in trying to make sense of it: the density of life is overwhelming and overstimulating. You've no choice but to let go, engage, eat, smell, look, experience and enjoy. In amongst the raw produce are some excellent market eateries and cafes offering a plethora of Vietnamese dishes and drinks. Each stall is small and compact, usually specializing in one thing: nuts, roots, votive statuettes, fresh noodles, jewellery, eggs, rice, pickles, canned food, shampoo, shoes, candies, underwear, fermented sauce, shellfish. In many ways, Bàn Cờ feels like an older Saigon; a Saigon of the nineties and the noughties. Apart from the relative calm and cleanliness of the market today, I imagine Bàn Cờ hasn't changed much since I first visited Saigon in 1999.
---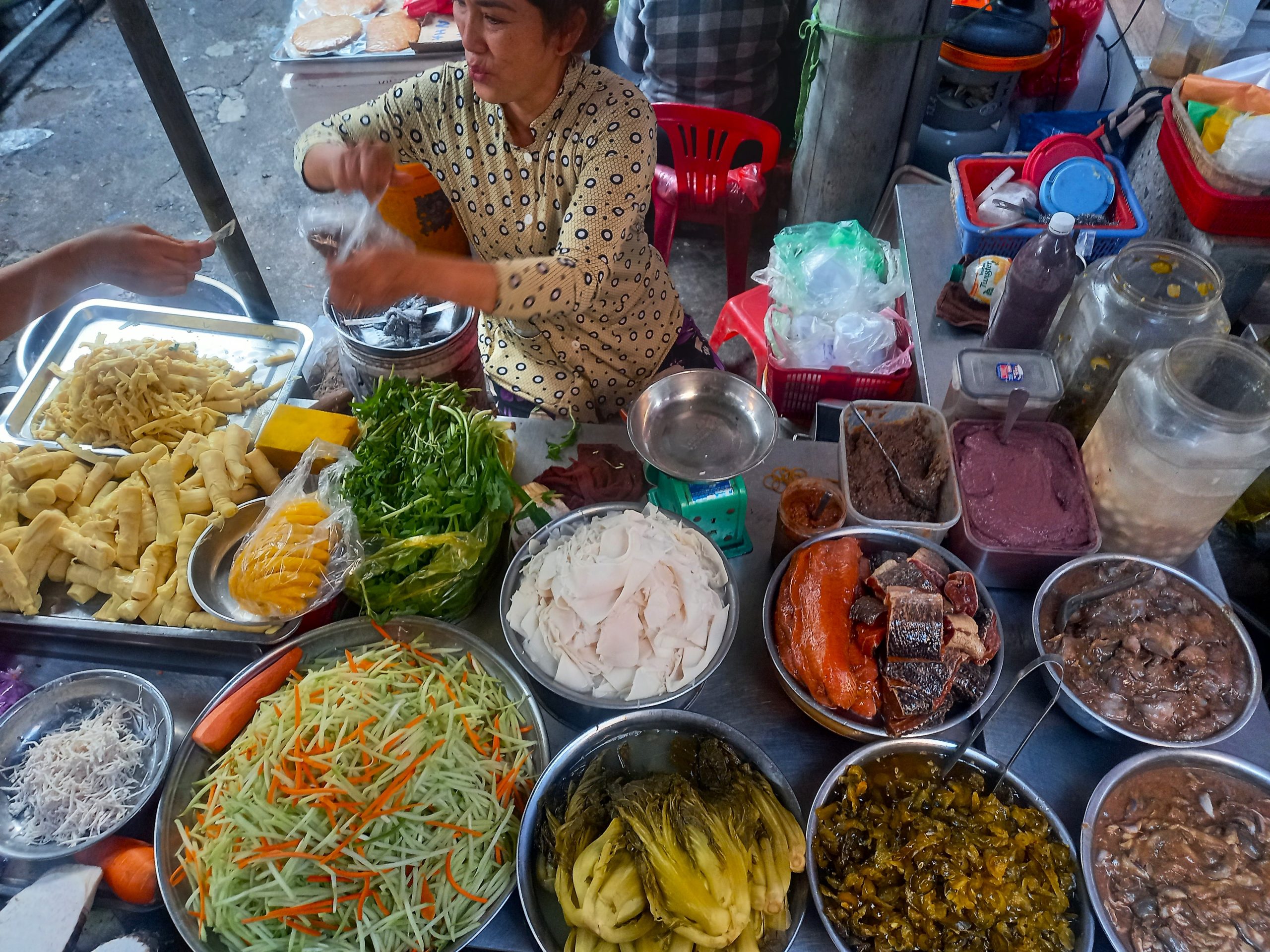 ---
---
---
---
5. Bình Tây Market
Words & photos by Tom Divers
Address: Tháp Mười street, Ward 2, District 6
[View Map]
Just a few years from its centenary, Bình Tây market lies in the west of the city, deep in the heart of Saigon's Chinatown. An impressive, grand, palatial structure, Bình Tây is an exception to the general rule that large market buildings in the city are grey, concrete eyesores (albeit interesting eyesores). Enter the enormous complex at the main clocktower gate on Tháp Mười street and walk beneath the dragon-gilded archway opening onto two broad stairways and out into a wide, elegant, light-filled courtyard with a shrine to Quách Đàm, the market's benefactor, at its centre. Inaugurated in 1930, back then the market was on the outskirts of the city, amongst fields and canals. Now, however, Bình Tây is very much part of Saigon's urban sprawl: surrounded by busy streets, crowded lanes, hives of street food, commerce and commotion. By comparison, things are calm and collected within the market walls. To help navigate the complex, check the large market map printed on both sides of the walls as you enter the courtyard from the north. Hundreds of stalls are marked and numbered on the map, with sections and departments colour-coded by produce: clothing, candies, candles, sandals, sealing wax, household plastics, and many more. Signage is in Vietnamese, Chinese and English.
Strangely, for one of the biggest markets in the city, Bình Tây gets going relatively late: not until 8am does the action really start. On the ground floor, around the courtyard, the stalls specialize in candied fruit, sweets, nuts, dried vegetables and fruits, all of which are arranged in tall, photogenic piles. The scale of each section is bigger than most other markets in this list. Indeed, the sandals and shoes department is so big that the smell of plastic and leather is overwhelming. East of the front entrance there are colourful displays of dozens of tea varieties. To the west of the entrance are household items, such as crockery and cutlery, along with dried herbs and roots for medicinal use. In fact, the interior of Bình Tây market is almost exclusively dry goods. The fresh produce – fruit, fish, meat, vegetables – is generally sold outside the main market building, along its edges and particularly at the back. Also at the back, lining the southern side of the market, is an excellent cooked food section with rows of vendors serving noodle soups, rice, juices, coffee and tea to market workers and visitors alike. Don't forget to wander around the warren of alleyways a few blocks either side of Bình Tây market, because this area of Saigon's Chinatown is absolutely fascinating and best experienced on foot.
---
---
---
---
---
---
6. Bình Điền Market
Words & photos by Luke Digweed
Address: Quản Trọng Linh street, Ward 7, District 8
[View Map]
Bình Điền is situated at the southwest tip of Ho Chi Minh City. Built in 2006, it's the only market on this list that was established during Vietnam's current economic era (post-1986 Đổi Mới reforms), and is owned by SATRA (Saigon Trading Group), a corporation established by the government in 1995. Bình Diền is also the only featured market on this page that's strictly wholesale. Although Bình Diền may lack a few of the quintessential photogenic features foreign tourists may look for in a typical Vietnamese market, the scale and volume of produce on offer makes it a compelling attraction for any travelling sensation-junkie.
Bình Điền market is best visited at night: its most active hours are between 8pm and 6am. The market is around 45 minutes from the centre of Saigon and requires a 20km drive along Nguyễn Văn Linh street, a dual carriageway named after the very politician who guided Vietnam into the economic period Đổi Mới from which the market dates. This street is where Saigon meets the Mekong Delta, the breadbasket of the nation. A jaunty combination of magnificent city complexes sit alongside ramshackle shacks vending wares to passing motorists. This is where the marshlands meet the tarmac: a showcase of peri-urban Vietnam.
A small residential ward in front of Binh Điền market consists of terraced houses lining several streets. Coffee shops, eateries and hair salons line the road, like any Vietnamese high street. But, while most places in Vietnam stop operating early in the evening, this street powers on through the night. Although this surprised me at first, on reflection it makes complete sense: this nocturnal microcosm works in tandem with the trading hours of the market. A constant stream of trucks, lorries and motorbikes make their way between Bình Điền market and all parts of southern Vietnam throughout the night. When workers get downtime, they spend it on the market's edge. Bình Điền is so large that the market has created its own community.
From the outside, Bình Điền looks like five brightly-lit airplane hangars and rows of smaller buildings surrounding them. The three biggest buildings contain wholesale vegetables and fruit (building B), wholesale seafood (building D) and wholesale fish (building F). Behind them are meat and agricultural products (building H), dried seafood (building K) and more fruit (building T). The meat, fish and seafood buildings are the busiest.
If the rush of a market is what makes you tick, then Bình Điền is the definitive experience. The intensity and scale of Bình Điền is what makes it unique among all of Saigon's markets. But, be warned that even I was surprised by the intensity of this market. It's incredibly active. Thousands of people moving through the area and working at different paces. It's important to be self-aware and not impede the work of the people there. Floors can get messy and you might even get wet. Wear shoes with grip and something you don't mind being spattered with 'market juice'. If you're travelling by motorbike, there's a parking area in front of building B.
---
---
---
---
---
7. Thị Nghè Market
Words & photos by Tom Divers
Address: Phan Văn Hân street, Ward 19, Bình Thạnh District
[View Map]
Housed in a long, narrow structure dating from the early 90s, Thị Nghè market is somewhat reminiscent of a repurposed railway station. Spanning the width of a city block, the market has an entrance at both ends: from the north on bustling Phan Văn Hân street and from the south on Nguyễn Ngọc Phương street on the riverfront. Thị Nghè's stalls are tightly packed within the market building, along its edges and outside its front and back entrances. However, the market also spills out onto the streets for a block either side of the main building. Thị Nghè retains a local feel: the scale is very manageable and it's one of the smallest markets in this list. I lived around the corner from Thị Nghè for my first four years in Vietnam. The market is part of Ward 19, which is now one of the hippest night spots in the city, featuring cocktails bars, sushi restaurants and studio apartments aimed at expats, particularly around Phạm Viết Chánh street. It's interesting that the local life of Thị Nghè market continues to exist and thrive in such close proximity to the trendy bars and cool cafes. The two represent very different sides of Saigon, often separated by age and class. Thị Nghè is an unselfconscious, real, local and live market, not a touristy one.
Inside the market building, the stalls mostly sell dry goods, textiles, clothing, house products and footwear. Along the sides are fresh fruit, vegetable, spice and herb stalls, which fill the cramped aisles with exotic aromas that help to mask the smells of the meat and fish stalls at the back of the market. The produce at the latter looks fresh and clean: fish glittering in the early sunlight, pig carcasses expertly butchered by overalled women wielding glinting cleavers. Along the east edge of the market are several cooked food stalls, serving noodle soups and rice. The products that most caught my eye at Thị Nghè were stalls specializing in votive offerings for ancestor worship and religious practices – candles, incense, paper money, porcelain figurines – and the tea stalls selling oolong, jasmine, rose bud, chamomile, green, and medicinal root infusions.
---
---
---
---
---
---
8. Xóm Chiếu Market
Words & photos by Thảo Phan
Address: Đinh Lễ street, Ward 12, District 4
[View Map]
In the past, District 4 was known for its high crime-rate. Saigonese used to joke that because of the complicated system of alleyways (hẻm) in the district, it was nearly impossible to catch a thief if he ran away. Today, however, District 4 is regarded as a foodie paradise for both local and international diners, especially for seafood dishes. Perhaps this is the reason why Xóm Chiếu market, in the heart of District 4, is dominated by a large cooked food section right at the centre of the market building.
Inside the big, grey, concrete structure, the produce is well-organized; displayed in neat sections by name. Early morning is the best time to visit the indoor market, both for shopping and for the endless choices of breakfast dishes available in the cooked food section. By afternoon, most of the food stalls inside the market building have closed. However, the selling and buying continues outside the market into the evening.
Although the front entrance to Xóm Chiếu is located on Đinh Lễ street at the northern end of the market building, the commercial activities outside the market mostly take place on Lê Văn Linh street to the east and Lê Quốc Hưng street to the south. Fresh seafood, meat and poultry are sold on Lê Văn Linh street, while fresh fruits and cooked food are mainly offered on Lê Quốc Hưng street. If you are a foodie, evening is a great time to visit the Xóm Chiếu area. From the market you can stroll around the network of alleyways and find your way to alley 200 Xóm Chiếu street and enjoy one of the best street food alleys in Saigon. You'll need to come back many times if you want to try all the great dishes that this alley has to offer.
---
---
---
---
---
9. Tân Định Market
Words & photos by Thảo Phan
Address: Hai Bà Trưng street, Tân Định Ward, District 1
[View Map]
Built in 1926, Tân Định is one of Saigon's old markets that still retains its French architecture. The front façade on Hai Bà Trưng street is quite remarkable, featuring three bell towers above the entrance, the biggest of which has a clock at its centre.
Security guards sit in front of each of the four entrance gates – a rare sight among the other markets in this list. Perhaps their presence is due to Tân Định's popularity among foreign tourists. However, the outer edges of the market and the backstreets surrounding it still have a very local feel: people do their daily shopping here – indeed, this is where I got most of my fresh fruits and vegetables for nearly three years when I lived in an old French apartment nearby.
Tân Định market is famous for its fabrics and clothing items, and these are the dominant stalls beneath the front entrance and inside the market building, followed by dried fruit, nuts and sweets. The fresh meat, fish and vegetables are sold along the outer edges and Mã Lộ street. Tân Định's meat section is the freshest and most organized of all the markets I've visited. For cooked food and drinks, most vendors are on the eastern side of the market on Nguyễn Hữu Cầu street, and are open from early morning until late at night. The corner of Hai Bà Trưng and Nguyễn Hữu Cầu is a popular night spot for young local people who gather to enjoy cháo ếch (frog porridge), cơm tấm (broken rice), and xôi gà (sticky rice with chicken).
I'm not sure why some people refer to Tân Định as 'the market of the rich'; I still find it an affordable place to shop for fresh produce, regardless of its prime location. If you are a DIY person with clothing or other fabric items, Tân Định market is the closest place to the city center to shop for fabric at cheap prices, often sold per kilogram – look for signs saying 'vải ký' on fabric stores on Hai Bà Trưng street or inside the market.
---
---
---
---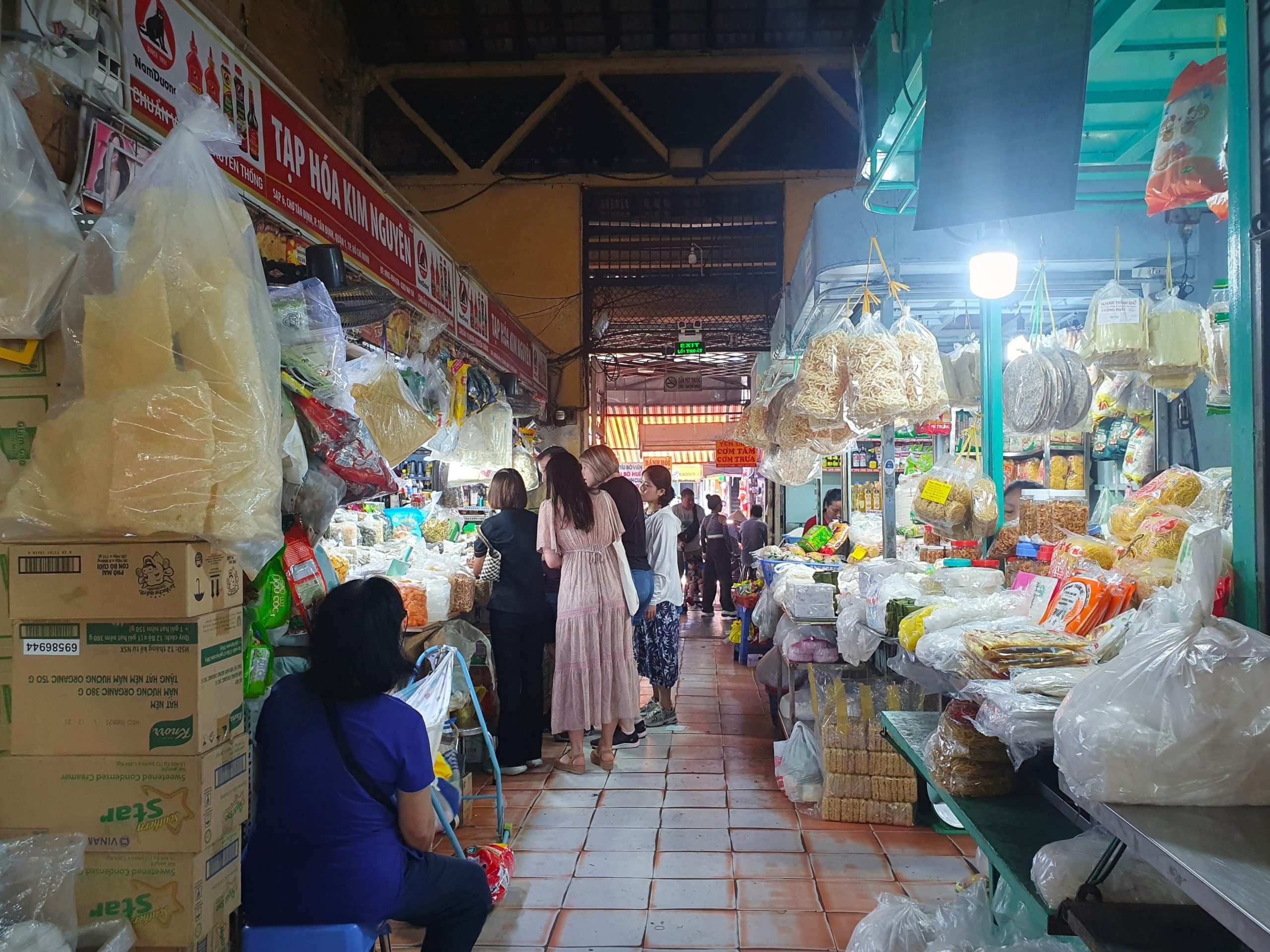 ---
10. Bà Chiểu Market
Words & photos by Thảo Phan
Address: Diên Hồng street, Ward 1, Bình Thạnh District
[View Map]
Located in a busy, frenetic area of Bình Thạnh District, at the corner of Phan Đăng Lưu and Bùi Hữu Nghĩa streets, Bà Chiểu is one of the oldest retail markets in Saigon. Although the façade doesn't look very appealing, the inside of the market and along its edges are loaded with everything you could possibly need for both personal and commercial purposes. Bà Chiểu is frequented by locals and from people across Saigon's other districts. Like many of the city's traditional markets, the inside is filled with dried goods, household items, clothing and accessories. Interestingly, there's also a dedicated area where gold and silver items are sold, which is quite uncommon in markets such as this. For fresh produce, such as vegetables, spices, meat and fish, head to the back of the market, on Vũ Tùng street, where things tend to be a little cheaper and it's easier to bargain. My favourite section of Bà Chiểu is along the western edge of the main market building, Diên Hồng street, where lots of fresh fruits and cooked foods are available.
In the past, Bà Chiểu was famous as a market for working-class people to shop, but nowadays, things are more over-priced and sellers are a bit less friendly than they used to be. Therefore, if you're shopping here, don't just agree to the first price you're quoted: learn how to bargain like the locals do, until you can barter down to 30%-50% of the initial asking price.
After 5pm, when most of the inside stalls are closed, the street food vendors and eateries start operation. When it comes to food, Bà Chiểu market is famous for xôi gà xá xíu (sticky rice with chicken and Cantonese-style BBQ pork) at the corner of Vũ Tùng and Bùi Hữu Nghĩa streets. Also, in the evening, the outside of the market on its western edge becomes a secondhand shopping destination for clothing and accessories, such as bags, belts and shoes.
Finally, don't miss the opportunity to visit the temple and mausoleum of Lê Văn Duyệt (1763-1832) which is right next to the western side of the market. Although located at the busy intersection of Phan Đăng Lưu and Đinh Tiên Hoàng streets, the mausoleum is largely forgotten and ignored by passersby. However, it is one of the most beautiful architectures of its kind in Saigon.
---
---
---
---
11. Hòa Hưng Market
Words & photos by Luke Digweed
Address: Cách Mạng Tháng 8 street, Ward 15, District 10
[View Map]
Hòa Hưng market is located on Cách Mạng Tháng Tám, one of the busiest streets in the city. Relentless waves of traffic may divert a visitor's attention from the market itself, which sits inconspicuously on the side of the road beneath advertisements for English language lessons and chocolate milk drinks. Once you enter the building, however, the cacophony of traffic ceases and you're slowly encompassed by the white noise of the market.
The building is three storeys high and the main staircase runs through the centre of the market. The first floor is food; the second floor is clothing, and the half-vacant third floor features a Muay Thai gym. The left side of the bottom floor hosts several eateries which are good places to stop for a snack: try the bún vịt (duck noodles) and gỏi cuốn (rice paper rolls), or cơm chay (vegetarian rice). When I visited, everyone seemed to be drinking nước ép rau má (Indian pennywort juice), a green, slightly bitter drink championed for its health benefits.
The rush of the market stays on the bottom floor and doesn't carry up to the second. Clothes traders on the second floor sit idly on cellphones, half-heartedly trying to get the attention of the odd person browsing through the isles of clothing and accessories. The Muay Thai gym on the top floor is cinematic at first glance: dusty black with rays of sunlight penetrating crevices in the roof, shining down onto the boxing ring canvas.
Vendors at this market are friendly. But that is not exceptional to Hòa Hưng: most markets in Saigon are friendly places to wander as a visitor. I found myself wandering down the alleys that lead out of the back of the market. I was ushered to sit down by a man named Cường who was preparing soya milk to sell at the market. I asked him what makes Hòa Hưng special compared to other markets. He didn't give the question much attention: "It's been here for a long time." "How long?", I asked. An onlooker interjected, "Around 100 years!"
Surprisingly, there isn't much about Hòa Hưng market online but the ward's communal house is nationally celebrated as being the city's oldest and a recognized cultural relic. Đình Chí Hòa communal house is over 200 years-old. While Hòa Hưng market is fairly unremarkable, coupled with a visit to this historic site, it's a worthwhile distraction from the traffic on Cách Mạng Tháng Tám street.
---
---
---
---
---
---
*Disclosure: All content on Vietnam Coracle is free to read and independently produced. Tom, Thảo and Luke have written this guide because they enjoy Saigon's fresh markets and want readers to know about them. For more details, see the Disclosure & Disclaimer statements and About Page
RELATED POSTS
---