Last updated April 2022 | Words and photos by Vietnam Coracle
An enticing road leads north from Dalat; beyond the city's urban sprawl and touristy sites, past Suối Vàng Lake and deep into the forests and mountains of Lâm Đồng Province, before dead-ending at the Krông Nô River marking the border with Đắk Lắk Province. The scenery is exceptionally alpine, characterized by coniferous forests and peaks rising to 2,500m (8,200ft) in the crisp highland light. A couple of rustic but friendly and interesting minority hamlets dot the route. But, most of all, this road is about trees: deciduous and evergreen forests and jungles blanket the landscape. King among trees in this region is the pine, whose scent fills the cool air. The 'Pine Tree Road' is smooth, empty, scenic and easy to ride. A perfect day trip from Dalat with a picnic, but also ideal for wild camping – one of the most memorable experiences you can have in Vietnam's Central Highlands.
[Back Top]
---
GUIDE:

THE PINE TREE ROAD
---
North of Dalat on an Empty Road into the Forest
In this guide, I've included a description of the route, a map, and some information about food, drink and accommodation. The 'Pine Tree Road' stretches 75km north of Dalat before dead-ending at the Krông Nô River. This makes the return journey 150km, which is rideable as a full day trip from Dalat. Alternatively, you can wild camp along the route or find a place to stay. Any time of year is good, but the best months are November to April: the dry season. (Remember that temperatures can be surprisingly cool at this altitude.) If you don't already have a motorbike, rental in Dalat should be fairly easy. The 'Pine Tree Road' is actually the detached southern-most section of the amazing Trường Sơn Đông Road. Don't be fooled by Google Maps: as things currently stand, the 'Pine Tree Road' is a one-way route: the only way to make it a round trip or to continue north is via a rough road due west of Đưng K'Nớ that even experienced off-road riders find challenging. (For more Dalat routes check out Related Posts.)
CONTENTS:
---
---
*Road Safety & Disclaimer: Riding a motorbike in Vietnam – or anywhere in the world – has its dangers. I would hope & expect anyone who chooses to pursue a self-drive road trip based on the information on this website does so with care, respect & due diligence. I encourage careful riding & adherence to road rules, but I am not responsible for the legality or manner in which you ride, nor any negative consequences which may result from your decision to ride a motorbike in Vietnam: you do so at your own risk. Read more >
---
---
MAP

:
The Pine Tree Road: North of Dalat by Motorbike
View LARGER MAP
---
Please Support my Site
I never receive payment for anything I write: all my content is free to read & independently financed. There's no sponsored content whatsoever. If you like this guide, please consider making a donation or becoming a patron.
Thank you, Tom
---
The Route:
DETAILS:
Route: North of Dalat on the 'Pine Tree Road' to Đưng K'Nớ & the Krông Nô River
Distance: 75km (one-way)
Duration: half- or full-day
Scenery: pine forests, jungle, rivers, valleys, mountains, coffee plantations, villages
Attractions: empty roads, great riding, highland scenery, river bathing, camping
Road Conditions: good, smooth, paved roads, no traffic
---
Leave Dalat heading due northwest, past the appallingly polluted Cam Ly Waterfall. But don't worry, this road trip is going to take you to an area where rivers still run clean and clear, beyond the reach of the extending arms of Dalat's urban sprawl. Indeed, it only takes a few kilometres before the road curls northwards, leaving behind the trucks and plastic-covered vegetable and flower farms. Pine trees crest the hillsides, the landscape opens up and a couple of strawberry orchards (vườn dâu tây) line the roadside.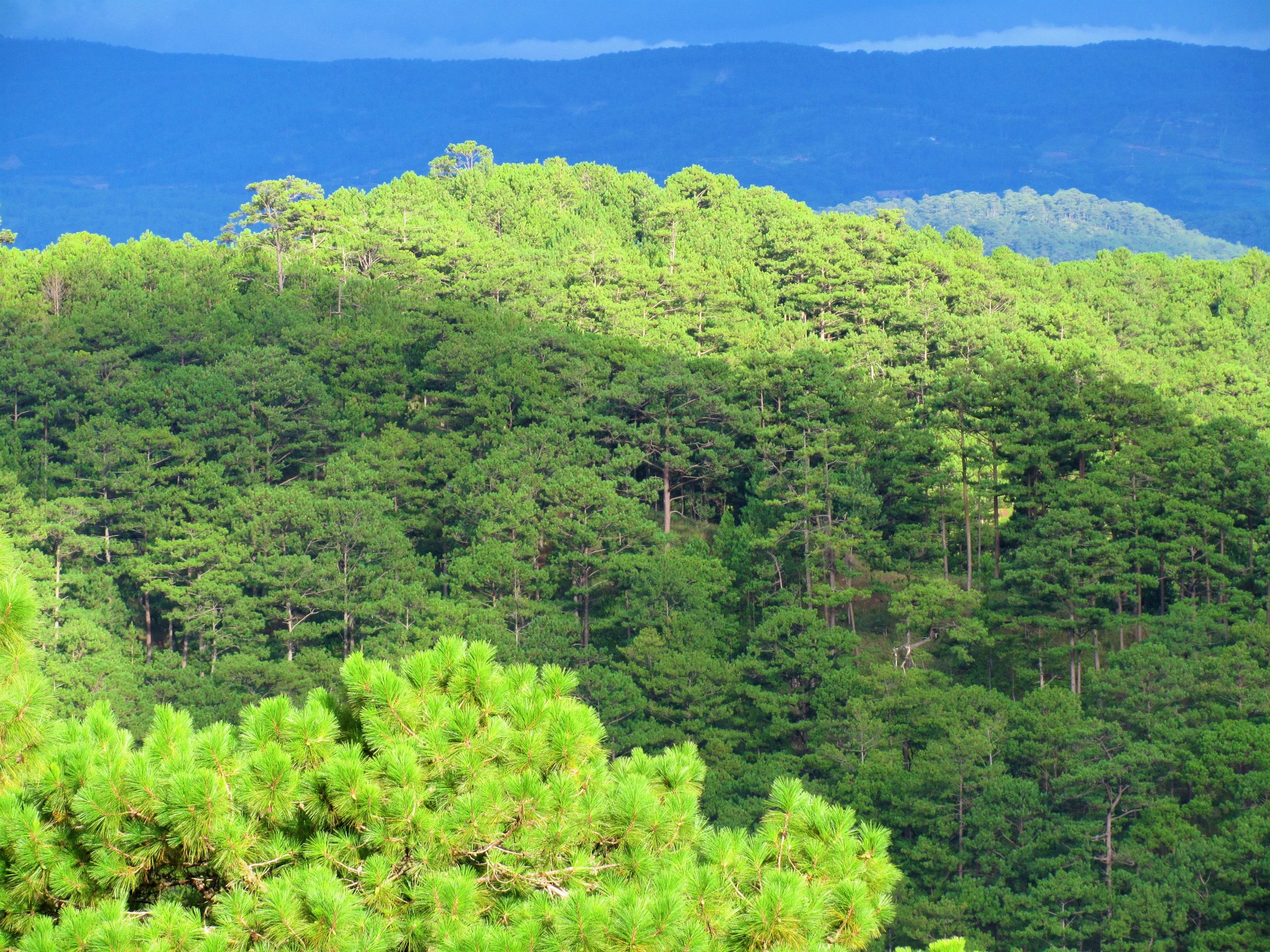 ---
---
Through a corridor of dappled light beneath the canopy of overarching trees, the road passes by several excellent local barbecue shacks before sharply descending to the exotic-sounding (but, in reality, rather disappointing) Ankroet Waterfall. The falls are formed by a 1940s stone dam, which is somewhat more impressive than the cascade it produces. However, the scenery surrounding the dam is very picturesque: pine-studded grassy slopes rising from the road as it skirts the placid waters of Dankia Reservoir. The lakeside is a nice place for a picnic, although sadly it's tainted by trash left by previous picnickers.
---
---
Up and over a small rise, the road connects with another, larger reservoir: the romantically named Hồ Suối Vàng – Golden Spring Lake. It's a scenic spot and there are some rustic eateries by the water's edge with Lang Biang Mountain looming large to the east. Just north of the lake, the road heads away from the reservoirs and into the forests. Before reaching the rather quaint Làng Cù Lần Resort at the bottom of a valley, several small, red-dirt tracks lead off the main road due west into the pines. One of these tracks goes to La An Dalat Retreat, but many others lead off into the woods, where it's possible to get pleasantly lost and find some truly extraordinary wild campsites. A night camping in the forests here is very special indeed. But make sure you come prepared. (For more details read my Dalat Camping Guide.)
---
---
Làng Cù Lần Resort is as far as most tourists go on the 'Pine Tree Road'. And that's a shame, because this is the point at which the road plunges north deep into the forests and mountains of Lâm Đồng Province. From here, the scenery gets even better and more remote. Just a short distance north of Làng Cù Lần, a rough road veers due west to Tuyệt Tình Cốc, an abandoned quarry filled with rain water that's turned a startling blue. However, this long dirt-road detour should only be attempted in dry conditions.
---
---
Corkscrewing north, the road is an empty, smooth, river of asphalt, meandering into the distance for the next 25km all the way to Đưng K'Nớ hamlet. The air is crisp and cool; the light sharp and fresh. It's an invigorating ride. There are no other vehicles as you wind up and down the contours of the Lang Biang Plateau, occasionally skirting the edges of Bidoup National Park, where wild animals, such as the Asiatic black bear and black-shanked douc still (despite generations of hunting) roam in modest numbers.
---
---
The pine trees stand straight and erect, lining the road in their hundreds of thousands and spreading all the way to the horizon, like a giant army standing at attention in ranks, escorting you on your way. This area even has its very own variety of pine tree: the Pinus Dalatensis or White Pine, which grows up to 40 metres high. There's something special about pine forests: under the perfumed canopy they are snug, comforting, soft and benevolent places to be (although also somehow haunting); the pine needles create a perfect carpet on which to lay out and, at night, the wind through the treetops sounds like waves breaking on a beach.
---
---
Ten kilometres or so south of Đưng K'Nớ hamlet the foliage changes suddenly. Riotous jungle takes the place of regimented pine forests. The canopy becomes dense and impenetrable, with layers of twisting epiphytes, trunks, climbers and creepers. It's recognizably tropical as opposed to the temperate forests of earlier. I can only assume that there's a climatic change here which is favourable to a different kind of flora. An interesting new viewing point, Lãnh Địa Khỉ Ho Cò Gáy, featuring some handsome traditional wooden structures is located by the roadside here. But, at the time of research, it was closed.
---
---
There's also a noticeable increase in human activity at this point on the route. Large swathes of forest have been burned to make way for cash crops, such as coffee and corn. And parts of the forest have been regularly plundered for resources, resulting in a network of 'bald-patches' across the landscape. Furls of smoke rise from the valleys where piled husks of newly harvested corn are being incinerated. The rhythmic beat of chopping axes echoes from ridge to ridge as trees are hacked for firewood. All this is quite jarring at first, and some of the hillsides have the apocalyptic look familiar from photographs of napalmed forests during the war.
---
---
Although the villages here are very small, the impact they have on the landscape they live in is very apparent. Traditionally, people in this area (most of whom belong to several of Vietnam's numerous ethnic minority groups) practiced slash and burn agriculture. Nowadays, the Vietnamese government encourages them to cultivate cash crops instead. The transition results in a rather ugly hodgepodge of cleared forests, barren hillsides, and heavy machinery. But it's hoped that the new agriculture will provide local people with a more stable income. The construction of the 'Pine Tree Road' itself has also made a physical impact on the area: from a distance you can follow the road's progress through the landscape by tracing the scar it has made in the forest. The road has improved access to these remote minority areas, but it has also made it easier to reach previously inaccessible stands of old-growth forest, which are now being felled.
---
---
The villages here appear to be quite poor, especially compared to the increasing affluence of Dalat. Nonetheless, people are very friendly (kids jump into the road to wave as you pass by) and, on closer inspection, some of the wooden homes are reminiscent of clapboard prairie houses, sporting wooden verandas and decorative flourishes here and there. Đưng K'Nớ is the largest settlement on the 'Pine Tree Road'. A few shops sell snacks, coffee and bottles of gasoline.
At Đưng K'Nớ there's a junction. A big signpost reads: north to Yang Mao (58km) or west to Darsal (32km). However, in reality neither of these is a possibility. Yang Mao is where the 'Pine Tree Road' will eventually lead when completed, connecting with the Trường Sơn Đông Road, but for now it's only possible to continue north along this road for another 22km, skirting the Krông Nô river valley before it dead-ends in a construction site. But, this is still a sublime ride and well worth it. Heading due west from Đưng K'Nớ, however, is not advisable. Even though it looks as though road DT722 is the perfect way to cut west and join road QL27, the first section is a very rough track which even experienced riders with off-road motorbikes find very challenging. Many riders have come unstuck on this road, especially in wet, muddy conditions. I strongly suggest not attempting it; instead continue north on the last, gloriously smooth and scenic section of the 'Pine Tree Road', before heading back to Dalat the way you came.
---
---
North from Đưng K'Nớ the views are big and spectacular. The road is carved into the mountainside, curling down into a steep, cultivated valley (there's even an optional scenic detour due east to a hydro dam). When the road reaches the valley floor, the Krông Nô River runs clear and blue, surrounded by jungled hills. The river is swimmable (but be careful because the current is strong), the riding easy and joyous, and there's no one else on the road – camping opportunities abound. Ride as far along the valley as you can, until the tarmac ends where road construction is ongoing. There's no choice but to turn back and return to Dalat on the same (beautiful) route.
---
---
---
Places to Stay:
The Pine Tree Road is most commonly ridden as a day trip from your accommodation in Dalat, but there are also a couple of options for staying a night on the route. Dalat has hundreds of accommodation options to choose from in all price categories, many of which you can browse and book on this page. (For my reviews of accommodation in the area see this page.) About 25km from Dalat and just north of Suối Vàng Lake, Làng Cù Lần Resort has some forest-style huts and chalets available set among pines and ponds. It's nice enough but gets very busy on weekends and public holidays. Much deeper along the Pine Tree Road is Lãnh Địa Khỉ Ho Cò Gáy which features some interesting looking wooden long houses and viewing platforms. It seemed to be unfinished when I last visited, but looks as though it may offer some kind of accommodation in the near future.
Camping: By far the best, most atmospheric and memorable way to spend a night on the Pine Tree Road is wild camping in the forests. Along much of this route there are red dirt roads leading deep into the pines where ideal camping spots abound. You'll need to bring your own equipment and be smart and considerate about where and how you camp. I've written a lot more about this in my Dalat Camping Guide.
---
---
Food & Drink:
Beyond Suối Vàng Lake, eating and drinking options are sparse. Take a picnic with you from Dalat so that you can stop by the roadside at a scenic viewpoint and enjoy the scenery with a sandwich and coffee. However, around Suối Vàng and Dankia lakes there are several excellent open-air barbecue stalls and shacks serving grilled whole chicken, (gà nướng), sticky rice inside a length of bamboo (cơm lam) and the local spirit, rượu sim (a delicate rice wine flavoured with the 'sim' fruit). My personal favourte is Quán Thung Lũng Xanh, a fantastic wooden restaurant with great food overlooking pine-studded hills. In addition, there are a few fruit orchards and strawberry gardens (vườn dâu tây) where you can stop, pick and buy fresh berries. In Đưng K'Nớ there are a couple of stores selling snacks (and gasoline). Finally, don't forget to stop by one of Dalat's amazing coffee shops before setting out on the Pine Tree Road.
---
---
*Disclosure: I never receive payment for anything I write: my content is always free and independent. I've written this guide because I want to: I like this route and I want my readers to know about them. For more details, see my Disclosure & Disclaimer statements and my About Page
RELATED POSTS
---