First published February 2022 | Words and photos by Vietnam Coracle
Perched on the edge of steep hillsides, deep in the folds of misty valleys, beneath canopies of whispering pines or on the windswept property of smallhold farms, there's been an explosion of cool, cosy, photogenic, independent coffee shops with a view in and around Đà Lạt. Sometimes sophisticated and chic, sometimes retro and rundown, these coffee shops often attract a young, trendy, arty crowd (the scent of weed can be as pervasive as the scent of pine.) Driven in part by Vietnam's surging sống ảo culture – literally 'virtual life', referring to the selfies everyone takes to embellish their social media profiles – these cafes marry two of the region's most famous attributes: coffee and pine-covered mountains. As such, visiting these coffee shops is a great way to experience Đà Lạt: cafe-hopping from one to the other, seeing the city and surrounding countryside as you go, smelling the pine, feeling the mountain chill, sampling the coffee. It's also a good way to escape the increasingly busy, noisy, polluted, concrete jungle that Đà Lạt city centre has become. This might just be the most exciting coffee scene in Asia.
[Back Top]
---
19

ĐÀ LẠT COFFEE SHOPS

WITH

A VIEW
---
[View Map]
I've reviewed, illustrated and mapped 19 coffee shops in Đà Lạt. Many of the coffee shops are clustered together in specific areas of the city, but others are outliers in the surrounding countryside. This page is only a selection: there are dozens more cafes to explore in Đà Lạt, and new ones are opening all the time. (You're welcome to make suggestions in the comments section but, please, no advertising or self-promotion.) My priorities in making this list were: views, coffee and décor – in that order. This is a compilation of great coffee shops with a view; not 'best specialty coffee shops'. At some cafes, the drinks charge is in lieu of an entrance fee, because many customers are more interested in posing in front of the scenery than drinking quality coffee. Indeed, the endless stream of selfie-takers can become tedious. But, ultimately, these coffee shops are very cool, and I thoroughly enjoyed researching this guide.
Selected Resources
What's this?
*This list is not in order of preference: they're all great
COFFEE SHOPS:
1. Lưng Chừng (incl. Thông Ơi & Phía Chân Đồi)
3. Kong Coffee (incl. Cheo Veooo & Chenh Coffee)
5. In The Forest Đà Lạt (incl. Đà Lạt View)
9. Phindeli Café Cầu Đất Farm (incl. 'cloud hunting' cafes)
10. Anna's Coffee House (incl. Ngàn Café)
11. Tiệm Cà Phê Góc Của Tùng (incl. Lululola Acoustic)
12. Horizon Coffee
13. Lò Sấy Coffee Store (and others)
14. K'Ho Coffee
16. The Wilder-nest
17. The Seen House (incl. Rừng Thông Mơ)
18. Thủy Tạ Coffee
19. Mê Linh Coffee Garden (incl. Chuồn Chuồn & Dalaland)
---
Please Support My Site
I never receive payment for anything I write: all my content is free to read & independently financed. There's no sponsored content whatsoever. If you like this guide, please consider making a donation or becoming a patron.
Thank you, Tom
---
MAP

:
19 Coffee Shops With a View in Đà Lạt
---
1. Lưng Chừng
(Incl. Thông Ơi Coffee & Phía Chân Đồi)
[View Map]
Down a long, very steep concrete lane beneath a canopy of pines, Lưng Chừng is perched on a hillside near the valley floor. Surrounded by towering conifers, the cafe is a wooden structure on a concrete platform. Open-sided to allow the cool, fresh, fragrant air to circulate, the walls are bare, washed concrete, the furniture – dotted on decks, balconies, alcoves and mezzanines – is draped with textiles next to potted plants and hanging lamps. Lưng Chừng is a 'cuckoo's nest' scented with coffee and lotus tea, filled with young, beautiful people (albeit on their phones), with lilies on tabletops, books on shelves, and pine cones on the floor where puppies play between customers' feet. The views are over a green valley and surrounding coffee bushes beneath the Prenn Pass. Coffee (Vietnamese-style only) and tea is good, and the price (around 50,000vnd) is standard for such cafes. You can hang out, work, take photos, read, relax. Lưng Chừng is a cosy, beautiful, welcoming, effortlessly hip coffee shop. Also nearby, accessed via the same lane, are Thông Ơi Coffee and Phía Chân Đồi.
---
---
---
2. Twin Beans Farm
[View Map]
This astonishing place lies deep in the folds of a pine-crested valley in the shadow of Lang Biang Mountain, 20km north of Đà Lạt city centre. Encompassed by coffee bushes, Twin Beans is a sophisticated, striking, modern-meets-traditional coffee shop, farmstay and retreat. Accessed via a rough road through the countryside that's currently in the process of being sealed, Twin Beans is built on a hillside between two streams. Cross a bridge above the glistening water, walk up the hill past the property's safari-style canvas accommodation, and you'll reach the cafe: a simple but classy combination of wood and concrete, with benches and stools positioned to look out from the open-sided deck across the farm, valley and hills. It's a crisp, clean, elegant design. This is a great place to relax or work or just gawp at scenery. The coffee and tea are excellent, including specialty varieties of both. Prices are between 50,000-70,000vnd.
---
---
---
3. Kong Coffee
(Incl. Cheo Veooo & Chenh Coffee)
[View Map]
On the eastern fringes of Đà Lạt – as the city's urban sprawl starts to thin – there are several clusters of cool, youth-filled cafes taking up ridgetop positions that look back across the outskirts of the city and down over the greenhouse-filled valleys and distant mountains. One particular back-alley is home to a handful of uber trendy coffee shops with a retro theme often described as thời xưa ('old time' or 'antique'). Of these, Tiệm Cà Phê Cheo Veoo is probably the most 'famous', but was closed for the Lunar New Year holiday when I visited. However, nearby Chenh Coffee and Kong Coffee are in a similar vein and very well-known. I particularly liked Kong Coffee, a wooden-plank two storey structure with a rustic-chic style, and mountain-homestay ambience. As Vietnamese rap plays softly in the background, groups of student-age customers huddle in cosy corners, terraces, alcoves, or on the expansive and exposed rooftop deck with big views across the countryside. The coffee is good and strong, and prices are fine (35,000-45,000vnd). Marijuana is smoked, tattoos are on display and everyone has dyed hair: a friendly, creative vibe.
---
---
---
4. Tiệm Cà Phê Tháng Ba
[View Map]
There's an air of sophistication at Tiệm Cà Phê Tháng Ba. Housed in what appears to be either a refurbished late French colonial-era villa or a modern imitation, the coffee shop occupies a sort of conservatory at the back on the property, where an open-sided patio affords views across a large, but scruffy, valley and the hazy ridges of mountains that lie beyond. Everything is perfectly judged and one gets the impression that the owners are in total control of what they have created here. The patio is laid in exposed red brick with wooden tables behind a balustrade beneath a wooden-slat roof. Inside, the brick walls are roughly brushed in white paint, antique-style furniture fills the cosy space, softened by potted plants and a fireplace in the corner. Industrial-chic lamps drip from the ceiling above the coffee counter bedecked with coffee-making apparatus, tended to by elegantly dressed baristas. Even the menu is elegant and understated: a short, hand-written list in fountain pen on white paper. A great place just to be – to work, to read, to hang, to date – Tiệm Cà Phê Tháng Ba is extremely cool with a retro style that is somehow simultaneously contemporary. Classic standards play in the background – Sinatra, Armstrong – making this one the few coffee shops that has (in my opinion, of course) 'good' music. The coffee is very good too and the prices fairly standard (40,000-60,000vnd). However, there is just a slight hint of superiority, 'class', or snobbery here compared to other cafes in this list: it is nowhere near as friendly.
---
---
---
5. In The Forest Đà Lạt
(Incl. Đà Lạt View)
[View Map]
Hidden at the end of a narrow lane through the trees, In The Forest Đà Lạt is perched on the edge of a coffee farm above a steep valley dotted with pines, plantations and orchards. The main structure is a greenhouse-style cabin filled with sunlight and fresh air. However, most people come here to take selfies (or smoke weed) on the multiple levels of wooden decks overhanging the valley. It's very pretty and photo-worthy, especially just before dusk. Coffee (Vietnamese-style only) is quite good and prices are 'normal' (40,000-50,000vnd). In The Forest attracts a young crowd clamoring for photos. Unfortunately, when I visited the staff were bored and the service was brusque. A bit further north on the main road (Khe Sanh) is Đà Lạt View, a coffee shop famous for its elaborate selfie-props. It's worth checking out.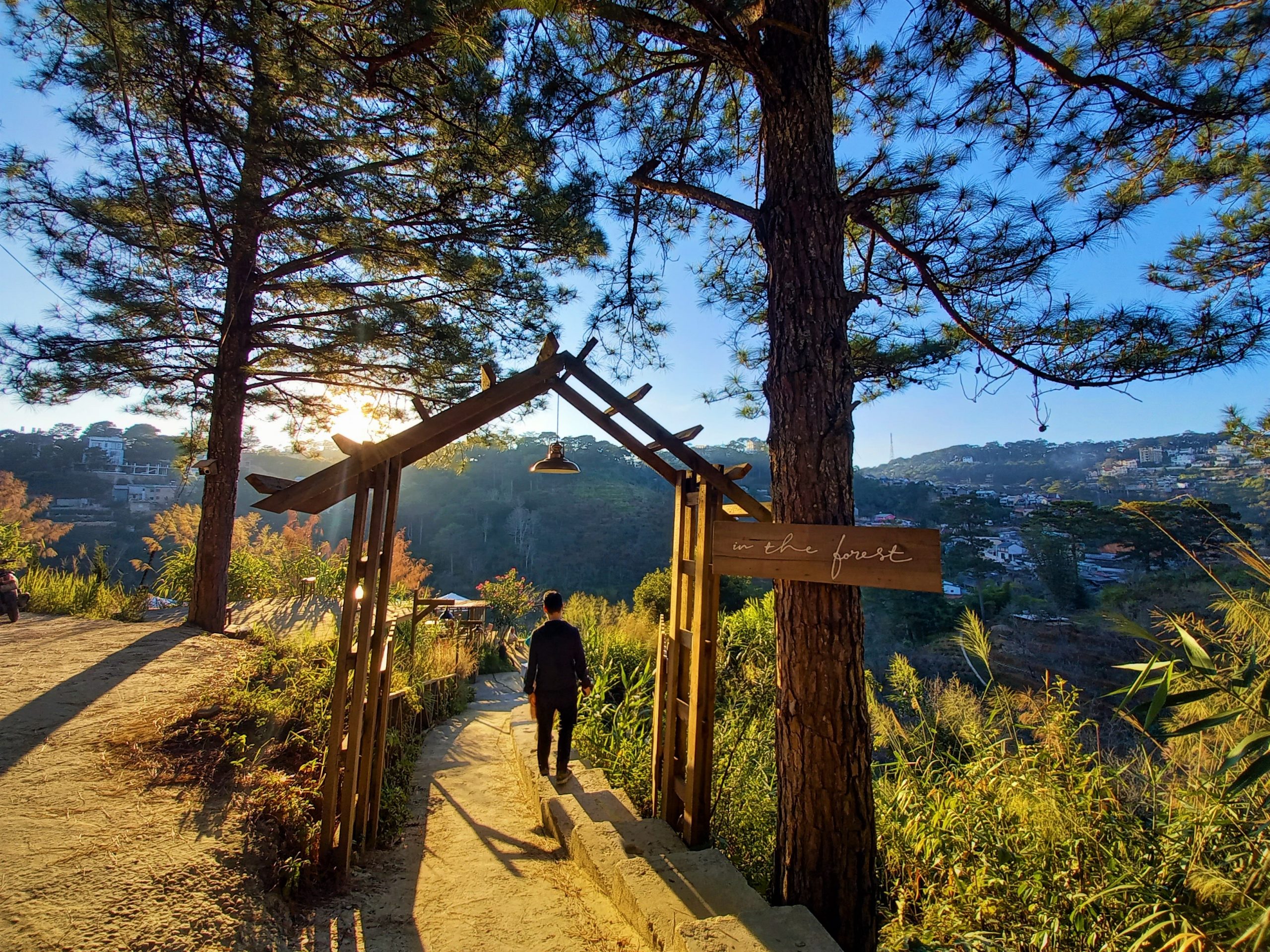 ---
---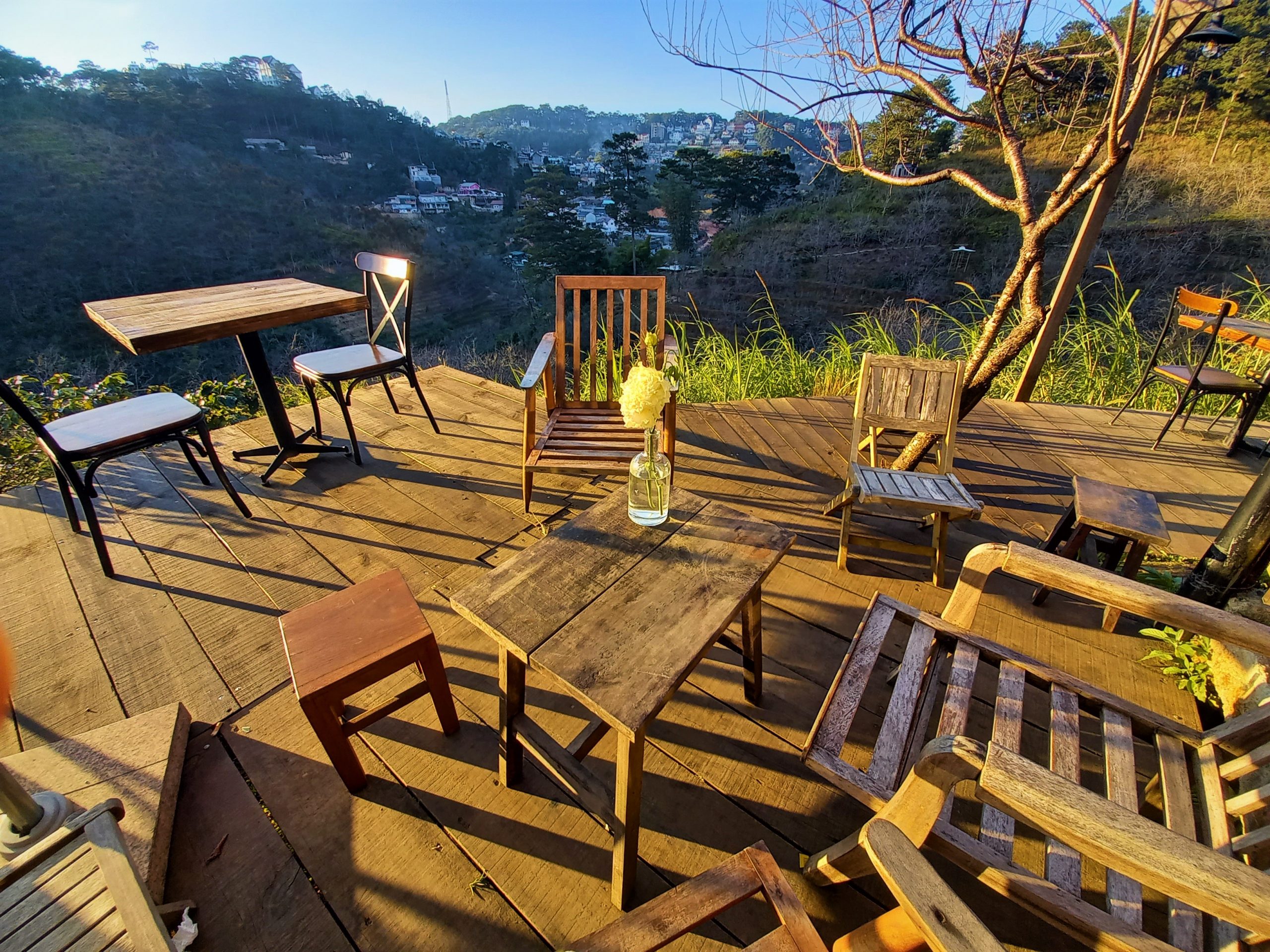 ---
6. Đà Lạt Mountain View
[View Map]
Entered through a wooden doorway and down a staircase, Đà Lạt Mountain View opens into a large church-like space with high ceilings, open-plan seating, enormous ferns growing from the floor to the roof, and a wooden coffee counter. The light wood structure is built in the style of a Swiss ski chalet, with sloping roofs and a long balcony on the mezzanine floor (and, for some reason, bedecked with Union Jacks). Inside, the echoey space is warm, cosy and pleasant; outside, the coffee shop opens onto an expansive wooden deck with a long, narrow reflection pool, beyond which lies a deep valley filled with pines, flower gardens and the edges of Đà Lạt's scruffy urban sprawl. Very well-conceived and popular with locals and visitors of all ages, the coffee here is good and the price is what you'd expect from such a place (50,000vnd upwards). Pop music lowers the tone slightly, but is kept at a bearable volume.
---
---
---
7. Uông Home Coffee
[View Map]
The entrance to Uông Home Coffee is hidden at the end of an extremely steep lane. Indistinguishable from the other structures around it, Uông Home is a very local, homey, informal coffeeshop clinging to a steep ridge. An intimate little place with a casual vibe, Uông Home consists of several wood, bamboo, and corrugated-iron sheds and greenhouses in between flower beds and wooden platforms. Cute and cool, but not precious or pretentious, this is an old-style Đà Lạt cafe that feels more like a homestay. Tables and chairs are dotted here and there, all facing the extensive views over local homes, gardens, pine trees and mountains. Coffee is Vietnamese-style only and the prices are cheaper than most cafes in this list (35,000vnd). Unfortunately, my photos don't do justice to this coffee shop.
---
---
---
8. Tiệm Cà Phê Túi Mơ To
[View Map]
On the outskirts, due east of the city centre, Tiệm Cà Phê Túi Mơ To is a very popular and pleasant place to hangout for friends, couples and families. The coffee shop's design and décor take inspiration from the gigantic plastic-covered greenhouses that fill the valley over which it looks. Đà Lạt is famous for the flowers, vegetables and fruits that grow in the region's rich soil and temperate climate. The majority of this fresh produce is grown beneath sheets of plastic which, aside from shielding the crops from bad weather, also allows the plants to continue to grow at night with the installation of lightbulbs inside the greenhouses. During the day, it's a fairly strange, messy, semi-industrial sight, but at night, when the lights go on in the greenhouses, the scene becomes surreal, beautiful and almost extraterrestrial: like something out of the X-Files. Built on a ledge overlooking the 'valley of greenhouses', Tiệm Cà Phê Túi Mơ To is a low-rise wood and iron-sheet structure with several plastic covered gazebos, like a local farmhouse, set amid pretty flower beds with hanging antique-style lanterns, pine cones and potted plants. A very attractive place and the coffee is great (40,000-60,000vnd).
---
---
---
9. Phindeli Café Cầu Đất Farm
(Incl. săn mây – 'cloud hunting' – coffee shops)
[View Map]
Housed in an impressive repurposed tea factory, PhinDeli Café Cầu Đất Farm is high up in the hills of extensive coffee and tea plantations, 25km southeast of Đà Lạt city. Adding to the drama of the location is an sprawling windfarm whose colossal turbines stand on the surrounding hilltops. The structure of the coffee shop is all iron girders, glass windows and spiral staircases. The interior is full of light and space, and the wooden deck outside looks out over the tea-coffee-windfarm panorama, as does the rooftop viewing gallery. The whole things is really classy and attractive, so it's somewhat strange that its façade bears the name and logo of PhinDeli, a famous but low quality instant coffee brand. However, the coffee on sale here is good and reasonably priced considering the setting (30,000-60,000vnd). Enjoy your espresso gazing over the landscape as the hilltops and wind turbines wax and wane in the cloud and mist. Wonderful stuff.
There's a chill in the air up here, and weather conditions can change quickly. But this feature has been turned into a photo opportunity by young Vietnamese, who travel up the mountain, often at dawn, to đi săn mây – 'go cloud hunting'. Indeed, about a dozen 'săn mây' coffee shops – complete with massive viewing platforms and social media props – have sprung up on the mountainside, many with excellent views over the countryside where clouds fill the valleys. Examples of these selfie-cafes are: Cầu Đất Panorama, Săn Mây Nhà Gỗ Cầu Đất, and Thiên Đường Săn Mây MMG.
---
---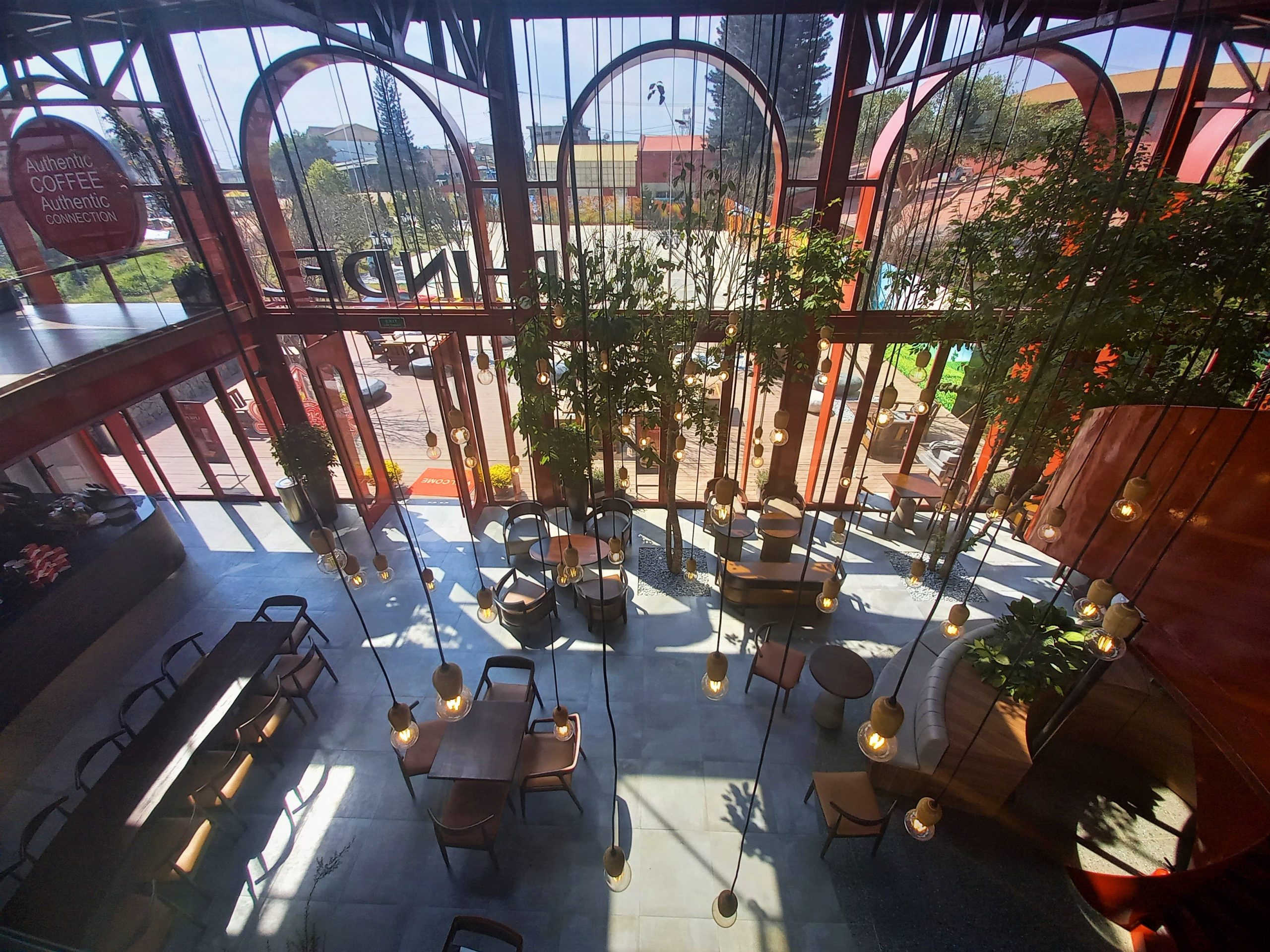 ---
10. Anna's Coffee House
(Incl. Ngàn Café)
[View Map]
Overflowing with plants and colourful flowers (inside and outside), Anna's Coffee House overlooks the Prenn Pass and the ocean of pines that cover the surrounding mountains. Just at the entrance to the cable car, Anna's is informal and friendly with great coffee (40,000vnd), juices, teas and a wide range of very good western food and imported treats, including cheeses and chocolates (she even makes and sells home-made pesto). Popular with Đà Lạt's growing expatriate community, Anna's is a warm, welcoming and unpretentious coffee shop where people come to chat, read, play games, drink, dine or get some work done on their laptops. Just below Anna's is the tasteful and cosy Ngàn Café. (By contrast, the coffee shops either side of Anna's are full-on Instagram hangouts with kitschy (and sometimes creative) selfie props.
---
---
---
11. Tiệm Cà Phê Góc của Tùng
(Incl. Lululola Acoustic)
[View Map]
On the southern outskirts, looking west (great for sunsets) over the Dalat suburbs and pine-studded hills crawling into the distance, Tiệm Cà Phê Góc của Tùng is accessed via a quiet back lane, through a pretty front garden and into the diminutive white-painted main structure. Out the other side, the coffee shop is splayed over several levels of brick patios and wooden decks amid small trees and flower beds – it's a bit like a series of converted allotments dotted with wooden tables, chairs and benches under parasols facing the views. The coffee (Vietnamese-style only; 40,000-50,000vnd) is pretty good, the views are great, and the vibe is mellow, quiet and calm – young couples, dates, huddles of friends. Next door, Lululola Acoustic is a live music venue in a spectacular location with the stage in front of sweeping views and the audience stacked up behind overlooking the band and the vistas. Both places have fantastic locations with a kind a quiet, understated air of cool.
---
---
---
12. Horizon Coffee
[View Map]
The views from the light-wood viewing deck and balconies at Horizon Coffee are among the most mesmerizing of any cafe in this list. Gaze out from canvas director's chairs, pouf-cushioned snugs, rope-net hammocks and velvet stools over a sea of whispering pine forests blanketing the mountainside as they drop away due south of Đà Lạt. Photo opportunities abound. Unfortunately, the quality of the coffee (insipid; 45,000-55,000vnd), music (saccharine) and décor (kitschy) don't meet the same standards as the vista. There's also a hell of a lot of unnecessary single-use plastic at this place. However, it's worth coming to Horizon Coffee simply for the views.
---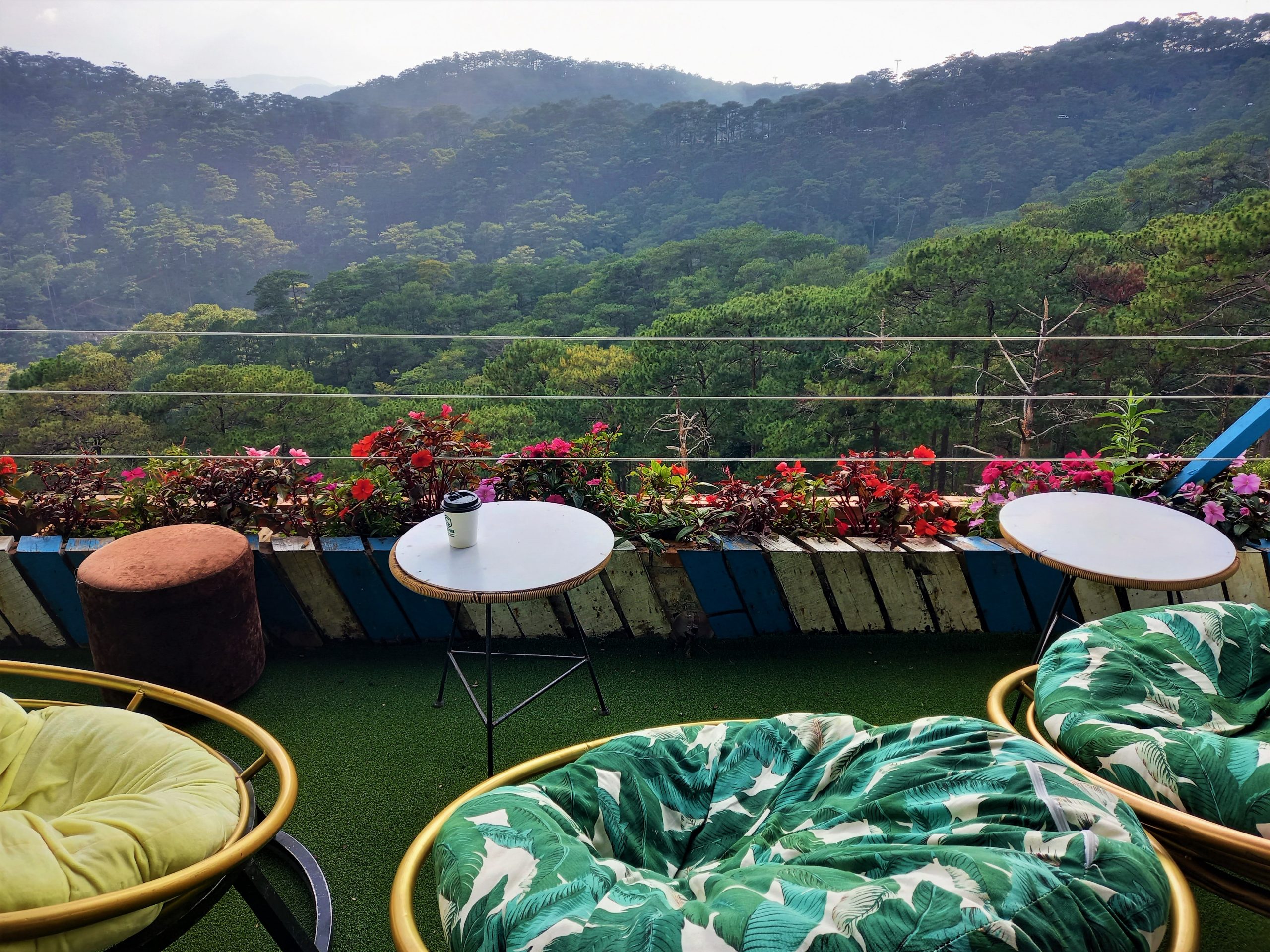 ---
---
13. Lò Sấy Coffee Store
(Incl. Rừng Na Uy Cafe, Tiệm Cà Phê Con Tù Lì & Quán Cà Phê Đen)
[View Map]
One lane above Kong Cafe, Lò Sấy Coffee Store and several others have slightly bigger and more elevated views than those below. Larger and more spacious, with bigger decks and viewing platforms, but without the intimacy and youth-cool vibe of Kong Cafe, Lò Sấy is more family-friendly. The coffee (45,000-55,000vnd) is good, and there's lots of outside seating available as well as a classy space inside a glass greenhouse. The extensive views take in Đà Lạt's urban sprawl filling the valley and spilling over the ridges. Night-time is very pretty, when all the city's lights twinkle, as do the stars. Neighbouring Lò Sấy are Rừng Na Uy Cafe, Tiệm Cà Phê Con Tù Lì and Cà Phê Đen.
---
---
---
14. K'Ho Coffee
[View Map]
Hidden in the backstreets of a K'Ho neighbourhood 10km north of Đà Lạt city centre, K'Ho Coffee is a unique, specialty coffee shop on a smallhold coffee farm. K'Ho is an ethnic group living in Lâm Đồng Province with a long history of coffee farming. Entered through a wooden storefront on the street, a path leads out onto a backyard where coffee bushes grow on a small plot of land in the shadow of Lang Biang mountain. Founded in 2012 as a family business, K'Ho has a reputation for high-grade, ethically-produced arabica coffee. A small coffee kiosk is housed in a bamboo hut on a tile floor, opposite which is a wooden shelter with benches and chairs. Coffee bushes grow all around, creating an lush and intimate ambience: the air is rich with the scent of coffee blossom and the aroma of roasting beans. The coffee is good and strong.
---
---
---
15. The Coffee Gió Đà Lạt
[View Map]
Newly opened at the time of research, The Coffee Gío Đà Lạt is an impressively large coffee shop spread over several levels of terraces and wooden decks. Adorned with bails of hay, flower beds, parasols, wooden lanterns and selfie props, each level is reached via steep ladders. The views over a deep valley, Đà Lạt suburbs and pine-cloaked hills are good, but the coffee (25,000-30,000vnd) is only average. Attracting teenagers (for the selfies opportunities) and families with children (for the space), the Gío Đà Lạt is more about fun and views than coffee and atmosphere. Part of the same property is Tiệm Gà Đồi Mr Right, a chicken restaurant on the top level (also with good views) that smells delicious.
---
---
---
16. The Wilder-nest
[View Map]
Down a steep dirt path 10km south of Đà Lạt, The Wilder-nest occupies a stunning position on a hillside overlooking a valley within a bowl of pine-covered mountains. Simple and photogenic, The Wilder-nest consists of wooden benches and tables on a gravel stage dotted with parasols, and plenty of wooden platforms and rope swings from which to admire the views and pose for social media photos. The valley is gorgeous but tarnished somewhat by the Swiss-BelResort and its sprawling golf course. The Wilder-nest's menu is short and (literally) sweet. Quality is not particularly good and the price (50,000vnd) is far too high for the standard of drinks. But, that's not the point: people don't come here for the drinks; they come for the views.
---
---
---
17. The Seen House
(Incl. Rừng Thông Mơ Farm & Bistro, Zen Cafe Lakeside)
[View Map]
On the east bank of Tuyền Lâm Lake (an easy 5km ride south of Đà Lạt), The Seen House is a low-key but cool coffee shop with views across the glimmering waters and alpine scenery for which the region is famous. The coffee counter sits beneath a corrugated-iron roof opening onto a wide concrete terrace next to the lake. Wood and plastic furniture are positioned under parasols in the breezy, fresh air. The coffee is good, the price is right (35,000-55,000vnd) and the atmosphere is conducive to hanging out, working or relaxing. When I visited, service was a bit brusque, but perhaps that's not representative.
There are several other good coffee shops on the shores of the sparkling Tuyền Lâm Lake. Until recently, Zen Cafe was a standout location and a go-to hangout for many of Đà Lạt's foreign residents. However, at the time of writing, Zen Cafe had changed hands and was temporarily closed, but will probably reopen at some point, albeit under a different name. On a pine-studded knoll on the west bank of the lake, Rừng Thông Mơ Farm & Bistro is a large, classy coffee shop, but without lake views.
---
---
---
18. Thủy Tạ Coffee
[View Map]
It's difficult to think of a more quintessentially 'Đà Lạt' setting than Thủy Tạ Coffee. A small but distinctive white structure protruding into Hồ Xuân Hương Lake – appearing to levitate above the shimmering water – at the city's heart, Thủy Tạ apparently dates from the 1930s (as does much of the city's colonial-era architecture) when it functioned as the French water sports club house. I can't vouch for the accuracy of this, but it's certainly not hard to imagine: even today, as you sip good coffee in the glass-covered conservatory above the lake, kayaks and swan pedalos glide by on the placid surface. Bright, white and a bit too clinical, Thủy Tạ attracts families and large groups chattering away as the sunlight streams in through the glass windows. The lake views are excellent, especially in the early mornings and at dusk, but prices are relatively high (55,000-65,000vnd). In addition to the cosy indoor space, there's lots of outside seating on a bankside crescent beneath the weeping branches of bottlebrush trees.
---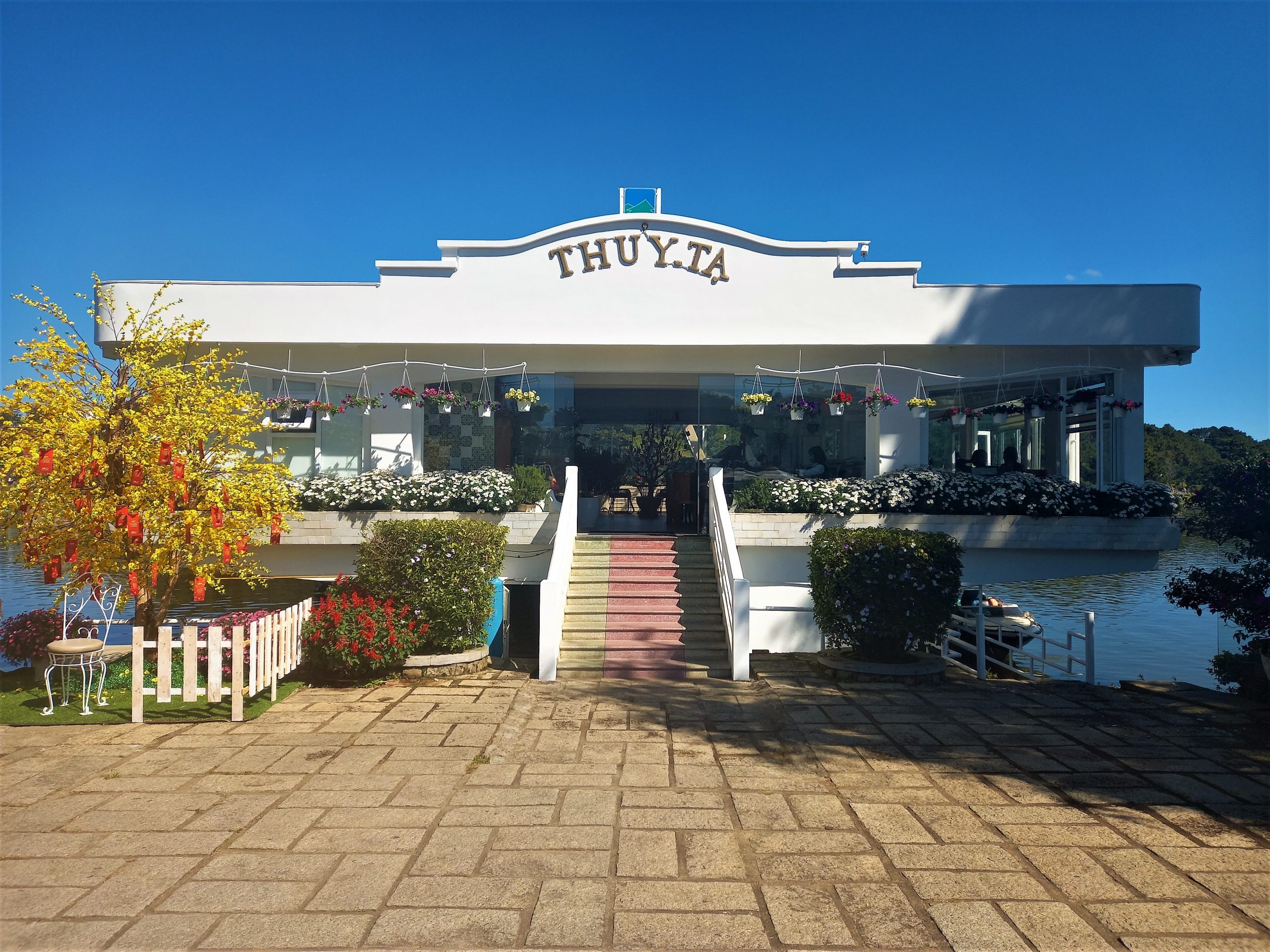 ---
---
19. Mê Linh Coffee Garden
(Incl. Chuồn Chuồn & Dalaland)
[View Map]
In the wide, fertile valley surrounding Tà Nung village, 20km southwest of Đà Lạt, several enormous 'selfie theme parks' (thiên đường sống ảo) have sprung up on the coffee plantations and farms. These places are often centered around a coffee shop that leads onto a series of viewing platforms adorned with elaborate props for photographs, usually incorporating the surrounding landscape in some way. In many ways, these 'selfie theme parks' are the antithesis of the cool, small-scale, independent coffee shops on the rest of this page: rather, they're large-scale, commercial, tacky, touristy places often run by big domestic companies. Perhaps the most famous/popular example is Mê Linh Coffee Garden, a sprawling property that attracts coachloads of visitors. (Mê Linh is a domestic coffee giant.) The entrance fee (upwards of 100,000vnd) buys you a cup of (very average) coffee and access to some of the property's selfie props and viewing spots. The whole thing is far from subtle or classy, but I don't think it's meant to be taken too seriously: it's just about having fun with your friends and your phone. Other equally large selfie theme parks in include Chuồn Chuồn (far more tasteful) and Dalaland. I'm sure there are smaller, better coffee shops in the area that I didn't get a chance to visit. Midori Coffee Farm and The Story Coffee are two such places.
---
---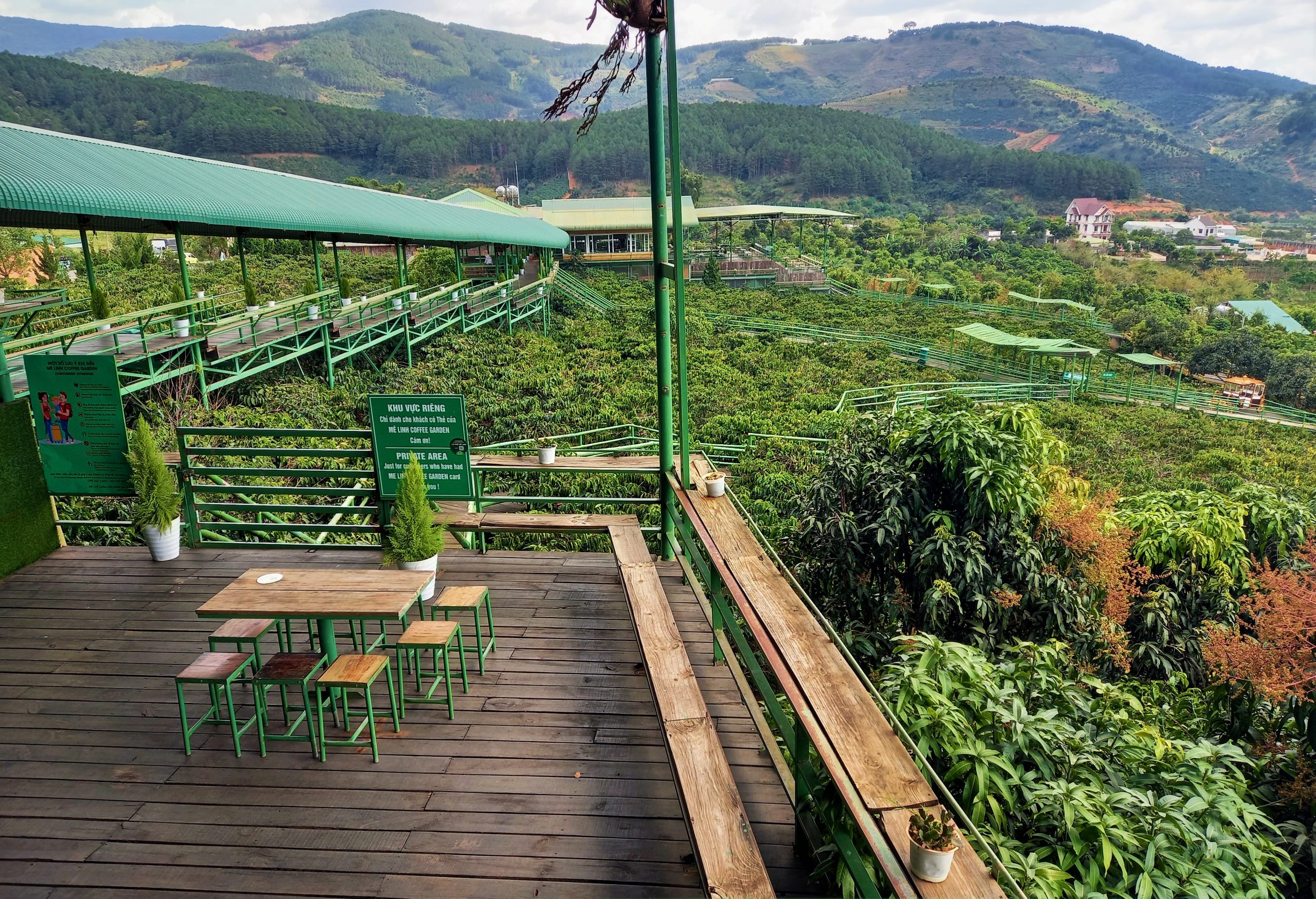 ---
*Disclosure: I never receive payment for anything I write: my content is always free and independent. I've written this guide because I want to: I like these coffee shops and I want my readers to know about them. For more details, see my Disclosure & Disclaimer statements and my About Page
RELATED POSTS
---