Last updated December 2019 | Words and photos by Vietnam Coracle
The roads linking the three northern provinces of Ha Giang, Cao Bang and Bac Kan travel through some of the most spectacular and remote regions of Vietnam. The landscape around here is extraordinary: many travellers consider this their favourite place in Southeast Asia. Connecting two of the most scenic motorbike routes in the country (the Extreme North Loop and the Northeast Loop), a handful of incredible mountain roads corkscrew their way through a complex terrain of steep valleys, limestone karsts, and raging rivers. There are several different route options for riding between Ha Giang, Ba Be Lake (in Bac Kan Province), and Cao Bang; all of which are stunning, but none of which are particularly straightforward. In this guide, I've mapped three routes that connect the extreme north with the northeast.
[Back Top]
---
GUIDE:

HA GIANG

→

BA BE

→

CAO BANG
---
ROAD TRIP DETAILS:
Total Distance

: 360km/370km/310km

Duration

: 1-3 days

Route

: three scenic routes linking Ha Giang with Ba Be Lake & Cao Bang [MAP]

Road Conditions

: back-roads & mountain highways, rough sections, light traffic

Scenery

: limestone karsts, mountains, deep valleys, jungle, terraced rice fields, minority villages


---
ROAD TRIP CONTENTS:
ABOUT THESE ROUTES:
The map below shows three alternative routes between Ha Giang, Ba Be Lake, and Cao Bang. The Classic Route (the blue line) is the most popular and easiest to follow; the Border Route (the red line) is the most remote and least travelled; and the Ba Be Lake Route (the green line) is a combination of rarely used roads and national highways. The purple lines are connecting roads between the three routes, so you can mix and match as you please to create a route that suits you best. Although all of these routes are extremely scenic, they're not necessarily easy to ride. The difficult, mountainous terrain, and frequent bad weather, mean that road conditions often deteriorate, resulting in treacherously muddy sections. What's more, roadworks to upgrade and maintain these routes are ongoing. I've marked sections of rough road as best I can on my map. But, when riding any of these routes, take note of recent weather conditions (heavy rain, for example, can lead to serious landslides which can block roads for hours or even days), and try to ask locals or other riders you meet about current road conditions. Below, I've written a brief description of each route. For accommodation, there's at least one mini-hotel or local guest house (nhà nghỉ) at each of the places marked with a red pin on my map. (For more details about accommodation in Ha Giang and Cao Bang see my Extreme North and Northeast guides.) Any time of year is good, but the heaviest rains occur during the summer months (June-August), and it can be bitterly cold during the winter months (December-February). Although any of these routes can be completed in one (long) day, the winding roads make riding a lot slower than you might expect. Alternatively, you can turn this into a scenic round trip by connecting the upper, lower, and middle routes and making a loop.
---
ROUTE MAP

:
Ha Giang→Ba Be Lake→Cao Bang | 3 Routes
Blue line: 360km | Red line: 370km | Green line: 310km

View in a LARGER MAP
---
The Classic Route:
BLUE LINE: Ha Giang→Meo Vac→Bao Lac→Cao Bang: 360km [MAP]
Starting out on the famous Ha Giang Extreme North Loop via the limestone landscapes of the Dong Van Karst Plateau, the Classic Route then heads southeast from Meo Vac on road QL4C down to the Gam River Valley. Out of Meo Vac there are some fabulous views over a vast and sparsely populated landscape. Although mostly upgraded, parts of the southern half of QL4C to the Ly Bon intersection with QL34 are still undergoing repairs. However, these should be finished by the time you read this. After crossing the bridge at Ly Bon, turn onto QL34 due east towards Bao Lac. Ly Bon is at the confluence of the Nho Que and Gam rivers, and the ride to Bao Lac affords some picturesque views of riverine scenes. However, there are currently (2019) major road works on the section of QL34 between Ly Bon and Bao Lac, so ride very carefully. Bao Lac has plenty of guest houses if you need them.
From Bao Lac, continue southeast all the way to Cao Bang city, via the mining town of Tinh Tuc and Nguyen Binh (both of which have a couple of nhà nghỉ guest houses). It's a long ride to Cao Bang, and, although the scenery is superb (particularly around Tinh Tuc), the road conditions to Nguyen Binh are unpredictable. Expect a few rough patches, potholes and, if there's been rain, landslides. Between Tinh Tuc and Nguyen Binh, there's an intersection with a turning due south on road DT212 to Cho Ra: use this excellent back-road if you want to go to Ba Be Lake. If not, continue east along the meandering QL34 to Cao Bang City.
---
The Border Route:
RED LINE: Ha Giang→Meo Vac→Bao Lac→Pac Bo→Cao Bang: 370km [MAP]
After following the Extreme North Loop from Ha Giang to Meo Vac, head southeast on road DT217 towards the famous 'Love Market' of Khau Vai (usually held in April). This meandering road soars over a limestone plateau before descending sharply through Khau Vai village and down to the banks of the Nho Que River. Road conditions deteriorate severely before crossing the river on a bamboo raft ferry and continuing the other side. From here, it's a twisting ride over barren mountains (with incredible views) all the way down to Bao Lac in the Gam River Valley. The road surface is very inconsistent on this section, and it may prove challenging for riders on automatic motorbikes. Bao Lac has a few local guest houses if you need to stay the night.
Follow the Gam River east of Bao Lac on an as yet unnamed road. This road is currently the talk of many riders in Vietnam. Hugging the Chinese border for much of its length, the road passes through some extremely remote landscapes. As if the fabulous scenery weren't enough, the road itself is quite a sight. A narrow asphalt lane, it's full of contortions and knots; constantly switching back on itself as it negotiates the difficult terrain. Just look at it on the map: it looks like the path of an agitated dragon, shifting violently from left to right, as if trying to shrug an assailant off its back. One pass in particular is breathtaking: Ascending what is essentially a vertical wall of rock, the road passes 14 (by my count) consecutive switchbacks. I call this the 'Roller Coaster Pass', although it has recently been named đèo Mẻ Pia on Google Maps. And while we're randomly namely things, let's call this unnamed road the 'Agitated Dragon'.
And so, the Agitated Dragon continues east along the Chinese border (with some extended rough, gravelly sections in the middle) until it hits the Ho Chi Minh Road (DT208), just south of Pac Bo Cave. (To visit the cave – which is well worth it – turn due north on road DT208 for 10km). Turn onto the Ho Chi Minh Road (DT208) and ride its smooth course south for 40km to Cao Bang city.
---
The Ba Be Lake Route:
GREEN LINE: Ha Giang→Da Vi→Ba Be Lake→Cao Bang: 310km [MAP]
This southerly route between Ha Giang and Cao Bang, via Ba Be Lake, can be joined at any point along road QL34: you don't necessarily have to begin it on QL34 right out of Ha Giang city (see the purple lines on my map for connecting roads with the green Ba Ba Lake route). This route comes in two halves: the first half passes through lovely landscape on QL34 along the Gam River Valley; the second half, from Ba Be to Cao Bang, is a smooth ride mostly on QL3 through fantastic mountainous landscape.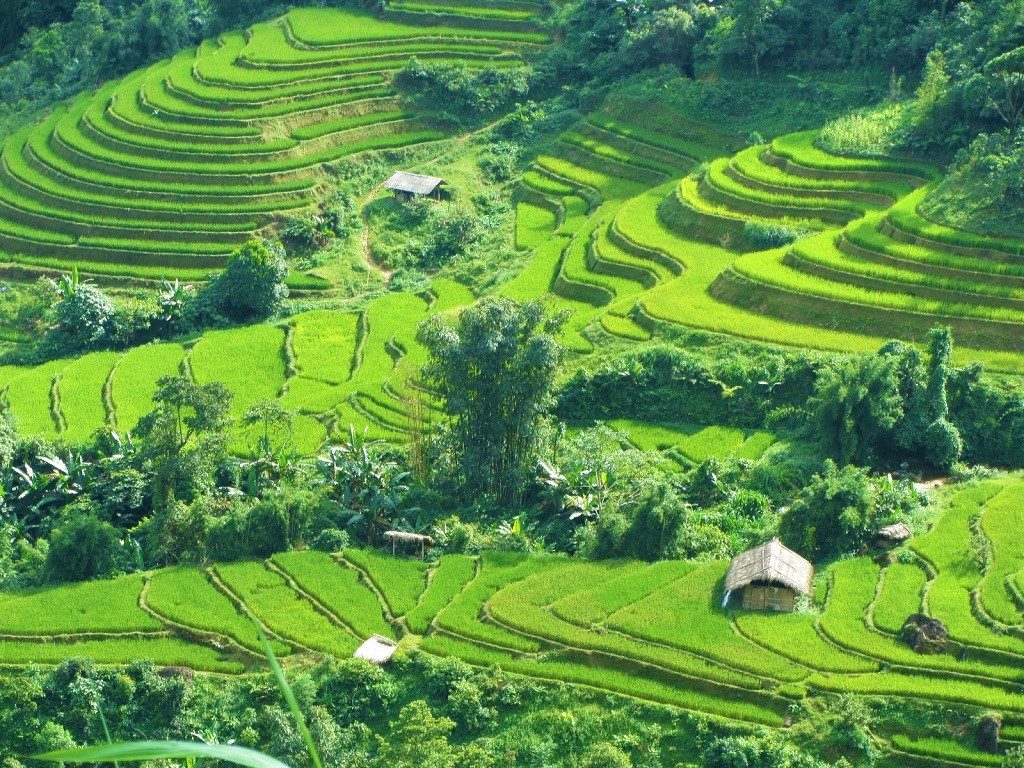 Take QL34 east out of Ha Giang along the very pretty Gam River Valley. This section of road was in poor condition for years, but now (2019) is in much better shape. Eventually you'll reach the intersection with road DT176 heading south to Da Vi. This is an isolated, beautiful road: a narrow paved lane slicing along valleys and over mountains. It's a gorgeous ride in good weather, but again you will have to contend with some pretty awful road conditions. In dry weather it should be OK, but if there's been heavy rain it's likely to cause landslides and mud pools. Take a look at the photo below to get an idea of what I'm talking about. Having said that, the bad patches are short (but difficult), and if you have a decent bike, it shouldn't be any problem.
DT176 ends at the small village of Da Vi, on the edge of a giant reservoir. It's a very off the beaten path place, but there's a nhà nghỉ guest house here if you need it. From here, bear east onto an unnamed road leading over some spectacular mountains and through dense jungle all the way to the crossroads near Ba Be Lake. To go to the lake and the homestays on its southern shores, turn due west. Otherwise, take road QL279 east towards Cho Ra village, where there are several guest houses. From Cho Ra, it's a lovely, lush ride to the intersection with QL3 at Na Phac. National Highway QL3 is a great road ploughing through marvellous scenery all the way to Cao Bang city.
[Back Top]
RELATED POSTS

:
---