First published May 2022 | Words and photos by Luke Digweed
Luke Digweed is a contributing writer for Vietnam Coracle. He has been living in Vietnam since 2011, mostly in Huế but also in Đà Nẵng and Sài Gòn. While living in Huế, he ran the Huế Grit Tour and co-organized events and small concerts between 2017-2020. His most recent ongoing project is Festivals of Vietnam which documents ceremonies, rituals and processions around the country….read more about Luke
---
There are many ways to experience Huế, but food forever proves the most resonant medium to explore a city and its culture. This food guide was written to enhance your experiences, heighten the senses and arouse the mind in the former royal capital. Don't follow the crowds or listen to the naysayers. Experience Huế and do it on your own terms: do it through the taste buds. This guide is based on 6 years of firsthand experience living in Huế – an amalgamation of recommendations and self discoveries. From 2018 to 2020, I ran a small, independent food tour in the city. A lot of the recommendations in this list are based on the relationships I made through those years. When writing this guide, I returned to many of my pre-pandemic spots. Seeing all (but one) of the vendors survive the challenges of the Covid period was emotional: a testament to the endurance of Huế's people, culture and food.
[Back Top]
Selected Resources
What's this?
---
HUE FOOD GUIDE
---
Exploring the Cuisine of Vietnam's Former Imperial Capital
All the dishes in this guide are Huế-centric: they're either Huế originals, exclusive to Huế or Huế-variants on a national dish. By listing these places, I'm not claiming they serve the best of their respective dishes in city, but they are the places I hold dear or that are hugely popular with Huế locals. I wrote this guide to take travellers into new and exciting locations, eating the city's most iconic dishes. This guide tries to avoid the tourist magnets because they often manipulate recipes and environments to what they believe suits the expectations of tourists. Fortunately, tourist-centric businesses in Huế are easy to escape: avoid TripAdvisor and walk outside the tourist area.
I've intentionally listed a large proportion of locations within Huế Citadel because this area is under-explored for food, which is surprising considering it's also the city's biggest cultural attraction. As such, many of the outlets in this guide are within walking distance of the northern or eastern gates, and perfectly follow an afternoon visit to the imperial city. For each dish I've written a description, illustrated it with my own photographs and recommended specific locations.
CONTENTS:
Cơm Hến (clam rice)
Bún Bò Huế (beef noodles)
Bánh Canh Cá Lóc (fish noodles)
Bánh Canh Nam Phổ (crab noodles)
Nem Lụi Huế (lemongrass pork)
Bánh Khoái (crispy crepes)
Bánh Ép (rice-flour pancake)
Bánh Bèo-Nậm-Lọc (royal cakes)
Bánh Ram Ít (crispy dumplings)
Vả Trộn (fig salad)
Bưởi Thanh Trà (Huế pomelo)
Chè Huế (Huế dessert)
Trà Cung Đình (royal tea)
Rượu Minh Mạng (rice liquor)
Huda Beer (Huế lager)
Cà Phê Muối (salt coffee)
---
Please Support this Site
Vietnam Coracle is 100% independent: there's no sponsored content whatsoever. If you like this guide, please consider making a donation or becoming a patron.
Thank you, Tom
---
MAP

:
Huế Food Map
View LARGER MAP
---
Luke's chosen charity | Click for details

---
Cơm Hến (clam rice)
LOCATIONS:
Cơm Hến Hoa Đông: 64 kiệt 7 Ưng Bình, Vỹ Dạ [MAP] | Open: 7:00-22:00 | Price: 15,000vnđ
Bé Hến: 116 Mai Thuc Loan [MAP] | Open: 17:00-22:00 | Price: 15,000vnđ
Nhạn Cơm Hến-bánh bèo-nậm-lọc: 115 Mai Thúc Loan [MAP] | Open: 08:00 – 22:00 | Price: 15,000vnđ
Description: Cơm and bún are the standard vocabulary for rice and vermicelli noodles but it's the hến (tiny clams) that define this Huế dish. Starfruit, green mango, pork rind, peanuts, vả fig, banana flower and various chopped herbs all accompany the baby clams to create a distinct and refreshing flavour. Dabbings of chilli paste, fermented shrimp paste and fish sauce hide in the dish's bottom. Those pastes might sound intimidating, but they give the dish a truly unique flavour.
Harmonisation is a key feature of life in the imperial city. Phong thuỷ (better known as 'feng shui' in English) was integral to everyday decisions of the royal court and remains deeply coded in the lives of Huế people today. The location of Huế citadel was decided because of the two islets that sit either side of it in the Sông Hương (Perfume River). These were topographic representations of âm dương (yin and yang). It was from cồn hến Huế (the eastern islet) that the dish cơm hến originated from. The recipe is a slapdash of local produce and the tiny clams which were harvested from the river. Sadly, the Hương River no longer has the right salinity to harvest clams, so they are usually shipped into the city from other locations.
There is a cơm hến vendor on almost every street. Hours of operation depend on each vendor. Most people in Huế regard the dish as a morning or evening snack, but even social norms can't stop those that get the itch for cơm hến during the day. When showing people the food of Huế, I prefer to go straight to the source: Hến Island. The islet has been threatened with mass development, but until now, Hến Island remains a small community shrouded in the islet's foliage and accessible by one bridge. There's no denying this is where domestic tourists go to get their cơm hến, but the island has kept its charm thus far.
Most vendors sell hến with a choice of cơm (rice), bún (vermicelli noodles), or mì (egg noodles). The rice (cơm nguội), is best described as 'leftover rice'. It's cooked, then left to cool. You may notice the difference in texture upon eating it. I almost always go for rice, followed by mì.
My top pick goes to Cơm Hến Hoa Đông. While being one of the most successful restaurants on Hến Islet, Cô Hoa runs a tight ship and loves meeting new guests. Be sure to say hello to her and order a rượu nếp (sweet rice wine), or a sữa đậu phộng (peanut milk) while you wait for your order. In the Citadel, Bé Hến serves a fresh bowl of cơm hến on the citadel food street. There's also Nhạn who serves all day.
IMAGES: Cơm Hến (clam rice)
---
---
---
Bún Bò Huế (beef noodles)
LOCATIONS:
Bún Bò Bà Nga: 105 Xuân 68 [MAP] | Open: 17:00-22:00 | Price: 25,000-40,000vnđ
Bún Bò Huế Bà Rớt: 9 Trần Hưng Đạo [MAP] | Open: 18:00-23:00 | Price: 30,000vnđ
Bún Bò Đêm Bà Ty: 9/13 Kiệt 33 Nguyễn Công Trứ [MAP] | Open: 21:00 – 2:00 | Price: 30,000vnđ
Description: Bún bò is the premier central Vietnamese noodle-soup treasure. While it's known and served all over Vietnam, its reputation abroad is overshadowed by phở. Bún bò Huế is far from a polite affair. The noodle dish is a meat feast with a variety of tastes and textures to wrap your lips around.
Bún bò's ingredients vary between vendors, but it most often includes a selection of beef brisket, oxtail, various pork cuts and congealed pig blood. Herbs are often coriander, sawtooth herb, banana blossom, basil and bean sprouts. Beef shank and pork knuckle broth stews from the early morning with large amounts of lemongrass for aroma and bite. Garlic, chilli flakes, annatto seeds and fermented shrimp paste are added later. On serving, the meat and broth is ladled over a bed of vermicelli noodles and topped with freshly squeezed lime, another dab of shrimp paste and crushed chilli. It packs a punch!
The origins of the dish aren't clear. Some sources claim bún bò Huế to be from the kitchens of emperor Minh Mạng (ruled 1820-1841). Others believe it to be the creation of palace workers; a potluck stew. Since its creation, the dish has undergone several renovations and ingredients. Beef wasn't a part of the Vietnamese diet until the French colonial period so I assume that bún bò Huế's current incarnation didn't exist until the early 20th century.
Like cơm hến, bún bò Huế can be found all over the city. Bún Bò Huế Bà Rớt is a popular riverside spot that receives a lot of traffic. Bún bò Huế is commonly eaten for breakfast or dinner. Some people also go for a bowl late into the night as a post-bar beer soaker. The serendipity of wandering down a dark alley for a bowl late into the night forms part of the appeal of the late night spot Bún Bò Đêm Bà Ty. Finally, Bún Bò Bà Nga is heaving with clientele and sits in one of my favourite parts of the citadel. Wherever suits you best, be sure to get a bowl while in Huế.
IMAGES: Bún Bò Huế (beef noodles)
---
---
---
Bánh Canh Cá Lóc (fish noodles)
LOCATIONS:
Dì Hương: 14 Lê Thánh Tôn [MAP] | Open: 15:00-21:00 | Price: 20,000vnđ
Bánh Canh Cá Lóc 09: 09 Nhật Lệ [MAP] | Open: 17:00-22:00 | Price: 20,000vnđ
Bánh Canh Loan: 22A Điện Biên Phủ [MAP] | Open: 15:00 – 22:00 | Price: 15,000vnđ
Description: Bánh canh is a noodle dish that doesn't get as much attention as its noodle peers do. As this is my favourite noodle dish, I feel it's my responsibility to bring it to your attention.
Bánh canh noodles are long strips of tapioca flour rolled up, cut and boiled for a short amount of time before being served. It's the use of tapioca flour that distinguishes it from other noodles, such as bún (vermicelli) and phở. While most vendors make their noodles at home or buy them at the market, there are a few vendors that still make their noodles on site. There are a variety of bánh canh on offer in Huế but this article will focus on bánh canh cá lóc and bánh canh nam phổ.
Bánh canh cá lóc originates from Quảng Trị province which made up the DMZ during the war. While being a small province, Quảng Trị is reputed for its marshland areas and a good place for breeding river fish. Turmeric-seasoned cá lóc (snakehead fish) fillet forms the core of the dish, served with a pork bone-stewed broth and heavy portions of green onion. It's a lighter bite than bún bò Huế – ingredients are more subtle in taste and there's a lot less work for the teeth. This dish is best eaten with a small dollop of chilli paste or flakes stirred into the broth.
One of the most popular locations for bánh canh cá lóc in Huế is Bánh Canh Cá Lóc Dì Hương. Sat in the south-east of the citadel, it has a great atmosphere. Add a sữa đậu nành (soya milk) to really get in the spirit. A personal favourite and more intimate recommendation is Bánh Canh Cá Lóc 09 which is sold on the grounds of a 19th century shrine. Another location I love to eat bánh canh cá lóc is Bánh Canh Loan. When open, Ms. Loan stands at the front of the premises cutting up the noodles while cursing her small team of staff to work harder. Her dish is equally fierce, with generous amounts of spice and pepper. Don't get in her way.
IMAGES: Bánh Canh Cá Lóc (fish noodles)
---
---
---
Bánh Canh Nam Phổ (crab noodles)
LOCATIONS:
Quán Thúy: 16 Phạm Hồng Thái [MAP] | Open: 14:00-19:00 | Price: 15,000vnđ
Quán Hòa: 205 Bùi Thị Xuân [MAP] | Open: 14:00-19:00 | Price: 10,000vnđ
Description: Bánh canh nam phổ is a dish unlikely to ever cross the provincial borders but very much enjoyed within them. It's not as common as bánh canh cá lóc but has been around the Huế street food scene for longer than records reveal. Unlike most other dishes in this list, the name of the noodles is not followed by the core ingredient; rather the name is associated with a former Huế village that now forms part of the city.
The noodle in bánh canh nam phổ is chopped into much smaller pieces and served with grounded crab and pork meatballs. The dish's signature feature is its thick globby broth that enmeshes the dish's contents together. Its blood-orange colour comes from the stewing of the crab and pork balls. The green onions are especially pronounced in this dish. An incredibly unique texture and taste.
The dish is one of the less common foods on this list, but it's still sold in a few locations in Huế. Quán Thuý is one of the most well-regarded locations for the dish. Running for over 28 years, it remains within the family that started it. There's also Quán Hoà which is very popular on the city's south-west edges. Maybe there's a business opportunity for a few more bánh canh nam phổ spots around Huế.
IMAGES: Bánh Canh Nam Phổ (crab noodles)
---
---
Nem Lụi Huế (lemongrass pork)
LOCATIONS:
Nem Lụi Ku Huế: 46 Nguyễn Biểu [MAP] | Open: 15:00-21:00 | Price: 6,000vnđ/piece
Bánh Khoái Hồng Mai: 110 Đinh Tiên Hoàng [MAP] | Open: 9:00-22:00 | Price: 100,000vnđ/10 pieces
Quân Nô: 7 Ưng Bình [MAP] | Open: 15:00 – 19:00 | Price: 7,000vnđ/piece
Bánh Khoái Chị Hoa: 27 Mai Thúc Loan [MAP] | Open: 15:00-22:00 | Price: 5,000vnđ/piece
Description: In France, nem is synonymous with spring rolls. It's a cognate which hasn't reached English; an etymological difference in the languages' colonial pasts. Nem is also one of many Vietnamese words used to describe 'spring rolls'. This is both regional and dependent on the way the roll is prepared, served and eaten. In this case, nem lụi is a combination of grilled minced-pork sticks, chopped fresh produce and rice paper. Nem lụi exists all over the country and isn't one that Huế claims as its own, but it's the Huế variation, with its creamy peanut dipping sauce, that's got mouths salivating from all over the country.
The minced pork is grilled and served on lemongrass skewers. Place one into a piece of rice paper, add small amounts of relish, cucumber and mango, roll it up, hold tight (but not too tight) and pull out the lemongrass skewer. The meat should stay in the roll. Dunk into the peanut sauce. (Add chilli flakes to the peanut sauce and give it a stir for extra spice.)
A lot of street vendors pre-cook the nem lụi then reheat them before serving. The best ones are prepared fresh, well-stored and cooked before serving. There are lots of different places that sell nem lụi but my personal favourite goes to Nem Lụi Ku Huế which is tucked down an alley and served in the courtyard of the owner's home. Run by the family, the food is well-prepared and refrigerated before serving. The peanut sauce is creamy and packed with sesame seeds. The skewers are cooked fresh every time – all for a fantastic price! Great with a Huda beer, which the family at Nem Lụi Ku Huế are happy to provide you with. Nem lụi are also available at Bánh Khoái Hồng Mai, a more sanitised experience (both in terms of hygiene and social engagement) but that comes with a slightly heftier price. On the other end of the spectrum, on the islet side of the cồn hến bridge, is Chị Nô's spot. Along with nem lụi, she also sells chè bắp and fresh spring rolls (bánh cuốn). A meal's worth of bites!
IMAGES: Nem Lụi Huế (lemongrass pork)
---
---
---
---
Bánh Khoái (crispy crepes)
LOCATIONS:
Bánh Khoái Hồng Mai: 110 Đinh Tiên Hoàng [MAP] | Open: 9:00-22:00 | Price: 30,000vnđ
Bánh Khoái Chị Hoa: 27 Mai Thuc Loan [MAP] | Open: 15:00-22:00 | Price: 15,000vnđ
Bánh Khoái Thượng Tứ: 6 Đinh Tiên Hoàng [MAP] | Open: 07:00 – 23:00 | Price: 25,000vnđ
Description: Bánh khoái is a deep-fried rice-flour shell filled with shrimp, pork belly, bean sprouts, vả (Huế fig) and spring onion, topped with a variety of herbs and that signature warm peanut sauce that is also used in nem lụi. It's no coincidence that a lot of places that sell nem lụi also sell bánh khoái.
Many people confuse bánh khoái with bánh xèo, a more popular fried pancake in the south of Vietnam. But there are some key differences. Firstly, bánh khoái is found only in Huế and the surrounding areas. There are a variety of types of bánh xèo in Vietnam – open top is the specialty of Quy Nhơn whereas some types sold further south in Vietnam are less crispy and larger. But bánh khoái is smaller with a thicker crust. Bánh xèo is served with fish sauce, whereas bánh khoái is served with a creamy peanut sauce. Finally, bánh xèo is rolled in rice paper whereas bánh khoái is eaten with chopsticks. Not to mention that a few of the garnishes, such as the vả, are exclusive to bánh khoái.
Bánh khoái is light and fun: a welcome reprieve from the noodles and glutinous rice dishes. A little too greasy for some, but balance it carefully with the papaya and leafy greens and then you're good to go.
I've never really found the definitive bánh khoái spot. Two of the most reputed restaurants in Huế are tourist-ridden but highly respected in the city. So where are the local spots? Well, there are hardly any. Despite being from Huế, residents find the dish too oily. It's not a balanced dish. Bánh khoái is a novelty food which suits the bemusement and appetites of the tourists to Huế. The shops that sell bánh khoái brand themselves around their travelling clientele.
Bánh Khoái Hồng Mai is undoubtedly more expensive than most other places but they make to order (which is rare with most street food vendors), cook their shells perfectly (crisp, not soggy) and are generous with their garnishings. Bánh Khoái Thượng Tứ (and their rival neighbouring relatives) is also a popular tourist spot that sells bánh khoái, but I find their pitch gimmicky and the family infighting can be uncomfortable (or entertaining). Nevertheless, if you're looking to avoid the tourist traffic and keep your meals on the pavement, Bánh Khoái Chị Hoa may be to your liking. Chị Hoa is also a bit of a wild card. If she seems provocative, don't be offended. Her spot sits at the tri-section of an east-side citadel gate. It can prove lively – just like chị Hoa!
IMAGES: Bánh Khoái (crispy crepes)
---
---
---
Bánh Ép (rice-flour pancake)
LOCATIONS:
Bánh Ép Chị Xí: 73 Nhật Lệ [MAP] | Open: 14:00-22:00 | Price: 15,000vnđ
Bánh Ép Chị Huệ: 118 Lê Ngô Cát [MAP] | Open: 15:00-21:00 | Price: 12,000vnđ
Bánh Ép Chị Loan: 83 Nhật Lệ [MAP] | Open: 15:00 – 22:00 | Price: 3,000vnđ
Cô Loan: 100 Nhật Lệ [MAP] | Open: 15:00-22:00 | Price: 10,000vnđ
Description: Bánh ép comes from Huế's nearest beach, Thuận An. The dish now also claims residence in several locations around the city. Like a lot of dishes on this list, it's a combination of fresh and fried.
Bánh ép is an iron-pressed rice-flour 'pancake'. Served warm, it wraps a fistful of herbs and mango slices before being dunked into fish sauce and bitten into. Bánh ép's name comes from the word 'ép', which means 'pressed': the batter for bánh ép is pressed in an iron-like device over hot grills before being served.
Bánh ép is a street snack that isn't meant to be the main event of the evening. It's a stopover to indulge in between evening engagements. Enjoyed by the dozen, it's about experimenting with the proportions of the ingredients, finding the right balance then eating as many as you can. Unlike nem lụi, bánh ép isn't a beer snack. This is clear by the demographic that frequent bánh ép vendors. Most clientele are gaggles of teenage friends or university students. The cheap price and the emphasis on quantity make this an attractive snack for students to binge on.
There are a few streets around Huế where vendors cluster around each other. The convenience of this is that if one is closed, it's easy to find somewhere else to eat. My choice of vendor used to be the lovely O Bê (23 Đoàn Thị Điểm), a wife and husband team who worked a mobile cooking unit to create bánh ép and a variety of street side snacks. Unfortunately, they are no longer there. However, Bánh Ép Chị Xí is a great alternative. There are several vendors on this street, so if this guide fails you, just take your pick from the shop signs nearby and take a seat! The Huế foodies choice goes to Bánh Ép Chị Huệ. This place is a contemporary Huế foodie bucket list location. It's always busy, but the product matches the hype. Bánh Ép Chị Huệ is out of the city, near the peak of Vọng Cảnh hill. For its popularity and being in a different location, I would only recommend visiting here if you have the time. Check out the nearby stunning view on Vọng Cảnh hill too!
IMAGES: Bánh Ép (rice-flour pancake)
---
---
---
Bánh Bèo-Nậm-Lọc (royal cakes)
LOCATIONS:
Nhạn Cơm Hến-bánh bèo-nậm-lọc: 115 Mai Thúc Loan [MAP] | Open: 08:00 – 22:00 | Price: 25,000vnđ
Út Bánh Bèo-Nậm-Lọc-Ram Ít: 55 Nguyễn Trãi [MAP] | Open: 12:00-19:00 | Price: 25,000vnđ
Bánh Bèo-Bánh Ướt (no name): 276 Đinh Tiên Hoàng [MAP] | Open: 13:00-19:00 | Price: 30,000vnđ
Description: Bánh bèo, bánh nậm and bánh lọc share very similar properties and they almost always share the same menu space. Frequently referred to as 'royal cakes', their origins are of debate but their home is undoubtedly Huế.
Bánh bèo is a white jelly-like base comprising tapioca and rice flour set in a tiny saucer bowl. Contemporary choices of toppings served by Huế vendors include bread crumbs, shredded shrimp, pork rind, fried scallions and the oil in which these scallions were fried. Another slightly larger saucer will come with chilli slices drowning in oil. Save them by scooping from the fish sauce and dispersing them between the bánh bèo, amongst the other toppings. Eat politely, one by one, with the scoop of a spoon.
Some foreign visitors find the texture of the bánh bèo sickly soft. It's a durian case: some will like it, others will not. If you are someone who can't stomach soft textures, it's best to observe from afar before making your order.
Bánh nậm is a similar affair to bánh bèo but comes in the form of a flat parcel, steamed in banana leaf wrapping. Each portion is a present to the palate. Ground pork and shrimp embeds itself into the rectangular streak of steamed rice/tapioca bánh nậm inside the banana leaves. Just like the bánh bèo, drip fish sauce across the streak before scrapping the bánh nậm from the banana leaf with a spoon.
Despite various travel sites referring to this troublesome trio as 'cakes', bánh lọc (also known as bánh bột lọc) is probably better described as a dumpling. Inside each bánh lọc a tiny shrimp has been spared its shelling – grilled and encased in a cell of tapioca; its prison mate, a chunk of pork belly. Like bánh nậm, bánh lọc is also wrapped in banana leaf and served with a dipping saucer of fish sauce. But those with a tongue for distinguishing fish sauces may notice that the fish sauce is a stronger, saltier grade.
There's never a sense of agreement over which ranks best between bánh lọc, bánh bèo and bánh nậm. My personal ranking goes in that order, but that's not a popular opinion. But what I know with certainty is that the next dish on this list beats them all!
These three 'cakes' can be found everywhere in Huế and I hold no allegiances to any particular establishments. My first taste of bánh bèo came at Nhạn and the bánh bèo there have cemented themselves as my definitive bánh bèo. Bánh Bèo Bánh Ướt (no name) isn't the best quality but sits in a pagoda opposite the royal lakes: a great spot for sunset.
IMAGES: Bánh Bèo, Bánh Nậm, Bánh Lọc (royal cakes)
---
---
---
---
Bánh Ram Ít (crispy dumplings)
LOCATIONS:
O Thảo: 84 Lê Thánh Tôn [MAP] | Open: 14:00-18:00 | Price: 5,000vnđ
Út Bánh Bèo-Nậm-Lọc-Ram Ít: 55 Nguyễn Trãi [MAP] | Open: 12:00 – 19:00 | Price: 5,000vnđ
Description: Is bánh ram ít all that different from bánh bèo-nậm-lọc? Is it sold in locations separate from those dishes? The answer is no to those questions. Maybe some bias has come into the formatting of this article. Bánh ram ít is both made of near-identical ingredients and sold alongside bánh bèo-nậm-lọc. But finding bánh ram ít is slightly more difficult and the hours of vending seem more limited. Maybe the most important reason for a separate entry for this dish is that those who sell bánh ram ít don't always sell the best bánh bèo, and those that sell bánh bèo don't always have bánh ram ít. Therefore, I think it's worth hunting them down separately.
Bánh ram ít is made of two components: bánh ít – a rice flour dumpling, which is perched on the bánh ram – a small fried rice cracker. Depending on the vendor, shrimp and sometimes pork are within the bánh ít. This devilish duo is then topped with shallots and fish sauce. Dense, each one varies in size from around 1 to 3 bites large. Of all the 'Huế royal cakes', I like bánh ram ít the most because it provides the biggest range of textures and tastes.
As mentioned before, bánh ram ít is a bit more difficult to find than the other Huế 'cakes' or 'dumplings', but it's definitely worth the hunt! My favourite is O Thảo. I never really thought about why until writing this article and comparing her bánh ram ít to the other vendors. O Thảo's bánh ram ít are visually pleasing; the cracker and the rice cake are shaped and sized neatly; her fish sauce is sweeter yet subtle, and her chillies are finely cut. I also really like to go to Út, whose bánh ram ít are stickier, messier and a bit thicker. They're very popular on the south-west side of the citadel and sell out quickly!
IMAGES: Bánh Ram Ít (crispy dumplings)
---
---
Vả Trộn (fig salad)
LOCATIONS:
Bà Đào Restaurant: 53 Đặng Đung [MAP] | Open: 9:00-21:00 | Price: 70,000vnđ
Chạn Restaurant: 1 Nguyễn Thái Học [MAP] | Open: 8:00-22:00 | Price: 65,000vnđ
An Nhiên Vegetarian Restaurant: Tỉnh Lộ 10A Xã Phú Thượng [MAP] | Open: 07:00 – 21:00 | Price: 65,000vnđ
Description: It would be disingenuous to say that the vả fig only grows in Huế, but it certainly appears to be the only place where it is eaten and combined into staple Huế dishes such as bánh khoái and cơm hến. It's crunchy and bulbous green; impressions of carnation pink taint its centre. But don't be fooled by its appearance, vả doesn't hold sweet fragrant surprises like mãng cầu (custard apple) or sa pô chê (sapodilla). Instead, it's dry and dehydrating, akin to eating a premature 'green' banana (chuối xanh). It sings bitter and echoes sweet. In local cuisine, it's picked and used well before it's ripe.
Vả plays bit-part roles in cornerstone Huế dishes, but it does have its own salad! Vả heads the bill in vả trộn, a chopped-up, shaken-down salad of shredded shrimp, pork, sesame seeds and coriander. Described as a salad, vả trộn is still fried, albeit lightly. Once cooked, the vả is very hard to distinguish, as its appearance contains meat-like properties similar to the pork that accompanies it. Ultimately, vả trộn doesn't hold the freshness synonymous with a fruit salad, but it is undoubtedly a distinguished Huế ingredient and one that would interest people keen on exploring celebrated local fruits and vegetables when they visit.
Unlike most of the recommendations on this list, you won't be able to find vả trộn at a street food vendor: it's a restaurant dish. Some, but not all beer-drinking restaurants will include vả trộn. Bà Đào restaurant typifies citadel beer drinking establishments: lovely husband and wife owners, dubious mafia-esque clientele and zero natural light (the VIP room is bizarre). One restaurant closer to the tourist area (both physically and aesthetically) is Chạn – this is perhaps the closest restaurant to 'fine dining' on this list. The wealth of dishes available on the Chạn menu makes for a good lunch with a large group. Since vả is a fantastic meat alternative, the middle-tier and upper-tier vegetarian restaurants in Huế regularly include the salad on their menu. An Nhiên vegetarian restaurant is a great place to give vả a go over lunch, similar to Chạn but includes a beautiful garden on the premises.
IMAGES: Vả Trộn (fig salad)
---
---
Bưởi Thanh Trà (Huế pomelo)
LOCATIONS:
Local Markets & Fruit Stalls (in season)
Description: Bưởi thanh trà (thanh trà pomelo) is another fruit that grows only in Huế. Unlike the vả fig, this pomelo promises more fruit-like properties. Its thick green peel is difficult to remove, but once opened, you are presented with several segments of sour yet sweet pomelo.
The fruit is seasonal; only available around the July-August period. Some restaurants use the fruit to accompany seafood or salads, but it tastes equally appealing eaten alone.
Bưởi thanh trà is available to buy from fruit stalls in and out of markets when in season. Even if you're in Huế when bưởi thanh trà is out of season, take a bag to the market and buy as many first-time fruits as you can carry!
IMAGES: Bưởi Thanh Trà (Huế pomelo)
---
Chè Huế (Huế dessert)
LOCATIONS:
Chị Hoa: opposite 19 Đạo Duy Từ [MAP] | Open: 18:00-22:00 | Price: 10,000vnđ
Kính Đô Chè Huế: 65 Trần Hưng Đạo [MAP] | Open: 14:00-23:00 | Price: 10,000vnđ
Description: Dessert isn't a common feature of Vietnamese cuisine but if you're looking for a sweet snack, chè is the most popular one there is. Chè is often defined in English as 'sweet soup' – it's a gloppy dollop made either from beans, fruit or starchy vegetables (separated or mixed) with condensed milk and crushed ice. Enjoyed by sweet-toothed people of all ages, the sweetcorn variety is commonly on the altar as an offering during ancestral ceremonies and land worship.
Chè isn't exclusive to Huế, nor Vietnam! Chè can be found all over Southeast Asia, but it varies from region to region. Huế has a national reputation for having a superfluous variety of chè available. Some sources claim Huế has up to 50 types of its own. That list includes: banana chè, green bean chè, kidney bean chè, taro chè, lotus seed chè, pomelo chè, sweetcorn chè. Those translations don't make for the most appealing names, but anyone who is going to turn their nose up at the ingredients will miss out. There's a reason domestic tourists always make a stop on their itinerary of Huế food for a serving of chè.
Street vendors often have different types of chè ready prepared in the separate pots they were boiled in. Upon arrival, patrons will choose what they get in their serving. This can be one flavour of chè or several types in one cup, often mixed with dried coconut chips and condensed milk. Everyone has a favourite chè. Mine is the big cassava ball (chè khoai mì) that gets thrown in with the mix portion. It's gloopy on the outside and fizzy upon bite. There's no way I could eat more than two, though.
Those foodies looking for an extra twist to their dessert will be delighted to know that Huế is renowned for chè bột lọc heo quay (roast pork chè). Roast pork in a dessert certainly sounds strange, but few come away offended by a bite of chè bột lọc heo quay. At worst, bemused; at best, enlightened.
Chị Hoa (by the Đồng Ba Bridge) is my personal choice for chè. Her set up is simple: working under one giant lamp on the side of the street. She's always busy and often sells out early, so be quick if you plan to go there. Kính Đô Chè Huế sits near the Hương (Perfume) River in front of an impressive (but inactive) Vietnamese modernist cinema built in the 1960s. There are several other chè vendors around this and all move industrial amounts of chè each evening. Take your pick!
IMAGES: Chè Huế (Huế dessert)
---
---
---
Trà Cung Đình Huế (royal tea)
LOCATIONS:
Nhà Hàng Cafe Vỹ Dạ Xưa: 131 Nguyễn Sinh Cung [MAP] | Open: 7:00-22:00 | Price: 80-120,000vnđ
Trà Thất: 100 Kim Long [MAP] | Open: 6:30-22:00 (closed Mondays) | Price: 50,000vnđ
Thông Hương (store): 56 Mai Thúc Loan [MAP] | Open: 08:00-22:00 | Price: 40,000vnđ/package
Description: Trà Cung Đình Huế is another part of Huế cuisine which is related to the city's royal history. Allegedly, during feudal times, emperors would have their tea prepared through a series of rituals and processes before being served. One process left tea leaves amongst the lotus flowers of the citadel's Tịnh Tâm Lake before being brewed.
It's been 80 years and Vietnam has undergone several political and economic changes. What Huế royal tea is today is inevitably different from its original form. But that doesn't stop the drink being of interest to visiting tea drinkers.
Different locations serve trà cung đình Huế in various forms. At Vỹ Dạ Xưa restaurant, where they offer a large or small set, trà cung đình is served with a filter and a pot. Tea is poured through a filter filled with an assortment of grated roots, ginseng, đại táo (a type of apple), licorice, goji berry and lotus heart. The tea is not sweet: if anything, it tastes medicinal. The licorice and ginseng dominate the flavour. The tea also comes with mè xửng (ginger biscuits) and bánh đậu (bean cake). The pot is refillable, so plenty of hours can be spent here sipping the afternoon away. Make sure to walk to the back of the restaurant which has a nice view of the Hương (Perfume) River. A book for reading or friends for conversation are recommended. Vỹ Dạ Xưa is a complex complete with an extensive menu for all 3 meals, a wedding function room and some karaoke booths. You might end up staying longer than planned.
Kim Long is a part of Huế that has been underappreciated in this guide. The area would inspire poetry among emperors and still holds some of the city's former aesthetics. Trà Thất, along the ward's main road, is a good jumping off point to explore the romanticists' area. They sell a variety of teas in their buddhist-inspired tea house. If you're a tea drinker, Trà Thất is an essential visit.
Trà cung đình Huế can also be bought in packages from various domestic tourist shops around the city. So if you are thinking of taking something home, this might be it. (Also available at most markets in Huế.)
IMAGES: Trà Cung Đình Huế (royal tea)
---
---
---
Rượu Minh Mạng (rice liquor)
LOCATIONS:
Thông Hương: 56 Mai Thúc Loan [MAP] | Open: 8:00-22:00 | Price: 60,000-1,000,000vnđ
Tourist Shop (no name): 93 Đường Xuân 68 [MAP] | Open: 07:00-22:00 | Price: 80,000vnđ
Description: The Nguyễn Dynasty's second emperor was Minh Mạng. The emperor is often credited with ruling over the dynasty's most productive period: improving Huế's infrastructure, consolidating his power across the country and keeping foreign invaders on the other side of the border. But from early in his reign, it became apparent Minh Mạng was having difficulty producing an heir to succeed him. Court physicians went about creating an elixir to overcome these physical challenges. The result proved incredibly successful. Minh Mạng went on to father over a reported 140 children.
Historians debate the existence of Minh Mạng wine. The royal elixir would have certainly been forbidden for normal folk to sell it outside the court. Its existence today is either an interpretation of the legendary drink, or an inherited bootleg of a leaked recipe from a physician. Perhaps the story is a complete myth! At least 25 variations are available locally, but their ingredients generally include ginseng, cinnamon, roots, herbs, fungi and fruits (polyporaceae, wolfberry, ladybells, radix astragali – to name a few). Like trà cung đình Huế, the taste is medicinal and not a drink everyone will want more of.
Minh Mạng wine isn't drunk regularly by the local population. It can be bought in some bars and restaurants, but it's mostly found in domestic tourism shops selling local products the region is renowned for. A souvenir suggestion for a naughty uncle.
Thông Hương is one of many domestic tourist shops around the city who sell a lot of packaged local specialties such as dried lotus seeds and Huế tea. Here they have several variations of Minh Mạng wine ranging from 60,000-1,000,000vnđ. There are also kits to make the wine at home, priced between 500,000-1,000,000vnđ.
IMAGES: Rượu Minh Mạng (rice liquor)
---
---
Huda Beer (Huế lager)
LOCATIONS:
Huda Beer can be found everywhere! | Price: 10,000vnđ+
Description: As with food in Vietnam, there is some regional diversity amongst the different brands of beer. Wherever you go, you will find a local beer: 333 (formerly 33) in Hồ Chí Minh City, Dung Quất in Quảng Ngãi, KGB in Kiên Giang, Trúc Bạch in Hà Nội, to name a few. Some have achieved distribution throughout Vietnam, whereas others have yet to cross their provincial border. Local response to their respective regional beer varies between distaste and indifference, very rarely is there any brand loyalty to their local booze. This is where Huế's local brew, Huda, differs from the rest. Where most cities are fair competition for breweries, Huda dominates the market in Huế. Its affinity with the city spurns domestic punters' devout loyalty. As other beer companies will tell you, it's hard to persuade the Huế people otherwise!
Huế has had its own brewery since 1992 and quickly started to produce Huda. Its name is derived from the Danish technology that was brought in to brew it (Hu = Huế, Da = Denmark). When the trade embargo was lifted on Vietnam in 1994 and the country was open to international business, Carlsberg invested in the business and eventually moved the brewery from the Hương (Perfume) River to Phú Bài, near the airport. The brewery not only produces Huda beer but also produces Carlsberg, Kronenbourg 1664, Festival beer and even beer Lao, distributing all over Southeast Asia.
As well as being sold in cans, Huda is sold in two different forms: export and domestic bottles. Export bottles are green glass and modern labelled; domestic Huda is brown bottled and has a worn look (they are recycled, which is cool!). They come in at around the same price but the domestic bottle comes in at 450ml whereas the export bottle is 330ml.
IMAGES: Huda Beer (Huế lager)
---
---
---
Cà Phê Muối (salt coffee)
LOCATIONS:
Cà Phê Muối: 142 Đặng Thái Thân [MAP] | Open: 06:30-22:00 (closed 11:00-13:30) | Price: 15,000vnđ
Tân Cà Phê: 86 Đinh Tiên Hoàng [MAP] | Open: 06:00-22:00 | Price: 35,000vnđ
Description: Cà phê muối translates as 'salt coffee'. People's first reaction to the name is to wince, but salt coffee's flavour is akin to salted caramel or a chocolate brownie. It's a dessert pick-me-up that pleasantly surprises coffee drinkers and non-coffee drinkers.
A few years ago, Huế could call salt coffee its own. The concoction was a modern invention of a local cafe in the citadel. For years they had called the drink their own and were tight-lipped about the recipe. More recently, the recipe leaked and now salt coffee is available all over Huế and even as far away as Hội An.
Salt coffee at Cà Phê Muối is served with the creamy, sweet 'secret' mixture in the cup and the coffee packed into the filter on top. When the coffee has filtered into the cup, give it a mix with a spoon and add ice if preferred. Drink slowly – too fast and you'll order another!
The original cafe is very close to the northern gate of the imperial city. A great place to put your feet up after a lengthy walk with both a pleasant indoor and garden area. Now that a lot of coffee shops have included cà phê muối on their menus, you can find spin-offs all over the city. Tân Cà Phê is one of the most fashionable coffee shops in the city and also sells their own variation of the drink (albeit at a very 'trendy' price).
IMAGES: Cà Phê Muối (salt coffee)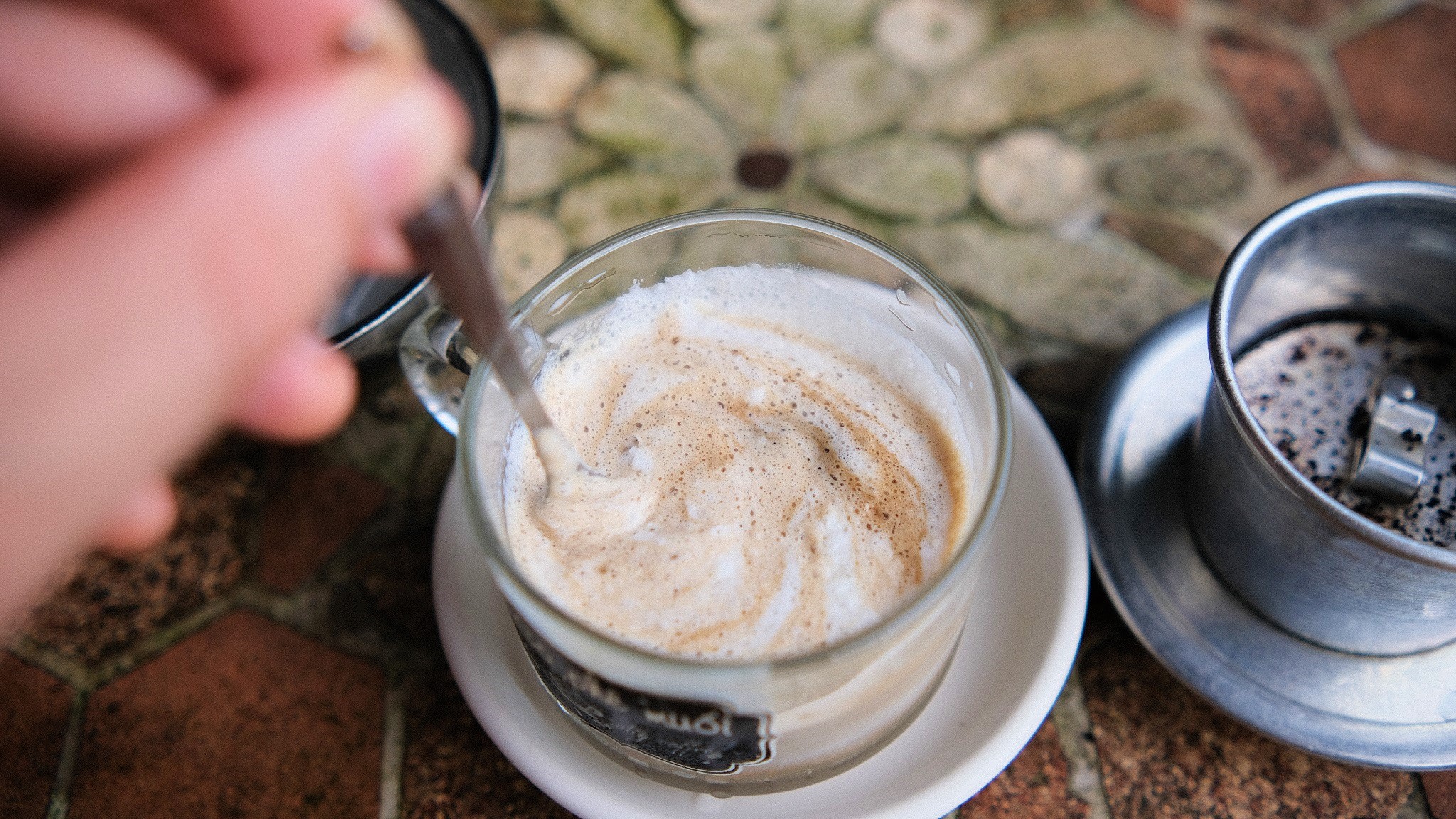 ---
---
---
Tips on Food Etiquette
Be patient and polite with the vendors: They seldom deal with foreign customers, and unless you speak Vietnamese, communicating might be difficult. Picture-, name- and menu-pointing are the easiest solutions to this. Remember they want to serve you.
Explore what's on your table: There will be at least half a dozen snacks and condiments. If you're curious, try dabs of condiments with your food. Fermented shrimp (mắm tôm) and fish sauce (nước mắm) can be a shock on first taste but enjoyable when balanced carefully with the main dish. Be aware that Huế people have a national reputation for loving spice with their food: add chilli in small amounts at a time. Quail eggs, Nem, Chả and Tré (banana-leaf-wrapped parcels of pork) come at a small additional cost.
Let go of hygiene standards: From experience (and I know many other long-term foreign residents in Vietnam will say the same) I've very rarely had food poisoning from street food – five times in 11 years (two of those were from pizza and Indian food). You're going to be OK! On a side note, if you have a bag, put it on a chair rather than the floor. Vendors have no issue with you doing this and often encourage it.
Pay for everything when leaving: The vendor will tally everything up at the end of the meal. You don't pay in advance or when served. This isn't Starbucks (thank god!). This means you can order more if you finish your first order without having to constantly pay. I am in the 'don't tip' camp. It's an American concept which is only embraced by people that deal with foreign guests and clients. Do it here and you may cause confusion and it may translate as somewhat ignorant.
When you've finished your meal, pay up and leave (restaurants are excluded from this rule). Don't linger in conversation (I learnt this the hard way). Street food vendors make their money through quantity and if you're taking up valuable space in a busy stall, they could lose money. That's worth more than a tip.
---
---
---
*Disclosure: All content on Vietnam Coracle is free to read and independently produced. Luke has written this guide because he likes Huế food and wants readers to know about it. For more details, see the Disclosure & Disclaimer statements and About Page
RELATED POSTS
---