First published March 2019 | Words and photos by Vietnam Coracle
Hon Son Island is one of those places I knew I was going to love before I'd even set foot on it. Lying in the Gulf of Thailand, just over an hour's boat ride from Rach Gia in the Mekong Delta, Hon Son means 'Mountain Island'. Rising from the calm, blue sea, giant boulders dot the palm-studded lower slopes as they ascend steeply to several jungle-covered peaks. It's a rugged yet green and exceptionally beautiful isle. You only have to look at a map to see that Hon Son is close to the Platonic ideal of a tropical island. It's a gem. My advice is to go right now, because development is likely to be on the horizon, and when it comes it will change the island very quickly indeed. Even now, I get the feeling I should have visited 2-3 years earlier, in order to have seen Hon Son at its very best. Even so, Hon Son is still an off the beaten track destination – very few foreign travellers visit – and there is no doubting the island's beauty, charm, allure, and huge tourist potential.
[Back Top]
---
GUIDE:

HON SON ISLAND
---
Below is my full guide to Hon Son Island. I've divided this guide into categories, and then several sub-sections within those categories. The best time of year to visit Hon Son is from November to April, when the weather is generally dry and bright, rainfall is light, and seas are calm. It's also advisable to visit on a weekday, and avoid weekends and public holidays, during which the island can get crowded. Plan to spend at least two nights on Hon Son, if not more. [Note: there are no ATMs on the island: bring cash]
Click on a category in the contents below for more details:
*Please support Vietnam Coracle: If you use the relevant links in the following guide to book your accommodation or transportation, I make a small commission. All my earnings go straight back into this website. Thank you.
CONTENTS:
MAP

:
Hon Son Island, Kien Giang Province

View in a LARGER MAP

---
Location & Background:
Below I've written a description of the location and topography of Hon Son Island, as well as some information about the current state of the environment, which is an increasing concern all across Vietnam
---
Hon Son (also known as Lai Son) is a perfectly proportioned island. Shapely, circular, rugged, and green, Hon Son is a drop of land in the calm, blue waters of the Gulf of Thailand. Hon Son is in the middle of a small chain of islands drifting west of Rach Gia, a thriving port city on the mainland, in Vietnam's western Mekong Delta region. There are no outlying islands surrounding Hon Son, but the Nam Du Archipelago is to the west, and Hon Tre Island to the east. Hon Son can only be reached by boat from Rach Gia (see Getting There for details). There's essentially just one road on Hon Son, which circles to entire island, providing access to good beaches, excellent swimming, and spectacular coastal scenery. A rented motorbike is the ideal way to explore Hon Son (see Getting Around for details).
The island rises steeply from the ocean into a jungle-covered interior, blanketed in coconut palms and other tropical fruit trees. The canopy is broken occasionally where colossal boulders protrude from the foliage, creating natural viewing platforms. In the middle of the southern and northern coastlines, the rocks give way to two perfect, sheltered bays. The island's main port and village, Lai Son, occupies the southern bay, whereas the northern bay is home to Bai Bac, a sleepy, picturesque hamlet. The southern and northern bays are connected by a steep, narrow, paved road, which curls up, over, and down between the island's two highest peaks. The third settlement on Hon Son is the fishing village at the western extreme of the island, occupying a flat bridge of land connecting to a round headland, which is the westernmost tip of the island. This is home to a tightly packed community of fishing families and their wooden boats. Although there's only really one long, sandy beach (Bai Bang) on the island, the multiple bays, inlets, and rocky outcrops are equally beautiful and good for bathing (see Beaches & Activities for details).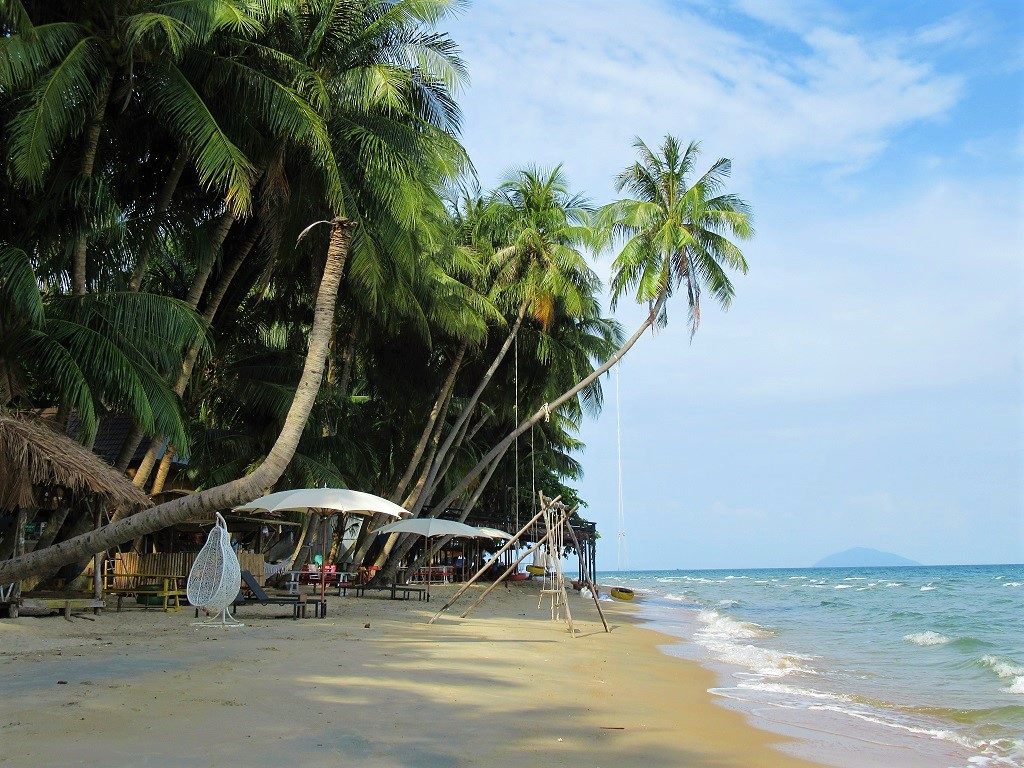 Tourism is only just beginning on Hon Son: a few years ago, practically no one visited. But the island has grown in popularity, thanks to social media posts, daily fast boat connections from the mainland, and the development of infrastructure, such as guest houses and restaurants. But, providing you visit during the week (it can get pretty busy on weekends and public holidays), the entire island – its hamlets, beaches, bays, roads, and accommodation – is incredibly quiet and peaceful, and utterly beguiling. In fact, in these conditions, Hon Son is right up there with my favourite coastal areas in Vietnam, along with the likes of Con Dao, Cam Lap, and Phu Yen. Of course, things will change, and I'd suggest visiting as soon as possible.
[Back]
---
Environment & Pollution:
As with other small islands, Hon Son is fragile: it only takes one boatload of tourists and the pier is packed; one big resort development and the roads are clogged with trucks and dust; one year of popularity and the beaches are filled with trash. Most of the island is still relatively pristine. The water is clear and glistening, even in the fishing villages and main port. But there are worrying signs. Trash – especially in the form of household plastic, and food and drink containers – is building up in the villages and in the bays. It's no surprise that the greatest concentration of trash is on Bai Bang, the island's most popular, most Instagrammed beach. The island's landfill, by the coast road on the western side, is growing at an alarming rate, just as we've seen happen on Phu Quoc and Con Dao already with the advent of tourism. There are signs warning about the perils of plastic for the environment and for the island's main industry: fishing. But standard practice for locals (and, sadly, for many visitors) is to discard everything straight into the sea. (For ideas about how to reduce your plastic consumption while travelling in Vietnam read this).
Although there's no large-scale construction on the island yet, there's a fair amount of bulldozing and building in the main port and village – mornings are filled with the sound of hammers and drills, and only a few of the old, handsome, little village dwellings remain standing, crumbling into the rumble that lies around them. It's difficult to know how things will pan out, and what can be done to prevent the degradation of the environment. Hon Son's environment – its beaches, forests, and ocean – is what attracts tourists to the island; but it may well be tourism which ends up playing a large role in destroying it.
---
Beaches, Bays & Activities:
There are three main things to see and do on Hon Son Island: explore the main village of Lai Son, take a motorbike around the island on the beautiful, empty coast road, and hike the mountain trails through the lush interior of the island up to Buddhist temples and spectacular viewing points. Although Hon Son doesn't have the outlying islands that nearby Nam Du Archipelago does, its fishing hamlets have more life and are more attractive; the sea and harbours are cleaner; tourism is less concentrated; and the island – don't ask me how – has more character than Nam Du.
---
The island's main village, Lai Son sits on a bay in the middle of Hon Son's south coast. The bay is wide and blue, and the village shimmers in the sun, backed by high, forested hills. Along the seafront promenade, two-storey buildings – guest houses, cafes, restaurants – sprawl by the water's edge (see Accommodation and Food & Drink for details). But the narrow back-streets and alleyways are filled with low-rise dwellings – local shops, businesses, fishing supplies. The village is beautifully situated and fascinating to explore. Again, there's something of Con Son about it: quiet, slow, unassuming, with shaded streets where you'll occasionally glimpse an old, ornate, wooden-shuttered shophouse, slowly crumbling into the rumble of other such buildings that lie around it. In fact, you can clearly see that the town's facade has only recently been transformed: there are tantalizing glimpses of what is was like before – tiled roofs and giant tropical trees.
But there's still a tangible sense of the past lingering on in the back-streets of Lai Son village. High quality fish sauce (nước mắm) – one of Vietnam's most prized commodities – is produced here as a home industry, presumably as it has been for generations. These home-scale fish sauce 'factories' are simple, brick buildings crammed with neatly organized wooden barrels, 10-feet high, where the anchovies slowly ferment, oozing out their amber juice. The aroma – beautiful and full of subtleties, once you've acquired a nose for it – permeates the salty, sun-stroked streets. Inside these homes, it's like a cliche of a fish sauce TV commercial: three generations of the same family working together on their product; the wispy-bearded, leather-skinned grandfather holding up the nectar to the light to inspect its quality and colour.
---
There's something melancholy yet magnetic about the village. On the seafront, an abandoned concrete villa – I'm guessing not very old: maybe 1960s or '70s – sits proudly but forlornly: its staircase, tiled floors, and rooftop ancestor altar and prayer room all open to the elements; weather-beaten and on the verge of collapse. The deeper back streets have only recently been laid: they're virtually still forest. Huge tropical trees shoot up, ramrod straight, between thatch-and-corrugated iron homes, where dogs and children play in the dust, and men gather for cockerel fighting contests. The daytime is leisure time for many fishing communities in Vietnam, because much of the work happens at night and in the the early morning, with the fishing and sorting of the catch.
I found Lai Son village an enchanting place. But it's a poor place and a changing place, too. There's a fair amount of construction – mornings are filled with the sound of hammers and drills. Locals I met were friendly but stoical: they know change is coming, and they're excited and wary. Surely, it won't be long before tourism replaces fishing and fish sauce as the island's main industry.
[Back]
---
The Coast Road & Beaches:
A small, quiet, highly scenic, coast road circles Hon Son Island. Also, the southern bay, where Lai Son village is located, and the northern bay, called Bai Bac, are connected by an extremely steep and spectacularly scenic road through the interior of the island. Riding these roads by rented motorbike (see Getting Around for details) and stopping at the beaches and hamlets along the way is fantastic fun. Alternatively, you could walk: the distances aren't great (the entire loop is under 15km) and there's hardly any traffic at all. I've written the following guide as if travelling clockwise around the island on the coast road, starting from the main village at Lai Son Port.
---
The West Coast: Heading west out of Lai Son village, the coast road rolls along the undulating shoreline, passing boulder-studded beaches with coconut palms poking out of the crevices and leaning over the sky-blue surf. Just out of town are Hoang Anh Motel and Doc 3 Tang restaurant (see Accommodation and Food & Drink for details). Bamboo and wild grasses form an arch over the road as you reach the western tip of the island. Before the road veers off the to right, Lang Ong Nam Hai is a fishermen's temple, offering protection from the perils of the ocean. From the shrine atop the rocks, there's a view across to the densely packed fishing village which occupies the western wedge of the island. Often referred to as Bai Gieng, this community sits in a fabulous position: on a narrow, flat bridge of land with bays to the north and south, and, to the west, a rugged, lush headland. If you continue straight on into the fishing village, the narrow lanes become a maze of covered alleyways, lined with cramped homes, stores, markets, and street food vendors. There's even a couple of guest houses here (see Accommodation for details). The local people are very friendly and curious to see visitors. There are fishing boats in both bays and trash too, of course, but it's not nearly as bad as other fishing communities in Vietnam. I would imagine that this is prime real estate for the development of an exclusive resort, sometime in the future.
---
[Back]
---
The North Coast: The north coast is the wildest, least developed, and most beguiling side of Hon Son Island. After skirting behind the fishing village of Bai Gieng, in the west of the island, the coast road runs parallel to the waves for several kilometres. Before opening up to expansive views of the empty northern coastline – with giant, grey boulders laying in the clear blue ocean, like submerged elephants – the road passes by Hon Son's newly built landfill. A common sight on all of Vietnam's inhabited islands, this landfill will get bigger with each year. On either side of Hon Son's northern tip, there are great swimming spots, in the form of Tam Ca guest house and restaurant, and Bai Da mini-resort (see Accommodation and Food & Drink for details). Stop by at least one of these to enjoy the glistening ocean and mesmerizing peace and silence.
---
A little further on, the road rolls over a rise and down the other side to the picture-perfect bay of Bai Bac. Translated literally as 'Northern Beach', Bai Bac is really two separate bays. The first is a tiny port with a long, concrete pier, and handful of wooden fishing boats moored up on it. The little hamlet here fronts a pretty, sandy beach which the coast road glides along. Palm trees line the seafront and steep, jungled hills rise up behind the village, where the inland road snakes its way up the contours of the lush interior. Consisting of only a few buildings, the hamlet is sleepy and feels almost abandoned. But surely it won't be long before development begins: it's just too attractive to last.
---
The second bay is known as Bai Bo, which is just as heart-breakingly pretty and peaceful as the first. There are a couple of simple cafes and guest houses along the seafront (see Accommodation and Food & Drink for details), but again the place feels deserted: almost as if it's waiting for something to happen. Personally, perhaps selfishly, I like it just the way it is. But I know it won't stay the same: expect to see some developments along the seafront here within the next year or two. East of Bai Bac and Bai Bo, the road is covered by a canopy of tropical foliage, hiding the ocean from view. But there are a couple of pathways which you can sneak down to get to the water's edge for a private swim.
---
[Back]
---
The East Coast: In many ways, the east coast of Hon Son is the most popular side of the island. This is largely because of Bai Bang Beach (also known as Bai Ban). In the northeast of the island, Bai Bang is a seam of golden sand skirted by hundreds of coconut palms, some of which lean out over the sea, as if to show off their hourglass trunks for all to see. The sand continues for about a kilometer: it really is a beach made for postcards and travel brochures. From the coast road, there are several access points, all of which involve a short but steep walk down to the beach. At the northern end, there's ongoing construction of a small resort, which causes a fair amount of detritus. The central and southern sections of the beach have a few decent beach bars, shacks, tyre swings, and hammocks under the palms. There's even a couple of beach rooms to stay the night (see Accommodation for details). However, as undeniably attractive as Bai Bang is, it has suffered – like some many such places in Vietnam – from its newfound popularity. On weekends, for the last couple of years, groups arrive in their hundreds from the mainland to enjoy Bai Bang. But, sadly, many visitors dispose of their garbage – plastic cups, bottles, beer cans, polystyrene boxes – on the sand or in the surf; so too do the beach bars. This has led to a build up of trash and a rancid smell. It's by no means ruined, but it's far from pristine. But perhaps all this won't matter for long, because big resort construction is on the way. It would seem that the choice for beauty spots in Vietnam, such as Bai Bang, is: open to the public and free for everyone to visit, but badly treated and strewn with trash; or gobbled up by high-end resorts intended only for the wealthy, but kept clean and free of garbage.
---
A little further south along the east coast is Rai Ca Homestay. An intriguing little spot under the trees by a boulder-strewn beach, Rai Ca is a very cheap, very local, rather rustic, backpacker hangout. It's friendly and quiet, and the water supply for the shared bathrooms comes straight from the mountain springs in the island's interior (see Accommodation for details). Continue south along the coast road and you'll see a sign for Bai Xep Beach. An attractive, shady bay, bursting with coconut palms, Bai Xep is famous for its 'lying palm'. Incredibly, a single coconut palm continues to grow (and bear fruit) even though it is completely prostrate, lying horizontal on a boulder in the ocean. Needless to say, this is a popular selfie spot. But the beach is nice, too, and there's a little guest house here, called Cay Dua Nam (The Lying Coconut Palm) – see Accommodation for details. Also, a bizarre sight from this beach is the dozens of electricity pylons in a line out at sea, stretching all the way to the horizon, bringing power to Hon Son Island from the mainland.
---
[Back]
---
Hiking the Interior:
The interior of Hon Son Island is lush, mountainous, and very beautiful. There are two ways to access the interior: by motorbike via the Xuyen Nui Road connecting the southern and northern bays; or on foot via the hiking trail to Ma Thien Lanh view point, east of Lai Son port. Both are rewarding experiences, offering marvellous views over the entire island. The interior road runs north from Lai Son port, up and over the jungled hills to the northern bay at Bai Bac. The road is narrow but paved and smooth. It climbs very steeply into the hills, where tropical fruit trees grow in abundance. The views are fantastic. Try to go in the morning or late afternoon, when the light is low and the colours are rich.
The trailhead for Ma Thien Lanh is in the backstreets east of Lai Son village. Look for the signs saying "Đường lên Đỉnh Ma Thiên Lãnh". The trail is a mixture of pathways and stone steps; very steep at times. You'll need at least half a day to hike there and back. Alternatively, it's possible to spend the night along the trail at one of several nhà nghỉ (guest houses) in the hills. This is highly recommended as it means you can walk at a leisurely pace, enjoy the views, stop for a picnic, and spend the night and morning looking out over fabulous views. In particular, Lamien Lodge & Homestay offers atmospheric accommodation in cabins on bamboo stilts (see Accommodation for details). The pathway is lined with Buddhist shrines, temples, and sacred grottoes, which are interesting and mysterious, and engulfed in clouds of incense. But most thrilling of all are the gigantic boulders that lie embedded in the hillsides, forming tables of rock on which to stand and survey Hon Son Island in its entirety, as if from the perspective of a drone. The views are breathtaking.(Note that the red line marking the trail on my map is just a rough outline; it's not accurate. But the trail is fairly easy to follow once you are on it.)
---
---
Accommodation:
As most travellers will need to spend a night in Rach Gia, on the mainland, before catching the ferry to Hon Son Island the next morning, I have included accommodation information for both Rach Gia and Hon Son below:
---
Rach Gia Hotels: Rach Gia has a decent range of hotels and guest houses, including a string of cheap nhà nghỉ (local guest houses) conveniently located near the port, on Nguyen Cong Tru Street. Of these, Kiet Hong Hotel ($10 a night | MAP) is large, clean, and reasonably priced, just across the street from the boat pier. Rach Gia also has a couple of good value mid-range accommodations, including Hoa Binh-Rach Gia Resort ($40 a night | MAP), which is set in lush grounds only a short distance from the port. Rooms are well-equipped and come with balconies and bathtubs, and there's a swimming pool, too. For more Rach Gia hotel options check Agoda.com.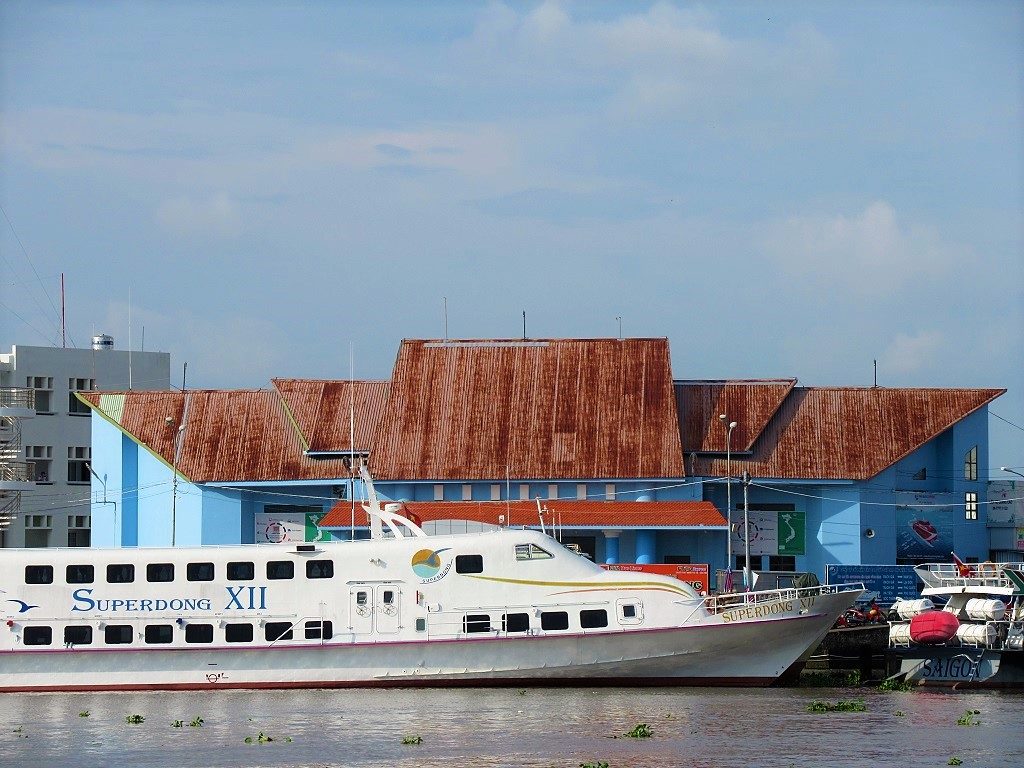 [Back]
---
Hon Son Island Hotels:
Most places to stay on Hon Son Island are in the budget or mid-range category. There are now dozens of guest houses in the main village, along the seafront by the boat pier, and a few fairly basic, but impressively-located, mini-resorts scattered around the island, too. Like most islands in Vietnam, accommodation rates are around 30% more than you'd expect to pay for similar standards on the mainland. Remember that weekends and public holidays can be extremely busy with domestic travellers. If possible, try to avoid travelling to Hon Son Island during these times. But if you can't avoid it, make sure you book accommodation in advance.
---
Hon Son Port & Village: Hon Son's main village is the hub for accommodation on the island. The seafront road is lined with good mini-hotels. And, in the narrow back-streets, are scattered cheap nhà nghỉ (guest houses) and nhà trọ (even cheaper hostel-like digs, often in local homes). There are plenty to choose from: below are just a few of my favourites.
Note: an issue with most hotels in Lai Son village is the public address system, which starts at 5am for morning exercises and the day's news. It's very loud and lasts for an hour:
• Thuy Duong Hotel [MAP]; Tel: 094 673 7123 | 350,000-600,000vnd: This new, four-storey townhouse has a super location right on the seafront promenade, to the west of the boat pier. Its spotless rooms are typical of all good Vietnamese mini-hotels. The cheaper rooms are at the back, but the best rooms are at the front, with balconies and superb sea views – it's well-worth paying more for this.
• Lam My Guest House [MAP]; Tel: 094 415 5525 | 250,000-400,000vnd: In the back-street right behind Thuy Duong Hotel, this substantial guest house has clean, bright rooms at a reasonable price. And the harbourfront road is just a skip away.
• Yen Linh & Hong Ngoc [MAP]; Tel: 094 658 8052 & 0124 470 6036 | 200,000-400,000vnd: These two guest houses are both located at the quiet, eastern end of the harbourfront. They're both good, clean, reliable options.
• Sky Guest House [MAP]; Tel: 094 213 0014 | 300,000-450,000vnd: Perched on high ground just behind the main town, a handful of decent little guest houses line this quiet back-street. Sky Guest House is new, clean, stark but comfortable. Some rooms have views over town and towards the ocean. It's right next to the rather unexpected Sky Beer Club, which is worth dropping into on weekends for a bit of fun (although noise might be an issue if things are really pumping).
• The Manh Guest House [MAP]; Tel: 094 383 9217 | 200,000-350,000vnd: Directly opposite the Sky Beer Club, this attractive guest house has good, simple rooms, a friendly family, and a quiet location (except on weekends, when noise spills out from the beer club).
[Back]
---
Around Hon Son Island: Along the coast road which circles the island, several small resorts cater to the growing number of domestic travellers who visit Hon Son from the mainland. Most of these accommodations are right by the sea, occupying fantastically scenic and deserted patches of land. The places below are reviewed in order as if going clockwise on the road around the island, starting from Hon Son's main village:
• Hoang Anh Motel [MAP]; Tel: 096 740 7898 | 350,000-500,000vnd: Just west of town, Hoang Anh Motel sits on a rocky outcrop. A two-storey villa with rooms looking out to sea and back towards town, the position is fabulous. Large boulders roll into the clear, blue ocean, and the sunsets from here are gorgeous. Rooms are bare but clean.
• Doc 3 Tang Guest House [MAP]; Tel: 090 433 8338 | 300,000-500,000vnd: A bit further along the road, Doc 3 Tang is a simple guest hosue with colourful rooms arranged in a line along the roadside. There's a good restaurant and access to the sea.
• Lan Quynh Guest House [MAP]; Tel: 090 667 7772 | 200,000-300,000vnd: At the western-most point of the island, there are several local guest houses in the intriguing, cramped fishing village that occupies the land here. Lan Quynh is a good, cheap place to stay if you really want to soak up the atmosphere of this fishing community.
• Tam Ca Guest House [MAP]; Tel: 016 580 54509 | 300,000-500,000vnd: Clinging to the rocks with the entire northwestern coastline all to itself, Tam Ca is quiet, scenic, and excellent value for money. Clean, simple rooms open onto a shaded terrace looking over the ocean. There's also a great restaurant here. Swimming off the smooth boulders below the guest house is wonderful.
• Bai Da Guest House [MAP]; Tel: 093 433 6565 | 300,000-800,000vnd: Close to the northern tip of the island, Bai Da (Rocky Beach) is a trendy mini-resort in a highly scenic bay. Aimed at Vietnamese youth from the mainland, Bai Da has a range of rooms clustered tightly within the confines of a rocky bay studded with big, photogenic boulders. Selfie-taking is a major activity here, especially on weekends. But during the week it can be empty and absolutely lovely. There are cabins on the beach, huts on the rocks, hammocks in the waves, and wooden platforms under the trees. There's a bar, too.
• Beach Guest House [MAP]; Tel: 093 904 9747 | 200,000-300,000vnd: On beautiful Bai Bo Beach, in the northeast of the island, Beach Guest House is right on the seafront road, just a hop from the waves. Rooms are simple, clean, good value for a couple of very quiet nights on this dreamy coastal stretch. Note: at the time of writing (February 2019), a new collection of brick bungalows were being constructed next to Beach Guest House, and looked as if they would open very soon.
• Bai Bang Beach guest rooms [MAP]; 300,000-500,000vnd: The picture-perfect beach of Bai Bang, on the east coast of the island, is a bit of a mess at the moment, due to ramshackle, temporary structures, and the construction of newer, larger resorts for the future. There are a handful of beach huts, restaurants, and bars along the sand. One or two of which have a couple of OK rooms for rent right on the beach. There are bound to be developments on this beach in the very near future.
• Rai Ca Homestay: [MAP]; Tel: 094 111 1131 | 50,000-150,000vnd: Just a couple of minutes south of Bai Bang on the coast road, Rai Ca is an interesting little place. Accessed via stone stairs through the trees, over boulders, and into a clearing by the sea, Rai Ca is a small collection of bamboo and corrugated iron cabins under towering coconut palms. Dorm-style rooms are very simply with wooden bunk beds. Shared bathrooms and showers take their water straight from the mountain stream. It's very cheap and a good budget experience. You can also camp here for next to no money at all.
• Cay Dua Nam Guest House [MAP]; Tel: 0128 784 1893 | 250,000-400,000vnd: Known as Bai Xep, this beach, in the southeast of the island, is famous for its leaning coconut palm, which has bent so far that it's now flush with the ocean, supported by a large, flat boulder. Yet the palm tree is still alive. Cay Dua Nam (which means 'Lying Palm Tree') is a little arrangement of colourful rooms set just back from the surf. The rooms are fine and there's a little restaurant, too. The coconuts on this beach have to be regularly harvested so that they don't fall on the guests' heads. Out at sea is the surreal sight of dozens of marine electricity pylons, leading all the way to the horizon, bringing power from the mainland.
• Lamien Lodge & Homestay [MAP]; Tel: 090 555 64560 | $20-$30: In the jungle-covered hills to the east of Hon Son's main town, a few guest houses dot the boulder-strewn slopes along the pathway leading to the Buddhist temples and Ma Thien Lanh viewing point. Lamien Lodge occupies a stunning position, halfway along the path, with views over the island and out to sea. Sunrise and sunset here are spectacular. The cabins and rooms are built on bamboo stilts over the boulders (which looks a bit precarious). Rooms are cosy but fairly pricey for what you get – but you're paying for the position, really: and it's worth it.
---
Food & Drink:
Most of the dining options on Hon Son Island are in the main town of Lai Son, where the port is. But there are a few other places to eat scattered elsewhere around the island. The presence of informal seafood restaurants, street food vendors, and cafes mean that you won't go hungry or thirsty on the island, but it's not exactly a thriving food scene, especially when compared to the mainland. Prices are a bit inflated, but this is normal for islands in Vietnam. There was also a bit of gratuitous overcharging by locals looking to cash in on the early stages of tourism on the island, which is understandable.
---
Lai Son Port & Village: Along the harbourfront road, in Lai Son village, there are several cafes, seafood eateries, street food vendors, and noodle shops. There's not a lot to eat, but it's enough to satisfy you for breakfast, lunch, and dinner. In the evenings, it's very pleasant to stroll along the waterfront, picking up food here and there: a freshly grilled fish – eaten with green herbs and self-wrapped in rice paper; a marinated chicken wing grilled over coals; a plate of shellfish grilled with a squeeze of lime; a fresh coconut – from one of the island's thousands of palm trees; and maybe even a few shots of coconut liquor (rượu dừa), available at Rai Ca Cafe & Restaurant. In fact, Rai Ca also serves a great local breakfast of bún nghệ – fish noodle soup with a colourful, turmeric broth – and, for dinner, barbecued seafood. It's popular with locals and visitors alike.
In the evenings, food vendors cluster on a dedicated patch of quayside near the centre of the seafront road, in front of a crumbling concrete villa. Around the 'town square', there's a good noodle joint, called Như Ý, where you can try bún quậy, a fish noodle soup that's a regional speciality. In the narrow back-streets of Lai Son village, the aroma of fermented anchovies pervades the cool, shaded alleyways. This is the result of Hon Son's thriving local fish sauce industry. Small-scale but high quality, fish sauce is still essentially a home industry in Lai Son village: the barreling, fermentation, and bottling still take place inside the front rooms of people's homes. The doors are open to the street, and it's fascinating to peer in at the big, wooden barrels, and take big gulps of the fishy air.
A couple of coffee shops and juice stalls line the seafront road, including Duby Coffee. But Sao Bien Coffee is a better choice, occupying a prime position on the rise at the eastern end of the harbourfront road, with views back over town. Oh, and there's a rather unexpected beer club in the back streets on the hill behind town, which is worth checking out: Sky Beer Club.
[Back]
---
Around Hon Son Island:
Around the island, most of the mini-resorts and guest houses have restaurants attached to them. Of these, the most notable are Doc 3 Tang (with good seafood and seaviews, as well as a locally famous goat hotpot – lẩu dê) and Tam Ca (a superb place to eat with a long list of local specialities, including free-range island chicken steamed with garlic – gà hấp tỏi). There are several food and drink shacks on Bai Bang Beach that serve snacks and refreshments, but none that I visited were outstanding. In the tightly packed fishing community in the west of the island, there are a handful of food vendors along the alleyways, serving cheap and tasty snacks, especially in the mornings and late afternoons – great fun if you're a foodie.
The beach bar at Bai Da mini-resort is a good place for a refreshing drink, or stop in for an iced coffee at Song Tuyen Cafe on Bai Bac Beach. Bai Bang has a few sprawling beach bars which, along scenically located, aren't anything special. Lastly, try a Hon Son coconut. The island is covered in tall, spindly palm trees. Coconuts for drinking are sold all across the island – ask for a trái dừa lửa uống liên – a fresh, small, reddish coconut with sweet water, drunk straight from the nut. A good place to try one is at Cay Dua Nam, where the coconuts are regularly harvested from the trees to prevent them from falling and injuring customers.
---
Getting There & Around:
*Please support Vietnam Coracle: If you use the links & search boxes below to book your transportation to Hon Son Island, I make a small commission. All my earnings go straight back into this website. Thank you.
Hon Son Island is reached by boat from Rach Gia, a large, coastal city in the southwestern Mekong Delta region. There are several transportation options to get to Rach Gia, either from Ho Chi Minh City or from other hubs within the Delta region. And there are several ferry companies that operate boat services between Rach Gia and Hon Son Island. Once on the island, you can hire motorbikes to circumnavigate Hon Son:
---
By Bus: From Ho Chi Minh City, there are buses throughout the day (and night) to Rach Gia. Journey time is roughly 6 hours, and the general level of comfort on sleeper coaches is pretty good, unless you're particularly tall. Prices are around 150,000-250,000vnd ($7-$10) one-way. Futa is one of the more popular buslines, but there are many others serving this route, including the Thien Thanh Limousine, which offers lots of space and comfort. Note that buses to/from Ho Chi Minh City usually stop at Rach Soi Bus Station, just south of central Rach Gia. Rach Gia is also connected to most other urban hubs within the Mekong Delta and beyond. There are regular bus services, for example, to Can Tho and Ben Tre (leaving from Rach Soi Bus Station), and Ha Tien (leaving from Rach Gia Bus Station, near the centre of town). You can check bus services, schedules, prices, and book tickets on Baolau.com or use the search box below.
[Some travel agents in Ho Chi Minh City, Rach Gia & Hon Son can arrange bus-boat packages: the ticket includes transfers from the bus station to the boat pier and on to Hon Son Island]
By Air: It's also possible to fly between Ho Chi Minh City and Rach Gia Airport on a daily propeller flight operated by VASCO, a part of Vietnam Airlines. There's one flight a day in both directions departing in the early morning. Flight time is less than 45 minutes. One-way airfares are around $1,200,000vnd ($50). You can check flight schedules, prices and book tickets on Baolau.com or the Vietnam Airlines website.
Search & Book: Type your travel dates below & click 'Search' to find current ticket prices & availability for buses & planes between Ho Chi Minh City & Rach Gia:
---
[Back]
---
GETTING TO HON SON ISLAND:
By Boat: The only way to get from the mainland to Hon Son Island (Lại Sơn) is by boat. All boats leave from Rach Gia Port. There are currently at least three different ferry companies operating fast boat passenger services to Hon Son Island. These are: Phu Quoc Express (don't be fooled by the name), Superdong, and Ngoc Thanh.
The duration of the voyage varies slightly depending on the boat and weather conditions, but in general it takes 1.5 hours between Rach Gia and Hon Son. The boats are comfortable, with coach-style seating, outside deck-space, life jackets and rafts. At present, there are no car ferries to Hon Son, but this is a good thing, because the island is far too small and fragile to accommodate large vehicles. However, at the time of writing, it is possible to take your motorbike or bicycle on the Phu Quoc Express fast boat, but not on any of the other services.
Sailing schedules change depending on the season, time of week, weather, and demand. Therefore, the times (and prices) given below should be treated only as an indication: they are not set in stone. But, in general, you can guarantee at least one sailing a day (usually in the morning) in both directions from each of the three main boat operators. There are almost always extra sailings on weekends and during high season (December-April).
Buying tickets is fairly straightforward. There are ticket offices for all boat operators at the port in Rach Gia and along 3 Tháng 2 Street near the intersection with Trần Thủ Độ Street, which is very near Rach Gia Port. On Hon Son Island, the ticket offices are around the square directly opposite the boat pier. It's also possible to book boat tickets through most accommodations in Rach Gia and Hon Son. Booking in advance is advisable in high season, especially if you want to take your motorbike. More details (although, again, not necessarily accurate) can be found on the boat operators' websites (see below) and bookings can also be made through Baolau.com. (Note that in the Baolau search box the destination is Nam Du, not Hon Son. This is because almost all boats to Hon Son continue to Nam Du afterwards).
*Key: PQE=Phu Quoc Express; SD=Superdong; NT=Ngoc Thanh
---
RACH GIA → HON SON
Departures: 6.30am (PQE), 6.35am, 7.30am (SD), 7.30am (NT) daily*
Duration: 1.5 hours
Passenger Ticket: 150,000-250,000vnđ, discounts for seniors, children, disabled
Motorbike Ticket: around 150,000-200,000vnd (Phu Quoc Express only)
Websites: PQE: www.pqe.com.vn | SD: www.superdong.com.vn | NT: www.ngocthanhexpress.com or BOOK HERE with Baolau.com
*At least one sailing daily by each ferry operator (usually in the morning); extra sailings in high season (November-April) & weekends
---
HON SON → RACH GIA
Departures: 11.10am (PQE), 12.00pm (SD), 12.20pm (NT) daily*
Duration: 1.5 hours
Passenger Ticket: 150,000-250,000vnđ, discounts for seniors, children, disabled
Motorbike Ticket: around 150,000-200,000vnđ (Phu Quoc Express only)
Websites: PQE: www.pqe.com.vn | SD: www.superdong.com.vn | NT: www.ngocthanhexpress.com or BOOK HERE with Baolau.com
*At least one sailing daily by each ferry operator (usually in the morning); extra sailings in high season (November-April) & weekends
---
Search & Book: Type your travel dates below & click 'Search' to find current ticket prices & availability for fast boats between Rach Gia & Hon Son:
[Back]
---
GETTING AROUND HON SON ISLAND:
By Motorbike & on Foot: Although it's possible to charter a boat from the main pier on Hon Son (or ask at your hotel), there aren't any outlying islands, so all the boat trip does is circle the island. This is nice enough, but not really worth the trip, especially if you have limited time. The best way to see Hon Son Island is by motorbike (or bicycle, but I didn't find any for rent). If you didn't bring your own motorbike with you on the boat, they are available for rent (150,000-200,000vnd per day) from most guest houses. There's only really one road on the island: a figure of '8' which circumnavigates the entire island and cuts straight through the middle of its mountainous interior. The distances are short, the road is good, the views are wonderful, and the traffic is non-existent. (Note that the road through the interior of the island is very steep indeed.) Because the road is so quiet, you could potentially hike around the island. This would be a fairly long, hot walk, but also very rewarding for people who enjoy a good hike. But the main attraction for walkers is the trek up to Ma Thien Lanh, a high boulder-strewn escarpment in the east of the island that's dotted with Buddhist temples and shrines, where the views are stupendous. The trailhead is on the edge of town near a football pitch. Look for the sign: 'Đường lên Đỉnh Ma Thiên Lãnh'. Note that the red line marking the trail on my map is just a rough outline; it's not accurate. But the trail is fairly easy to follow once you are on it (see Beaches & Activities for details).
---
Weather:
Like Phu Quoc, Hon Son Island is best visited in the southern dry season: November to April. During these months, the skies are generally clear, the sea calm, and the colours luminous. However, I personally prefer going during the shoulder months: October/November and April/May. At these times, the weather is still good (but with more of a chance of some rain) and the visitor numbers low, meaning you can enjoy the islands in peace: as long as you visit on a weekday, not a weekend. July to September is the wet season, when prevailing winds from the west bring monsoon rains from the Indian Ocean. The sea can be rough and winds high, meaning that boats to the islands are often cancelled. But this doesn't mean you can't visit during these months, and it certainly doesn't rain all the time. You just need to have time and patience in order to allow for possible cancellations and rainy days.
---
Disclosure: I never receive payment for anything I write: my content is always free and independent. I've written this guide because I want to: I like this island and I want my readers to know about it. For more details, see my Disclosure & Disclaimer statements here
[Back Top]
RELATED POSTS

:
---