First published April 2023 | Words and photos by Luke Digweed
---
Weaving a path through the lush canopies and green mountains of Quảng Bình and Quảng Trị provinces, the Western Ho Chi Minh Road is the epitome of riding pleasure on a motorbike road trip in Vietnam. The road skirts the Lao border for much of its length, navigating a landscape untouched by urban development. Its isolation is part of its appeal, but this poses a problem for travellers: there's very little accommodation on the Western Ho Chi Minh Road. Aside from a couple of motels in Long Sơn village, places to stay remain scarce. But now, a small agrarian community of Bru-Vân Kiều people are turning their attention to creating a community of eco-homestays on this famous road. Son Homestay, where my partner and I spent a night during the Lunar New Year, is the first of its kind to open in the area.
---
Support Vietnam Coracle
Please make a donation or become a patron if you enjoy this website. Vietnam Coracle is totally free & independent. I never receive payment for anything I write.
Thank you, Tom
---
[Back Top]
---
SON

HOME

STAY
---
A Community-based Initiative in a Minority Village
The Western Ho Chi Minh Road traverses 240km of sublime, remote landscape between the town of Khe Sanh to the south and Xuân Trạch village (near Phong Nha) to the north. Son Homestay sits on the edge of Rum-Ho, two hamlets of just over 100 households belonging to the Bru-Vân Kiều ethnic minority people, situated roughly 85km north of Khe Sanh and 155km south of Xuân Trạch. Nestled deep in the Trường Sơn Mountains, living standards here are not as modern as in Vietnamese cities and towns: Rum-Ho is not yet on the national electricity grid, nor do the hamlets have reliable mobile phone coverage – many inhabitants are not connected to the internet.
How to book Son Homestay:
Ms Son (owner): +84347804490 (Vietnamese language only)
Ms Chi (Helvetas representative): +84941349359 | chi.cao@helvetas.org (English language only)
Price: the cost of our stay was 300,000vnd ($13) for 2 people, 2 beds and 4 meals between us: astonishingly good value.
---
MAP

:
Son Homestay
Rum-Ho village, Western Ho Chi Minh Road, Quảng Bình Province
---
A cobbled path leads off the Western Ho Chi Minh Road and down towards Son Homestay, a wooden stilt house typical of the community. Various domestic plants and trees dot the surrounding gardens as well as a variety of furniture, including stools and tables, where guests can congregate for talking and taking their meals. Several tree trunks encircle a small piece of scorched ground where nighttime campfires have previously blazed. The stilt house is the communal sleeping area. To one side of the tables and chairs are where the family cook and sleep when guests are present. Attached to the left of the family house is a newly decorated bathroom with running water and a shower.
---
---
The Bru-Vân Kiều people are an ethnic minority group residing in the centre of Mainland Southeast Asia. Originally from Laos, the Bru-Vân Kiều now also live in neighbouring Vietnam and Thailand. The largest concentration of Bru-Vân Kiều people in Vietnam is in the highlands of Quảng Trị and Quảng Bình, the two provinces spanned by the Western Ho Chi Minh Road.
---
My partner and I visited Son Homestay on the second day of Tết (Lunar New Year). Unfortunately, weather conditions were not good and, while our drive to Rum Ho village was enjoyable, the rain caught us just as we arrived at the homestay. As we wandered around the village, we were greeted by people enjoying their Tết celebrations at home. We met the homestay owners, Son and Huynh, and they prepared us a meal of rice, fried eggs, water spinach and pork. The dinner included a Bru-Vân Kiều speciality called bánh ayơh – chunky rice cakes covered in sesame seeds – accompanied by a delicious wild honey which served as a dipping sauce. These generous portions of hot, homemade food were well received by my partner and I on a cold, rainy night after a long day of riding. (Beer and soft drinks were also available.)
---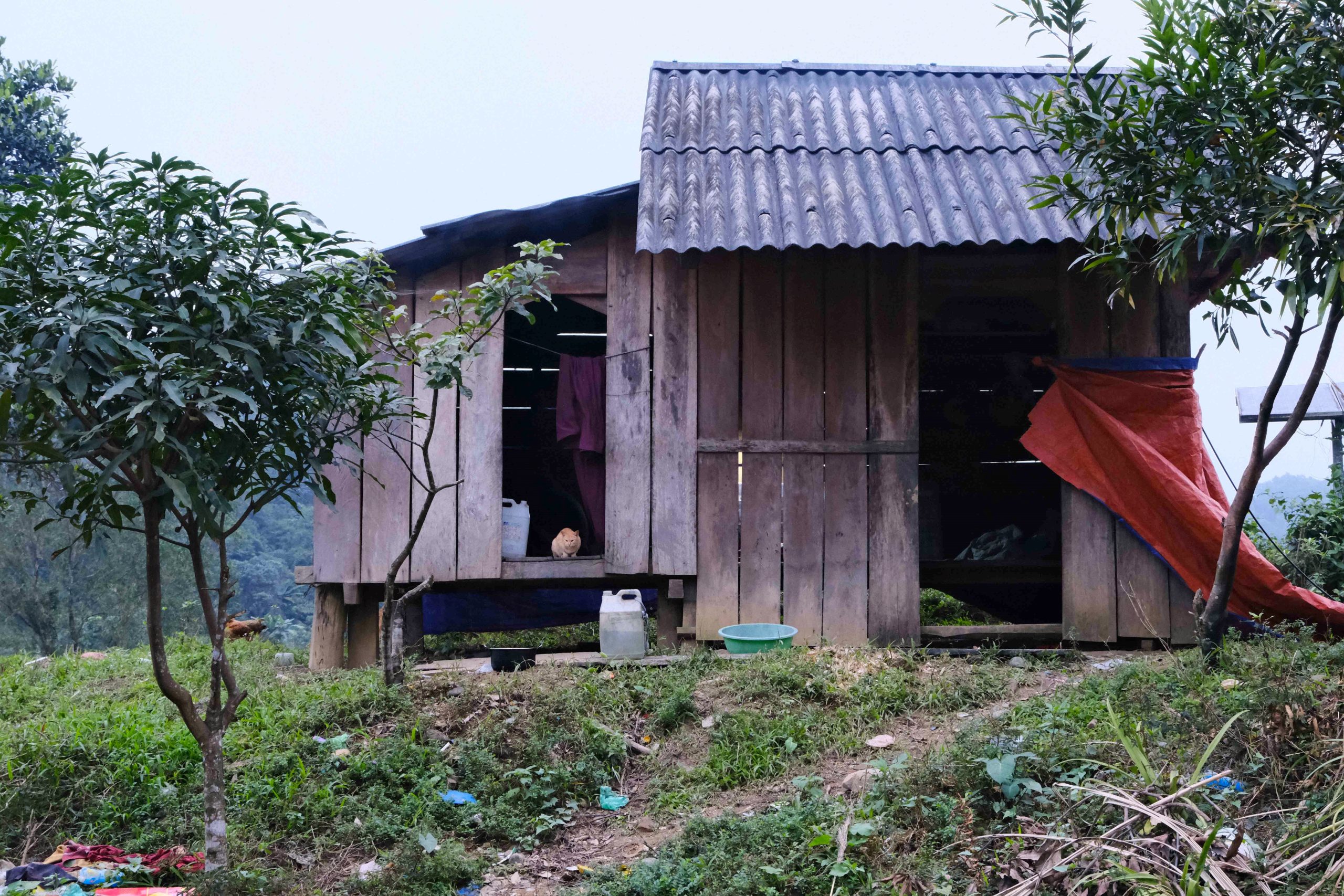 ---
Previously, Son and Huynh worked capturing wild boar to sell at nearby markets. As domestic tourism companies started running occasional tours through the area, Son and Huynh were hired to cook food, carry luggage and lead tourists and tour guides through the forests to the nearby waterfalls. Over time, the idea of turning Rum-Ho village into a community-based ecotourism project came up and USAID, Swiss international NGO Helvetas and local authorities worked together to put a plan in place. In 2022, Son and Huynh received financial support and guidance on how to transform their property into a homestay to accommodate both local and foreign guests. Son Homestay is the first one to open, but other neighbours in the village are already following suit. The initiative is for Rum-Ho to become a model for sustainable tourism in the area.
---
---
Once conversations (and food) were over, my partner and I retired to the stilt house. Due to Bru-Vân Kiều customs, unmarried men and women cannot share the same bed together, so each of us slept in separate beds. Being the only guests, we had the stilt house to ourselves, but there was certainly more than enough room to accommodate 5 people, which is the official capacity for the stilt house. Due to the cold weather, the family provided us with thick bed sheets that kept us warm and a comfortable mattress. We slept well and the mosquito nets kept the bugs out.
---
After a long sleep, we woke up to the stir of cockerels at dawn – don't expect to lie in here! Outside, the rain was still falling and another wet day of riding lay ahead. Our plans of exploring the nearby national park and waterfalls were abandoned, but the feeling of defeat was softened by the salutation of homestay dogs and a hearty breakfast. We both decided to skip the cold showers in an attempt to retain any warmth we could from our hot meal.
---
---
At the time of writing, there were just 2-3 hours of electricity a day that the family generates through a fuel-powered motor so that electronic devices can be charged and the homestay can be lit. For some travellers, the lack of regular electricity, reliable phone coverage and internet connection at Rum-Ho commune may be an inconvenience, but I found it a relief to be offline for a day or two. It added to the sense of escape induced by the dense forests covering the surrounding mountains and the river cascading through the valley. Eventually, the village will be connected to the national grid, but I wonder if staying at Son Homestay will feel quite the same then.
---
On a rainy day like ours, Son Homestay illustrates the hardships of living in a mountainous environment during the winter. There's no doubt that the experience would be much more enjoyable in the drier, warmer months, when exploring the national park would be possible and a cold shower would be more appealing. Nevertheless, staying at Son Homestay, even in wet weather, is a rustic yet cosy, satisfying and wholesome experience, and a great overnight option on a spectacular road with very few other places to stay.
---
*Disclosure: All content on Vietnam Coracle is free to read and independently produced. Luke has written this article because he wants to: he enjoys this homestay and he wants readers to know about it. For more details, see the Disclosure & Disclaimer statements and About Page
RELATED POSTS
---