Last updated October 2021 | Words and images by Vietnam Coracle
Before the explosion of resort construction on the island began, Mango Bay and Phu Quoc were almost synonymous: Phu Quoc was the definition of a tropical island getaway; Mango Bay was the epitome of a tropical island retreat. These days, there are hundreds of places to stay on Phu Quoc, but Mango Bay remains the best accommodation within its class and price bracket. I've been visiting Mango Bay for over 10 years and it's always been high on my list of the most atmospheric resorts in Vietnam. During the Covid-19 pandemic, myself and several other guests were 'stranded' at Mango Bay for four months of lock-down and travel restrictions. Over the course of this long stay, my admiration for the resort only grew.
*To check rates, availability & make a reservation for Mango Bay please BOOK HERE
[Back Top]
---
REVIEW:

MANGO BAY

,

PHU QUOC
---
Address: Ong Lang Beach, Phu Quoc Island, Kien Giang Province [MAP]
Average Rates: $50-$150 | Email: reservations@mangobayphuquoc.com
---
CONTENTS:
---
*Please support this site: All my reviews are independently researched & financed. I never receive freebies of any sort in exchange for reviews or listings. If you use the links on this page to book your accommodation, I make a small commission. Alternatively, please consider making a donation or becoming a patron. All my earnings go straight back into this website. Thank you. Tom
Selected Resources
What's this?
---
[Click the image below or BOOK HERE]
---
MAP

:

View in a LARGER MAP
---
---
The Location: Occupying almost a kilometre of beachfront and forest, Mango Bay is located at the heart of Ong Lang Bay, on Phu Quoc Island's west coast. One of the best all-round beaches on the island, Ong Lang has remained relatively quiet and low-rise, and retained much of its natural beauty and charm, despite burgeoning popularity over the last decade. The size of Mango Bay's property – including two sandy beaches, rocky coves, hundreds of trees, fruit orchards and gardens bedecked with tropical flowers – is the resort's greatest asset. Discreet and low-impact, Mango Bay is hardly visible from the land or the sea. Unlike other resorts on the island, Mango Bay has chosen to work with, rather than against, nature, allowing this slice of Phu Quoc to flourish in its natural state, as opposed to bulldozing it to accommodate development. This is precious, admirable and one of the major appeals of the resort.
Over the years, an enclave of Vietnamese and Western restaurants, shops and bars has sprung up in the backstreets of Ong Lang, providing plenty of conveniences within walking distance of the resort. In addition, the island's main settlement, Duong Dong, is just 15 minutes to the south by taxi or motorbike. The airport is roughly 30 minutes away.
---
---
Resort Grounds & Layout: Boasting some 10 hectares of land, Mango Bay's 40 or so guest rooms are spread out over the property with an almost alarming disregard for cramming as many guests in as possible. Each woood-and-thatch bungalow or rammed-earth hut is either generously spaced from the next or, if in closer proximity, partitioned from its neighbour by a wall of dense tropical foliage. This is remarkable given that standard procedure for many resorts on the island is to maximize profits per square metre of land by compressing guest rooms as closely together as possible. There's so much space at Mango Bay that, even when the resort is full, it doesn't feel busy. As a guest strolling through the beautiful grounds, one struggles to make sense of how few rooms there appears to be in relation to the size of the property. Indeed, when entering the restaurant for breakfast, it's a surprise to find so many guests dining.
Because rooms are sensitively arranged and constructed using natural materials, the resort essentially melts into its natural context. Wooden bungalows disappear into trees, baked earth huts fade into the brush. Apart from the restuarant, nothing has been constructed within at least 20 metres of the beachfront. Mango Bay has left its attractive seafront untouched, allowing coconut palms, casuarina trees, black rocks and mangrove to take pride of place. And it's worth it, because when the sun is shining and sea conditions are calm, this is one of the prettiest bays on the island.
---
---
Beach, Sea & Activities: Mango Bay has a long, attractive and varied beachfront. The 800-metre bay is bookended by two soft, sandy beaches, but the central section is more rugged, with a gentle shelf of black rock sliding into the sea. Swimming, bathing, paddling and watersports are possible off the sandy stretches, while snorkeling can be enjoyed off the rocky section. In the dry season (November-April), the water quality is usually superb: mirror-flat, gin-clear and wonderfully blue. In the rainy season (May to October) conditions are rougher and the water turns grey and murky from the runoff.
---
---
There's no swimming pool at Mango Bay. Part of the reason for this is the resort's focus on the environment and sustainability. But there's also no need for a swimming pool when, for half the year, the Gulf of Thailand is essentially a large infinity pool. However, if you have young children, or on days when the sea is rough or dirty, it would be nice to have somewhere to bathe other than the ocean. But, when conditions are good, there's also the option of paddle-boarding, kayaking and bodyboarding. The sunsets are terrific.
---
---
In addition to sea-related activities, Mango Bay has one of the best spas on the island and there are complimentary yoga sessions under the trees near the ocean every morning. Because the resort's grounds are so large and beautiful, walking around the property is an activity in itself: strolling along the sand, hopping from rock to rock, trying to identify the many species of tropical trees and flowers and birds under the dense canopy inland from the beach, and wandering through the herb, vegetable and fruit gardens is thoroughly enjoyable. Mango Bay also teams up with two of the best tour operators on the island, Flipper and John's Tours, to offer diving and island excursions respectively.
---
---
Guest Rooms & Décor: Low-impact, low-rise and sensitive to the natural environment, all rooms at Mango Bay are highly atmospheric and cosy, constructed with local materials which blend in with the resort grounds. From wood-plank plantation bungalows raised on stilts, pastel-coloured rammed-earth chalets beneath tall tropical trees, and spacious two-storey cottages overlooking the canopy of foliage, Mango Bay's accommodation is memorable, unique and romantic. Several room types are available, all with large terraces, attractive outdoor bathrooms and sea- or garden-views: Veranda rooms are the cheapest and most convivial; Rammed-earth bungalows are next, offering more privacy; Fisherman and Plantation bungalows have more space and better views; Private Bay villas are the most exclusive and luxurious on the property; and several multi-bed family villas are perfect for three or more people sharing. High-season rates run from around $50-$150 per night, including breakfast. During low-season prices drop considerably.
---
---
---
Room décor is simple but elegant and tasteful: tiled floors, four-poster beds hung with mosquito nets, wooden chests, chairs and desks, soft lamp lighting, open-air bathrooms with private flowerbeds, sun loungers and cushioned benches on the wooden terrace. Pastel tones decorate the walls and natural light streams in through the wooden-shuttered windows and doors. You won't find any TVs, phones or air-conditioning units in the rooms – that would ruin the atmosphere and environemnt. Indeed, until recently there weren't any in-room refrigerators either. However, Mango Bay has softened over the years, now featuring an effective bed cooling system – known as Evening Breeze – and private mini-bar in every room.
---
---
---
The absence of 'mod cons' discourages some travellers, but that's entirely missing the point. Mango Bay offers guests an immersive experinece: comfort and connection with the natural environment, but not one at the expense of the other. The resort as a whole pulls this off exceptionally well. However, this does mean that there are geckos in the rooms, mosquitoes on the veranda in the evening, and the sound of cicadas and the ocean thrashing all through the night. Guests are given the necessary equipment to combat insects: make sure you pull down your mosquito net before 5pm and light the coils provided on the veranda at night. Rooms are designed to be naturally ventilated: in order for this to be effective, you should leave the doors and windows open as much as possible (an in-room safe is provided for your valuables). Personally, I love all of this. But it's not for everyone: if you know you don't like insects, or can't sleep unless it's absolutely silent, or have a low threshold for heat, you might want to carefully consider your choice of accommodation.
---
---
---
Breakfast, Dining & Drinking: Mango Bay's dining and drinking options have enjoyed a good reputation on the island for many years, due in part to the quality of food and drink, but also to the position and atmosphere of its restaurants and bars. The resort has two restaurants: On the Rocks is located at the centre of the property, with a large wooden deck built over a rocky seafront overlooking the ocean; On the Sand is at the far north end of the resort, on a wide terrace next to the beach beneath casuarina trees. Both are highly scenic places for a meal or a cocktail, especially at sunset when the clouds melt on the horizon and the sun is a perfect orange disc. Both restaurants feature the same menu, including a whole range of Vietnamese and international dishes, making as much use as possible of locally-sourced ingredients. Fresh seafood features heavily, as do homemade pizzas and several vegetarian options. A long list of cocktails includes enticing signatures, such as Monsoon: gin, sweet vermouth, cardamom seeds, rosemary, ginger, lime and bitters.
---
---
---
Breakfast is included in the room price and served at On the Rocks restaurant. A choice of classic dishes (eggs Benedict, full-English), Vietnamese noodle soups and vegetarian options, such as avocado toast, come with an assortment of baked goods, fresh fruit, juice, tea and coffee. On a sunny, calm morning, it's spectacular.
Staff at Mango Bay are friendly and well-trained, sometimes going way beyond their job requirements to help or make guests feel comfortable. Staff hail from all over Vietnam, but mostly Phu Quoc and the nearby mainland Mekong Delta region. As a testament to how well they're treated, Mango Bay staff tend to stay at the resort for many years (I met some members who'd been there over a decade). This is the case with a select few other well-established resorts across the nation – very rare in Vietnam's burgeoning hospitality industry where young employees tend to move from job to job.
---
---
---
Summary: Mango Bay's position in my personal pantheon of great resorts in Vietnam is firmly cemented. It is still the most atmospheric place to stay on Phu Quoc. As the concrete monoliths of domestic and international resort chains rise up all around the island – bulldozing the natural environment as they do so – Mango Bay's style, ethos and aesthetic is all the more admirable, unique and precious. For guests, however, it is essential that you understand this ethos before staying here: if you want air-con, bathtubs, karaoke, and no reptiles in your room, don't book at Mango Bay. I only have one gripe about the resort: music in the restaurants, although far more decent than at other establishments, seems totally unnecessary: why not let the waves and the wind be the soundtrack, just like with the rest of the property? Also, in pre-Covid times, a maitre d'/hostess greeted each guest as they entered the restaurant, adding a formality that was at odds with the beach setting and casual vibe of the restaurant.
*To check rates, availability & make a reservation for Mango Bay please BOOK HERE
---
*Please support Vietnam Coracle: All my reviews are independently researched & financed. I never receive freebies of any sort in exchange for positive reviews or listings. If you use the links on this page to book your accommodation, I make a small commission. Alternatively, please consider making a donation or becoming a patron. All my earnings go straight back into this website. Thank you. Tom
---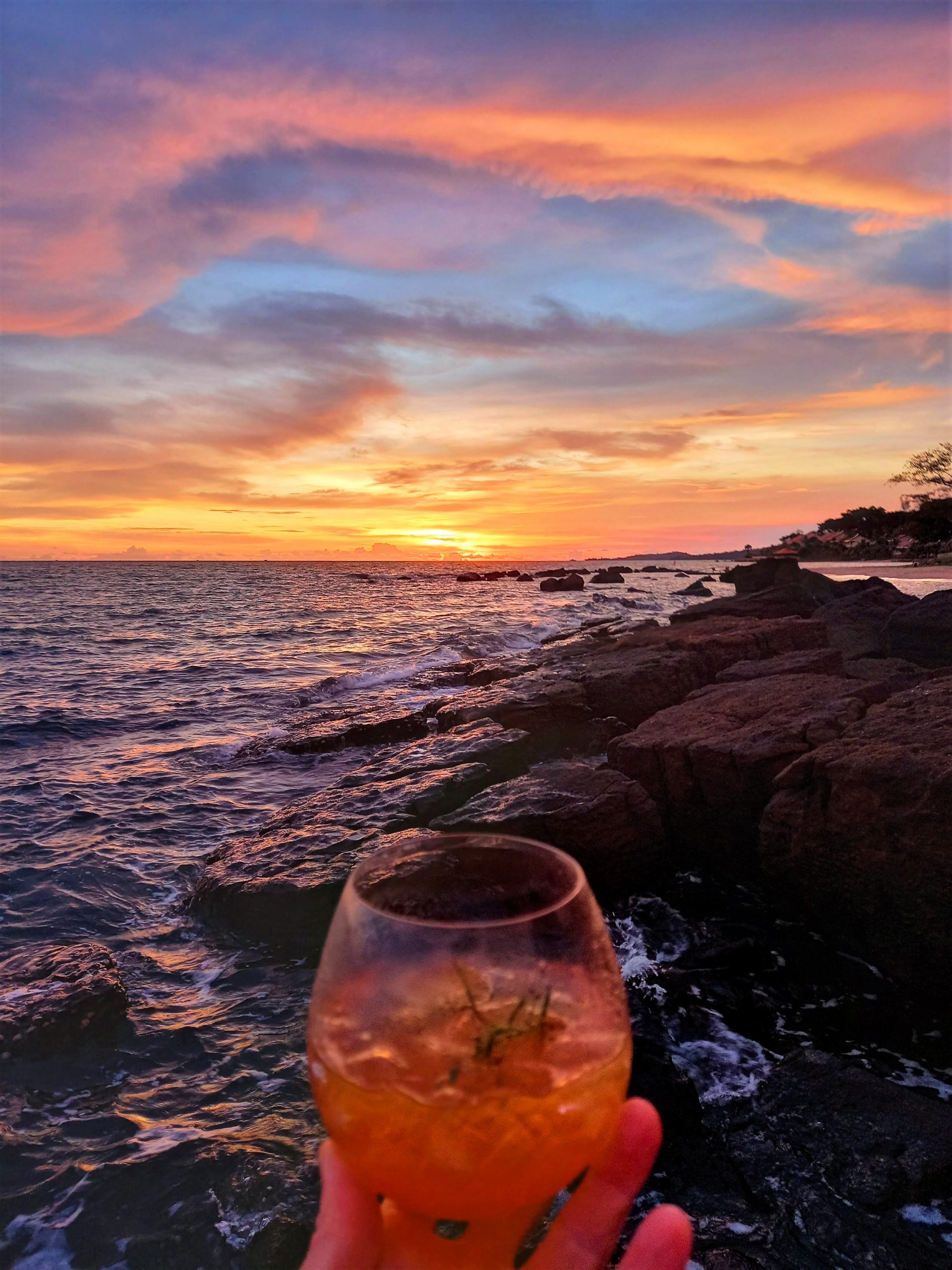 ---
*Disclosure: I never receive payment for anything I write: my content is always free & independent. I've written this review because I want to: I like this resort & I want my readers to know about it. For more details, see my Disclosure & Disclaimer statements & my About Page
[Back Top]
RELATED POSTS

:
---