First published February 2023 | Words and photos by Vietnam Coracle
---
Saigon (Ho Chi Minh City) may be on the verge of becoming an official megacity of 10 million inhabitants, but for me and many others who live here, the city is no bigger than their local neighbourhood; their phường – their ward. Each city ward is a 'village' with its own high-street, market, businesses, schools, shops, leisure facilities, cafes and conveniences. For the last 8-9 years – since April, 2014 – my phường has been Ward 25 in Bình Thạnh District; my home a shared house at the end of a typical Saigon alleyway. Over the years, I've formed an attachment to my local neighbourhood and to the many different people whom I've lived with in the house. Like so many aspects of Saigon in the twenty-first century, Ward 25 is in a constant state of flux and transformation – it's changed remarkably since I moved in. Now, the time has come for me to leave Ward 25 and to live in another phường; another village within this megacity.
*Dedication: To all the friends I've lived with in the house over the years, to our landlady and to the people of our local neighbourhood.
[Back Top]
---
LEAVING

MY

NEIGHBOURHOOD
---
Goodbye to My Home & 'Hood of 9 Years
My home in Ward 25, Bình Thạnh District, has been a significant part of my life for almost a decade. My social life has been propped up by the dozens of people I've lived with in the house; the neighbourhood has provided me with much content for this website; and the house has been a stable base for me – a constant and reliable point of reference – during a period of my life when I've spent about a third of my time on the road, travelling from place to place. The changing neighbourhood is a barometer by which to measure the shifting trends, aspirations and values of the city and its inhabitants.
CONTENTS:
---
Support Vietnam Coracle
Please make a donation or become a patron if you enjoy this website. Vietnam Coracle is totally free & independent. I never receive payment for anything I write.
Thank you, Tom
---
FILM

:
A short film I made several years ago attempting to capture the daily rhythm of my neighbourhood
---
MAP

:
My Neighbourhood: Ward 25, Bình Thạnh District, Saigon
---
Moving In:
We signed the contract in March, and moved into the house in April, 2014. To celebrate, we four 'original' housemates (a Swede, a Brit and two Spaniards) walked to the neighbourhood high-street – imaginatively named D1 Street – to find a place for dinner. On the corner of an alleyway we spotted a restaurant specializing in horse. This seemed appropriate as 2014 was the Year of the Horse. The food was good, the staff friendly, and the restaurant was open to the street so we could watch life go by in the balmy evening air of our new 'hood. I had no idea that this would be my local area for the next eight turns of the zodiac, until the Year of the Cat.
---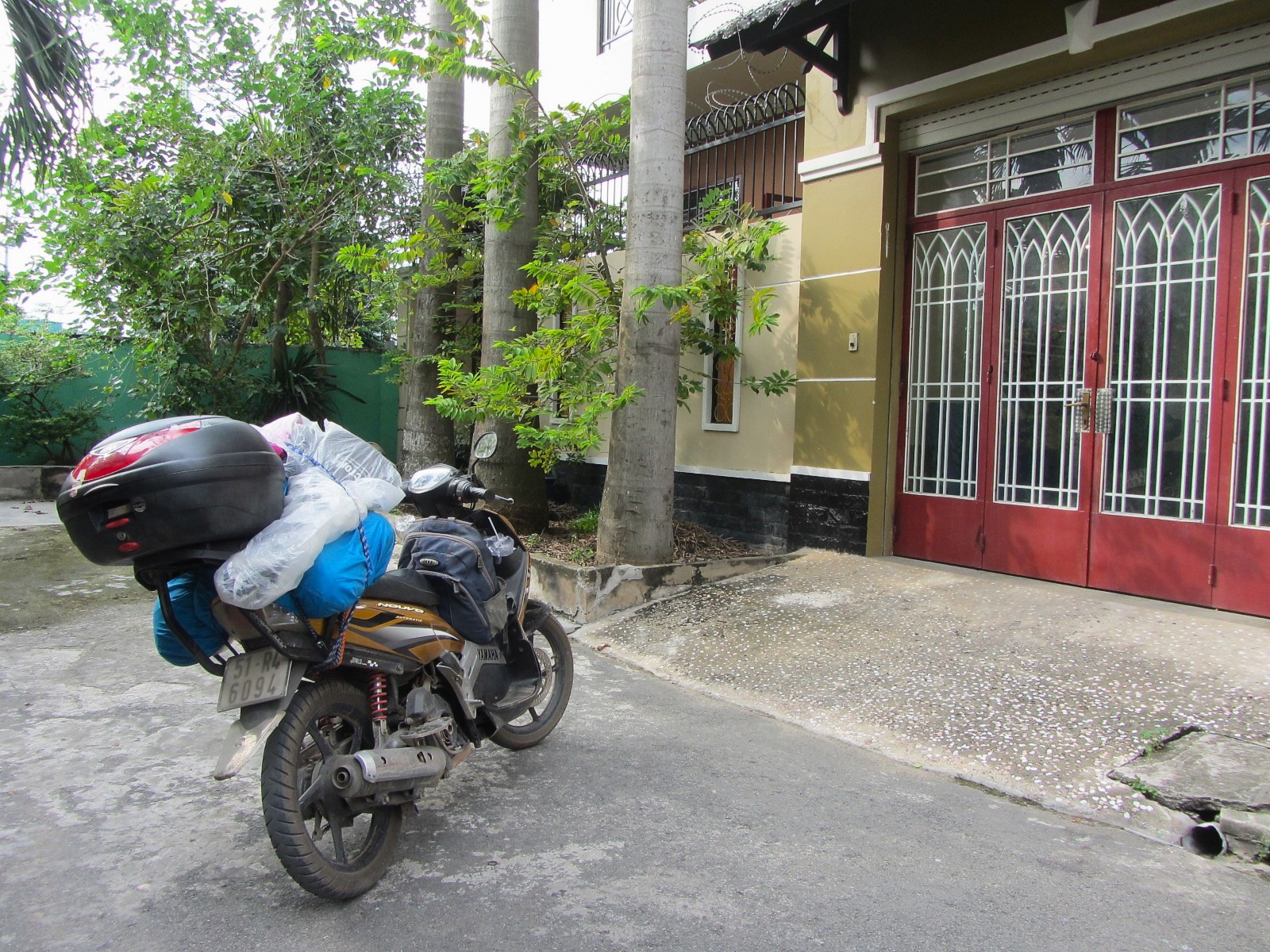 ---
---
The House:
Unlike the tall, narrow townhouses that line the sides of tight residential alleyways in Saigon, our house was wide, spacious, airy, full of natural light, shared common spaces, balconies and patios. Outside, the house was painted in various tones of beige which offset the green of three large, column-like palm trees along the front entrance. Technically a four-bedroom property, the house featured several superfluous 'anterooms' – not big enough to sleep in, but too big for storage – which we could never figure out what to use for. Each of the four bedrooms had windows or balconies, but, in the early years at least, we spent much of our time together in the light-filled, open-plan living room, kitchen and dining room.
---
---
By Saigon standards, the house itself was fairly unique within its price category. But its physical position and immediate surroundings were remarkable for a property that was so close to the centre of the biggest, busiest city in Vietnam. The last house at the end of a dead-end alleyway, our home was semi-detached: sharing a common wall with our neighbour's house on one side, but open on each of the other three sides. Out front were several large tropical trees, plants and flowers – night-blooming jasmine, bougainvillea, custard apple, betel palm, and rose apple. At the back was a waterway surrounded by long grass, banana plants, and brush. The water was filthy and black – we sometimes referred to it as 'Stink Creek' or 'The Stink' for short – but locals grew lotus flowers in it which bloomed in the mornings, and fished from the banks, and even hunted for wild fowl and small birds. It was an urban swamp, a sewage channel, a natural habitat and a breeding ground for mosquitoes.
---
---
Our balconies looked directly over Stink Creek. Some mornings I saw blue-backed kingfishers perched on the pads of floating lotuses, other mornings the smell was too strong to stay outside for long; some nights we had barbecues on the balconies, but other nights the mosquitoes made a meal of us before we could cook our own food. In the rainy season, The Stink would fill up with water and become a lake of frogs: at night, the throbbing chorus of amphibian mating was hypnotic. It was the sound of the Vietnamese countryside, but this wasn't suburbia: our house was 5 minutes from downtown Saigon.
At the back of the house was a large swathe of open, empty grassland begging for development. The long grasses provided refuge for stray dogs, illegal dwellings, birds, and drug users shooting up in the dappled sunlight. Our balconies faced west and we could watch the sun set on the horizon during the dry season.
Over the years, new buildings rose up around The Stink, blocking our sunset views and casting long shadows over the house. Finally, heavy machinery moved in to clear the foliage, fill-in the swamp and chase away the wildlife, until Stink Creek was nothing but a landfill for garbage and construction materials surrounded by apartment blocks, schools and university accommodation. The frog chorus was replaced by the grinding of diesel engines day and night. Mosquitoes were no longer an issue.
---
---
The Neighbourhood:
Bounded on three sides by some of Saigon's biggest, busiest roads – Điện Biên Phủ, Xô Viết Nghệ Tĩnh and Ung Văn Khiêm – Ward 25 occupies a kinetic corner of Bình Thạnh District, pulsating with youthful energy thanks to the presence of several large universities. The local neighbourhood economy thrives on the student population: cheap food stalls, fashion stores, 24-hour cafe workspaces, bubble tea outlets, English language centres, laundry services, convenience stores and low-rent, diminutive dormitories. When we moved into the area, the roads in our immediate neighbourhood were named by number: D1 Street, D2, D3, D4 and so on. Connecting these were dozens of narrow alleyways lined with residential townhouses. Despite the burgeoning, budget student life out on the streets, life in the alleys was calm, quiet, family-oriented and relatively affluent. To walk the 200 metres from our house on alleyway 24 to D1 high-street was to go from a leafy, sleepy suburb to a lively, vibrant inner-city.
---
At the heart of Ward 25 was chợ Văn Thánh, a fresh produce market sprawling across the alleyways of several city blocks. This was the focus of much of the local neighbourhood's commercial and social activity. Around the market's fresh produce stalls was a constellation of street food outlets, serving both market vendors and shoppers. D1 high-street itself featured plenty of family-run noodle houses, rice eateries, hardware shops, general stores, and coffee shops. Some years after moving in, two high-rise apartments and offices blocks were constructed in the area. One of these had a shopping mall, supermarket and coffee chains on its lower floors. Slowly, the neighbourhood began to change as shopfront rental prices rose: family-run businesses couldn't afford the rent and closed, to be replaced by domestic and international chains, convenience stores and well-known brands.
---
---
With this, the social fabric of the area changed, too. Previously, when shopping in my neighbourhood, I'd essentially be entering a family's front room and be purchasing their own product – their coffee, their noodle soups, their handiwork. Over time, the family would establish a rapport with their regular customers. But, in the chain stores there was no connection between the staff – most of whom were students from the nearby universities – and their product or their customers. Shopping was no longer a social exchange as well as a commercial one: it was purely the latter. For a while, it seemed as though the supermarket and mall might threaten the very existence of Văn Thánh market. However, as time went on, the market actually benefitted from the office workforce, who'd all flee the sterile office environment at lunchtimes to dine outside at the street stalls and cafes. The market continues to thrive, but D1 high-street has far fewer local businesses than when I moved in, and that means far fewer human interactions. This is not unique to Ward 25: it's happening all over Saigon and urban centres throughout Vietnam.
---
The People:
I've never precisely counted the number of housemates who've passed through the doors of our home over the course of my 8-9 years living there, but certainly it's between 20-30 people, hailing from at least 10 different countries. With a few exceptions, I didn't know – hadn't even met – these people before they moved into the house to live with me. Many became close, life-long friends; some lived in the house with me for years, others only for a brief period; some are still living in Vietnam, but most are now scattered around the globe. In no other circumstance could I – would I – have met these people if not for this shared house at the end of alleyway 24 on D3 Street, Ward 25, Bình Thạnh District.
As a foreigner living in Vietnam, it's easy to take for granted the hospitality, openness and friendliness with which we are welcomed into local neighbourhoods. In my area, it didn't take long to establish a rapport with people in the ward: with Hải and Mỵ at the coffee shops, Hương, Đào and Diệu at the juice stalls, Thành and Chi at the soup house, and many others. These people made walking to the shops and doing errands a fun, social exchange – something to look forward to, rich with human interaction.
---
Moving Out:
After nearly 9 years, the house has too many memories of too many people associated with too many different phases of my life. Memory can help establish roots and connections to people and places; but it can also lead to stagnation: preventing change, originality, imagination and new experiences. I can't objectively see my neighbourhood anymore: everything is filtered through 9 years of memories. I want to change my physical location and consequently shake up my mental landscape a bit, too. I'm not moving to another country, not even another city: I'm moving to another district, another phường, another alleyway, another neighbourhood. As I write this, the bulldozers, diggers and trucks are grinding outside my house – where Stink Creek used to be – kicking up clouds of dust that prevent me from being outside on the balcony and that gets into my lungs, gives me a cough and damages my respiratory system. It's time to move.
*Dedication: To all the friends I've lived with in the house over the years, to our landlady and to the people of our local neighbourhood.
---
---
*Disclosure: All content on Vietnam Coracle is free to read and independently produced. I've written this article because I want to: I enjoyed my neighbourhood and I want my readers to know about it. For more details, see the Disclosure & Disclaimer statements and About Page
RELATED POSTS
---