First published June 2019 | Words and photos by Vietnam Coracle
Accommodation in Phong Nha ranges from dirt-cheap dorms in backpacker hostels to intimate rooms in family homestays; from boutique farmstays among the rice paddies to high-end lakeside bungalows. Phong Nha is gateway to the incredible cave systems, bucolic landscapes, and stunning limestone karsts of Phong Nha-Ke Bang National Park. It's one of Vietnam's star attractions. But, although widely known, tourism is still relatively new to Phong Nha. However, over the last few years, the range and number of accommodations available in Phong Nha has boomed. The area is flooded with hostels, guesthouses, hotels and homestays. Competition has driven prices right down, and almost all accommodation in Phong Nha is excellent value for money. Indeed, prices are so low that many places are struggling to make a profit, and an ongoing 'price war' is currently the talk of the town. For many travellers (including myself), the choice of accommodation in Phong Nha is overwhelming. That's why, in this guide, I've listed and reviewed a selection of places to stay (for all budgets) in and around Phong Nha that I'm particularly fond of, so that other travellers can get more of an idea of what's available.
[Back Top]
---
WHERE TO STAY

IN

PHONG NHA
---
On this page I've listed and reviewed 22 different accommodations in and around the Phong Nha area. I've categorized the places to stay into 'High-end', 'Mid-range', and 'Budget'. For each accommodation I've included the general room rates, contact details, photos, and links to check availability and make bookings. All the places to stay in this guide are plotted on my map. Bear in mind that things can change quickly in Phong Nha: new accommodations open, old ones close, and, at the time of research, there were concerns about pricing, as competition had driven rates so low that many places were no longer profitable. Expect significant changes to rates over the next year or two. Click an item from the contents below to read more:
*Please support Vietnam Coracle: All my reviews are independently researched & paid for. I never receive freebies of any sort in exchange for positive reviews or listings. If you use the relevant links below to book your accommodation, I make a small commission (at no extra cost to you). All my earnings go straight back into this website. Thank you.
Selected Resources
What's this?
CONTENTS:
MAP

:
Key: High-end | Mid-range | Budget

View in a LARGER MAP

---
HIGH-END: Resorts & Farmstays:
Despite its growing reputation as a travel destination, none of the domestic or international high-end hotel and resort chains have entered Phong Nha's accommodation market yet, choosing instead to focus their attention on the beach near Dong Hoi, 45km southeast. And this is a good thing, because instead of their brand of bland, business-like luxury on a vast scale, Phong Nha's high-end scene is more intimate, characterful, tasteful and local. The level of luxury, comfort and style at Phong Nha's higher-end accommodations is very good, but don't expect facilities on a level with the gigantic beach resorts on Vietnam's coast. Phong Nha's high-end options are more about atmosphere than amenities, and prices reflect this: they are generally very good value for money:
---
• Victory Road Villas [MAP]; $80-$150 [BOOK HERE]:
On the banks of the river, a little west of Phong Nha village's main drag, Victory Road Villas (www.victoryroadvillas.com) is currently the most luxurious accommodation in the Phong Nha area. Often referred to simply as 'The Villas', this property is the pride of the 'Farmstay Fleet', which also includes Easy Tiger and Shambalaa hostels, as well as the Farmstay itself. Recently opened, The Villas is contemporary in design but with traditional Vietnamese flourishes here and there. However, the general structure is reminiscent of a half-timbered English country cottage, with exposed wooden beams bisecting white walls. Entering from the riverside road, the terrace bar and restaurant is a great place for a sunset drink and a meal. Inside, the guest rooms are arranged around a central swimming pool – by far the biggest in Phong Nha – with loungers on the patio, hanging tarps to keep the sun off, and a picturesque limestone crag looming up behind. There are only a handful of rooms, all of which are duplexes offering carefully considered interior decor, including tiled floors, kitchenette, beautiful outside bathtubs, large beds on wooden platforms, balconies, swings, and corners of greenery. (As with the Farmstay, some of the bedroom artwork seems at odds with the general style of the place.) Apart from the gigantic three-bedroom apartment, all rooms are doubles. The entire property is tasteful and classy, yet unpretentious and friendly. A drawback is that some of the rooms don't really have views (although they are enormous and there's plenty of natural light), but this is counterbalanced by the large outdoor space around the pool and the excellent vistas over the river and mountains from the terrace bar and restaurant [BOOK HERE]
---
---
---
[Back]
---
• Phong Nha Lake House Resort [MAP]; $40-$80 [BOOK HERE]:
A few kilometres east of Phong Nha village, the Lake House (www.phongnhalakehouse.com) is a large property just off the Ho Chi Minh Highway as it passes between wooded hills. Entered via the restaurant and bar overlooking the resort's swimming pool, the Lake House is spread around the shores of a freshwater lake, which is clean and swimmable. Guest rooms are mostly in lakeside bungalows with terraces overlooking the water and hills. Rooms are neat and brightly furnished with sliding doors onto the balconies. There are mosquito nets over the beds and, because the terrace doors have bug screens, you can leave the doors open for the breeze without worrying about letting the mosquitoes into your room (trust me, this is very smart, and it's remarkable how few other accommodations in Vietnam do it). At the time of research, the resort was just about to open a new wing. The new rooms are even more spacious, with a nice blend of modern design and traditional motifs, all with great lake views. New rooms also have large, stone bathtubs, and outside showers. Prices are about right for the standard of accommodation available. The pool is too small for swimming laps, but the lake is a good substitute for this, and kayaking is also fun. Note that during the dry months – usually March through June – the water level in the lake drops significantly. Although there's still plenty of water to swim and boat, it changes the aesthetics of the resort: when the lake's full, the water reaches to just below the terraces of the rooms and, at night, the lights are reflected in the lake; when the water level is low, there's a stony beach – a kind of no man's land – between the rooms and the lake, which isn't quite as attractive [BOOK HERE]
---
---
---
[Back]
---
• Phong Nha Farmstay [MAP]; $40-$70 [BOOK HERE]:
Apart from the caves, it was the Farmstay (www.phong-nha-cave.com) that helped put Phong Nha on the map. Located among the rice paddies and corn fields of Khuong Ha village, 10 kilometres east of Phong Nha town, the Farmstay is an attractive complex of two-storey structures spread either side of a corner on a country lane. There are plenty of guest rooms and lots of terrace space with loungers, hammocks and chairs to sprawl out on, relax, and enjoy the sweeping views of farmland, cattle, water buffalo, and clouds rolling in from the distant mountains. All rooms are simply but tastefully furnished, with floral bed sheets, lamps, wooden-frame mosquito nets, white walls, and tiled floors (although some of the artwork verges on the kitsch). The grounds are spacious and shaded by trellised vines, tropical trees and flowers. Downstairs, the communal areas are all inside-outside: open to the breezes off the rices fields and sunlight through the trees. The bar is cozy and well-stocked (including plenty of imported beers, ciders and wines); the new swimming pool is set on the edge of the rice fields with cows coming close enough to touch; there's a sauna and gym, bicycles and motorbikes with sidecars, and a restaurant with all sorts of tempting local and international dishes. All this is great, but perhaps the most impressive and endearing aspect of the Farmstay is the character and ambience of the place: it feels like a family home. Indeed, it is. Owners Ben (Australian) and Bích (Vietnamese) live here with their extended family. But the feeling runs through the staff (mostly local) and guests, too. One gets the impression that everybody feels comfortable here. I'm not quite sure how this is achieved, but it is most impressive. What's more, knowledge of the local area and history is unmatched: there are maps, talks, books, tours, advice and information. The Farmstay is informal and friendly, yet also well-organized and well-run; comfortable and convenient, yet also very much part of its natural surrounds and landscape. [BOOK HERE]
---
---
---
[Back]
---
• Chay Lap Farmstay & Resort [MAP]; $50-$100 [BOOK HERE]:
Run by Oxalis, the Chay Lap Farmstay & Resort (www.chaylapfarmstay.com) is a large complex west of the river, not far from Dark Cave (Hang Tối). Chay Lap has lots of rooms spread around a large garden beneath limestone mountains. There are three types of accommodation: rooms in a two storey building, private bungalows, or wooden 'tube huts'. The latter are the most popular and the most atmospheric of the room types. Made from pine wood, the barn-like huts look like something out of Tolkien's Shire: squat, round, and vaguely like a Hobbit's home. Inside, the wooden paneling and curved roof and walls are very attractive. The other rooms are perfectly comfortable, spacious, clean and well-appointed, but fairly characterless, especially considering the price. There's a vegetable and herb garden, a decent sized swimming pool, bar and restaurant. Chay Lap is very much a resort: it's on its own, far from any local life or activity. But the setting is very scenic and most guests use it as a base for their Oxalis-led caving expeditions [BOOK HERE]
---
---
---
---
MID-RANGE: Homestays & Hotels:
In Phong Nha, accommodation in the mid-range price bracket is numerous. These take the form of homestays, bungalows, guesthouses, mini-hotels and resorts. The following accommodations are spread around the Phong Nha area, and the price range is generally between $15-$35 a night. Mid-range value for money is extremely good, but this is partly because of an explosion in local homestays, which is now beginning to drive prices so low that businesses are no longer profitable. At the time of writing, the general feeling is that something has to be done about this. Therefore, expect some changes in rates in the near future. The places below are in no particular order: if they're on this list, then they are, by definition, recommended:
---
• Nguyen Shack Eco Resort [MAP]; $30-$60 [BOOK HERE]:
A couple of kilometres east of Phong Nha village, Nguyen Shack Eco Resort (www.nguyenshack.com) is hidden down a series of meandering country lanes. A large, lakeside property, Nguyen Shack uses natural, local materials (where possible) to build its collection of huts, bungalows, and cabins. Nestled on the bank between a tree plantation and the lake, Nguyen Shack tries to be as sustainable as possible. Accommodation comes in two styles: cosy, A-frame huts set back from the lake, and large, light and spacious cabins right on the lake. Both are made from local pine and eucalyptus wood, as well as recycled composite materials, such as the roofing of the huts, which is made from old tyres and fibers. The beds in the A-frames are raised on a mezzanine platform with a window looking out across the trees. The cabins boast so much light and space that it feels as if they're open-air. Vegetables are grown in the garden, local people are employed and trained as staff, and the owners play a positive role in the local community. Quiet, secluded and rural, Nguyen Shack caters to flashpacking couples, mid-range travellers, and families. There's loads of space to walk around, including the local farming community. Lots of animals wander freely around the property, including cats and dogs and pigs and turtles. The atmosphere is relaxed, informal, and friendly. The lakeside bar and restaurant are great in the mornings and evenings, and the open kitchen offers cooking classes for guests. There's a large pool by the lake, which is long enough to swim. The pool's external structure is shaped like a Vietnamese fishing boat, complete with concrete bow, mast and sail. It's very distinctive but slightly at odds with the tone of the rest of the resort. One slight concern if you have kids, are the sharp bits and pieces, like splintered wood and nails, protruding from some of the woodwork [BOOK HERE]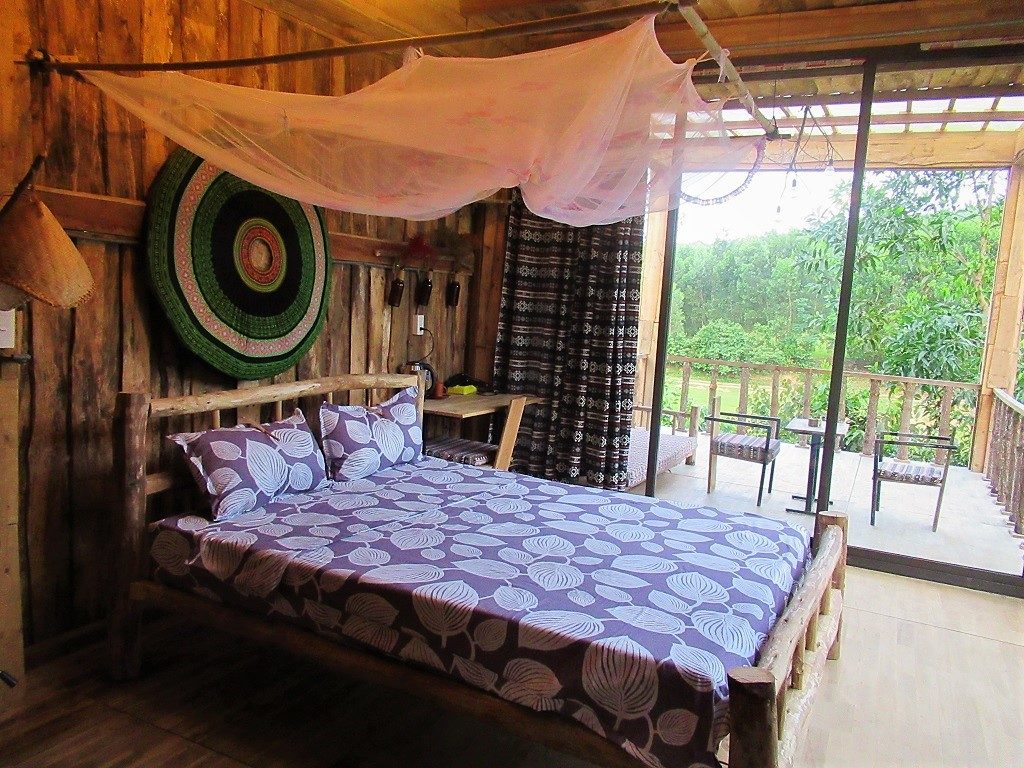 ---
---
[Back]
---
• Pepper House Homestay [MAP]; $35-$55 [BOOK HERE]:
About 7km east of Phong Nha village, and just south of the Ho Chi Minh Highway, Pepper House (www.pepperhouse-homestay.com) is a boutique-style homestay with only four rooms, all beautifully appointed around an L-shaped pool. Run by a Vietnamese-Australian couple, the land has been in the wife's family for generations. Formerly a banana plantation, the property is still bursting with tropical fruit trees, including papaya, pepper, jackfruit, peanuts and banana. Set down a track off a paved back-road, Pepper House has farmland on all sides, including rice paddies and wandering cattle. The handsome, squat structure is painted ochre yellow with red-tiled roofs. Lantern-lit terraces open onto the pool with bamboo loungers. Inside, the rooms are tastefully furnished with cool concrete floors, wooden window frames, and bright bedclothes. Pepper House has an innovative compost system for its bathrooms, using sawdust instead of water and, eventually, after 10 years, selling the compost to local farmers as fertilizer. It's worth remembering that Pepper House is popular and there's only a few rooms, so it pays to book ahead [BOOK HERE]
---
[Back]
---
• Rice Field Homestay [MAP]; $15-$20 [BOOK HERE]:
A small, new homestay with only two rooms, Rice Field is located down a paved lane with a back garden boasting stunning views across the rice fields and wading buffalo over to jungle-clad limestone mountains. Rooms are very clean and attractive, with plenty of space, and modestly furnished. There's a little restaurant in front, but it's all about the back garden, which is a large, landscaped terrace overlooking the landscape. Not much English is spoken but Hằng, a 13 year-old relative of the owner, might be there to help out – in fact, she appears to practically run the place. Rice Field is a good, interesting alternative to the better known mid-range homestays. It's also good for kids, because of all the space [BOOK HERE]
---
[Back]
---
• Sy's Homestay [MAP]; $20-$30 [BOOK HERE]:
Set among the rice fields to the east of the Ho Chi Minh Highway, Sy's Homestay (www.sy-homestay.com) is scenically located with a homey vibe, a pool, and good mid-range value rooms. Sy's is on a quiet, paved back-road in the countryside. Recently expanded, Sy's now has two types of rooms: concrete bungalows raised on concrete stilts above the fields, and a block of rooms off a communal terrace on the second floor of the main building. Structurally, Sy's isn't much to look at. But it's all about the location out on the rice paddies, and the views west over towards the limestone karsts of Phong Nha-Ke Bang National Park. Sy's is quiet and efficiently run by a nice local family. It's pretty much outgrown its 'homestay' status, but nonetheless retains a homey, intimate atmosphere. Rooms are nicely presented but without any fancy stuff – there's lots of wood, plenty of space, and large bathrooms with a skylight above the shower. The pool is good for a cooling dip, but not big enough for swimming laps. Before the two annual harvests (May and August) the colours of the rice fields surrounding the homestay are extraordinary [BOOK HERE]
---
---
[Back]
---
• Hung Phat Bungalow [MAP]; $20-$30 [BOOK HERE]:
Just across the road from Sy's, Hung Phat (www.facebook.com/hungphatbungalow) is accessed via the riverside road east of Phong Nha village. New, clean, and neat, Hung Phat has several A-frame bungalows raised on stilts with a pool at the front and rice fields at the back. Each bungalow is simply but comfortably furnished and, although it's by no means spacious, the rooms don't feel too cramped. The views from the back are glorious: a sweeping vista over the rice paddies and limestone karsts. Each room has a big window opposite the bed for sunrise views and a balcony with a little bench. Beneath the bungalows there are benches for relaxing, lit by lanterns in the evenings. The pool is compact with loungers dotted around the sides. Because it's small and family-run, there's an appealing sense of intimacy. Hung Phat is very good mid-range value [BOOK HERE]
---
[Back]
---
• Greenfield Ecostay [MAP]; $10-$30 [BOOK HERE]:
Right in the middle of an ocean of rice paddies, Greenfield (www.greenfieldecostay.com) is a big accommodation a few kilometres east of Phong Nha village. With plenty of rooms in a big, barn-like wooden structure and separate bungalows, Greenfield is an island among acres of crop fields. From the benches, loungers and swings in its manicured gardens, the views over the glowing rice paddies, buffalo, conical-hatted farmers, and over towards the sinister silhouettes of the karsts in Phong Nha-Ke Bang National Park are very evocative. Rooms are comfortable, clean, and stylishly sparse. This is yet another excellent mid-range place to stay in Phong Nha [BOOK HERE]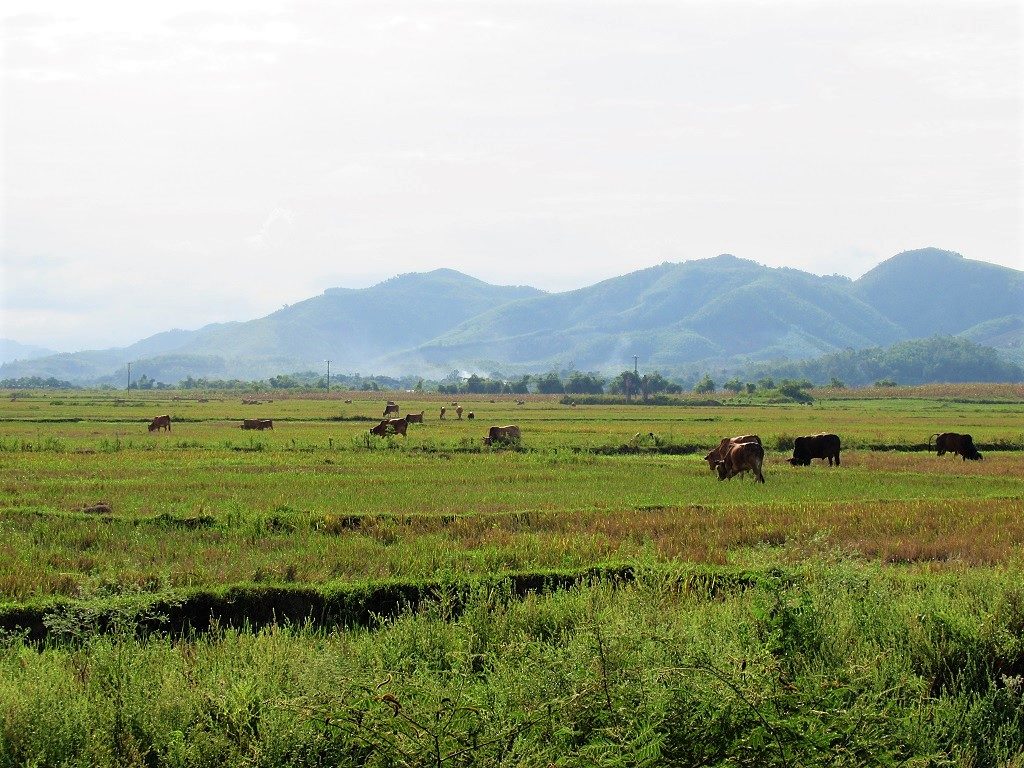 ---
[Back]
---
• Funny Monkeys Homestay [MAP]; $20-$30 [BOOK HERE]:
Recently renamed (formerly Ruby Homestay) and under new management, Funny Monkeys (www.facebook.com/funnymonekyshomestay) is one of several very good riverside accommodations spreading south along the east bank of the river. A three storey concrete building right on the water's edge, Funny Monkeys has 6 very large, bright rooms. But it's all about getting one of the river facing rooms, which have fantastic views and huge balconies to sit out on and take it all in. The terrace bar and restaurant along the riverbank is a great place for breakfast, and swimming is possible straight off the bank. Rooms are plain but neat and comfortable, and you really don't need to do that much in terms of decor when you've got all that space and those river views [BOOK HERE]
---
---
[Back]
---
• Areca Bungalow [MAP]; $20-$30 [BOOK HERE]:
A little further up river, Areca (www.facebook.com/arecabungalow) is a small and attractive property with a handful of tube-like bungalows set in a garden right on the river. Rooms are nice, simple and tastefully appointed. All rooms are raised above the ground with front terraces and large windows to let the light in. The riverside tables are a beautiful place to watch the sun go down behind the limestone mountains, setting on the figures fishing and rowing on the river. There's even a sandy beach for swimming off, and kayaks to paddle down the river. Delightful [BOOK HERE]
---
---
[Back]
---
• Carambola Bungalow [MAP]; $20-$30 [BOOK HERE]:
Another collection of riverside, A-frame bungalows, Carambola (www.carambolabungalow.com) is peaceful, green and good value. The property has a large slice of 'river beach' with loungers, tables, chairs, and kayaks. The views are excellent, but the rooms and the bungalows themselves aren't quite as attractive as others in this list. Nonetheless, it's a popular, friendly place, and very good value for money [BOOK HERE]
---
---
[Back]
---
• Son River House [MAP]; $20-$30 [BOOK HERE]:
Down a narrow paved alley near where Road 20 veers east into the national park, Son River House (094 263 1451) is a small, cheap, chilled, and simple guest house by the water. On the riverfront walkway, Son River House has a wood-and-tile restaurant in the middle of its gardens, around which several brick bungalows sit. The rooms are very clean, well-kept and sparsely furnished. Walking (or swimming) by the river is nice and peaceful here, as it's far from the busier end of Phong Nha town [BOOK HERE]
---
[Back]
---
• Ho Khanh's Homestay [MAP]; $25-$35 [BOOK HERE]:
Home of the man who brought Son Doong Cave to the attention of the world, Ho Khanh's Homestay (www.facebook.com/hokhanhshomestay) is a quiet, little collection of private bungalows in a garden, and separate rooms in a wooden stilt home. Of the two, the latter are the more atmospheric, with wooden paneling and furniture in a more traditional Vietnamese mountain style than the concrete bungalows. As an accommodation, it's a bit plain for the price, but the prospect of meeting the man himself is enough to make you want to stay. Plus there's easy access to the river for swimming and the waterside cafe is great for breakfast and a sunset drink [BOOK HERE]
---
[Back]
---
• Lucky Homes [MAP]; $25-$35 [BOOK HERE]:
On a good stretch of the riverfront, Lucky Homes (www.facebook.com/lehaxiem) is a popular place with mid-range travellers. Set just across the road from the river, Lucky Homes has lots of rooms on two levels arranged around a central swimming pool. Over the road, there's riverside loungers and seats, popular in the late afternoons for sunset, when the views across to the limestone mountains are fantastic. Rooms are excellent value for money: large, spacious, very clean, comfortable, made to a decent standard, with windows and balconies. Again, it's fairly plain, but does everything it needs to for the price. Most travellers who stay here are very happy with their choice [BOOK HERE]
---
[Back]
---
• Jungle Boss Homestay [MAP]; $30-$40 [BOOK HERE]:
Tucked away in the back streets of Phong Nha, Jungle Boss Homestay (www.jungle-boss.com) is a good option if you're looking to really explore the national park while you're in the area. This is because the homestay is run by Jungle Boss, a well-respected local tour company who know the area inside-out. The homestay itself is cosy and intimate, with two types of accommodation: rooms in a brick and bamboo building or wood-paneled bungalows raised above the gardens. Both types are thoughtfully appointed and comfortable places to be, but the latter have more light and space, with windows and a terrace to enjoy the fresh air and views. There's a small pool and a restaurant where travellers can sit, chat, and plan the various excursions that Jungle Boss offer. English is spoken and there's lots of local knowledge here. With the competition now available in Phong Nha, prices at Jungle Boss Homestay are a little high for the standard of accommodation offered. But you'll be well looked after and it's a great base from which to explore Phong Nha-Ke Bang [BOOK HERE]
---
---
BUDGET: Hostels & Guest Houses:
These days, Phong Nha is quite a big backpacker destination. In fact, most of the travellers you see in Phong Nha appear to be Western backpackers, and many of the businesses, especially on the main street in town, are geared towards them. As such, there are several hostels with very cheap, dorm-style accommodation available in Phong Nha, as well as dozens of low-price mini-hotels and guest houses. Hostels and guest houses tend to cluster along the main drag, just east of the Phong Nha tourist boat pier. Again, competition keeps prices extraordinarily low. In fact, at the time of research, one hostel was offering rooms for free. [Note: in the following list, one significant hostel is not represented: Central Backpackers. This is because the manager refused me entrance or permission to write about or photograph the property]:
---
• Easy Tiger Hostel [MAP]; $5-$7 [BOOK HERE]:
Despite some decent competition, one hostel rises above the rest: Easy Tiger. The Platonic ideal of a backpacker hostel, Easy Tiger (www.easytigerhostel.com) is the place that almost all young, sociable budget travellers gravitate. It's an extraordinary hostel and an amazing success. Under the same ownership as the Farmstay and The Villas (but about as different in style and atmosphere as conceivably possible), Easy Tiger ticks just about every box on the list of necessary criteria for a great hostel. Fun, informal, social, international, cool, relaxed, young, efficient, cheap, comfortable, entertaining, convenient, clean, well-organized: check. A bar, a cafe, international food, tours, promotions, happy hours, pool, foosball, chill-out area, swimming pool, outdoor communal space, great local information, maps, motorbikes, bicycles, events, live music: check. Perhaps the only thing Easy Tiger doesn't have is a view of the surrounding landscape, although it does have a limestone karst looming above its pool. But even if this were an issue, no one cares, and no one notices, because everyone is too busy having a good time, enjoying each other's company, the food, the drink, the games, and, of course, exploring the national park. I don't think it's much of an exaggeration to say that Easy Tiger put Phong Nha on the backpacker map. You might think that creating this kind of hostel with this kind of atmosphere is a natural result of getting a bunch of excited, eager, young travellers together in a good, cheap space. But it's not. It is, in fact, the result of extremely good, subtle, farsighted management. This is an exceptional hostel; possibly the best in Vietnam. But it's almost always full, so make sure you book ahead [BOOK HERE]
---
---
[Back]
---
• Gecko Hostel [MAP]; $3-$10 [BOOK HERE]:
Although Gecko (www.phongnhageckohostel.com) is a very good hostel in its own right, it is essentially the overflow for backpackers whenever Easy Tiger is full. But don't worry, Gecko has many of the attributes of Easy Tiger and most travellers will be happy enough here. Dorm rooms are cheap and clean, but there are also good value private rooms with bathrooms, if you feel like 'splashing out' for a night. Most things a budget traveller requires – laundry service, pool table, lots of cheap alcohol, fast food, and cosy spaces to meet other backpackers – Gecko offers. In fact, some travellers choose to stay at Gecko and simply dip in and out of Easy Tiger, a few doors down the road, for the social life [BOOK HERE]
---
[Back]
---
• Nguyen Shack Hostel [MAP]; $4-$7 [BOOK HERE]:
With a much lower-key, down-to-earth vibe, Nguyen Shack (www.nguyenshack.com) is distinguishable from the other hostels lining the main street in Phong Nha because it's made largely of wood (most of the other hostels are converted concrete-and-brick townhouses behind colourful signage). Nguyen Shack has a mini-chain of accommodations up and down Vietnam, all of which have an emphasis on natural materials and natural surrounds. Nguyen Shack Phong Nha follows this concept with its wood-plank floors, doors, bunk beds, and sinks. The dorms and private rooms are the most atmospheric of all the hostels: simple but tasteful little wooden cabins, screened off from the main corridor by curtains. However, Nguyen Shack doesn't have the entertainment and socializing areas that Easy Tiger and Gecko do. But, once again, many backpackers choose to stay at Nguyen Shack, and socialize at Easy [BOOK HERE]
---
[Back]
---
• Shambalaa Hostel [MAP]; $4-$7 [BOOK HERE]:
The (little) sister hostel of Easy Tiger, Shambalaa (www.shambalaa.com) is a smaller, more chilled, and more 'psychedelic' hostel than its bigger, badder, older sibling. The dorms here are newer and perhaps more comfortable than Easy Tiger. But the space is quite limited and fairly compact. However, this isn't a problem because Shambalaa guests get free use of all the facilities at Easy, which is just across the street. The decor is pretty 'groovy', with colourful murals of trippy patterns and shapes painted on white-washed walls, windows covered with funky drapes, and shisha pipes available [BOOK HERE]
---
[Back]
---
• An Binh Hotel [MAP]; $8-$14 [BOOK HERE]:
Just back from the main drag (which can be quite a relief) in Phong Nha town, An Binh is a classic, good value Vietnamese mini-hotel. A not-too-ugly, four-storey lump of bricks and concrete softened by lots of balconies and wooden-shuttered windows, An Binh is a great option for budget travellers who would rather stay in a private room with a private bathroom and a private balcony than a multi-bed dorm with shared facilities. Rooms are super clean, with some wooden furniture and balconies overlooking Phong Nha town and the surrounding limestone karsts. At $10 a night for double occupancy, it's great value for travelling couples. An Binh is run by a friendly local family [BOOK HERE]
---
Disclosure: I never receive payment for anything I write: my content is always free and independent. I've written this guide because I want to: I like Phong Nha and I want my readers to know about its accommodation. For more details, see my Disclosure & Disclaimer statements here
[Back Top]
RELATED POSTS

:
---