First published July 2018 | Words and photos by Vietnam Coracle
In the misty forests that once covered the slopes of the B'lao mountains, the young Buddhist monk, Thích Nhất Hạnh, came to build a retreat in the late 1950s. Together with several good friends, Nhat Hanh bought some land in Vietnam's Central Highlands from a local hill tribe, and began to work on a simple Buddhist retreat, including a library and a meditation forest. A few years later, Nhat Hanh wrote longingly and beautifully about his beloved retreat, while teaching at Princeton and Columbia universities in the United States, a world away from the lush, damp, tiger-stalked forests of his native Vietnam. Nhat Hanh named the retreat Phương Bối ('Fragrant Palm Leaves'), a reference to the talipot leaves on which the earliest Buddhist teachings were written. Nhat Hanh, who recently passed away aged 95, was the revered founder of Plum Village mediation centre, in southern France. He was forced to abandon Phuong Boi, and left Vietnam in the mid-1960s, due to increasing hostility from political and religious groups for his outspoken but peaceful views. Reading Nhat Hanh's collected journals from the early 1960s, I wondered if Phuong Boi was still there: it is.
[Back Top]
---
GUIDE:

PHUONG BOI HILL

&

FOREST
---
Address: Đồi Phương Bối, Dai Lao Commune, Lam Dong Province, Vietnam [MAP]
Directions: near the intersection of Le Thi Rieng & Truong Dinh lanes, north of Highway QL20
View in a LARGER MAP
---
*Please note: Historical information in this article is based on my own reading & conversations with people. I have tried to be as accurate as I can with the information available to me.
If you have read Thich Nhat Hanh's journals (collected in the volume called 'Fragrant Palm Leaves'), then you will most likely want to see Phuong Boi for yourself, because he describes it in such poetic detail. However, a visit to Phuong Boi isn't for everyone. There's not much left of Thich Nhat Hanh's original retreat: just a couple of structures and several trees planted by the monks. Indeed, even the forest is threadbare. Unless you have a particular interest in the history of Vietnamese Buddhism, there's no reason to go out of your way to visit Phuong Boi. But, Phuong Boi is easily reached off Highway 20, the main road between Saigon and Dalat, and therefore makes a straightforward and quick excursion if you're journeying between the two cities.
Apart from the history and associations with the now world-famous Thich Nhat Hanh, there's also a certain pathos about Phuong Boi today. Where once a group of young Buddhist monks set out to create a peaceful, educational, and spiritual retreat in the abundant and attractive natural setting of the Dai Lao forest, (which echoed to the sound of birdsong and was home to Indochinese tigers, among other large and impressive wildlife), now the forests have all but disappeared, cleared for lumber and to make way for plantations of cash crops, such as tea and coffee, which stretch to the horizon in all directions. And, as with the trees, many of the animals have disappeared too, victims of over-hunting and loss of habitat. The small clump of pine trees on the hilltop at Phuong Boi is practically all that remains of the great forests that Thich Nhat Hanh used to stroll through, contemplating the marvels of nature and the richness of his homeland, and how they contrasted with the current political and social instability across the nation.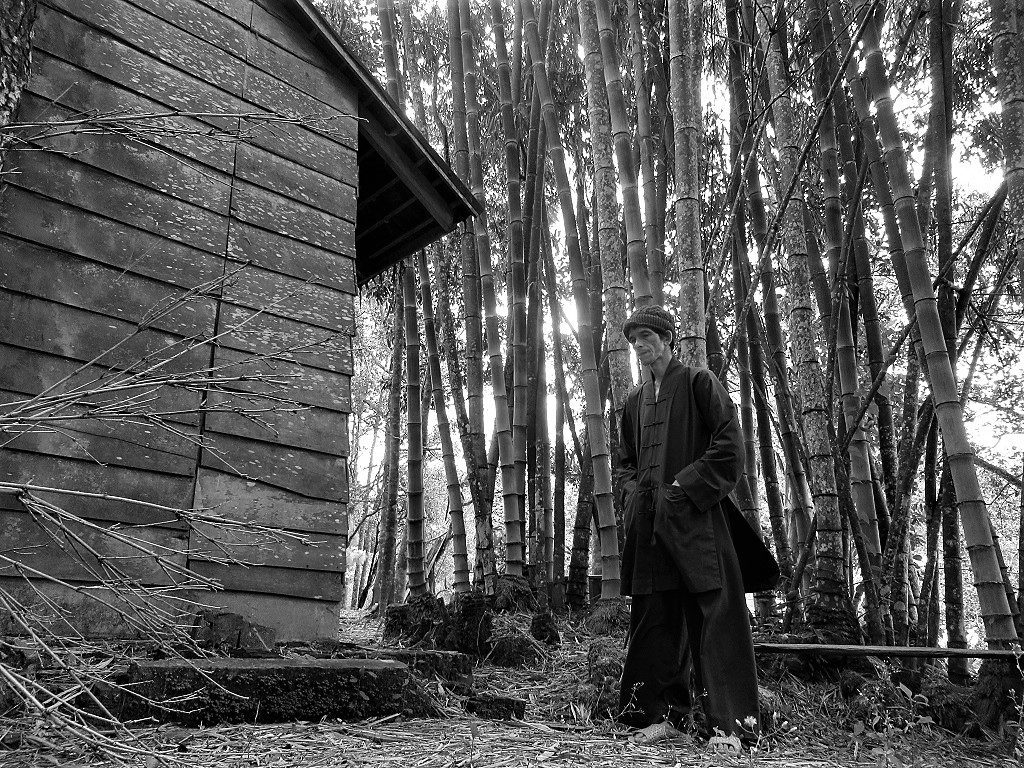 There's pathos, too, in the fact that, these days in Vietnam, there's a religious building boom: monasteries, temples, churches, pagodas, and shrines are going up all over the nation, from the cities to the countryside. And yet, no one visits Phuong Boi, a site that was founded by, and meant so much to, Thich Nhat Hanh, who is surely Vietnam's most widely-known and respected spiritual figure. The view across the undulating landscape from Phuong Boi looks out over church spires and pagoda rooftops, and, in the mountains on the opposite side of Highway 20, thousands of young Vietnamese flock to visit the impressive, hilltop Zen Buddhist temple of Chua Linh Quy Phap An. Meanwhile, Phuong Boi sits alone and unvisited, with agriculture encroaching on all sides.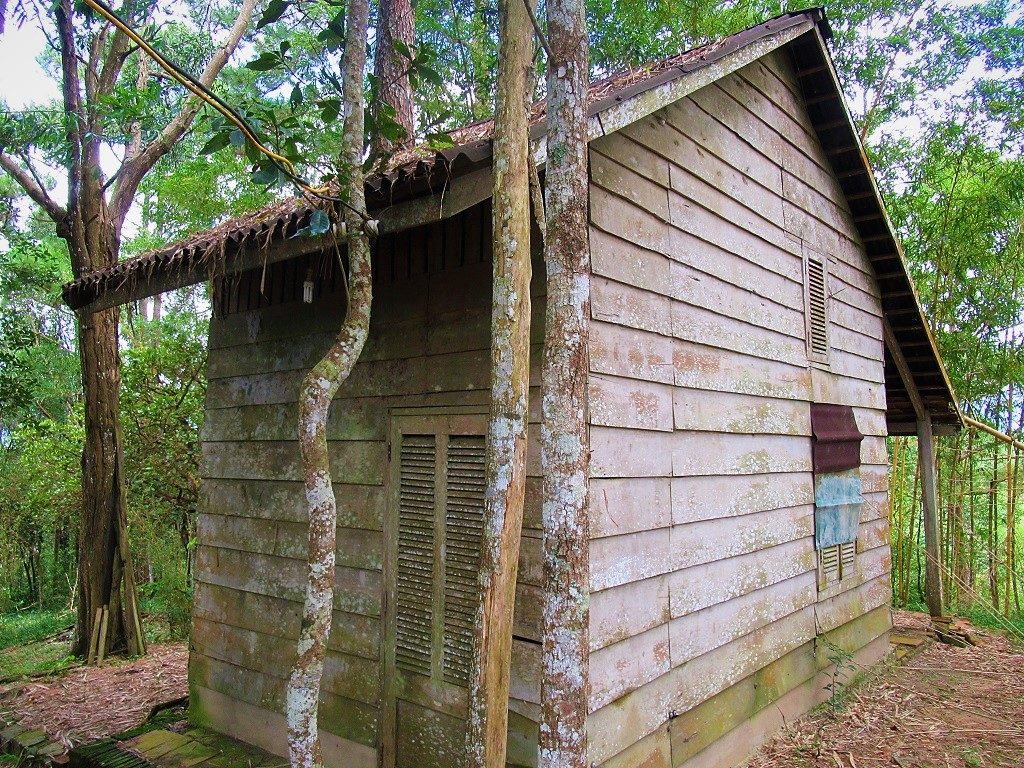 Other sites associated with famous Vietnamese figures, whether living or dead, thrive as places of pilgrimage. But, I was told by Mr Yên, a man who has apparently lived at Phuong Boi for all of his 41 years, that people rarely visit. Many of my Vietnamese friends are admirers of Thich Nhat Hanh, yet none of them, as far as I know, have made the pilgrimage to Phuong Boi, which Nhat Hanh founded more than 60 years ago. There are no signposts to Phuong Boi and nothing to announce your arrival. A gravel lane leads steeply up the hill from Highway 20 – through tea, coffee and sugar cane plantations, and orchards of banana plants, jackfruit and durian trees – until it reaches a small pine forest opposite a Catholic cemetery. From here, dirt paths lead into the pine trees to a cluster of small structures (the route can be very muddy and slippery in wet conditions).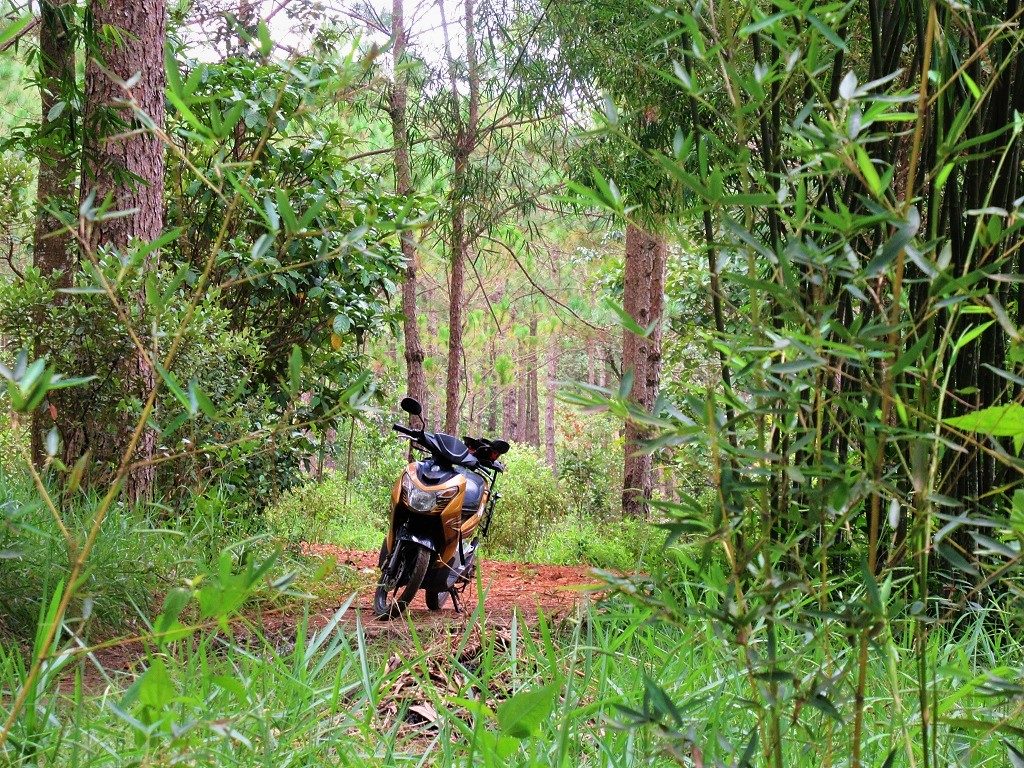 A corrugated iron-roofed lodge is home to Mr Yên (whose name means 'peace') and several other people, all of whom wear grey or brown robes, indicating novice or ordained monks respectively. Pathways wind up the small hill to a couple of attractive stone and wood-plank cabins in the trees. When you visit, Mr Yên or some one else may show you around and talk a bit about the history of Phuong Boi. My Vietnamese was insufficient to make the most of what was being said. But I gathered that a large pine and a gnarly franipani bush were among the trees planted by Thich Nhat Hanh during his time here, and parts of the current structures belong to that period also.
It's a peaceful and contemplative setting: it's not difficult to imagine the affect Phuong Boi must have had of the young Buddhists monks, as they sat meditating and studying and walking and writing and sleeping in the forest here. Large clumps of bamboo arc over the cabins, scratching the wooden-plank walls in the gusts of wind that come whispering through the pines. Hibiscus flowers bloom and elephant grass grows profusely between the tall pine trunks.
*Note: It's possible to camp in the pine forests at Phuong Boi, but previous campers have left their mark with picnic trash: is nothing sacred?
Sitting drinking oolong tea and nibbling candied ginger with Mr Yên after walking around Phuong Boi, it's impossible not to feel nostalgic and a little sad about this place. In the valley below, concrete roofs protrude from the acres of coffee plantations, and the sound of honking horns, as juggernauts roar by on Highway 20, reaches our ears. Over the decades since Phuong Boi was first established, the area has undergone massive transformations. The landscape around Phuong Boi suffered, no doubt, during the war, but it was in the 1990s, when Vietnam's coffee production started in earnest, that the forests began to be cut down. The agriculture here is on a huge scale: hardly a tree from the original forests has been left standing, and the traffic on the highway is constant. I'm not suggesting this feeling of sadness is particularly rational or meaningful, after all, even Thich Nhat Hanh and his friends cut down the forests, to some extent, to build their Buddhist retreat here, and again to make way for their own little tea plantation. But when you think that, just 60 years ago, the monks could walk on this very same ground and see the footprints of wild tigers in the mud, it's difficult not to feel that something has been lost. Thich Nhat Hanh was forced to leave Phuong Boi, but he flourished elsewhere, and now resides in Plum Village, in the Dordogne. The tigers and the trees, however, have gone forever.
Disclosure: I never receive payment for anything I write: my content is always free and independent. I've written this guide because I want to: I'm interested in Phuong Boi and I want my readers to know about it. For more details, see my Disclosure & Disclaimer statements here
[Back Top]
RELATED POSTS

:
---