First published April 2022 | Words and photos by Vietnam Coracle
A contemporary, stylish 5-star hotel in Saigon's District 3, La Vela's showpiece is its enormous rooftop infinity swimming pool, which the hotel claims is one of the largest in the world. The location is good, the level of comfort and amenities is luxurious, and the panoramic city views from the rooms on the upper floors and rooftop bar are spectacular. It lacks a bit of character and has a whiff of generic business hotel about it, but La Vela Saigon more than makes up for this with its large guest rooms, interesting location and stunning views.
*To check rates, availability & make a reservation for La Vela Saigon Hotel please BOOK HERE
[Back Top]
---
REVIEW:

LA VELA SAIGON HOTEL
---
Address: 280 Nam Ky Khoi Nghia, District 3, Ho Chi Minh City, Vietnam [MAP]
Average Rates: $70-$110
---
CONTENTS:
---
*Please support this site: All my reviews are independently researched & financed. I never receive freebies of any sort in exchange for reviews or listings. If you use the links on this page to book your accommodation, I make a small commission. Alternatively, please consider making a donation or becoming a patron. All my earnings go straight back into this website. Thank you. Tom
Selected Resources
What's this?
---
[Click the image below or BOOK HERE]
---
MAP

:
La Vela Saigon Hotel | Ho Chi Minh City

View in a LARGER MAP
---
---
The Location: On a busy intersection at the corner of Nam Kỳ Khởi Nghĩa and Lý Chính Thắng streets, La Vela Hotel is half way between Tân Sơn Nhất Airport and downtown District 1. Bound to the north and west by the meandering Nhiêu Lộc-Thị Nghè Channel, and to the south and east by Saigon's increasingly high-rise central skyline, La Vela's location is one of its strengths. It may not be strolling distance from some of the city's most famous (and touristy) sights, but it is walking distance from some of the more interesting neighbourhoods and alleyways. For example, it's easy to get to the pleasant and lively bankside roads and walkways along the Nhiêu Lộc-Thị Nghè channel. What's more, because La Vela is 27 storeys high, many of its rooms, restaurants and bars boast impressive city views: from this location Saigon looks and feels gigantic, fascinating and like it's the centre of the world.
---
---
Hotel Grounds & Layout: La Vela Hotel is part of the multi-storey high-rise complex at the Terra Royal building. Also comprising offices, apartments and multi-screen movie theatre, the structure is a heavy, rigid looking 27 storey beige edifice that shoots up from a busy street corner, towering over the traffic and people below. I find it quite off-putting when a large hotel is part of an even larger complex: getting in and out of the various entrances and exits can be confusing (especially if you have your own wheels) and the interminable wait for the elevators every time you want to go somewhere is very frustrating (although those who live in apartment buildings will perhaps have already made peace with this inconvenience). The building certainly isn't going to win any architecture awards, but it does feature Doric columns at its base and curving, Guadí-esque balconies on the west-facing corner. Inside, it's all very modern, clean, clinical, classy, shiny and new. The lobby is reminiscent of a first-class airport lounge and the rooms are arranged around an impressive hollow atrium that runs through the core of the building. The main focus of the hotel design, however, is the city views which the building's height and large rooftop bar and pool afford.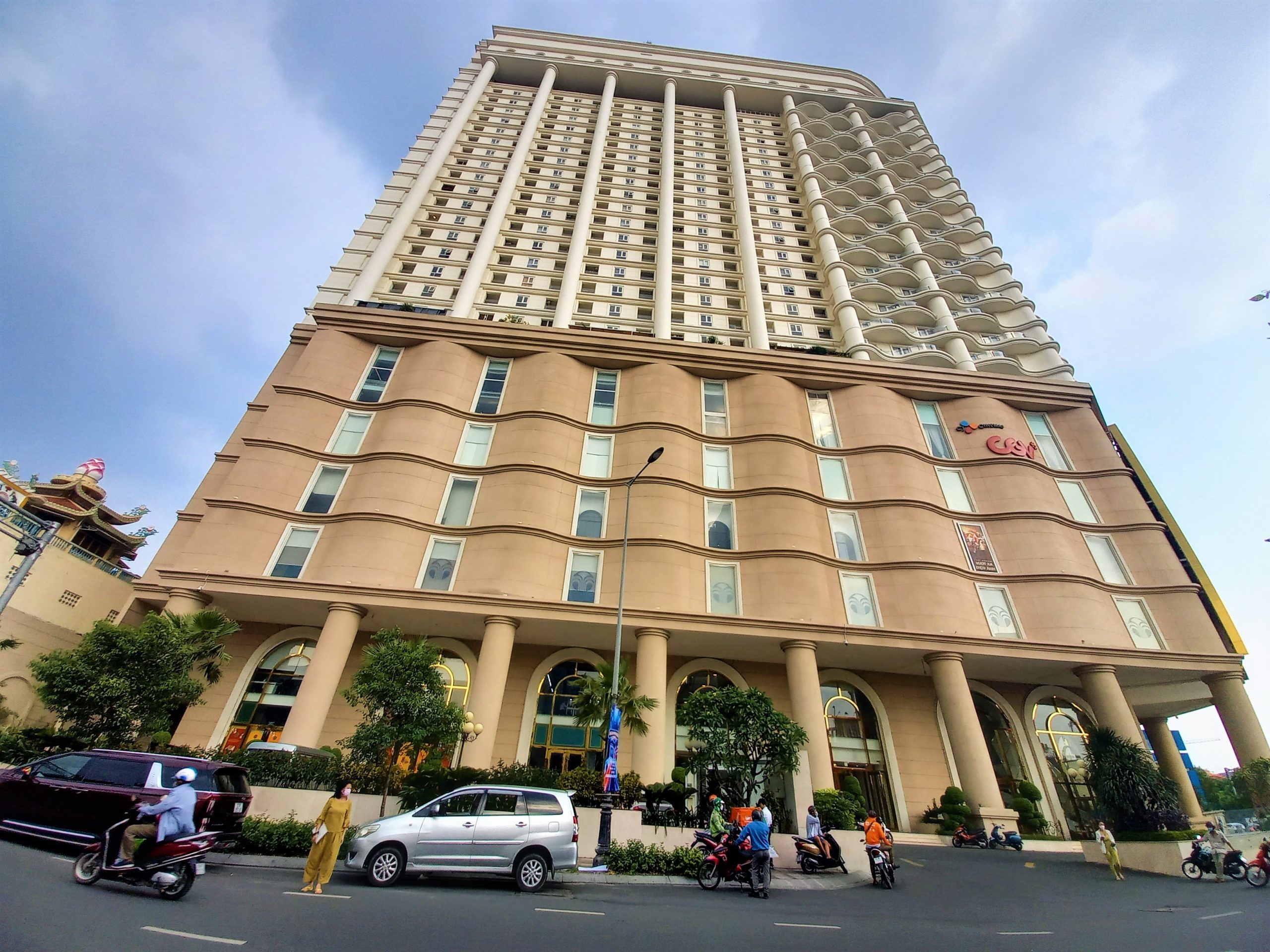 ---
---
Pools & Facilities: La Vela has a well-equipped gym and spa, neither of which I paid much attention to, because the hotel's showpiece is its spectacular rooftop infinity pool. Forming a 'P' shape and running along the entire length and breadth of the building's rooftop, the swimming pool is enormous. Indeed, La Vela's website claims it to be 'the world's largest rooftop infinity pool'. (A brief google on the subject, however, immediately casts doubt on this claim.) Nonetheless, the pool is extremely impressive. The size makes it big enough to accommodate children splashing around, couples petting, influencers taking photographs of themselves and still enough room for swimmers to actually swim. What's more, the panoramic views of the city are exceptional: whether seen from the edge of the pool itself or perched on a stool at the bar. However, loud pop music lowers the tone (as always).
---
---
---
Guest Rooms & Décor: With some 280 guest rooms, La Vela is a large city hotel. Rooms are contemporary, classy and well-equipped, but a little bit on the generic 'business club-class' side. Deluxe is the cheapest tier, but these are quite small at 28m2. Luxury Deluxe rooms are only $10-$20 more expensive but they are much bigger and have higher, better views and balconies. All rooms feature floor-to-ceiling windows with great city views, freestanding bathtubs, big TV, carpets, soft chairs, work desk and everything else you'd expect to find in a 5-star hotel such as this. The bathroom partition is made of transparent glass, so there are electric blinds for privacy. In general, the colour scheme is muted and calming, but there's just a hint of bling in the gold-rimmed fittings and fixtures. All in all, the rooms are comfortable hideaways from the heat, rain, humidity, noise and pollution of Saigon, but with excellent views of all the latter from the comfort of your balcony or chair.
---
---
---
---
Breakfast, Dining & Drinking: When booking a room at La Vela online, you are given the choice to include a buffet breakfast (at an extra cost, of course). It's worth doing this because the breakfast is good and the venue is the Mermaid Restaurant on the 25th floor, which has inside and outside seating boasting fantastic city views. Variety and quality of food is pretty good and the dining atmosphere is pleasant and comfortable. The restaurant also serves lunch and dinner. (There are two other restaurants on the 25th and 26th floors, which were closed when I visited.) There's a cosy little lounge bar on the ground floor next to the lobby which is nice for a quick espresso, but for real drinks you should head straight up to the 27th floor (floor T2 then take the stairs) to SkyOne Bar. On a sprawling deck next to the rooftop infinity pool, SkyOne has a good cocktail list and selection of bar meals, such as burgers and seafood. Prices are below 200,000vnđ per cocktail, which is not bad for such a location as this. Drinks are good but not special, there's no happy hour and generic saccharine pop music is played far too loud. But, this is the kind of place you come to for the views and the ambience; not necessarily the drinks. At night, Saigon is beautiful seen from SkyOne Bar: it looks and feels like what it is: a global megacity.
---
---
---
---
Summary: La Vela's main appeal is its rooftop infinity pool and bar, and the views afforded for these and its guest rooms. I also like the location: it's nice to be downtown but not in the typical touristy part of the city. If rates remain as they are at the time of writing (under $100), this represents value for money in its price bracket among similar hotels in Saigon. The drawbacks are its lack of character, having to wait for the elevator and, of course, rubbish music at too loud a volume on the rooftop.
*To check rates, availability & make a reservation for La Vela Saigon Hotel please BOOK HERE
---
*Please support Vietnam Coracle: All my reviews are independently researched & financed. I never receive freebies of any sort in exchange for positive reviews or listings. If you use the links on this page to book your accommodation, I make a small commission. Alternatively, please consider making a donation or becoming a patron. All my earnings go straight back into this website. Thank you. Tom
---
---
*Disclosure: I never receive payment for anything I write: my content is always free & independent. I've written this review because I want to: I like this resort & I want my readers to know about it. For more details, see my Disclosure & Disclaimer statements & my About Page
[Back Top]
RELATED POSTS

:
---