First published June 2022 | Words and photos by Vietnam Coracle
Tom Divers is the founder & creator of Vietnam Coracle. He's lived, travelled & worked in Vietnam since 2005. Born in London, he travelled from an early age – his first trip to Vietnam was in 1999 – visiting over 40 countries. Now, whenever he has the opportunity to make a trip, he rarely looks beyond Vietnam's borders & his trusty motorbike, Stavros. Read more about Tom on the About Page, Vietnam Times and ASE Podcast.
---
In a prime location on the Hàn riverfront in central Đà Nẵng, Brilliant Hotel makes up for its rather bland and business-like character with large, spacious, comfortable rooms, excellent river- and city-views, a rooftop bar and good value rates for a mid-range hotel such as this. If you've got forty or so bucks to spend and you want to be central and comfortable and you're not too concerned about style, Brilliant Hotel is a decent option for a couple of days in Đà Nẵng. I stayed here on two rainy days to get some work done after a long road trip through the mountains of Central Vietnam: it was what I wanted and expected.
*To check rates, availability & make a reservation for Brilliant Hotel Da Nang please BOOK HERE
[Back Top]
Selected Resources
What's this?
---
REVIEW:

BRILLIANT HOTEL DA NANG
---
Address: 162 Bạch Đằng Street, Hải Châu District, Đà Nẵng, Vietnam [MAP]
Average Rates: $40-$80
---
CONTENTS:
---
*Please support this site: All my reviews are independently researched & financed. I never receive freebies of any sort in exchange for reviews or listings. If you use the links on this page to book your accommodation, I make a small commission. Alternatively, please consider making a donation or becoming a patron. All my earnings go straight back into this website. Thank you. Tom
---
[Click the image below or BOOK HERE]
---
MAP

:
Brilliant Hotel Da Nang

View in a LARGER MAP
---
---
The Location: On the riverfront street of Bạch Đằng, Brilliant Hotel is located exactly halfway between the famous Cầu Rồng (Dragon Bridge) and Cầu Sông Hàn (Han River Bridge) in the desirable and increasingly chic district of Hải Châu. It's difficult to conceive of a better, more centrally located position than this. Chợ Hàn (Han Market) is a short stroll north of the hotel, the wide riverside promenade extends north and south from outside the hotel lobby, a whole host of stylish cafes, restaurants and bars are within a few minutes' walk. The airport, train station, and beach are all just a 10-minute taxi ride away. From this location, Đà Nẵng is all glamour, modernity and sophistication. The only problem is that local life and street food aren't particularly well-represented in the immediate area. You can find some local food by walking a couple of blocks due west of the hotel, but, sadly, Đà Nẵng is doing its best to 'clean' this district of such places in its relentless pursuit to become the Singapore of Vietnam.
---
---
Hotel Grounds & Layout: A 17 storey high-rise with tinted windows and minimal embellishments, Brilliant Hotel looks like a very ordinary office block. There's nothing fancy or attractive about the building's exterior. Inside, the lobby and reception area is large, bare and echoey, but staff are young and affable. This is a city hotel, not a resort: there are no grounds as such, no gardens, no balconies. Guests go straight from reception into the elevator and up to their rooms. However, because the hotel is right on the riverfront, it's easy to get outside and have a stroll whilst taking in Đà Nẵng's increasingly vertical skyline.
---
---
Pools & Facilities: There's a swimming pool, a gym and a spa at Brilliant Hotel. Unusually for Vietnam, the pool is indoors. Pleasant enough for a dip or for kids to have a play around, but not big enough for swimming laps and not really a place to hang out because it's inside and quite dark. The gym is fine for a good workout. I didn't try the spa, but a massage would be a welcome relief after a long day of walking around and sightseeing in Đà Nẵng. All of the hotel's recreational/health facilities are located on the fourth floor.
---
---
Guest Rooms & Décor: There are 99 rooms at Brilliant Hotel. A lot of them have good river- and city-views. The more you pay, the higher the floor, the bigger the windows, the better the views. However, at the time of writing, the difference in price was minimal, so it's well worth paying the extra $10 for an upgrade. Rooms are quite large: all between 25-45m2. The general theme is modern, comfy, soft, and geometric. Floors are carpeted, chairs are cushioned, curtains are thick, decoration is minimal and fairly restrained, lighting is by lamps and spots. Most of the rooms feature bathtubs, and the larger room types also have living rooms with sofas. The main attraction in the rooms are the floor-to-ceiling windows and views. There's not much 'style', but it's good, generic, comfortable accommodation: plenty of light, space and amenities. In general, if prices continue to hover around $50/night including breakfast, the rooms represent value for money.
---
---
---
---
Breakfast, Dining & Drinking: Breakfast is included in the room rates at Brilliant Hotel. The spread is fine and generally what you might expect from an average, mid-range hotel of this type in Vietnam. Quality and variety isn't fabulous, but there's enough to fill you up and keep you going until lunch time. Breakfast is served in the Senses Restaurant on the second floor. Although large windows look out over the impressive sweep of the Hàn River and Đà Nẵng skyline, the restaurant is very bare and functional: not really a place to linger over a three course meal and bottle of wine. If you do want to linger, you should head up the the 17th floor where the rooftop bar is located. With an outdoor terrace and indoor seating, the bar serves food and drink from afternoon till night. The views are excellent: panoramic sweeps of the city, river, beach and mountains. From here you really get a sense of Đà Nẵng's exceptional location. I didn't try the food at the bar, but cocktails were decent. (Sadly, there's no happy hour.)
---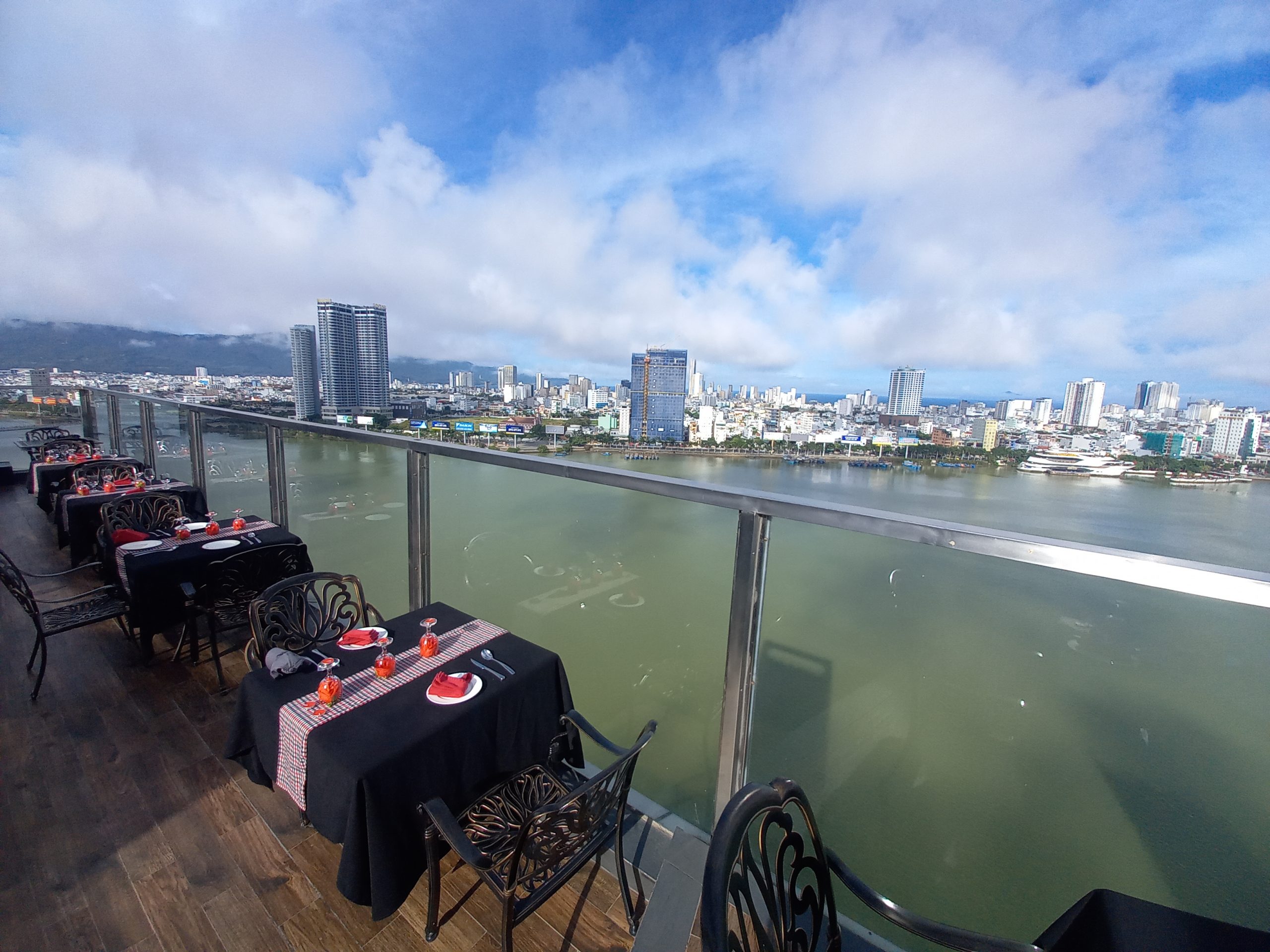 ---
Summary: Although there's nothing 'unique' about Brilliant Hotel, it's location is excellent, the level of comfort is above average for the price, the views are good, everything works, staff are fine, and the rooftop bar is an unexpected bonus. On the downside, the pool isn't great, the breakfast is average, rooms don't have balconies and the architecture and style is pretty anonymous. But, for a couple of days in Đà Nẵng while sightseeing or on a work trip, Brilliant Hotel is totally fine. That's exactly the purpose it served for me.
*To check rates, availability & make a reservation for Brilliant Hotel Da Nang please BOOK HERE
---
*Please support Vietnam Coracle: All my reviews are independently researched & financed. I never receive freebies of any sort in exchange for positive reviews or listings. If you use the links on this page to book your accommodation, I make a small commission. Alternatively, please consider making a donation or becoming a patron. All my earnings go straight back into this website. Thank you. Tom
---
---
*Disclosure: I never receive payment for anything I write: my content is always free & independent. I've written this review because I want to: I like this resort & I want my readers to know about it. For more details, see my Disclosure & Disclaimer statements & my About Page
[Back Top]
RELATED POSTS

:
---